10 Best Specialists for Waterproofing in Singapore Who Blow it Out of the Water [2023]
Their waterproofing solutions hold water.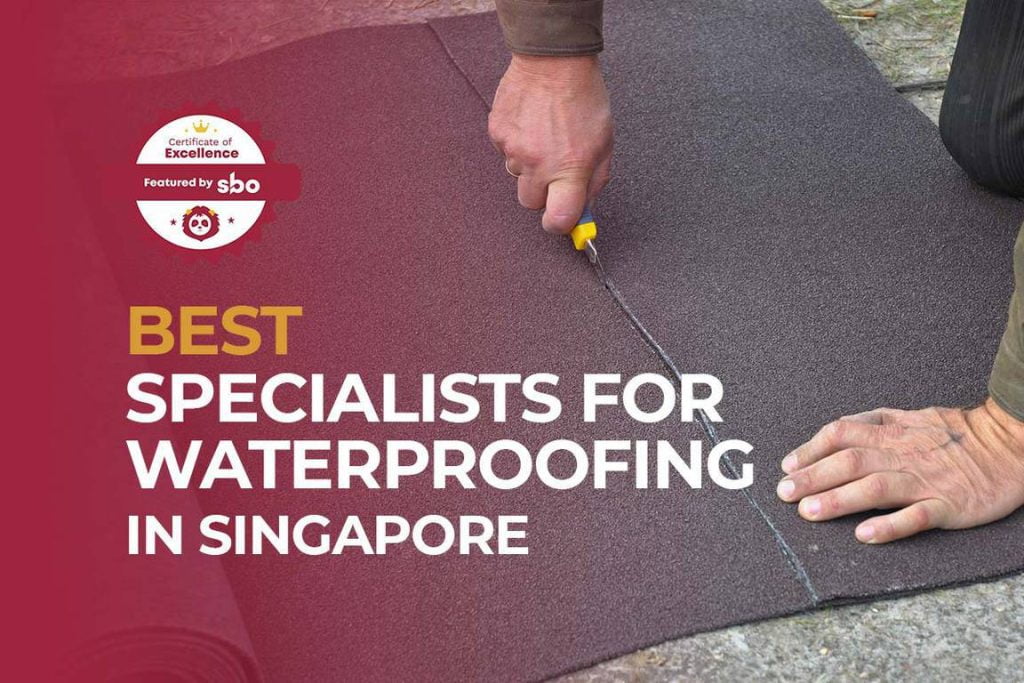 Do you have a water leakage issue at home? If so, consider contacting a specialist for waterproofing in Singapore.
What is Waterproofing?
Waterproofing is the process of making an object or structure waterproof or water-resistant.
It can involve structural engineered injection solutions, liquid applied membranes, torch-on membranes, adhesive applied membranes, or a combination of all of these.
Consequently, it will remain largely unaffected by water or resist the ingress of water.
What Are the Benefits of Waterproofing?
The key benefit of waterproofing is to keep water from seeping into your building's materials.
Not only does water leakage damage your bathroom's materials, it also affects all parts of your home.
This occurs because water is a highly mobile substance.
It can travel as moisture or vapour through the pores of materials and thus end up at a different part of your home.
Though unseen, the moisture will start to cause wood, brick, plaster and plywood in your house's structural frame to become damp and rot.
When this occurs, their structural integrity becomes compromised.
As a result, cracks may appear on your home's surfaces, allowing leaks into their spaces.
In its more advanced form, parts of your ceiling or wall may start to crumble and fall down.
Which Areas of My Home Should I Waterproof?
Generally, we recommend you to waterproof areas of your home that are exposed to high levels of moisture (or rainfall).
These can include the ceilings, walls and floors of your bathroom, kitchen, toilet, balcony, and/or rooftop.
Other areas can include your swimming pool and garden.
Commercial building owners may wish to waterproof their basement car parks or underground infrastructure.
How Much Would it Cost to Waterproof Said Areas?
Costs will vary depending on the contractor you pick and the waterproofing materials used.
But as a rule of thumb, waterproofing a bathroom usually costs between $3.00 and $5.00 per square foot.
Hence, for an average-sized bathroom, you can expect to pay in the vicinity of $500 to $800, although prices can vary for smaller and larger areas.
How Long Does Waterproofing Last?
A high-quality waterproofing should last at least 5 – 10 years.
Waterproofing faults are likely due to material wear and tear brought about by climate changes in Singapore.
Waterproofing warranty is normally issued to ensure a few years of service guarantee in case of additional leakage occurring at leakage spots.
Looking for a specialist for waterproofing in Singapore?
In this post, we've gathered all the relevant details to compile a list of the 10 best specialists for waterproofing in Singapore.
1. SWC Construction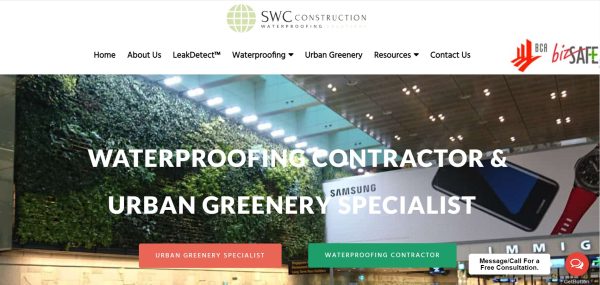 SWC Construction was founded by a team of specialists with over 20 years of experience in both waterproofing and landscape industries.
SWC Construction is actively involved in both the public and private sectors, and their customers vary from statutory boards to management corporations and home owners.
SWC Construction deals primarily with landscape and waterproofing jobs.
The specialist for waterproofing is known for its clear penetrative waterproofing treatment.
This treatment can be used to waterproof any existing leakage structure such as toilets, balconies, rooftops, swimming pools, basements and kitchens.
This waterproofing treatment uses a transparent, penetrative waterproofing chemical solution that is specially made for a non-invasive, no drilling and effective approach to waterproof and ensure water tightness of substrates.
The chemicals can infiltrate into the substrates to create a waterproofed layer and prevent water ingress.
Reviews praise the specialist for waterproofing for meeting customers' tight deadlines and for completing the job professionally.
2. ProSeal Contracts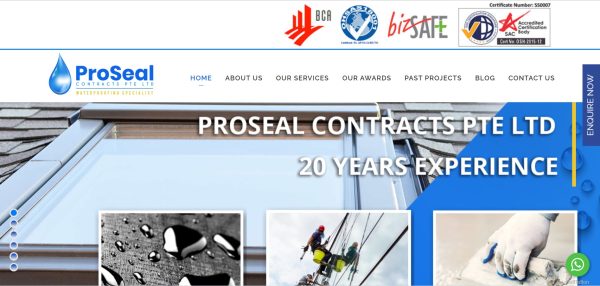 ProSeal Contracts has been in the local waterproofing industry for more than 20 years.
They use quality materials to ensure long-lasting results.
Their skilled workers are also trained in seepage, roofing, concrete and general works.
The specialist for waterproofing is known for its roof waterproofing treatments:
Roof Tile Waterproofing: Their roof tile restoration method for a broken roof tile involves a 3-coating system that comes in various vibrant colours. A high-quality durable and flexible acrylic waterproofing system ensures years of protection against water leakages.
Metal Roof Waterproofing: Since metal roofs come in a variety of profiles, individual assessment by a waterproofing expert is required to determine the areas where various chemical coats and sealants need to be applied to create a leakproof membrane system.
RC Flat Roof Waterproofing: Their waterproofing methodology for a RC Flat roof is a 5 coats system that comes in grey colour high quality durable flexible acrylic waterproofing system or preform Torch-On waterproofing membrane system that ensures years of protection against water leakages.
A torch-on membrane, also known as an APP membrane (short for Atactic Polypropylene membrane), is a prefabricated modified bituminous waterproofing sheet membrane.
An APP membrane creates a comparatively strong membrane layer that is made up of polymers and bitumen which protects that layer against moistures and dampness.
Due to this property, torch on membrane can effectively stop water from pooling on a surface.
Reviews praise the specialist for waterproofing for their responsiveness.
They reached out to customers and arranged for inspection appointments promptly.
3. Proof-Tech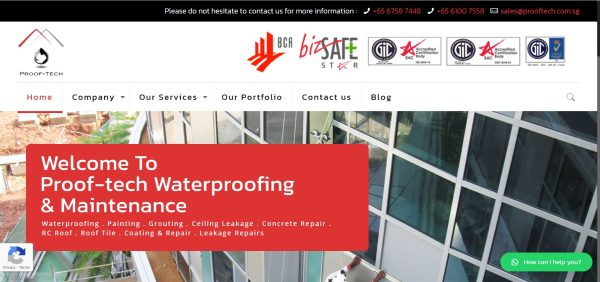 With more than 20 years of experience in waterproofing, roofing repair and maintenance, Proof-Tech Waterproofing & Maintenance Pte Ltd has worked its way up to be the top specialist for waterproofing.
Typically, a waterproofing membrane is applied by their professional waterproofing team to prevent water penetration.
As a commercial grade solution, waterproofing membranes can be applied at scale and remain functional for many years.
Most buildings rely on correctly applied waterproofing membrane systems to keep their foundation safe from water damage.
Two types of waterproofing membrane products are most commonly used:
Sheet membrane systems are highly popular with regularly shaped and bigger open spaces. Stored as a roll of sheet, the sheet membrane can be quickly unrolled and led to cover the surface. After which, the sheets are bonded together and to the surface using a torch. Sheet membrane systems are favored for their quick and easy deployment.
Liquid membrane systems are chosen for smaller or irregularly shaped spaces. Stored as a liquid, the liquid membrane is applied using roller brushes. Typically requiring multiple coats, a liquid membrane is harder to use due to the need for skilled application. Yet, it is favored on tight corners or where protrusions occur from the surface. In such areas, sheet membranes cannot be effectively applied due to the inevitable space left between the sheet and the surface.
Commonly, two applications of waterproofing membranes are performed by their waterproofing team:
Above-grade waterproofing involves the application of waterproofing membrane systems to areas above the ground surface. Common examples include roofs, balconies and planter beds. These spaces are naturally exposed to wind, rain and ultraviolet rays, meaning that the membrane used needs to be resistant to these weather elements.
Sub-grade waterproofing is utilized in spaces below the ground level. Common examples include tunnels, retaining walls, pipes and under-slabs. While not exposed to weather elements, these surfaces are in constant contact with soil moisture. As such, the membrane product used needs to be resistant to long term exposure to moisture.
Reviews praise the specialist for waterproofing for providing an accurate diagnosis of the problem and for doing the work as promised.
4. B4 Water Leakage Specialist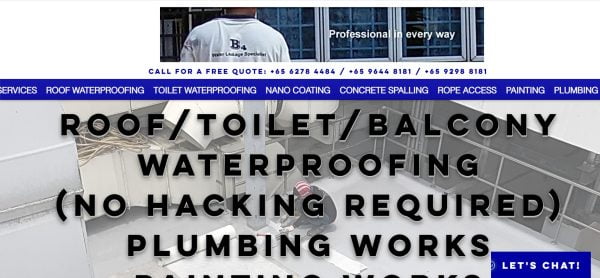 B4's mission is to be the most reputable, customer-service oriented company in the waterproofing industries.
Their foremost objective is to provide our customers with prompt, courteous customer service and the highest quality workmanship at a reasonable price.
The specialist for waterproofing is known for its nano-coating waterproofing treatment.
B4 Nano Coating is a water-based liquid formulation.
It provides effective waterproofing and surface protection for a wide range of building surface types.
With viscosity close to that of water, NSC nanoparticles (NPs) are able to penetrate deeply into capillaries that no other elastomer or polymer can.
This nanotechnology based composition guarantees effectiveness, prolonged lifetime of coated surfaces and zero visible change to the original look/shine of the substrate.
​While traditional waterproofing coats simply create a "film" over the substrate which is subject to weathering as well as wear and tear, NSC NPs embed themselves deep into the pores without clogging up the substrate.
This method of treatment makes it virtually impossible to be damaged or corroded.
It cannot be removed via mechanical or chemical means.
​Yet, due to the incredibly small particle size, NSC-treated surfaces remain breathable.
This is very important as moisture will be able to escape from inside relieving negative pressure to prevent swelling, cracking and warping.
Reviews praise the specialist for waterproofing for their patience, professionalism and trustworthiness.
5. Dryproof Waterproofing Contractor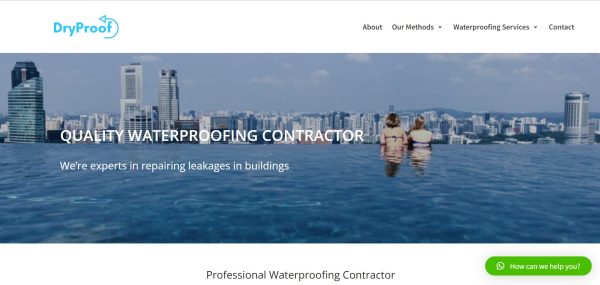 Dryproof provides professional waterproofing installation for any renovation or existing project.
They work in small, agile teams to deliver customised and practical solutions for all your waterproofing needs.
Dryproof is highly committed to solving any kind of water leakage issues with the best method available.
The specialist for waterproofing is known for effectively waterproofing swimming pools.
Typically, many swimming pools are constructed of concrete, which does not have any inherent waterproofing properties.
Concrete is rather proud and allows permeation of water over time unless it is treated with a layer of waterproofing coating applied to the pool shell.
To be a fully functional pool without leakages, the swimming pool has to be completely treated with waterproofing to prevent any seepage through cracks.
Here are some of the appropriate materials which they use and that have been proven to be effective in waterproofing swimming pools:
Polyurethane – a crystalline compound that forms a water-resistant membrane with greater durability than bitumen-based materials
Polyvinyl chloride (PVC) and thermoplastic polyolefin – waterproof sheets that create a durable, strong membrane
Ethylene propylene diene monomer rubber (EPDM) – a synthetic rubber with extremely durable qualities. They are proficient waterproofing sheets that are highly efficient for swimming pool waterproofing.
Reviews praise the specialist for waterproofing for their high-quality waterproofing membranes.
6. Flux Solutions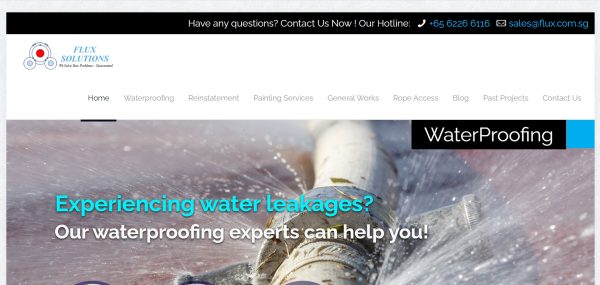 At Flux – Waterproofing Specialist Singapore, they embrace changes and know that waterproofing problems arise from all kinds of issues and environments.
Flux carries out a range of water repair works and resolves leakages such as toilet leakage, roof leakage, ceiling leakage etc.
They also offer other services such as Reinstatement, Painting, Rope Access and other general works.
As a waterproofing contractor in Singapore, they ensure that your structure is waterproofed.
They utilise the following techniques for waterproofing in Singapore:
Cementitious application for toilet
Polyurethane pressure grouting
Roofing waterproofing membrane
Liquid applied waterproofing membrane
Torch-on waterproofing membrane
Our advice is to go to them if you're looking to get cementitious waterproof membranes for your home.
Cementitious coatings, as the name implies, rely on cement-based coatings to provide a waterproof barrier.
These systems combine Portland cement with a waterproofing agent, typically a synthetic emulsion polymer.
They can be applied behind the tile, over masonry patching and over concrete surfaces.
Cementitious coatings are popular because they're easy to apply, create breathable barriers and offer superior bonding strength.
That's not all: they will also help to inspect your houses and commercial buildings, and accurately determine the areas that need to be waterproofed.
Reviews praise the specialist for waterproofing for offering swift and timely waterproofing solutions.
7. Prima Seal Waterproofing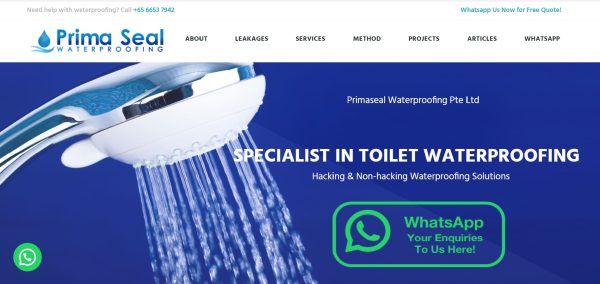 Prima Seal Waterproofing Pte Ltd offers complete waterproofing services for leakages in Toilets, Bathrooms, and Showers.
With more than 10 years of waterproofing contractor experience, they have undertaken thousands of projects for both residential and commercial waterproofing contracts.
They are approved by and registered with the Building & Construction Authority (BCA) of Singapore as a CR13 waterproofing contractor.
They are also a proud bizSAFE Level 3-certified company.
As part of their waterproofing service, they also provide waterproofing consultancy services that include diagnosis and problem solving for all types of toilet/bathroom water leakage issues and projects.
This will often include site visits and recommendations for specialty applications, using the best possible waterproofing materials and waterproofing membrane.
The specialist for waterproofing is known for its flood infusion treatment that entails an advanced chemical waterproofing solution.
This solution is a film forming and crystallising sealer for seepage and dampness and can migrate more than 100mm into concrete under the influence of water.
This effectively seals all leakage problems, including the tiniest of cracks.
Their novel waterproofing technology allows them to eliminate your leakage problem within a day, which is more than five times faster than conventional methods which requires a week.
Their Waterproofing Solution is also non-toxic and uses water-based non-hazardous solvents with a Low Volatile Organic Compounds (VOC) content.
Reviews praise the specialist for waterproofing for being professional in their diagnosis of customers' water leakage problems.
8. Hydro-Seal Engineering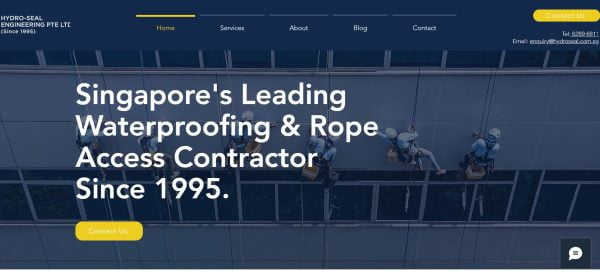 Hydro-seal Engineering Pte Ltd has been playing an active role in the waterproofing industry and has been serving local communities since 1995.
They specialise in Residential, Commercial, Industrial waterproofing and concrete repair works.
​Customer service is the cornerstone of Hydro-seal.
They believe in offering their customers a superior level of service at competitive rates through innovative and creative work, higher productivity and effective solutions.
The specialist for waterproofing is known for its concrete repair and waterproofing works.
Spalling concrete is a common issue for older buildings.
It is largely caused by carbonation where the steel bars embedded in the ceiling slab start to corrode, which in turn causes the concrete cover to crack and bulge.
Interfloor seepage is a common occurrence that happens when a waterproofing issue trickles downwards and affects the floor below.
They utilise the following methods and techniques for concrete waterproofing in Singapore:
Spalling Concrete Repair: It is important to attend to spalling concrete immediately to preserve the building's structural integrity. Repair methods entail removing the loose concrete, treating the rebar with anti-rust coating and finally re-plaster the surface with high strength mortar.
Formwork Grouting: Formwork grouting is necessary when serious honeycombing or defects are present in existing concrete structures. This method of repair entails using formwork to form a mould around the affected structure and high strength non-shrink cementitious grout are injected in under pressure to fill up the big voids and gaps at the affected concrete structure.
Polyurethane (PU) Grouting: PU Grouting involves the injection of expanding polyurethane to stop water from flowing into cracks, or to fill voids within slabs and concrete joints. A pre-drilled hole will be prepared on the underside of the ceiling, and the PU grout will be injected under pressure. The grout material, when mixed with a certain amount of accelerator, will react with water or moisture and expand, to form a tough, closed-cell rubber that is essentially unaffected by corrosive environment.
Reviews praise the specialist for waterproofing for conducting a thorough site inspection and for their expertise as to how customers can solve their water leakage problems.
9. Allstar Waterproofing & Services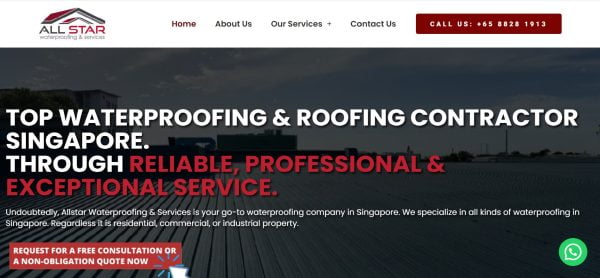 Allstar Waterproofing and Services is a leading Singaporean waterproofing & roofing contractor.
Founded in 2013, they specialise in all kinds of waterproofing in Singapore.
The specialist for waterproofing is known for its bathroom and toilet waterproofing treatments.
This entails applying a physical barrier to the floors and walls to prevent water penetration into the structures within the premises of your bathroom or toilet.
The waterproofing membrane is applied first, before tiles are laid to protect the walls and subfloor.
As a matter of fact, they take a step-by-step approach to waterproofing your toilet or bathroom:
Surface Preparation – A total strip out and get the area back to square one. Clean and ensure the surfaces are free of any debris.
Priming – Prime rough and porous surfaces.
Fillets and Bond Breakers – Seal all junctions, edges and joints.
Application – Application of flexible cementitious membrane and enhance with layer of hydrophobic screed to prevent water, water vapour and moisture from penetrating concrete surfaces.
Inspection – Project inspection during all phases of application.
Reviews praise the specialist for waterproofing for their reasonable prices and the wealth of experience they possess.
10. Classic Waterproofing & Plumbing Pte Ltd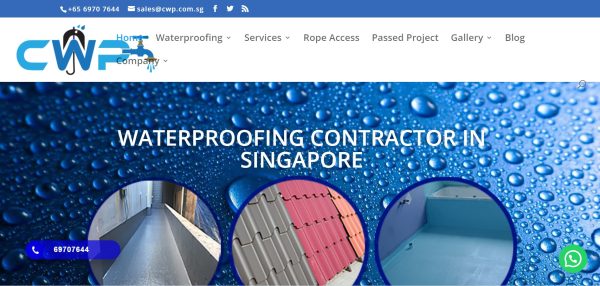 Classic Waterproofing is a Singapore-based waterproofing and plumbing service contractor.
With over 20 years of experience in this field, their waterproofing skills and expertise have been tested, refined and proven.
They offer complete solutions using both hacking and non-hacking waterproofing applications (commercial & non-commercial) for your toilets, bathrooms, showers etc.
The specialist for waterproofing also provides free on-site consultation and estimates.
The specialist for waterproofing utilises the following waterproofing methods:
Paint Waterproofing: Paint waterproofing is applied by hand or is sprayed. The thickness of the waterproofing layer is merely 1-1.5 inches. The common lifetime of paint waterproofing is five years.
Roof Waterproofing Foil: This is the best (and most inexpensive) choice for pitched roofs, together with slate, tile, and metal roofs. Most of the time, waterproofing foil is employed for insulation in attics and lofts together with dielectric and polystyrene.
Leak Protection: A top quality waterproofing membrane that has been properly put in can facilitate to stay runoff from rain and snow out of your building and off of your head. Their waterproofing specialists will assist you with the installation, repair, replacement, or examination of the membrane.
Added Protection: In addition to putting in or repairing waterproofing membranes solution, there are variety of alternative techniques which will be used for optimum roof waterproofing for their customers. From adding underlays to reconfiguring your gutter system, they will assist you to realise ways in which to forestall roof leaks and alternative problems from occurring before they cause pricey water injury to your roof and also the structure it's meant to guard.
They use only reliable merchandise – a flexible, self-healing membrane that's over 3 times thicker than most different waterproofing membranes.
It simply conforms to all or any surface irregularities and adheres to varied substrates, together with concrete, steel, and wood.
This outstanding product has been used with success by architects, engineers, and building house owners for years.
Reviews praise the specialist for waterproofing for being prompt in settling customers' queries and appointment arrangements.
Conclusion
Do you have any reviews and comments to share regarding our choices for the best specialists for waterproofing in Singapore?
While SBO is committed to supporting our local businesses, we welcome any feedback and anonymous sharing regarding your experience with the listed specialists for waterproofing in Singapore.
We hope that this guide will be useful in helping you to make an informed decision when it comes to finding the best specialists for waterproofing in Singapore.
Waterproofing often goes hand-in-hand with toilet renovation.
If you're looking to engage the services of one, do check out our list of the 10 best toilet renovation in Singapore to give your toilet a makeover.
Explore More Content