10 Best Washing Machine Repair in Singapore to Help You Resume Your Washing Routine [2021]
Hopefully this takes a load off your mind.
Home & Living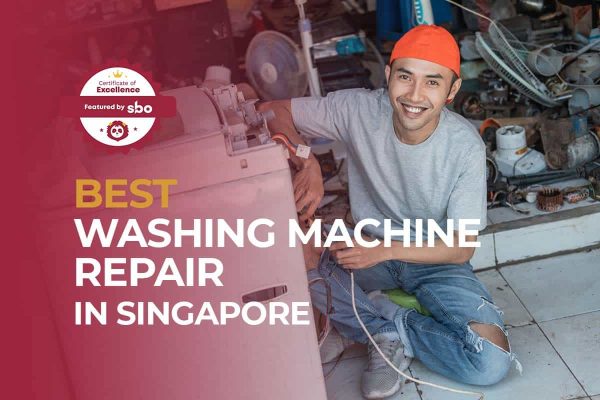 Our team at SBO.sg is committed to being a one-stop avenue to connect local businesses and consumers. We hope that our research efforts can help you save time and money by finding you the best deals without having to search around the vast world-wide-web.
The washing machine is perhaps the best appliance ever invented by Mankind. A washing machine is a home appliance used to wash laundry.
The term is applied to machines that use water as opposed to dry cleaning (which uses alternative cleaning fluids and is performed by specialist businesses) or ultrasonic cleaners.
Unfortunately, washing machines can get faulty very easily. These common faults could range from problems with the spin cycle to blockages in the drain hose.
Looking for a washing machine repair in Singapore? In this post, we've gathered all the details to compile a list of the 10 best washing machine repair in Singapore.
1. Tat Hai Repair Centre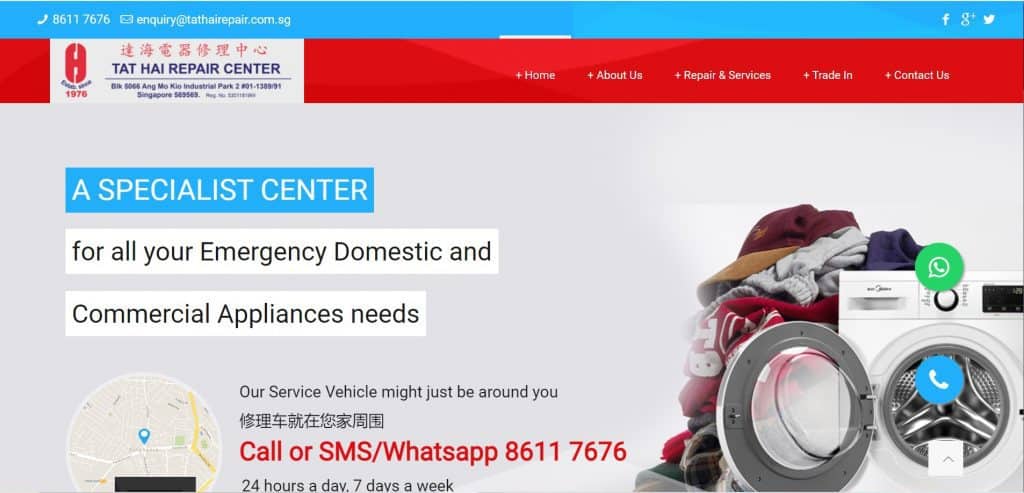 Tat Hai Repair Center was established in 1976, and they have amassed a database of customers to whom they continue to provide their specialised repair services.
The washing machine repair in Singapore specialises in providing a 'one-stop' service center from repair and maintenance of electrical and electronics home appliances to sale of new appliances including trade-ins of old for new appliances under attractive terms. To provide a better service, they have their repair men on standby island-wide, whom can reach their customers' place within an hour.
They only charge a nominal service fee starting from $25.00 to cover transport.
2. Fixwerks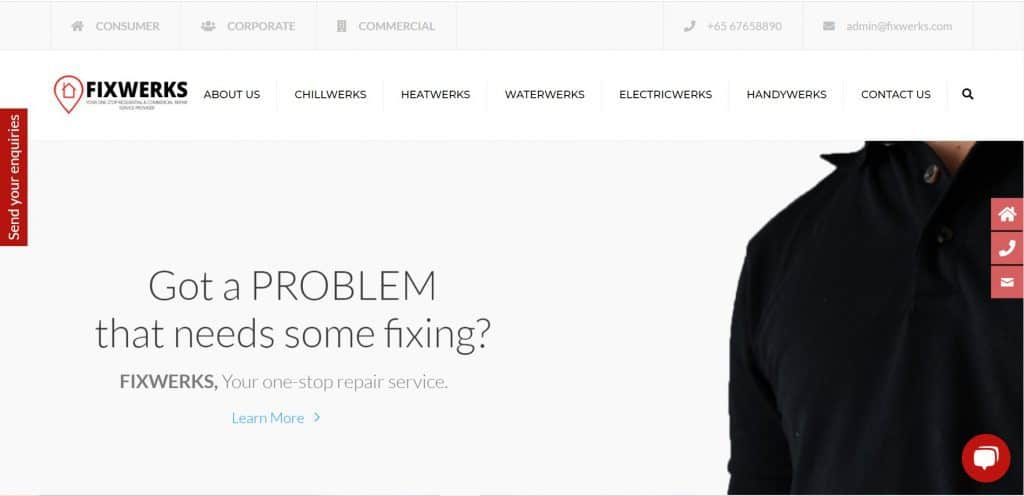 Fixwerks offers high quality home and kitchen appliances repair services. They aim to improve user experience by providing outstanding services for a wide variety of kitchen and home appliances. As a professional and reliable services provider, their main goal is to provide their customers with the exceptional services they desire.
In fact, Fixwerks is one of the top reviewed washing machine repair companies in Singapore. Their engineers are well-trained and also provide quick repair services.
Some of the washing machine brands that the washing machine repair in Singapore commonly services include Samsung, Electrolux, LG, Bosch and Whirlpool.
3. Washing Machine Repair Singapore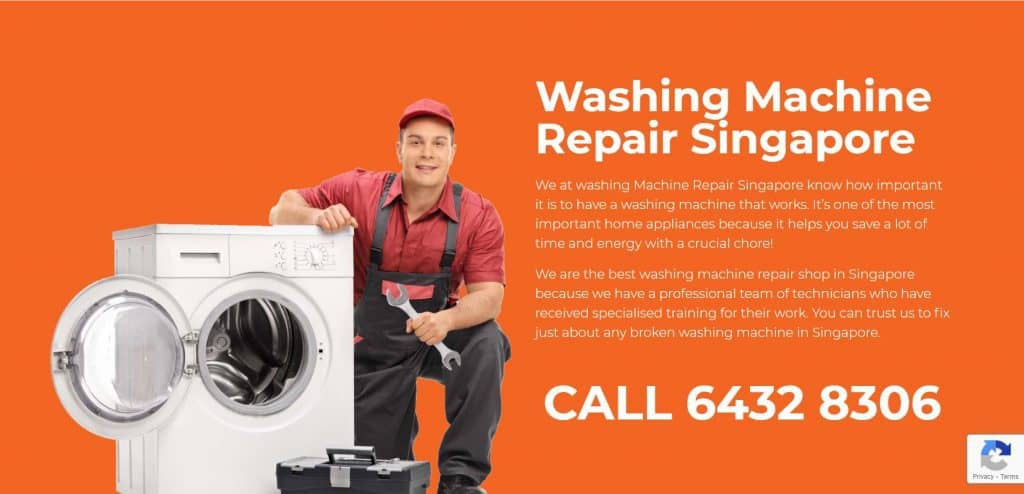 Washing Machine Repair Singapore understands how important it is to have a reliable washing machine at home. That's why they offer washing machine repair services that are fast and convenient, no matter where you're located.
As the best washing machine repair Singapore company, they know how to repair all kinds of washing machine brands. You name it, they fix it. Thanks to the broad knowledge of their technicians, aside from Samsung, Panasonic, Hitachi, and Bosch, the company can also do Electrolux washing machine repair in Singapore.
To help you cut costs and stick to your budget, they are transparent about pricing and there are no hidden charges. What you see on their quote is what you get.
The washing machine repair in Singapore also strives to cater to all their customers, so they try to provide same-day replies to all enquiries.
4. Yeobuild HomeRepair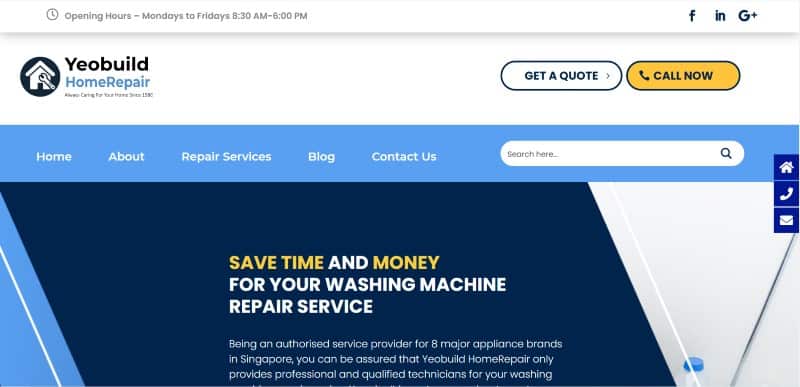 Originally a family-owned small business, Yeobuild Brothers was founded in 1959 by Yeo brothers for a simple reason: to provide all-around maintenance to every home in Singapore. Armed with genuine dedication to their craft, the Yeo brothers were able to grow their 2-man team into what became Yeobuild Management in 1980.
61 years on, Yeobuild HomeRepair remains committed to this aspiration with six PUB and EMA licensed technicians specialising in major home appliance repairs.
The washing machine repair in Singapore is bizSAFE certified, ensuring that they have complied with the 5-step programme tailored by the Workplace Safety & Health Council (WSHC). This assures all their clients and customers that they have attained an optimum level of health and safety standards for all repair works.
5. Bright Star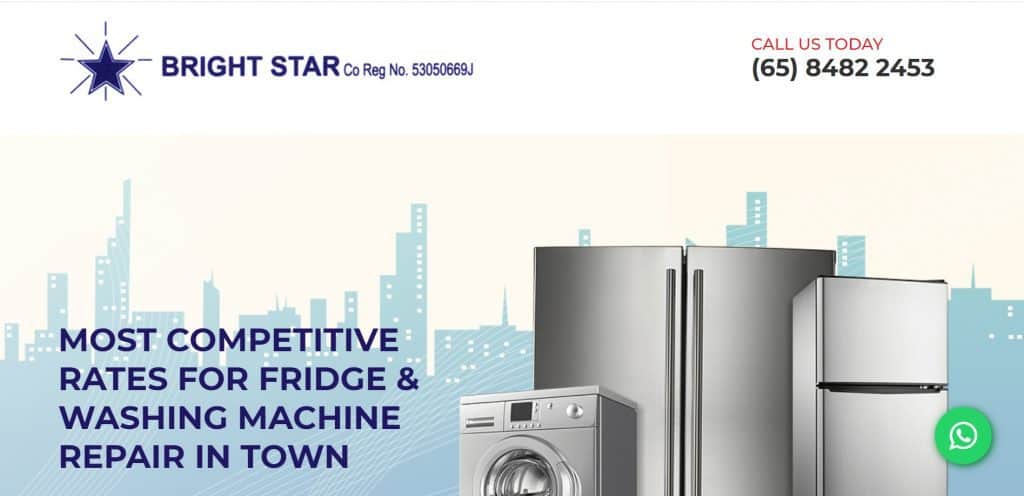 Having been in this industry for more than 25 years, Bright Star has maintained a high level of professionalism and vision and has developed the most efficient and safest way to repair their clients' existing fridges and washing machines.
Bright Star boasts a 98% customer satisfaction rate and 1 hour response time. The washing machine repair in Singapore also has the guaranteed lowest rates in town.
6. SG1 Electrician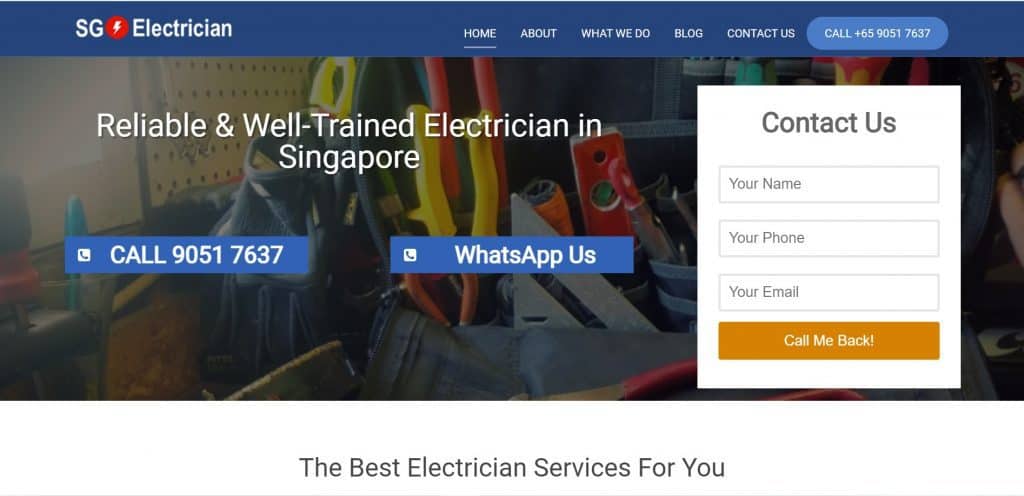 SG1 Electrician offers a complete range of services to all their clients. They have become a one-stop shop online for customers, who need to hire professional help for diagnosis of electrical problems, troubleshooting, rewiring, as well as the installation or repair of appliances and other electrical equipment.
SG1Electrician is a top service provider when it comes to washing machine repair in Singapore. The professional electricians doing the repair work guarantee quality repairs each time. You can purchase one of their promotional packages which include a 90-day repair warranty and discounted rates given throughout the year.
Their team of electricians all had their licenses issued by the Energy Market Authority (EMA) of the Singapore government. This is an assurance that they can handle different types of tasks and ensure the safety of the electrical work.
7. WashingMachinePro.com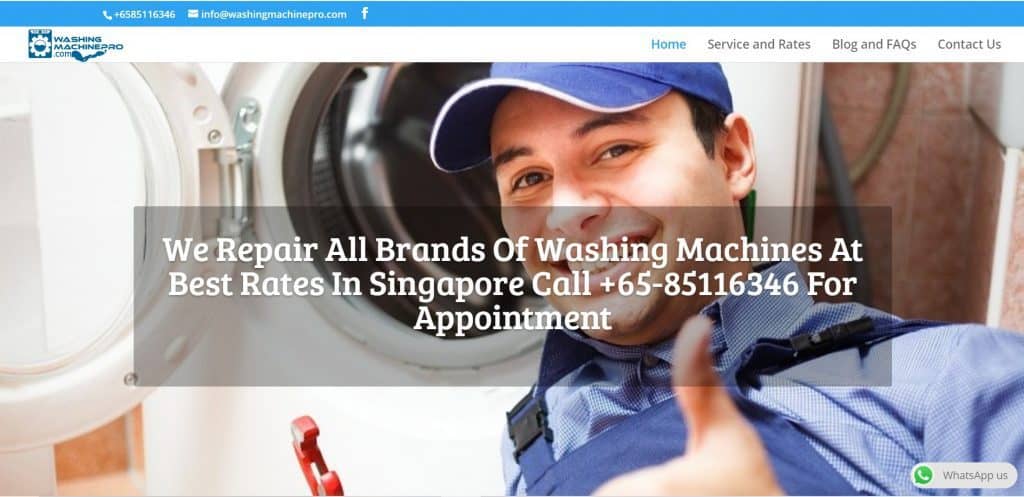 Looking for washing machine repair in Singapore? WashingMachinePro.com's trained and experienced technicians can get your machine working like new in no time.
The washing machine repair in Singapore provides 30 days warranty on the repaired parts. If anything goes wrong with the repaired part, they will do free repairs.
They repair all major brands of washing machines like Samsung, LG, Bosch, Electrolux, Ariston, Whirlpool, Toshiba, Panasonic, Samsung etc. to name a few.
8. HM Electrical Service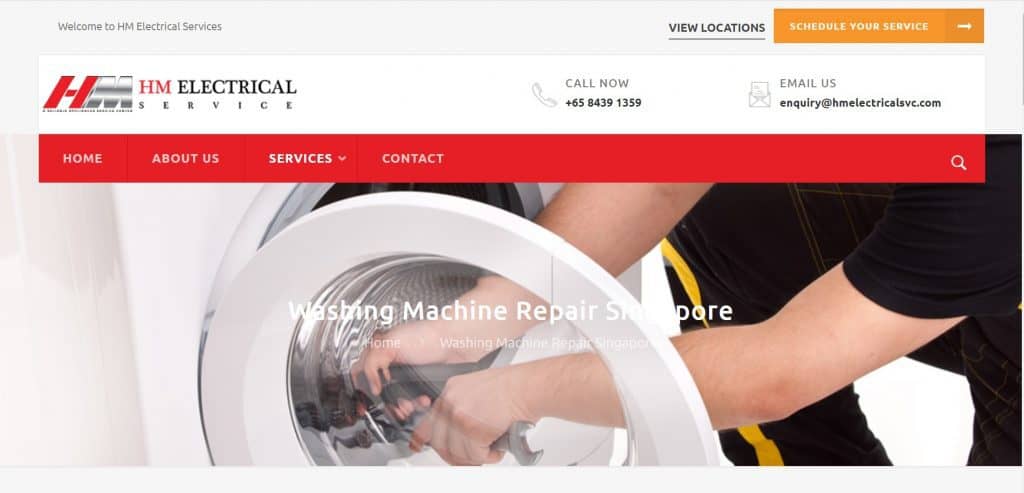 HM Electrical Service's team of washing machine specialists offer same day on-the-spot repair services for domestic and commercial washing machine throughout Singapore. The washing machine repair in Singapore offers the best price.
All of their repair work comes with a 12 month guarantee for parts and labour. Exact cost is provided before any work is begun as they believe in honest work.
If your washing machine is still covered under its original brand warranty, it is usually best to have it fixed by the manufacturer in Singapore. However, if the warranty period has ended, or the washing machine repair is urgent, they are your best choice as manufacturers usually take up to two weeks to dispatch a technician and are likely going to end up charging you significantly more.
9. SG Washing Machine Repair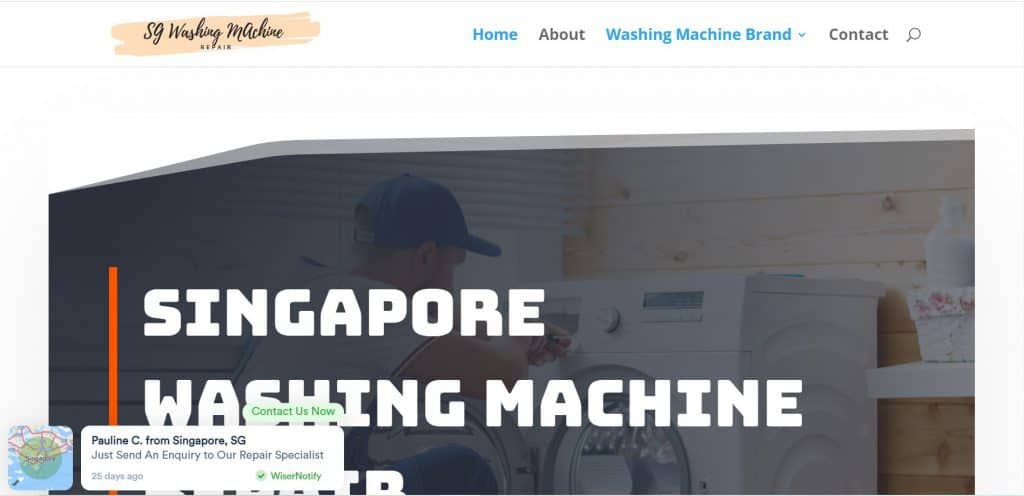 SG Washing Machine Repair is are a one-stop shop for everything washing machine-related, from minor tweaking to significant repairs. The washing machine repair in Singapore offers a free consultation session for first-time customers.
Part of the excellent service they are aiming towards is listening to their customers. They take pride not just on the quality of our work, but also in how they work with people. May it be explaining what's exactly wrong with the appliance, or feedback after the job, they are always open to what you have to say.
The company can take care of almost all the major brands in Singapore. This includes Sanyo, Whirlpool, Panasonic, Bosch, Samsung, LG, and Electrolux.
10. Song Kwang Electric Service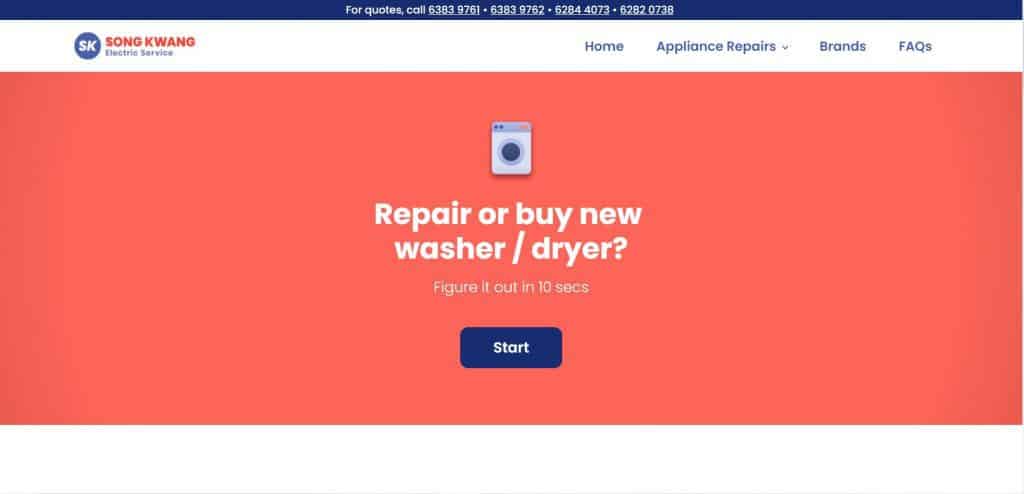 Founded in 1979, Song Kwang Electric Service repairs electrical appliances for homes and commercial businesses in Singapore. They provide warranty for some of Singapore's biggest consumer electronic retailers for a period of 3 months.
The average scheduling time of their washing machine repair in Singapore is 1-2 days. Same day repairs possible if slots are available, but you have to enquire.
Their islandwide cover charge is S$35.00, which is lower than the market price.
Conclusion
Do you have any reviews and comments to share regarding our choices for the best washing machine repair in Singapore?
While SBO is committed to supporting our local businesses, we welcome any feedback and anonymous sharing regarding your experience with the listed washing machine repair in Singapore.
We hope that this guide will be useful in helping you to make an informed decision when it comes to finding the best washing machine repair in Singapore.
>