10 Best Vacuum Cleaners in Singapore That Won't Lie Around and Collect Dust [2023]
Time to get a vacuum cleaner in Singapore that doesn't suck.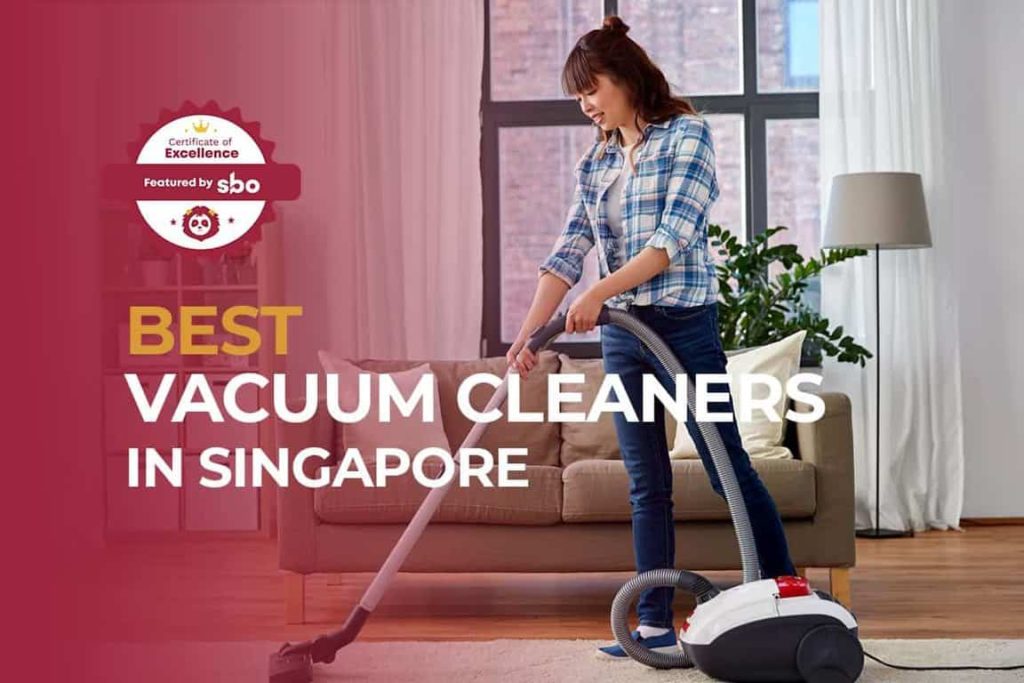 A vacuum cleaner, also known simply as a vacuum or a hoover, is a device that causes suction in order to remove dirt from floors, upholstery, draperies, and other surfaces.
A vacuum cleaner is usually electrically driven.
The dirt is collected by either a dust bag or a cyclone for later disposal.
Looking for a vacuum cleaner in Singapore?
In this post, we've gathered all the relevant details to compile a list of the 10 best vacuum cleaners in Singapore.
1. Ecovacs Deebot U2 Pro Robotic Vacuum Cleaner
The Ecovacs Deebot U2 Pro Robotic Vacuum Cleaner is a robotic vacuum cleaner that doesn't require manual operation.
The vacuum cleaner's perfectly balanced configuration of a 400mL dustbin and 300mL reservoir can clean up to 200 square metres of an entire home at a time.
The vacuum cleaner in Singapore comes with the following cleaning modes:
Auto Mode: For general cleaning
Edge Mode: For cleaning specific edges
Spot Mode: For when intensive cleaning in one area is required
Hard Floor Mode: For hard floor cleaning
Max+ Mode: For an intense deep clean
With its optimised power consumption technology and built-in 3200mAh battery, the DEEBOT U2 Pro can clean for 150 minutes at one full battery charge.
That's not all: the vacuum cleaner has an automatic charging functionality.
When battery power gets low, the DEEBOT U2 Pro automatically returns to its Dock Station, all by itself.
With the ECOVACS App in your hands, you can effortlessly schedule cleaning times and set cleaning modes, monitor the cleaning status, and enjoy all the convenience of automated housework.
Whether you are a Google Home or Amazon Echo user, you can link your smart home devices to your robot and command it to start cleaning, whenever and however you like.
Equipped with anti-drop and anti-collision sensors, the vacuum cleaner can also clean around stairs and avoid obstacles.
2. Philips FC9352/61 PowerPro Compact Bagless Vacuum Cleaner
With the Philips Bagless Vacuum 3000 Series, compact design meets king-size performance.
Enjoy thorough cleaning throughout your home thanks to its PowerCyclone 5 technology and the vacuum cleaner's MultiClean nozzle.
Its PowerCyclone 5 technology accelerates the air flow in the cylindrical chamber to separate dust from the air and maintain high performance and strong suction power for longer.
Its MultiClean nozzle is designed to seal closely to the floor to ensure thorough cleaning across all floor types.
Its durable 1900W motor generates up to 370W of high suction power for thorough cleaning results.
The fully-sealed filtration system captures 99.9% of fine dust particles – including pollen, pet hair and dust mites – for allergy sufferers and anyone demanding a higher level of hygiene.
Its filtration level is equivalent to HEPA 13.
3. Dyson Digital Slim Fluffy Extra Cordless Vacuum Cleaner – Purple/Iron
Some cordless vacuums sacrifice suction for lightness.
The Dyson Digital Slim™ delivers the powerful performance you'd expect from a Dyson, yet it's 30% lighter and 20% smaller than the Dyson V11™ vacuum, with up to 40 minutes of fade-free suction.
The Dyson Digital Slim vacuum transforms easily from a stick vacuum to a handheld, to perform a range of tasks that could otherwise need three separate machines.
Only the Dyson Digital Slim™ vacuum has an advanced Dyson Hyperdymium™ motor, highly-efficient cyclone technology and five-stage filtration to deliver powerful cleaning with no loss of suction.
Made from high-tensile ABS for strength and lightness, the Slim Fluffy™ cleaner head uses soft woven nylon to capture large debris, while black anti-static carbon fibre filaments sweep fine particles from hard floors.
Its LCD screen shows current performance, including selected power mode, remaining run time, filter maintenance reminders and blockage reports.
4. Karcher WD1 Wet/Dry Vacuum Cleaner (1000W)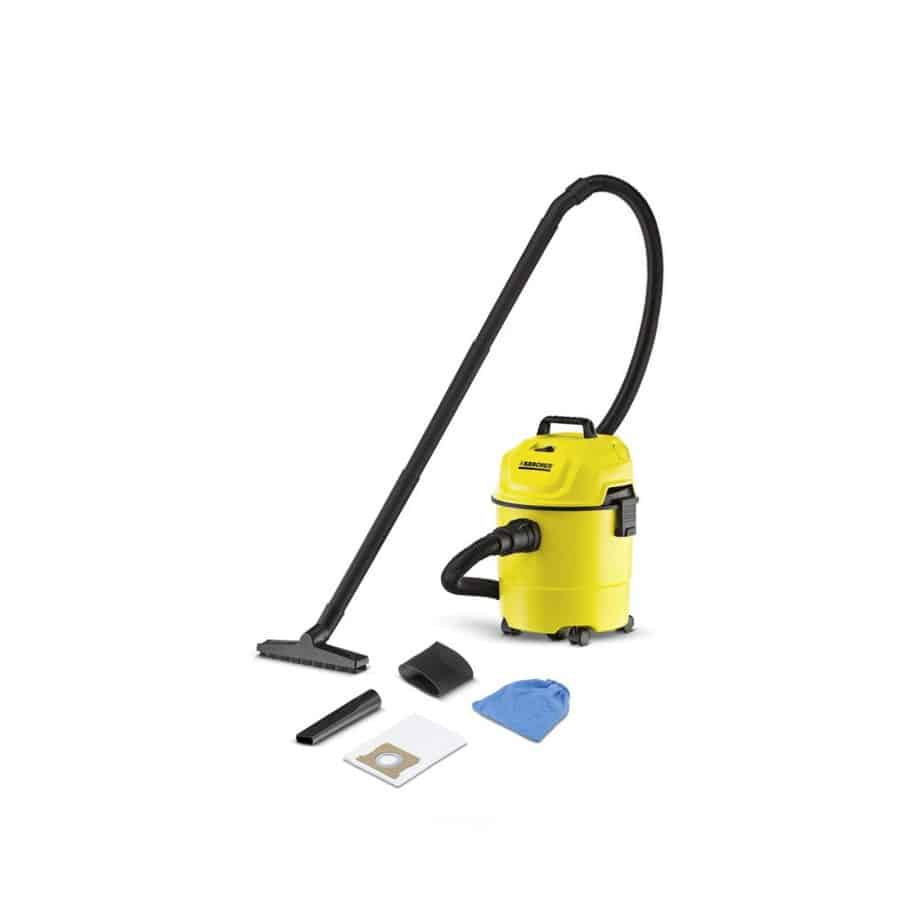 The WD1 Classic multi-purpose vacuum cleaner can perform both wet and dry cleaning.
It is a powerful 1,000-watt device that comes with a robust and shock-proof 15-litre waste container.
This compact vacuum cleaner offers exceptional advantages, being designed for space-saving storage and quick in-between clean-ups.
The WD1 Classic is ideal for cleaning around the home, in cellars, outside areas and car interiors or for picking up small water volumes.
It features a foam filter for wet vacuuming, a non-woven bag and a paper filter bag for dry vacuuming and a universal clip floor nozzle that is perfect for wet and dry cleaning.
Other practical features include the blower function, a handy accessory storage compartment, a cable hook and an ergonomic carrying handle.
The best part of it all: the vacuum cleaner comes with a one-year warranty.
5. Bosch BGL3A330GB ProEnergy Vacuum Cleaner (650W)
The QuattroPower System is Bosch's high performance technology for outstanding cleaning results with low energy consumption.
This highly efficient system is based on the unique combination of HiSpin Motor, High Performance nozzle, optimized air seals and efficient dust separation system.
The PowerProtect System ensures long-lasting cleaning performance, even when the bag fills up.
Through this, the new PowerProtect dustbag can unfold optimally and has a higher dust pick-up capacity thanks to the multi-layered hi-tech filter material.
The vacuum cleaner comes with a Class A Performance Hardfloor classification, which measures the dust pick-up on hard floors with crevices and joints.
The higher the hard floor cleaning performance class, the more thorough the in-depth cleaning results of floors with crevices and gaps like tiles and floor boards.
There is a high degree of flexibility and convenient vacuuming thanks to its long cable that can span a 10 m operating radius.
6. Philips FC9174/61 Vacuum Cleaner
The highest suction power ever, resulting in effortless cleaning: this is what the FC917x range is all about.
Combined with a hygienic filter and easy dust bag removal system, the FC917x range takes care of all your dust and dirt.
Its allergy H13 filter system traps >99.9% of fine dust particles – including pollen, pet hair and dustmites, making it ideal for allergy sufferers.
Its filtration level is equivalent to HEPA 13.
Its TriActive nozzle utilizes three cleaning actions in one go.
The specially designed soleplate removes dust from deep within carpets, while the large front opening sucks up big bits.
Air channels on both sides of the nozzle pick up any dust and dirt alongside walls or furniture.
The rotating Turbo brush is designed for optimal cleaning of pet hair and fluff, opening up carpet fibers for a deeper clean.
7. Philips FC6723/01 SpeedPro Cordless Stick Vacuum Cleaner – Star White
The new Philips FC6723/01 SpeedPro Cordless Stick Vacuum Cleaner provides a fast clean, with powerful reach.
Its 180° suction nozzle is designed for precise and powerful pick-up of dust and dirt on all floor types, even in those hard to reach spots.
Dust, fluff, hair and crumbs are easy to spot and captured due to the Light Emitting Diode (LED) bulbs in the SpeedPro nozzle.
LEDs in the nozzle reveal hidden dust and dirt, on the go.
Its high performance 18V lithium ion batteries provide up to 30 minutes in normal mode and 15 minutes in turbo mode, before you recharge.
Its PowerCyclone 7 technology immediately separates dust from air, to maintain strong performance for longer.
Its PowerBlade motor is engineered for high air speed, to enable powerful, precise pick-up at the nozzle level.
8. Karcher DS6000 Mediclean Water Filter Vacuum Cleaner
The Karcher DS6000 Mediclean Water Filter Vacuum Cleaner comes with an in-built water filter.
DS6000 is a vacuum cleaner with water filter that not only provides thoroughly vacuum-cleaned floors, but also ensures fresher 99.99% dust-free exhaust air.
This results in a far more pleasant indoor environment.
It can cover all hard surfaces, carpets, textile surfaces, hallways and covers.
The vacuum cleaner comes with a multi-stage filter system, consisting of an innovative water-filter, washable intermediate filter, and a HEPA 13 filter.
There is quick and easy intermediate parking of suction tube and floor nozzle during working interruptions.
9. Karcher VC4i Plus Cordless Handstick Vacuum Cleaner
All the features of a larger vacuum and much more, in a compact size – the VC 4i delivers consistent suction power (300W) thanks to its bagless cyclonic design.
Equipped with a washable HEPA12 filter that captures up to 99.5% of dust and micro particles, it picks up a wide range of allergens.
The vacuum cleaner is battery-operated and comes with a charging docking station.
10. Tefal TW2947 Swift Power Cyclonic Vacuum Cleaner
The SWIFT POWER CYCLONIC vacuum cleaner offers deep-cleaning results in a compact frame, for everyday home solutions made easy.
Advanced cyclonic technology comes together with a high-efficiency suction head to deliver dust pick-up performance you can count on day after day, with all the benefits of modern technology in a canister vacuum cleaner and a compact design for easy handling and storage.
The convenient bagless format is easier than ever, with a container design that makes cleaning and emptying effortless, while offering all the performance and benefits of modern cyclonic technology.
With a cord that can span an operating radius of 7.6 m, this vacuum cleaner offers exceptional range for high-performance cleaning that covers every inch of your home environment.
Thanks to its high efficiency filter, the SWIFT POWER CYCLONIC filters 99.98% of dust and offers a healthy environment.
With 6,200 approved repairers worldwide, the vacuum cleaner is repairable at fair price for 15 years.
Conclusion
Do you have any reviews and comments to share regarding our choices for the best vacuum cleaners in Singapore?
While SBO is committed to supporting our local businesses, we welcome any feedback and anonymous sharing regarding your experience with the listed vacuum cleaners in Singapore.
We hope that this guide will be useful in helping you to make an informed decision when it comes to finding the best vacuum cleaners in Singapore.
Explore More Content
Are you featured in this?
Display this exclusive SBO badge proudly on your website and get more sales!