10 Best Motion Sensor Lights in Singapore to Glow-Up Your House [2022]
Check out the 10 best motion sensors you can get in Singapore.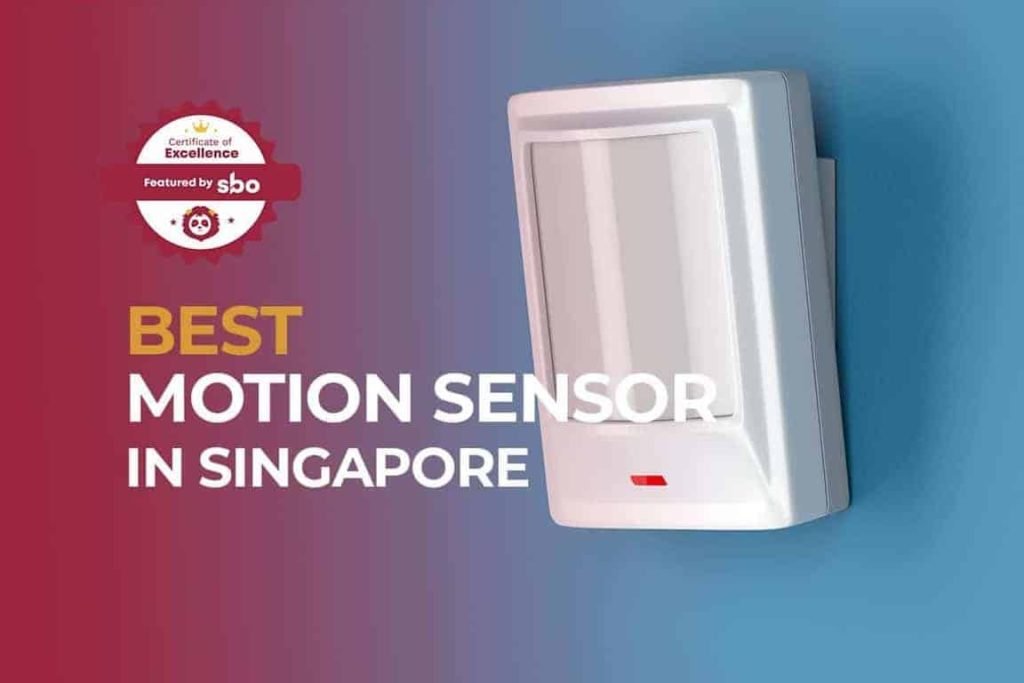 As you're planning for your next DIY home project, one new addition you can consider is installing motion sensor lights in your home. It is a smart investment, considering the amount of energy that will be saved and how it elevates both the style and comfort of your home.
It's convenient since you don't actually have to get up and walk to turn a switch on. It's especially friendly for your children, handicapped relatives, and elderly living at home. You essentially have a smart home.
The technology is also safe – the motion light sensor detects movement and triggers a response when there is a passive infrared detector. The sensor itself does not emit any infrared energy, just receiving any infrared data emitted by a person.
You can install it anywhere, indoors – such as on walls, ceilings, and in doorways, or outside – such as your balcony. In choosing a motion sensor light, you want the device to be reliable and have the right intensity and aesthetic.
In this post, we explore the 10 Best Motion Sensor Lights in Singapore for you to level up your smart home.
1. Steinel Motion Sensor Lights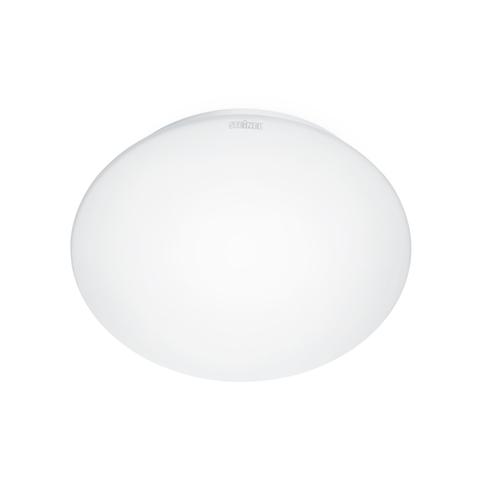 Steinel Singapore is the official distributor for Steinel, a leading German manufacturer of sensor-controlled lighting. Steinel promises and is recognised for its quality and reliability.  
Steinel manufactures sensor-controlled lighting, that comes with a 3-5 years warranty, assuring customers to easily replace parts if needed.
2. Philips Hue Smart Lighting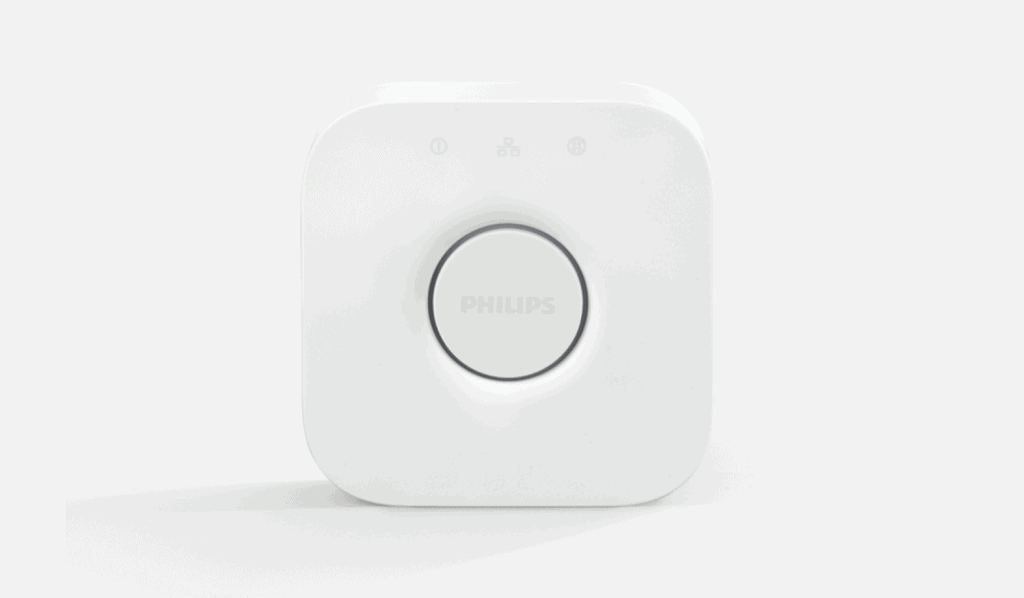 Philips Hue essentially is smart lighting that can be used for everyday purposes in homes. You can either use a Bluetooth-controlled system that controls lights within Bluetooth range or upgrade to a Hue Bridge that allows you to connect to more devices and even set up routines where it conveniently aids you in your daily tasks.
3. PowerPac LED Night Light with Motion Sensor Light (MC22)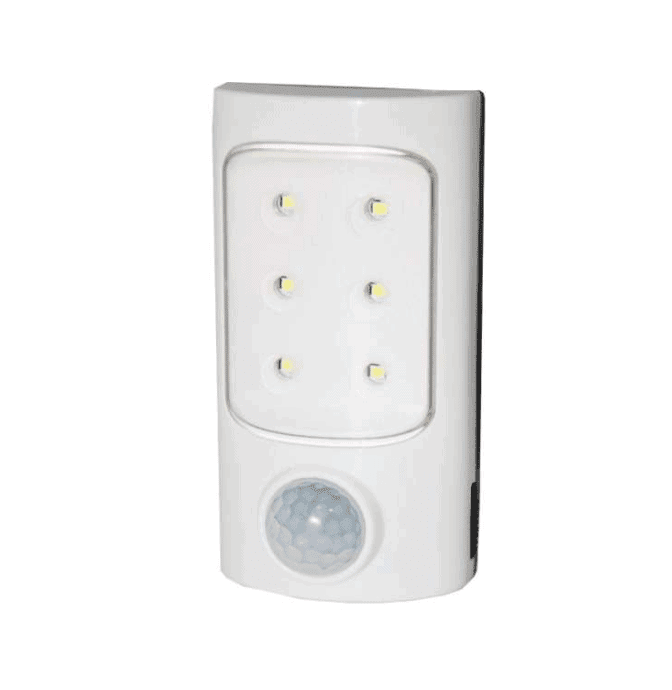 This product is affordable and can be installed in many places indoors. Product placement and angle are important for better detection of movement. Reviews talk about how the light duration depends on the proximity of the moving object.
4. Yeelight Motion Sensor Cabinet Light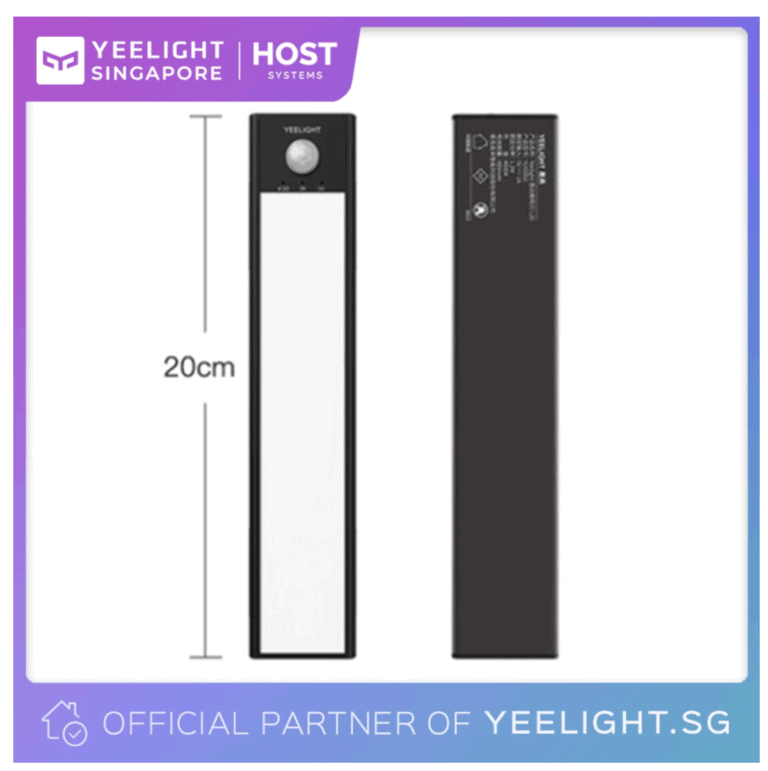 There are other products you can check out by Yeelight, but we want to highlight their Motion Sensor Cabinet Lights in terms of reviews. When the infrared sensor probe is kept in a forward direction, the sensing range is 0-4m directly in front. To ensure the best user experience, take caution to not use in high-temperature areas exceeding 35°C. The placement of the cabinet lights should be strategic, as the adhesive of the device cannot be reused.
5. Mi Motion-Activated Night Light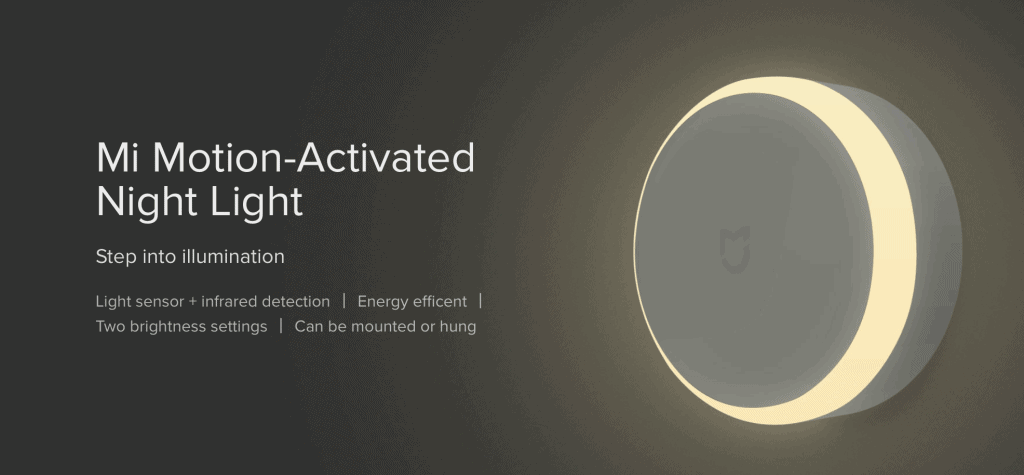 Break free from wall sockets and say goodbye to tedious installation. Whether it's a closet, locker, doorway or garage, on a stairwell or underneath the bed, the Mi Motion-Activated Night Light can be placed anywhere. To ensure the sensor works properly, the brand recommends that you keep the light at least 2 meters away from all RF products (including routers, Wi-Fi boosters, etc.).

The Mi Motion-Activated Night Light emits soft, warm light without any directed flash, providing an extra layer of protection for sensitive eyes. The Mi Motion-Activated Night Light's minimalist design features a thin-screen sensor covered by a customized Fresnel lens. Its soft, curved exterior is composed of entirely smooth edges, matching perfectly with a variety of styles and decor. This refined light is perfect for a modern lifestyle.
6. Soundteoh LED Motion Sensor Light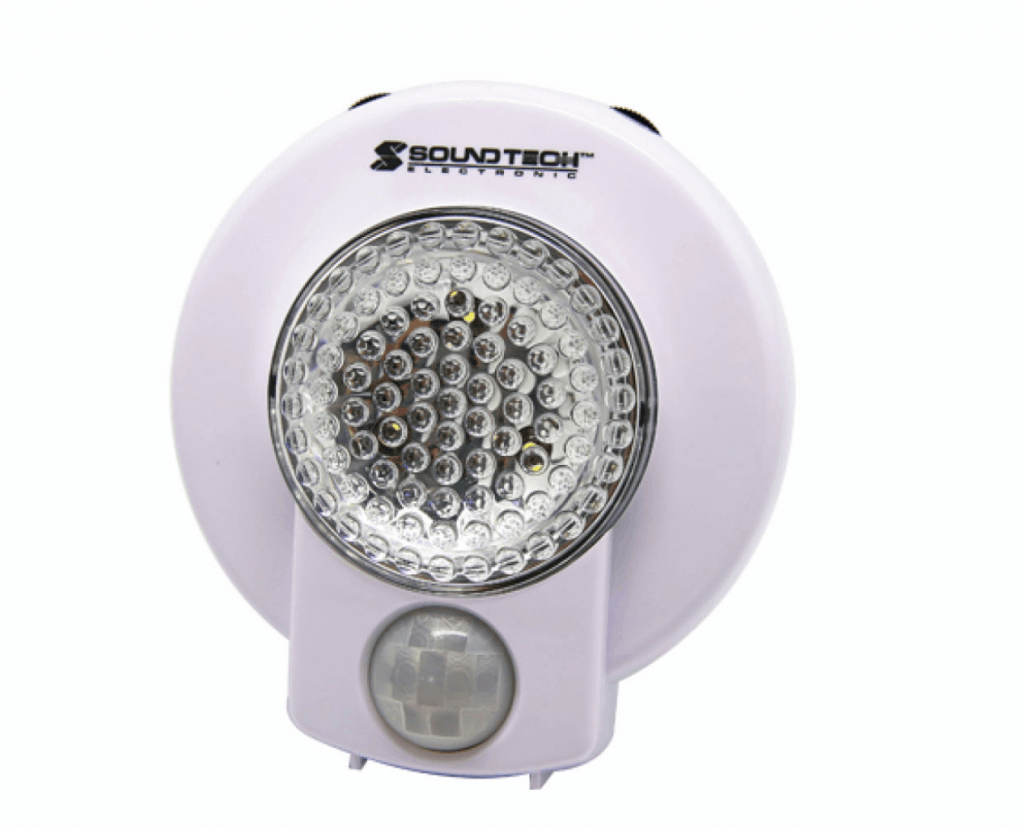 There are different types of motion sensor lights featured on the website, and you can explore to find lights that are adjustable, rotatable or revolving for different uses.
Some of the products also have different modes of use such as the 3 modes – On/Off/Motion Sensor. All are easy to install for your convenience and recommended for night or in-the-dark use.
7. Baseus LED Closet Light PIR Motion Sensor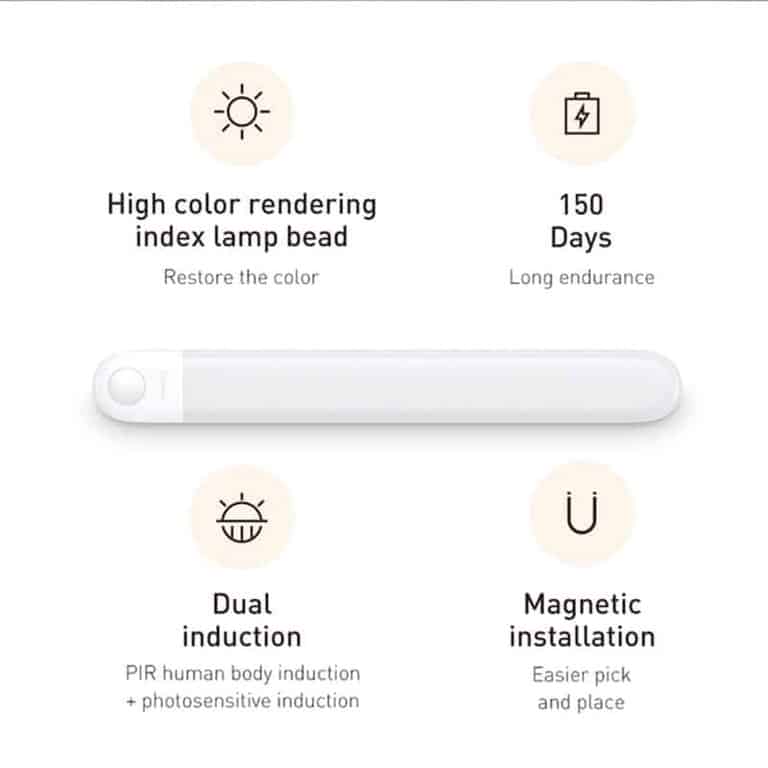 The Baseus Sunshine series helps to illuminate the different parts of a room for a focused and better lighting experience. The stripe design for this featured model allows for a larger light source area. The lighting is more natural for night use and responds to motion within a second through the means of photosensitive induction and PIR Human body induction.
Installation is really easy and portable since it's by the use of magnets. It's also notable that it has long endurance of 150 days because consumes little energy. This is good for use without repeated charging. Another good thing to note is that it is safe to use with a built-in smart chip that will automatically power off when it is either over-charged over over-discharged.
8. AMIR Motion Sensor Night Light Lamp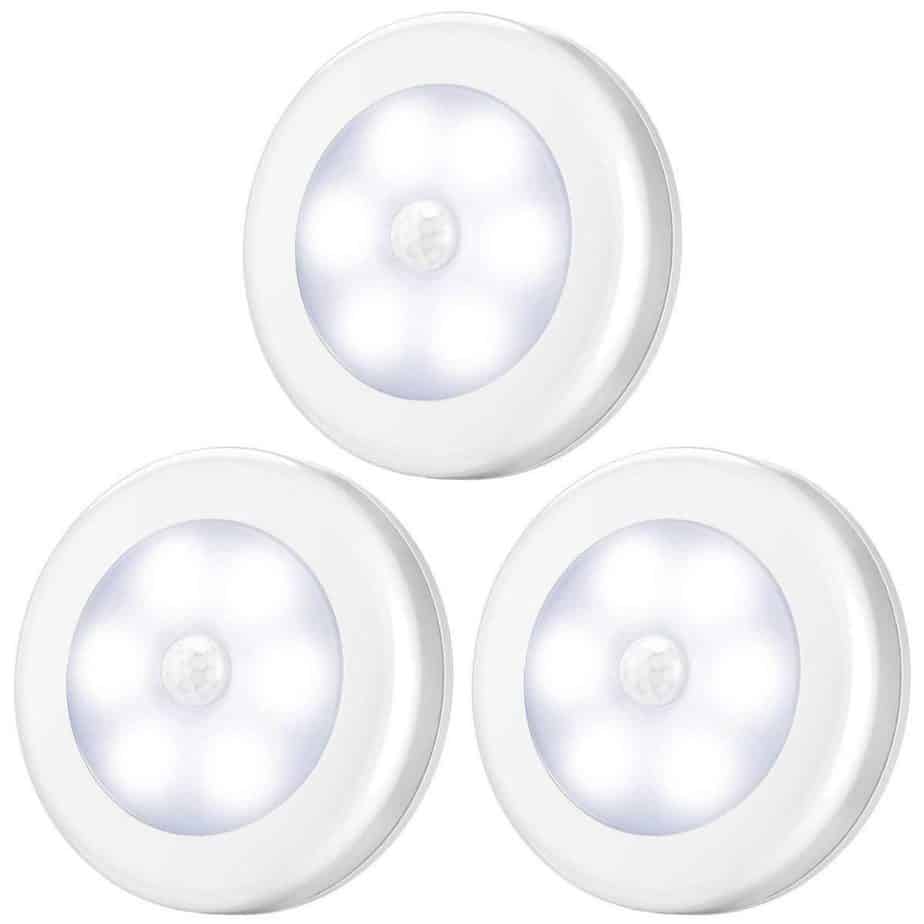 This set of motion sensor lights can come in 3 pieces or 6 pieces. The white light emitted is good in dark environments. Without induction, the light turns off automatically, saving energy. There's a built-in magnet for easy installation and even if it is battery-operated, it is really easy to switch out batteries from time to time.
9. LEONLITE LED Security Light, Motion Sensor Flood Lights Outdoor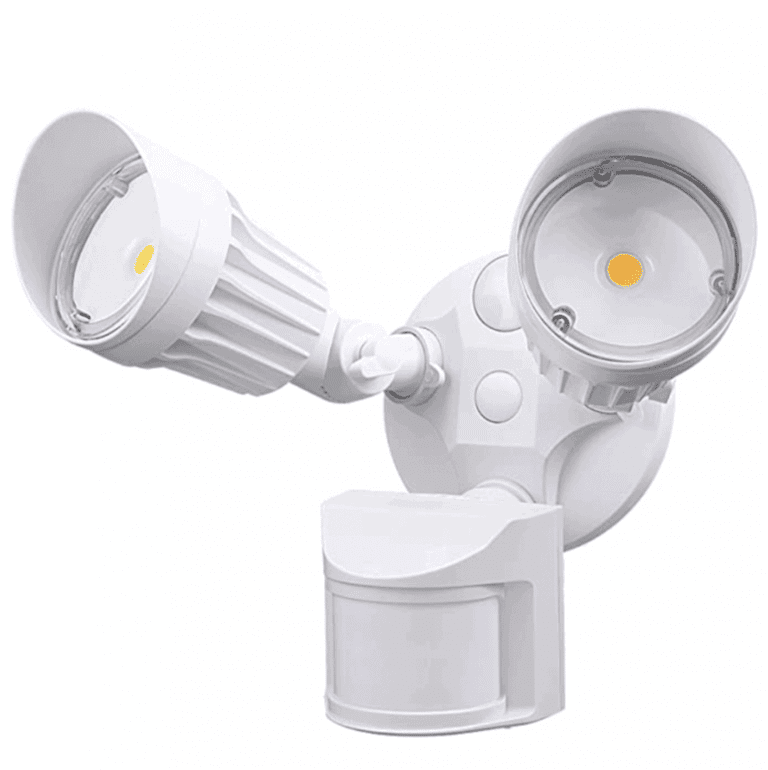 The Leonlite provides great control for brightness and angles, with the Dual-Head security light that features a highly sensitive 180° detection angle and 70ft long detection distance, making it suitable for both residential and commercial use. It is fast and easy to install and comes with high-quality hardware and housing.
Some of the products also come with an IP65 waterproof rating for the outdoor floodlights to assure you that it can withstand harsh weather conditions. The outstanding lifespan of 50,000 hours of this equipment can reduce how frequently you will need to replace them.
10. LEDVANCE sensors for indoor and outdoor use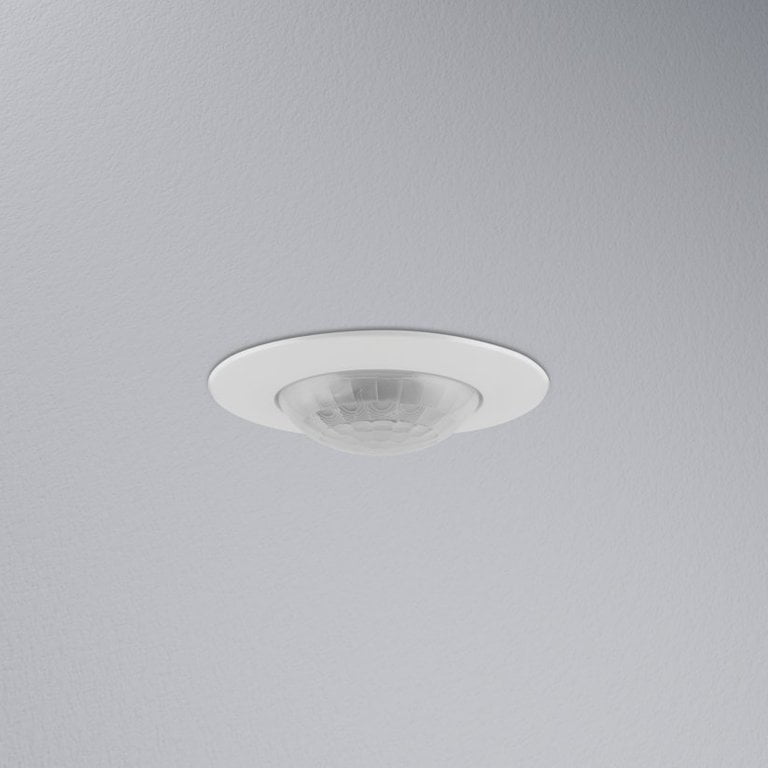 Not only can their motion sensors be adjusted flexibly, but devices like their Sensor Ceiling also offers you settings such as continuous light, standby light or dimmed light.
It can also be used outdoors thanks to the IP44 protection class, while the Ceiling Flush is intended for indoor areas. Meanwhile, models like the Sensor Wall is secure, energy-saving and splash-proof. These sensors are extremely compact and very unobtrusive because of their white or dark grey housing.
Conclusion
Motion sensors for smart lights can be used both indoors, in balconies and outside of homes. You can configure the motion sensor lights to help you reduce energy expenses and create more convenience, making them a great addition to your home.
We hope that this guide to the 10 Best Motion Sensor Lights in Singapore can help you elevate your home.
While SBO is committed to supporting our local businesses, we welcome any feedback and anonymous sharing regarding your experience with our recommended 10 Best Motion Sensor Lights in Singapore.
Liked this article? Explore other ways to spice up your home decor with 10 Best Table Lamp In Singapore To Light Up The Gloom In Your Room.
Explore More Content
Are you featured in this?
Display this exclusive SBO badge proudly on your website and get more sales!