11 Best Companies for Mattress Cleaning in Singapore to Keep Your Mattress Sparkling Clean [2023]
You don't have to sleep on these companies for mattress cleaning in Singapore.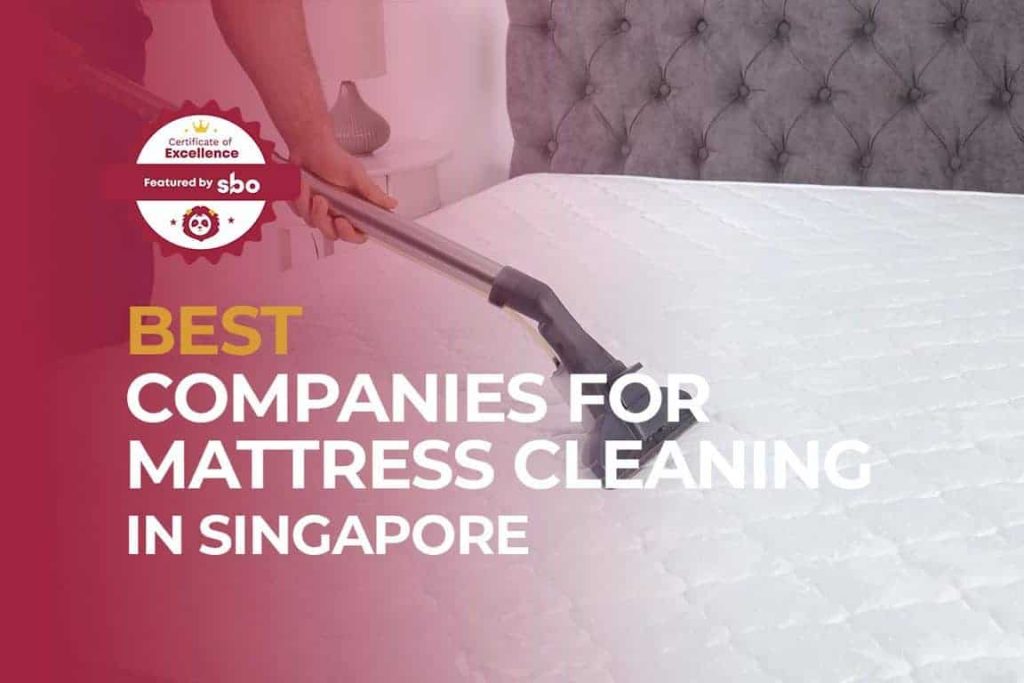 Besides avoiding caffeine past 4pm or so, good nutrition, regular exercise, perhaps having comfortable soft lighting and soothing music in your bedroom, another important part that contributes to a night of healthy, restful, uninterrupted sleep is to have an appropriately firm mattress suitably for you (check out some convenient foldable mattresses that might be just right for you).
A mattress is a hard-working home furnishing that is in use for more than eight hours each day, subjected to bodily fluids like perspiration and oil. Our bodies also shed dead skin cells that attract and feed dust mites that thrive in the mattress fibers.
And if you have pets, they may also leave behind dirt and grime; and for bedtime snackers, there are often food spills and stains. Of course, if you spill something on your mattress, you should clean it immediately before the stain sets in.
Typical Process:
Assess and offer options
Vacuum of dust and loose particles
Shampoo and scrub
Steam clean to deal with bugs (if any)
Application of a pretreatment for stubborn stains/odours
Deep clean for stubborn stains/odours
Final vacuum, then dry
Non-toxic anti-bacterial application for longer lasting protection
Companies that offer mattress cleaning with chemicals only and without hot steam may not be able to effectively exterminate from micro-organisms. Application of sufficient steam and heat is the main differentiating factor that kills things like bacteria and bed bugs.
Why The Need for Mattress Cleaning in Singapore?
It is recommend to change change bedsheets on a weekly basis, and clean your mattress at least once every 6 months or so.
While using quality mattress protectors certainly do prolong the lifespan of your mattresses, andthey might reduce the need to clean your mattress as frequently, they generally do not keep mattresses entirely clean and free from vermin.
Bacteria, dustmites, allergens and bed bugs find their way into the mattresses and this can have a serious effect on your family's health.
Hence, mattress cleaning is oftentimes still necessary.
For those who find mattress cleaning a hassle and prefer not to clean mattresses themselves, you'll be glad to know that there are a number of upholstery and carpet businesses that also offer convenient mattress cleaning services.
In this post, we've gathered all the relevant details to compile a list of the 11 best companies for mattress cleaning in Singapore to keep your mattress clean.
1. De Hygienique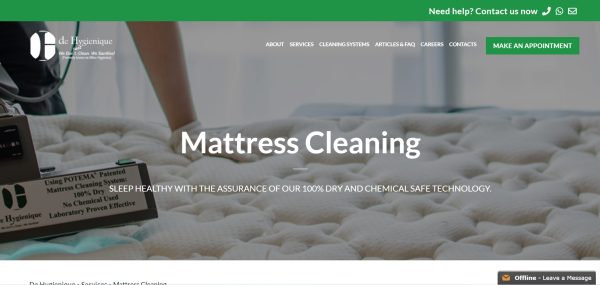 De Hygienique is one of Singapore's leading soft furnishings cleaning company, specialising in mattress cleaning, sofa cleaning and carpet cleaning, using state-of-the-art dry cleaning technologies from Europe to produce remarkable results.
Their Mattress Cleaning Treatment in Singapore was among the first professional mattress cleaning service to be offered in Asia when the service was launched in 2003.
During De Hygienique's mattress cleaning treatment, the mattress first undergoes a pulverization process where the embedded clumped up dirt would be vibrated into finer particles, and then extracted into a tightly-woven HEPA filter bag. The mattress would then be disinfected and sanitized using an in-built UV-C light, followed by an application of antibacterial solution – safe for both adults and babies – that will help delay the inevitable re-infestation of dust mites in the mattress.
Their mattress cleaning treatment has been recommended by doctors to assist in allergy management such as asthma, eczema, rhinitis as allergic patients are often sensitive to dust and dust mites.
Reviews praise the company for mattress cleaning for their highly professional staff who were ever-so-prompt in replying to customers' queries.
2. Clean Care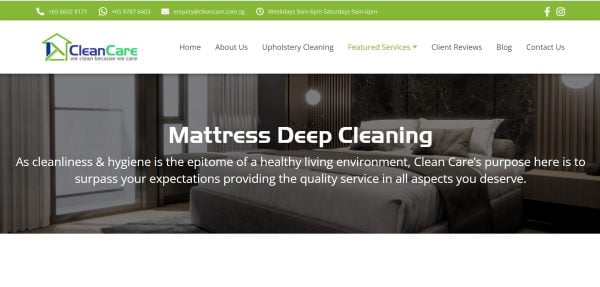 Clean Care specialises in upholstery cleaning and sanitation services for sofas, mattresses, and carpets. They offer mattress cleaning services using use special detailing attachments and fabric cleaning solutions, which help to remove dirt, stains, dust, and even germs off from most mattresses.
They offer the following types of mattress cleaning services:
Dustmite Treatment: Maintain an allergy free environment by engaging them periodically to deep clean and sanitize your upholstery as we spend majority of our time sitting or lying on them.
Stain Treatment: Equipped with the latest cleaning machines and solutions are never enough, with Clean Care's experience and knowledge in dealing with different stains you can always rest assured and rely on them as they try their best to remove every spot on your upholstery.
Odour Treatment: Over time, sweat stains from our bodies will be left behind and accumulate in the mattress. An untouched and uncleaned sofa will never smell fresh by leaving it in sun, allow them to rejuvenate your upholstery professionally and be worry-free.
Reviews praise the company for mattress cleaning for explaining to customers the entire cleaning process in detail.
3. Clean Lab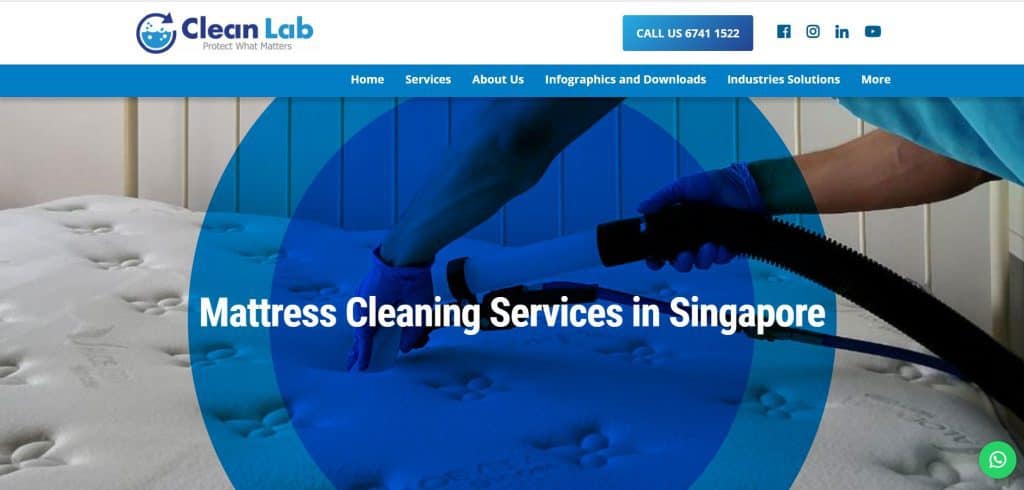 One of the most trusted names in the business today, Clean Lab provides a range of comprehensive professional cleaning services and disinfection treatment to a wide range of industries, ranging from commercial, offices, gyms, laboratories, healthcare, pharmaceuticals, preschools, hospitality, food industries, retail to residential clients.
At Clean Lab, they are adept at sanitizing your mattress to get rid of dust mites, odours and bacteria.
They rely on various mattress cleaning methodologies to keep your mattress clean.
Their consultants will understand your requirements before formulating a customised science-based comprehensive cleaning, deodorising, and disinfection process, utilising a special eco-cleaning mattress cleaner which eliminates fungus, stains, odours, dust mites, bed bugs, and dirt.
Reviews praise the company for mattress cleaning for being thorough in their mattress cleaning service in Singapore.
4. Helpling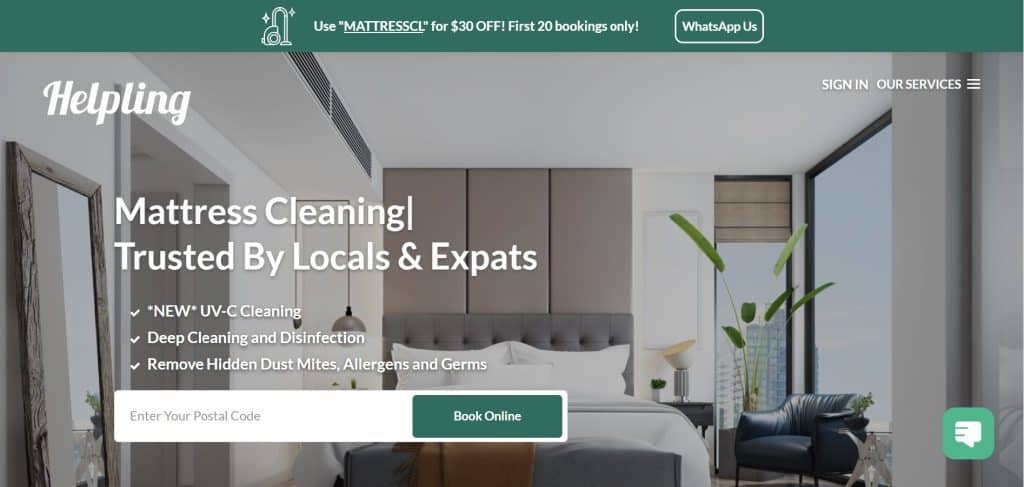 With 5.5 million people living in a small city state, things can get messy, fast. Helpling launched its online cleaning platform in Singapore in early 2015, and the first home was cleaned the very next day.
When you use Helpling, you're not just letting anyone into your home – every single one of their cleaners has been background checked, thoroughly interviewed, reliable, trustworthy, and chosen to provide you with only the finest service.
Of the litany of services they provide, they also offer the following types of mattress cleaning services:
UV-C Cleaning: UV-C disinfection, chemical-free, safe for babies and pets, suitable for all mattress types.
Steam Cleaning: Use of hot vapour, breakdown of some dirt, more suitable for synthetic fibre.
Extraction: Use of specialised chemical extractor, removes most dirt and moisture, lightens stains and reduces odour. This service is highly recommended for natural fibre for prevent shrinkage.
For both landlords and departing tenants, you can also engage Helpling's experienced Mattress Cleaning Services as part of your Move Out Cleaning, which ensures that your mattress is disinfected and sanitised before the new tenant arrives.
Reviews praise the company for mattress cleaning in Singapore for the high standard of their cleaners.
5. Just Clean Lah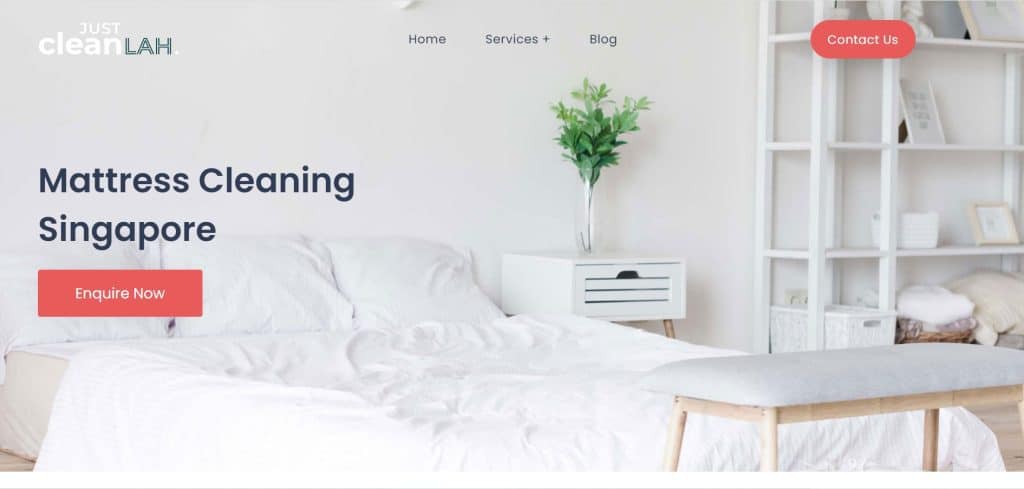 Just Clean Lah is focused on high quality results, and take pride in every project they do. They are the only company in Singapore that provides a free, no-obligation onsite quotation.
Just Clean Lah's cleaning technique cleans mattresses thoroughly and removes dust, dust mites, excrements, dead skin flakes, and body fluid residue embedded within the mattress.
P.U.R.T., their urine odour removal treatment, removes odour and stains from pet urine effectively. A special ultraviolet light is used to spot urine accidents in the mattress. Upon contact, P.U.R.T. creates a chemical reaction that destroys the odour from the source.
Their mattress cleaning service in Singapore entails the following steps:
using industrial-strength vacuums on all sides of the mattress remove dust and dust mites
application of pre-treatment on stained areas help to remove difficult stains
steam clean the mattress with safe all-natural organic treatments using a hot carbonation process. No need to worry about harmful lingering fumes during sleep
then, super hot water to the mattress effectively cleans, rinses, and sanitises. Any excess water is vacuumed so the drying process is quick
lastly, a final treatment to the mattress prevents future stains or stops dust mites from future invasions
Reviews praise the company for mattress cleaning for effectively eliminating allergens, thereby alleviating customers' eczema and sinus problems.
6. SGcleanXpert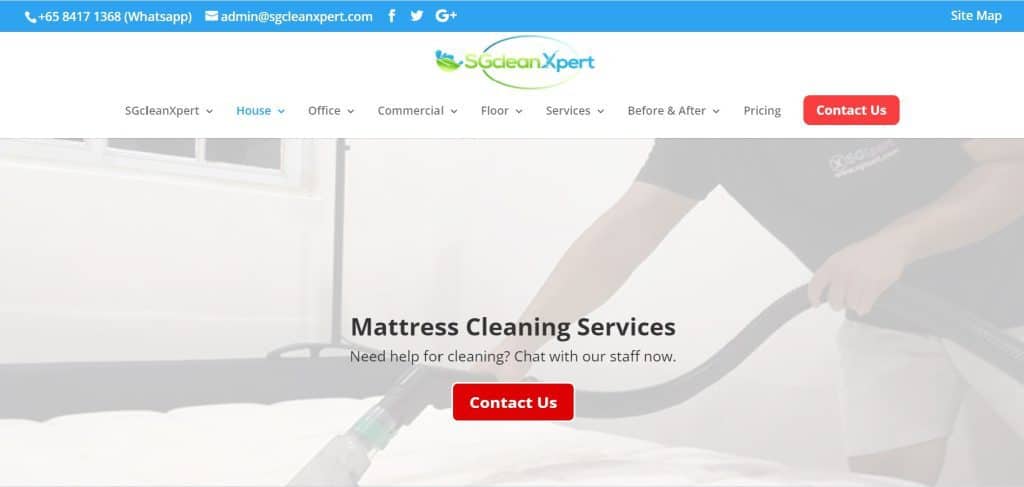 SGcleanXpert is a premier cleaning service provider for both residential and commercial premises in Singapore.
They use a special technique with special eco-cleaning materials that ensure all fungus, stains, odors, dust mites, bed bugs, bacteria and dirt are extracted. The process cleans, sanitizes, deodorises, and dries the mattresses simultaneously.
As this is a wet process, once these are completed, your mattress will be a little damp, so they normally advise their clients to keep their surroundings well-ventilated during this course of time. Fans or air conditioners in the room speed up the drying process.
Reviews praise the company for mattress cleaning for accommodating to customers' schedules.
On occasion, they've graciously offered discounts for their mattress cleaning service to customers in challenging financial situations.
7. Cleanshades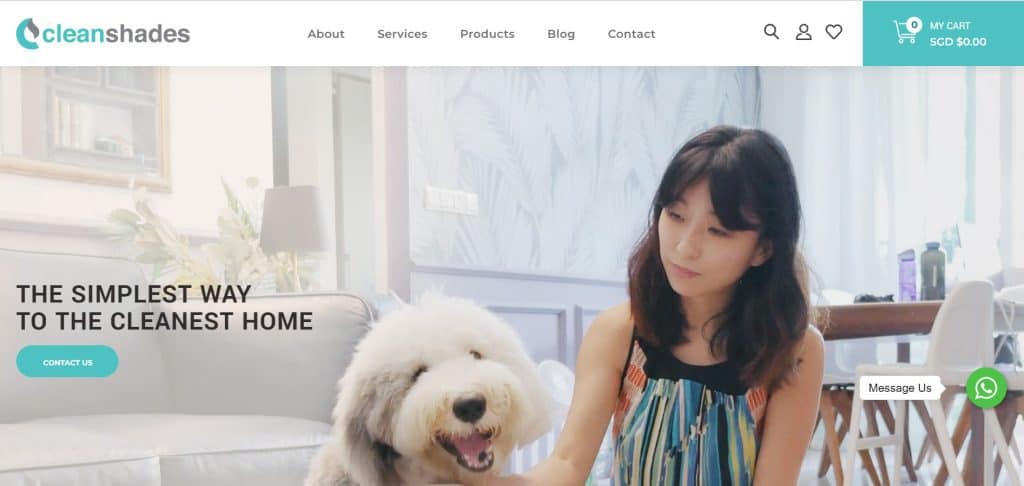 Founded in 2019, Cleanshades provides specialised on-site soft-furnishings cleaning and disinfection service for both Residential and Corporate customers.
Their steam vacuuming sanitization service uses high temperature steam to sanitize and remove the accumulated dust/dirt on the fabric.
Their deep cleaning extraction is a thorough cleaning procedure that helps to remove dust mites and bed bugs within the mattress, as well as lightening/removing of stains, followed by a blow-drying service and the mattress can be used straight after the cleaning session.
Reviews praise the company for mattress cleaning for their speedy and efficient service.
8. Chem-Dry Singapore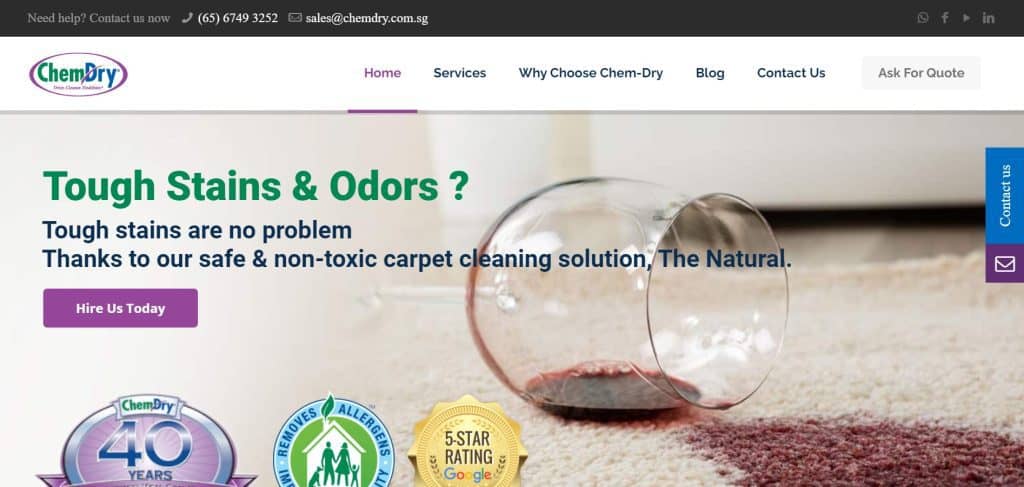 With over 40 years of experience, Chem-Dry provides quality carpet, fabric & furniture cleaning services in Singapore.
Chem-Dry Singapore's low-moisture mattress cleaning process works with a nature-based, non-toxic cleaning solution that uses 80% less water than typical steam cleaners, meaning mattresses typically dry in 3-4 hours.
Their cleaning process combined with Chem-Dry Sanitiser has been proven to eliminate 98% of allergens from your mattress, carpet and upholstery and 89% of airborne bacteria, thus improving indoor air quality.
Their Dust Mite Anti-Allergen is a water-based anti-allergen solution containing powerful active ingredients proven effective against household dust mite allergens.
Reviews praise the company for mattress cleaning for being patient when responding to customers' queries.
9. EPIClean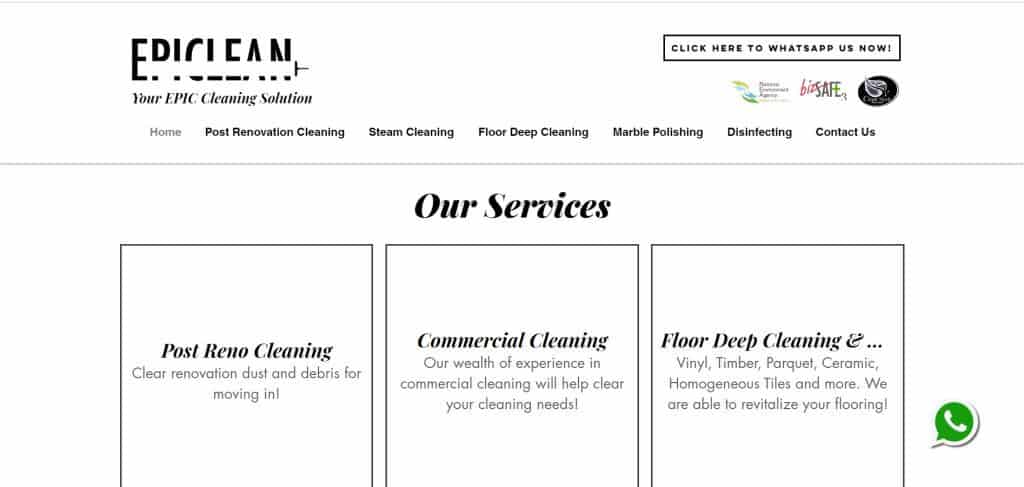 EPIClean is one of Singapore's trusted professional cleaning companies with a wealth of experience in Steam Cleaning, Post Renovation Cleaning and Floor Polishing.
​They are able to deploy their latest steam cleaning techniques together with hot water extracting methods to effectively kill bed bugs and mites hiding in your mattress, thereby providing you with a deeper clean than most providers.
Their mattress cleaning service entails the following steps:
Shampooing
Scrubbing
Extraction
170°C Steam Cleaning
Reviews praise the company for mattress cleaning for their fuss-free appointment booking process via WhatsApp.
10. Apex Hygienic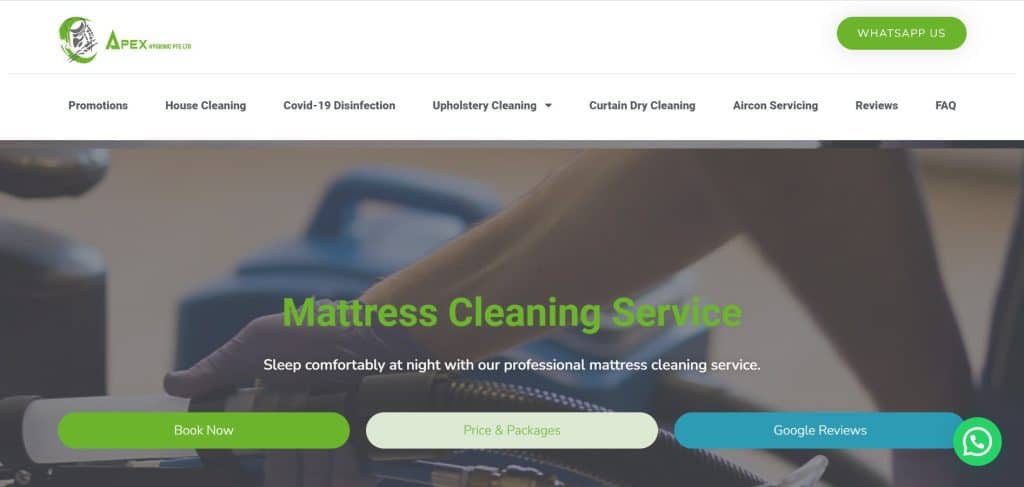 Apex Hygienic is a professional mattress cleaning service in Singapore using a chemical-safe deep mattress cleaning and extraction methods.
The deep cleaning and extraction method for mattresses makes use of a skin-friendly and chemical-safe shampoo containing molecules called surfactants, as well as high-pressure water. Surfactants and water are key to emulsify the trapped dirt and oils within the top layers of your mattress.
Simultaneously, the high-pressure water and shampoo is extracted through a vacuum which safely removes the dirt particles in your mattress.
Your mattress can be used in three hours' time (after having been left to dry with aircon on or fans on with windows open) after it has been cleaned and sanitized.
Reviews praise the company for mattress cleaning for their affordable prices and punctuality.
11. DW Mattress Cleaning Singapore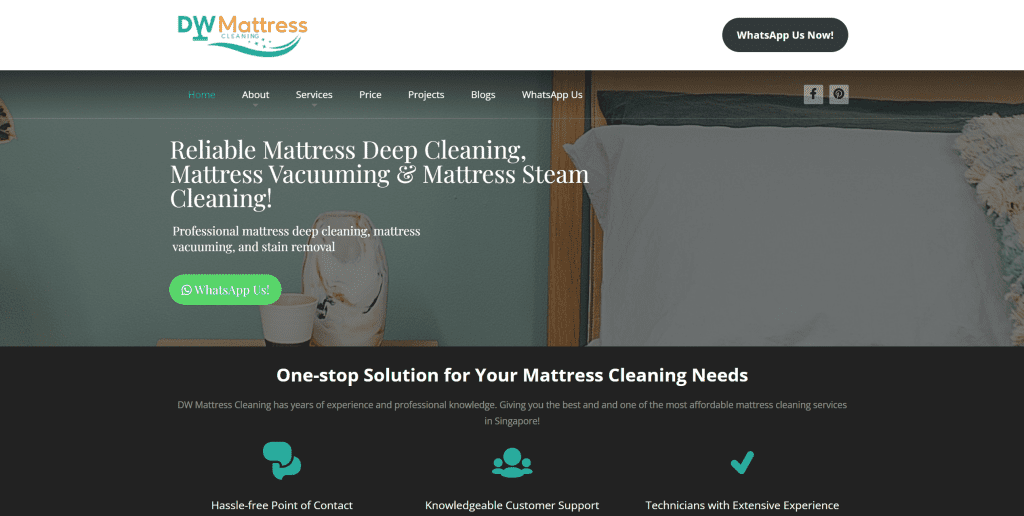 DW Mattress Cleaning Singapore offers you an affordable one-stop solution for your mattress cleaning needs in Singapore. They provide professional and reliable services that include mattress deep cleaning, mattress vacuuming, mattress steam cleaning, as well as mattress stain removal, and more.
With a hassle-free Point of Contact and knowledgeable Customer Support team, their skilled and experienced cleaning specialists assure their mattress cleaning services will be done professionally and efficiently.
Conclusion
Do you have any reviews and comments to share regarding our choices for the best companies for mattress cleaning in Singapore?
While SBO is committed to supporting our local businesses, we welcome any feedback and anonymous sharing regarding your experience with the listed companies.
We hope that this guide will be useful in helping you to make an informed decision when it comes to finding the best companies for mattress cleaning in Singapore.
Explore More Content