10 Best Firms for Commercial Interior Design in Singapore to Elevate Your Space [2022]
Here is a guide to the 10 Best Firms for commercial interior design to transform the space into a stylish aesthetic with a welcoming ambiance.
Home & Living
Our team at SBO.sg is committed to being a one-stop avenue to connect local businesses and consumers. We hope that our research efforts can help you save time and money by finding you the best deals without having to search around the vast world-wide-web.
Getting a perfectly designed professional and productive commercial space requires excellent interior design firms who understand your vision and are able to translate that into superior interior design.
Judging from their portfolio, you would want commercial interior designers who can express your brand's objectives and personality creatively in the given space.
You should not only take a look at their expertise, but you should also consider what previous customers say about these commercial interior designers in helping create a bespoke interior environment for the office.
We're looking at the 10 Best Firms for Commercial Interior Design in Singapore so you can have a roster of the best to choose from at a glance.
1. ID Integrated Pte Ltd
ID Integrated (IDI) gives your blank space a metamorphosis, transforming it into an exceptional and modern state-of-the-art commercial space. They have completed over 200 projects with more than 180 clients in creating inspirational office space designs. Looking through testimonials, clients appreciate the team's consideration of corporate requirements in spatial planning and design.
What's interesting to note, is that ID Integrated had recently secured the silver design award from a design award & competition in the 2020 – 2021 Interior Space and Exhibition Design Award Category. What a remarkable feat that accredits the firm!
2. Edgeline Planners
Established in 1998, Edgeline Planners Pte Ltd is a multi-disciplinary design firm that offers bespoken design consultancy and conceptualization. They offer the right balance between design aesthetics and functionality.
Their ability to impress clients through thoughtful design based on the needs of the inhabitants has gained recognition from numerous renowned local publications.
3. Renozone Interior Design House
Over the past 2 decades, Renozone has earned its name as a reputable interior design firm in Singapore, by making more than 10,000 projects come to fruition.
Their professional capabilities, client-oriented service, and attention to detail ensures that client needs are met, beyond their expectations.
Some of the projects in the commercial sector they have worked on include brands from retail and F&B industries.
4. Sky Creation
Choosing to work with Sky Creation means realising your creative visions. Every space is meaningfully curated to enhance the way you work, through a client-oriented approach and execution.
Sky Creation is an award-winning renovation firm that has also attained many industry certifications for quality and its industry best practices. Combined, these attest to the firm's reputation and credibility.
Apart from its headquarters and four branch offices in Singapore, Sky Creation boasts a growing presence in countries such as China, Hong Kong, Malaysia, and Southeast Asia.
5. U-Home Interior Design Pte Ltd
Known as one of the leading interior design firms in Singapore, U-Home is experienced in every craft of interior designing.
With some of its services specified in the table, U-Home actually offers a full range of services before, during, and after renovation works to ensure total customer satisfaction as you can see on its website.
Their collaboration with 50 leading brands allows them to provide more cost-effective interior designing services, giving customers more added value.
6. Carpenters 匠
As one of the top few interior design firms in Singapore, Carpenters 匠 is all about giving empty spaces a makeover, with their attention to detail reflected in these transformed spaces in both form and function.
Their YouTube channel, with over 3000 subscribers, is updated frequently with featured clients complimenting their professionalism and pragmatic design.
7. Fineline Design Pte Ltd
Ranging from restaurants to offices, Fineline Design crafts tasteful commercial spaces with effective and compelling aesthetics. From start to finish, Fineline Design delivers a seamless workflow for their customers.
As a reliable interior designer company here in Singapore with a decade-long experience, Fineline Design assures its customers through close rapport.
8. TBG Interior Design
Over the years, The Two Big Guys (TBG) have designed over 2000 bespoke interiors for their clients, garnering an impressive design portfolio that features different styles and caters to various lifestyle needs of those who use that space.
Their team has collectively earned more than 35 awards, which speaks volumes of their professionalism and excellence. Get a free quotation and check out their promotions here.
9. United Team Lifestyle Pte Ltd
Founded in 2004, United Team Lifestyle provides customers with personalized, unique and comprehensive solutions to all their commercial design and renovation needs.
The team promises an excellent ability to keep up with deadlines and provide quality after-sales support. Their Instagram bio posits that they specialize in the retail of the commercial space.
​
10. White Corporate
What's fascinating about White Corporate is the fact that it is an award-winning interior design company in Singapore that has been working on commercial projects since 2001.
Their team of committed designers will begin an in-depth researched study and explore new concept themes customized for each client.
Clients rave about how creatively the team is able to make the best out of each space, providing excellent outcomes in terms of aesthetics and function.
Conclusion
At the end of the day, you want an interior design firm that can leave an impression and impact by having the expertise and ability to bring to life its clients' personality, brand and vision.
That is why it is important to look at the depth of experience, client testimonials, awards and markets they work in to gauge which interior design firm works best for you.
We hope that this guide to the 10 Best firms for Commercial Interior Design in Singapore can help you get outstanding service and design for your commercial space.
While SBO is committed to supporting our local businesses, we welcome any feedback and anonymous sharing regarding your experience with our recommended 10 Best firms for Commercial Interior Design in Singapore.
Liked this article? Explore other ways to spice up your home decor with 10 Best Luxury Interior Design In Singapore That Will Make Your Home Fit For A King.
Featured Image by Uneebo Office Design on Unsplash
In this article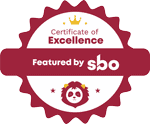 Are you featured in this?
Display this exclusive SBO badge proudly on your website!