9 Best Pet Sitter in Singapore You Shouldn't Sit On [2023]
Need a helping paw to handle your furry pet while you're away? Here are the 10 best pet sitter in Singapore to trust!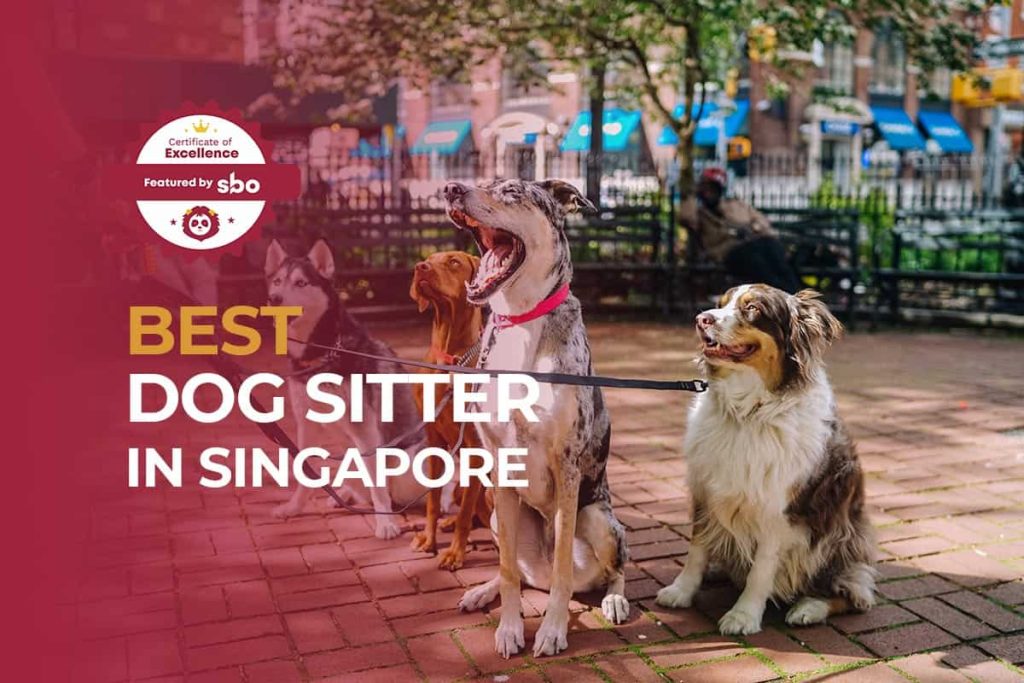 When it comes to your pets, you shouldn't be sitting on some decisions. As much as you'd love to plan being there for your pets, busy schedules or other reasons may sometimes throw a spanner in the works.
Just as you need babysitters, your furbabies may also require pet sitters to help take care of them while you're busy for various reasons and cannot be there with them.
Here are the 10 best pet sitter in Singapore to get your pet onboard for a cosy and comfortable time while you're away!
1. K9 Petcare Pte Ltd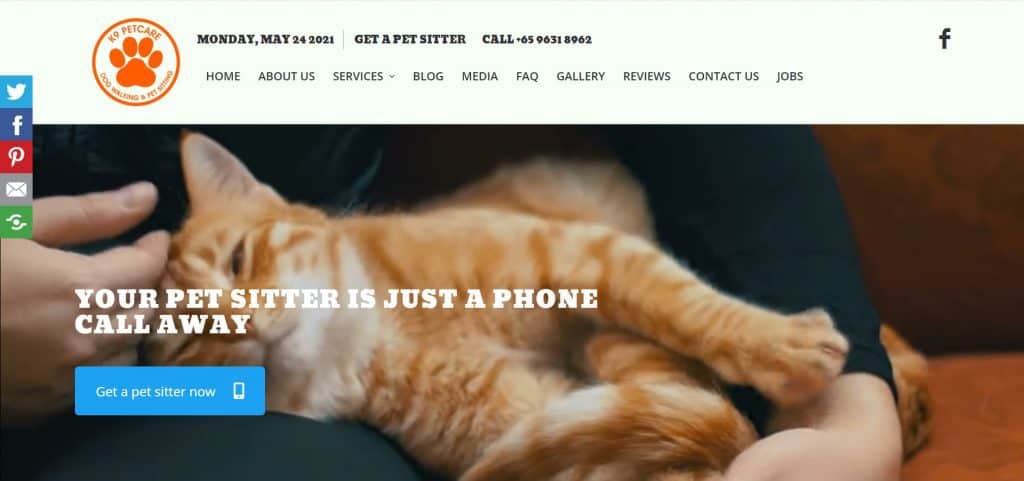 When you're away, who can you trust your precious pets with to give the same TLC as you've always done?
The founder of K9 Petcare's been in your shoes before, having experienced the difficulties of finding a trustworthy and committed pet sitter. While he acknowledges that it's no easy feat, the zealous team at K9 Petcare delivers everything your pet needs: individual attention, customised services, convenience and sincere affection towards it.
Pet sitters there are first-aid and CPR certified with exceptional professionalism above all. Enthused customers leave reviews on the confidence they feel from leaving their pets there, as well as the care and love felt.
2. The Fluffy Hut | Chinchilla, Guinea Pig, Hamster, Rabbit Boarding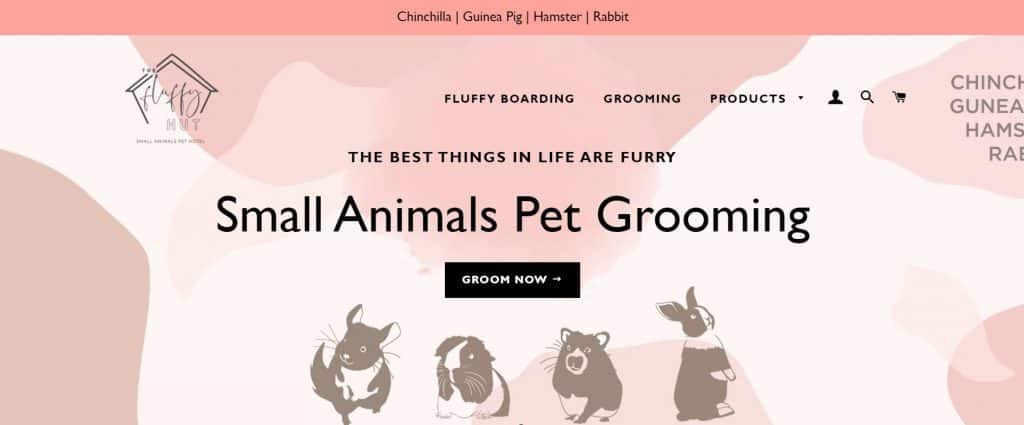 The Fluffy Hut is Singapore's first-ever small animal commerical boarding provider. If your chinchilla, guinea pig, hamster or rabbit needs somewhere to crash, The Fluffy Hut's the place to be!
Get your furry buddies groomed while they're there on board, with affordable prices starting from $5 a night. It comes with 24/7 aircon and online viewing that you can access at your convenience.
Its modular pens allow for customisation to fit your pet's every need, so you need not worry about cramped spaces! Reviews show customers pleased with its exceptional service, patient staff and spacious accommodation.
3. Sopra Ginza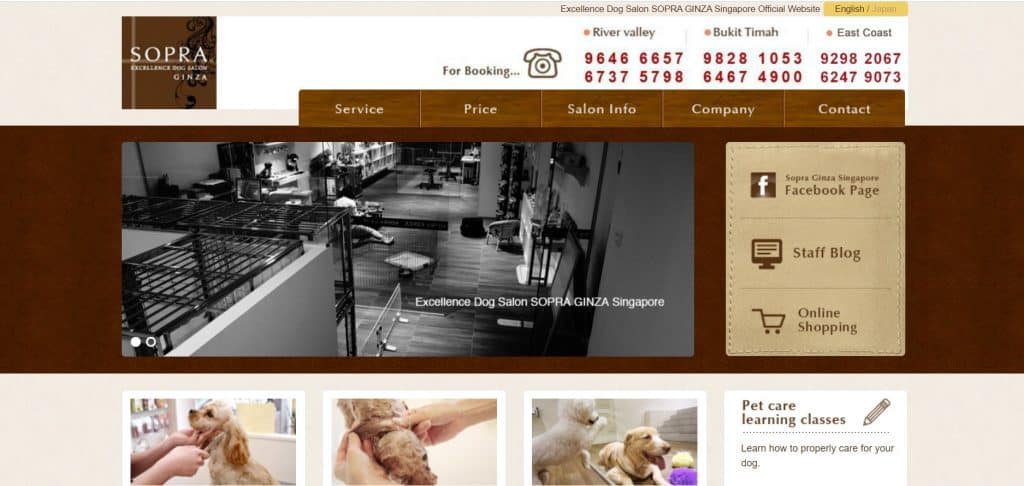 Having originated from Japan, Sopra Ginza is an experienced Japanese pet salon and dog groomer with multiple outlets in Japan and Singapore. Services offered include grooming, spa sessions, daycare, pet care learning classes, ala carte services and sales of puppies.
Under the doggy daycare, Sopra Ginza provides a webcam service that you can access via your smartphone to stay updated on your furry friend. In its spacious store, it has cage-free care and qualified dog trainers who will keep an eye on your pet.
Facilities are thoroughly cleaned with ozonated water, which is also used to cleanse and sterilise supplies. Prices start from $8 per hour for short stays, up to $50 for large-sized dogs per day.
Reviews rave about its expertise, willingness to listen to requests and professionalism!
4. The Pet Safari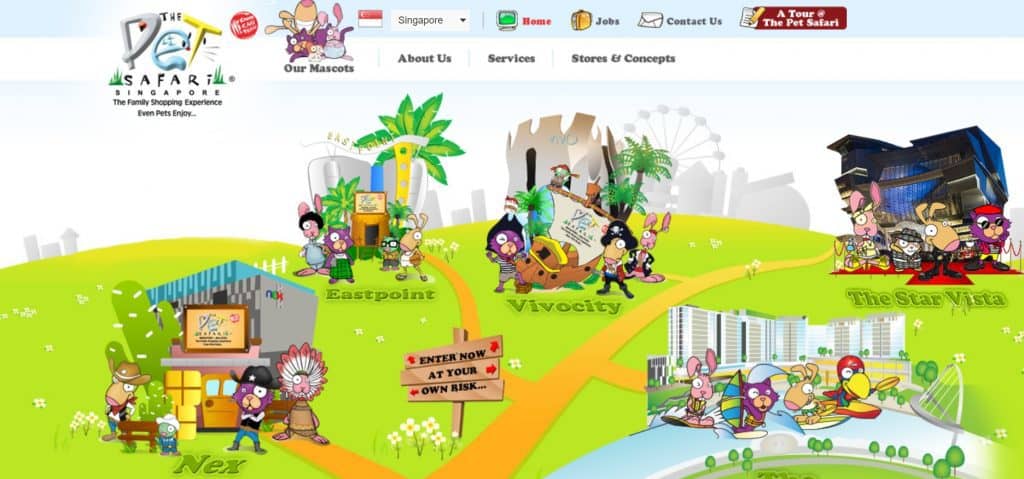 The Pet Safari isn't just any ordinary safari – it's a community that serves both pet lovers and pets. Each store location is designed with its own unique concept meant to evoke the thrilling feelings a theme park would.
Pet owners can shop together with their pets in a cooling air-conditioned environment, and pets can feel free to roam about to their hearts' content. Apart from enthusiastic pet care consultants, you'll also find grooming services, cafes and bakeries at The Pet Safari.
At The Star Vista outlet, you can get your pet comfortably settled into its 5-star "petique" as you shop for its favourites! Reviews show impressed customers pleased at the many offerings available, and the warm and friendly staff.
5. Pet Homie X Pet Saloon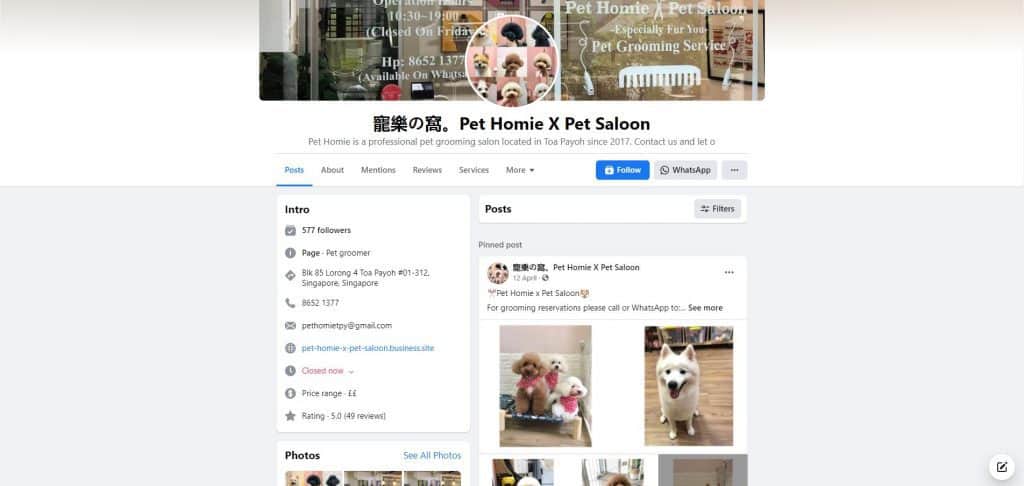 A professional pet grooming centre located close to the heart of Singapore, Pet Homie X Pet Saloon offers a variety of services to cater to your pet's needs. It has pet taxi, pet boarding and daycare options that you can choose from.
You can drop off your pet for a pleasant grooming session followed by daycare with its skilled staff while you run errands or tick off the things on your to-do list.
One particular benefit highlighted in the reviews is of its highly competitive and affordable pricing. Despite this, it doesn't skimp on the quality of the services offered – in fact, it goes the extra mile to serve pet owners and their pets.
6. BreakFast at Fluffy's Boutique Pet Hotel & Grooming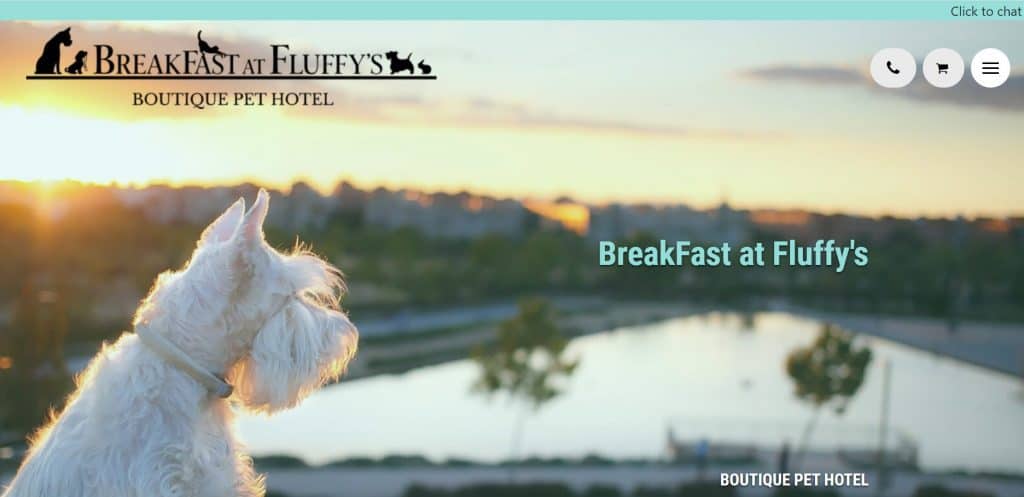 A divine 1,300sqft cage-free pet haven for your furry pals, Breakfast at Fluffy's gives you doggy daycare, pet and dog boarding, dog grooming services and a chance to celebrate either your kids' or furkid's birthday with all the snazz.
During doggy daycare, rest assured that your pet will be kept fully engaged in a holistic manner. Prices start from $20 for small-sized dogs for the first 3 hours.
On the other hand, its boarding service comes with a plethora of luxurious benefits: cage-free HEPA stay, 24/7 webcam and warden, organic cuisine, complimentary services and more. Prices begin from $58 a night for small-sized pups.
Reviews say that the staff are highly professional and knowledgeable, personable service and sparkling clean environment.
7. Pawsome Staycation
A relatively new entrant to the pet sitting scene, Pawsome Staycation is active on two pet boarding mobile applications, Pawshake and Petbacker, as its outreach platforms to dog owners.
It offers boarding for dogs and small animals like hamsters and rabbits. This cage-free home boarding service is a home away from home, where every pet receives plenty of individual attention and love.
Pawsome Staycation strives to go above and beyond to make your pet's experience a personalised one by trying its best to carry out activities each pet loves. Touted as a reliable place for their furkids, customers leave pawsitive reviews about its amazing hosts, frequent updates and understanding.
8. PAWD Pet Daycare & Services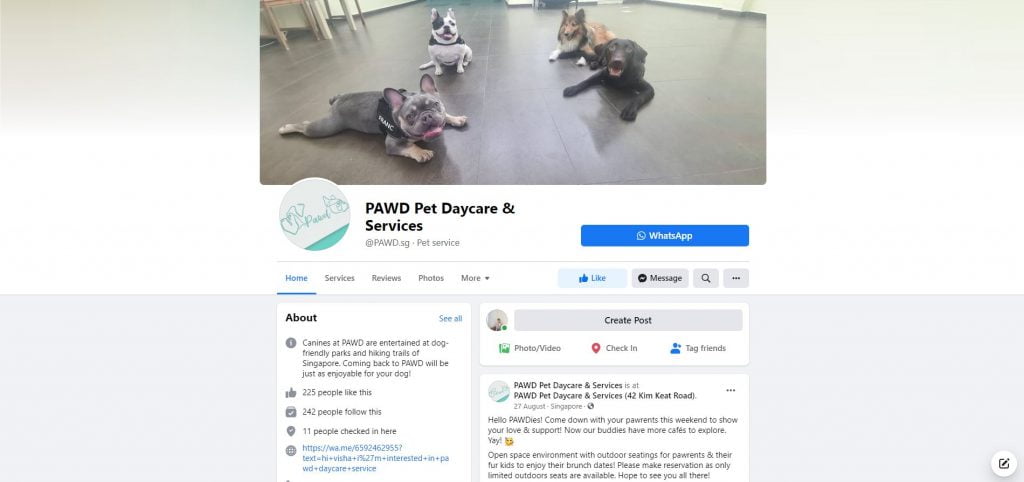 Ready to get your furry pal onboard PAWD Pet Daycare? Hold up – your pet may not be as ready as you are. PAWD Pet Daycare first runs your pet through an assessment that determines whether your pet will be suitable and happy there.
This assessment involves keeping your pet there for a few hours and gradually introducing them to the daycare dogs. Other services you can opt for include PAWD Boarding and PAWD Pet Transport, swimming and grooming.
Activities are segregated according to intensity to best fit your pet's needs. Enamoured customers express delight in the reviews at the free-to-roam and fully air-conditioned area with daily updates!
9. Battlestar Boarding | Pet Grooming and Hotel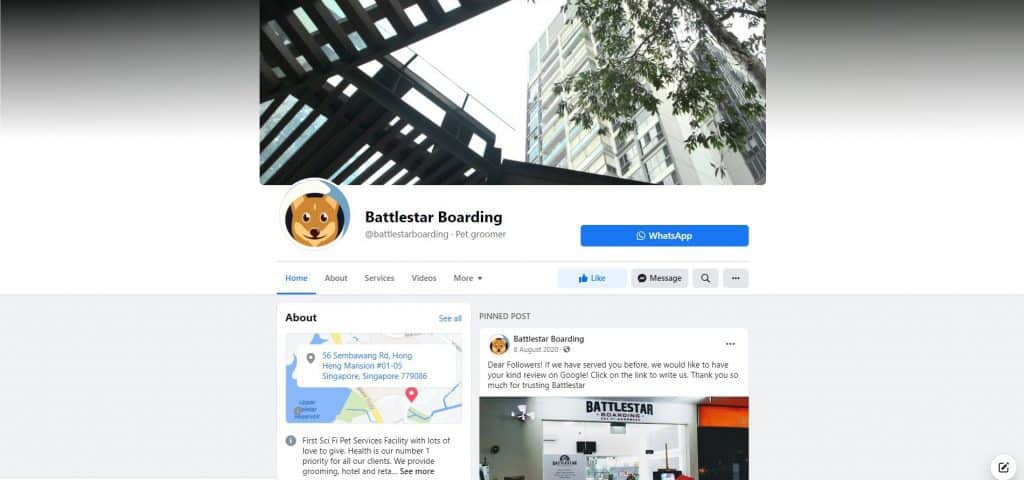 Prepped with skillful teams and fabulous facilities, Battlestar Boarding is always ready for battle. You can place your beloved pal in its pet hotel, pet daycare or engage its pet grooming services while you're at it.
In addition, it provides pet adoption and rescue services to serve the wider pet community in need. It does its part by donating food and rendering assistance to rescuers. Battlestar Boarding also prioritises your pet's health above all, taking extra steps to make sure that your pet is healthy and happy.
Reviews say that the staff are sincerely caring and loving to their pets, knowledgeable and polite! The environment is also clean and hygienic, with a wide range of products available for purchase.
Conclusion
Do you have any reviews and comments to share regarding our choices for the best pet sitter in Singapore?
While SBO is committed to supporting our local businesses, we welcome any feedback and anonymous sharing regarding your experience with the listed pet sitter in Singapore.
We hope that this guide will be useful in helping you to make an informed decision when it comes to finding the best pet sitter in Singapore.
Featured Image by Matt Nelson on Unsplash
Explore More Content