10 Best Therapist in Singapore for a Therapeutic Experience
Why isn't a therapist the same as a psychologist? Find out and get the answers to your needs with these 10 best therapist in Singapore!
Health & Wellness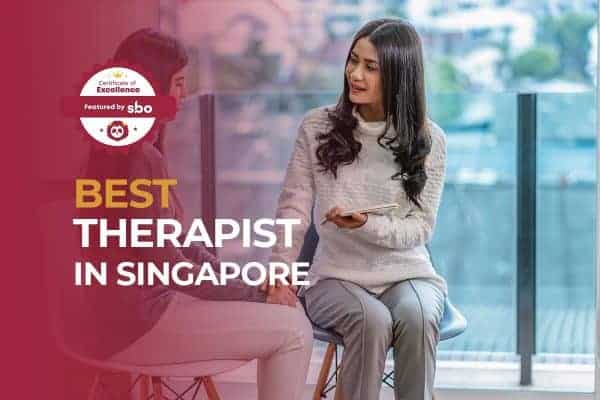 Our team at SBO.sg is committed to being a one-stop avenue to connect local businesses and consumers. We hope that our research efforts can help you save time and money by finding you the best deals without having to search around the vast world-wide-web.
Is a therapist the same as a psychologist?
They're similar yet different! Although they're often misunderstood to be the same, they aren't. For example, psychologists are mental health professionals who are trained in studying the mind.
Psychologists may branch into various specialisations, and they're usually adept at all-rounded psychology testing, assessments, and clinical interviews.
On the other hand, therapists look at a broader perspective. Therapy aids a patient to obtain insights and self-actualisation, with different specialisations. At the crux is providing mental health support that focuses on boosting a patient's well-being and ability to handle everyday triggers.
In this article, we check out the 10 best therapist in Singapore you can trust!
1. Psychotherapy Nicole Chew-Helbig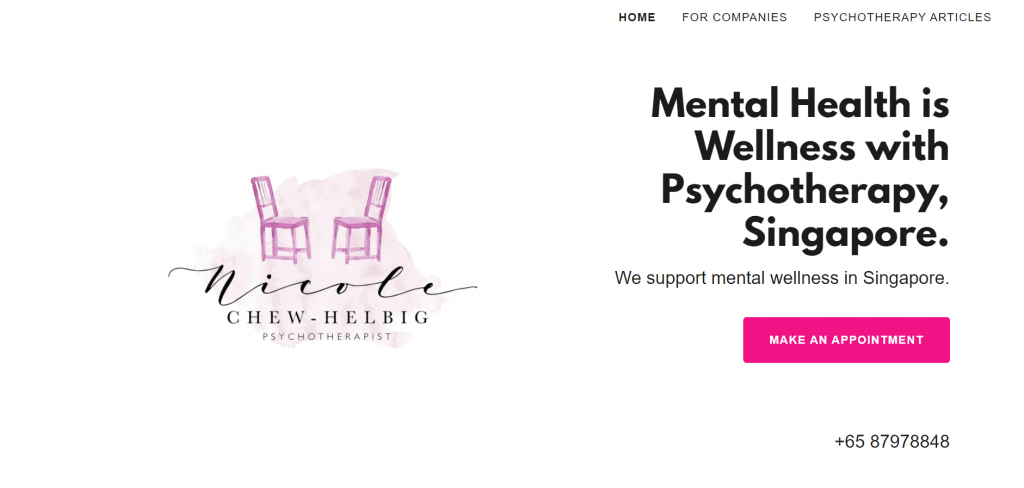 As its name suggests, Psychotherapy Nicole Chew-Helbig is run solely by the main therapist, Nicole Chew-Helbig.
Nicole is a certified gestalt psychotherapist – she practices this enduring and humanistic form of psychotherapy developed decades ago. Gestalt therapists help to empower their patients by giving them the answers they seek to typically tough personal questions.
Everyone is welcome to this centre – expatriates, migrants, the elderly and LGBT+ groups, for example. Rest assured that your data is safe, with every interaction handled with complete confidentiality according to EU laws.
2. All in the Family Counselling Centre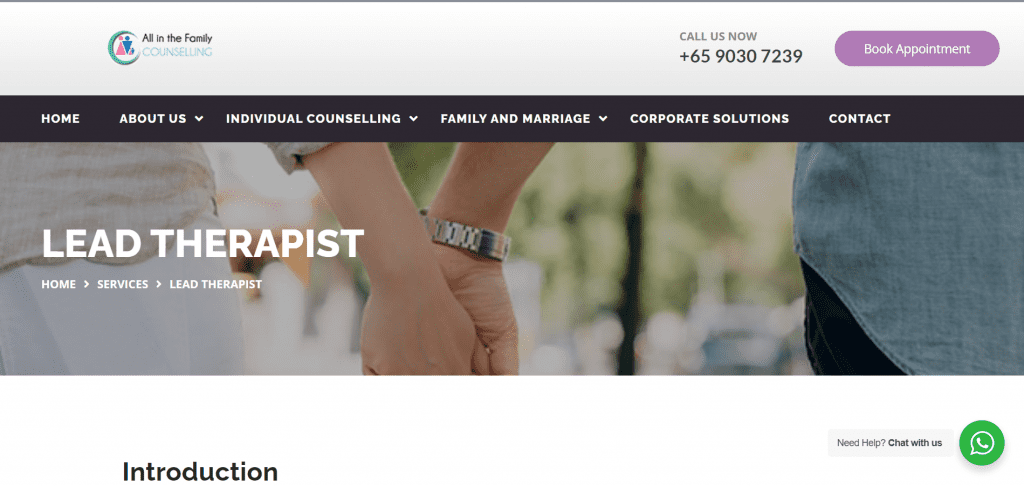 All in the Family Counselling delivers effective treatments that are backed by evidence.
It personalises these treatments according to your needs, and you can choose between virtual sessions, face-to-face sessions, or intensive therapy sessions. You can trust its experienced team of counsellors for services for individuals and families.
Lead Therapist Tammy Fontana is a licensed therapist with over 15 years of experience. She combines her vast knowledge and experience to provide culturally sensitive therapy. She offers individual and couple therapy and has specialised training to manage children and their families.
3. Counseling Perspective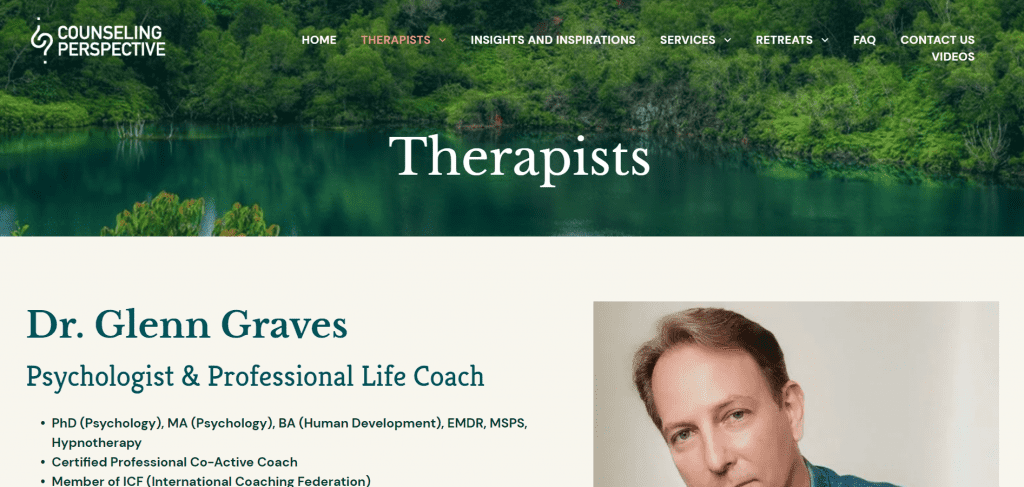 Counseling Perspective covers a wide range of mental health services with a large team qualified to tackle them.
They use an integrated method to therapy by employing techniques and equipment customised to customers. Director Glenn Graves has an illustrious career centred on healing trauma and communities that face crises.
Glenn has 17 years of experience in counseling both local and expatriate individuals and families on different problems.
He uses techniques from various therapies, with an emphasis on the issue at hand and the individual's future while putting weight on the importance of past influences as well. Recently, he also became the sole Sex Addiction Therapist certified by the American Association of Sex Addiction Therapy (AASAT) in Asia.
4. Etern Hope – Counseling That Matters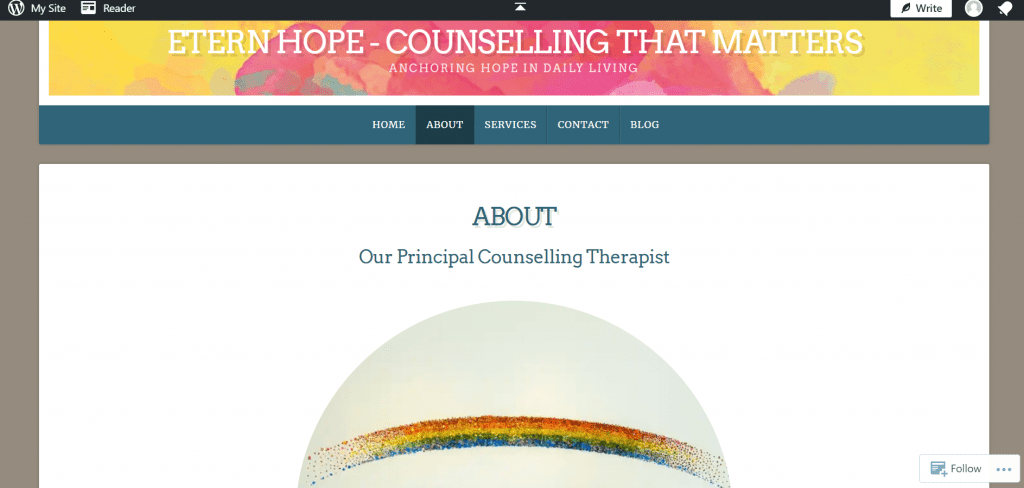 Etern Hope believes in using a holistic method to tackle concerns and encourage psychological health and wellness.
It delivers effective therapeutic support and practical customised tips for customers from all walks of life. The Principal Counselling Therapist, Pauline Addison Lee, has more than 12 years in the field, and 15 years in the social service industry.
Pauline is a certified Child-Centred Play Therapist and is also trained in gestalt therapy. Over the course of her work, she has helped children, adults, families, couples and adolescents manage a vast range of troubles. Apart from counselling, she also provides talks and workshops on various aspects.
5. Dynamics Therapy Centre for Kids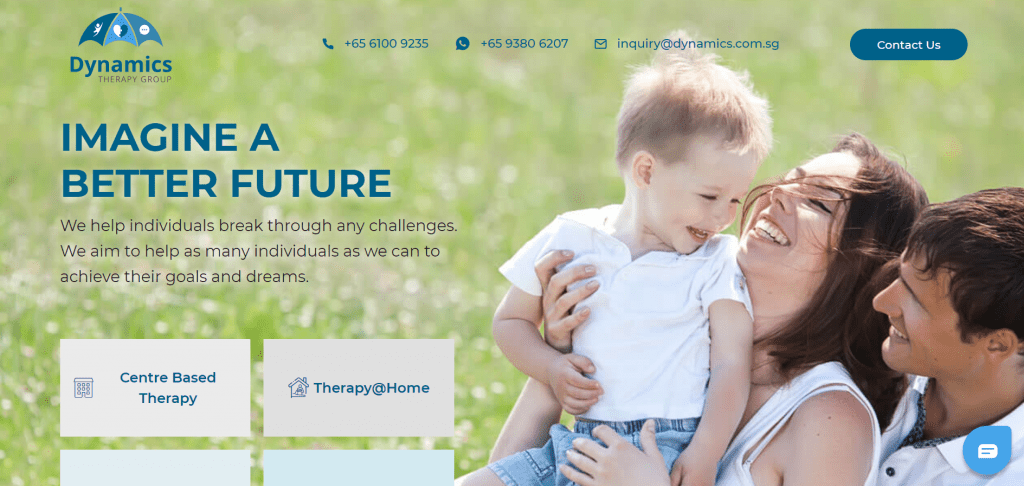 A leading paediatric therapy centre for children situated conveniently in Orchard, Dynamics Therapy Centre for Kids is a comprehensive centre with a myriad of services.
It uses evidence-based therapy, intervention and educational services that are affordable and accessible, as well as customised to every customer. Some of them include social skills training, speech therapy, psychological evaluation and more.
This centre also features a large team of certified psychologists, therapists and counsellors, one of whom is a family therapist and clinical psychologist Emmanuelle O'Grady. She has an abundance of experience working in Singapore, the USA and Ireland, and specialises in working with children and adolescents.
6. Psychology Blossom
The people behind Psychology Blossom believe that everyone deserves to blossom.
It offers various psychological and psychotherapy services, like child, family, couple and individual therapy and counselling. The team of psychologists strive to prioritise your needs in a collaborative method in a safe space.
Child therapist and counsellor Yuyun Tan is part of this team, and she has amassed more than 11 years of clinical experience. Yuyun is also impressively trained in a substantial number of psychological approaches, fuelled by a genuine desire to support both children and adults.
7. International Counselling & Psychology Centre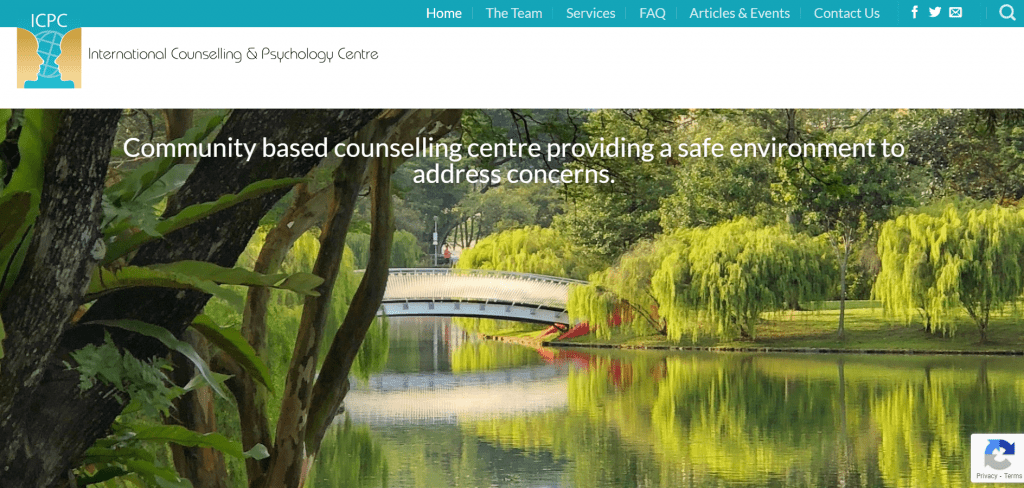 Founded in 2015, International Counselling & Psychology Centre offers more than 40 years of experience in the field.
As professional therapists, they understand how you feel. They draw from personal experiences working and living around the world, seeing the problems children and adults face. The therapists have also supported customers that hail from more than 30 cultures worldwide, giving them guidance from home to their foray into the world.
Its two therapists, Lissy Puno and Richard Logan, are both certified Imago Relationship (IR) therapists. Richard, for example, has a staggering 35 years of experience working with children and adults.
8. Cheers Learning and Assessment Services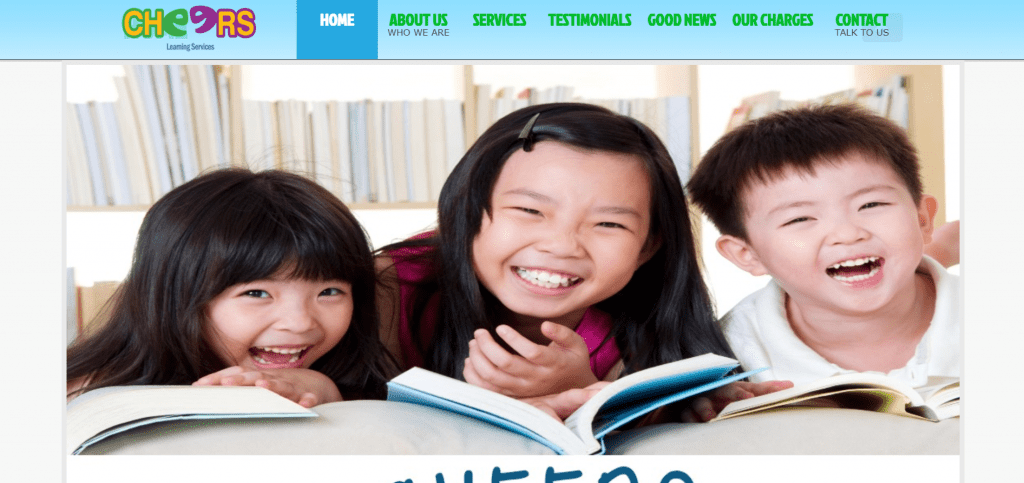 Cheers Learning and Assessment Services began from humble home-based service.
In order to meet increasing demand, it established an office while keeping its rates affordable. It has worked with more than 60 schools and agencies both locally and overseas and has helped more than 1,000 customers since 2013.
Its most popular service is psychometric assessments, followed by educational therapy and counselling. Its led by a group of experienced mental health experts. A number of them are therapists, like Ming Ying, Yin Fung and Allena.
Conclusion
Do you have any reviews and comments to share regarding our choices for the best therapist in Singapore?
While SBO is committed to supporting our local businesses, we welcome any feedback and anonymous sharing regarding your experience with the listed therapist in Singapore.
We hope that this guide will be useful in helping you to make an informed decision when it comes to finding the best therapist in Singapore.
If you think that a therapist isn't the right mental health support for you, check out our guide on the 10 best psychologist in Singapore instead!
In this article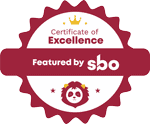 Are you featured in this?
Display this exclusive SBO badge proudly on your website!