10 Best Root Canal Treatment in Singapore to Remove Inflamed Dental Pulp [2023]
These dentists will get to the root of the problem.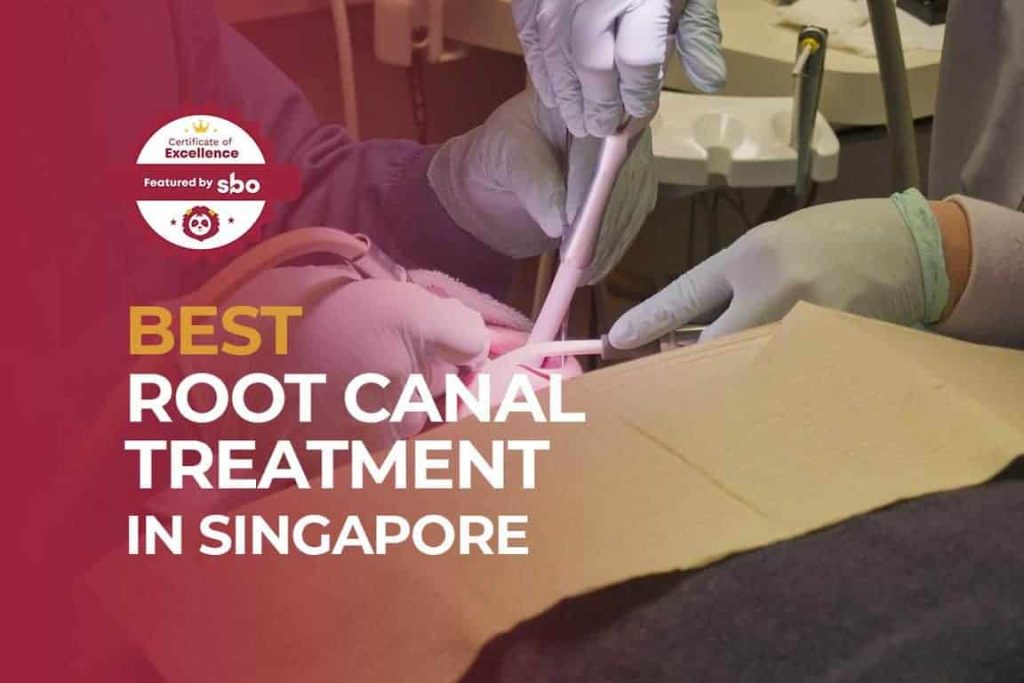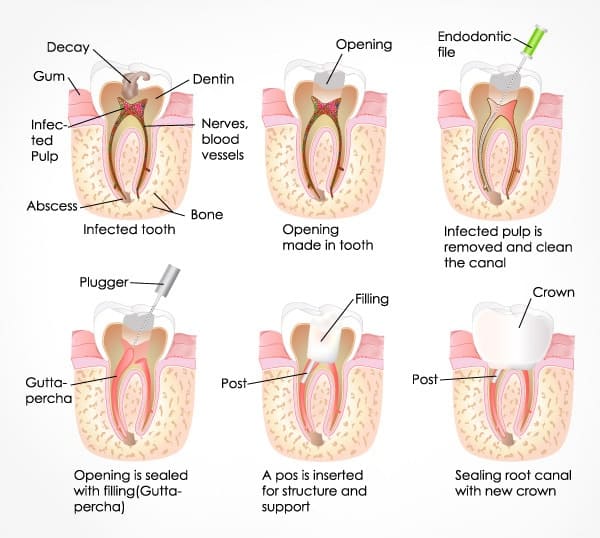 Are the nerves of your teeth infected?
Root canal treatment in Singapore is a procedure that removes infection that has reached the nerves of an affected tooth.
During the treatment, the infected nerves are removed and the inside of the tooth is disinfected and cleaned.
It is then filled and sealed with a rubber-like material called gutta-percha.
The tooth is then restored with a crown or permanent filling for protection.
After the final restorations, the tooth functions like any other tooth.
Looking for a root canal treatment in Singapore?
In this post, we've gathered the relevant details to compile a list of the 10 best root canal treatment in Singapore.
1. T32 Dental Group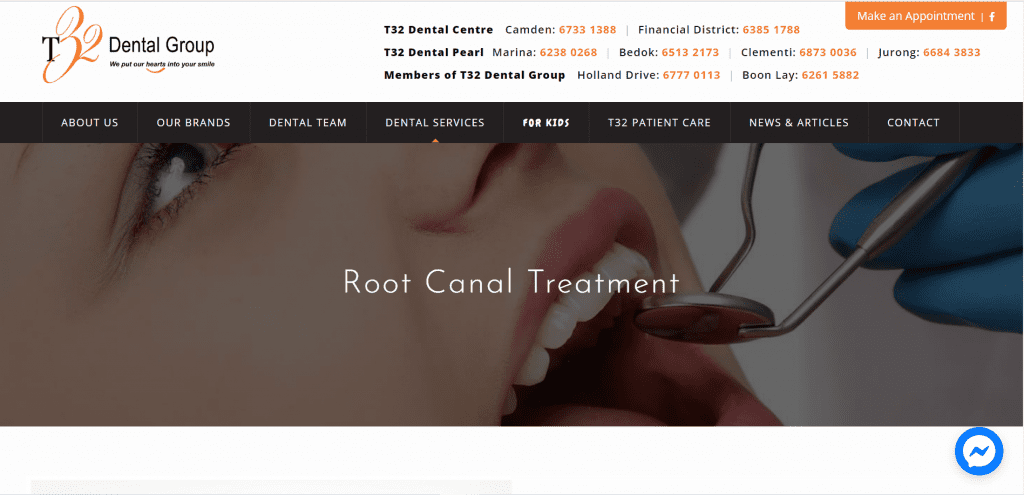 Founded in 2007, T32 Dental Group provides specialist and general dental care in Singapore to patients locally and regionally.
The team at T32 Dental Group is driven by the group's founder and managing director Dr Wong Keng Mun's vision of creating a positive experience for every patient via comprehensive, preventive, restorative and cosmetic dental care in a personalised and comfy environment.
The root canal treatment in Singapore at T32 comprises the following four steps:
A thorough examination is done and an x-ray of the tooth is taken.
Local anaesthetic is administered. A 'dental dam' is placed over the tooth to keep it clean and free of saliva during the procedure.
An opening is made in the crown of the tooth and small instruments are used to clean out the infected pulp tissue and shape the root canal space for filling.
The prepared root canal is filled with a biocompatible material and sealed to prevent bacteria from re-entering the canal.
The best part of it all: you can claim medical insurance for root canal treatment in Singapore at any one of their clinics.
2. AllSmiles Dental Care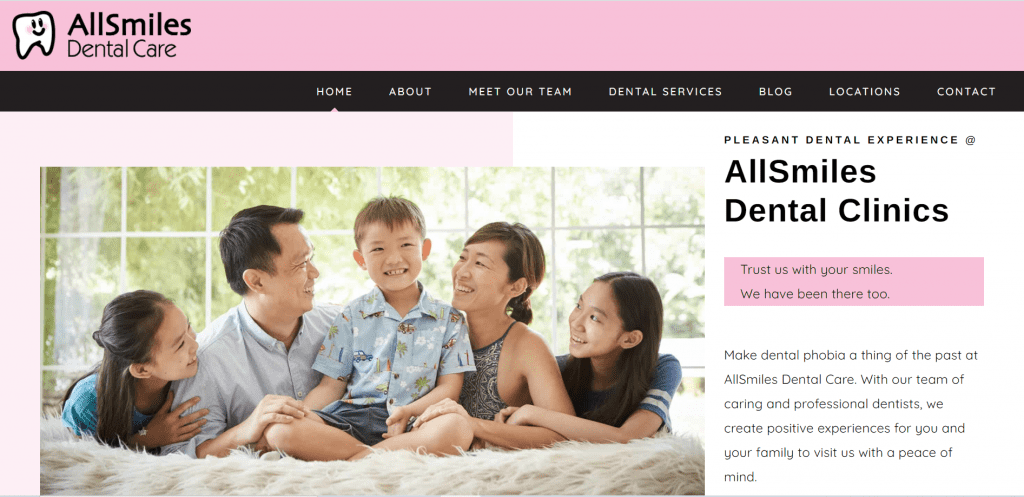 AllSmiles Dental is committed to delivering the most pleasant dental care experience to all patients.
From simple dental checkups to complex treatments, they provide a comprehensive range of dental services to meet all dental needs.
Looking for a speedy root canal treatment in Singapore?
The process can take about an hour to complete at their clinic.
However, the entire treatment process may occur over a single or multiple visits.
This depends on factors like complexity of the infection, the number of treatments needed and the condition of the tooth.
Reviews praise the root canal treatment in Singapore for their staff's efficiency.
3. NoFrills Dental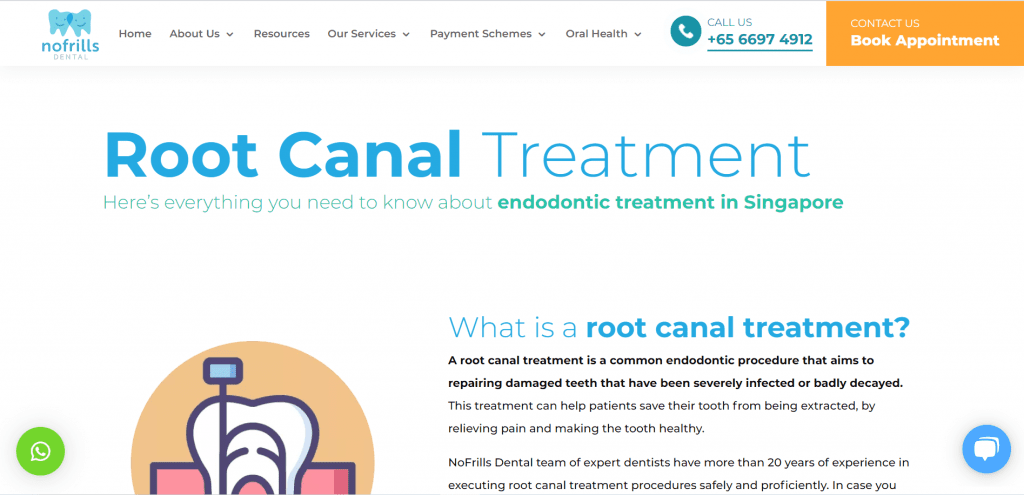 At NoFrills Dental, they are dedicated to providing high-quality, accessible and affordable dental care across all of their dental clinics in Singapore.
They take great pride in consistently delivering a holistic and high-quality experience with their professional excellence, dental technology and high infection control standards.
During your initial consultation, your dentist will perform an X-ray of the tooth root as well as a pulp vitality test to determine the severity of your root canal condition.
Once the severity of the case has been determined, your dentist will subsequently formulate a tailored treatment plan to address your needs based on your case.
Reviews laud the root canal treatment in Singapore for the ease of being attended to as well as the comfort the dentist put patients at.
Their explanations were clear.
4. Nuffield Dental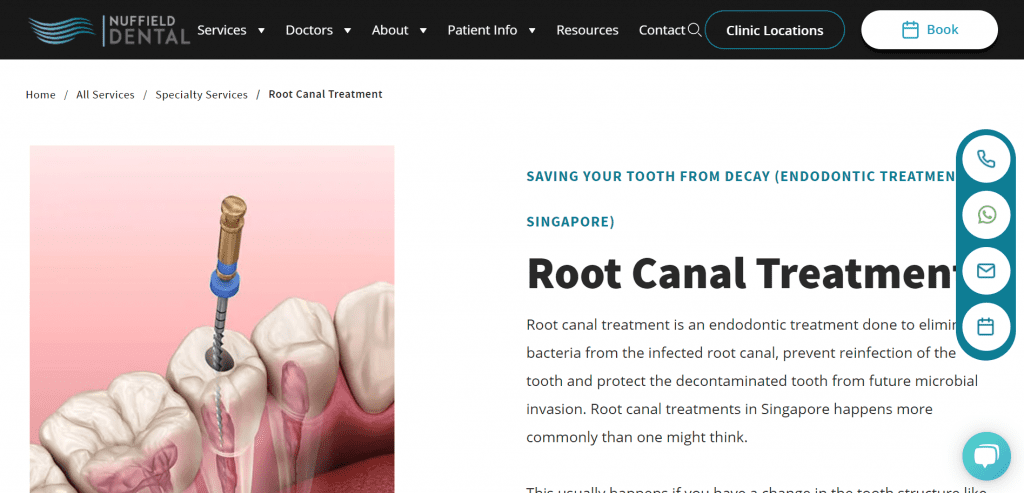 Looking for a root canal treatment in Singapore with a great after-care process?
Our advice is to pay Nuffield Dental a visit.
After your procedure, your dentist will send you home with painkillers to counter the soreness you may feel in your nerves when the anaesthesia wears off.
Upon completing any follow-up appointments, you may be required to return to the dentist for a final crown to fully restore the tooth.
Plus, Nuffield Dental possesses a wealth of experience under their belt: their dentists have specialised in root canal and oral surgery for more than 20 years.
They have accredited dental providers who are skilled in the area of dental implant surgery.
Reviews laud the root canal treatment in Singapore for their excellent service and professional staff.
Their dentists are calm and will have your back in an emergency.
5. Ashford Dental Centre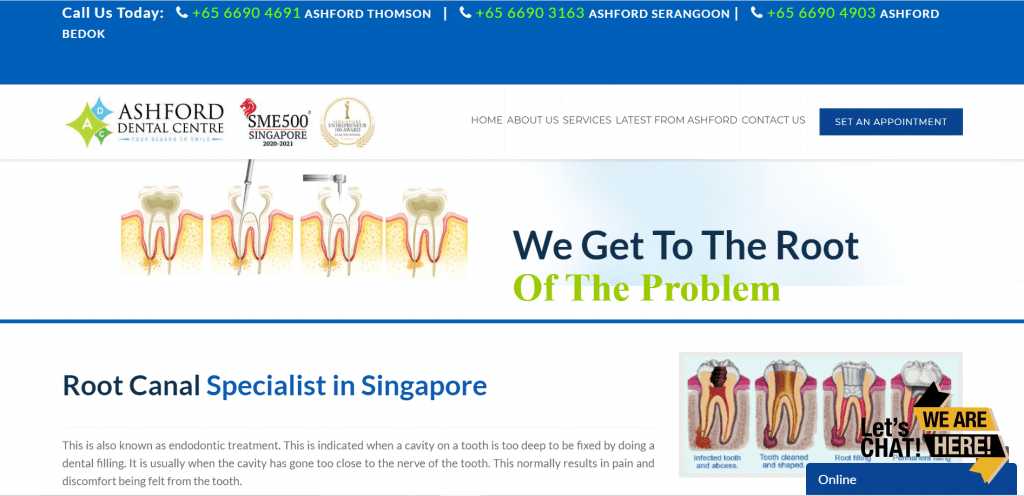 The dentists at Ashford Dental Centre have more than 30 years of combined dental private practice experience.
They only use auto-rotation files from Germany to clean and sterilize the tooth during root canal treatment.
All the files they use are strictly one-time-use only.
These files are never reused, even for the same patient.
A key component of effectively diagnosing and treating teeth that require root canal treatment is high-quality X-rays and a 3D scan.
Their facility is equipped with digital X-ray software that can measure lengths, widths and heights of teeth accurately.
Reviews laud the root canal treatment in Singapore for their meticulous dentists, who will take the time to explain to patients the procedures they are undergoing.
6. i.Dental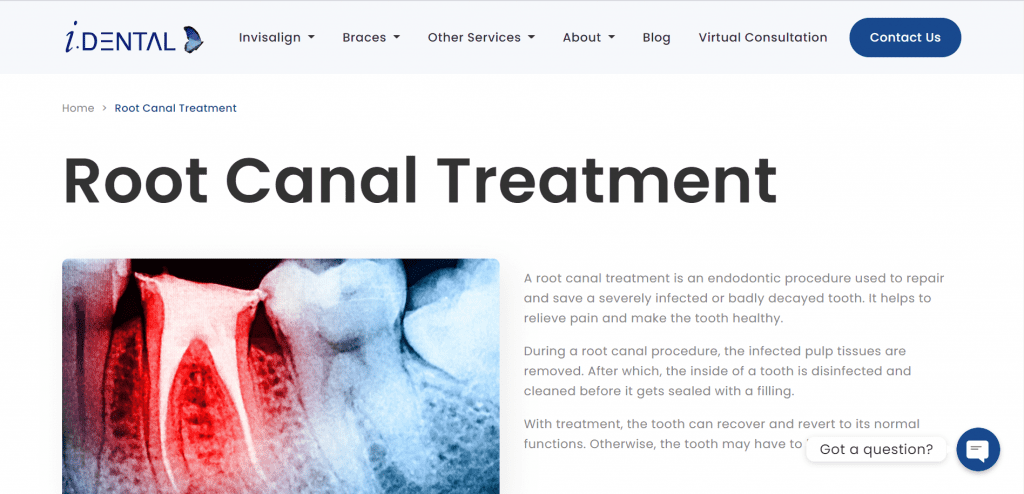 With over 30 years of experience, the team of experts at i.Dental ensures that you receive painless root canal treatment in Singapore.
The root canal treatment in Singapore takes great care in ensuring that your root canal treatment in Singapore is pain-free.
Anaesthetic is injected to numb the area around the affected tooth.
This helps to prevent you from feeling any pain.
The cost of a root canal treatment is between $428 to $1,284 (inclusive of GST) depending on the severity of your condition. The prices stated are inclusive of GST.
Reviews laud the root canal treatment in Singapore for their very friendly staff.
7. Elite Dental Group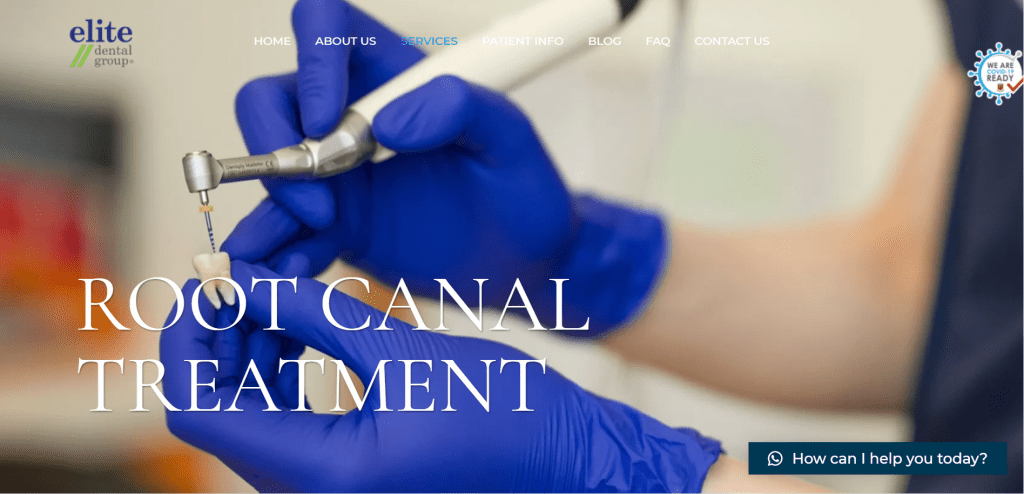 Elite Dental Group was founded in 2013 with a purpose: to change the negative image of dentistry.
They have the conviction that they can achieve this by having all of their team's clinical training, equipment acquisitions, clinic design, as well as operational protocols designed around their mission of eradicating dental anxiety.
What distinguishes Elite Dental Group is that the crown for your affected tooth will be designed according to your preferences.
The fit, colour, shape and bite of your new crown will be checked with your input, before it is cemented onto your tooth.
Reviews praise the root canal treatment in Singapore for their warm service and professionalism.
The dentist makes patients feel at ease with his cheerful persona.
8. Roots! Advanced Endodontics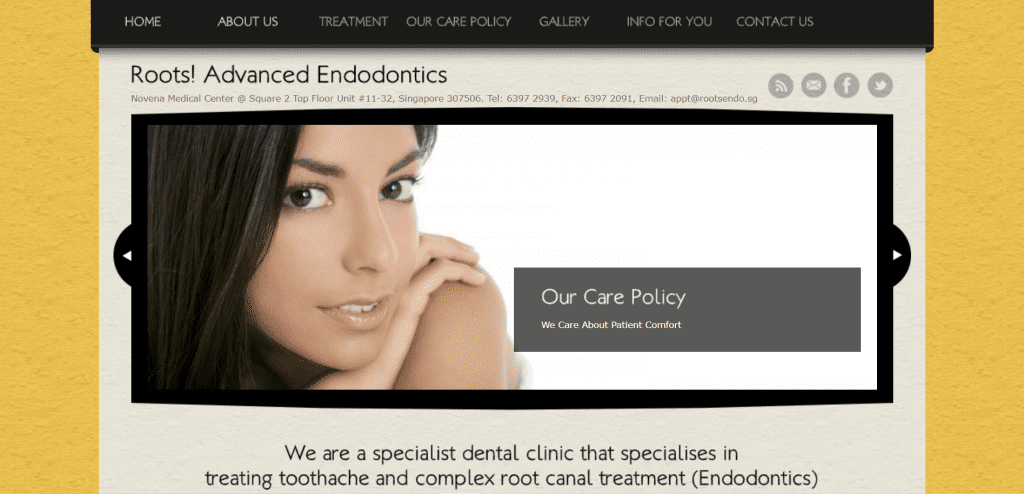 Roots! Advanced Endodontics is a dental clinic that specialises in treating severe toothache and root canal diseases (endodontics).
Located on the top floor of the Novena Medical Center @ Square 2, the clinic focuses on providing quality root canal treatment, and in particular, a comfortable treatment experience for patients.
Their modern facility is designed to be patient-centric.
Their clinic is equipped with the latest technology and techniques in endodontics.
The carefully planned layout allows their team to have ready access to equipment with minimal cross traffic.
Reviews laud the root canal treatment in Singapore for taking in patients who were rejected from other dentists due to last-minute changes in their busy schedules.
9. Royce Dental Surgery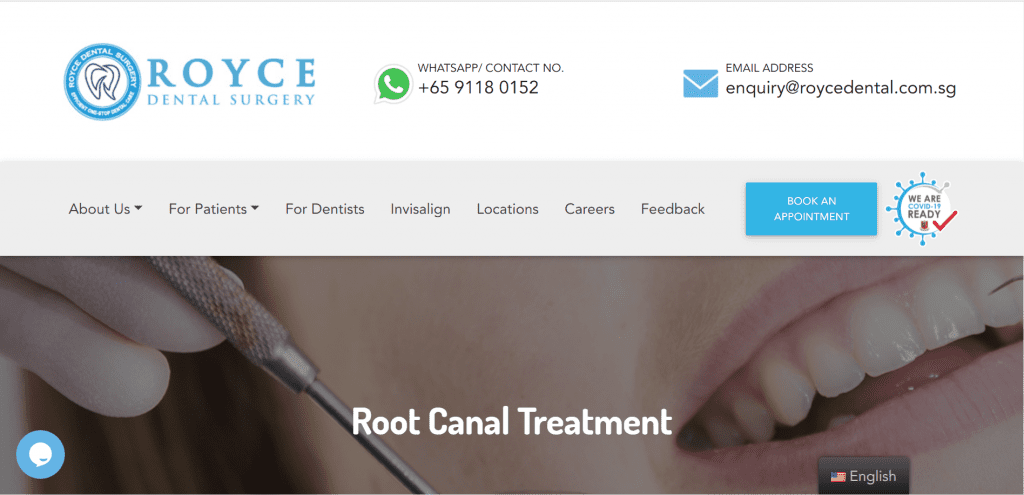 Royce Dental Surgery was established to provide comprehensive dental services from basic dentistry to specialist treatment while creating a friendly environment.
Root canal treatment is indicated for compromised teeth such as teeth with deep decay as well as teeth that are fractured.
During root canal therapy, the infected nerve tissues (pulp of the tooth) is removed and the root canals are disinfected.
A root canal filling material known as Gutta-percha is then used to fill up the empty canals.
A filling is then done on the top of the tooth to seal up the cavity before a dental crown procedure is done as a more permanent restoration.
Our suggestion is to go to them for root canal treatment in Singapore if you are intending to claim subsidies.
Royce is an accredited dental group for the following schemes: Community Health Assist Scheme, Merdeka Generation Scheme, Public Assistance Scheme, Pioneer Generation Scheme, Baby Bonus Scheme, and Medisave Scheme.
Reviews laud the root canal treatment in Singapore for their warm, humble and empathetic team, who never fails to put patients at ease before dental treatment.
10. Smileworks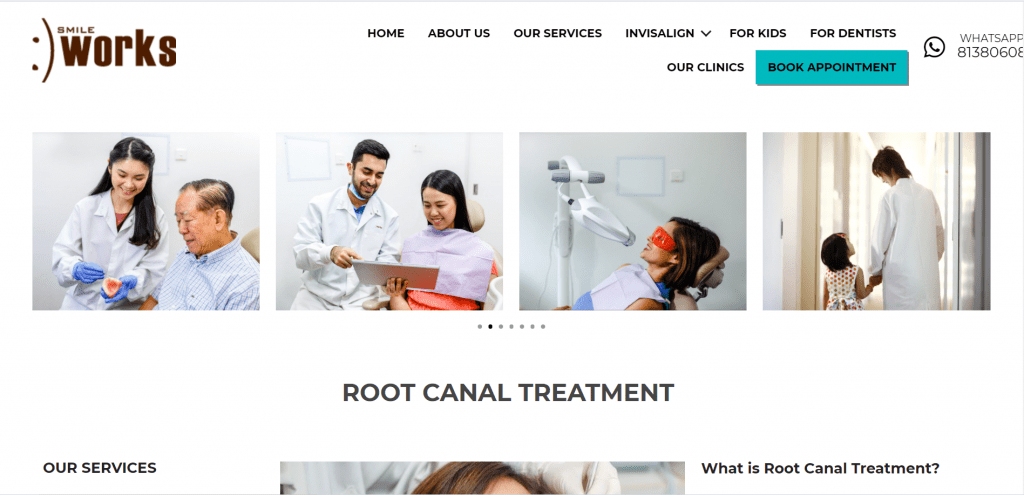 Smileworks is a dental clinic that provides a comprehensive range of dental treatments for all ages.
The motto of the clinic is "Where Every Smile is Special", and they believe in understanding your condition to foster a good relationship.
The root canal treatment in Singapore will first inform the patient of the pros and cons of the procedure and offer other treatment options if they are suitable for the case.
After informed consent is taken, a radiograph (or x-ray) will be taken to fully assess the tooth and the tooth will be thoroughly checked.
Adequate local anaesthesia will be given to the tooth and the surrounding area for comfort during the procedure.
Smileworks believes in taking an iterative approach to root canal treatment in Singapore.
The entire process will take two visits or more so that it can be assessed and reviewed at each stage to ensure there is an optimum outcome for the tooth.
Reviews laud the root canal treatment in Singapore for being thorough and for displaying astute judgement when treating patients.
Prices were also reasonable.
Conclusion
Do you have any reviews and comments to share regarding our choices for the best root canal treatment in Singapore?
While SBO is committed to supporting our local businesses, we welcome any feedback and anonymous sharing regarding your experience with the best root canal treatment in Singapore.
We hope that this guide will be useful in helping you to make an informed decision when it comes to finding the best root canal treatment in Singapore.
For more suggestions on dentists for general oral health, check out our list of dentists to consider.
Explore More Content