10 Best Osteopath In Singapore To Better Manage Your Muscle Pains [2021]
You can seek to prevent and treat your musculoskeletal pains with best osteopath in Singapore.
Health & Wellness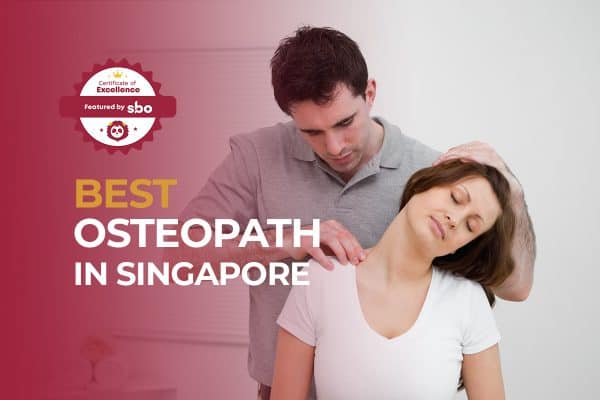 Our team at SBO.sg is committed to being a one-stop avenue to connect local businesses and consumers. We hope that our research efforts can help you save time and money by finding you the best deals without having to search around the vast world-wide-web.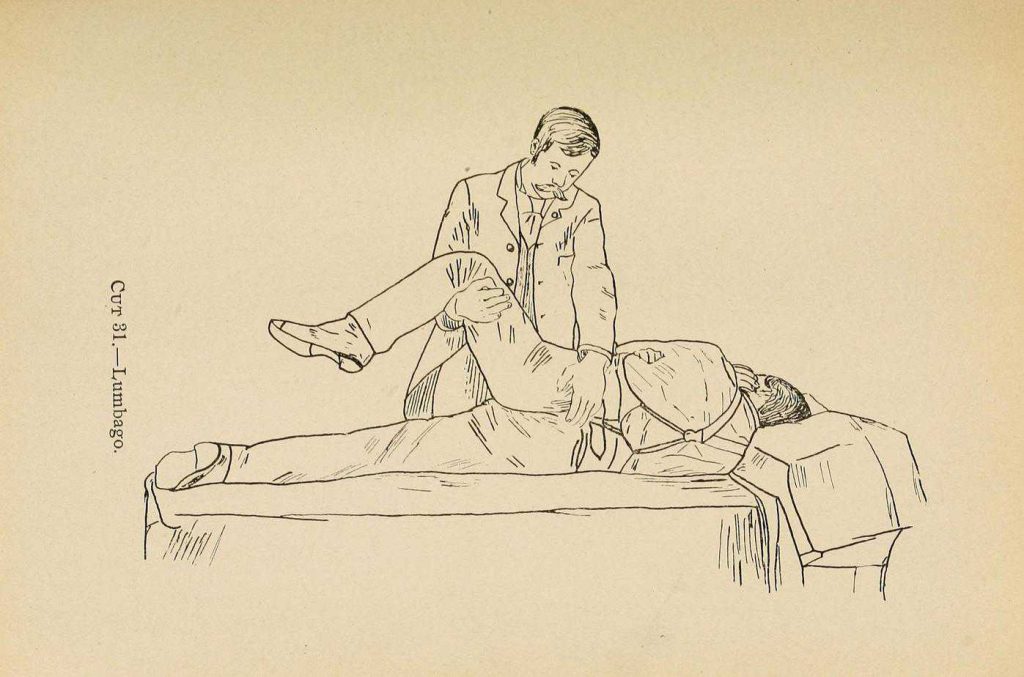 More often than not, many people tend to confuse the idea of Osteopathy, Physiotherapy & Chiropractic treatment.
This is not surprising as all three treatments help to treat similar health problems related to the musculoskeletal system manually and do not require practitioners to prescribe medication or carry out surgical operations.
So, what is the main difference between the three?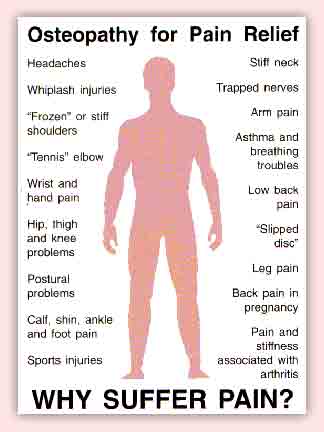 To put it simply, physiotherapy focuses more on the rehabilitation and general well-being of the patient by assessing the patient's everyday activities to better target the root cause of muscle or joint problems.
On the other hand, both chiropractic treatment and osteopathy places a lot of emphasis on the use of manual manipulation to treat body aches.
What sets the two different is that chiropractic treatment focuses more on realigning the spine back to its most natural state, whereas osteopathy first examines the patient's body as a whole (such as the connective tissues, blood circulation, skeleton, muscles, nerves and joints) then later uses gentle manual manipulation to relieve those muscle and joint pains.
In this article, we will look at the 10 Best Osteopath in Singapore to help you relieve your muscle and joint aches!
1. City Osteopathy and Physiotherapy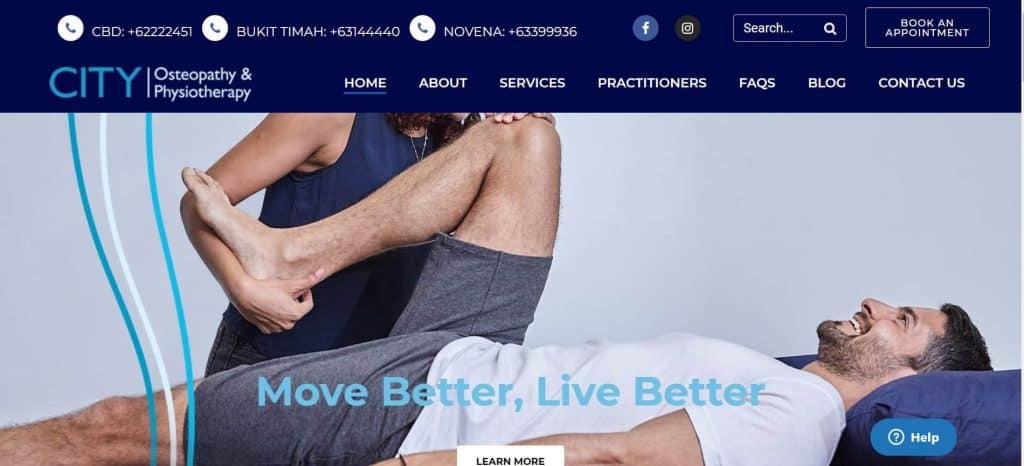 Founded on a guiding principle which is to help their patients return to health as soon as possible, City Osteopathy and Physiotherapy believes that their patients and well-being always come first.
Hence, you can be assured that the clinic will use the most effective health care disciplines, expertise and knowledge tailored to your needs to help you achieve the best and longest lasting health.
In addition, if the need arises, City Osteopathy and Physiotherapy will be more than happy to refer you to other medical practitioners within or outside our clinic to help you seek the best resolution to your problem.
2. The Osteopathic Centre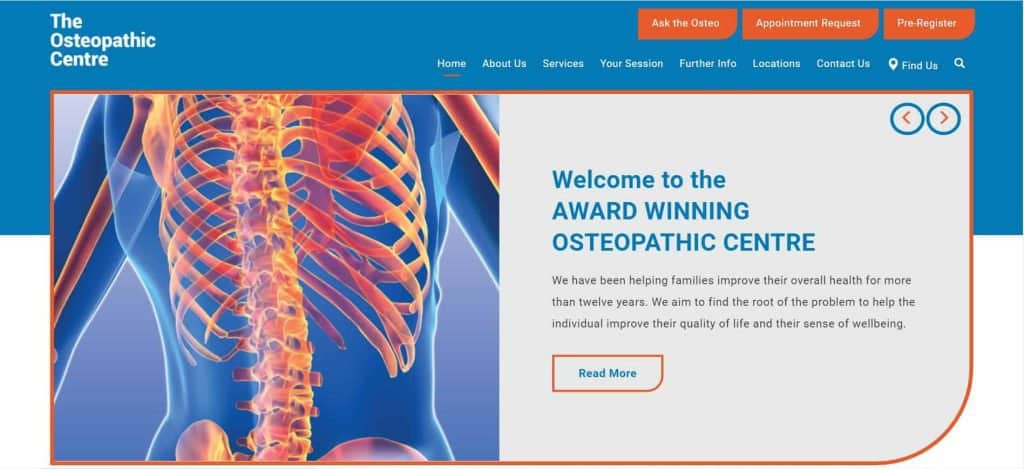 An award-winning osteopathic centre that has been in the field for more than twelve years, The Osteopathic Centre City aims to help every individual improve the quality of their everyday life and overall wellbeing.
A specialist in the practice of osteopathy, The Osteopathic Centre City not only addresses biomechanical, postural and musculoskeletal issues but also helps you spot other contributing factors to your problems to help you relieve pain and increase mobility.
One who believes that every single person has a right to the best health care possible, rest assured that you'll be placed in good hands with one of the 10 Best Osteopath in Singapore!
3. Osteopathic Treatment Centre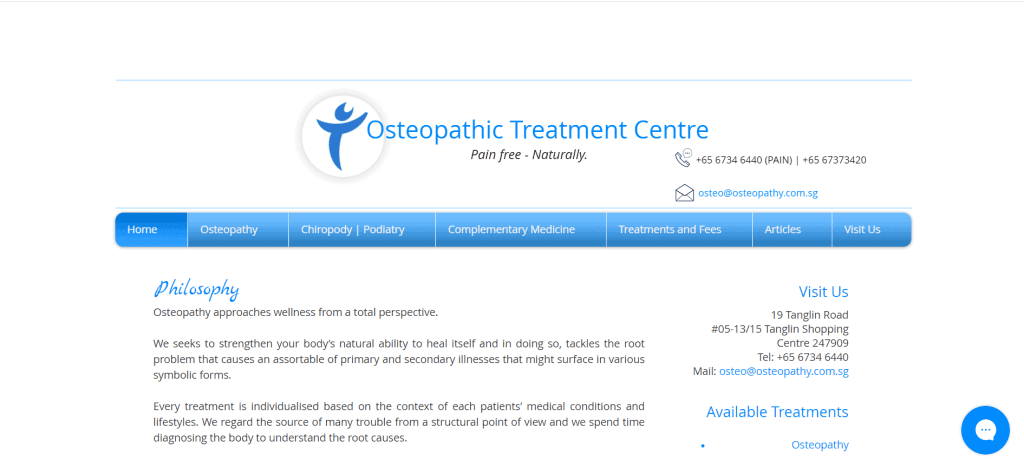 As the longest serving osteopathic practice in Singapore, Osteopathic Treatment Centre is highly experienced in treating patients using safe and natural methods based on the best practices adopted worldwide.
With a philosophy that seeks to strengthen your body's ability to heal itself naturally, the clinic also addresses the root problems that may lead to a primary and secondary illnesses surfacing in various symbolic forms.
With their ultimate mission to help you treat the root causes so comprehensively that you do not have to come back for further treatments, you can be assured that Osteopathic Treatment Centre is a trustable clinic that puts you and your recovery first.
4. Orchard Health Clinic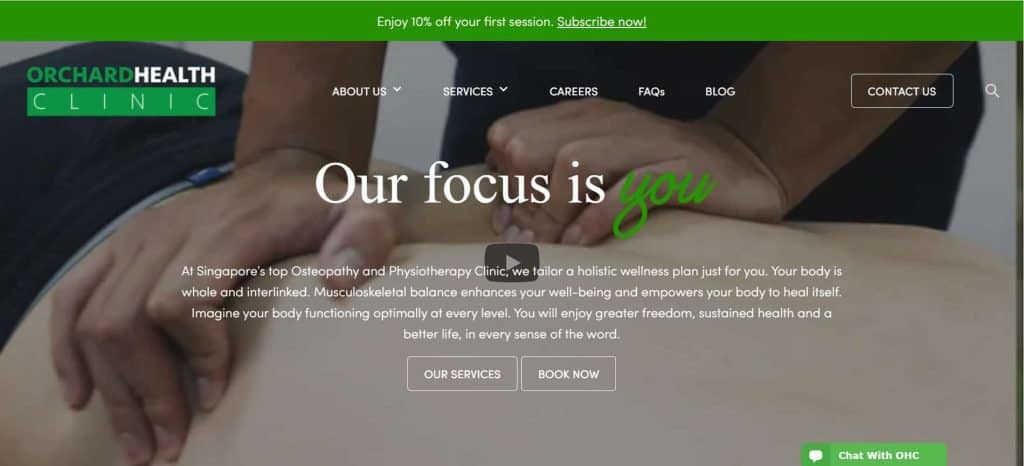 Having over 80 years of combined experience, Orchard Health Clinic is Singapore's Top Osteopathy & Physiotherapy Clinic that tackles stress, strains and injuries in your spine, joints, muscles, tendons and ligaments that you may not even be aware of.
The clinic is founded by Martin John, a highly sought-after Osteopath who graduated from the British School of Osteopathy and has treated many top-level British and local athletes, dancers, gymnasts and celebrities.
With a wide range of services available, Orchard Health Clinic has helped over 10,000 satisfied patients to reduce pain and recover from muscle and joint pains, and I'm sure it will be able to help you too!
5. Edge Healthcare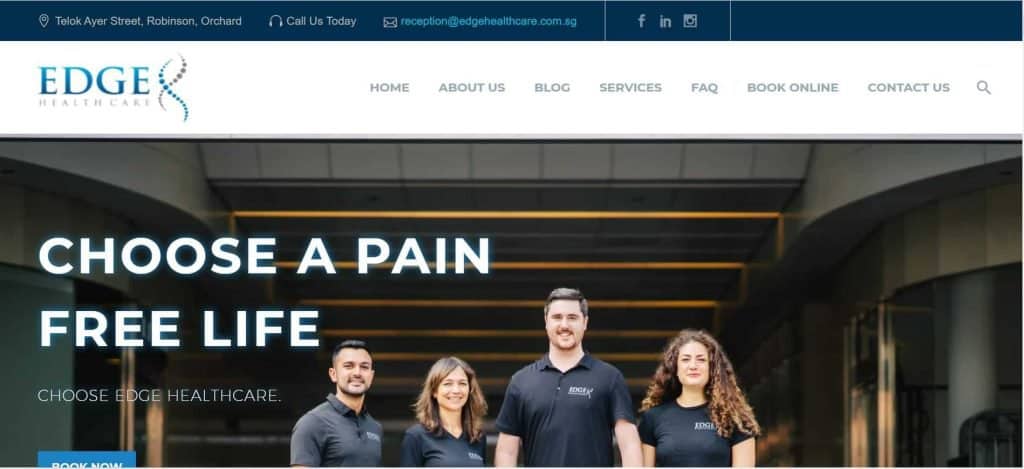 A progressive and evidenced based clinic situated in central CBD, Edge Healthcare takes pride in their treatment methods for being research led and forward thinking in our methods of treatment.
Besides providing the most appropriate and effective treatment, he team behind Edge Healthcare also works closely with other medical and health professionals including General Practitioners, Sports Physicians, Orthopedic Surgeons, Podiatrists, Personal Trainers and Sports Coaches to help you get back to full functionality as quickly as possible so that you can return to full health.
6. Osteopathy & Podiatry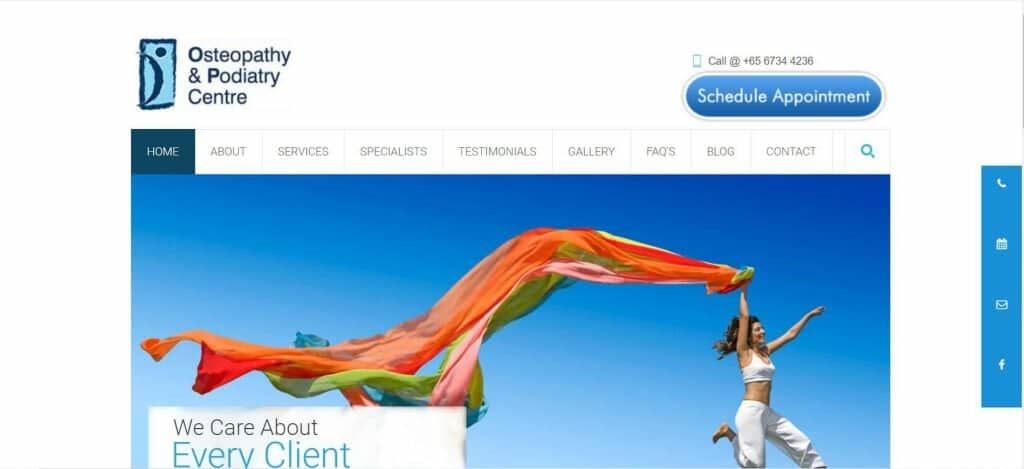 At the Osteopathy & Podiatry Centre, they believe that every patient deserves to be seen as an individual. Hence, their team of overseas qualified practitioners are motivated to identify any predisposing factors from each person's medical history and lifestyle to help correct them.
The first clinic in Singapore to provide the 3D laser foot scanning method for use in manufacturing custom made orthotics, Osteopathy & Podiatry Centre continues to adopt the latest technology in orthotic manufacturing, making it one of the most up to date clinics in the 10 Best Osteopathy in Singapore!
7. Hands On Osteopathy and Physiotherapy Pte Ltd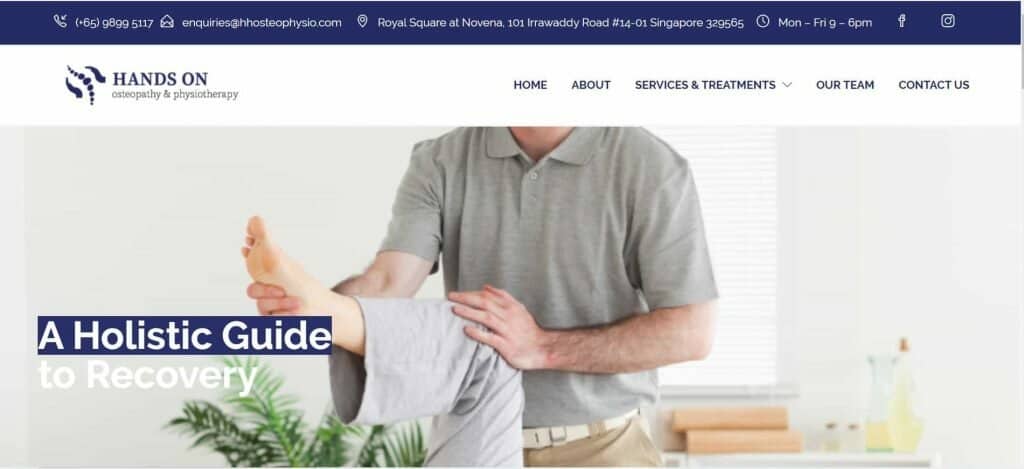 Made up of a team of qualified specialists who believes in guidance through nurturing and exercising our passion with compassion, Hands On Osteopathy and Physiotherapy specialises in visceral osteopathy, myofascial release and sports injury recovery.
The clinic was founded by Benjamin Loh after a serious back injury during a performance made him realised the importance and impact of osteopathy on people's lives and wellbeing, hence leading him to undertake his qualifications from the British School of Osteopathy in London in 2009.
A practicing Osteopath for 10 years, Benjamin's passion in osteopathy will no doubt motivate him to go beyond and above to help you seek recovery faster!
8. Osteopathic Pain Relief Centre Pte Ltd Singapore (OPRC)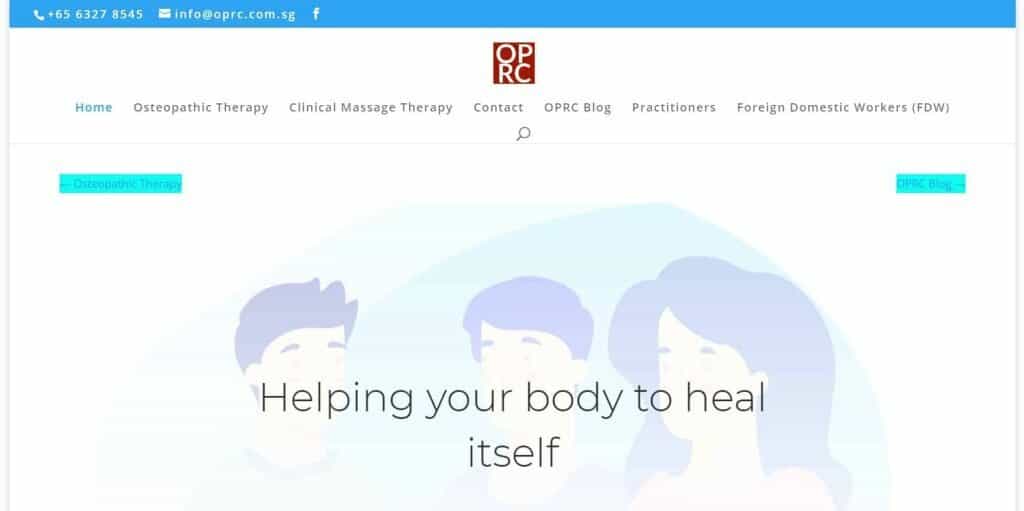 At OPRC, you are always placed in the safe hands of practitioners who are very well-versed in clinical treatment methods.
Having graduated from UK university with a Bachelor and Master of Science in Osteopathy, as well as having 27 years long of clinical experience in this field, senior osteopath at OPRC Mr Joselito is now highly proficient in the practice of osteopathy.
Other than having capable practitioners to help you relieve your muscle and joint pains, OPRC also do provide free therapies for the foreign domestic workers in Singapore too!
9. Back In Health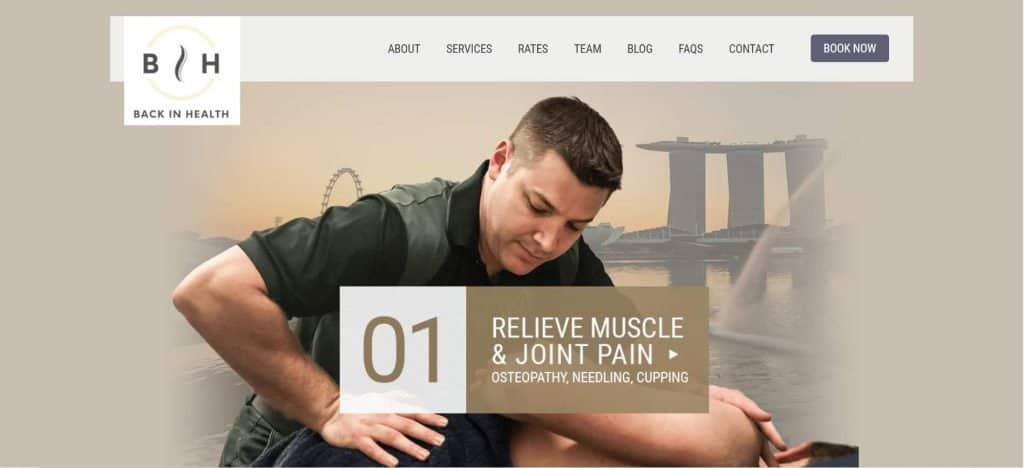 At Back In Health, the practitioners are committed to treating both long term and current pain problems by looking beyond presenting symptoms and trying to point out the root cause of your body's pain and dysfunction.
The clinic also provides a wide range of integrated services to tailor to the needs of every unique individual.
In addition, not only do the registered practitioners who play the most important role at Back In Health have formal qualifications, but they also have a broad range of international experience in health and fitness (E.g. Osteopathy, Dry Needling and martial arts), both inside and outside the clinic.
Being more diverse in the practice of health and fitness helps these practitioners have a deeper understanding of the human body and what is required to restore yours to optimal health!
10. The Stretch Clinic Singapore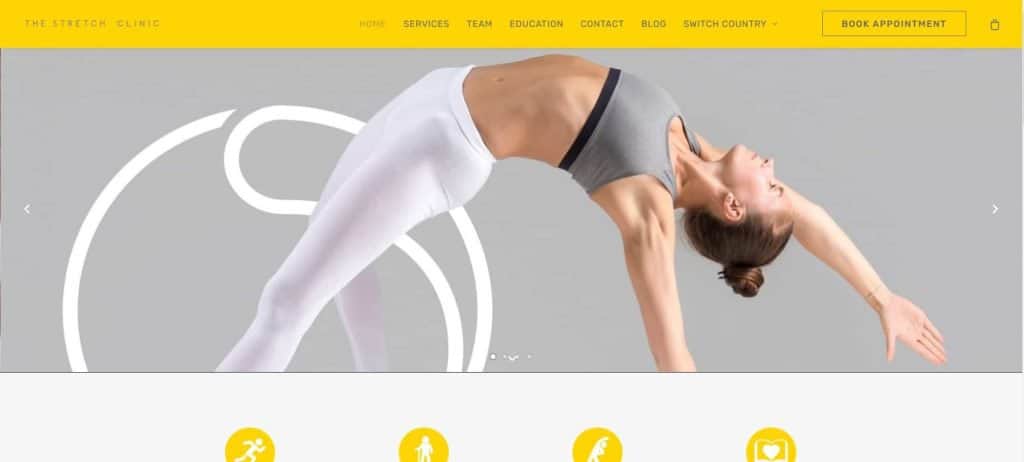 Last but not least in the 10 Best Osteopath in Singapore, we introduce you to The Stretch Clinic Singapore!
A holistic health care company that seeks to provide the very best solutions in performance and pain management for all its clients, The Stretch Clinic Singapore is another one to look out for given the many positive and amazing reviews given by satisfied clients. You can check out the online reviews in the table below!
Conclusion
All in all, we hope that this guide has been informative in helping you decide the best osteopath to visit in Singapore to help you relieve your body aches and maintain your overall well being.
Do you have any reviews and comments to share regarding our choices for the best osteopath in Singapore?
While SBO is committed to supporting our local businesses, we welcome any feedback and anonymous sharing regarding your experience with the listed osteopaths.
On a side note, do also check out our articles on the best chiropractors, physiotherapists and podiatrists you can visit in Singapore.
>