10 Best Nursing Home in Singapore for Around the Clock Care for Seniors [2023]
Give your elderly loved ones the care they deserve in their golden years with the 10 Best Nursing Home in Singapore.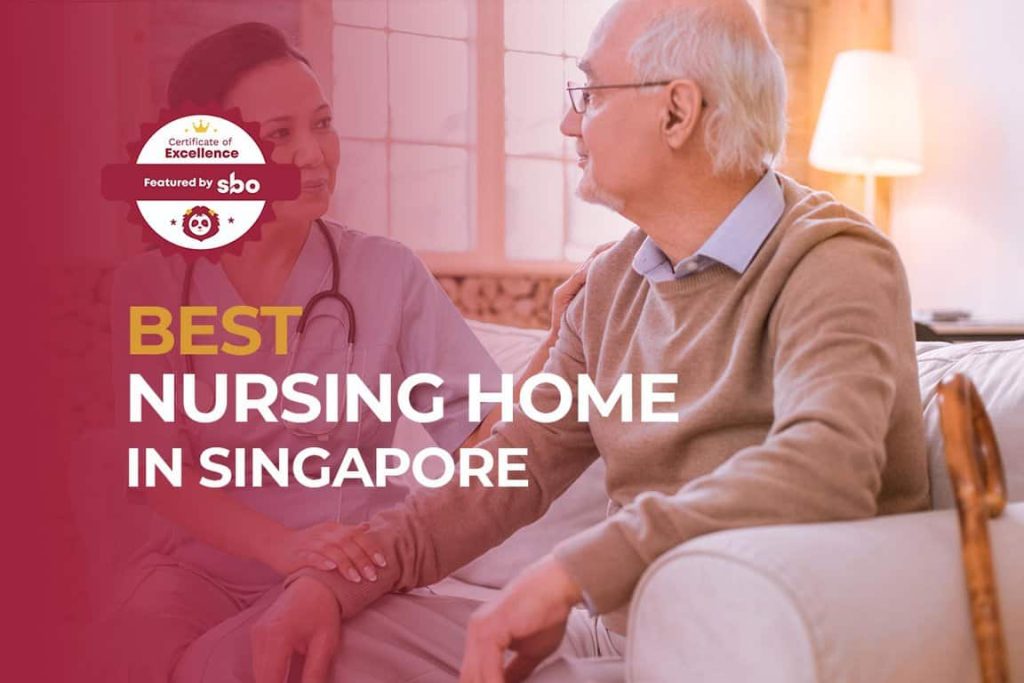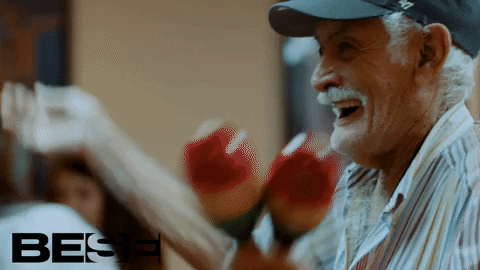 A country with a rapidly ageing population, Singapore ranks third among other countries with the lowest fertility rate in the world despite having one of the highest life expectancies.
It is estimated by 2035, around 32% of Singaporeans will be aged 65 and above. This gives rise to a problem of a shrinking workforce faced with immense pressure to support an ageing population. In other words, fewer elderly will be able to rely on family care in their golden years.
Hence, a nursing home is an ideal solution for families who struggle to give proper medical attention and care for their seniors at home on top of having to balance their careers and meeting the needs of the rest of their families.
We have put together the 10 Best Nursing Home in Singapore to help you to make an informed decision when it comes to finding the best nursing homes for your elderly at home.
1. Woodlands Care Home
A cosy place for elders, Woodlands Care Home has a wide range of facilities and services that include a Therapeutic Garden, Inter-Generational Activities, Hair Grooming at Club Cantik, Minimart at inter-generation Clubhouse and Karaoke / Movie in Cinema Suite.
Managed by Vanguard Healthcare, it is Singapore's second government-run nursing home that offers affordable charges and government subsidies for those who qualify.
2. NTUC Health (Jurong West) – Nursing Home
A nursing home that is designed and developed with its residents at heart, NTUC Health (Jurong West) provides a warm and welcoming environment for your elderly to engage in both social activities and living.
Besides having day spaces that are designed to capture a feeling of familiarity, the nursing home also offers opportunities for the seniors to form and drive their own interest group in addition to regular activities run by volunteers.
3. St Joseph's Home
One that has been in service for almost 40 years, St Joseph's Home is Singapore's first infant and childcare centre to be co-located in a nursing home which has helped to boost the potential of intergenerational relationships.
Set up by the Catholic Welfare Services in 1978 to provide shelter, care and love for the aged and destitute, regardless of race or religion, St Joseph's Home relocated back into Jurong West with bigger and better facilities for its residents which won the World Architecture News Award in 2019.
4. Charis Manor Nursing Home
A new age boutique nursing home, Charis Manor Nursing Home has unique features such as a therapeutic garden for the elderly, an exclusive in-house restaurant with a menu selection for their meals and a cafe for families when they visit their loved ones.
Also designed to be dementia-friendly, the nursing home has regular programmes and activities to actively engage the elderly.
5. Pacific Healthcare Nursing Home – Senja Road
Founded by Dr William Chong with the aim to offer the local community more comprehensive eldercare approaches, Pacific Healthcare Nursing Home provides a safe space for your loved ones to gather and engage in activities, enabling them to remain physically fit, mentally active and socially connected.
Well-equipped with facilities that are built for the elderly and trained staff to assist them in daily tasks, rehabilitation and social activities, Pacific Healthcare Nursing Home assures that your loved ones will always be in the safe hands of their nursing care staff with the best possible round-the-clock attention.
6. Jamiyah Nursing Home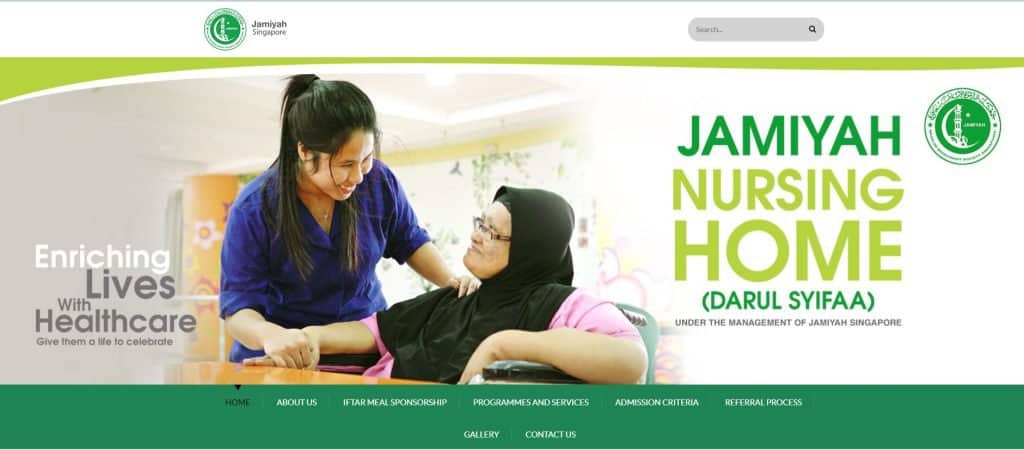 A non-profit and charitable organization that is part of a service project by Jamiyah Singapore, Jamiyah Nursing Home's four-storey nursing facilities were built with funding support from the Ministry of Health and donations received from charitable organizations and individuals in Singapore.
Providing services that include the Senior Care Centre, Dementia Ward, Integrated-Home Day Care and the Community Befrienders' Programme, Jamiyah Nursing Home aims to provide nursing care in addition to the social and cultural aspect and needs of Muslim patients and other faith.
7. St. Andrew's Nursing Home (Buangkok)
A service of St. Andrew's Mission Hospital (SAMH), St. Andrew's Nursing Home (SANH) supports the holistic and individualised care for its residents through an integrated programme of rehabilitation, psycho-social and nursing care.
First operated in November 2013, SANH provides a wide range of rehabilitation programmes such as occupational therapy, physiotherapy and psycho-social therapy to help the elderly develop their potential and maximise their abilities in a safe and supportive environment.
8. Orange Valley Nursing Home (Clementi)
One of Singapore's largest private nursing home operators, Orange Valley Nursing Home has a team of well-trained and dedicated health care professionals who are not only guided by the best evidence-based practices but are also guided by the philosophy of "Always Residents First".
A cosy and restful environment with over 900 beds in a range of bed types, the nursing home's residential nursing care includes:
Long-term care
Short-term/Respite care
Dementia/Psychiatric care
Medical/Specialty care
Overall geriatric care
9. ECON Healthcare – Choa Chu Kang
One that adopts the best of both eastern and western medicine philosophies, ECON Healthcare provides treatment plans tailored for specific needs that include the use of Traditional Chinese Medicine (TCM).
In addition to meeting the elderly's physical needs, the centre also offers a series of group wellness and social activities such as Community Dining, Maintenance Exercises, Arts & Craft Engagement and Outings & Day Trips to help them forge friendships and stay connected to others within homes and communities.
10. United Medicare Centre – Queensway
Established in 2003 to meet Singapore's growing demand for quality nursing care, United Medicare Centre is Singapore's first purpose-built private nursing home with fully customised facilities to cater to the needs of its residents and their families.
Situated in one of Singapore's most nostalgic neighbourhoods (next to Singapore's first 10-storey heritage flats at Tanglin Halt estate), the centre accommodates up to 200 residents providing services that include long term care, respite care and caregiver training.
Conclusion
Do you have any reviews and comments to share regarding our choices for the best nursing home in Singapore?
While SBO is committed to supporting our local businesses, we welcome any feedback and anonymous sharing regarding your experience with the listed 10 Best Nursing Home in Singapore.
We hope that this guide will be useful in helping you to make an informed decision when it comes to finding the best nursing home in Singapore.
Explore More Content