10 Best Diabetic Foot Care in Singapore for Patients With Diabetes [2023]
Can't feel your feet? That might be a sign of diabetes.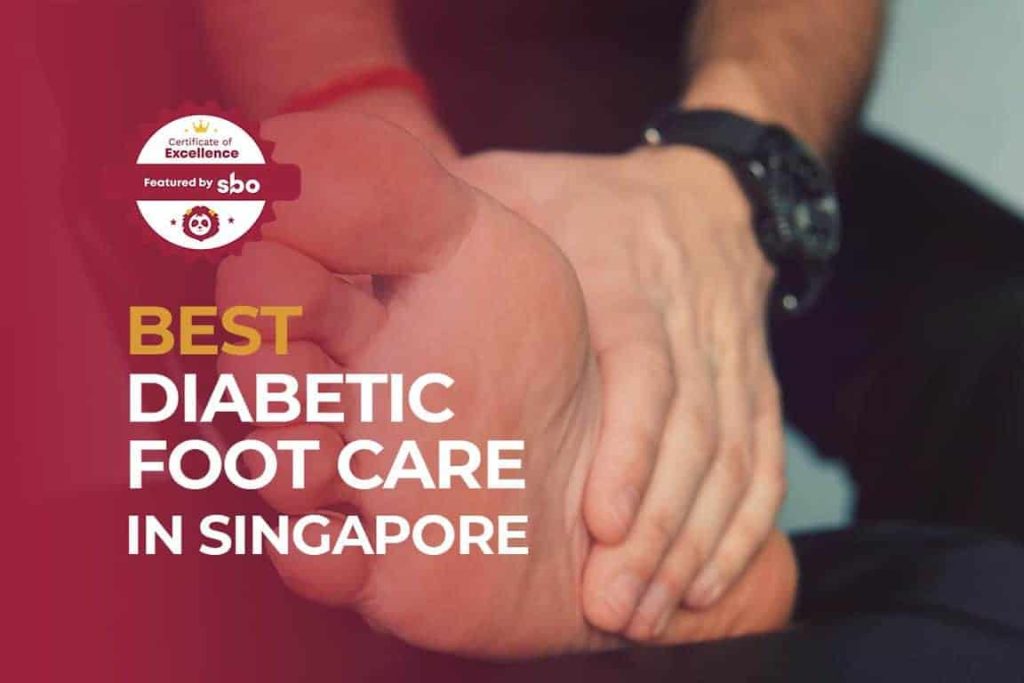 Diabetes is a chronic disease in which blood sugar levels are higher than normal.
During the 2016 Committee of Supply debate in Parliament, Health Minister Mr. Gan Kim Yong revealed that a staggering 400,000 people have diabetes in Singapore.
Over time, diabetes may cause nerve damage, also called diabetic neuropathy, that can cause tingling and pain, and can make you lose feeling in your feet.
When you lose feeling in your feet, you may not feel a pebble inside your sock or a blister on your foot, which can lead to cuts and sores.
Cuts and sores can become infected.
Diabetes also can lower the amount of blood flow in your feet.
Not having enough blood flowing to your legs and feet can make it hard for a sore or an infection to heal.
Sometimes, a bad infection never heals. The infection might lead to gangrene.
Looking for diabetic foot care in Singapore?
In this post, we've gathered all the relevant details to compile a list of the 10 best diabetic foot care in Singapore.
1. My FootDr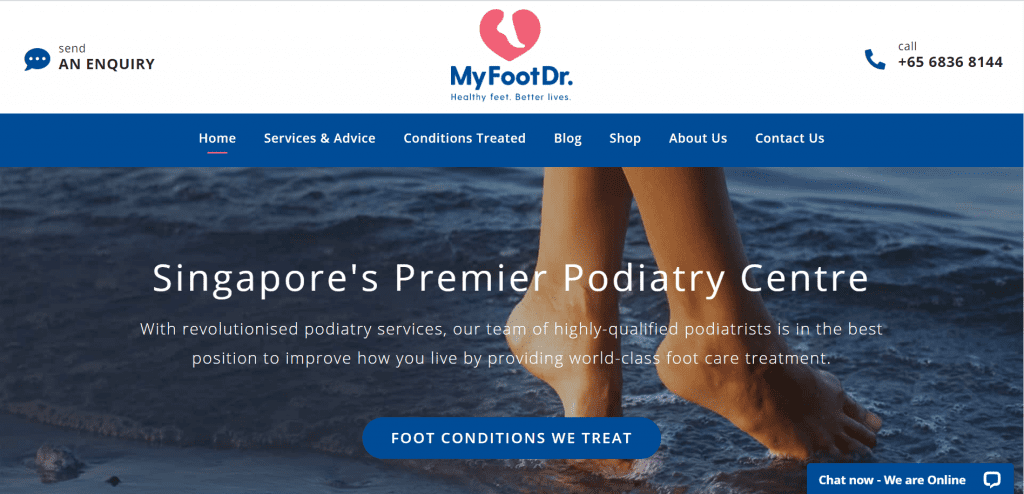 My FootDr Singapore has been committed to providing the highest standards of podiatry health services since it opened in 2012.
A member of Australia's largest podiatry group, they adopt a highly personalised approach to podiatric health.
For diabetic patients, their podiatrists are able to use diagnostic tests to assess your sensation and circulation and place that within the bigger picture of your overall health.
Furthermore, their podiatrists will provide the necessary treatment at the time of the consultation involving skin and nail care for corns, ingrown toenails, calluses or ulcer debridement in more serious cases of diabetes.
Reviews laud the diabetic foot care in Singapore for being knowledgeable and thorough in their treatment.
Their podiatrists were also kind and friendly.
2. The Foot Practice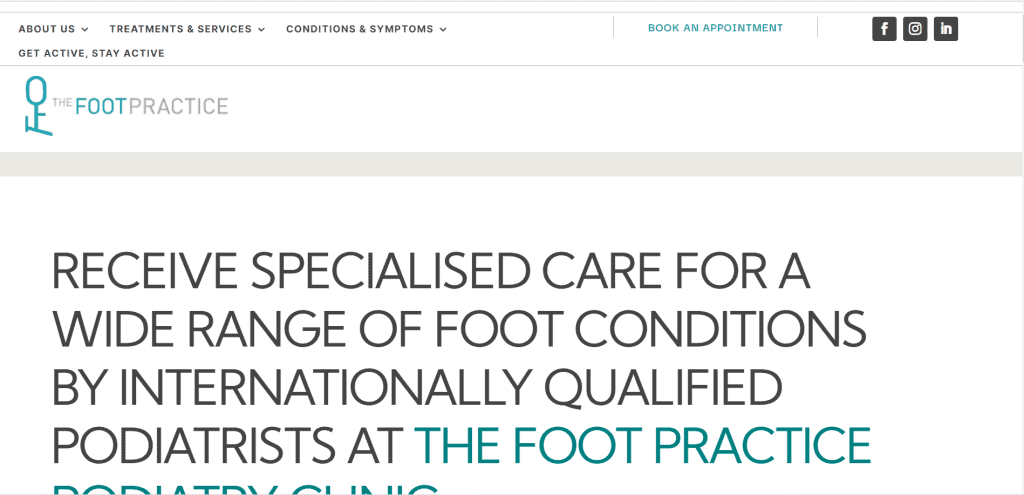 The Foot Practice Podiatric Clinic, based in Singapore, was established by Australian Adam Jorgensen.
Today, Podiatrist Tim Maiden continues to bring podiatric expertise in a family-friendly foot care clinic to residents islandwide.
Their podiatrists will assess the current condition of your foot to spot unnoticed conditions and other potential injuries to conduct diabetic wound management and to ensure infections are prevented.
The Foot Practice also provides other diabetes podiatry services, such as removing dead skin that creates friction within the shoe.
Reviews laud the diabetic foot care in Singapore for being spot-on with their diagnosis and prescribed treatment.
The podiatrist was also very personable.
3. Physio & Sole Clinic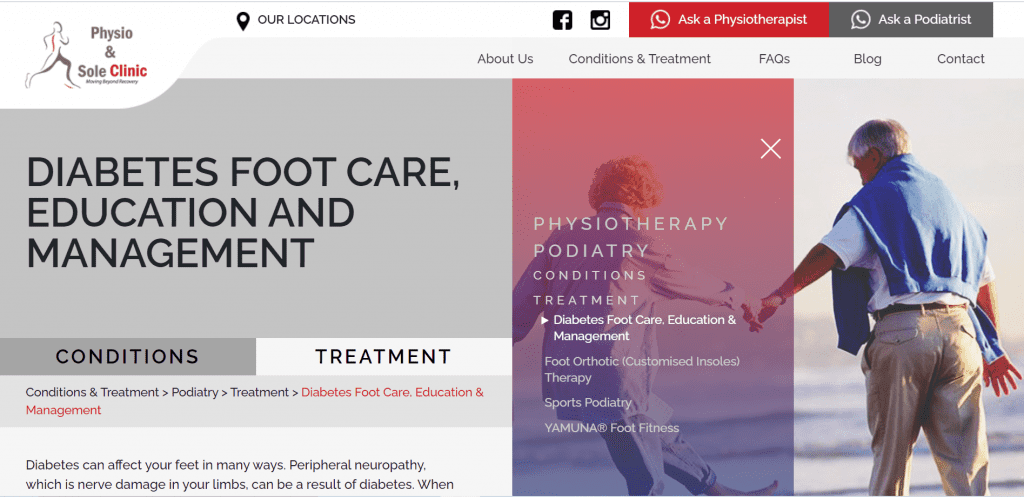 Physio & Sole Clinic (formerly The Sole Clinic) is a homegrown practice integrating the best of Physiotherapy and Podiatry.
Their team consists of local practitioners conversant in English, Mandarin and various dialects, and they believe in delivering greater value and higher quality of care to patients via effective clinical practice.
Their trained podiatrists can help monitor and detect early changes in one's feet by conducting diabetic foot screening. 
Advice on diabetic foot care will also be provided for self-care, and a specialised management plan may also be crafted.
Reviews laud the diabetic foot care in Singapore for having a fast appointment booking process in place.
Their staff were also very friendly over the phone.
4. Singapore Sports & Orthopaedic Surgeon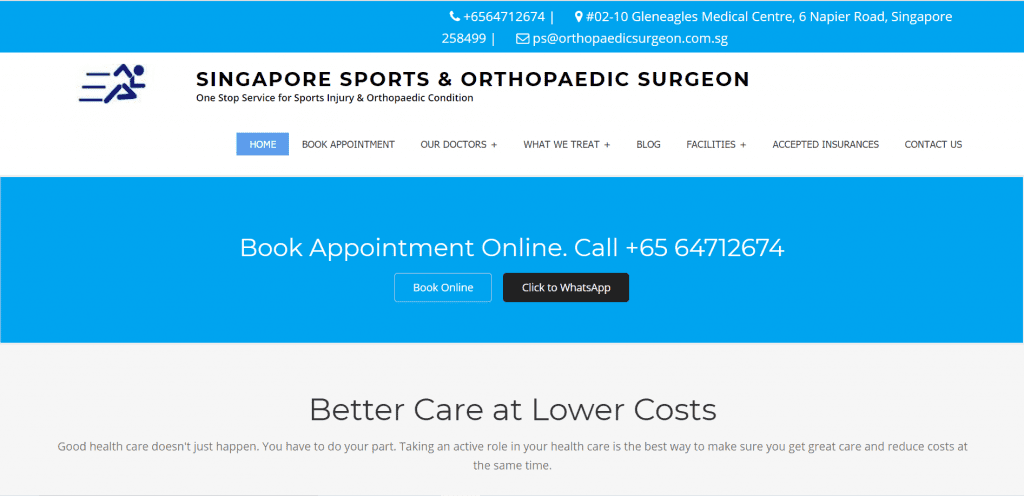 At Singapore Sports and Orthopaedic Clinic, their orthopaedic surgeons strive to work and put you back to your usual active lifestyle and improve quality of life by providing surgical and non-surgical treatments.
They have physiotherapists to ensure that the rehabilitation program is tailored to your medical conditions.
The diabetic foot care in Singapore specialises in treating diabetic foot ulcers.
For optimum healing, diabetic ulcers, especially those on the bottom of the foot, must be "off-loaded."
Patients may be asked to wear special footgear, or wear a brace, specialized castings, or use a wheelchair or crutches.
These devices will reduce the pressure and irritation to the ulcer area and help to speed up the healing process.
Reviews laud the diabetic foot care in Singapore for their excellent service.
Their doctors are very understanding and are willing to listen to patients' concerns.
5. East Coast Podiatry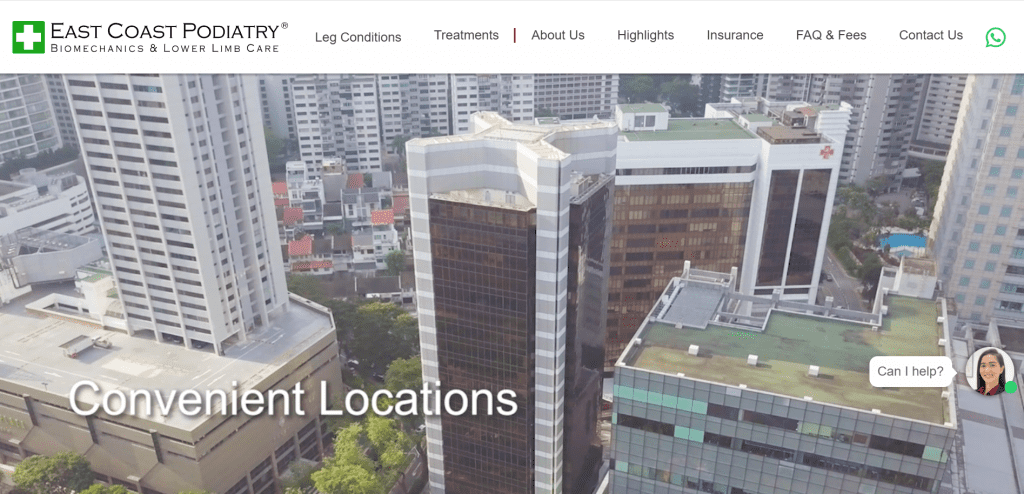 East Coast Podiatry is a leading Podiatry practice located in Singapore.
They focus strictly on Podiatry, with it being their sole specialty.
The practice's three clinical centres can offer all types of general treatment and biomechanics clinical work.
Podiatrists at East Coast Podiatry Centre have a reputation for high-intensity wound treatments.
They have achieved an average healing time of less than 3 months for chronic complex wounds.
Your podiatrist at East Coast Podiatry will:
Run though a thorough examination and extensive medical history-taking.
Full diabetic foot examination to classify your diabetic foot status.
Test for neuropathy and vascular insufficiency (doppler/ABPI/TPBI).
Judicious wound debridement, cleansing and care using specialised dressings.
Reviews laud the diabetic foot care in Singapore for their staff.
They were some of the most accommodating, welcoming and friendly people that one could meet.
6. Keat Hong Family Medicine Clinic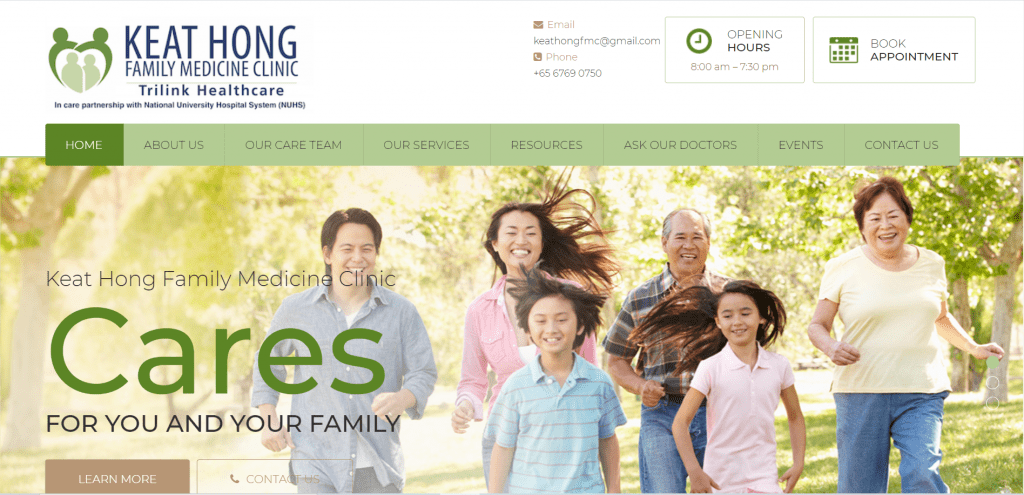 Looking for a family-friendly clinic for diabetic foot screening?
Our suggestion is to visit Keat Hong Family Clinic, conveniently situated in the heart of Choa Chu Kang.
The clinic is set up in partnership with the National University Health System to provide one-stop, affordable and holistic healthcare services for you.
The nurses at their clinic are trained to identify and screen foot problems for diabetic patients.
Reviews laud the diabetic foot care in Singapore for their polite and efficient staff.
Their clinic also had a clean and conducive environment with ample floor space.
7. Dr Foot Podiatry Clinic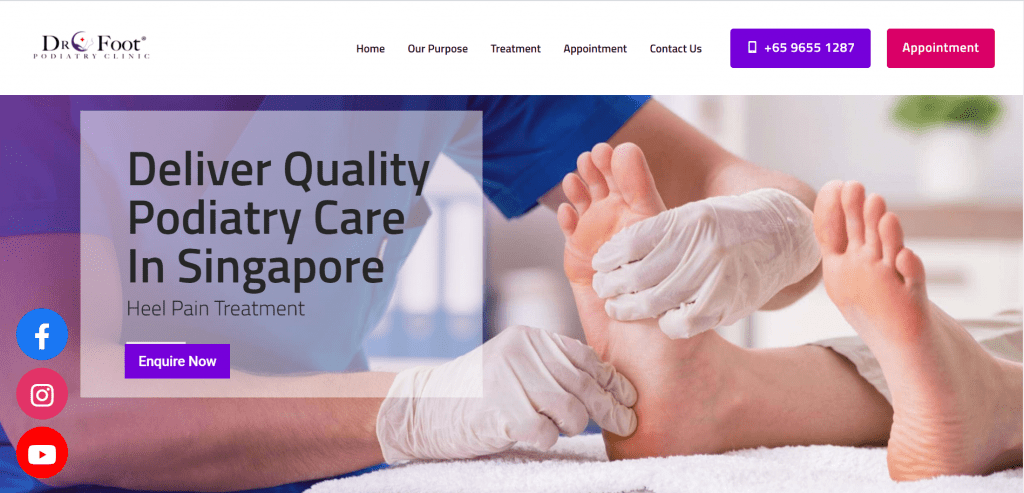 Dr Foot Podiatry Clinic is helmed by Dr Louis Loy.
He received his podiatric medicine degree from University of Brighton UK.
He gained most of his clinical experience in England and Singapore.
At Dr Foot Podiatry Clinic, Dr Louis Loy has come up with various modernised treatments to improve your clinical experience.
The diabetic foot care in Singapore offers the following diabetic treatments:
Diabetic Foot Care (Corns, Callus & Nails Treatment) – S$100 – S$150
Diabetic Wound Care – S$150 – S$200
Diabetic Assessment – S$50
Kinesiology Sports Taping – S$30
Reviews laud the diabetic foot care in Singapore for their professionalism shown.
There was a significant improvement in patients' conditions following treatment.
8. Osteopathy & Podiatry Centre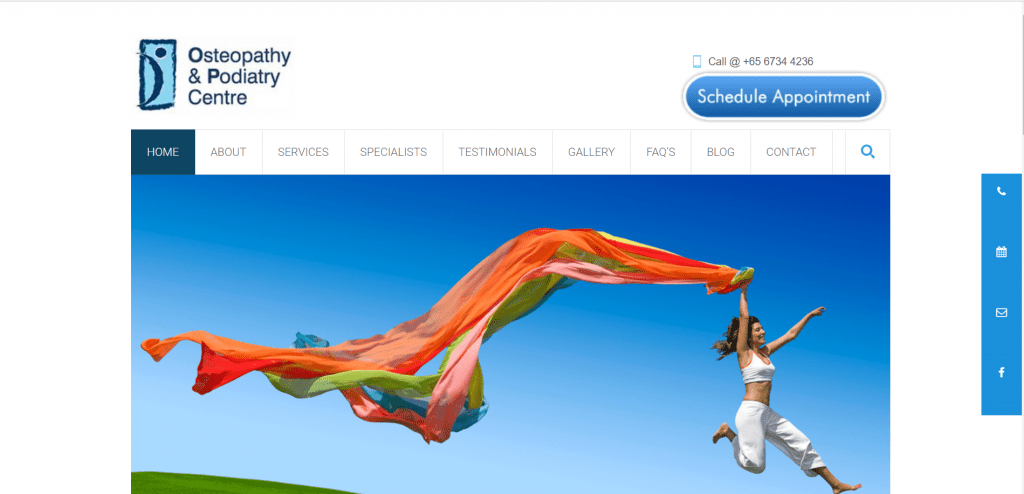 At the Osteopathy & Podiatry Centre, their aim is not just to treat the condition, but also to treat the individual holistically. They believe all their patients are unique and try to provide them with a bespoke service.
They maintain the best standards of Osteopathy and Podiatry care that enable patients to make a speedy recovery.
The diabetic foot care in Singapore is able to provide diabetic patients with total contact insoles.
These are custom made insoles or orthotics to redistribute stress away from high-pressure areas on the soles of the feet that are at risk of swelling.
Reviews laud the diabetic foot care in Singapore for their team of osteopaths and podiatrists who work together.
They don't lock you in for consults you don't need.
9. SBF Sports & Hand Centre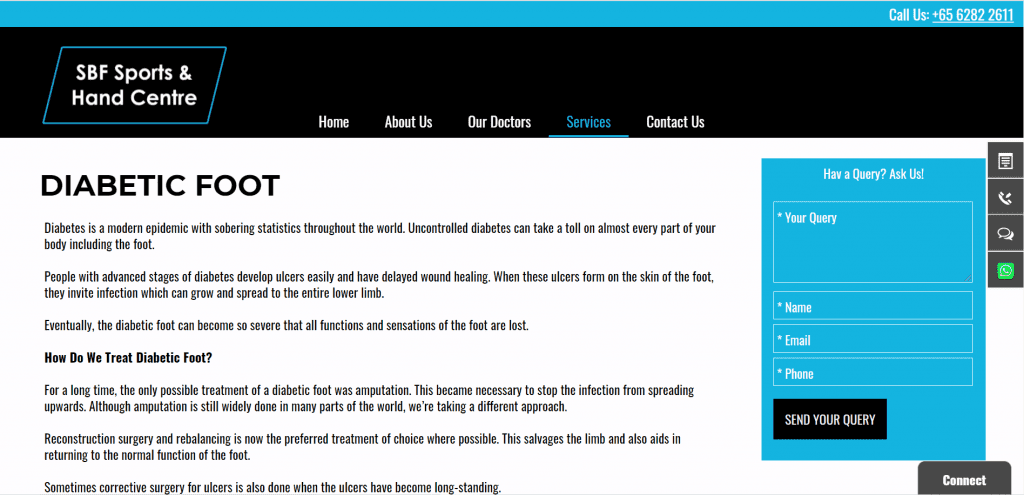 At SBF Sports and Hand Centre, they believe there's always a solution.
Be it joint pains, fractures, ligament tears or hand surgeries, their highly certified team of doctors is at your service.
Their mission is to provide their patients with unparalleled service so they can walk out of their doors stronger than ever. 
For a long time, the only possible treatment of a diabetic foot was amputation.
This became necessary to stop the infection from spreading to other parts of the body.
Diabetic foot care in Singapore tries not to resort to amputation as an option.
Reconstruction surgery and rebalancing is now the preferred treatment of choice where possible.
This salvages the limb and also aids in returning to the normal function of the foot.
Sometimes, corrective surgery for ulcers is also performed.
10. SteriShoe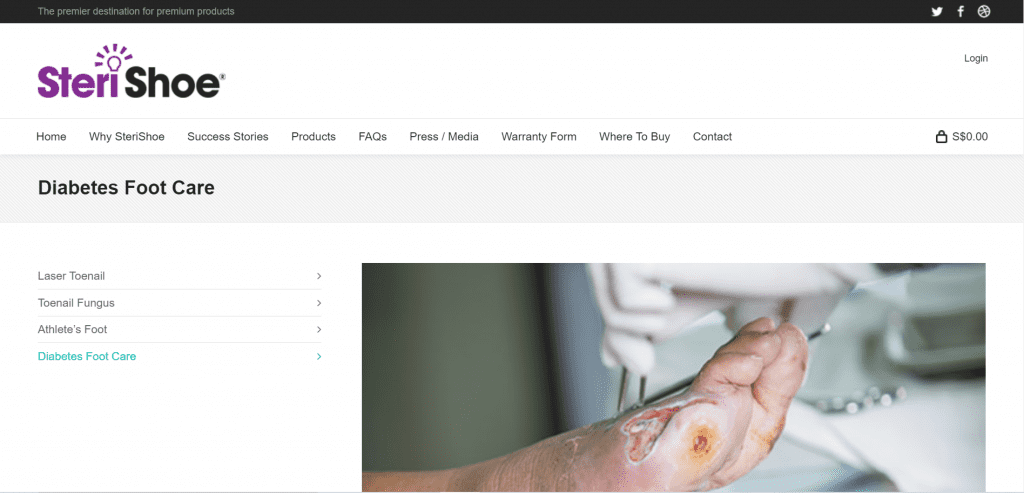 Unlike the other clinics on this list which aim to treat your diabetic foot, SteriShoe strives to prevent further complications when its comes to your diabetic foot by eliminating all the infection-causing bacteria and fungus growing in your shoes.
SteriShoe, an ultraviolet (UVC) sterilizer, is clinically proven to kill up to 99.9% of the germs with the power of ultraviolet light.
UVC light is very versatile and can be used for destroying harmful micro-organisms on all surfaces.
SteriShoe is so effective that it has even earned the American Podiatric Medicine seal of approval.
Reviews praise the diabetic foot care in Singapore for their excellent customer service and the one-year warranty.
The sterilizer also helps in removing odour.
Conclusion
Do you have any reviews and comments to share regarding our choices for the best diabetic foot care in Singapore?
While SBO is committed to supporting our local businesses, we welcome any feedback and anonymous sharing regarding your experience with the best diabetic foot care in Singapore.
We hope that this guide will be useful in helping you to make an informed decision when it comes to finding the best diabetic foot care in Singapore.
Explore More Content