20 Best Gifts for Newborn in Singapore to Gift Your Blessings [2023]
Gift bundles of joy with this list of the 20 best gifts for newborns!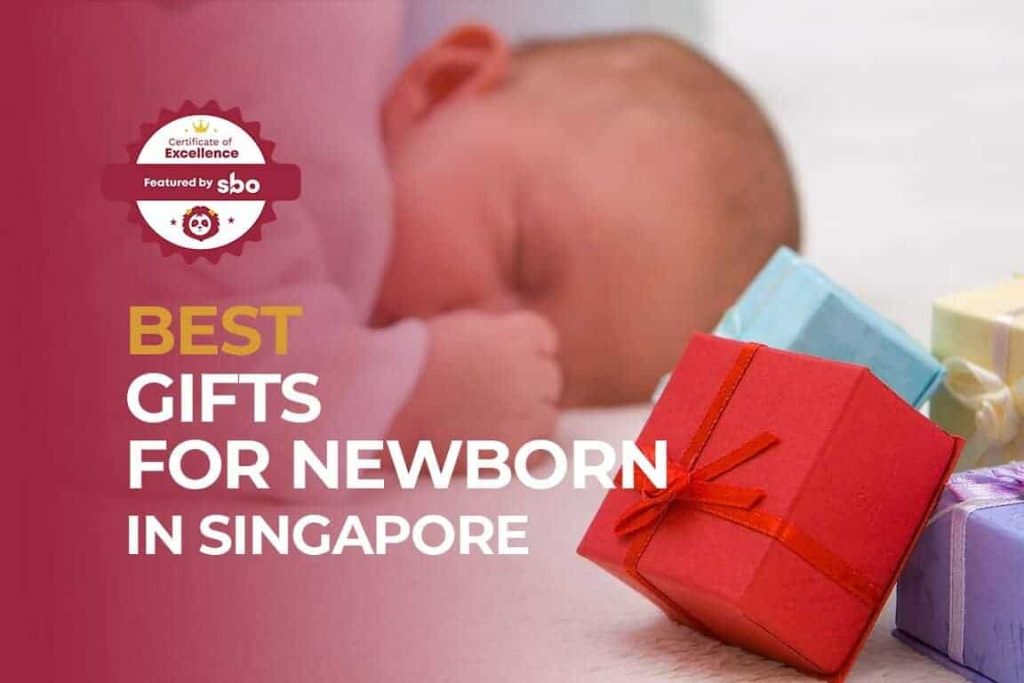 The birth of a baby is always a joyous occasion to look forward to!
What should you get as a gift if you're visiting a newborn? You want to get something that's cute yet practical as well so that it can be put to good use.
Luckily for you, we're here to take the load off planning with these useful places to get some ideal presents without spending a fortune.
Here are the 20 best gifts for newborns in Singapore that you can check out!
1. Le Petit Pumpkin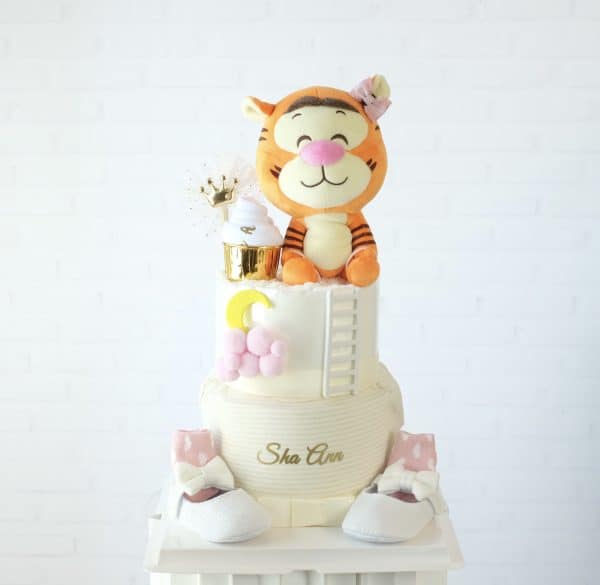 Le Petit Pumpkin is an online e-commerce shop that specialises in gifts for newborns.
Its main line of products are its expertly crafted customised diaper cakes and gift boxes. Each diaper cake is made of beautiful necessities for babies, like:
A soft bamboo hooded towel
Baby clothes
Baby diapers
It uses Merries diapers, a popular choice that is recommended by both mothers and paediatricians in Singapore, that is soft on a baby's skin and non-irritating.
If you prefer other diaper brands, you can also inform them with an additional $10 topup. You can also choose to customise the romper with the baby's name for a personalised touch!
And if you want to remind the mother that she is no less important, you can also get a Mum's Box that comes with a silky soft nursing cover and tumbler to store hot/cold water.
2. Lovingly Signed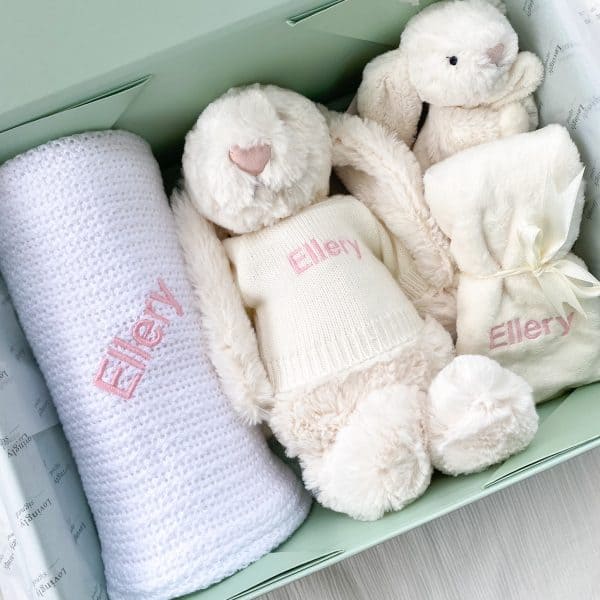 Lovingly Signed has made it its mission to help you make the best gift for a newborn with keepsake-worthy embroidery.
It sources unforgettable baby products worldwide and combines them into its personalised gift sets and hampers. If you have your own preference of items to add and want to pick them yourself, you can even opt for its build-your-own gift set!
The brand has a selection of gift combinations prepared for your picking as well if you cannot decide. They include items like the ever-popular Jellycat plush toy, organic cotton blankets, hooded bath towels and robes, and plenty more.
Personalise every item with name embroidery to truly make it one-of-a-kind! Plus, it makes finding things at home easier for parents if they have more than 1 child.
3. Kaiby Box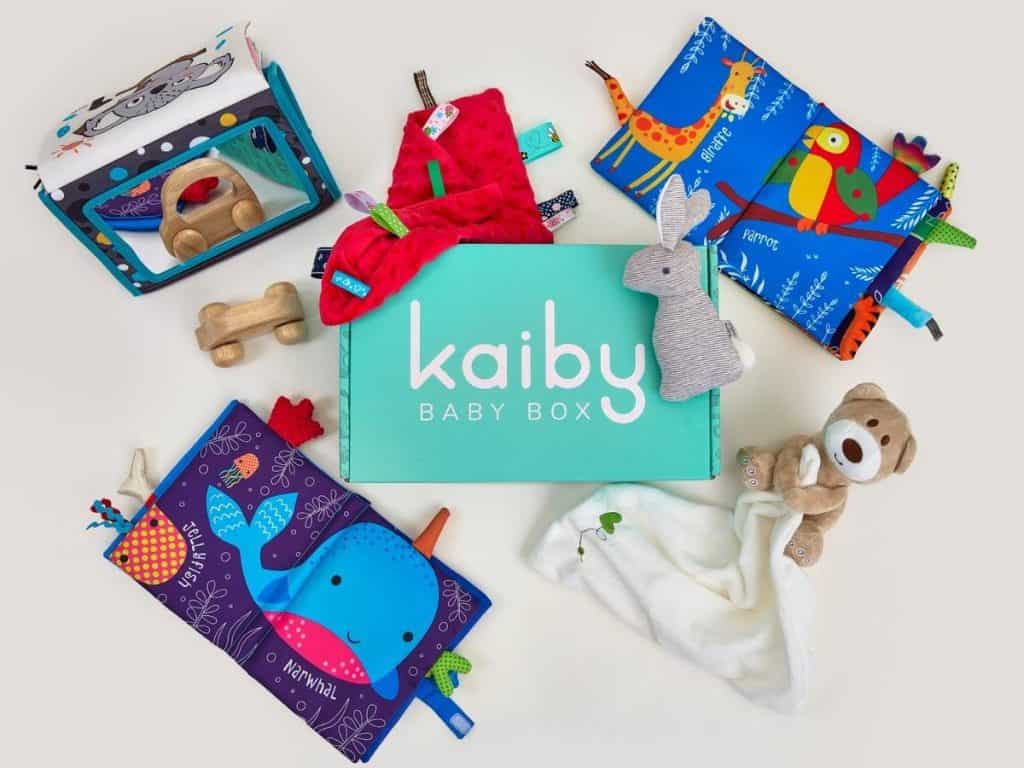 Kaiby Box focuses on the importance of regular play while sticking to a monthly budget for toys.
It curates boxes of toys to help new parents navigate their way through the confusing world of learning and parenting. Each box clearly states the age group that it's suitable for, which makes it easy for you to find and buy a suitable gift.
Toys that you can expect to find in the boxes are:
Customised wooden name blocks
Soft toys
Baby mat
Soft cloth book
High contrast cards
If nothing catches your fancy, you can decide on what to put inside your build-your-own box! You can even add on bird's nest or chicken essence from Eu Yan Sang or a flower bouquet for the mother to your gift box.
4. Little Kooma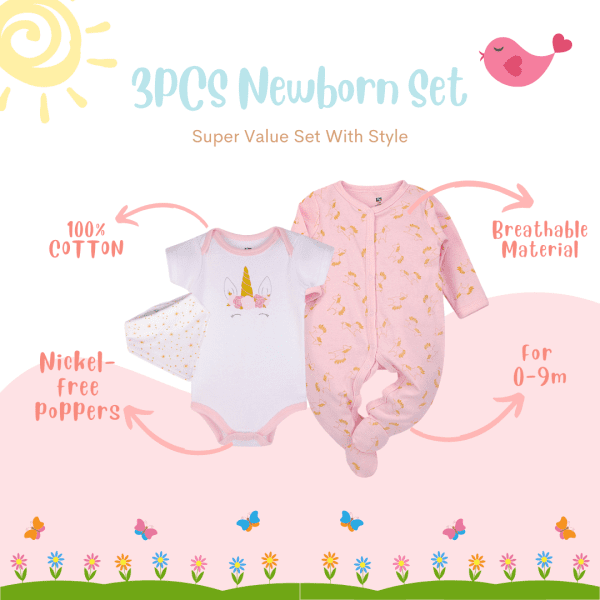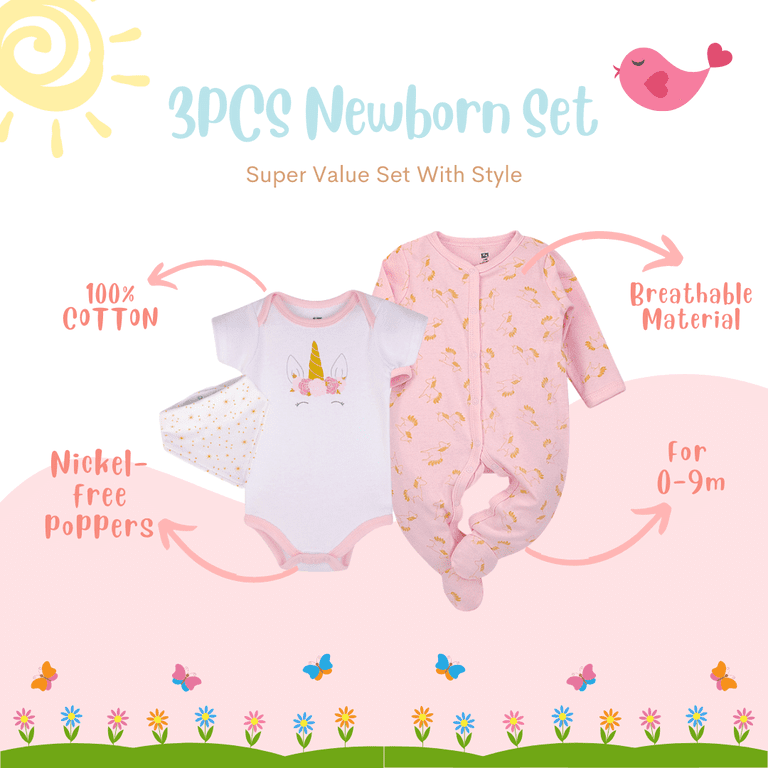 Little Kooma brings in stylish Korean-inspired clothes for infants, toddlers, pre-teens, and even teenagers.
It also sells baby toys and essentials like baby wipes, bibs, pacifiers, and playmats. Compared to most other shops, it has a wider range of items to choose from.
You can also get gift boxes or hampers and personalise certain items like plush or waffle blankets that are carefully embroidered. Mix and match their gift sets or any baby item if you want to handpick them yourself.
Their gift hampers, for example, are extra special because of the sparkling LED lights that adorn them!
5. The Elly Store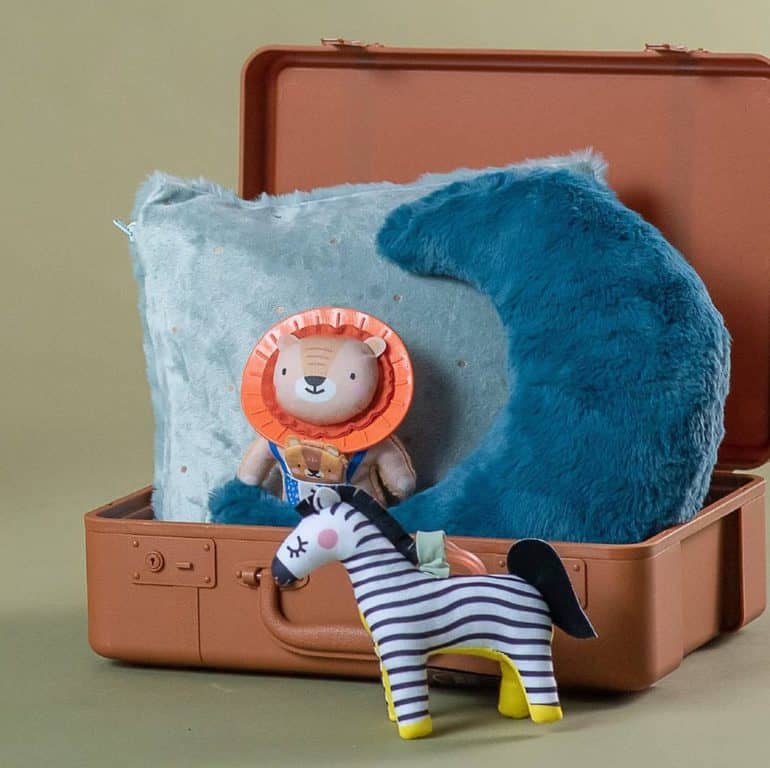 The Elly Store features an amazing range of apparels in collaboration with Disney.
It also stocks baby essentials like organic cotton swaddles, blankets, as well as shoes, toys, and mealtime necessities.
You can discover plenty of baby gifts here, including ready-made gift sets, personalised baby keepsake sets, and personalised Jellycats.
If you choose to create your own baby gift set, you can pick from any of its offerings across all categories. As for the popular customised Jellycats, you can get one with its ear embroidered, add a ribbon, or a heart as well!
6. Best Imprezzione – 3D Hand & Foot Imprints and Casting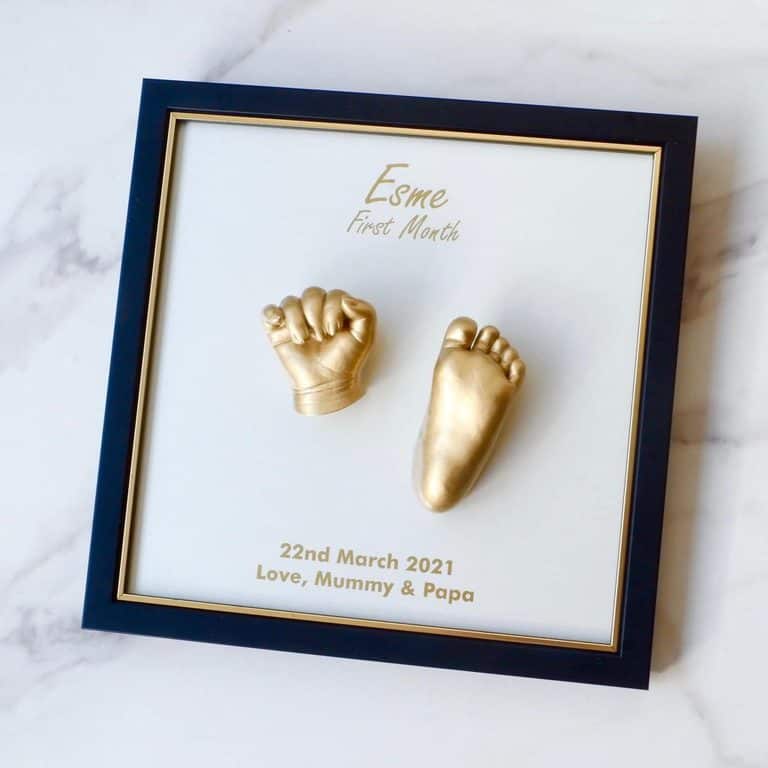 Best Imprezzione has nearly 3 decades of experience in producing customised 3D handprint and footprint works. It also offers hand and foot casts for newborn babies, children, and even adults.
Instead of buying a gift for the newborn, you can gift an experience for the parents with a keepsake that lasts forever.
Plus, it also has house call services that makes it extremely convenient for parents of newborns who find it hard to step outside of the house.
Each customised product features the baby's name as well as other key information that the parents wish to add, like the date of birth, or a special message.
The moulding compound is tested to be safe according to strict European standards even for a day-old newborn, which puts parents' worries at ease.
7. The Diaper Cake Company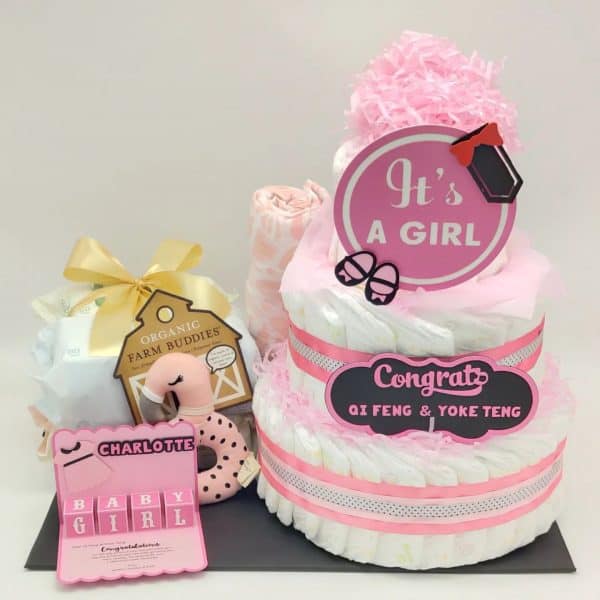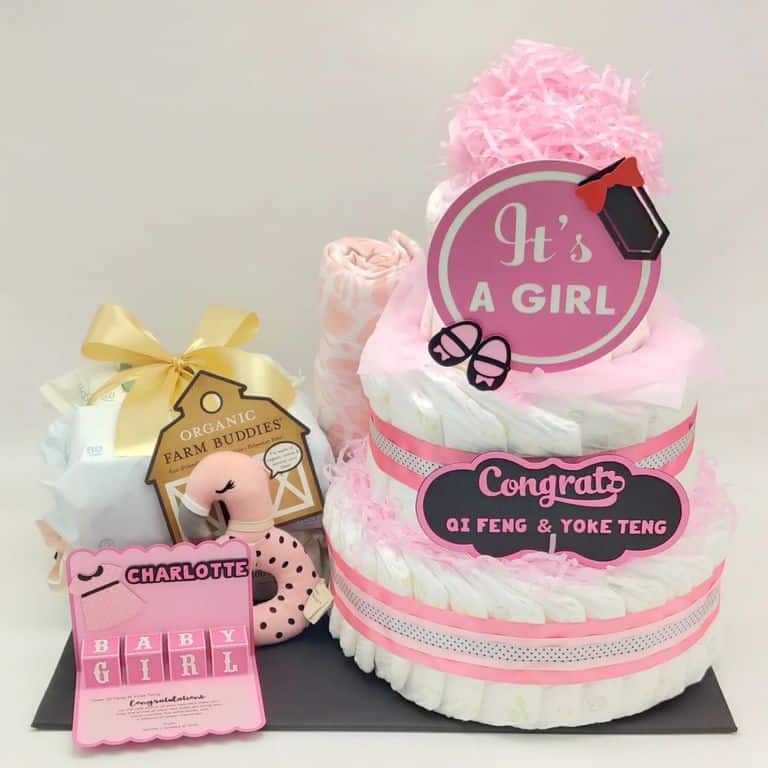 The Diaper Cake makes gifting extra special with its practical diaper cakes.
These diaper cakes are full of meaning and make excellent newborn gifts that mothers will appreciate. They use high-quality Merries diapers to make their diaper cakes while combining them with handy items that parents will find useful.
You can personalise these handcrafted diaper cakes with the baby's or parents' name. If you desire flexibility, you can pick from their bundle selections and get a design you like from the catalogue.
They also have different themes to give you more choices to choose from!
8. Taimaobi Baby Souvenir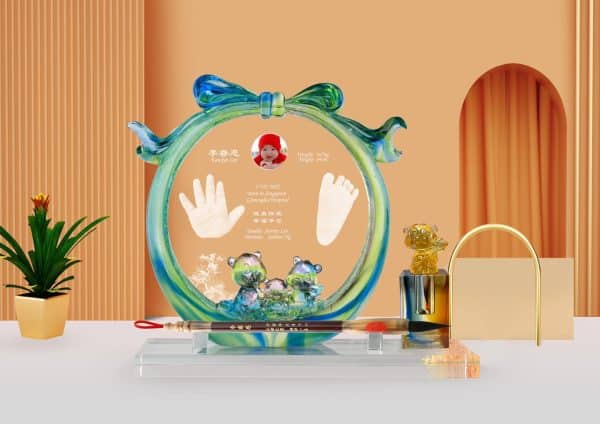 One unique way of gifting a keepsake to a newborn and their parents is turning the baby's hair into a delicate calligraphy brush.
This unconventional method is based on an ancient Chinese tradition. BabySouvenir is one of Singapore's leading providers for this service, and you can also turn the baby's hair into other items like jewellery, framed paintings, horoscope-based items, and decorations.
It can even turn precious umbilical cords into stamps with the name engraved at the bottom. These will definitely make cherished mementos for the family.
BabySouvenir also uses high-quality materials to craft its items, like pure gold, glazed glass, and sandalwood.
9. Little Baby & Family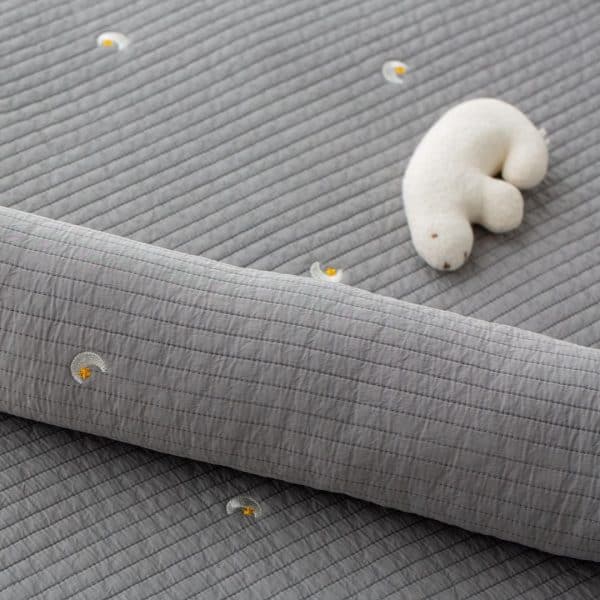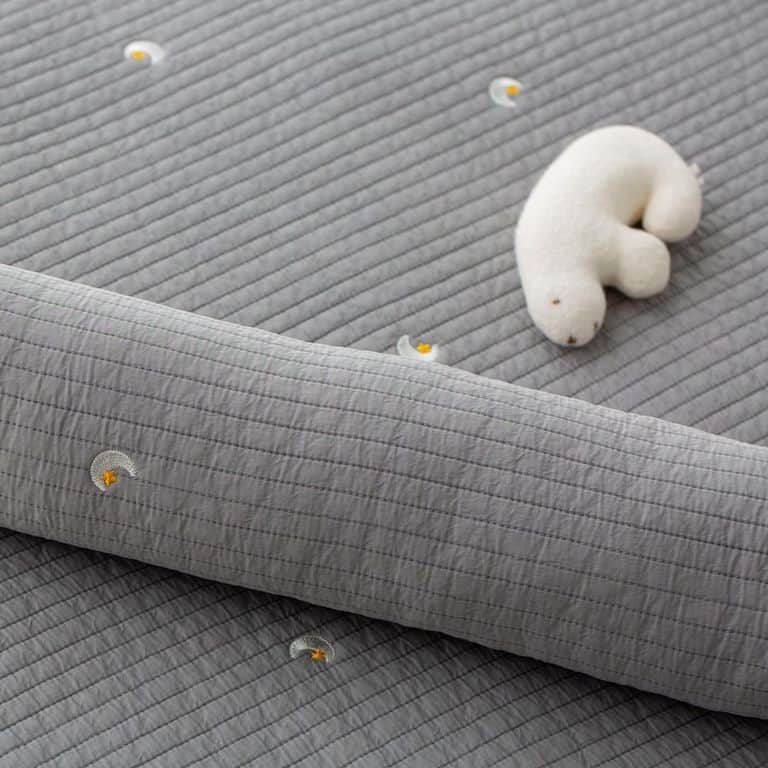 Little Baby is a local baby store that distributes high-quality baby products around Singapore.
It sources all of its authentic items both locally and from overseas suppliers for a wide variety of offerings. You can browse through its products at its physical showroom conveniently located at Ang Mo Kio!
Pick the things you want to gift to the newborn across these applicable categories:
Feeding
Bath and baby care
Learn and play
Nursery
10. Le Petit Society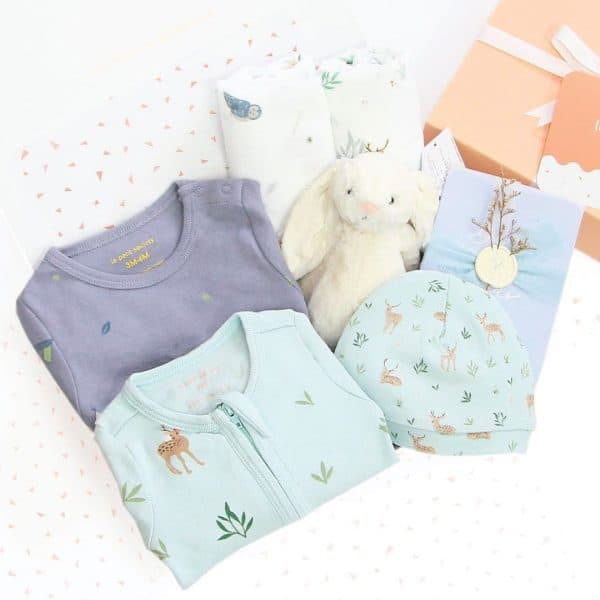 Le Petit Society was established to create well-made and premium clothing for kids.
It uses select fabrics to produce intricate apparels that are suitable for babies and children of all ages. You can buy newborn baby clothes and even adult apparel to match together for a great family photo!
Le Petit Society also offers personalisable items like baby bath capes, keepsake blankets, baby soothers, and clothes. Embroider the name of the newborn you are gifting it to on these items for the perfect touch.
You can also get a lovely e-gift card for the parents to buy something at the store!
11. Mothercare (Northpoint City)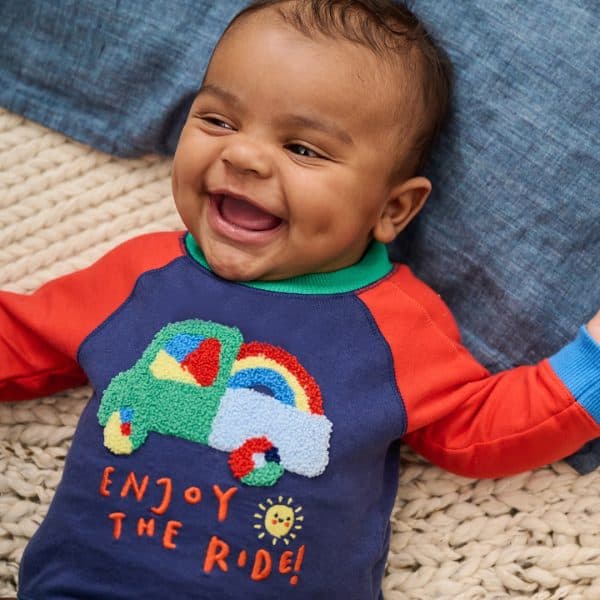 Mothercare is a leading baby retailer worldwide that sells everything from baby apparel to cots and more.
Browse through its gift section where it recommends some of its most popular baby products for your consideration. You can pick from things like toys, clothes, swaddles, and baby furniture like infant chairs.
They also run sales on a regular basis so that you can get these things at a discount! Plan your gift in advance and look out for these sales for better prices.
Alternatively, if you have no clue about what to get, you can also buy the gift vouchers available as a newborn present.
12. MyBabyGift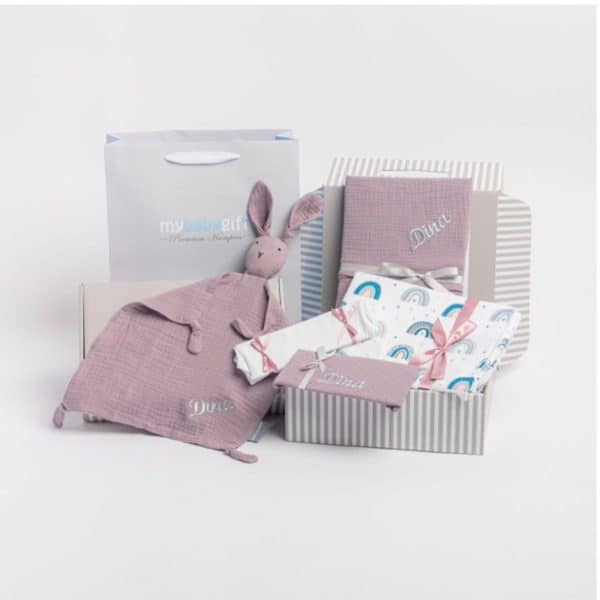 MyBabyGift was founded by a mother of 4 more than a decade ago.
It strives to be an unconventional online baby gift boutique that only focuses on offering customised posh baby hampers and gift sets for newborns and parents.
All of its blankets, towels, toy bunnies, apparel, and pillows come with free name and birth date embroidery. The carefully curated gifts are also luxuriously wrapped in sparkling gift boxes.
MyBabyGift also provides a DIY basic hamper that includes a baby romper, bunny toy, and face towel.
You can even send newborn gifts to friends overseas with its international delivery service!
13. Tiny Babies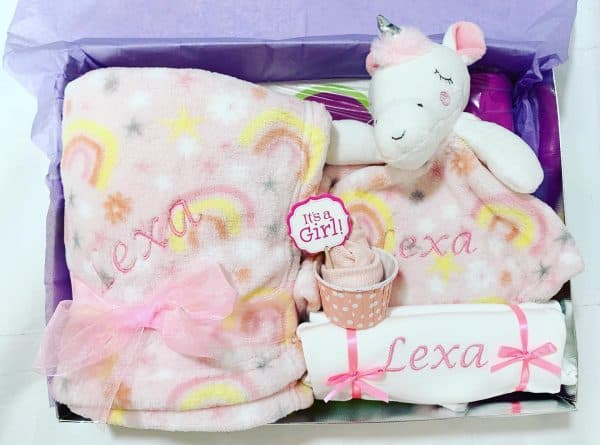 Tiny Babies is a baby marketplace that also caters to premature and tiny babies as well.
It takes pride in its wide selection of products and affordably priced offerings that are great for parents. You can find these items here:
Baby clothes for newborns and premature babies
Baby gift hampers
Personalised mother and baby hampers
Diaper cakes
Baby christening products
Some gift hampers come with Jellycat soft toys for babies to hug and hold. You can also embroider them with the baby's name!
14. Bebesup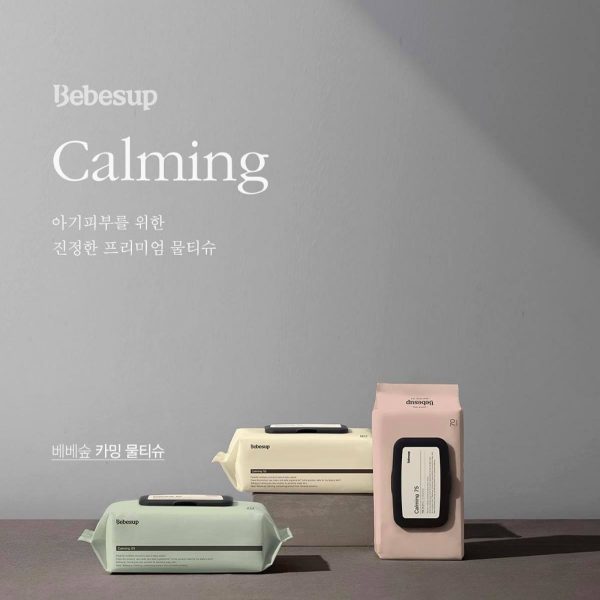 Bebesup is a South Korean brand that has been voted the leading choice of baby wipes over 5 years.
It chooses to focus on product safety knowing that its consumers are fragile babies who need only the safest necessities. Mothers can rest assured with the knowledge that its offerings go through thousands of tests through cooperation with the world's biggest test service business.
Children use wet wipes for almost any reason you can think of – at mealtimes, when they poop, to refresh their faces, and many more. Buying Bebesup's premium wet wipes makes a great newborn baby gift.
It also has a collaboration with The Diaper Cake Company so that you can get a diaper cake of your choice with travel wipes.
15. Little Bearnie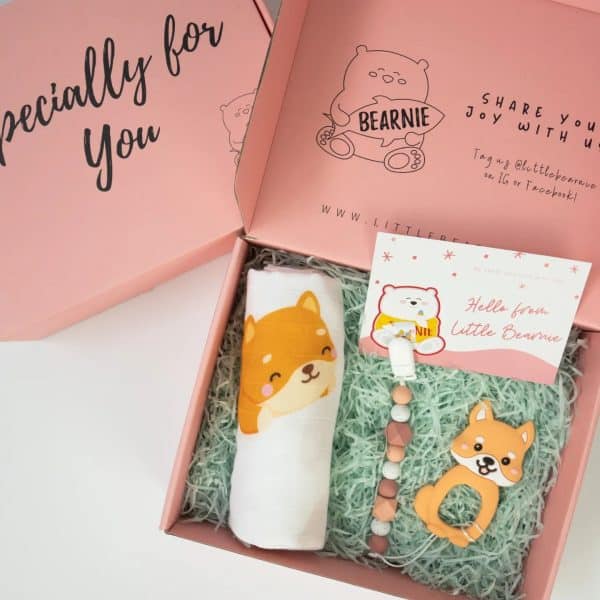 Little Bearnie wants to deliver one-of-a-kind baby products to parents for the best growing up experiences.
It is also an exclusive distributor of brands like Loulou Lollipop, Glitter & Spice, Little Cheeks, and Klipee. Every product is made with 100% food-grade silicone and non-toxic materials for babies' safety.
The brand has curated many gift sets for babies and for mothers as well. Choose from 3 tiers, the Classic, Signature, and Premium, depending on your preference and budget.
You can expect products like baby teethers and clips, feeding bibs, and swaddles!
16. Noel Gifts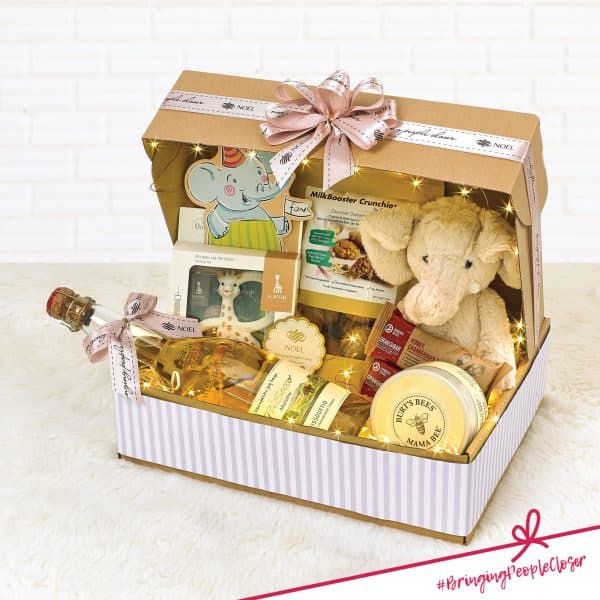 Noel Gifts is a leading seller of gift hampers and flowers in Singapore.
Navigate to its section for newborns on its site and you'll find many gorgeous gifts, including organic gift hampers, playmats, toys, baby necessities, and personalised hampers.
Each gift hamper's contents are carefully handpicked and chosen to make sure that the newborn and parent have everything they need.
Many of these hampers also come adorned with beautiful flowers, making them aesthetically pleasing as well.
17. The Wild Bub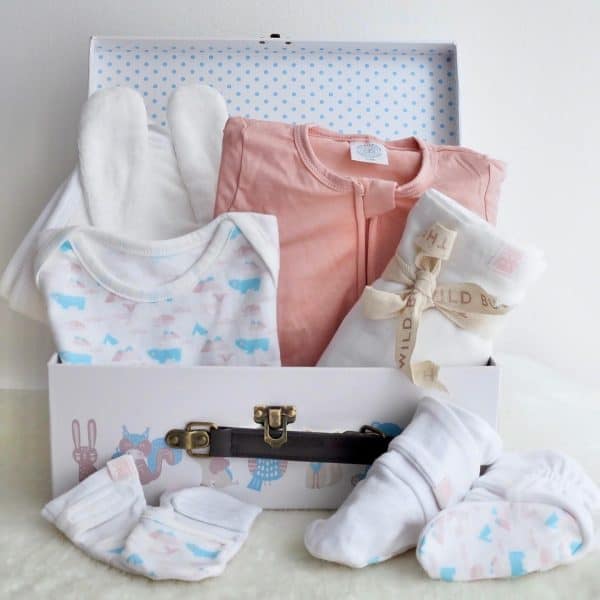 The Wild Bub takes inspiration from the founder's little one.
It began as a lifestyle brand for babies and children to bring aesthetic products that also represent the brand's personal values. This involves product offerings that are centred as much as possible around sustainable and organic materials.
TWB goes for eco-friendly materials like linen, bamboo, and organic cotton.
If you're undecided about what to gift, engage its gift concierge service to help you do the work! You can also get one of its gift boxes or buy an e-gift card as well.
18. Moo Moo Kow & Friends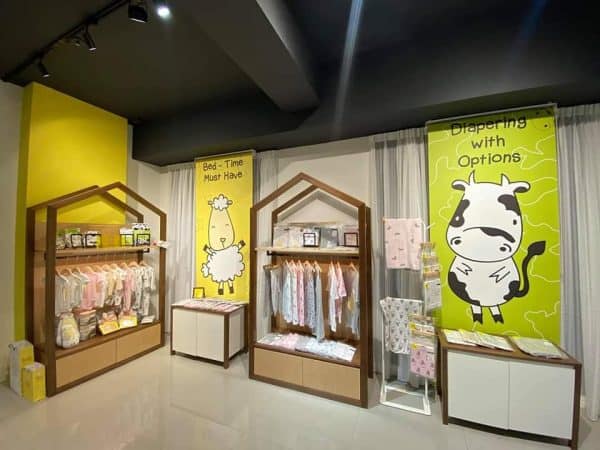 Moo Moo Kow is one beloved local brand that many parents rave about.
It began with cloth diapers and the aim to provide clothes and products suitable for sensitive skin. MMK's range of bolsters, pillows, towels, and other textiles under Baa Baa Sheepz and Crok Crok Frok are made from bamboo and OEKO-TEX tested.
Function and design make up the brand's philosophy, so you can be sure of these 2 qualities in the products you buy from them. The towels and bed-time buddy pillows make great choices for a newborn seeking comfort with anti-bacterial properties.
It also has a section for gifts where you can choose gift boxes and sets with plenty of value.
19. RAPH & REMY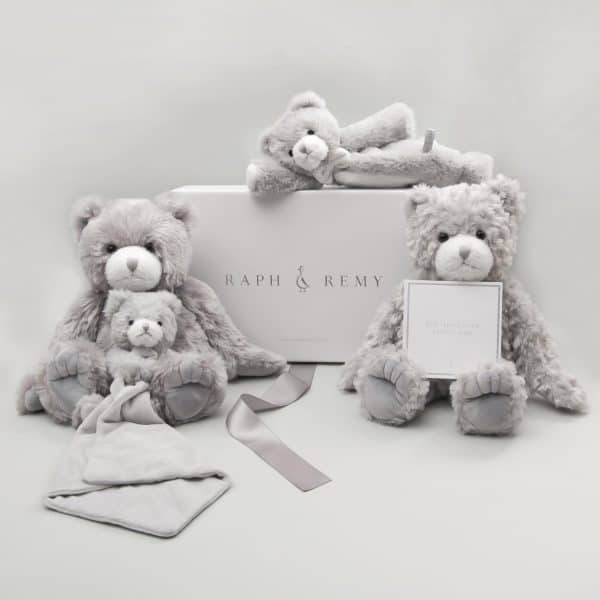 RAPH & REMY nails the aesthetics right with its posh and luxurious gift sets.
This family-run business designs high-quality baby essentials and gifts that are also sustainable and personalised. It understands that love is embedded in the details, so it strives to deliver quality products that shine through every seam.
The brand features an impressive lineup of different baby gifting products mainly categorised under:
You can also choose to gift e-gift cards for added flexibility and ease as well!
20. Happie Diapers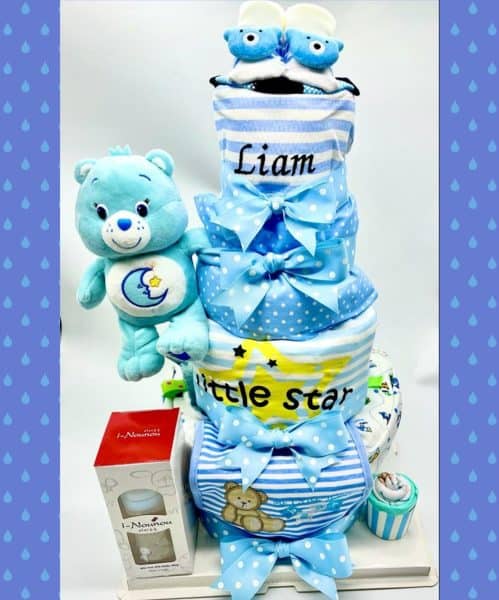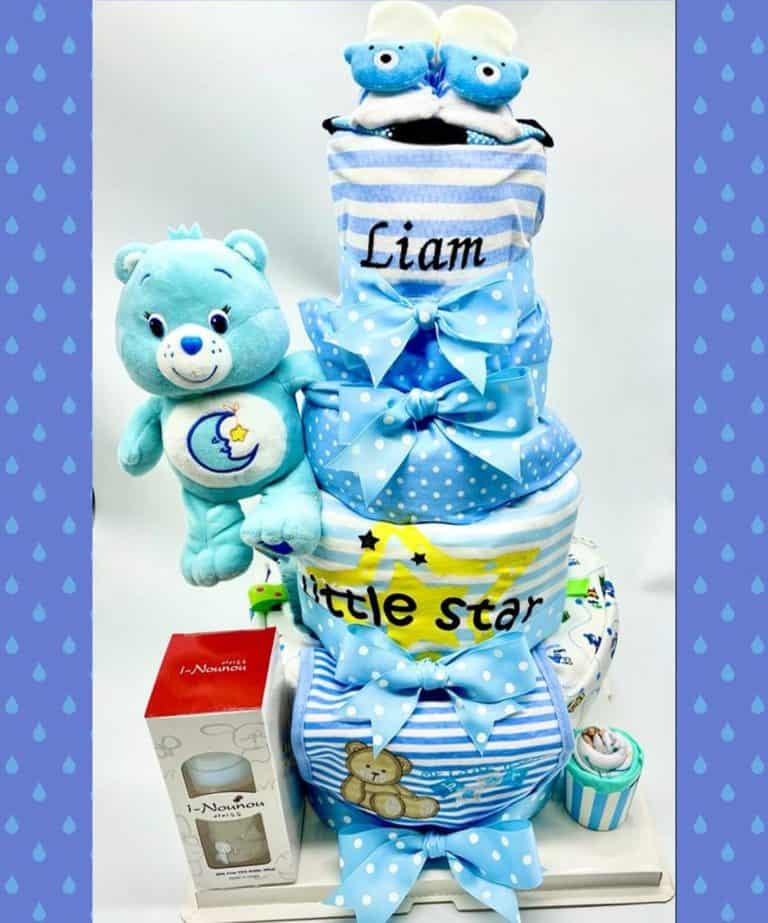 Happie Diapers is a brand born out of love for a couple's baby. Over the years, it has expanded its offerings to include products like:
Diaper cakes
Baby carriers from leading brands like Tula, Manduca, Ergobaby, Lennylamb, and Boba
Award-winning beansprout husk pillows
Ju-Ju-Be diaper bags' authorised retailer
You can embroider the newborn's name if you get a diaper cake that uses only premium Merries diapers. Other options include baby bedding, baby essentials, and gifts for the mummy as well.
Conclusion
Do you have any reviews and comments to share regarding our choices for the best gifts for newborn in Singapore?
While SBO is committed to supporting our local businesses, we welcome any feedback and anonymous sharing regarding your experience with the best gifts for newborn in Singapore.
We hope that this guide will be useful in helping you to make an informed decision when it comes to finding the best gifts for newborn in Singapore.
Explore More Content