SBO Picks: 2018 Best Mooncake Brands for Your Clients
Want to show your appreciation to your clients, friends and family this Mid-Autumn Festival, but don't have the time to browse and choose all the mooncakes that are available? We've picked out some great options for you.
Food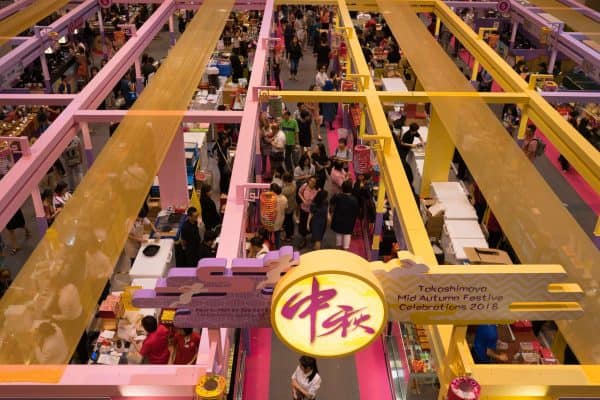 Our team at SBO.sg is committed to being a one-stop avenue to connect local businesses and consumers. We hope that our research efforts can help you save time and money by finding you the best deals without having to search around the vast world-wide-web.
Mid-Autumn Festival is around the corner and some of you might be swamped with work, yet still want to take the chance to appreciate your clients. If you don't know where to buy or don't really have the time to browse and taste mooncakes, we've done the legwork and sacrificed our month's caloric budget for your convenience.
Here are our picks from the Mid-Autumn Festival Fair at Takashimaya Square.
Beautiful and Functional Packaging
For those of you who value your face more than taste, we spotted some pretty (in both sense of the word) utilitarian packaging that your clients will be proud to keep. Thankfully, these decorative yet functional packaging boxes make you look like a crazy rich Asian business person without breaking the bank.
1. The Ritz-Carlton, Millenia Singapore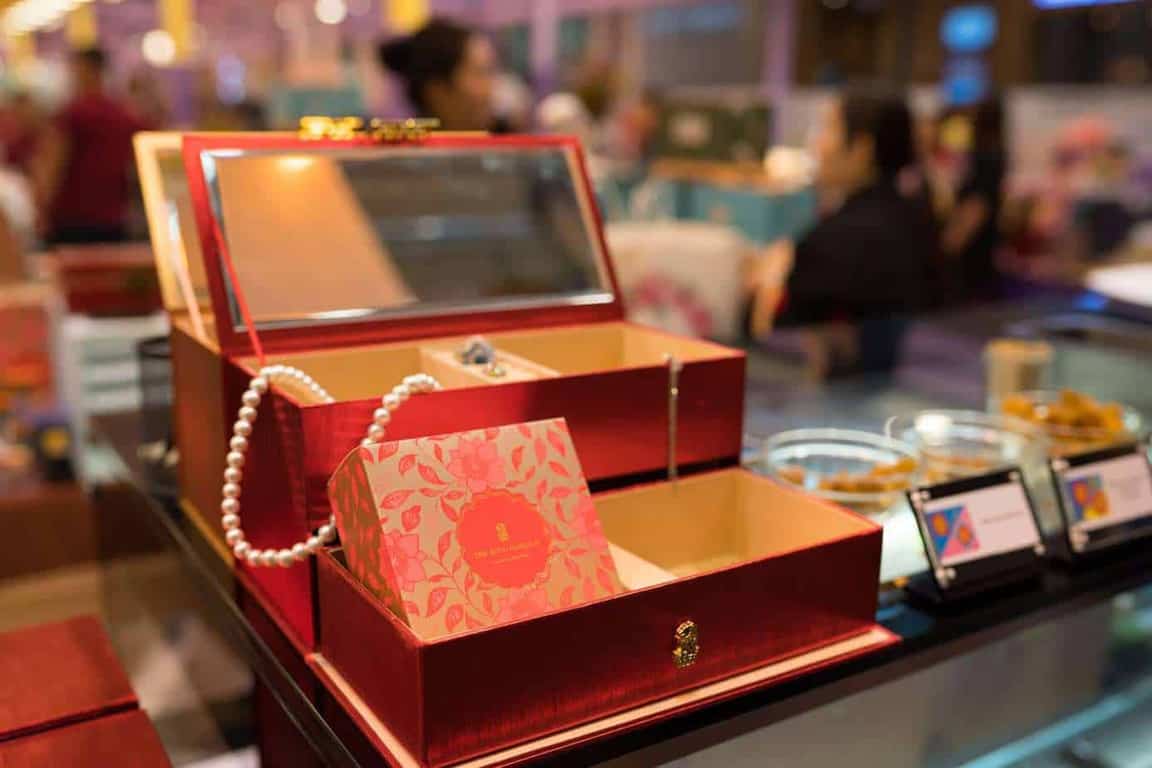 The most eye-catching box that we encountered was from The Ritz-Carlton, Millenia Singapore. The brilliant team behind the display setup placed jewellery in what seemed like a jewellery box, complete with a mirror under the lid, showing you how you can use their box once you're done with the mooncakes. It drew throngs of ladies to the counter, admiring the work of art.

If you'd like to avoid the crowd, you may also order online and enjoy up to 15%  from now until 21 September 2018
Four pieces of mooncake start from $72

2. Mandarin Oriental, Singapore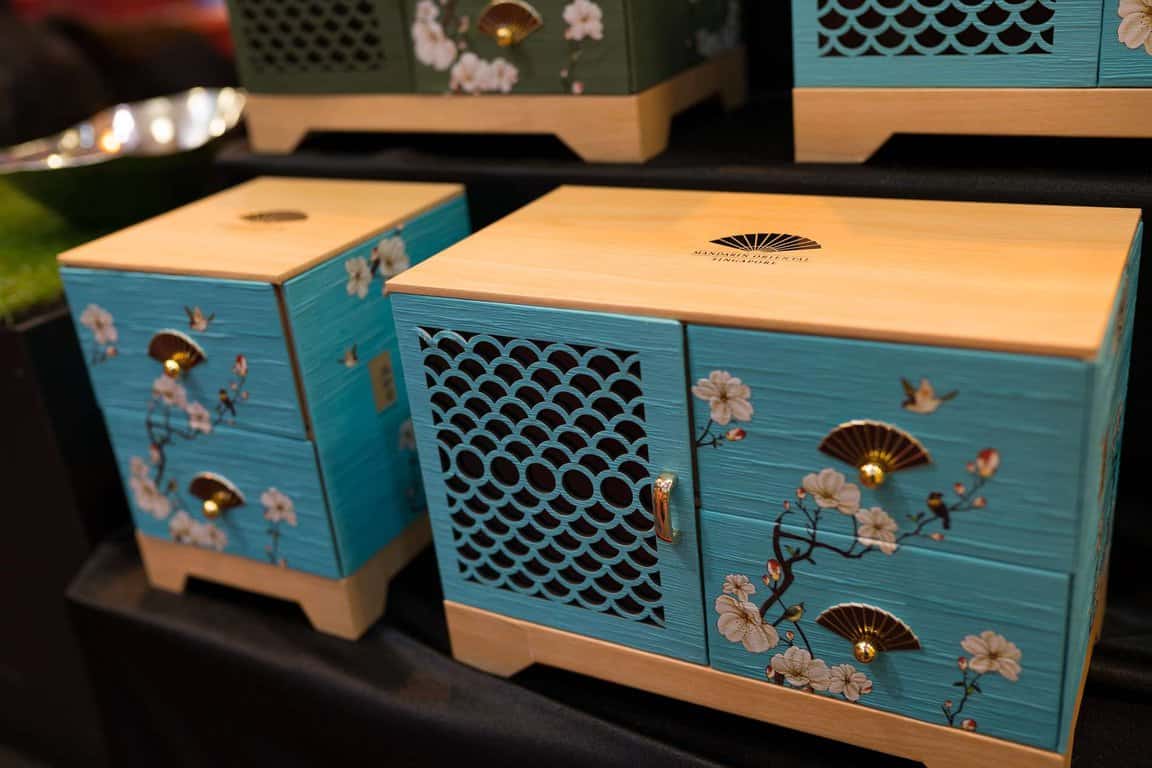 The trend of the year seems to be cabinets and drawers, and the SBO team unanimously voted Mandarin Oriental, Singapore's design as the most elegant of the lot.
Available in fern green and turquoise, the boxes feature floral motifs that remind you more of spring than autumn but are nonetheless beautiful. You can get a box with every two or four mooncakes purchased.
It also seemed that the fern green boxes were more popular with the crowd since there was only one left on display when we got to the counter.
Four pieces of mooncake start from $77.05
3. ChangHoSek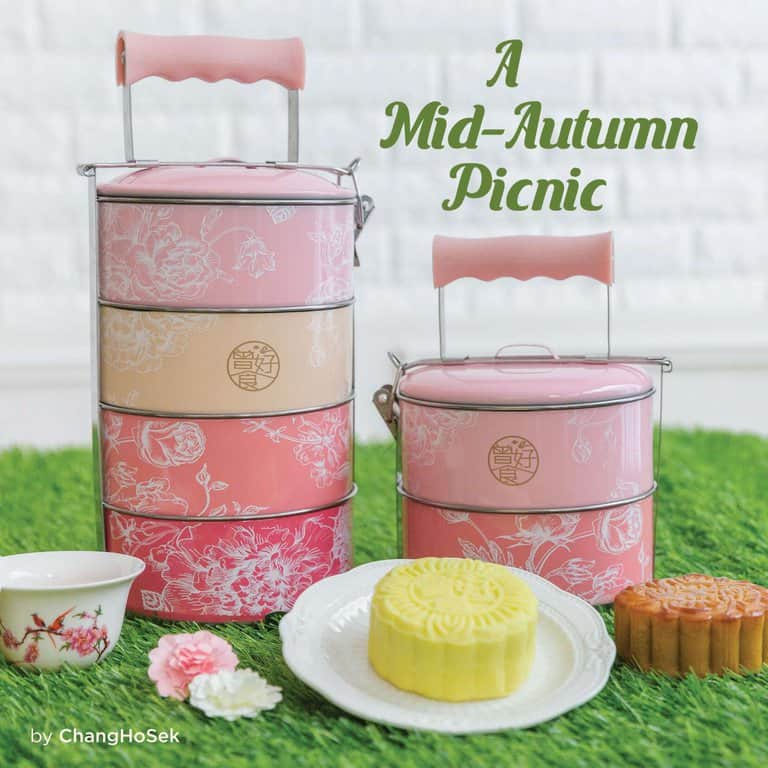 ChangHoSek (we wonder why there's no space between each word too) wakes up from hibernation each year (but we heard that they are only two years old) to bring you two month's worth of mooncakes.
Among all the boxes and chests, their tiffin packaging is the most unique of all. Not only does it look attractive, but it can also function as a food container. The tiffin set is great value for money since you get an elaborated packaging that you can use for years, yet it costs you about as much as a brand with cardboard packaging.
Four pieces of mooncake start from $78
Feeling Fancy and Crazy Rich
We didn't forget you, the crazy rich Asians who need to keep up with the Joneses. The selection below not only looks good, tastes good, and has a price tag to match.
4. Marriott Singapore
Marriott offers a Wan Hao premium gift set at $238, and it includes a bottle of red wine, wine opener, wine stopper and four pieces of white lotus seed paste baked mooncakes with chrysanthemum, mixed grains, serrano ham and salted egg yolk. We wonder how the chefs managed to fit all those ingredients into a mooncake.
We didn't get to try the mooncake that comes with the set, but we guess the chicken bak kwa baked mooncake with assorted nuts is a close substitute and it tastes really fine. The saltiness from the bak kwa counters the cloying sweetness usually associated with mooncakes.
Four pieces of mooncake start from $66
5. Awfully Chocolate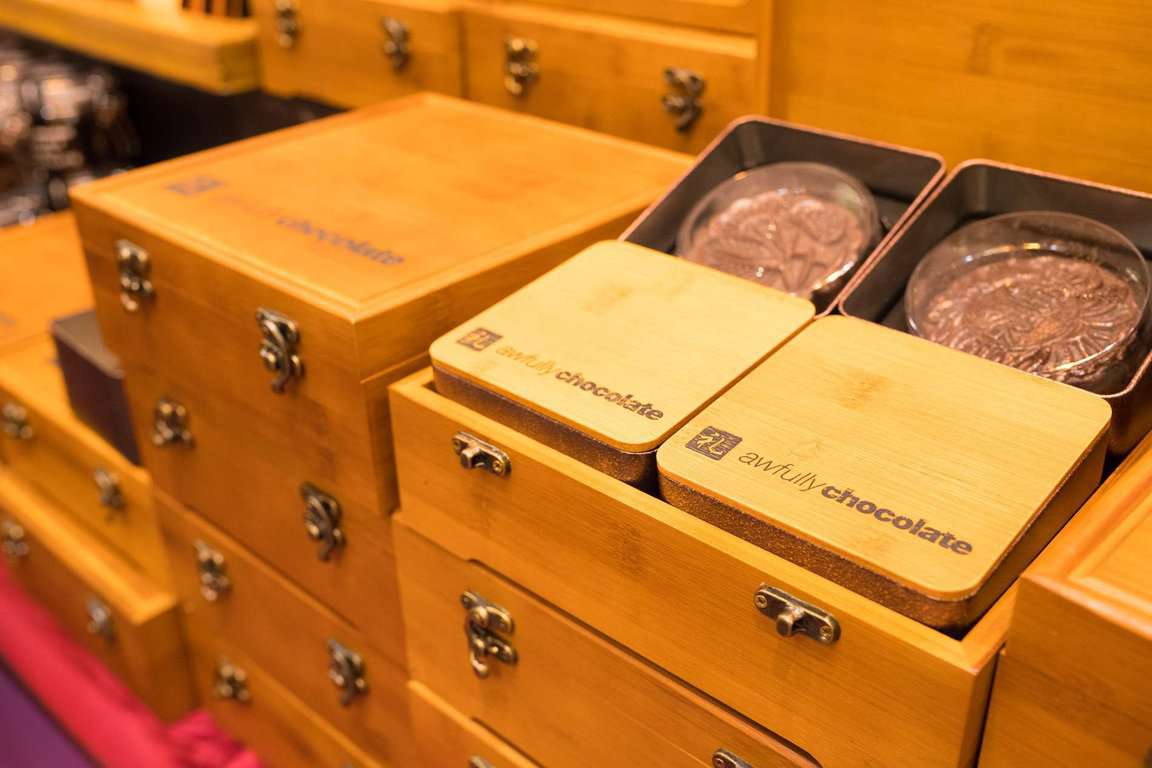 If you're looking to stand out from the crowd, consider gifting chocolate mooncakes. Even if the mooncakes don't leave an impression, the solid wooden case would.
Awfully Chocolate also offers a premium chocolate mooncake hamper at $308, and includes four mooncakes of different flavours, chocolate mooncake truffles, fruit and nut chocolates full moons (basically chocolate with various toppings) and a teapot set.
Four pieces of mooncake start from $88
Customise Your Brand
6. The Baker Haus
Send customised greetings or remind them of your brand with customised mooncake designs. You read that right. It's not even printed on; the top of the mooncakes will be embossed with your design. Note that there's a minimum order quantity of 30 boxes of four pieces, and the price varies according to the mooncakes that you pick.
It's not just all appearance though. The Baker Haus' sambal white lotus is one of a kind, pushing the boundaries of savoury mooncakes and going beyond cured meats and nuts. The spicy kick adds another flavour dimension to an already novel sweet-salty combination and remains mild enough even for children.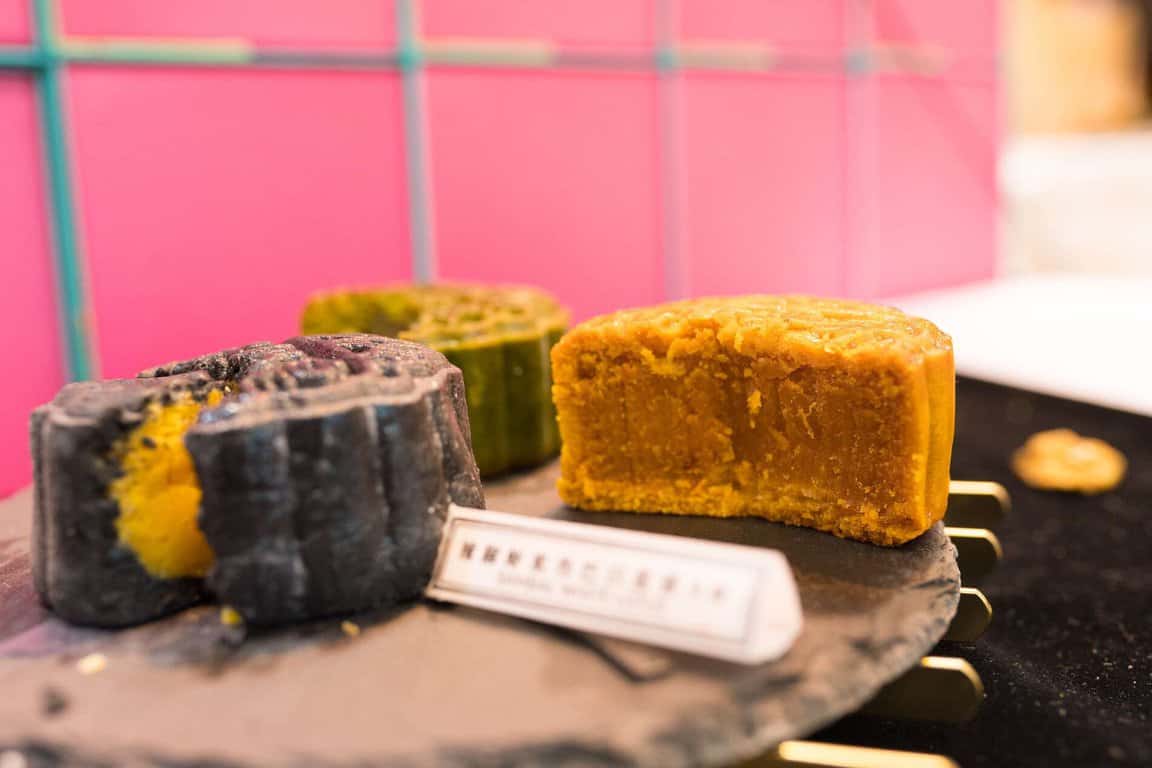 Four pieces of mooncake start from $66
Beyond Mooncakes
Mooncakes aren't the only star at Takashimaya Square. Some brands offer alternatives that command attention.
7. Chuan Ji Bakery
Technically a mooncake, but not one that we are familiar with, Chuan Ji's Hainanese flaky biscuits are what the Hainanese eat to celebrate Mid-autumn Festival.
Underneath the appearance of the deceptively simple pastry lies some complex flavours. As you chew, the fragrance of the pastry gives way to sweet, salty, nutty and citrusy flavours, finishing off with peppery notes. Perfect as a tea-time snack even if it's not mid-autumn.
Box of 5 biscuits at $15, box of 10 at $28

8. Conrad Centennial Singapore
While Conrad Centennial Singapore didn't quite win our hearts in terms of the packaging and its mooncakes, it was the sweet potato in crispy filo pastry that impressed us.
The delicate pastry crumbled easily in the mouth with the slightest push of the tongue and the fragrance of the pillowy sweet potato quickly fills the palate. All you taste is the unadulterated sweetness of the sweet potato paste.
Eight pieces of sweet potato in crispy filo pastry: $75
Grab them early
No matter what you intend to get, buy early because some brands are offering early-bird discounts and some are running out of the decorative boxes!
Check out the promotions.
---
Edit: Chuan Ji's price has been updated. ChangHoSek has kindly provided a photo of their product.
ChangHoSek mooncake tiffin photo by ChangHoSek
All other photos by Ken Toh
>