10 Best Pineapple Tarts in Singapore For The Upcoming CNY [2023]
In today's guide, we will be introducing the 10 Best Pineapple Tarts in Singapore, for those of you who are still in search of the best pineapple tarts for our upcoming CNY!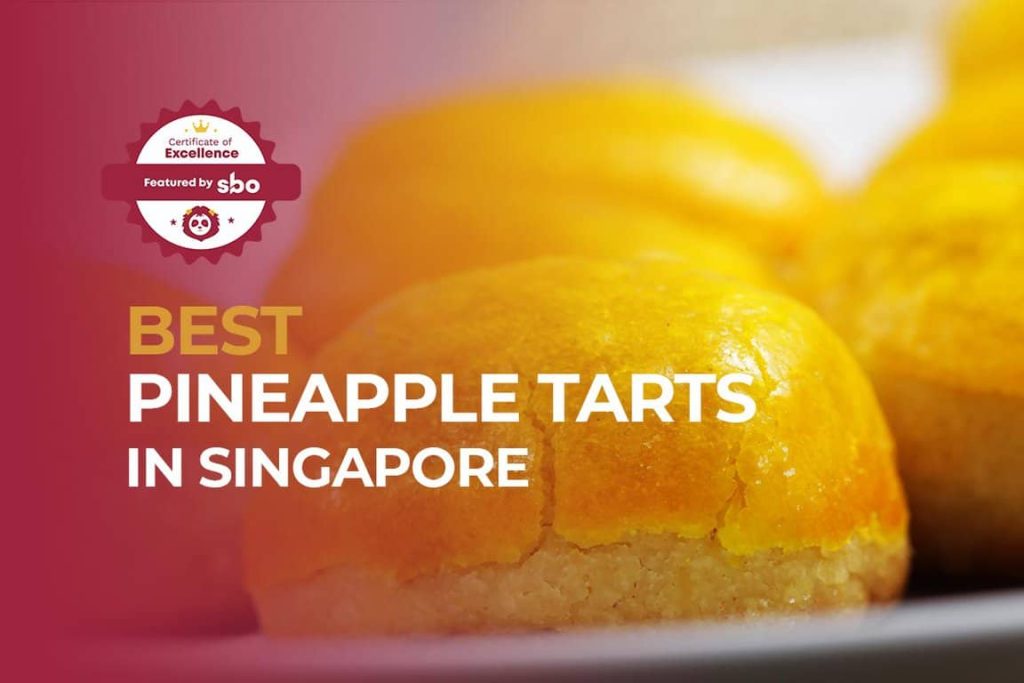 Despite having more variety of CNY goodies, pineapple tarts are definitely the one that holds my heart. It is no surprise that pineapple tarts would be among the first few food items when one is thinking about the upcoming Lunar Chinese New Year (CNY). It is considered a must-have and do you guys know why is Pineapple Tarts eaten during CNY?
The word for pineapple in Chinese dialects such as Hokkien and Cantonese, is "ong lai" or "wong lai" a homonym for "wealth arrives". Thus, gifting pineapple tarts to friends and loved ones is a gesture intended to bring about prosperity for the coming year.
In today's guide, we will be introducing the 10 Best Pineapple Tarts in Singapore, for those of you who are still in search of the best pineapple tarts for our upcoming CNY!
1. Ding Bakery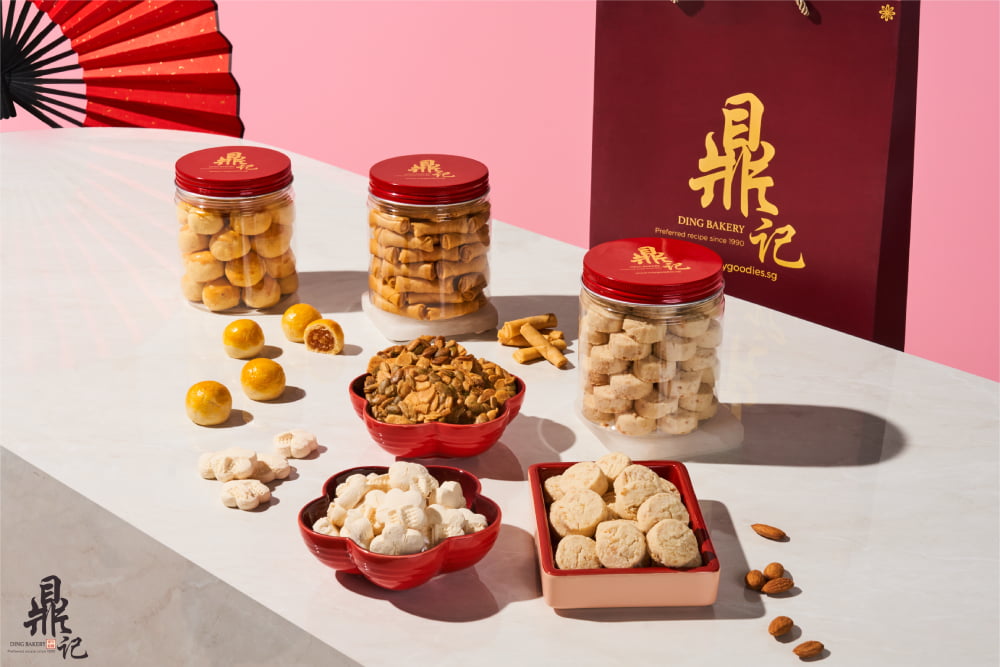 Ding Bakery offers homemade CNY Goodies that are handcrafted with a unique recipe and using only the best ingredients, which makes everyone crave for more with every bite! Mostly known for their Award-Winning Melt-in-the-Mouth pineapple balls, their classic traditional open faced Nyonya Pineapple Tarts, Buttery Pineapple Balls, Hae bee hiam and Melt-in-mouth Kueh Bangkit are popular favourites too.
Ding Bakery's pastries are handmade and baked daily with only the freshest ingredients. With over 80k happy customers last year, there will be 6 unique melt-in-your-mouth pineapple ball flavours to look forward to for this year: Salted Egg, Taro Blueberry, Mango, Matcha, Pandan and Charcoal!
Shop at: http://www.cnygoodies.sg/
2. Pineapple Tart Singapore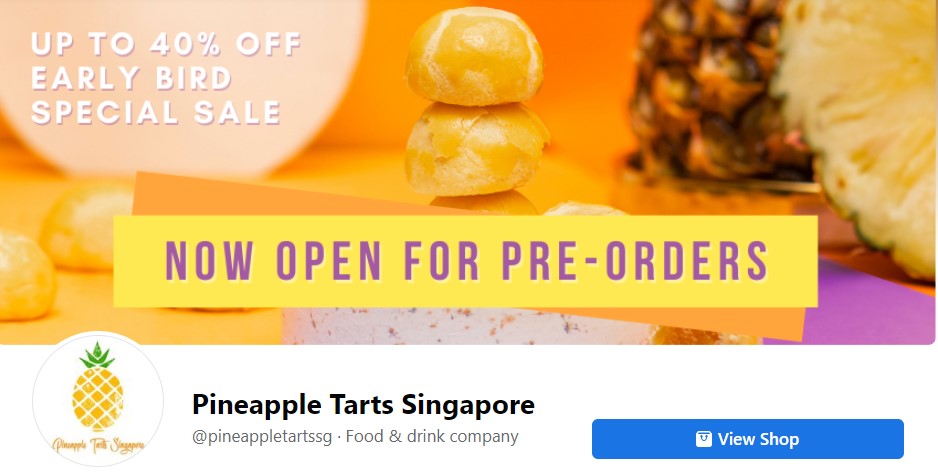 Freshly baked with only the finest ingredients, Pineapple Tarts Singapore pride themselves in the quality and taste of their products and guarantee only the best for their customers. With a guaranteed 100% homemade and handmade, they are sure to craft out the perfect recipe that suits the taste of locals.
Interested in other modern fused flavours, Pineapple Tarts Singapore have them as well! Charcoal Truffle, Cheese, Mala and Salted Egg are some of the few modern flavours developed by the shop, just for you! Their Mala Pineapple Tarts are one of their best sellers, a sweet yet savoury option that perfectly captures the essence of Singaporeans' favourite Mala!
Reviews praised the tarts for its buttery crust that melts in your mouth. Yum, I want one too!
3. Le Cafe Confectionery & Pastry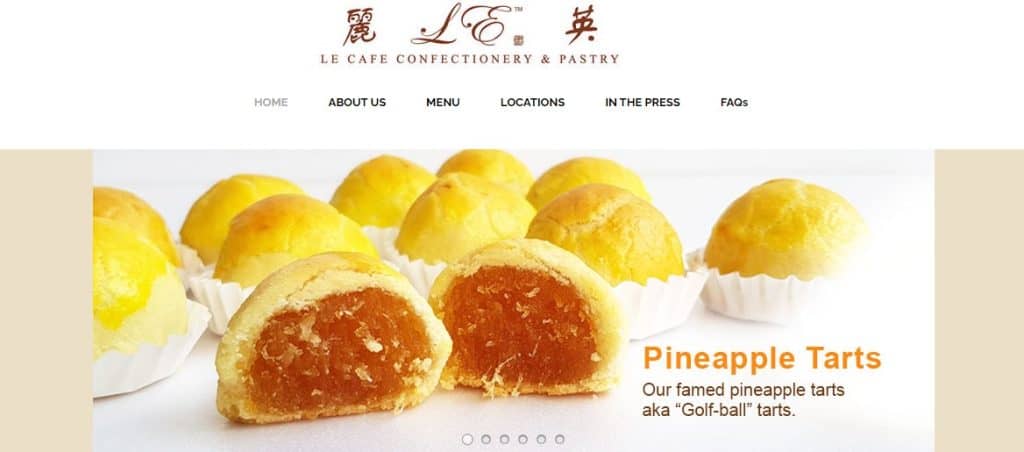 Established in 1975, Le Cafe Confectionery & Pastry is one of Singapore's oldest and finest cake and pastry shops. Their long and illustrious history (over 50 years) will attest to their growing reputation for the renowned quality and unique taste of their products.
Their top seller, "Golf Ball" Pineapple Tarts, has been introduced since the 1990s. The fat and round tarts are not to be underestimated. Despite its ordinary appearance, the buttery taste of the crust balances with the smooth texture of the pineapple jam to give a outburst of flavours inside your mouth.
4. Kele Singapore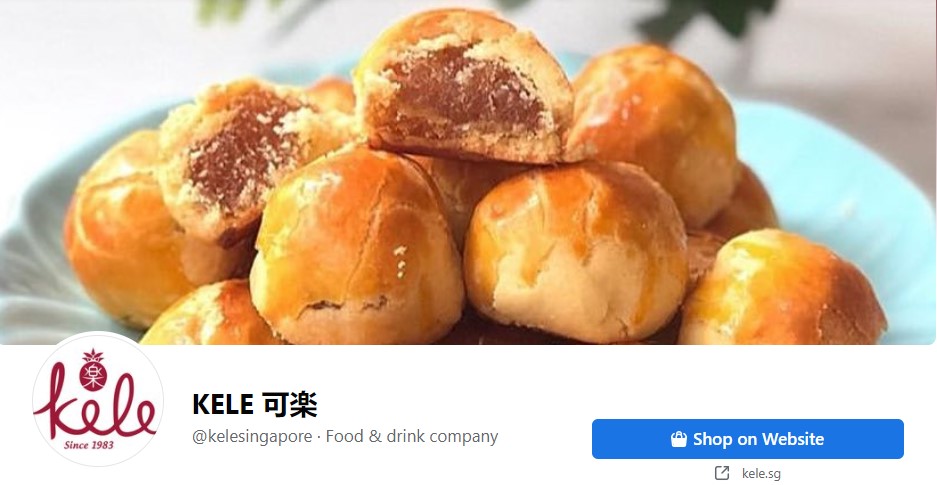 Kele Singapore is renowned for their pineapple tarts, with their recipe being preserved over 3 decades. Soft crust with thick pineapple jam on top, the tarts have a flawless mix of sweet and sour flavours. Besides their taste, their appearance is also enticing. Coming in 2 forms – golden balls and open-faced, customers get the best of both worlds.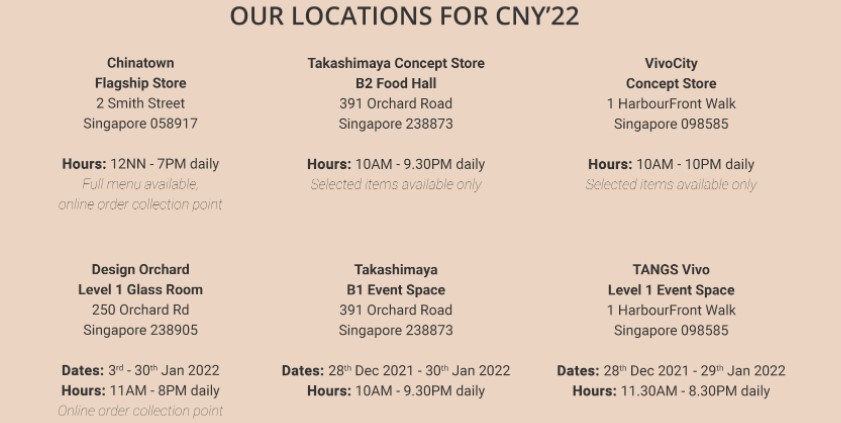 Check out the above locations! Kele Singapore will be selling CNY goodies there for the upcoming CNY 2022 and do head down to take a look and immerse yourself in some pre-CNY vibes~
5. Wang Lai Bakery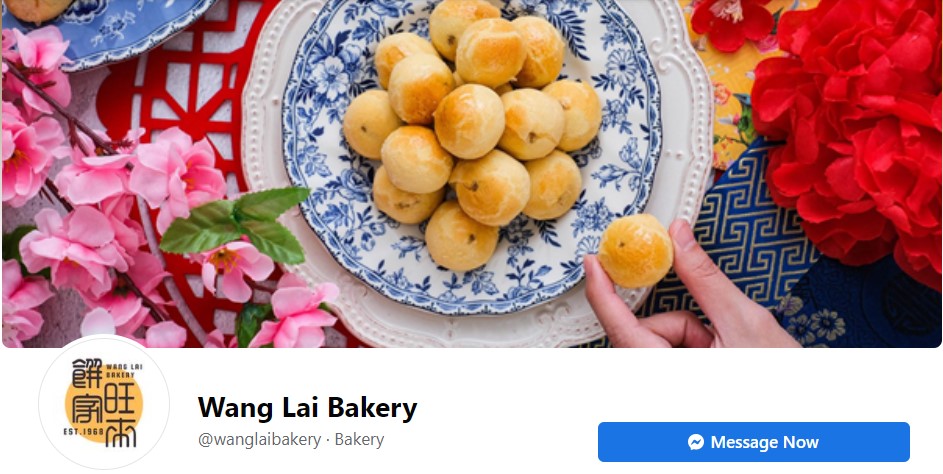 Established in 1968, Wang Lai Bakery has been a popular confectionary booth located in Chinatown that specializes in traditional Chinese goodies. Preserving a traditional recipe passed down for 4 generations in the family, much effort have been taken to constantly improve it to be as close as possible to perfection.
"Goodies Made Affordable for all"
At Wang Lai Bakery, they believe that the Lunar Chinese New Year is to be celebrated and enjoyed by each and every one of us. Hence, the goodies were made affordable for all to savour.
6. True Blue Cuisine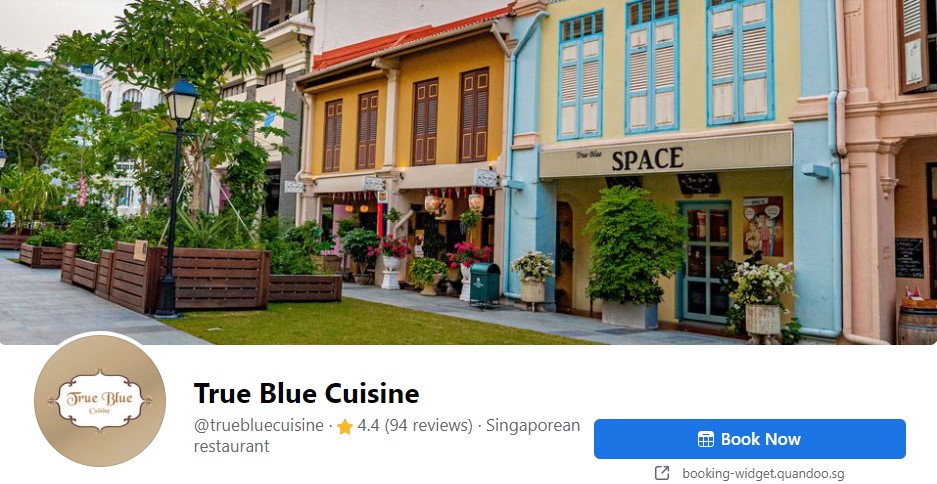 True Blue Cuisine is a Peranakan restaurant, café and museum, great for everyone that has an interest in getting to know Peranakan culture a little more. With its friendly ambience, it is not surprising that many reviews recommended True Blue Cuisine as "one of the best Peranakan experience they had". What about their Pineapple Tarts, you ask?
Proven to be the one of the Best Pineapple Tarts in Singapore, their pastry chef has been using a recipe passed down from his great-grandmother, while crimping the patterns on the pastry by hand.
7. Bake Inc 烘焙企业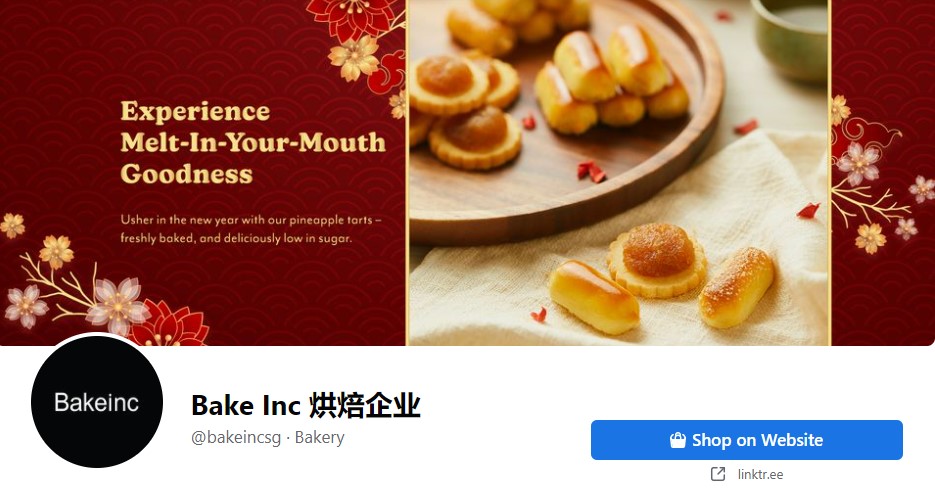 Bake Inc Pte Ltd started out as a small, family-run bakery in 2003, serving local communities with daily baked bread and pastries. Over the years, they have established themselves as a homely, neighbourhood bakery chain that offers a wide variety of baked products for local customers.
With over 10 locations all over Singapore, one would definitely have one of their outlets close to their locations. The crust of its pineapple tarts has been noted to be the highlight of the product, making it irresistible. Be sure to order fast or it'll be sold out again~
8. Mirana Cake House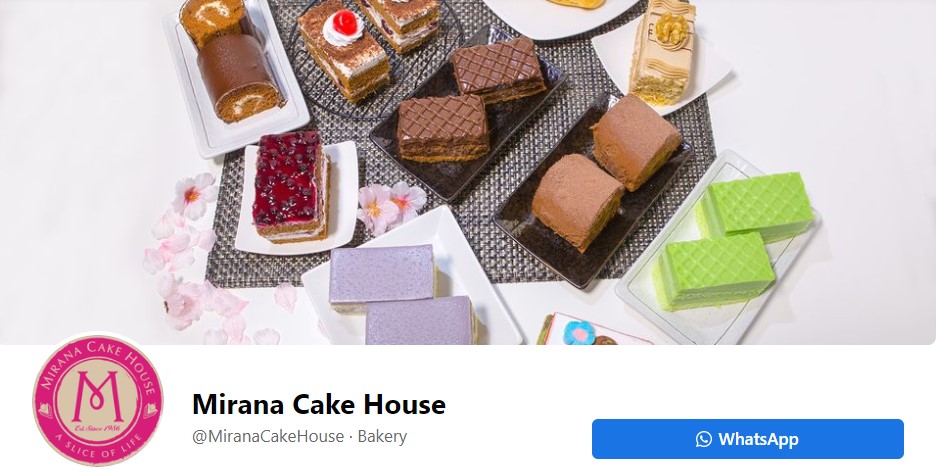 If you have a sweet tooth, welcome to Mirana Cake House! They make luscious and sweet Pineapple Tarts that create a sweet and savory taste in your mouth. There is also a buttery texture with a fragrance that spread after each bite, creating a lingering aftertaste.
The highlight of its pineapple tarts would definitely be the sweet, fleshy and juicy pineapple filling. Personally, I dislike pineapple for its sour aftertaste so sour food products would be a no-go for me. Thus, based on the reviews, this would be my no. 1 go-to!
9. Old Seng Choong 老成昌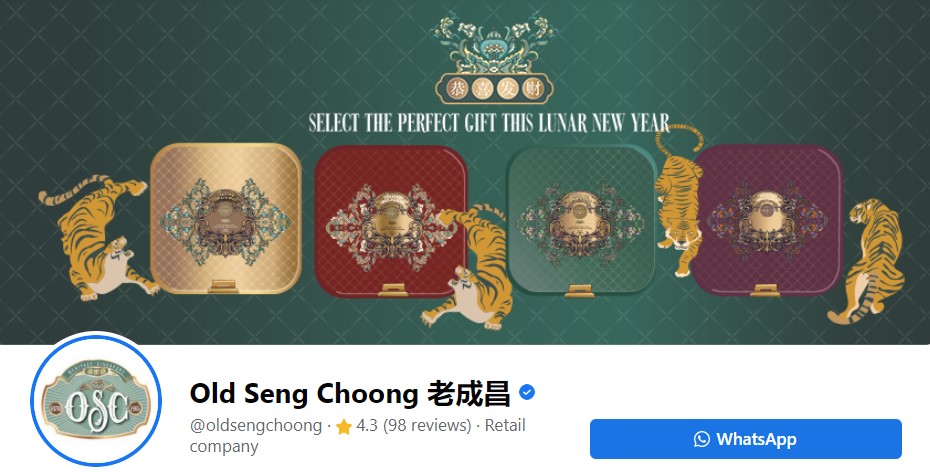 Founded by renowned local pastry chef Daniel Tay, Old Seng Choong offers traditional bakes and cakes to celebrate every joyous occasion. Each outlet is designed to be modern and sophisticated, much like its product, which fused tradition with innovative flavors.
If you love to try unique and interesting flavours that you've never even heard of, try Old Seng Choong! Other than its pineapple tarts, some of the distinctive pastries crafted by the chefs include Pandan Coconut and Bak Kut Teh flavoured cookies. Many reviews claimed that their "flavors were on point" despite the high price point.
10. Mdm Ling Bakery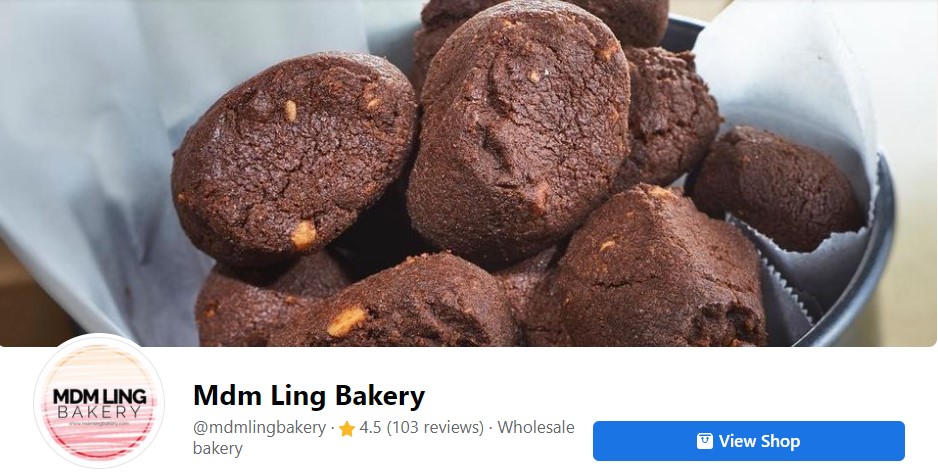 Offering a high-end snacking experience with a focus on quality and premium goodies at a revolutionary price, Mdm Ling Bakery is here for those who searched everywhere for quality festive goodies but very often, get disappointed.
Reviews attest for not just the excellent taste of the tarts but also for their customer service. By providing the best recovery service, Mdm Ling Bakery retains its customers through impeccable service and food quality.
Conclusion
Chinese New Year is one of the most exciting public holidays in Singapore. As we celebrate this joyous occasion and sink our teeth into all the delicious food, do try to restrain yourself from eating too much and overwhelm your body! If that is not possible, try pairing them with a glass of slimming tea to help with debloating, cleansing, etc.
We hope this guide gave you more insights and inspiration as to where you can get your CNY Pineapple Tarts for this coming Lunar Chinese New Year!
Explore More Content