10 Best Mooncake in Singapore for Mid-Autumn 2021
So Mid-Autumn festival is coming up soon and we are all excited to eat some mooncakes! We have put together 10 best mooncake in Singapore that you can check out for some amazing mooncake!
Food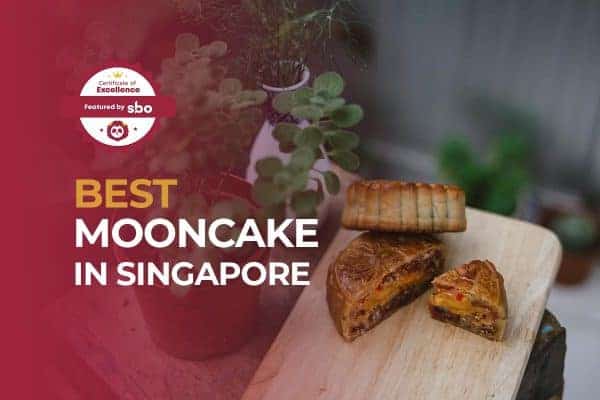 Our team at SBO.sg is committed to being a one-stop avenue to connect local businesses and consumers. We hope that our research efforts can help you save time and money by finding you the best deals without having to search around the vast world-wide-web.
Mooncake lovers, you are in for a treat! The 2021 lineup for Mid-Autumn this year features both popular and unconventional flavours. From traditional classic mooncake to innovative snow skin mooncake flavours, there is an endless list of mooncake that you can choose from. Not to mention, all the different exquisite packaging that makes your mooncake look all the more appetising and attractive.
We know that the variety can get overwhelming and so we want to help you to choose better. We have round up 10 best mooncake in Singapore for Mid-Autumn 2021 that features both a wide selection of flavours and beautiful packaging, giving you the best Mid-Autumn you can have.
1. InterContinental Singapore
InterContinental Singapore features a wide collection of snow skin mooncakes that features traditional and floral tea infusions with chocolate truffle center, together with six other varieties of handcrafted baked mooncakes. All the mooncakes are encased in a beautiful keepsake tin comprising of a garden motif of flowers and birds.
For every purchase, you can get to choose between a rose gold or gold keepsake mooncake tin box. So, grab it while stocks last! Also, InterContinental Singapore is having a promotion – Enjoy up to 25% early bird savings on selected items with an additional 5% when you shop online before 19 September 2021.
2. Mandarin Oriental Singapore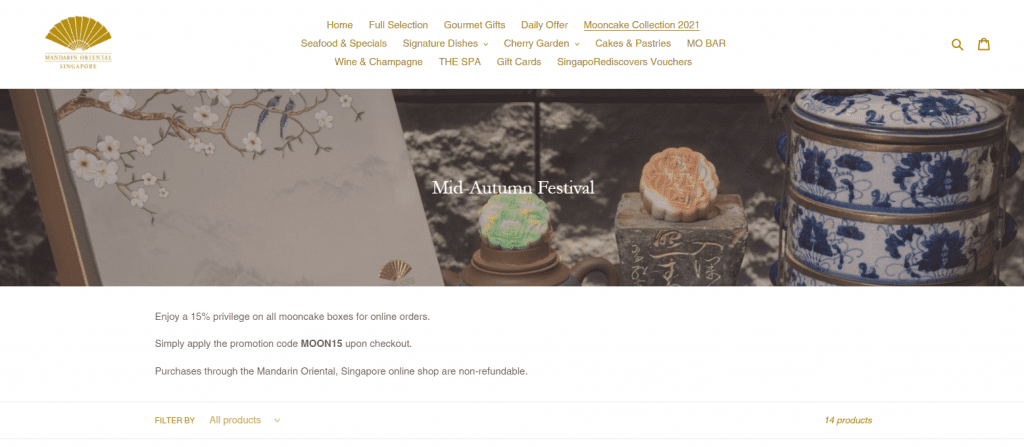 This year, Mandarin Oriental Singapore features a wide collection of both traditional flavours and new, exciting flavours, making sure you get the mooncake that you love. Their classic traditional mooncake also came with a healthier option with low sugar, appealing to those looking for a healthy and delicious mooncake. They also feature special flavours such as whisky-infused mooncakes for those who are more adventurous.
Mandarin Oriental Singapore is having a promotion now – Enjoy a 15% privilege on all mooncake boxes for online orders. Simply apply the promotion code MOON15 upon checkout.
3. Grand Park Hotel Singapore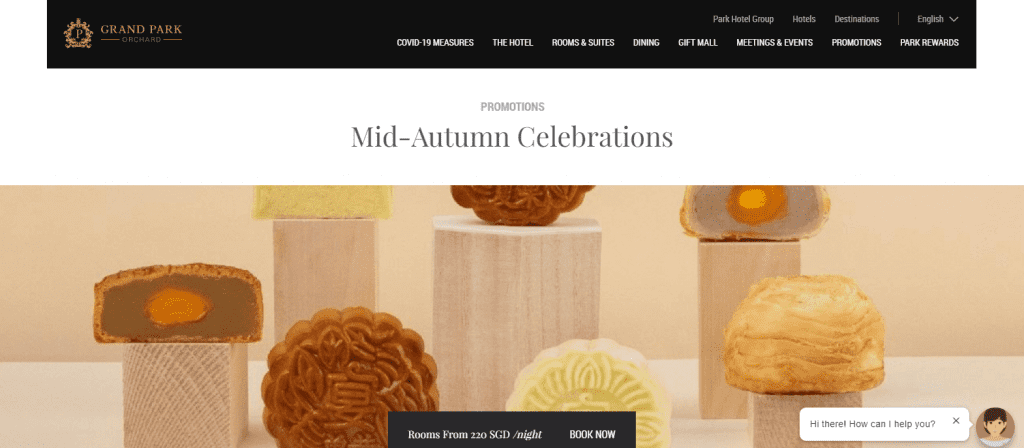 Grand Park Hotel wants to celebrate this year Mid-Autumn with joyful reunions and moments of gratitude. They offer a series of time-honoured mooncakes that can suit all gifting needs. From signature Thousand Layer Yam mooncake to creamy Mao Shan Wang Snowskin, there is a never-ending list of traditional and snow skin mooncakes you can choose from.
For every purchase, you can have the option of packaging it in a gift box or an eco-friendly bamboo tote. This is available from now to 21 September 2021. Also, you can sign up for Park Rewards, their free-to-join loyalty programme, to start earning PARK$ on your mooncake order.
Grand Park Hotel is having an early bird promotion now – Get 25% off if you order by 31 August 2021. Apply checkout code MOON25.
4. Peach Garden Chinese Restaurant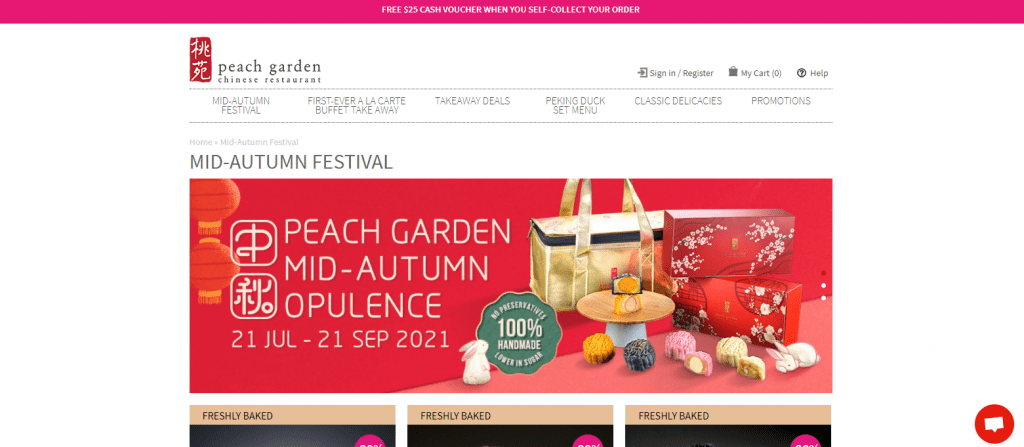 Peach Garden Chinese Restaurant is offering 20% for most of its mooncake set. This set can come in boxes of 4 or 8. You can choose and mix and match between traditional classic mooncake or snow skin mooncake. At the end of each set, Peach Garden Chinese Restaurant placed labels as to what is included inside the set such as whether it is vegetarian friendly, if it contains nuts and if it is a new flavour.
Peach Garden Chinese Restaurant is offering an early bird discount of 25%. You can enjoy free delivery if you order 20 boxes or more. You can also get a free $25 voucher if you head down for self-collection.
5. Awfully Chocolate
Have you ever heard of Harry potter Mooncake? Partnering with Warner Bros. Consumer Products, Awfully Chocolate is proud to present to you the World's First Official Harry Potter Mooncake Collection.
Every iconic Hogwarts chest comes exquisitely packaged in an oversized vintage red velvet chest bearing elegant touches of antique gold accents, with a certificate of authenticity as an official Wizarding World product.
Apart from the Harry Potter Mooncake Collection, Awfully Chocolate also has its own Mid-Autumn Collection for 2021, with mooncake flavours, such as sumptuous Classic Baked Mooncakes and our specialty Chocolate Truffle Mooncakes. These mooncakes are beautifully appointed in Awfully Chocolate distinctive wood grain bespoke keepsake chest.
6. Bread Garden

At Bread Garden, they offer a whole selection of marvellously delicious and savoury mooncake selections that no one can resist. They use only premium and the freshest ingredients to make their mooncakes. All their mooncakes come in all the popular flavours that Singaporeans enjoy and find delight in.
Their mooncakes are packaged and presented in exquisitely designed boxes that are ideal for gifting too. You can check out their signature sets such as premium MSW sets, delicious Snowy Skin Grandeur Set. They also have two new creations – Cheesy Royale and Nutty Sesame that come in both baked skin and snow skin.
7. Kam's Roast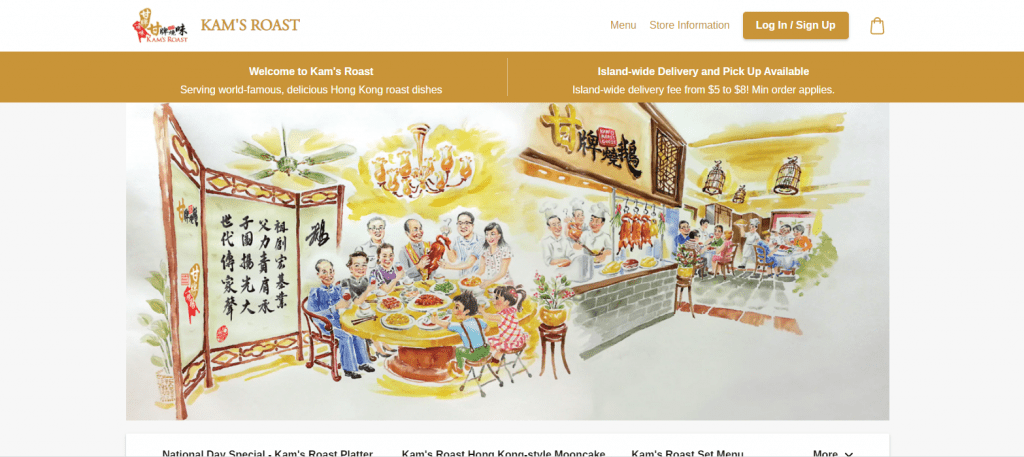 Do you love to eat roast duck? What about roast duck mooncake? For those with an exotic taste bud, you will be delighted to find out that Kam's Roast is offering Singapore's first-ever roast duck mooncake – Kam's Roast Assorted Nuts with Roast Duck Mooncake.
Besides this signature best-seller, Kam's roast is also offering three other delectable Hong Kong-style mooncakes such as Red Dates Longan Mooncake, Almond Egg Custard Mooncake, and Coconut Egg Yolk Mooncake. Indulge in these unique flavours mooncakes and also enjoy 10% off all mooncake orders (box of 6) until 31 August 2021.
8. Chui Lau Heung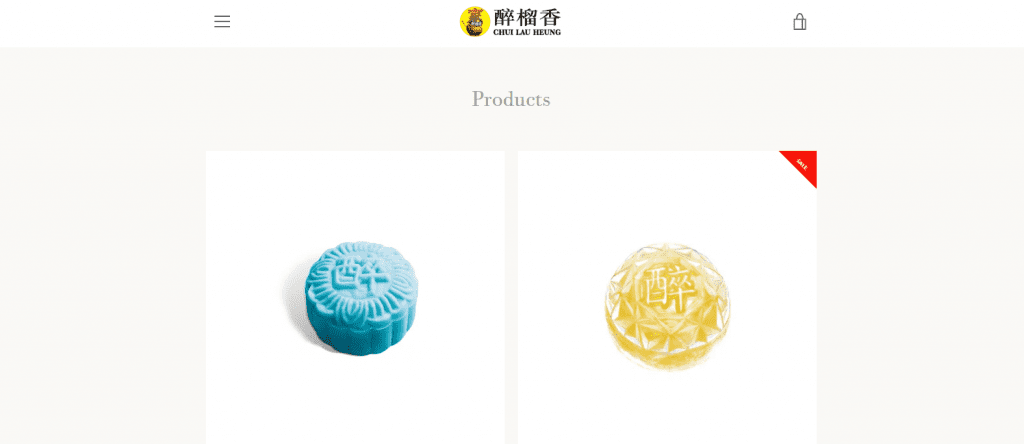 A Singapore brand established in 2005, Chui Lau Heung is well known internationally for its durian snowy moon cakes and premium quality durian specialty pastries and desserts. They are committed to making continuous efforts into creating new and exciting premium products that complement high customer service standards.
That being said, they have created a wide assortment of durian products that are unseen and never before offered by other durian players in the market. With such dedication, it is no wonder that Chui Lau Heung has made it to the top 5 brands in Hong Kong for moon cakes and is also very well known in the USA, Canada, China and Macau.
9. Ding Bakery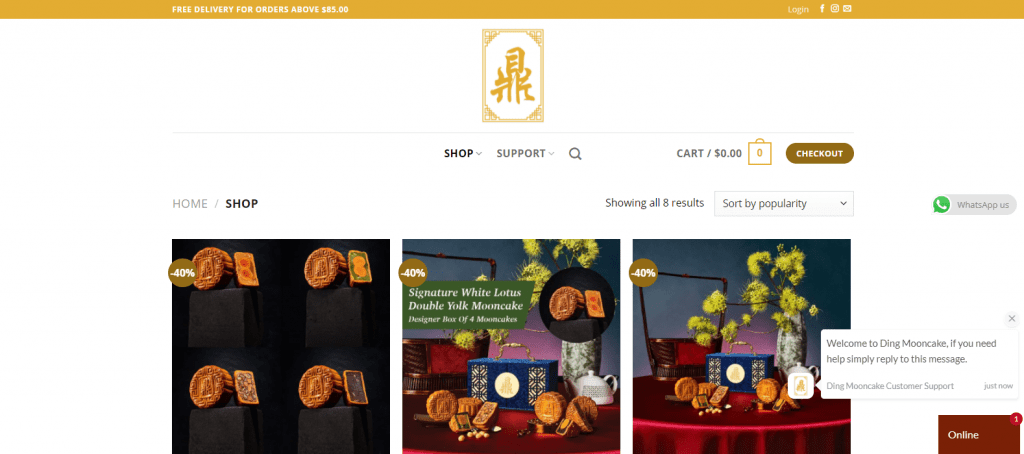 Ding Bakery offers one of the best mooncake in Singapore when it comes to the richest and tastiest seasonal goodies, They are touted by critics to be arguably the best in Singapore and some of its neighbouring countries. For this year Mid-Autumn, they are going back to basics in style.
No artificial flavourings or sugar is added to their aromatic Snow Skin Mooncakes. You will be able to enjoy mooncake with just the real flavour, bringing you authenticity and an outburst of flavours beyond your imagination.
For example, Ding Bakery presents its Fresh Passionfruit and Mango mooncake which is both exotic and divine. It consists of fleshy passionfruit from New Zealand and fresh and ripe mangoes from the Philippines, making this mooncake so exotic tasting.
10. Durian Law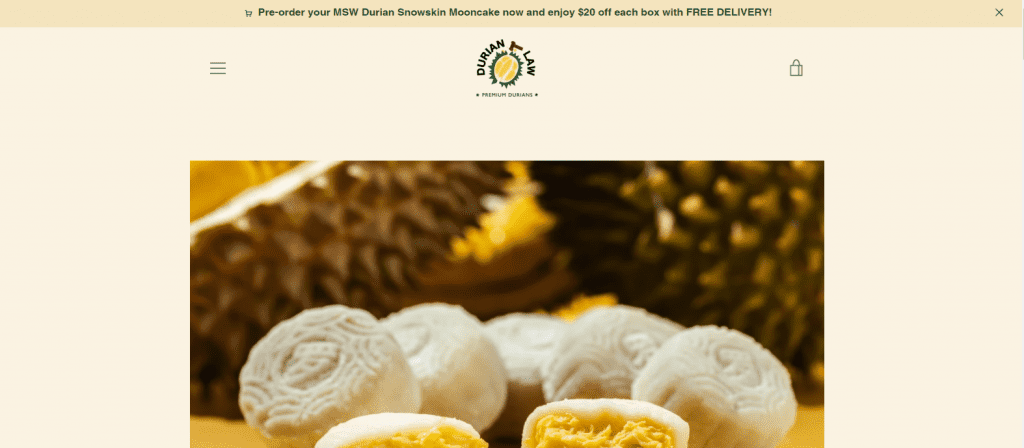 Finally, leaving the best to the last is Durian Law mooncake. As the name suggests, Durian Law is famous for its Mao Shan Wang Snowskin Mooncake. Every mooncake is wrapped in a soft and chewy velvety-like exterior for a combination of flavour and exquisite mouthfeel.
All their mooncake is made of 100% premium-grade A naturally creamy Mao Shan Wang, and there is no pork, no lard, and no gelatine included inside. If you purchase their Mooncake Package, you will receive additional items such as The Durian Law branded mooncake box, Mooncake Card and a free The Durian Law branded cooler bag.
Durian Law is having a promotion now – Enjoy $20 off each box of Durian Snowskin Mooncakes from now till 31st August 2021. Delivery and collection are available. You will be able to collect it on the 1st of September 2021.
Conclusion
Do you have any reviews and comments to share regarding our choices for the best mooncake in Singapore?
While SBO is committed to supporting our local businesses, we welcome any feedback and anonymous sharing regarding your experience with the listed mooncake in Singapore.
We hope that this guide will be useful in helping you to make an informed decision when it comes to finding the best mooncake in Singapore.
Featured Image by Chinh Le Duc on Unsplash
>