10 Best Cake Delivery in Singapore At Your Convenience [2021]
Cakes are a good way to celebrate special occasions.
Food
Our team at SBO.sg is committed to being a one-stop avenue to connect local businesses and consumers. We hope that our research efforts can help you save time and money by finding you the best deals without having to search around the vast world-wide-web.
Cakes are a great way to celebrate special events, especially birthdays. However, given the Covid-19 restrictions, where large gatherings are not allowed, it can be hard for you and your friends to celebrate birthdays together. If you are planning for a birthday surprise for your friends and am unsure how to do so, you can choose cake delivery services.
All you need to do is to choose your preferred cake and the shop will deliver the cake of your choice to your friend's house. In that case, you and your friends will still be able to celebrate birthdays together, despite not being able to meet up.
With so many different cake shops in Singapore, it can get pretty hard to choose. To make things easier for you, we have compiled a list of the 10 best cake delivery in Singapore for you to choose from. Each cake delivery service has their own perks and downsides, so you can choose one that is best catered to your needs.
1. Honeypeachsg Bakery
Established in 2019, Honeypeachsg Bakery Singapore is a boutique bakery that specialises in whimsical customized cakes. They take on both corporate events and personal events in Singapore such as birthdays, weddings and company functions.
All their baked goods are made with the finest ingredients and freshly made every single day. They have been featured on numerous popular publications such as Eatbook and Mothership and has received countless favourable customer reviews about their products and service.
2. The Durian Bakery
As one of the best cake delivery in Singapore, the Durian Bakery aims to provide the best durian culinary experience in Singapore. Every cake that they made is a work of art, rich in durian flavour and melts in your mouth with every single bite. They are an expert bakery that specialises in baking delicious, rich durian goods.
The Durian Bakery offers a wide variety of interesting flavours, each creation unique in its own way. Some innovations include Durian Black Forest Cakes, to Durian-Oreo Ice Cream cakes, and not forgetting their signature puree, SilkyGold. They use only the most premium of ingredients, with fresh and delicious durians, and only the best recipes in all their products.
3. Zee & Elle
Zee & Elle specialises in making luxury looking, hand-crafted cakes. They are endorsed and trusted by numerous luxury brands such as Gucci, Vogue and Burberry. Zee & Elle aims to make every celebration more special with their unique and delicious cakes.
Their beautiful and elegant cake designs will make your guests and loved ones astounded and mouth-watering. All their cakes and fillings are freshly made with the best ingredients, catered specially for your tastes and preferences.
4. The Ugly Cake Shop
Unlike their name, the Ugly Cake Shop's cakes are far from being ugly. Each cake is delectably created and beautifully crafted by their team of talented and experienced bakers. They are committed to making a social impact on the world by baking delicious and artisanal cakes in Singapore that helps to feed hungry kids in Timor-Leste.
Ugly Cake Shop does not believe in using artificial colouring, artificial flavours, fondant or gum paste. They take pride in their low sugar and healthy cakes, which are made only with natural ingredients so that you can feel happy and healthy eating it. If you would like to have some colours on your cake, you can also request to add artificial food dye to create certain colours upon request.
5. Sooperlicious Cakes
Sooperlicious is committed to making the world a better, brighter place by lighting up taste buds and spirits with their lovingly made cakes. They put in their 100% for every cake that they make, leaving a story behind for every cake. Also, Sooperlicious is When you buy from Sooperlicious, you are not just buying a cake. You are buying hours and days of love. We are Muslim-owned, so you can be assured that all their cakes are halal-certified.
At Sooperlicious, they also strongly believe in giving back to society, where they have worked with multiple organizations such as Make-A-Wish Foundation, Muhammadiyah, Pertapis Children's Home, Darul Ghufran Mosque, Children's Wishing Well etc. If you wish to make a social impact or give back to society, buying from Sooperlicious is a great way for you to do so.
6. Whyzee
Whyzee is the one-stop online cake delivery in Singapore, and Singapore's only one-hour express cake delivery. All their cakes are of premium quality and made with wholesome and nutritious ingredients. They have over 50 varieties of cake selection, catering for every occasion, for you to choose from.
All their cake prices are kept affordable, without burning a hole in your pocket. Moreover, they do not use artificial flavouring and colouring in any of their cakes, so you can feel free to indulge carefreely without any worry. All cakes are baked and delivered out on the same day, so you can be assured of their freshness.
7. P.Osh
While famous for their delicious, tongue-licking, mouth-watering brownies, P.Osh also has many other baked products that are worthy for you to try. This includes their frozen cheesecakes which they baked using a traditional blending technique and put in the oven for an extended period of time.
Apart from cheesecakes, P.Osh also sells cookies, each packed with lots of chocolate, giving you a sugar rush every time you take a bite. If you still wish to purchase their brownies, you are in for a treat as you can customise your brownies with your preferred toppings and enjoy a sugary treat.
8. Bob the Baker Boy
Have you heard of Bob the Baker Boy? Bob the Baker Boy is Singapore's leading healthy customised cakes specialist. Each and every of their cakes is beautifully crafted, and extremely Instagram-worthy. They have been featured on numerous influencers' websites like Michelle Chong, Ladyironchef and NOC.
Bob the Baker Boy takes pride in using soft and moist chiffon cake layers, and uses 30-50% less sugar than other bakeries. This means that their cakes are healthier and diabetic-friendly, allowing guests with diabetes to be able to enjoy their cakes in moderation.
9. Pantler
There's nothing better to describe elegance other than Pantler's cakes. This bakery excels in both looks and taste. Each of their baked products is tastefully fine and luxurious, making them perfect add-ons in high tea or event functions.
Some of their must-tries include strawberry shortcake, hazelnut and dark chocolate Yatsura, and the classic cheesecake. Their rich, thick and creamy cakes and pastries will leave you wanting more.
10. Monice Bakes
Monice Bakes is an online bakery in Singapore where they sell a wide variety of customised cakes and cupcakes for all occasions – gifts, birthday parties, baby showers, weddings, corporate functions and more. Each of their cake designs is specially handcrafted according to their customers' tastes and preferences.
Their cakes are highly affordable and are freshly baked with quality ingredients for maximum satisfaction. All their cakes are free from preservatives, artificial flavourings and reduced sugar levels, making them a healthier option for you.
Conclusion
Do you have any reviews and comments to share regarding our choices for the best cake delivery in Singapore?
While SBO is committed to supporting our local businesses, we welcome any feedback and anonymous sharing regarding your experience with the listed cake delivery in Singapore.
We hope that this guide will be useful in helping you to make an informed decision when it comes to finding the best cake delivery in Singapore.
Photo by David Holifield on Unsplash
In this article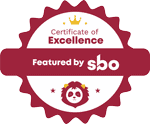 Are you featured in this?
Display this exclusive SBO badge proudly on your website!