10 Best Bird's Nests in Singapore For Good Complexion [2023]
Look here as we have compiled a list of the 10 Best Bird's Nests in Singapore to improve your complexion and more!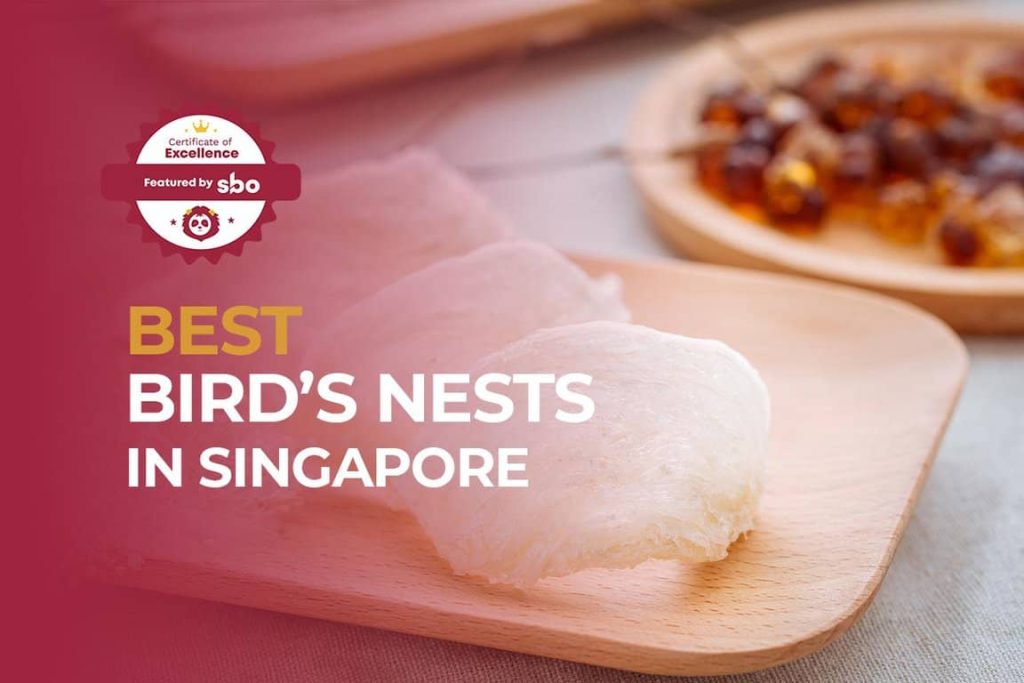 Still, using skincare products to take care of your complexion? Why not try out nature's superfood, Bird's Nest to improve your complexion!
What are the Benefits of Consuming Bird's Nest?
Have you ever wondered why people consume Bird's Nest? It is due to the great health benefits that this superfood has and it has been popular with the Chinese for many years.
Bird's Nest is traditionally used to clear Phlegm, ease chronic dry coughs and relieve fatigue – common complaints as we get older. Other benefits include stimulating the appetite, improving digestion, and stimulating bowel movement.
It also helps to moisturize the skin! The bird's nest contains a special protein with the same structure as the Epidermal Growth Factor (EGF), which helps create new skin cells to replace old and degraded cells, helps repair damaged skin cells, and brightens the skin to make us look younger.
With all these benefits, are you tempted to get Bird Nest already? Check out our compiled list of the 10 Best Bird's Nests in Singapore today.
1. The Purest Co Bird's Nest Classic Signature Flavors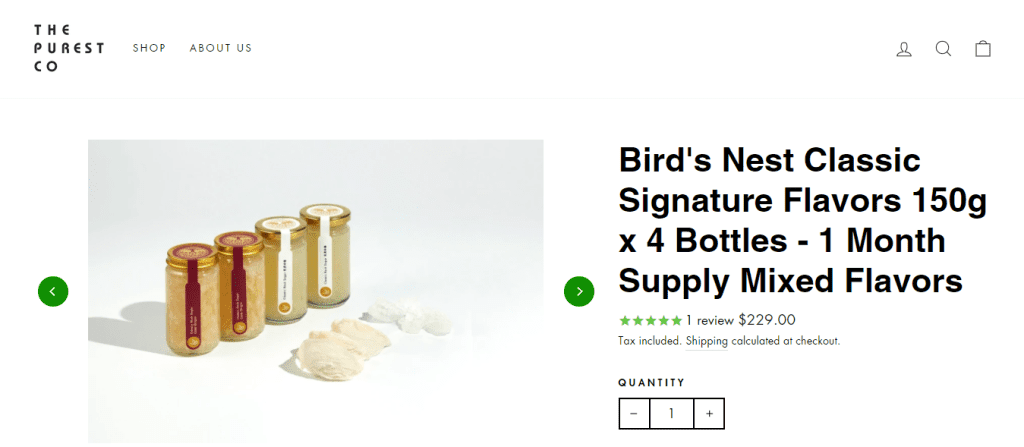 The Purest Co started with the idea to create something better.
Using their experiences, they took a hard look at the nutrition industry and realized there was a need for something better. Hence, in 2019, The Purest Co was born to create superior products in the traditional superfoods industry, with an emphasis on product quality, transparency, and focus on the customer experience.
Their bird's nest houses are located near pristine rain forests which provide for ample food supply for the resident Swiftlets and are deliberately located away from polluted areas which ensures a higher degree of purity in the nests harvested. By adopting a sustainable practice of nest harvesting where only nests of birds whose younglings have left the nests are harvested, they understand the need for the sustainability of a business.
Their ready-to-drink bird's nests are cooked and bottled in facilities in Singapore adhering to strict HACCP standards. HACCP sets out the requirements and certification for food safety management systems and their facility is required to demonstrate the ability to control food safety hazards to ensure the foods are safe for consumption. This is to ensure the safe consumption of their products so you can put your faith in them!
2. Eu Yan Sang Premium Concentrated Bird's Nest With Rock Sugar Mini Treats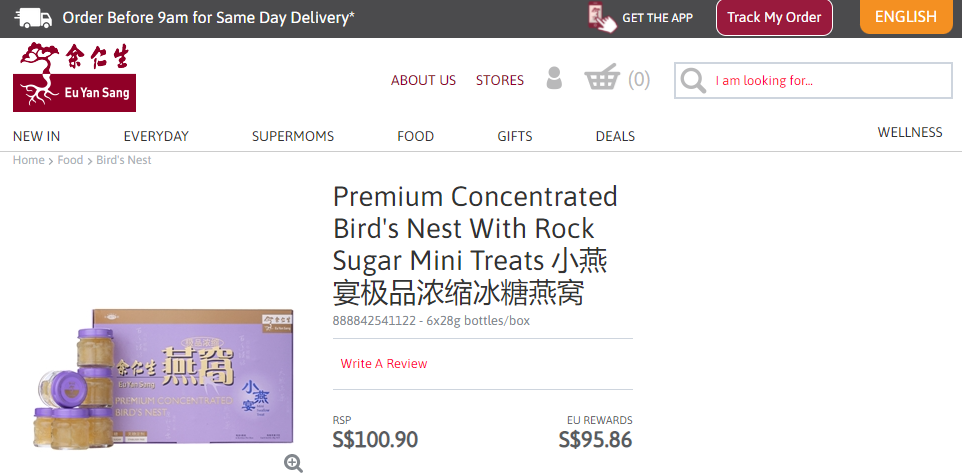 If you haven't been living under a rock, the brand "Eu Yan Sang" shouldn't be unfamiliar to you. For over 140 years, Eu Yan Sang has been empowering people to live the best quality of life through accessible healthcare, based on Traditional Chinese Medicine (TCM) wisdom.
Today, Eu Yan Sang has become a trusted name for generations of customers, recognised for its high quality and standards. In Asia, Eu Yan Sang is recognized as a leader in TCM health and wellness, providing healthcare innovations that combine the science of medicine with the wisdom of TCM, all guided by its mission of "caring for mankind".
Eu Yan Sang Mini Swallow Treat Series of ready-to-drink bird's nests are packed in small bottles, convenient to carry anywhere with you. You can benefit from the goodness of premium bird's nest on the go, whenever and wherever. It's suitable for all ages by taking it chilled or warmed.
Eu Yan Sang bottled bird's nests are produced in line with our enduring commitment to the highest quality. It does not contain any artificial colouring, flavouring, preservatives or stabiliser.
3. Eu Yan Sang Superior Bird's Nest With Rock Sugar (Reduced Sugar)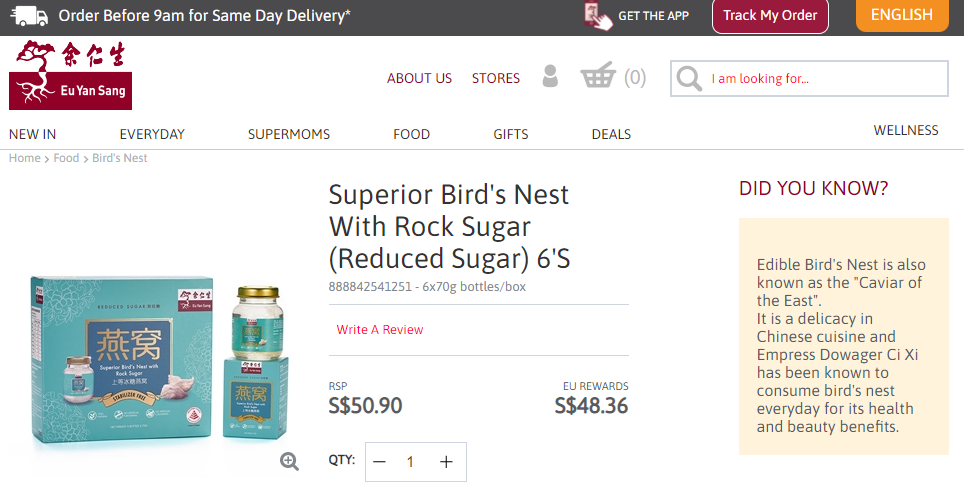 Another product from Eu Yan Sang and here's more about the Eu Yan Sang Bird's Nest!
To safeguard the highest level of quality & safety, Eu Yan Sang Bird's Nest is produced at HACCP certified production plant and is made from premium selected bird's nest. The bird's nest first undergo a series of stringent cleansing processes to ensure that they are completely free of impurities. They are then hygienically sterilised by the heat treatment process.
No artificial preservatives, colouring or flavouring is added. With these, the original flavours and nutrients of the bird's nests would be retained.
With 25% lesser sugar, it is ideal for people who are conscious of their sugar intake. Every bottle of Eu Yan Sang Superior Bird's Nest with Rock Sugar (Reduced Sugar) provides the perfect nourishment to put you back into the pink of health.
4. BRAND'S® Bird's Nest Sugar Free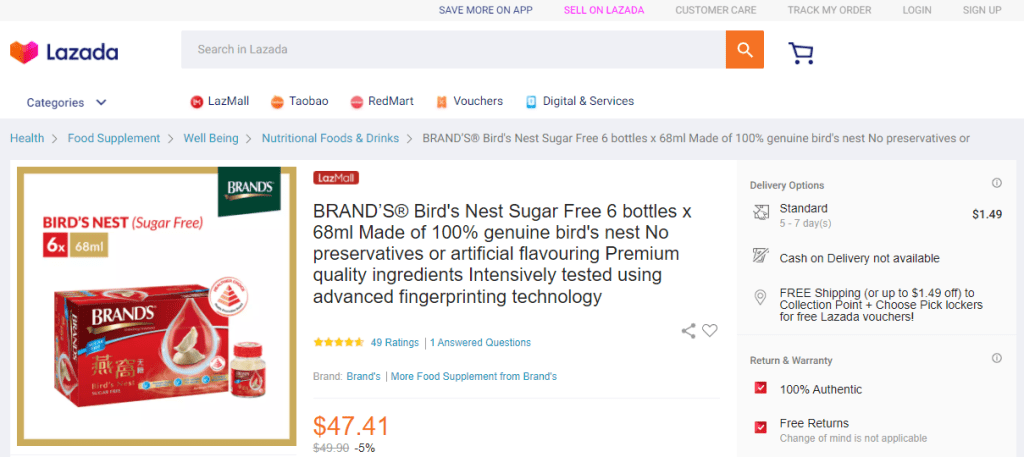 BRAND'S® Bird's Nest Sugar-Free is traditionally made with 100 % genuine bird's nest. Brewed under hygienic processing conditions and verified by their unique fingerprinting technology – Fourier-Transform Infrared (FTIR) spectroscopy, the team goes to great lengths to ensure the traditional formula contains no added preservatives or artificial flavouring.
Every bottle of BRAND'S® Bird's Nest Sugar-Free undergoes thorough checks to ensure consistent quality and their patented BRAND'S® Triple Safety Cap locks in the natural goodness and freshness of BRAND'S® products for up to 3 years.
5. Kinohimitsu BB Drink Bird's Nest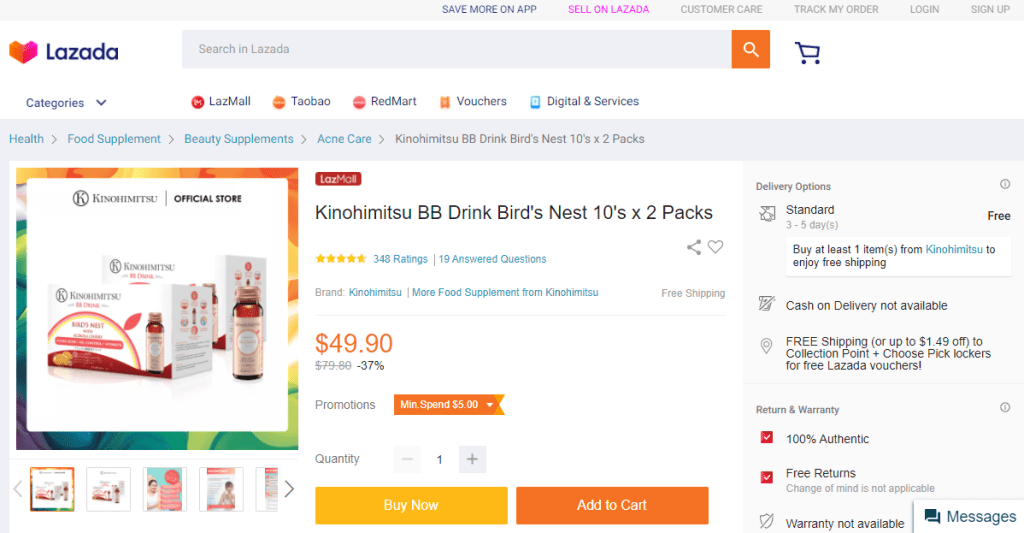 Kinohimitsu is the No.1 best-selling beauty functional drink in Singapore and Malaysia.
A team of scientists and passionate botanic health activists ventured into the rainforest in search of new plants and herbs and discovered a new network of positive energy and healing properties of plants that could benefit mankind. In the pursuit of a lifestyle inspired by the goodness of nature, this team successfully uncovered the secret of plant life and established Kinohimitsu.
True to their promise, their products use natural active plant-extracted ingredients such as royal jelly, perilla seed extract, and many other natural goodnesses. All their products are 100% natural with no added refined sugar, preservatives, artificial colouring, flavouring, chemicals, and no hormones as tested by SGS. Hence, you can be assured of the quality of their products!
6. Kinohimitsu Bird's Nest with Chia Seed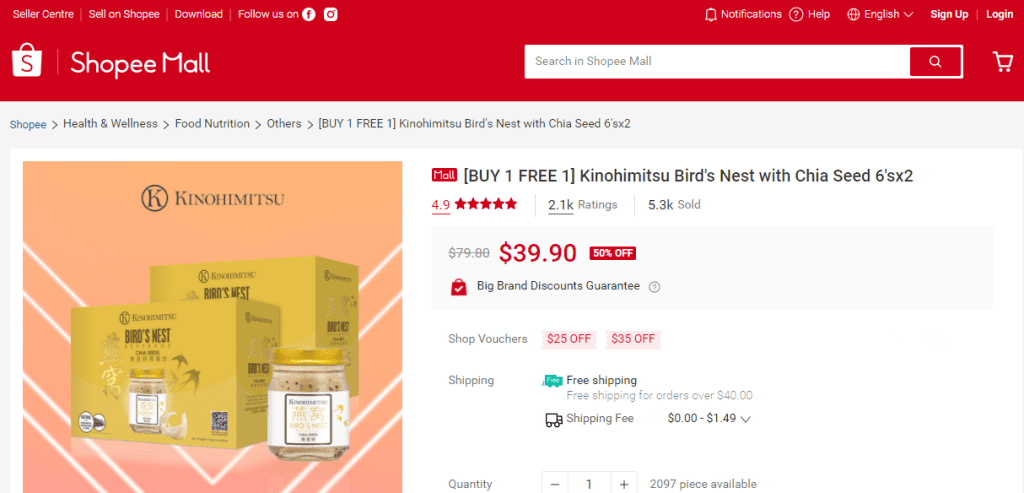 Kinohimitsu Bird's Nest with Chia Seed 6's Bird's Nest has been highly prized by the ancient Chinese for its healing and beauty-enhancing properties for thousands of years. It is a powerhouse of rich nutrients and amino acids like serine, threonine, aspartic acid, glutamic acid, and polypeptides that aid in overall health and wellbeing.
Kinohimitsu Bird's Nest with Chia Seed features Superfood Chia Seeds, loaded with good-for-you essential nutrients like dietary fiber, Omega-3 fatty acids, and antioxidants. Try it out to enjoy the goodness of deluxe Bird's Nests in each bottle for that premium experience all the time!
7. New Moon Bird Nest with White Fungus Rock Sugar [Halal Certified]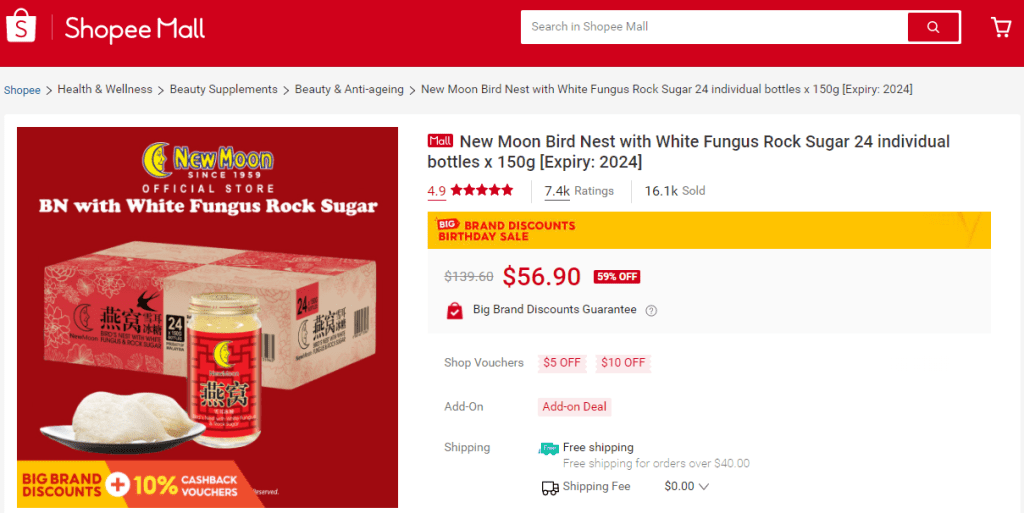 Committed to providing premium quality food to satisfy the varying needs of its consumers and exceeding their expectations, New Moon endeavors to expand its reach to discerning consumers globally with a distribution network spanning various countries.
New Moon Bird's Nest with White Fungus & Rock Sugar is made from superior grade bird's nest, white fungus, and rock sugar. It is an ideal food supplement for all ages and is prepared according to the traditional simmering process under modern and strictly controlled methods.
It can be consumed directly from the bottle, chilled, or warmed, according to individual preference.
8. Golden Bird's Nest Collagen Strips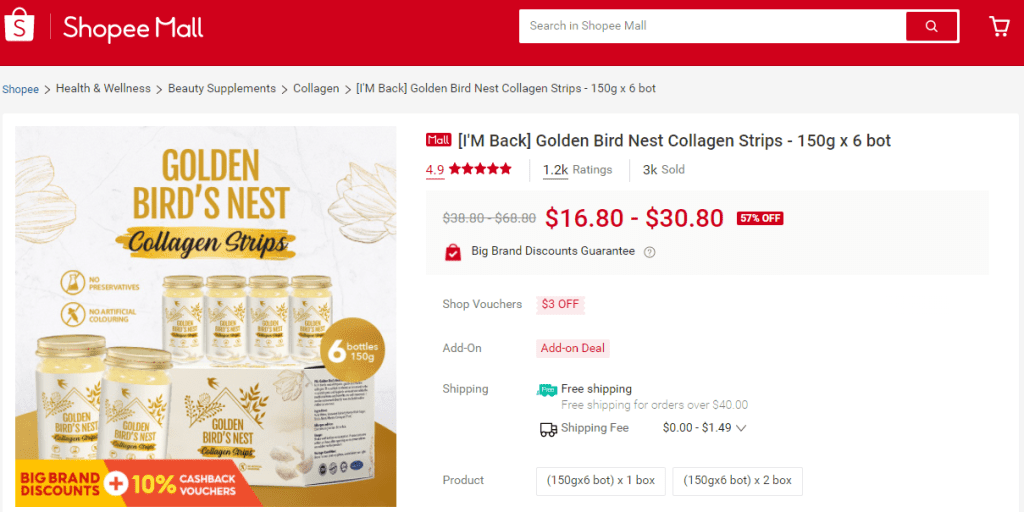 Golden Bird's Nest Collagen Strips is made from a bird's nest of imperial grade and marine collagen. This perfect combination is cooked in the most stringent and hygienic environment while the traditional taste and benefits are well preserved.
With over a thousand positive reviews, Golden Bird's Nest Collagen Strips are complimented for their taste which is not too sweet, perfect for those who are health-conscious yet desire a cooling collagen drink. The Collagen Strips are as advertised and if you're looking for an affordable option, try this out!
9. Dragon Brand Superior Jin Si Yan Concentrated Bird's Nest with Rock Sugar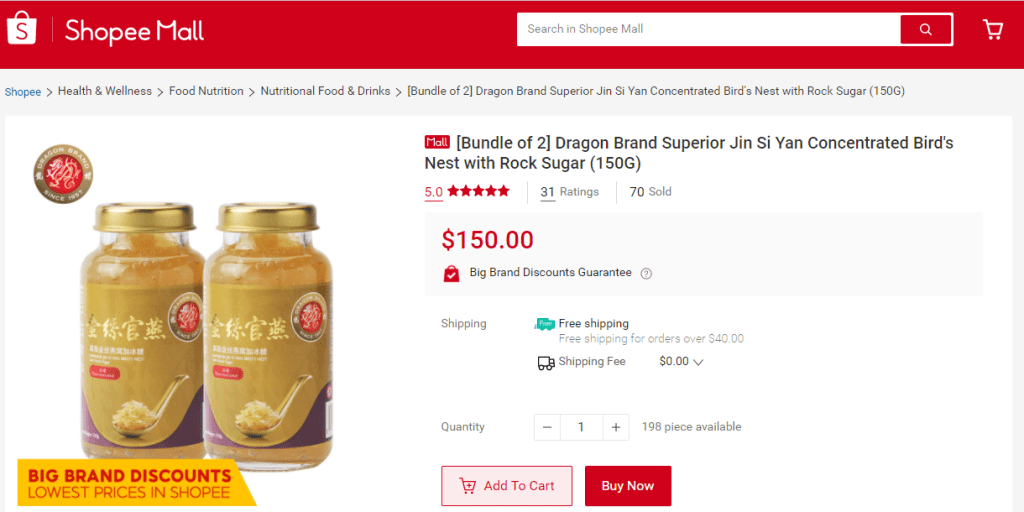 Introducing Dragon Brand, a company that is dedicated to bringing bird nest of the best quality. They are also the first company to become the world's first to bottle bird's nests hygienically in glass bottles in 1986, sealing in their trademark quality and bringing bird's nests to the masses. Today, Dragon Brand continues to break new ground with new concepts and experiences.
Dragon Brand Superior Jin Si Yan Concentrated Bird's Nest is prepared from meticulously selected superior quality Jin Si Yan Bird's Nest. The product is then produced under a stringent HACCP Food Safety Control system and coupled with advanced bottling technology. The product is sterilised entirely by heat with no preservatives, artificial colouring or flavouring added. Ensuring that every bottle produced is of the highest quality is their commitment and promise to you.
10. Pristine Farm Freshly Cooked Bird Nest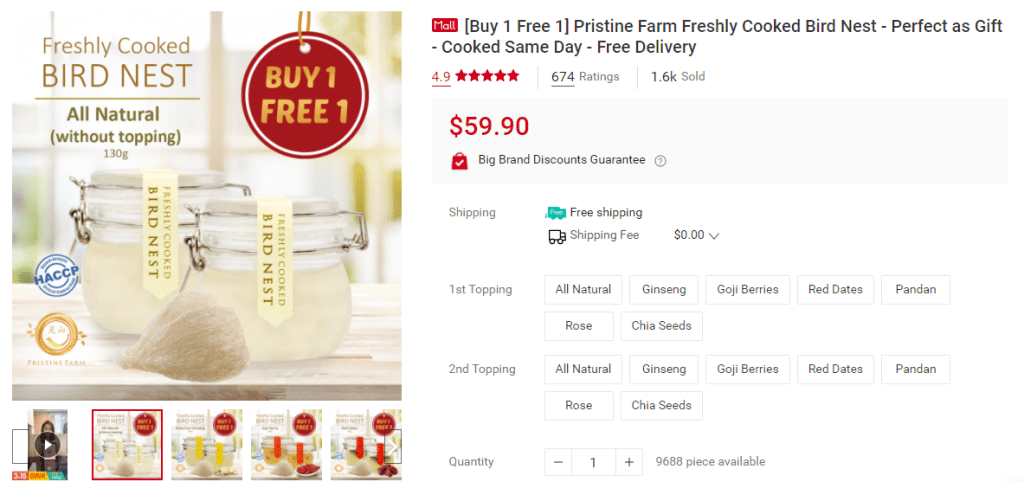 After months of preparation and testing, Pristine Farm finally launched its Freshly Cooked Bird Nest in Singapore in October 2019. With a generous 6gr of dry bird nest per jar, harvested in its birdhouses, the 130gr recyclable jar is filled with abundant of highest-quality bird nest.
Cooking is done on the day of delivery, in facilities in Singapore adhering to strict ISO22000:2005 and HACCP international food safety standards. The toppings chosen are also full of health benefits and of the finest ingredients from suppliers that they have carefully chosen.
Through Pristine Farm Freshly Cooked Bird Nest, they hope that you and your loved ones can be fully benefited and enjoy bird nest's great taste and health benefits. It is also great as a gift to show your love and appreciation or to celebrate the people that you care about the most in life, so what are you waiting for?
Conclusion
We hope that this article has been informative and useful in guiding you to choose the best Bird's Nests in Singapore! Do let us know if you have any feedback on our articles and we hope you enjoyed this article.
Other than consuming Bird's Nest, you can check out the 10 Best Facial in Singapore as well if you're looking to get youthful!
Explore More Content