10 Best Table Tennis Lessons in Singapore to Up Your Game [2021]
Learn the game of ping pong to become a better table tennis player
Fitness
Our team at SBO.sg is committed to being a one-stop avenue to connect local businesses and consumers. We hope that our research efforts can help you save time and money by finding you the best deals without having to search around the vast world-wide-web.
Table tennis, also widely known as ping pong, is a sport played by 2 or 4 players on a table using two rackets.
An Olympic sport since 1988, the popular sport is currently played by hundreds of millions of people worldwide, for which the industry is said to be worth "billions of dollars".
Are you inspired to become the next Feng Tianwei and represent Singapore at the Olympics? Here are the 10 Best Table Tennis Lessons in Singapore to help you level up your game to become a better table tennis player.
1. New Century Table Tennis Academy
Situated in prime Katong location, the New Century Table Tennis Academy is for those who wish to have lessons at a time of their convenience.
Offering lessons from group training (children, youth & adults) to private individual training to their holiday training programme, the academy has just the perfect training programme for paddlers of various ages, skills, needs and goals.
2. Learn-To-Play (Singapore Table Tennis Association)
A National Sports Association affiliated to the Singapore National Olympic Council (SNOC) and Sport Singapore (SportSG), the Singapore Table Tennis Association (STTA) provides the athletes with the best possible facilities, amenities and environment for developing the sports and to reach their maximum sporting potential.
Besides collaborating with schools and community interest clubs, STTA also offers lessons to the general public such as the Learn-To-Play programme for beginners and the Continue-To-Play programme for those who wish to advance their table tennis game.
3. Soham's Table Tennis Class
Want to learn table tennis for free? Soham's Table Tennis Class has just the thing you're looking for.
Located at Regent Heights Condominium, residents in the area (age 6 -30) get to enjoy free table tennis lessons with no cost incurred every Saturday and Sunday.
4. Alps Table Tennis Academy
From private individual training to group classes and overseas training camps, Alps Table Tennis Academy provides table tennis classes that are curated based on students' paddling skills and goals.
The only Table Tennis Academy in the world besides China that incorporates AI robot training programmes, Alps Table engages not only the best coaches with many years of experience but also the most advanced and top-notched equipment and facility to help you gain a competitive edge in training.
5. Agilent Sports Table Tennis Academy
Situated at Gambas Crescent, Agilent Sports TT Academy is just approximately 8 minutes away from Sembawang MRT, all at your convenience.
At the academy, students are taught in group classes by a professional coach who is also currently coaching the team at River Valley High School.
Besides group classes, the academy also has various membership schemes that offer members exclusive free table bookings and special discounts for XIOM equipment.
6. Men Kuan Table Tennis School
Recommended for its fun and chill atmosphere, Men Kuan Table Tennis School provides one-to-one coaching with an emphasis on serving & receiving to help beginners gain a more solid foundation in table tennis.
Currently managed by Steven Chew, the academy has expanded to a bigger facility to cater to more players and opens daily at the Kaki Bukit Recreation Center!
7. Coach Toby Cheong
An accredited coach with 20 years of experience, Coach Toby Cheong has coached at and has helped many schools in Singapore won awards in the school zonal competitions.
Today, he is currently a full-time coach at Bowen Secondary, Punggol Secondary & Serangoon Gardens Secondary.
8. Continue-To-Play (Singapore Table Tennis Association)
Another table tennis programme offered by the Singapore Table Tennis Association (STTA), the Continue-To-Play programme is a follow-up course for beginners who have completed the 'Learn-To-Play' programme and wish to further improve and strengthen their basic techniques of the game.
If you wish to advance your table tennis skills after harnessing the basic techniques, this may be the programme for you.
9. MyFitnessComrade
Looking for a private coach who not only has the professional qualifications but also the required mental abilities to help you grow as a tennis player?
At MyFitnessComrade, you will be offered top quality table tennis coaches at the most affordable prices.
Following this, you will be taught based on a curated 10-week lesson plan that will help beginners like you pick up table tennis in the shortest time possible.
10. Serangoon Gardens Country Club
Serangoon Gardens Country Club offers table tennis lessons conducted by a National Coaching Accreditation Programme (NCAP Level 1) registered coach.
A qualified table tennis coach who has been coaching since 2006, Nicholas Chee uses creative ways of coaching to inspire interest and fun in the sport based on his coaching experience in other community centres and schools.
Conclusion
Do you have any reviews and comments to share regarding our choices for the best table tennis lessons in Singapore?
While SBO is committed to supporting our local businesses, we welcome any feedback and anonymous sharing regarding your experience with the listed 10 Best Table Tennis Lessons in Singapore.
We hope that this guide will be useful in helping you to make an informed decision when it comes to finding the best table tennis lessons in Singapore.
In this article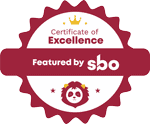 Are you featured in this?
Display this exclusive SBO badge proudly on your website!