Find the Best Private Investigator In Singapore for discreet checks [2022]
Hire the best private investigator in Singapore to help you access the information that you need to make important decisions in life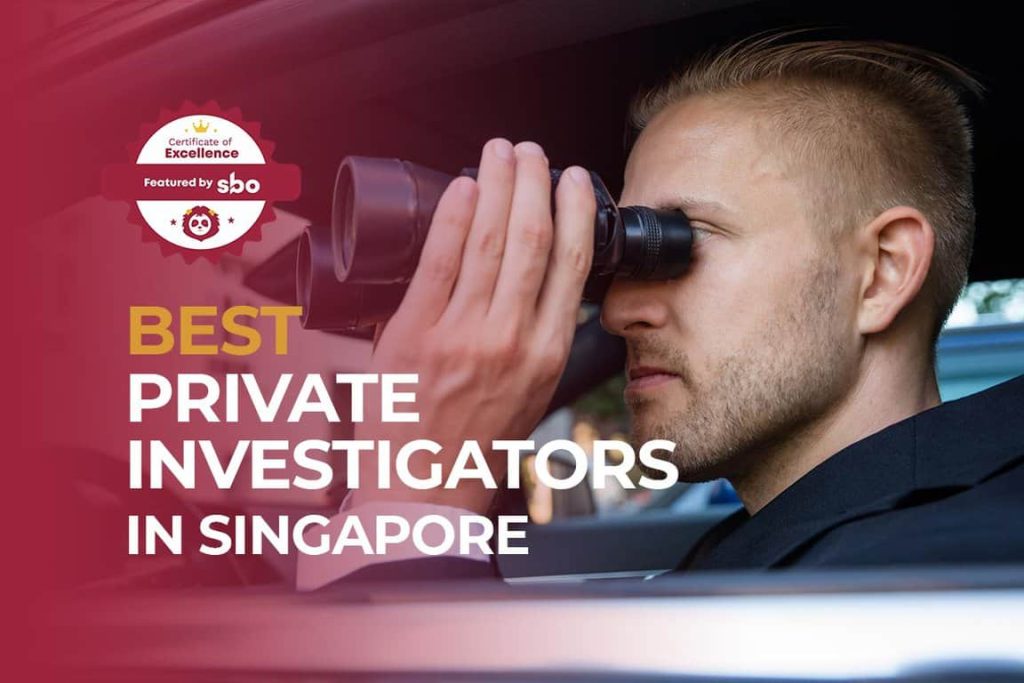 A private investigator in Singapore might not just be involved in catching criminals. Their work requires them to gather information for clients of diverse backgrounds.
For instance, if you are looking at forming a business partnership, you can hire private investigators in Singapore to conduct a thorough background check on your potential partners for any possibility of dishonesty.
Private investigators in Singapore can also help in your personal matters. These could be either finding a missing person or finding out whether your partner is having adultery behind your back.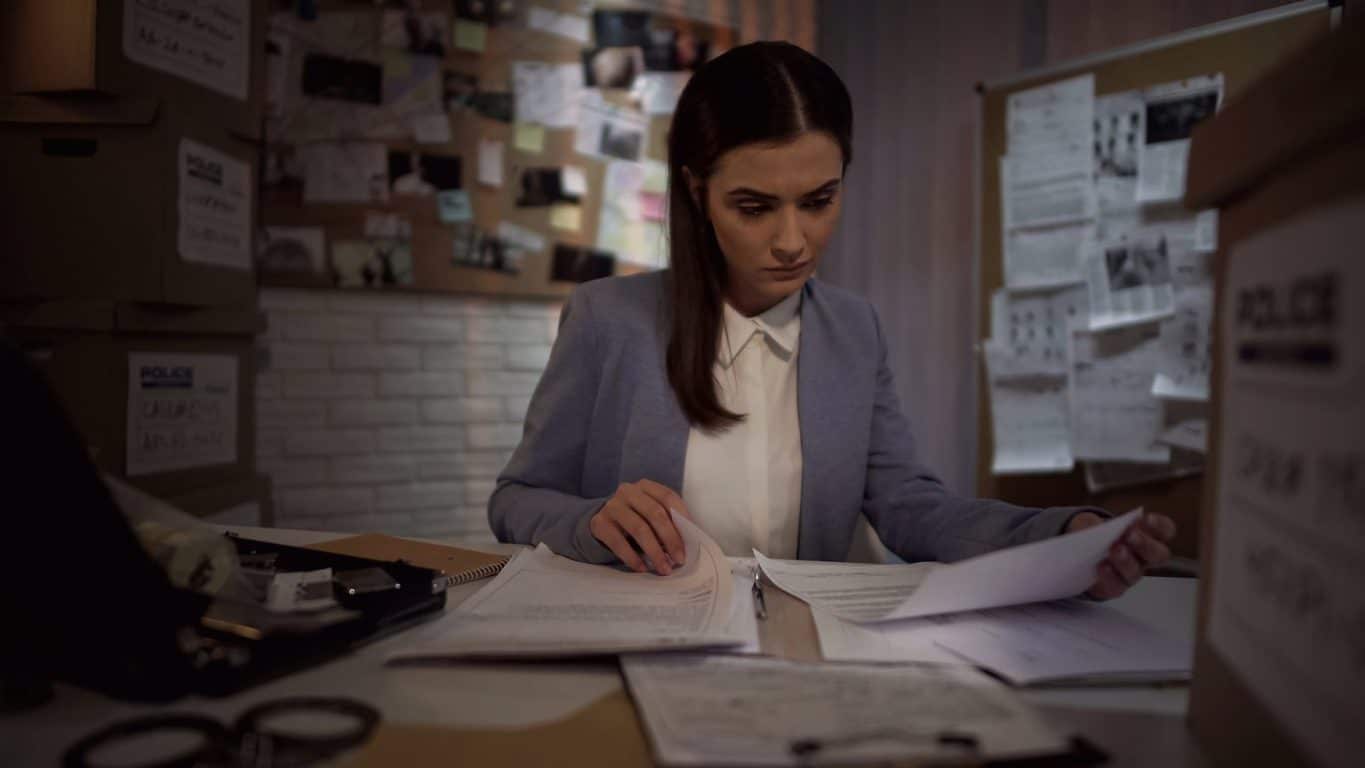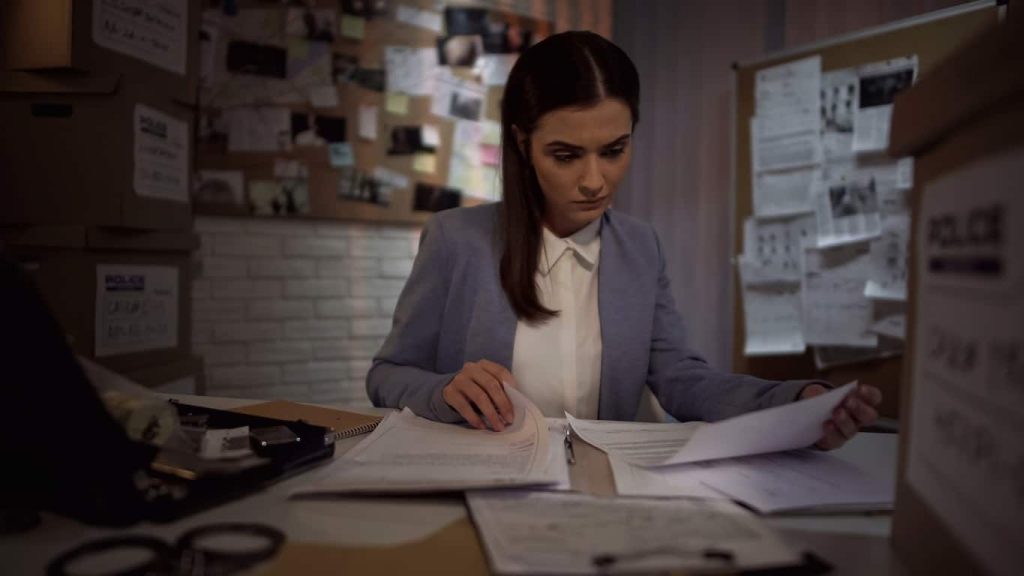 Are Private Investigators (PI) Legal in Singapore?
As illegal as they may seem, yes it is completely legal to hire a Private Investigator in Singapore.
Private investigators are legally required to undergo training and hold licences issued by the Singapore Police. As a result, a PI will be able to advise the client as to the legality of the methods used in the investigation as required by their clients.
Therefore, it is advisable to look for a reliable private investigator and be approved by the Singapore Police Force.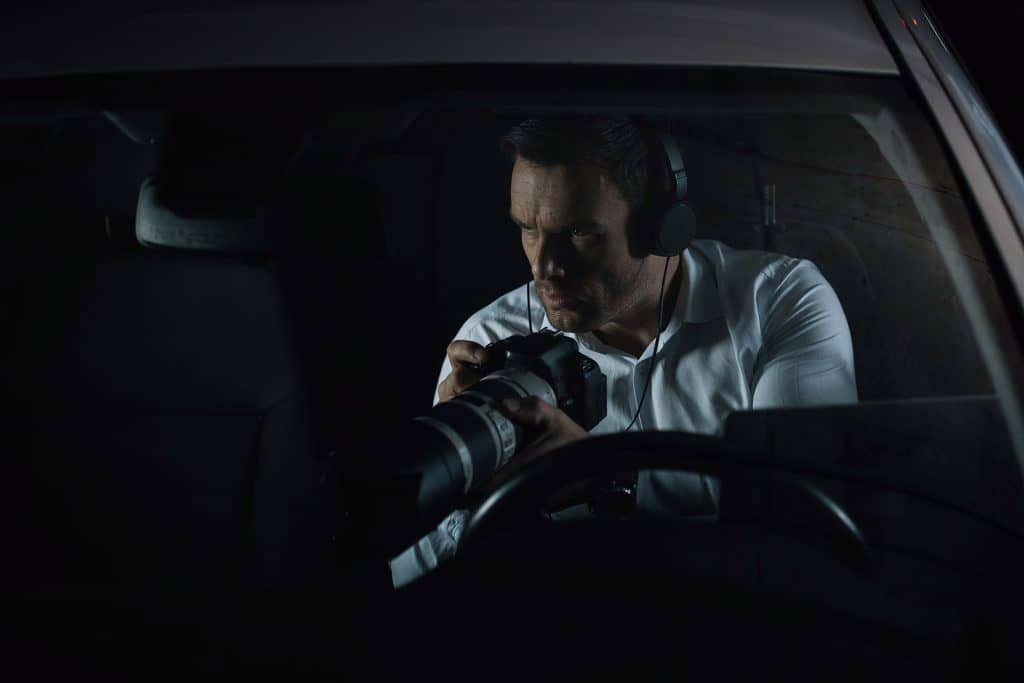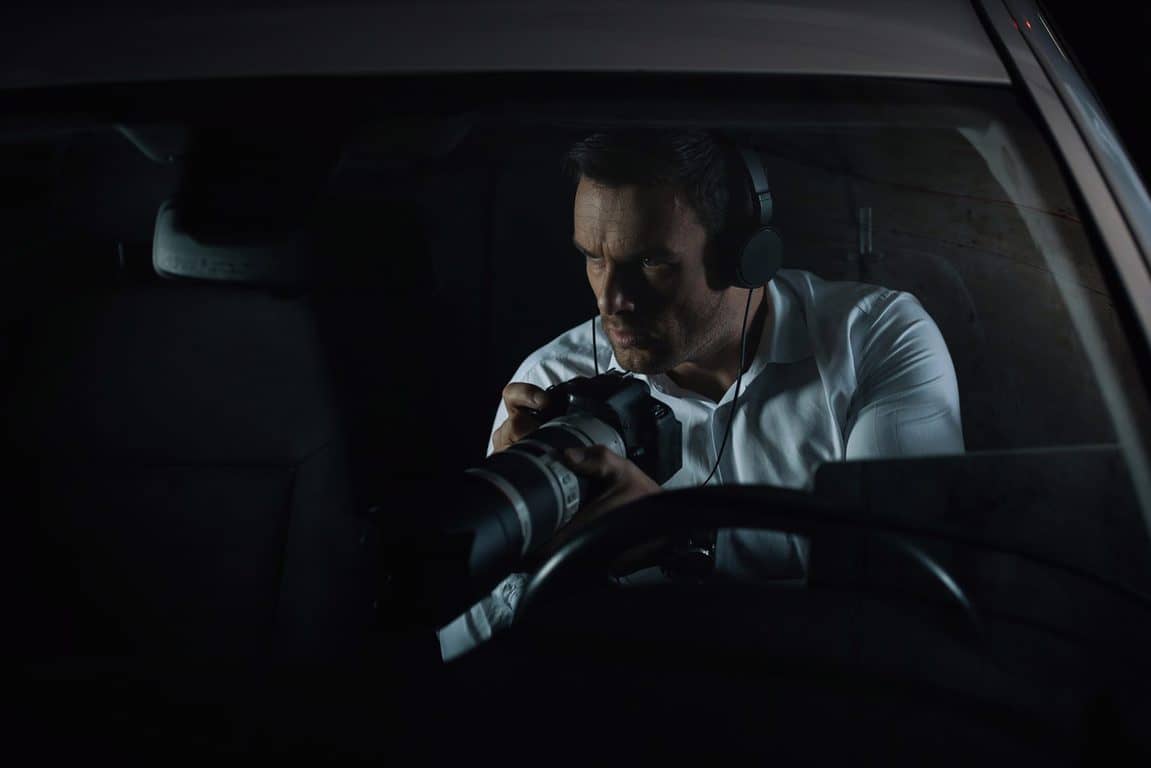 In this post, we've gathered all the necessary details including unravelling reviews and testimonials to derive a list of the 20 best private investigators in Singapore.
1. Asia Top Investigation LLP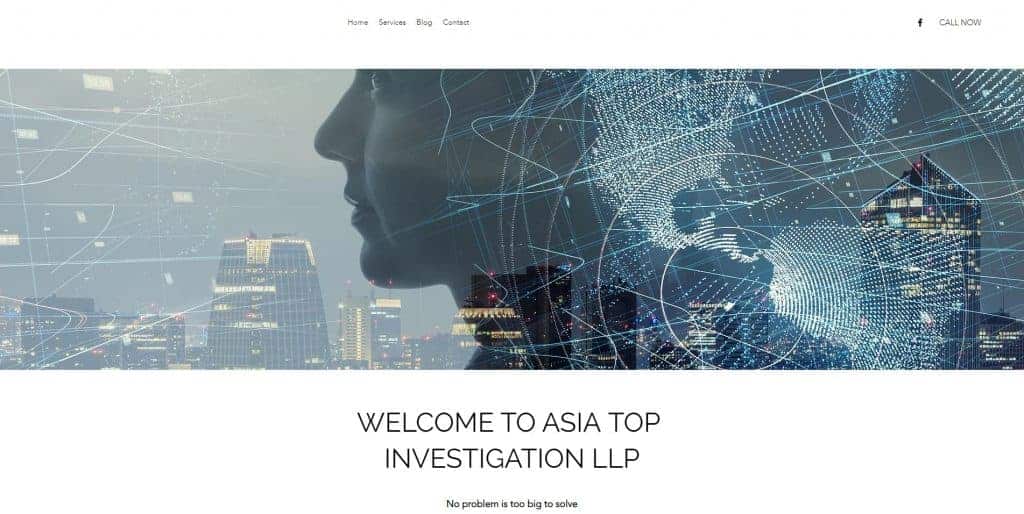 Asia Top Investigation LLP is a results-driven, cutting-edge, full-service Private Investigation Agency, and over the years, they have built up a solid reputation based on integrity, quality, and experience.
​
Asia Top Investigation is helmed by Vincent Tan who is a certified International private Investigator by the Council of International Investigator in 2011. He was awarded Asia Top Investigator by the American Biographical Institute in May 2012. This accolade recognizes Vincent Tan's expertise in handling sophisticated Matrimonial Investigation. Over the span of his 25 years in the private investigation field, he has solved thousands of cases, including several high-profile cases, giving his clients peace of mind.
He started his Private Investigation career with an International Private Investigation Agency under Mr. Lionel Chee (former Assistance Commissioner of Police) and Mr. Daniel A. Grove, who opened the first Federal Bureau of Investigation (FBI) office at the American Consulate in Hong Kong as well as Mr. Martin Soh, former Corrupt Practices Investigation Bureau (CPIB).
2. Detective Don PI Private Limited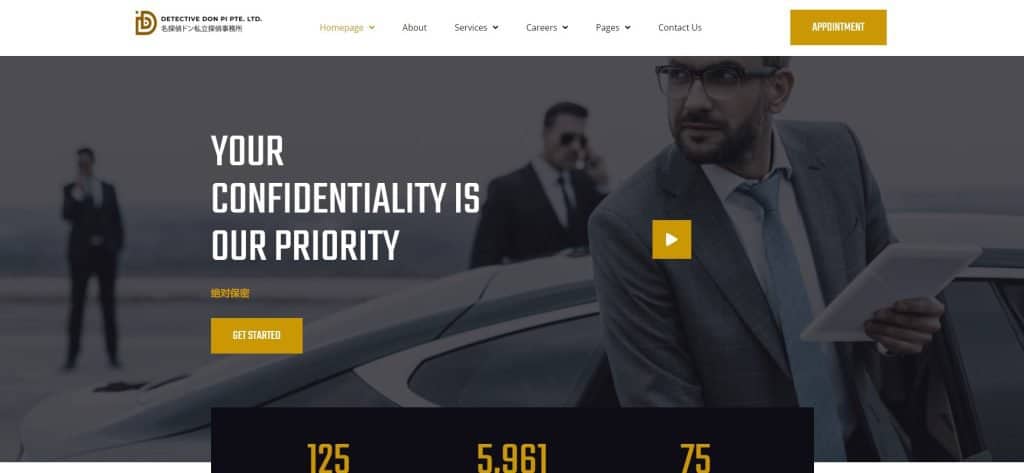 Detective Don PI Pte Ltd is the largest and oldest traditional Private Investigator international company in Singapore. The company's core competencies have been passed down three generations, where its founders and partners consist of ex-military, ex-police officers, and Japanese Investigators, providing professional training and quality services to their clients.
Detective Don's free consultation helps confused clients to structure their problems and enquiries, even rejecting a few prospective clients when they do not truly require a Private Investigator. Being multilingual, each case and client is carefully accessed and given professional advice efficiently. Rather than simply offering cheap inferior services, they will do their utmost to help their clients, sometimes even going beyond client budget.
Detective Don specialises in several services ranging from background investigation, child custody cases, corporate/business, fraud investigations, insurance fraud, to missing persons. Being the founder and creator of catching cheating spouses, they specialise in matrimonial/infidelity cases and surveillance services. However, do take note that due to their private and confidential policy, the company strictly accepts engagement through appointments only.
3. Adrian & McKenzie Investigators LLP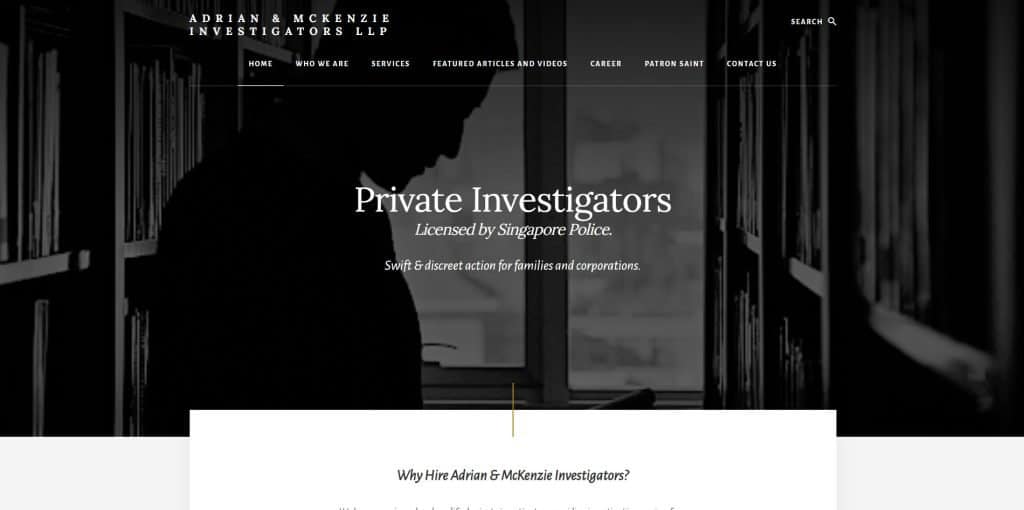 Adrian & McKenzie Investigators LLP is a private investigation agency based in Singapore and is regulated and licensed by the Singapore Police Force. It has about 10 years of investigation experience in matrimonial, relationship, fraud and commercial cases.
Its high success rate can be attributed to its experienced investigators who were SAF senior officers and police officers. These private detectives will be able to carry out their assigned tasks at the quickest time possible- safely and discreetly. The agency has carried out investigations in Singapore, Malaysia, Thailand and Indonesia and its clients were from Singapore, USA, UK, India, Philippines and China.
Apart from using innovative devices and equipment, its personnel conduct detailed and proper planning to reduce the time taken to successfully complete every case. This, in turn, will reduce the cost for its clients.
Besides the low cost, the agency prides itself on having private investigators with integrity and always ensuring that their clients' identities and situations remain confidential at all times.
The friendly team leaders welcome any enquiry 24/7 without any obligations.
4. Privateye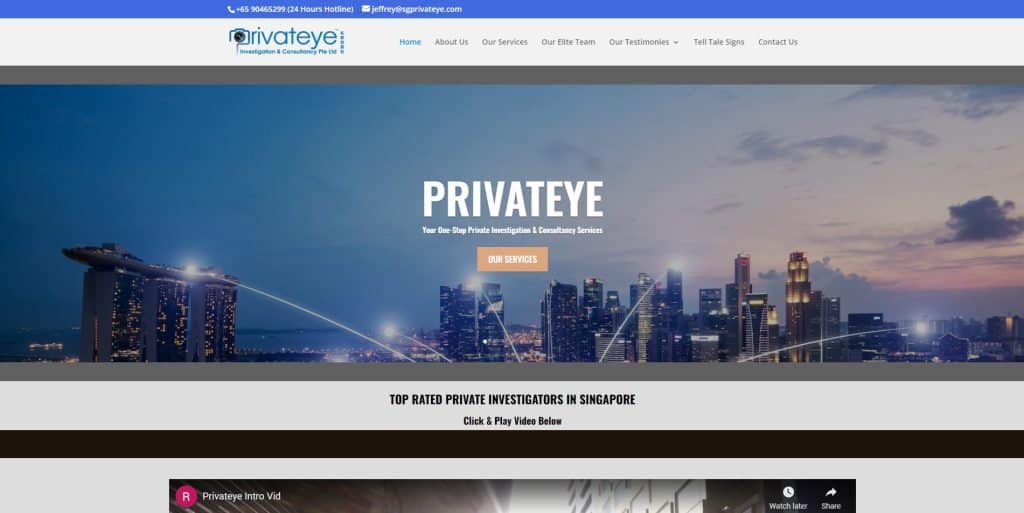 Privateye is a one-stop private investigation and consultancy services. With their combined military and police background, coupled with human behavioural and psychological analysis, they are dedicated to being strategic, professional and upholding confidential when taking up their client's cases. Being client-centric is in the core of their values.
Privateye offers a full suite of affordable private investigation services which comprises of commercial investigation, matrimonial investigation, digital forensics, key personnel background checks, workman compensation claims investigation as well as general investigation and surveillance services.
Privateye's systematic approach towards all their tasks have helped them attain numerous awards such as the Commander's Award by Commander of Police Division and Director CID Award by Director CID.
5. International Investigators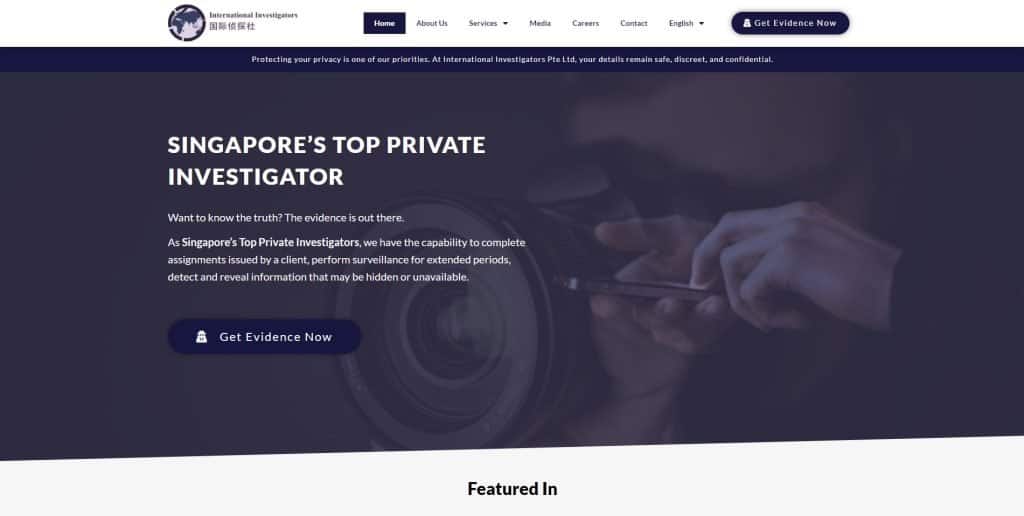 With more than 30 years experience of providing a certified and trusted service, International Investigators aim to provide clients with the evidence they need to take the next step in their professional or personal life.
International Investigators provide private investigation services which comprises of commercial cases, family/matrimonial cases and local/overseas cases. On top of that, they also provide in-house family counselling and legal counsel.
International Investigators is an exclusive partner of Singapore Legal Advice. They are also a certified member of the Council of International Investigators (USA) and the World Association of Professional Investigators. They have appeared in various media platforms such as Mediacorp and Singapore Press Holdings (SPH).
6. Baker Street Private Investigator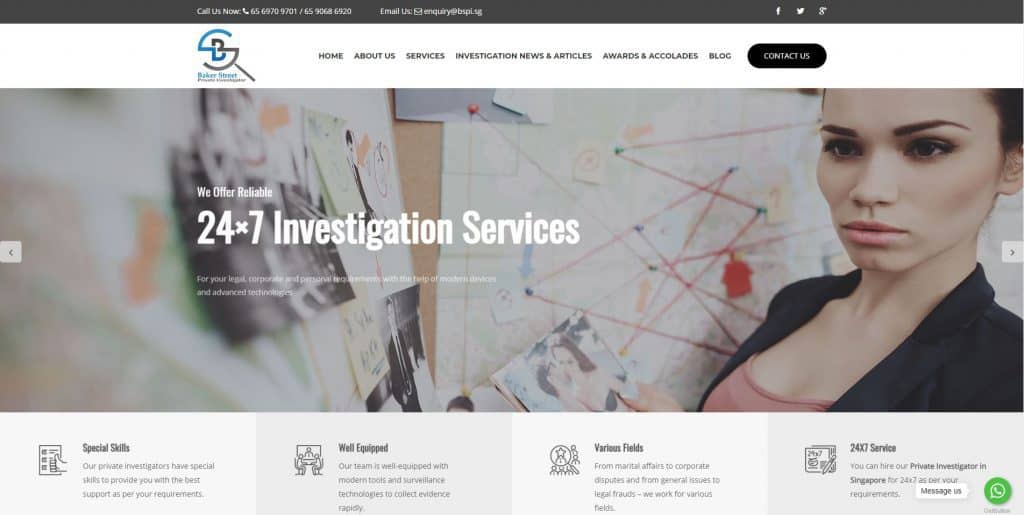 Baker Street Private Investigator, which is licensed by the Singapore Police Force, has been in the field of private investigation for several years. Their team consists of well-trained private investigators who are adept in corporate and private investigative work. In order to obtain the best results for their clients, they use modern tools and equipment and exercise detail orientation in their work.
Among the wide range of private investigation services they provide are general surveillance, legal, matrimonial and commercial investigation. With their investigation techniques being in line with the Singapore Police Force and Central Narcotics Bureau, you can be assured that all their private investigation work are kept private and confidential, known only to you and them.
7. SK Investigation Private Limited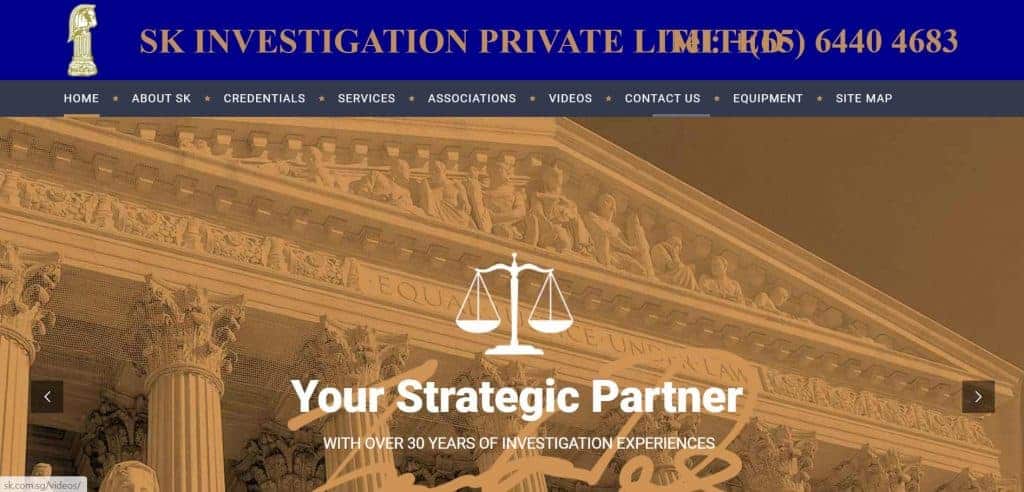 SK Investigation is the leading private investigator in Singapore with more than 30 years of experience. They have a strong network of more than 3000 professional members over 10 countries.
Equipped with specialised investigation skills and surveillance technology, SK Investigation carries out their work with careful deliberation. They provide a full range of private investigation services such as overseas assignment and overseas operation, corporate investigation and business intelligence as well as employee fraud.
Their professionalism has gained several awards and accreditations such as the Top 200 Outstanding Organisation in 2011 In South East Asia, Top 100 Successful Awarded Entrepreneur Year 2010 (Platinum Category) – Singapore as well as an accreditation presented by Head Licensing of Singapore Police Force.
8. Private Investigator Singapore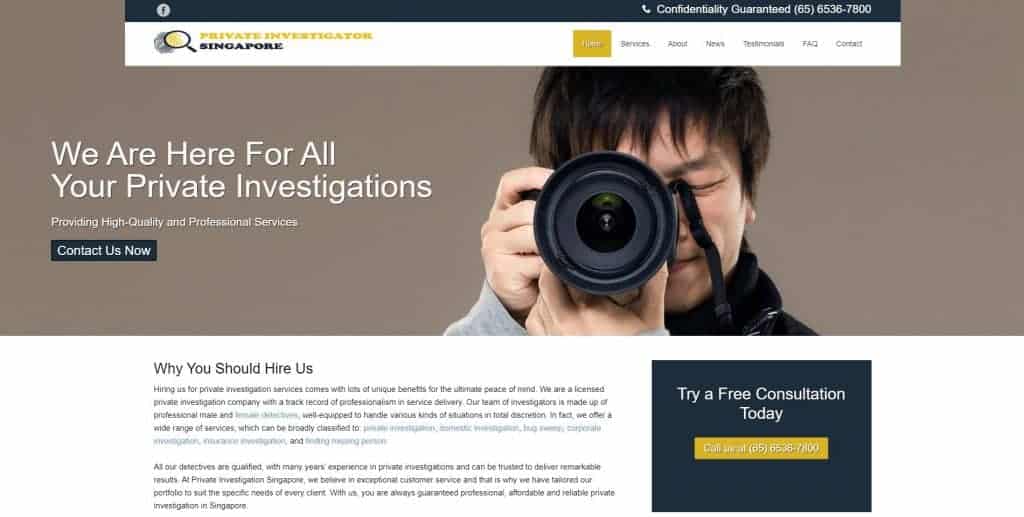 As a well-established investigation agency, Private Investigator Singapore believes in providing exceptional customer service that is professional, affordable and reliable.
Their private investigation services are tailored to suit the needs of various clients. These services comprised of private investigation, domestic investigation, insurance investigation, bug sweeps, corporation investigation and locating a missing person.
Beside that, all their detectives are qualified, with many years' experience in private investigations and can be trusted to deliver remarkable results. They will tailor their portfolio to suit the specific needs of every client. With them, you are always guaranteed professional, affordable and reliable private investigation in Singapore.
9. DP Quest Investigation Consultancy Pte Ltd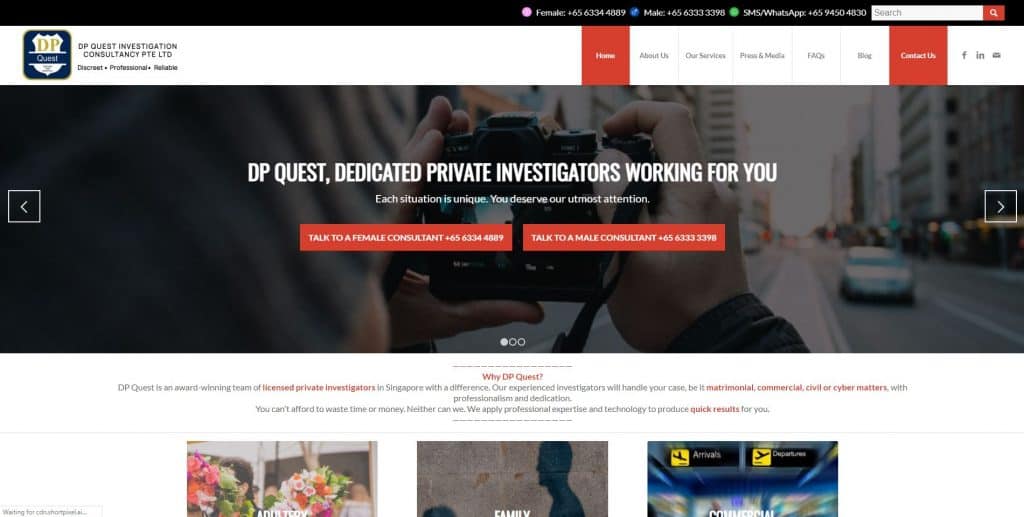 Established in 2005, DP Quest Investigation Consultancy Pte Ltd pledges to carry out their client's work with honesty, promptness, attentiveness, hard work and discreet. They consist of a team of experienced and licensed private investigators with law enforcement backgrounds and using the latest surveillance technology to carry out their investigation works.
DP Quest provides a wide range of private investigation services, consisting of adultery, family, commercial, digital forensics, technology and lawyer support.
DP Quest received Singapore's Outstanding Enterprise Award in 2011 for their commitment to service excellence. They are one of the private investigators in Singapore that has obtained the ISO 9001-2000 certification for its ability to maintain defined quality standards.
10. Kokusai Security Pte Ltd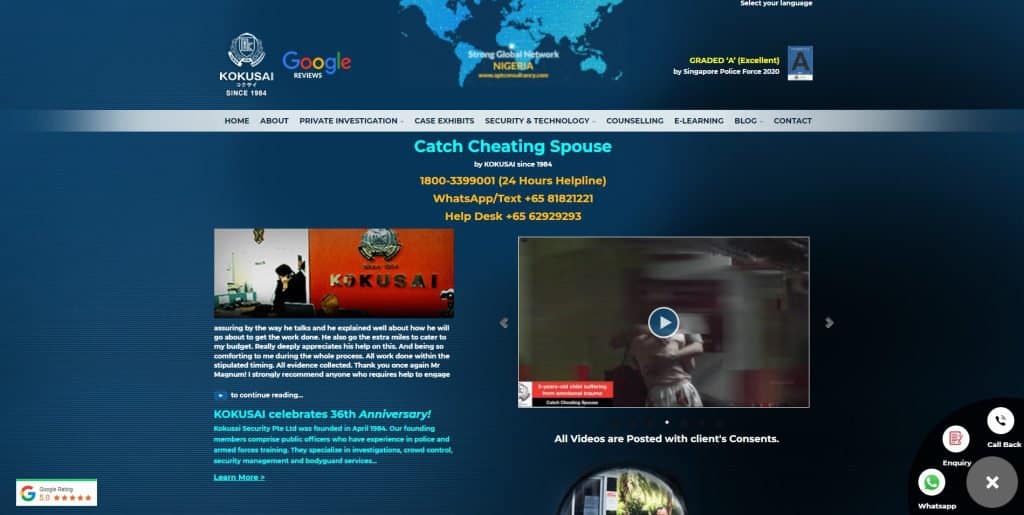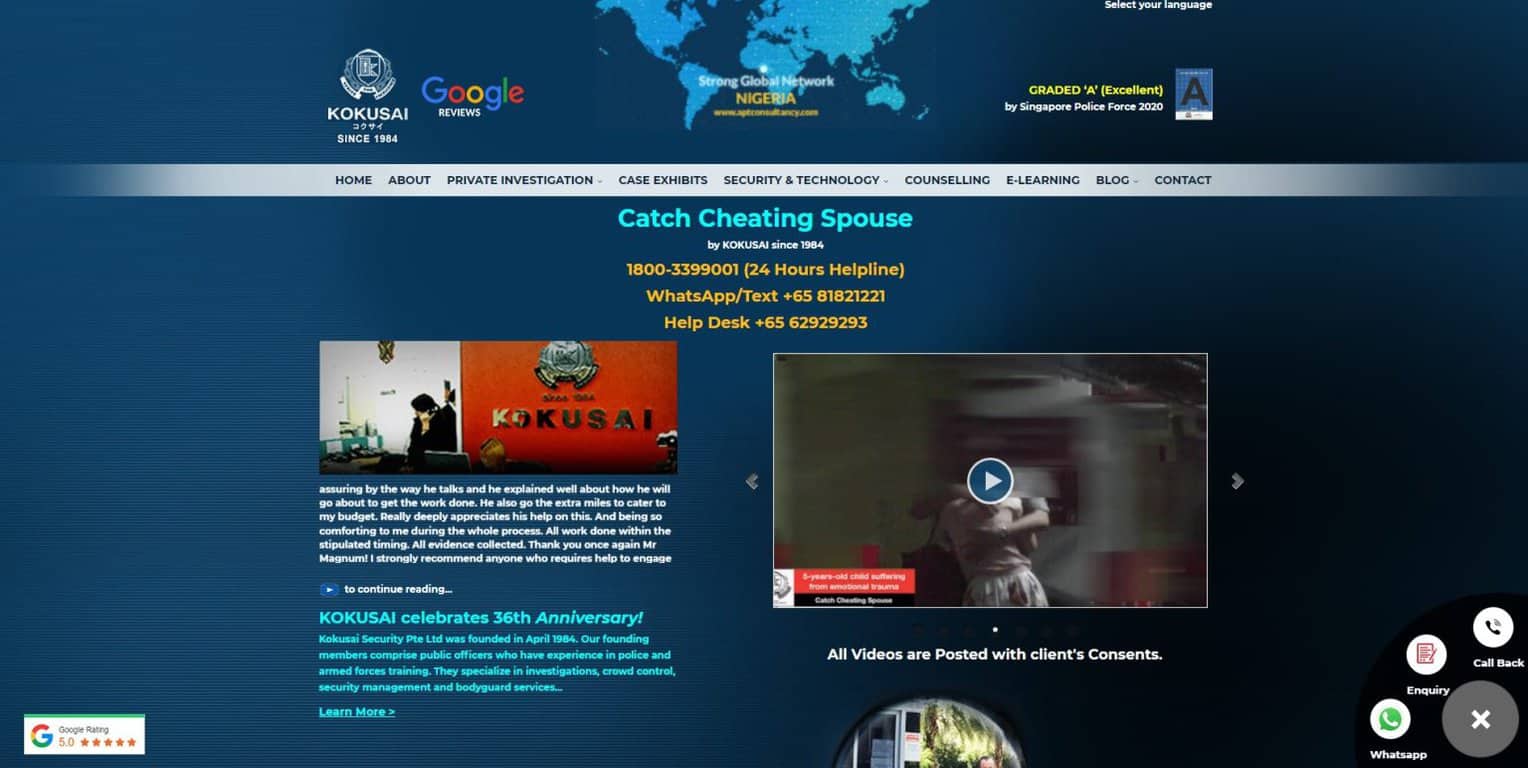 Founded in 1984, Kokusai Security started out with a group of public officers who have experience in police and armed forces training. Today, the agency is filled with the most qualified and professionally trained private investigators at your service to provide you with reliable factual information to help you make an informed decision. They have also been graded 'A' (Excellent) by the Singapore Police Force.
With over a hundred perfect reviews, clients praised them for their professionalism, responsiveness and quality of investigation done. Kokusai provides various private investigation services such as general surveillance, matrimonial matters and commercial-related cases.
Kokusai is especially experienced in handling family matters so if you are in need of a counselling session, they are readily available for you.
11. AK Global Investigation Pte Ltd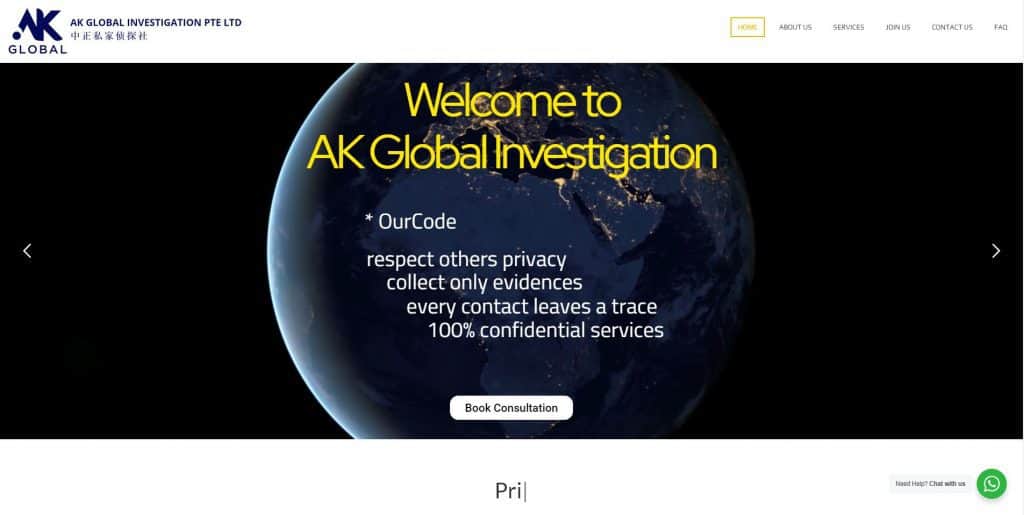 Having more than 10 years of experience in the field of private investigation, AK Global Investigation is one of the many professional private investigation agencies that consists of highly trained and experienced investigators who carry out their work with the highest code of conduct and ethics. They have been licensed by the Singapore Police Force.
A wide range of private investigation services that they provide for their clients include account forensic, employees movement, background checks and computer forensic.
AK Global Investigation is a member of the World Association of Professional Investigators and the Center for Strategic Cyberspace and International Studies (CSIS).
12. Integrity Investigation Service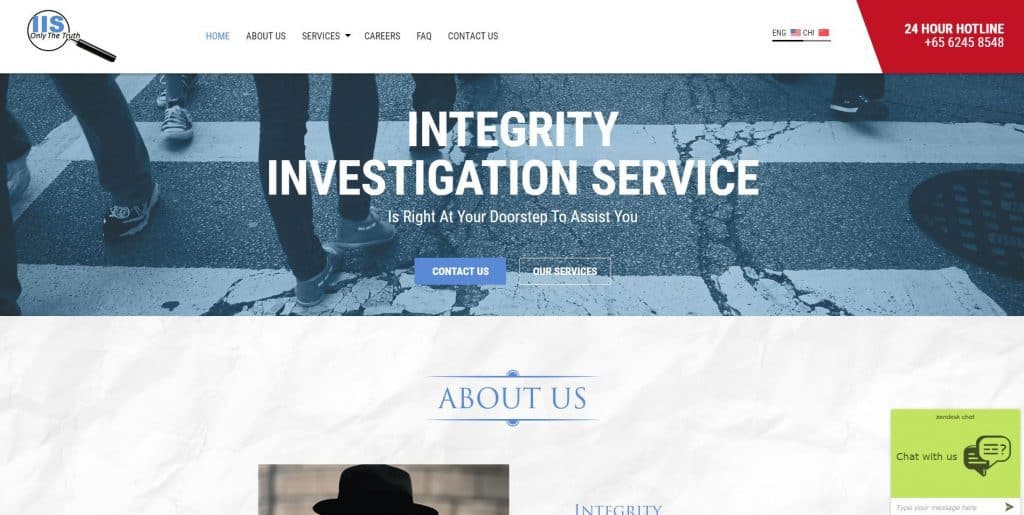 Integrity Investigation Service was founded in 2008 by a former Singapore Police Force officer who has gained extensive experience in the areas of surveillance, intelligence gathering and criminal investigation. All private investigators from this company are vetted by Police Licensing & Regulatory Department and undergo intensive training to ensure that they carry out their job professionally.
Integrity Investigation Service provides a wide range of services for their clients such as insurance and fraud investigation, employee movement monitoring, infidelity investigations and premarital background investigation.
Besides the mainstream investigation services, they also provide other types of services such as counter-surveillance and live GPS Tracking.
13. Ace Private Investigations Pte Ltd
Whether it is a background check or custody fight, you will always need the best private investigator who can help you with your case. If you are someone looking for a place where you can find a good investigator, Ace private investigations Singapore is the ideal choice for you.
Their advanced services, and top skilled professionals, are extremely good at looking into the most critical family or business situations and providing the best private investigation that Singapore can have.
14. Resilient Investigations LLP
Resilient Investigations offers private investigation services throughout Singapore. Their years of experience and the ability to find answers sets them apart from other International private detective agencies. They employ highly trained and accredited private investigators throughout Singapore and pride themselves on being discreet, professional and affordable!
Resilient Investigations have a background division that specialises in locating individuals that don't want to be found and have developed techniques over the years which enable them to take on the most complex and difficult cases.
From corporate cases to partner infidelity, Resilient Investigation's handles it all. Be it catching a cheating partner, or if needing to conduct corporate surveillance on behalf of an organisation, they have you covered!
15. CDiC Consultants LLP
As a licensed and authorised detective agency and investigation company, CDiC Consultants LLP adheres to a strict code of conduct that ensures the confidentiality and protection of all your privileged information, and their team only deploy resources equipped with the prerequisite credentials to successfully undertake your project.
The investigation company offers services that cover human resources, product proprietary information, family matters, and all aspects of business transactions and operations.
CDiC Consultants LLP is committed to providing clients and partners with the best service in the industry. That's why they maintain a consistently high level of professionalism through constant training, learning and upgrading of skills.
16. Acestes Pte Ltd
Acestes Pte Ltd was founded in 2014 with the business mission of building a safer and better world through their security and investigation services and solutions.
Introducing their Private Investigation sevices! Their investigation licence from PLRD (Police Licensing Regulatory Department) and their expertise enabled them to investigate dubious cases and achieve breakthrough results.
On top of that, they are also equipped with the latest technology and gadgets to look into special investigation cases and even conduct surveillance.
17. Armour Security & Investigations Pte. Ltd.
Armour Security & Investigations Pte Ltd is an established security company providing security services to the Entertainment/Corporate and Private Investigation industries.
Their elite team of private investigators are of high integrity and discipline who have a keen eye, excellent observation skills, and an analytical mind. They undergo intensive in-house and on-the-job training to ensure that all investigations are conducted professionally.
Besides that, they utilise the latest surveillance equipment available to provide clients with quality evidence. They work towards the objectives and within the guidelines set by their clients and acquire all information required.
18. PI Authority Force
"Our team hired PI Authority Force to investigate for depth background checks on several occasions at work. They provided us with the exact information needed in a fast, affordable and effective manner. I was very amazed by the information they can retrieve. Thank you guys for your fantastic work!"
– Michelle Muliana
PI Authority Force specialises in private investigative work including Infidelity, office, missing-persons, mystery shopping and many more.
Reviews credited their professionalism and trustworthiness. With their help, clients were able to get the necessary information swiftly and affordably. Feel free to contact them via Facebook and you might just find the help you need!
19. RANGER Investigation & Security Services
Ranger Investigation & Security Services has been providing our clients with specialised services in security and investigation in Singapore since 1986.
From Commercial Investigation, Litigation Support to Individual/Domestic Investigation and Matrimonial Investigation, Ranger is here to help provide the best professional private investigations for you.
Let's discuss Matrimonial, a term that I've not heard of. Matrimonial refers to issues relating to marriage or married people and it's emotionally distressing and personally devastating to be caught in a matrimonial conflict or affair.
Understanding that in such an emotionally charged situation, you will need someone who comes in good faith to find out if your fears of an unfaithful spouse is true, Ranger is here to aid you. Their affair investigation will find you the necessary information in order to rationally to the conflict.
20. Pedro Investigations & Security Services Pte. Ltd.
Pedro Investigations and Security Services Pte Ltd is an established company, managed by a group of retired police officers from the Criminal Investigation Department (CID).
Their Company is licensed by the CID and has been in the security and private investigation business since 1994. With the purpose of providing professional security and private investigation services that should not only meet up, but also surpass the expectations of their clients, Pedro is here to satisfy your every need.
If your organisation is seeking a company that efficiently meets its security needs or if you require private investigation services handled with professionalism and competence, look no further. Whatever your requirements are, from general security to criminal investigation services, rest assured that you can rely on them to do the job.
Conclusion
Do you have any reviews and comments to share regarding our choices for the best private investigator in Singapore?
While SBO is committed to supporting our local businesses, we welcome any feedback and anonymous sharing regarding your experience with the listed private investigator in Singapore.
We hope that this guide will be useful in helping you to make an informed decision when it comes to finding the best private investigator in Singapore.
Explore More Content
Are you featured in this?
Display this exclusive SBO badge proudly on your website and get more sales!