10 Best Family Lawyer in Singapore to Resolve Your Family Disputes [2023]
Blood is thicker than water.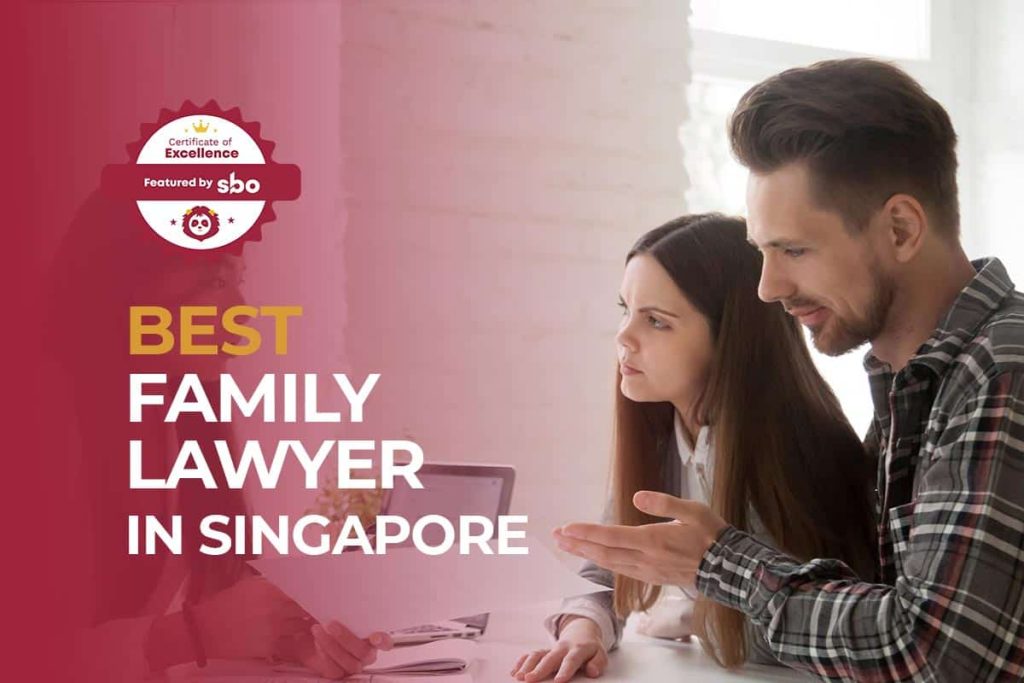 According to The Straits Times, senior family lawyers reviewing their 2020 caseloads saw a jump in divorce applications, maintenance payment issues and personal protection cases against the backdrop of the Covid-19 pandemic year.
Other major family law concerns included access to children, and cross-border-related issues that arose from domestic and international Covid-19 restrictions.
Looking for a family lawyer in Singapore? In this post, we've gathered all the necessary details to compile a list of the 10 best family lawyer in Singapore.
1. PKNG Law Firm
PKNG Law Firm is headed by senior lawyer Ms Ng Pui Khim, who possesses more than 20 years of private practice experience focusing on divorces (family and matrimonial law), real estate (conveyancing practice), wills and succession law.
As a veteran family lawyer in Singapore, she has represented clients in matrimonial matters like divorce, child custody, maintenance and division of matrimonial assets in proceedings carried out at the Family Court, High Court and the Court of Appeal.
She frequents the mediation chambers at the Child-Focused Resolution Centre.
She is also well-versed in contentious as well as non-contentious divorce suits.
She completed the Parenting Coordination Training Programme by the Family Justice Courts in February 2016.
This training course helps practitioners learn about the child-focused alternative dispute resolution process, which will soon be introduced into Singapore's family justice system.
She has also been invited to conversations at the Family Court to give feedback on issues relating to family law.
2. Tembusu Law
Tembusu Law is a contemporary family law firm in Singapore with a strong commitment to help people and a calling to serve a higher purpose – to bring greater access to answers, fairness and justice through judicious legal advice.
The law firm in Singapore is headed by Managing Director Jonathan Wong, the Founder and Managing Director of Tembusu Law.
He is also the founder of LawGuide Singapore, an up-and-rising legal tech startup that successfully developed and launched Singapore's pioneering legal chatbot back in 2017.
The family lawyer in Singapore adopts technology-enabled productivity tools that allow them to work quickly and efficiently, and to develop innovative ways to deliver legal solutions and advice more productively and add real value for their clients in Singapore.
These technologies include Xero, LawSwitch and Dropbox.
3. GJC Law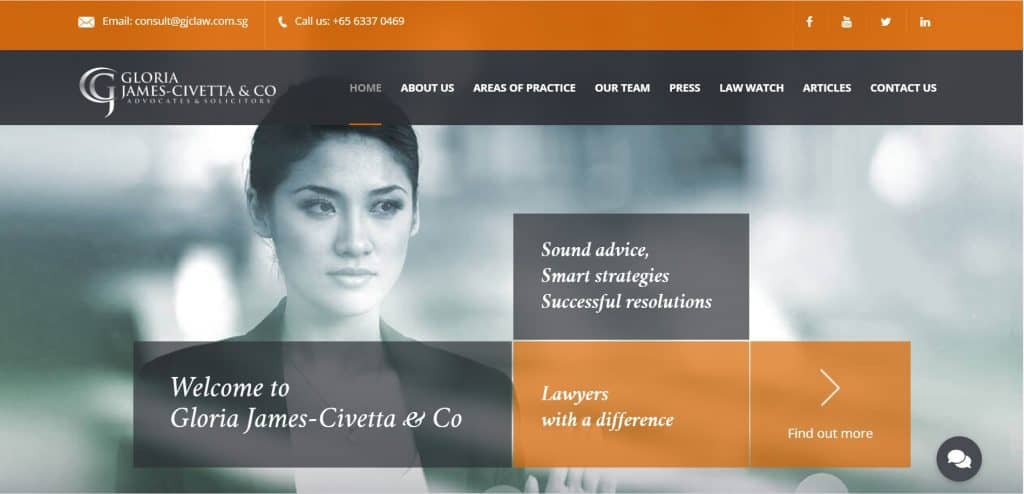 Gloria James-Civetta & Co is a law firm based in Singapore.
Their team of lawyers is helmed by Gloria James-Civetta, who has 20 years of legal experience.
She is an advocate & solicitor, a barrister, a mediator and a collaborative practice lawyer.
Over the course of her enduring legal career, the family lawyer in Singapore has amassed considerable experience and knowledge in various areas of the law relating to Family Law, Criminal Law, Civil, Corporate as well as Commercial Law.
When you reach out to their matrimonial law team, their team of 12 divorce specialists will provide you with a consultation customised to your specific circumstances.
Their first consultation is both complimentary and non-obligatory.
4. Yeo & Associates LLC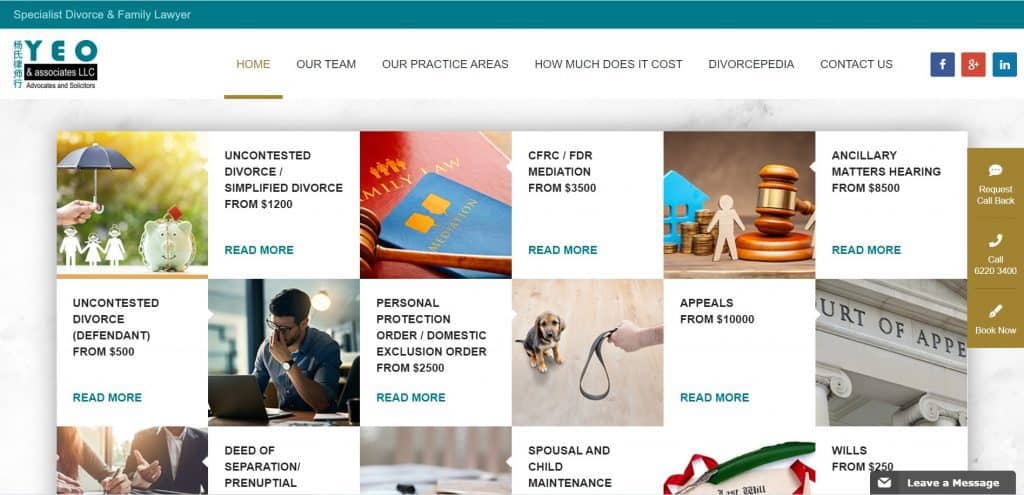 Ranked the Best Full-Service Family Law Firm – Singapore at the Acquisition International 2016 M&A Awards, the family lawyer in Singapore is headed by Beatrice Yeo.
She is an experienced lawyer of two decades, and was named as one of the lawyers in Asian Legal Business 2018's highly coveted "40 Under 40" list.
The list highlights 40 outstanding lawyers in the region under the age of 40.
Selection criteria include their involvement in notable cases and laurels from peers, superiors and clients.
Ms Yeo was the sole Family Law practitioner to have been featured, effectively making her one of the leading family lawyers regionally.
The fixed fees of the family lawyer in Singapore for each stage of agreed legal work are reasonably priced and are competitive vis-a-vis other firms.
For example, you can get an uncontested divorce package for a fixed fee that starts from S$1200.
5. PKWA Law Practice LLC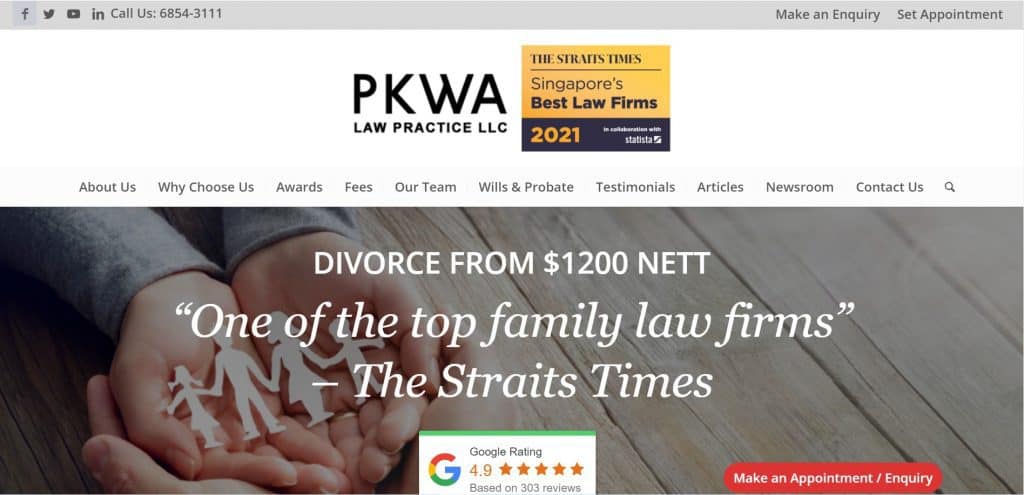 Looking for an award-winning family lawyer in Singapore?
PKWA Law was recently ranked as one of "Singapore's Best Law Firms" in the niche field of family law by The Straits Times.
Their team of lawyers, led by Ms Sheila Cheng, have also been named as leading Singapore family lawyers by publications such as Benchmark Litigation, Asian Legal Business, Singapore Business Review and Doyle's Guide.
Their fees for an uncontested divorce are transparent and are as follows:
$1200 Nett – No Children, No Property & No Maintenance
$1900 Nett – With Children, Property & Maintenance
$2900 Nett – No Negotiation
Lately, they helped a client to win a complex Court of Appeal divorce case, with the ex-husband winning 75% of S$13.6 million in matrimonial assets, a jump from 25%.
This swing in percentage is debatably one of the highest in recent divorce cases.
6. Lam & Co.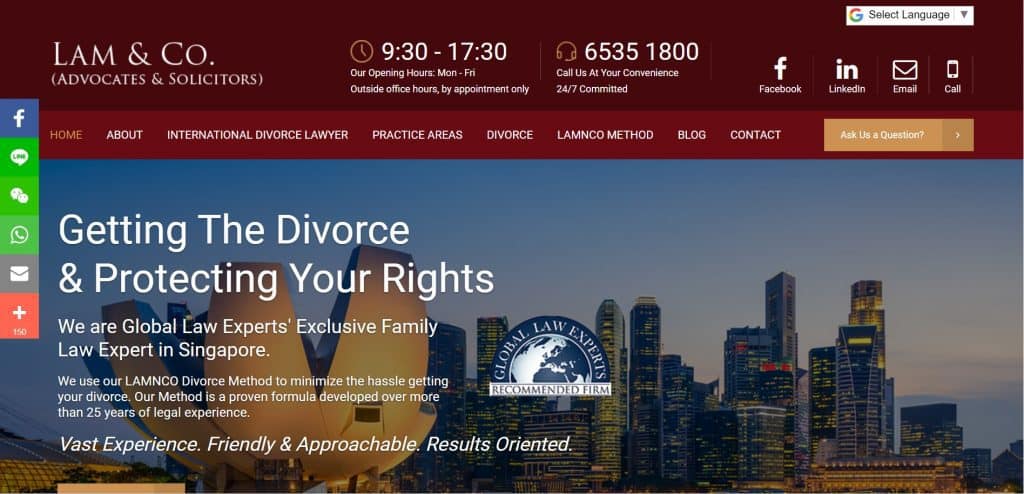 LAM & Co. is a leading family lawyer in Singapore, with a focus on both contested and uncontested divorces.
Led by Mr Philip Lam, they advise their clients using their tried and tested LAMNCO Method to help them achieve fuss-free divorces.
Their LAMNCO Method comprises the following step-by-step approach:
Listen – They genuinely want to hear about the issues you face.
Appreciate – They will empathise with your circumstances.
Maximise – They will maximise the strengths of your case.
Nullify – They will nullify the weaknesses in your case.
Collect – They will collect the necessary evidence.
Outperform – They will outperform their opponents.
Their reliable LAMNCO Method is testament to their many years of experience in the industry.
It equips them with the knowledge and skills to help guide the client away from pitfalls and errors and steer their case towards success and victory.
7. Godwin Campos LLC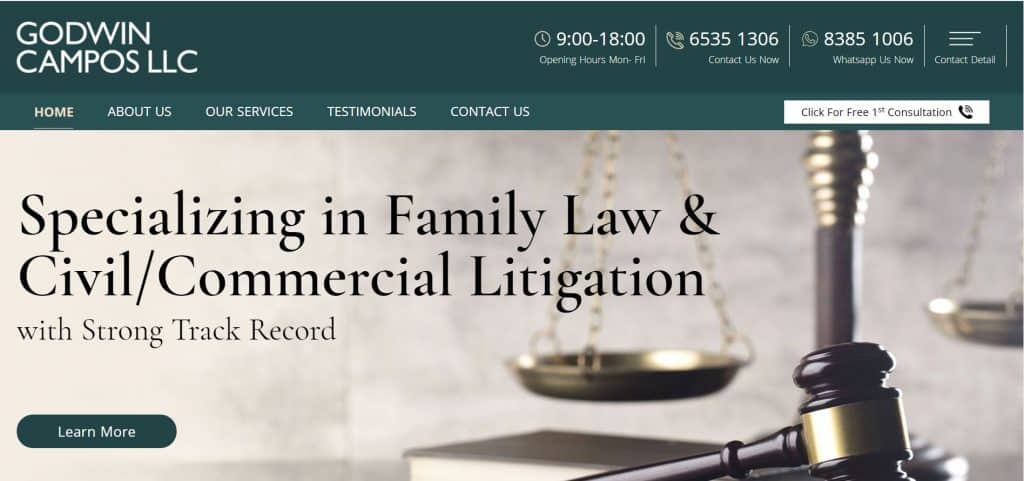 With their expertise in family law and with stellar track record of more than 2000 happy clients since the firm was set up in 2003, Godwin Campos LLC has distinguished itself from other law firms and is a top family lawyer in Singapore.
The family lawyer in Singapore has clinched many awards and is recognised as one of the best family law firms.
It was the Corporate INTL Award Winner 2020, Global Law Express 2019, Global Law Express 2018, and the Legal 100 Asia 2018 Winner.
The family lawyer in Singapore is headed by Mr Godwin Campos, who has been in practice for over 30 years and is known as a leading family law practitioner in the legal circle.
Your first consultation with the family lawyer in Singapore is also free!
8. Advance Law LLC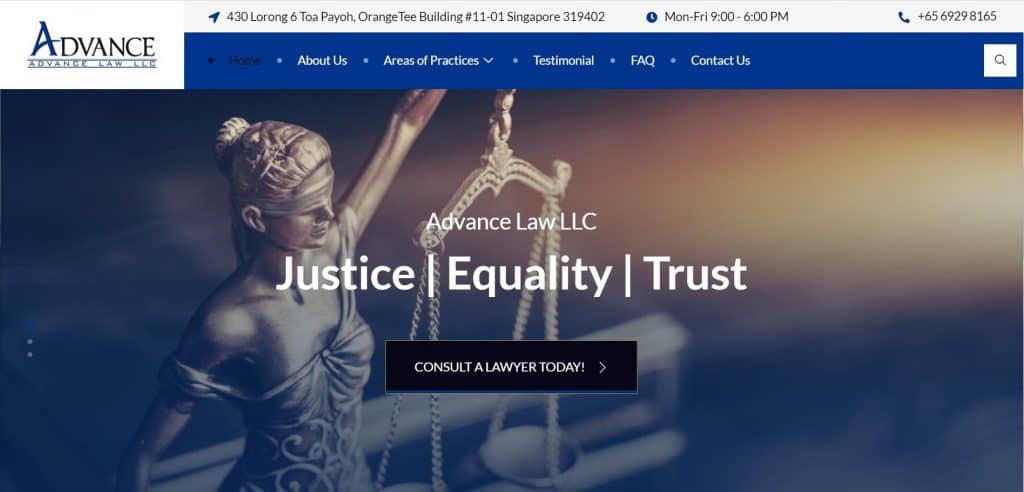 Incorporated in 2013, Advance Law LLC specialises in various areas of practice such as Conveyancing, Personal Injury, Family, Probate, Criminal and Estate Planning etc.
Since then, they have grown to a team of more than 50 staff.
They are conveniently located in the heartlands of Singapore and offer legal services at reasonable prices.
Led by Mr Danny Teo, the family lawyer in Singapore can assist their clients to apply for a Personal Protection Order, an Order issued by the Court in Singapore in order to protect a family member who is a victim of domestic abuse or violence.
If your spouse breaches the order, you can report the matter to the Police.
If there is adequate evidence of your spouse committing the restricting acts stated in the Personal Protection Order, your spouse can be prosecuted under Singapore law.
9. Populus Law Corporation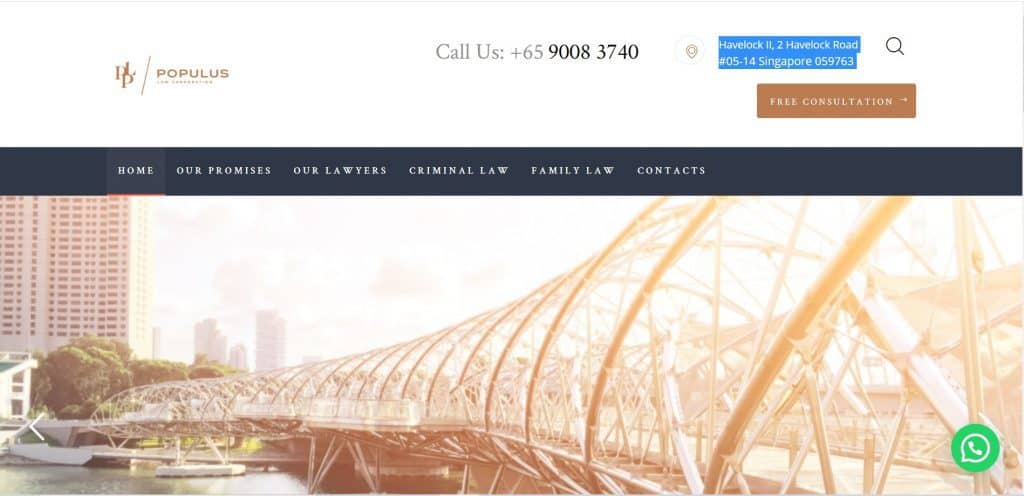 Populus Law Corporation provides effective legal solutions at affordable costs.
They specialise in all aspects of community law, including family law.
The family lawyer in Singapore is helmed by veteran lawyers Mr Javern Sim and Mr John Koh.
They understand that coming to a lawyer's office can be very nerve-racking (especially for those who have never engaged the services of lawyers before).
Their clients will be offered a nett fixed-price package, instead of being charged on an per-hour basis.
There are no hidden costs in any of their fixed-price packages.
All of their clients are able to communicate directly with their lawyers via instant messaging applications.
You will have access to their lawyers at any time of the day.
You will not converse with a secretary or a paralegal, but the lawyer himself!
10. Lions Chambers LLC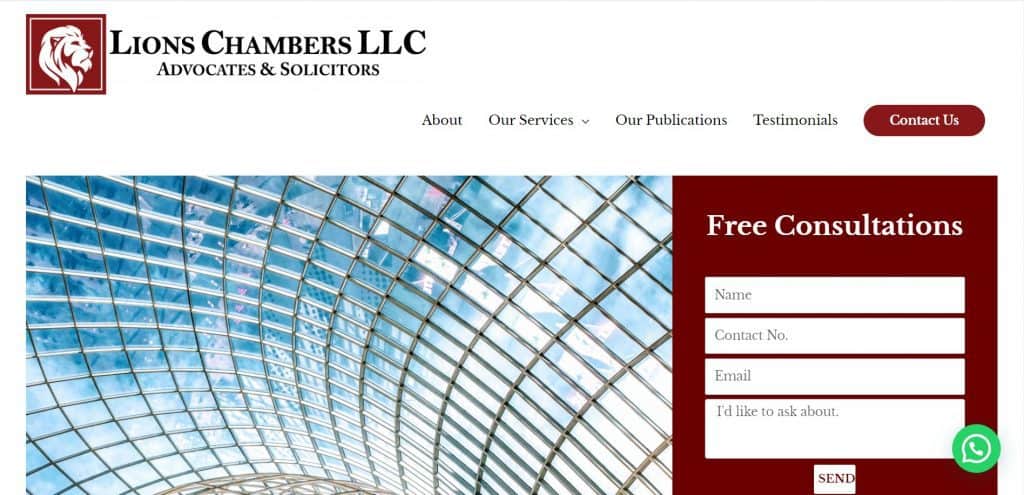 Lions Chambers LLC is a Singapore-based boutique law firm that specialises in crafting precise legal solutions for individual and corporate needs.
The family lawyer in Singapore acknowledges that no two issues are the same, and prides itself on helping clients resolve issues in a speedy and convenient manner.
The family law firm in Singapore is founded by Viveganandam Devaraj, who graduated with a degree in Law from the University of Birmingham and a degree in Business Management from Coventry University.
He was a trainee under Mr Mohamed Baiross at I.R.B. Law LLP before establishing Lions Chambers LLC.
Our advice is to go to the family lawyer in Singapore to handle your divorce cases.
According to their website, an Uncontested Divorce typically costs between S$2,000.00 to S$5,000.00.
The cost varies due to the complexity in the matter.
A Contested Divorce typically costs between S$6,000.00 and upwards in Singapore.
Conclusion
Do you have any reviews and comments to share regarding our choices for the best family lawyer in Singapore?
While SBO is committed to supporting our local businesses, we welcome any feedback and anonymous sharing regarding your experience with the listed family lawyer in Singapore.
We hope that this guide will be useful in helping you to make an informed decision when it comes to finding the best family lawyer in Singapore.
Explore More Content