13 Best Divorce Lawyers in Singapore to Relieve Your Stress [2021]
Find the best divorce lawyers in Singapore to make your divorce proceedings stress-free.
Family & Relationship
Our team at SBO.sg is committed to being a one-stop avenue to connect local businesses and consumers. We hope that our research efforts can help you save time and money by finding you the best deals without having to search around the vast world-wide-web.
Divorce can be an emotionally distraught issue for all involved. On top of the emotional fall-out, there are other considerations, such as child custody and the splitting of matrimonial assets, that may bring about more distress.
Divorces are, however, becoming increasingly common in Singapore. According to SingStat, a staggering total of 7,623 marriages ended in divorce in 2019, an increase of 3.8 per cent from 7,344 in the previous year.
Looking for a good divorce lawyer to help you with marriage annulment? In this article, we have gathered a list of the 13 best divorce lawyers in Singapore who can help make your divorce proceedings fuss-free.
1. PKNG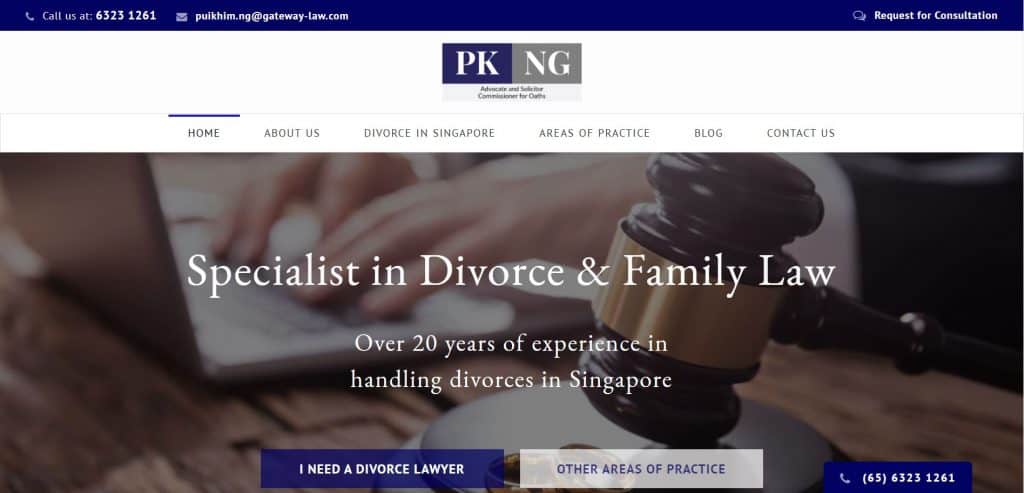 Headed by Ms Ng Pui Khim, a senior divorce lawyer in Singapore who has over 20 years of experience, PKNG Law Firm handle divorce cases, division of matrimonial homes and assets, child custody disputes, maintenance for spouse and children.
Unlike in other law firms where the divorce case may be handled by newly called lawyers, Ms Ng herself handles every single case personally.
Not only is Ms Ng an Accredited Associate and Family Mediator under the Singapore Mediation Centre, but she is also an Associate Mediator, Panel of Mediators, under the Singapore Law Society's Mediation Scheme.
The firm also offers a comprehensive suite of divorce services that include family meditation, variation of existing maintenance orders, and claims for custody, care and control of children upon marriage annulment.
2. PKWA Law Practice LLC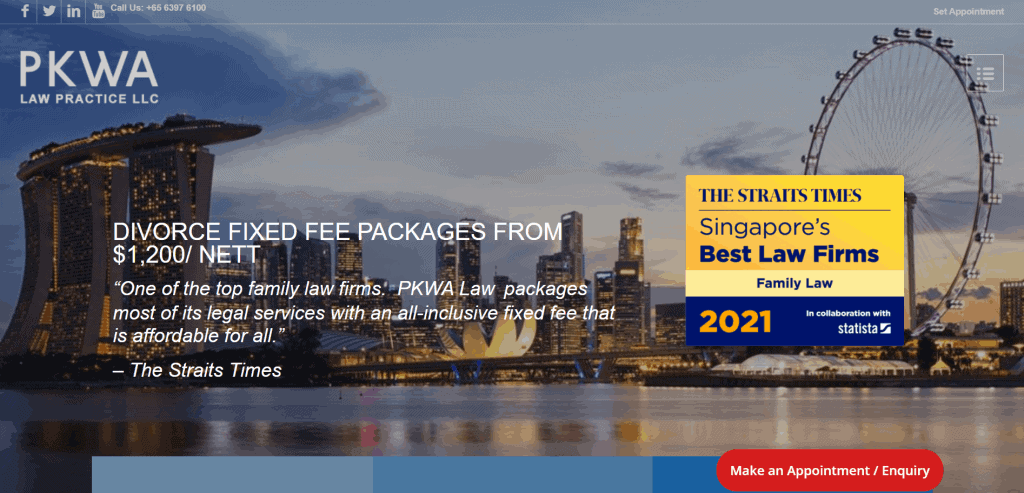 Headed by Mr Lim Chong Boon, Head of the Family Law and General Practice Litigation Practice at PKWA Law, the law firm's family law practice has become one of the most established in Singapore.
PKWA's divorce lawyers offer top-quality legal services at an affordable cost. Their fees for an uncontested divorce are fixed, transparent and simple: you pay just S$1200 or S$2200 in all – with no hidden extra fees.
Besides being recently acknowledged by The Straits Times as one of Singapore's top family law firms in "Singapore's Best Law Firms 2021", PKWA Law is also consistently ranked as a leading divorce and family law firm by respected publications like Asian Legal Business and Doyles Guide.
Recently, PKWA even managed to help a client win a complex Court of Appeal divorce case. The husband won 75% of S$13.6 million in matrimonial assets, up from 25%. This record swing in percentage was one of the highest ever in family law appeal cases in Singapore.
3. Yeo & Associates LLC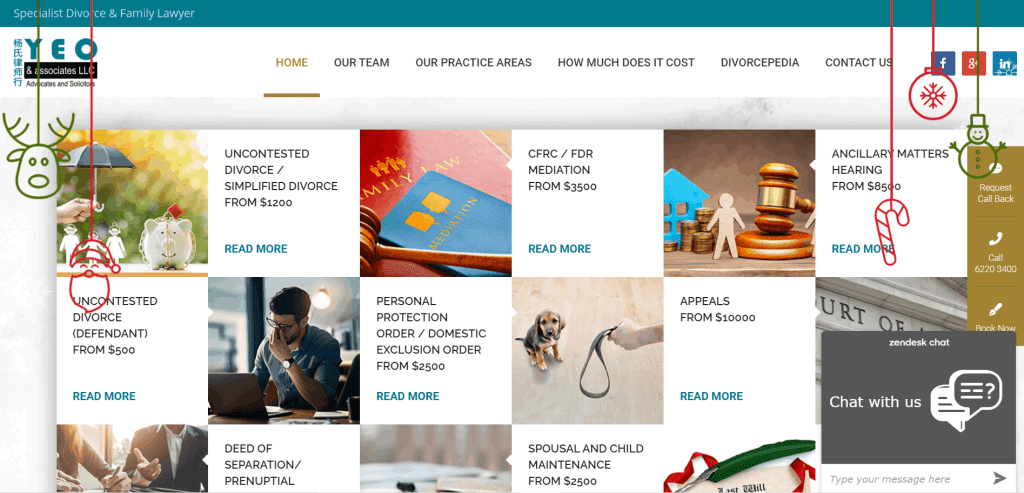 Ms Beatrice Yeo Poh Tiang, a highly experienced specialist Family Lawyer of almost two decades, founded Yeo & Associates LLC. Since its establishment a decade ago, the firm has grown from a one-lawyer firm to an award-winning family law firm consisting of ten specialist lawyers practising exclusively in family law.
Yeo & Associates LLC's family and divorce legal services distinguish themselves by offering you a peace of mind from start to end.
The law firm also provides a free initial consultation. Their specialist divorce lawyers will conduct a comprehensive consultation on procedures, costs, and all the available legal and practical options to help you understand your legal position.
4. GJC Law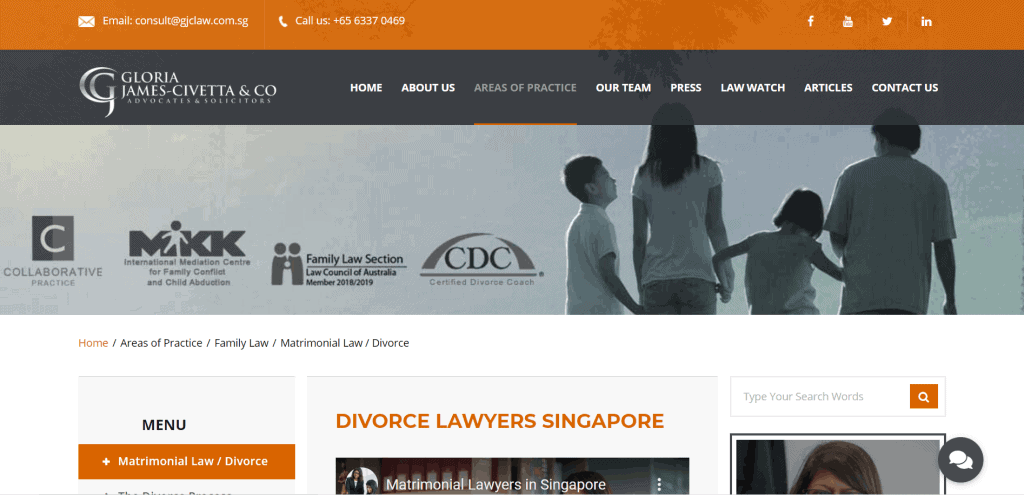 Founded by the experienced Head Lawyer Ms Glora James-Civetta, the law firm has a team of nine divorce lawyers. They are equipped with the necessary experience, resources and manpower to handle even the most complex divorce cases.
Priding itself in providing a personalised approach to every divorce case, GJC understands that a divorce procedure needs to be handled carefully and with sensitivity. As such, upon reaching out to them, they will provide you with a consultation, tailored to your specific circumstances and goals in mind.
Their aim is to help minimise the impact of divorce on you and your family members, and make the process of divorce as stress-free as possible.
As well as being experienced litigators, all of GJC's family lawyers are trained by the Singapore Mediation Centre for dispute resolution.
5. I.R.B. Law LLP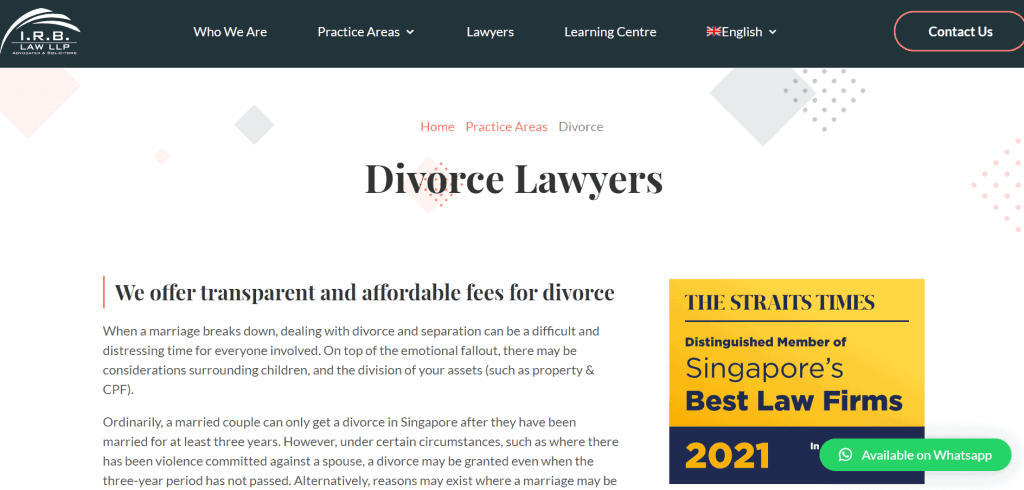 Priding itself in offering transparent and affordable fees for divorce, I.R.B. Law LLP was founded with a vision to build a law firm that delivers top-notch and affordable legal services to everyone. The firm is headed by Mr Mohamed Baiross, who is one of the founders and Managing Partner.
The firm's matrimonial practice has dedicated lawyers who regularly undertake both contested and uncontested ancillaries such as divorce, adoption matters, pre-nuptial agreements, division of matrimonial assets and care and control of children.
I.R.B also boasts Singapore's largest Syariah law practice, advising and representing clients in all aspects of Syariah law, such as divorce.
I.R.B. has been recognised as a Distinguished Member of "Singapore's Best Law Firms 2021", in the first survey of local law firms by The Straits Times.
6. Harry Elias Partnership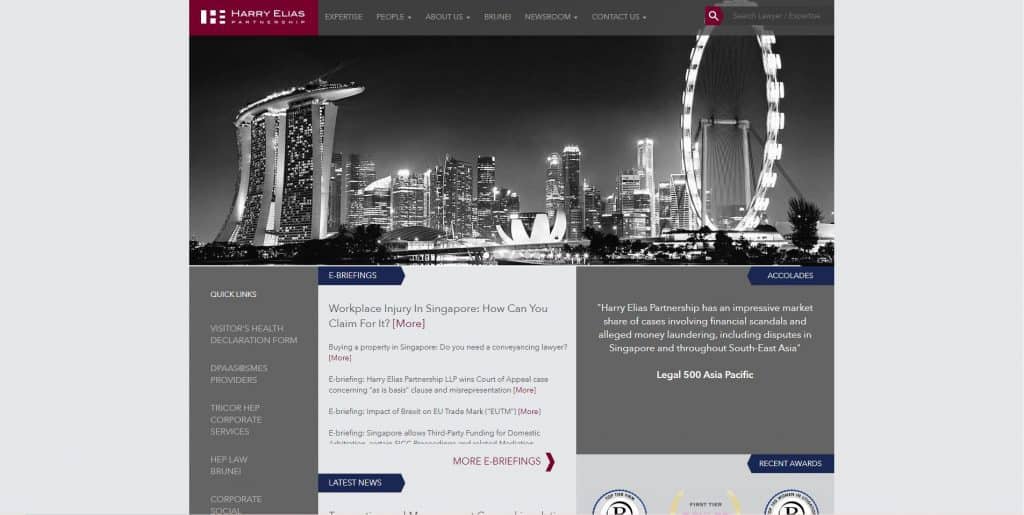 Harry Elias Partnership is considered the largest family and divorce practice. This is in terms of the number of lawyers in the firm as well as the number of cases handled by the Family Justice Courts of Singapore.
Their team of specialised and dedicated divorce lawyers possessed the necessary experience in advising and managing divorce cases, custody disputes complex asset tracing, division of matrimonial assets and maintenance issues as well as Syariah divorces.
Their expertise has received recognition with the attainment of several awards such as being ranked as the only Tier 1 Firm in Family and Matrimonial in the Benchmark Litigation Asia Pacific 2019, 2020 and 2021 as well as The Straits Times' Singapore's Best Law Firms in 2021.
7. Populus Law Corporation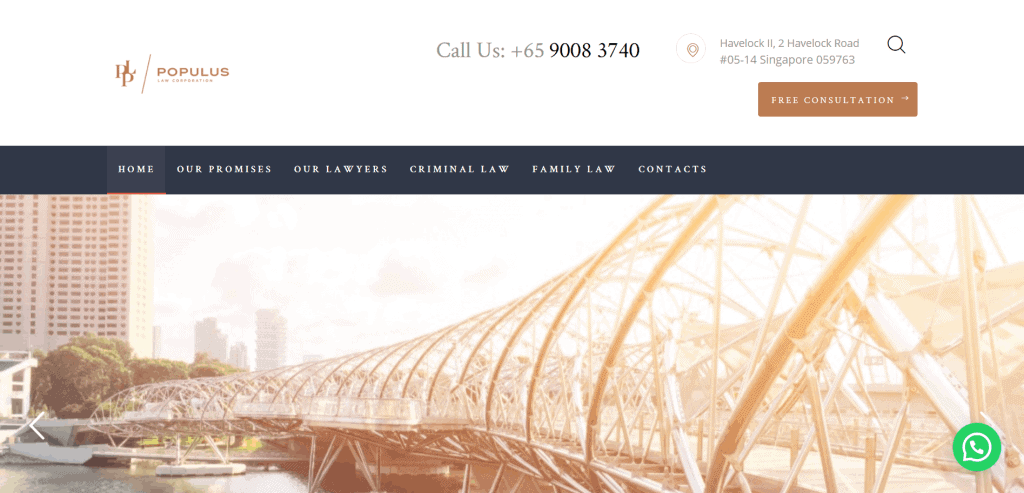 Headed by Attorneys Mr Javern Sim and Mr John Koh, Populus Law Corporation differentiates itself from its competitors by offering prompt services. All clients are able to speak directly to their lawyers via instant messaging services.
For clients engaging them for uncontested divorce and annulment proceedings, the firm undertakes to send the draft papers to you within 60 minutes of engagement.
The family law team has experience working on thousands of family cases, ranging from mediations to relocation and injunction applications.
8. Tan, Lee & Choo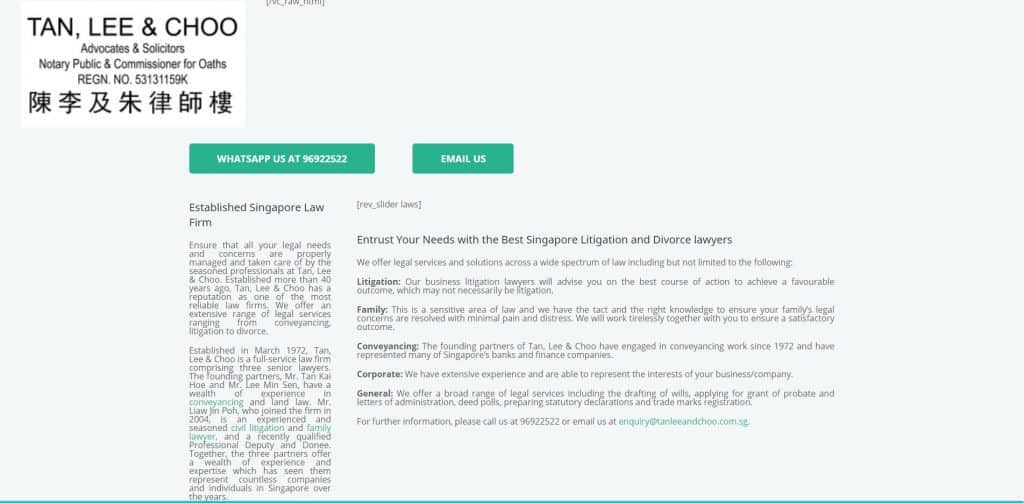 Founded by experienced lawyers Mr Tan Kai Hoe and Mr Lee Min Sen in 1972, Tan, Lee & Choo is full-service law firm in Singapore that dedicates itself to serve their clients with experience and integrity.
The law firm has the required expertise to handle both simplified and contested divorce cases. They can also handle ancillary matters which involve the division of matrimonial assets, maintenance for children and wife as well custody, care and control of children.
9. Tembusu Law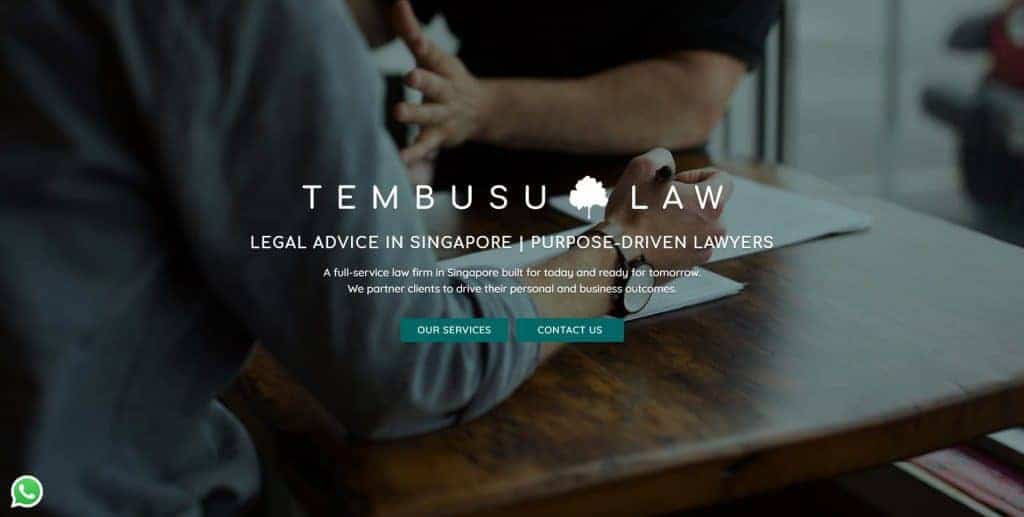 Tembusu Law is a law firm that is dedicated to help people and to help bring greater access to help, answers, fairness and justice.
In the aspect of family law, Tembusu Law is experienced and skilled in handling the complexities and intricacies present in it. These include all stages of contested and uncontested divorce cases.
10. Dhillon & Panoo LLC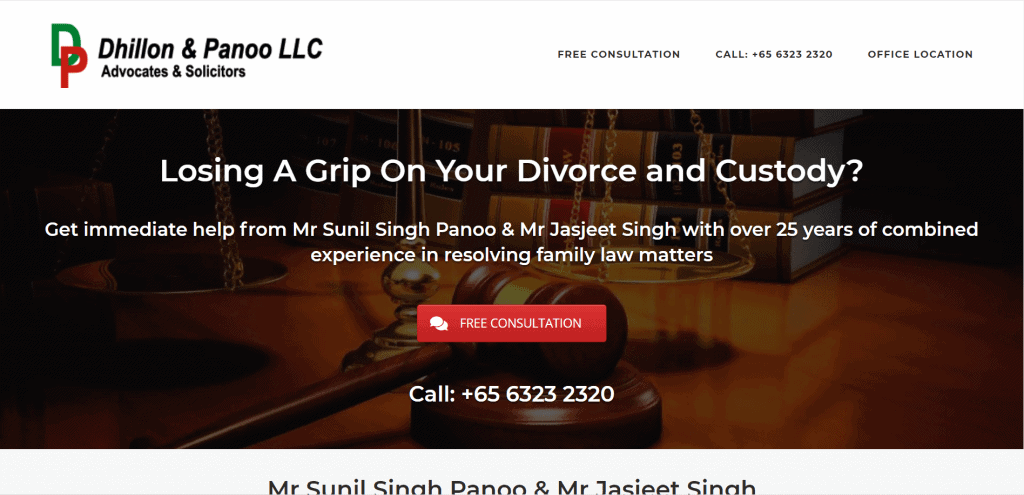 Possessing over 40 years of combined experience in the legal field, Dhillon & Panoo LLC is able to resolve family issues with great sensitivity.
The law firm aims to provide clients with efficient legal advice so as to minimise the emotional harm wrought on minors involved. These could include urgent maintenance orders, to child custody issues or protection orders from a spouse.
In particular, Mr Sunil Singh Panoo, a Founding Partner of the law firm, is a highly sought after divorce lawyer locally for his proficient and professional management of matrimonial issues under Singapore's family law.
Notably, their experience is not restricted to Singaporeans alone. They have also handled expatriate divorce cases, including where conflict of jurisdiction becomes an issue.
11. Lie Chin Chin Family Practice Team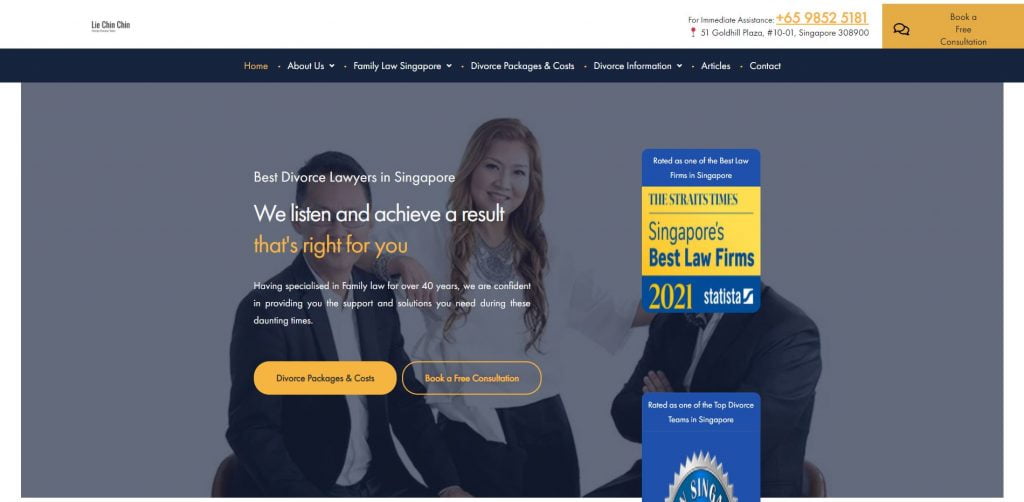 Practicing family and divorce law for over 25 years, Ms Lie Chin Chin decided to set up her own law firm specialising in family law. Lie Chin Chin Family Practice Team's vibrant team of Singapore divorce lawyers combine rich expertise with competence, care and empathy to meet your needs.
Acknowledging that every case has its own set of challenges and circumstances, the law firm promises to find a lawyer who is not only the right fit for you but who will also actively listen and communicate clearly.
The firm is also notable in maintaining a strong practice in other areas of family law, such as obtaining and enforcing spousal or child maintenance orders, care and control, as well as handling child custody issues.
12. Rajan Chettiar LLC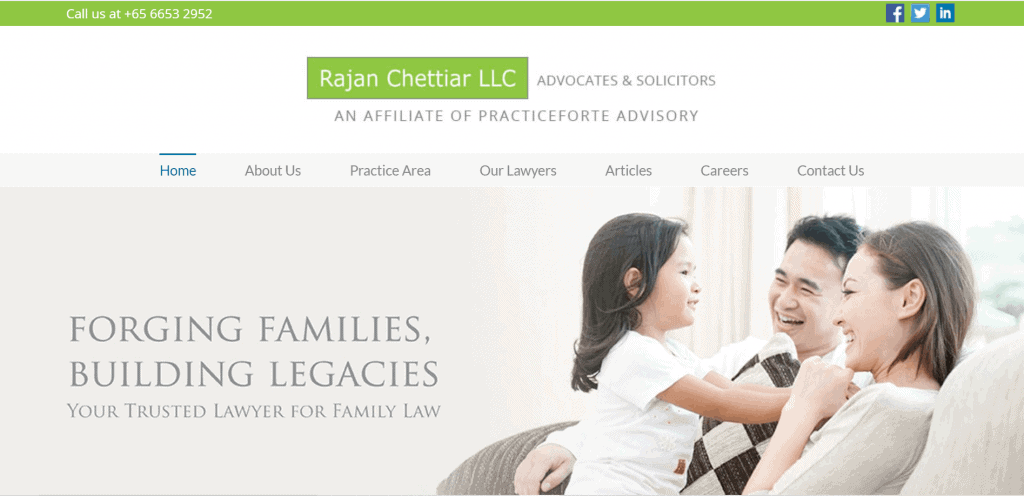 One of the earliest lawyers to become trained in mediation, Mr Rajan Chettiar set up his own law firm in 2003 to pursue his passion in family law.
With extensive experience in Family and Personal Law, Rajan Chettiar LLC is a leading specialist in family practice, including Mediation, Collaborative Law and other forms of Alternative Dispute Resolution.
Understanding that every single client is unique with differing needs, the team at Rajan Chettiar LLC seeks to understand the underlying concerns of their clients and to strive to provide the best legal representation at hand.
Highly familiar with the Family Justice Courts, the team is also able to quickly discern the best possible solution down to the most intricate issues.
That's not all: the team is transparent with its costs. Rajan Chettiar LLC will provide detailed estimates of the cost of divorce in Singapore before proceedings are commenced. Regular interim statements are also provided upon request.
13. Lam & Co.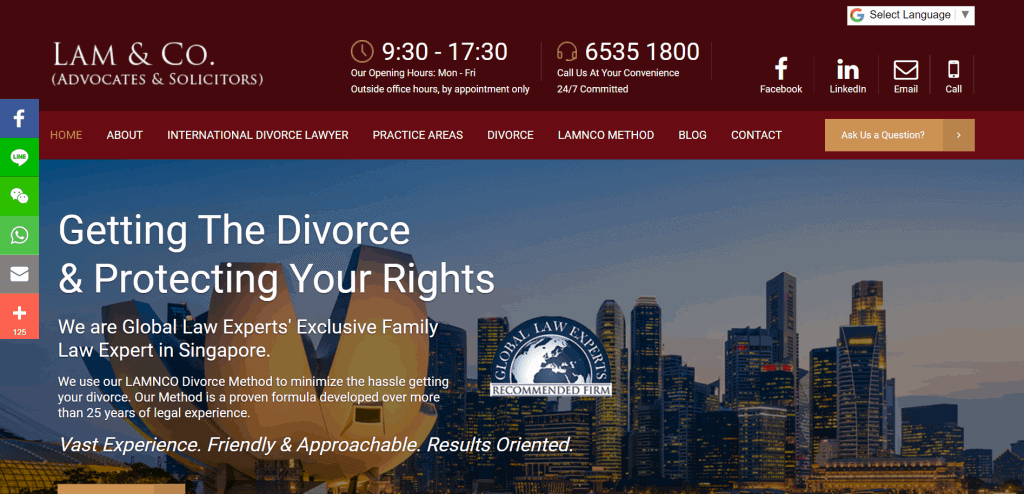 As recognised experts on Family Law in Singapore, Lam & Co. brings more than 30 years of legal experience and its proven LAMNCO method to benefit its clients.
The law firm is founded by Mr Phillip Lam, who has been practicing law for more than 25 years. In 2005, he started Lam & Co together with two partners.
The firm pledges to help you achieve a fuss-free divorce for uncontested divorces.
For contested divorces, the firm helps you to achieve your objectives quickly, while containing costs.
Conclusion
Do you have any reviews and comments to share regarding our choices for the best divorce lawyers in Singapore?
While SBO is committed to supporting our local businesses, we welcome any feedback and anonymous sharing regarding your experience with the listed divorce lawyers in Singapore.
We hope that this guide will be useful in helping you to make an informed decision when it comes to finding the best divorce lawyer in Singapore.
In this article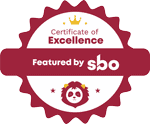 Are you featured in this?
Display this exclusive SBO badge proudly on your website!