16 Best Dating Agency in Singapore for Sparking New Love [2023]
Say no to swiping and algorithms by engaging these 16 best dating agency in Singapore to help find your Happily Ever After!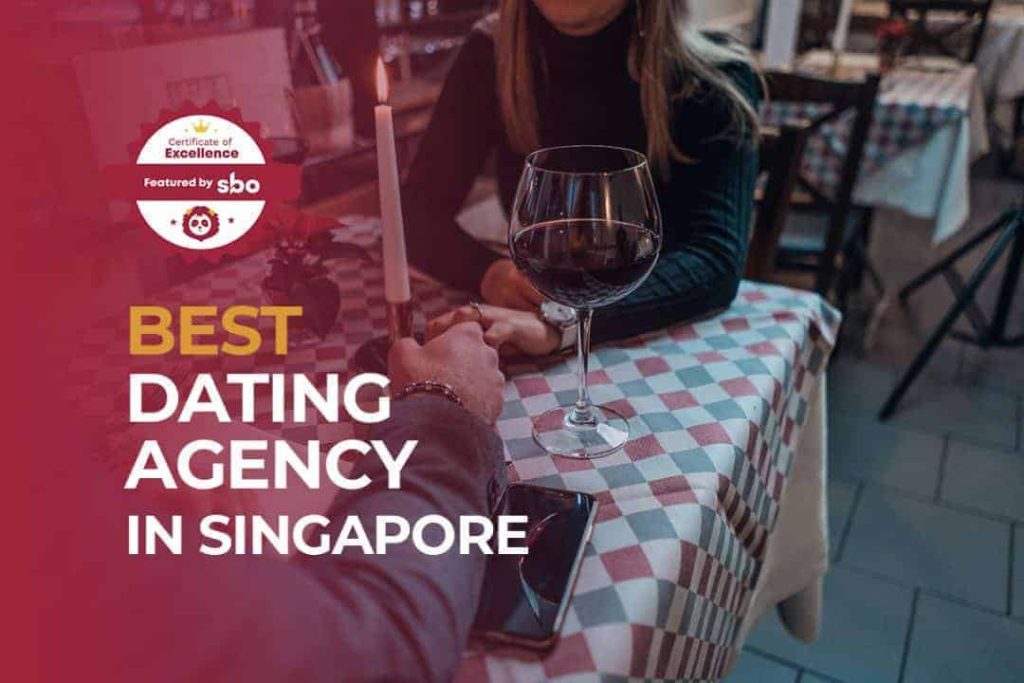 Swiper's Fatigue is a real phenomenon that happens when you find yourself more drained than energized from the connections you make online on dating apps.
While apps like Tinder and Bumble has allowed plenty of singles to match with their significant other, there are also many others who haven't had much luck with it.
Of course, this isn't to say that you are any less ineligible than the ones who did; but rather, that you might want to consider searching somewhere else!
If this sounds like you, try hopping over to the 16 best dating agency in Singapore instead! Designed mostly for singles who are looking to get into serious, long-term relationships, these dating agencies can help you pave the way and spark new connections that could eventually lead to something special.
Good luck and may the love be with you!
Note: most of the dating agencies chosen are accredited by the Social Development Network (SDN) and awarded the SDNTrust Mark—meaning to say that they are committed to attaining the highest standards of professionalism and service delivery to singles on their platform.
1. Fabrique Love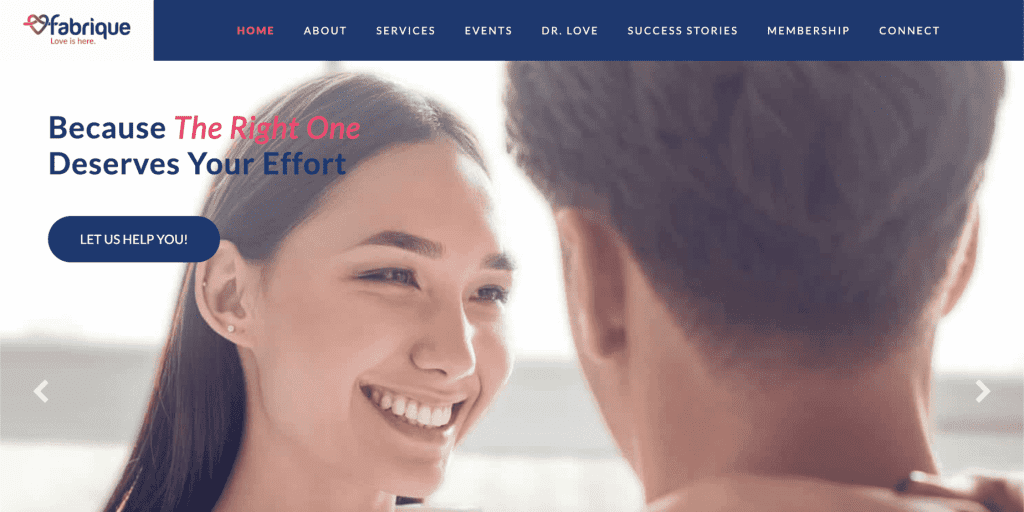 Fabrique Love is an SDNTrust accredited dating agency specializing in personalized dating services to help you find the Right One.
Having arranged over 2,700 dates and close to 400 dating events to date, the team believes that both planning and hard work are needed to create a healthy and successful relationship.
The process starts with a meet up with one of their dating consultants for a profiling and dating consultation prior to signing up. Then, simply enjoy your date! You will also be invited to a post-date feedback discussion to help the consultant further improve your chances of success on the next date.
Some of their dating events include night cycling, escape room and virtual events that are designed to encouraged mingling in a comfortable way.
Joining the Fabrique Lifetime Membership immediately enrols you into their database for matching and entitles you to 15% off their events and other exclusive perks!
2. GaiGai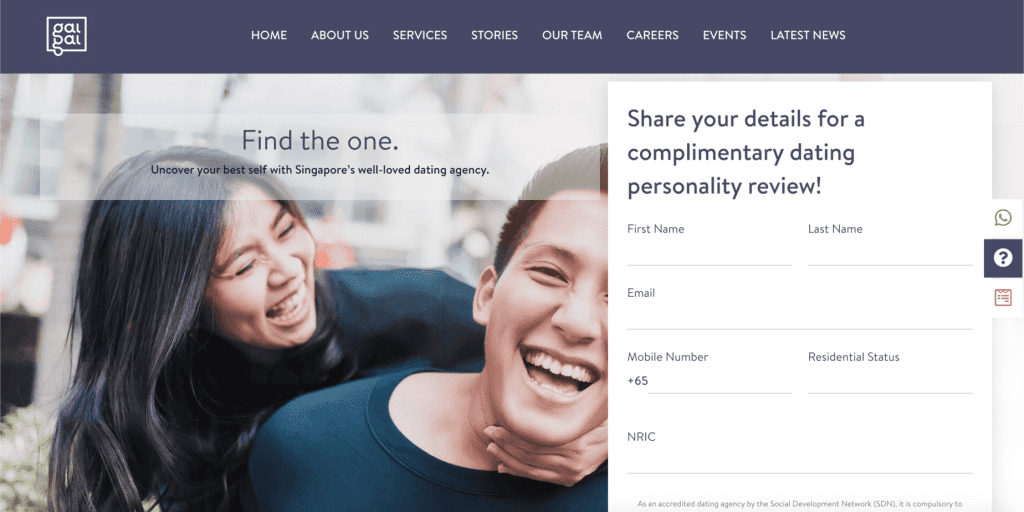 As one of Singapore's most well-known dating agencies, GaiGai is actually the offline version of the dating app Paktor.
Welcoming singles from all walks of life and professions, GaiGai offers an extensive database of quality singles, experienced dating practitioners, efficient matchmaking technology and a dedicated events team to help you find success with love.
Their uniquely developed matching system finds you the best possible matches based on compatibility measures backed by scientific research and historical user behaviour trends.
Possessing strong partnerships with some of the finest hospitality and lifestyle organizations, GaiGai also regularly hosts events to help singles connect in a casual yet highly engaging setting following a speed dating format.
To become a member, you will have to first complete your online profile on their website. Then, you will be invited to a face-to-face meeting with your assigned relationship manager to help them better understand your preferences.
The team's matchmakers will then search for compatible matches and contact you once a match is found to set up your first date!
3. Lunch Actually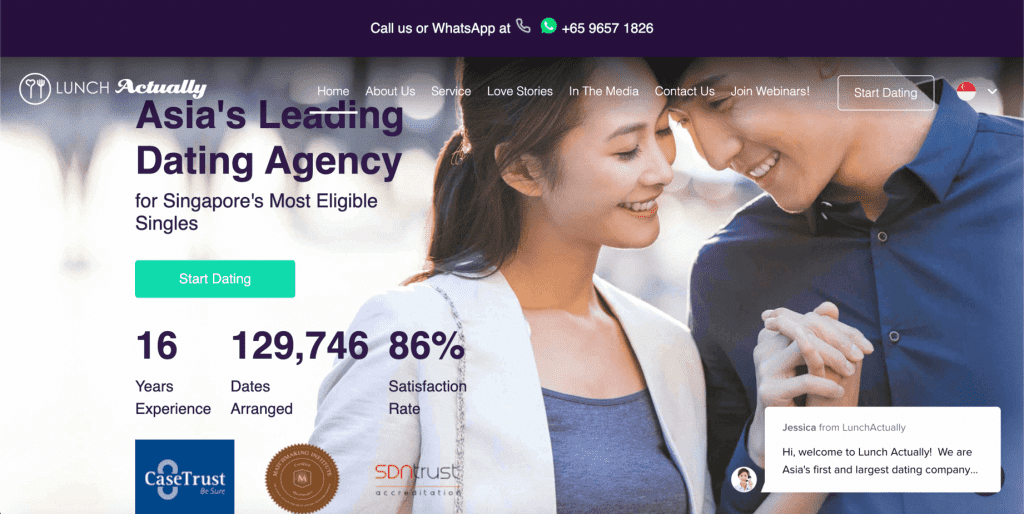 As Asia's leading dating agency with over 16 years of experience under them, Lunch Actually is the platform that is trusted by single professionals in Singapore.
Designed for those with busy, hectic lifestyles, Lunch Actually does all the leg work for you, from matching and restaurant booking to date reminders so you can focus on having fun!
Majority of the singles on their platform are in their late 20s to mid-30s who are working in industries like banking, finance, education, engineering and the medical and healthcare field.
The Dating Success Program is customized to work through your dating and relationship challenges and goals and begins by meeting up with one of their dating consultants for a chat in regards to your relationships goals.
They will then proceed to match you based on your profile and preferences and arrange the date for you.
All you have to do is turn up and enjoy your date; providing feedback after so that they can further fine-tune their matches for you.
During this program, you will also work with their coaches to better understand your past and how it affects your current dating patterns, as well as and identify the biggest obstacles in your love life.
4. Dating Moments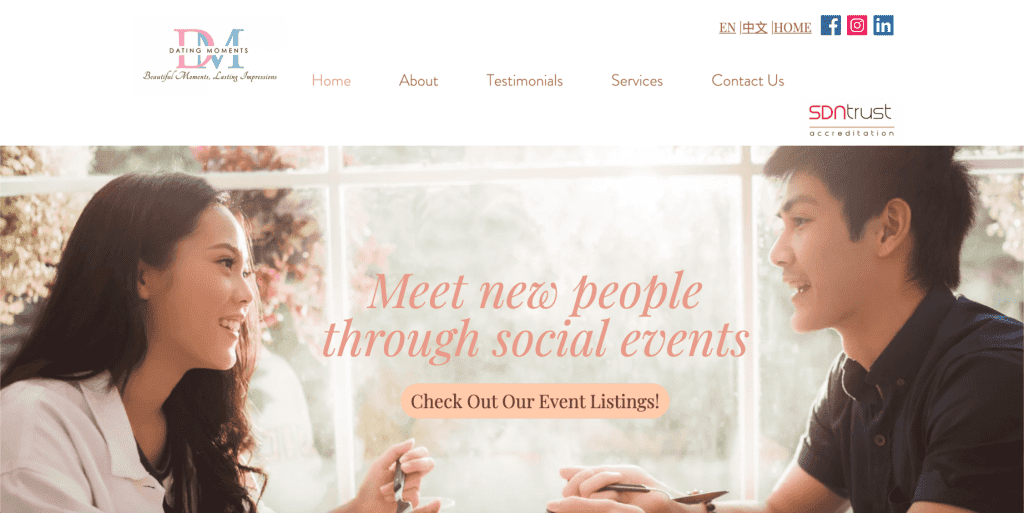 Otherwise known as the "Modern-Day Matchmaker", Dating Moments believes that there is someone for everyone and that it's just a matter of putting in the time and effort.
With over 9 years of proven matchmaking experience, the team believes in using an open and transparent approach to dating.
Their signature service is the DM Meetme Dates—an integrated one-to-one personalized matching service where members will get to choose whether to meet their date in-person or online and have full flexibility of customizing their dates.
All DM Meetme Dates members are also entitled to Personal Date Preparation Coaching sessions to support and prepare them for navigating the dating world.
To get started, you will have to first undergo a consultation with Dating Moment's accredited dating consultants to better understand your requirements and preferences.
Then, they will proceed to use their unique algorithm to provide you with a match.
5. Date High Flyers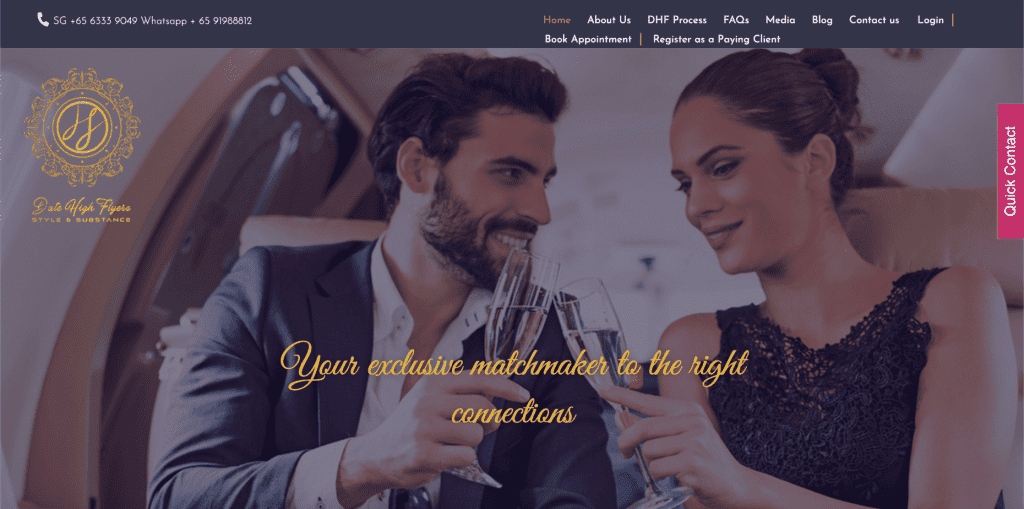 Date High Flyers (DHF) is a luxury matchmaking service that is designed for professionals, high net worth individuals and VIPs who are looking for marriage.
The founder and face behind Date High Flyers, Anisa Hassan, is well-recognized for having helped more than 500 CEOs, doctors, lawyers and bankers find happy marriages over the last two decades.
The first step to joining DHF is to create a profile on their website and select your preferences in a partner. Then, choose between the Luxe and Black Label membership plans.
Once your profile is approved, you will immediately gain access to a large pool of professionals who are ready to meet.
6. Kopi Date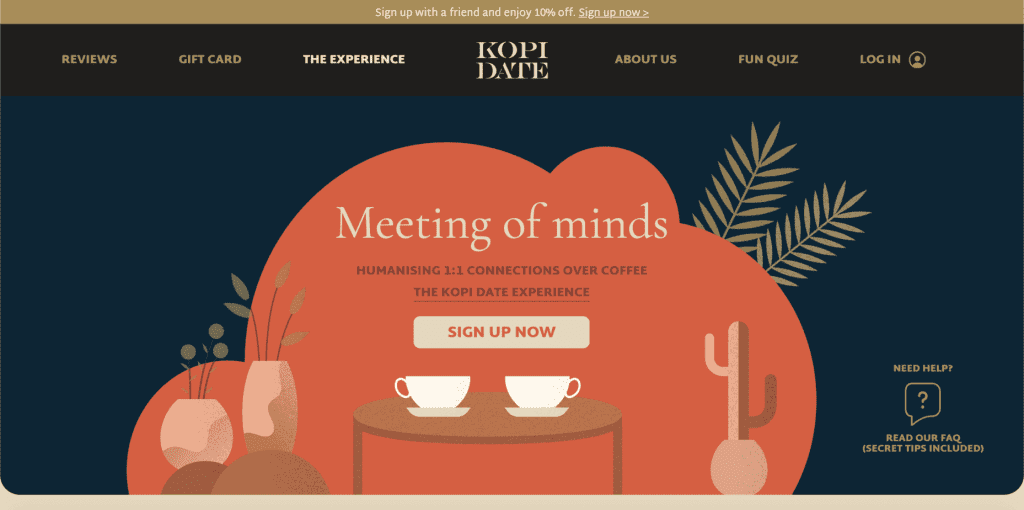 Kopi Date is NOT a dating app or matchmaking service; instead, their focus is on creating conversation-centred, one-to-one coffee dates for singles. Kopi Date is a conversation-centred 1:1 coffee dates for singles.
So this means no consultations required, simply sign up as a member to start enjoying The Kopi Date Experience—held at one of their partner cafes to deliver a memorable experience through authentic, face-to-face interactions.
A great way to discover unique cafes around Singapore and engage in , each experience is served with an interactive kit filled with thoughtful questions to help draw out meaningful responses and engagement between two people.
To start, reach out to the team to share your story and what makes you unique. They will then match you with someone and send you an invitation with details of where to go for your date—everything else is kept a surprise!
Membership starts at $39.55 for ladies and $45 for the guys for a monthly experience and covers a complimentary beverage and the Kopi Date Experience Kit. You will also receive surprise activity dates, and exclusive monthly content from the team.
7. Divine Connect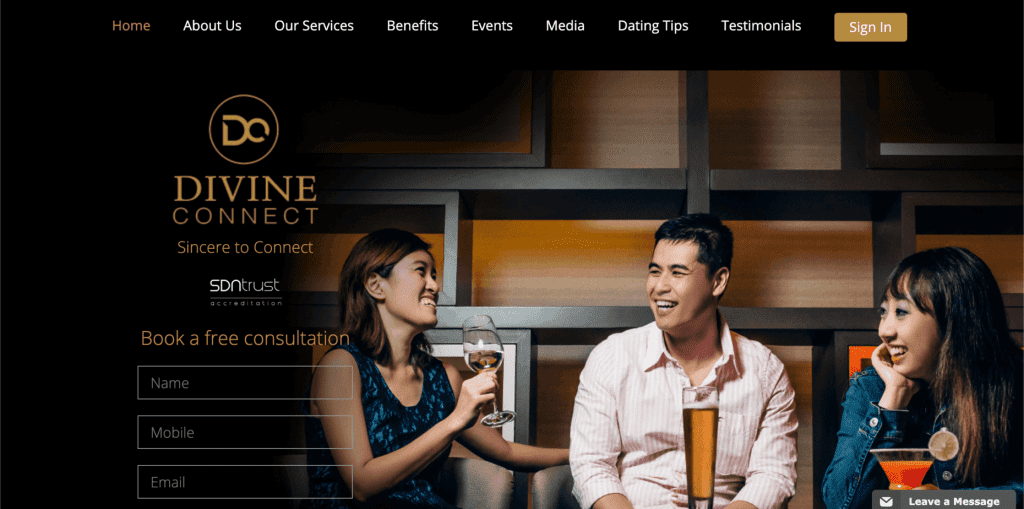 Divine Connect is a premier matchmaking agency backed by a team of industry experts boasting decades of experience.
Offering a completely holistic approach to finding your ideal life partner, the team at Divine Connect wants to help you discover and understand your strengths, weaknesses, behaviours and motivators and bring out the best in you.
With a mission to help singles find the one by forging a long-term relationship, the matching system is based on research performed on singles in Singapore and curated by founder and dating expert, Deon Chan and dating coach Cindy Leong.
Start your journey by booking an appointment with them where you will meet up with one of their highly qualified consultants. After getting to know you better, they will then proceed to generate matches based on your profile using their customized matching system.
You will then undergo Enneagram personality profiling and transformative personal coaching with the team to prepare you for your first date.
8. Complete Me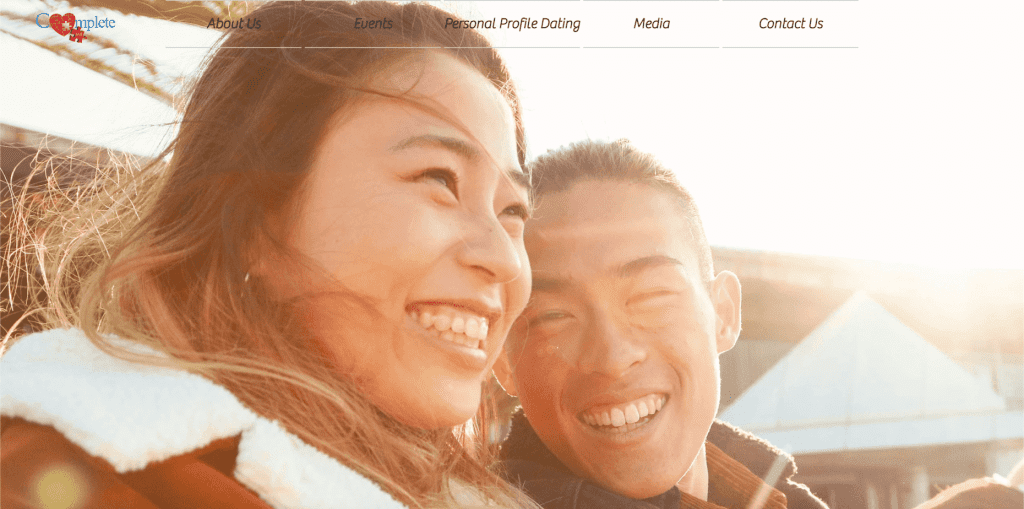 Having successfully matched over 1000 couples, CompleteMe organizes premium dating events as a platform for singles to widen their social circle.
On top of hosting frequent online and offline events, CompleteMe offers a Personal Profile Dating service ($99) for 1 match within a year, based on the top three traits you seek in a partner.
Once a match is found, profiles and photos will be exchanged upon mutual agreement; and if both parties are interested, a lunch or dinner date is arranged at no additional cost.
9. Table For Two
Table For Two aims to foster a safe community of verified members as the middleman for people to be social once more. It wants to help them connect deeper and more meaningfully through curated experiences and events.
You can sign up for its dating and social services depending on the type of connection you want to establish – whether that's a more intimate or friendly one.
It matches you with like-minded people with similar interests and preferences. Table For Two is also home to Singapore's biggest group of animal-loving singles, which makes it ideal for single pet owners looking to date.
10. MatchMde
MatchMde is unique from other dating agencies in Singapore – it uses technology and science to create meaningful connections in only a few clicks.
It has an online dating coach called M.I.L.A, short for MatchMde Intelligent Love Assistant, that uses AI technology to link you up with potential opportunities to meet the one for you.
It also motivates you to be active on the platform by awarding Match coins. Simply invite the person you like on a date with its curated date spots. MatchMde also locks in your dates into your schedulers so that you will always remember them.
You can even match with someone based on the compatibility of your DNA!
11. Lovestruck Singapore
Lovestruck is a dating agency that comprises matchmakers and dating coaches who give you real opportunities to find eligible singles worldwide.
This personalised matchmaking service is operated by the Love Group, an Australian publicly listed company. If you're tired of endless swiping on Tinder or CMB and want to find a personalised dating experience, this is for you.
It uses human matchmakers to listen and guide you along, together with safely verified matches, and regular dating events as well.
12. DateHive
DateHive is Fabrique Love's subsidiary, so if you're their customer, you may have heard of this before! DateHive features a team of experienced Dating Practitioners who specialise in planning thoughtful and unique dating events.
Sign up for its pay-per-date package to be part of its database for personalised 1-to-1 matching. Get a complimentary dating consultation with its experienced Relationship Managers and leave the rest to them!
13. Two Find
Two Find is a contemporary dating and matchmaking service that is set on 2 decades of experience and understanding. It understands that technology and dating apps have made the dating process oversimplified and shallow.
This is why it strives to deliver expert, humanistic services to help make finding your significant other easier. There is no one-size-fits-all approach and every new potential couple can look forward to different methods to bring them together.
Its matchmaking service is purely offline, and members have to go through a strict criteria eligibility process.
14. Sacred Companion SG
Sacred Companion Singapore is unique in the sense that it's curated for single Christians. It endeavours a world where these singles receive support in their quest to find a marriage centred around God.
Instead of providing matchmaking services, it creates opportunities through events it organises.
It also acts as a platform and close community for Christian singles who want to find God's kingdom together. Its founder is highly accredited with multiple certifications, with the latest set to be completed in June 2022.
You can also take part in its regular events that don't just cover dating, but socialising as well.
Conclusion
Do you have any reviews and comments to share regarding our choices for the best dating agency in Singapore?
While SBO is committed to supporting our local businesses, we welcome any feedback and anonymous sharing regarding your experience with the listed dating agency in Singapore.
We hope that this guide will be useful in helping you to make an informed decision when it comes to finding the best dating agency in Singapore.
Featured Image by René Ranisch on Unsplash
Explore More Content