12 Best Wedding Planners in Singapore | Where Reality Is Better than Dreams
Leave it up to these experts to help you create a magical wedding event!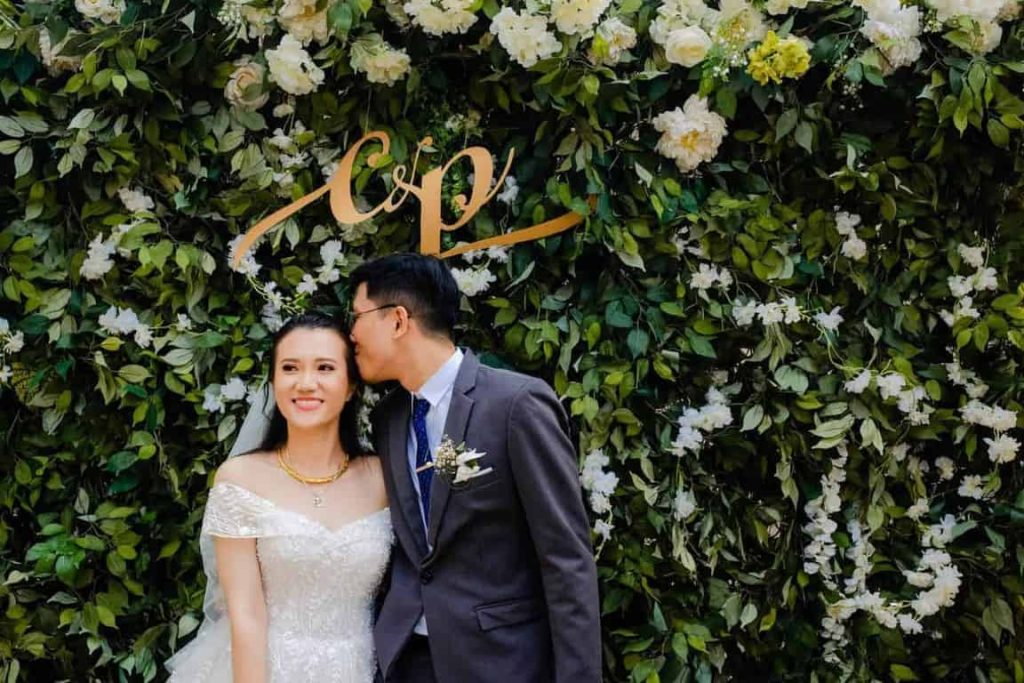 Planning a wedding is often a lot easier said than done. From picking a date, sending out invitations to booking a venue, the long list of preparations to check off like engaging suitable vendors for wedding photography, wedding videography, makeup artists, hair stylists, gown rental or bridal shops, etc may be daunting for many couples.
This is why many couples hire a wedding planner in Singapore to handle the not-so-fun details like sourcing for wedding favours for guests, and coordinate their wedding for them.
The job of a wedding planner is to help you stretch your budget, liaise with vendors, create a unique wedding programme and oversee the execution and production on your big day; ensuring that everything runs smoothly according to plan.
If you are on the hunt for a reliable wedding planner, here are 12 of the best wedding planners in Singapore that can help you elevate your event and achieve a dream wedding you never thought was even possible.
1. Heaven's Gift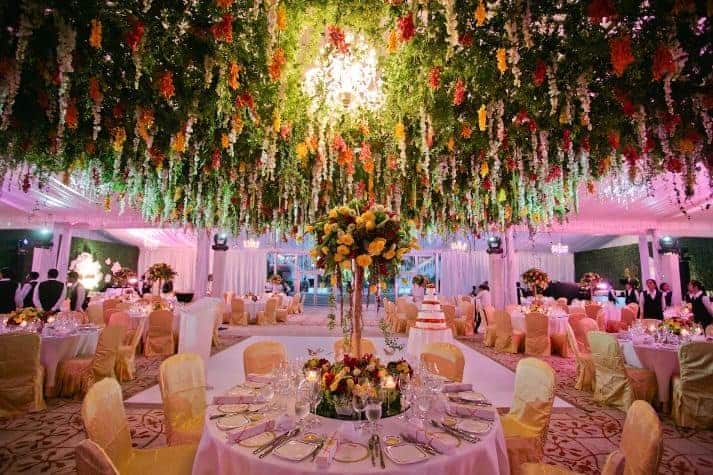 Heaven's Gift is one of the pioneer wedding planners in Singapore boasting over 16 years of wedding planning under their belt.
Their mission is to create one-of-a-kind celebrations that reflect the couple's personalities and desires, and have created some of the most luxurious weddings in Singapore and places like Bali, Tokyo and Seychelles.
Successfully pulling off wedding themes like A Midsummer Night's Dream, Enchanted Gardens and Vineyard Fantasy, couples can expect nothing less than elaborate details and elegant touches in their celebration.
Knowing that the groom created a scrapbook for the bride during their wedding proposal, the team was able to craft a gorgeous Scrapbook Theme that looks like it came straight from a Disney movie!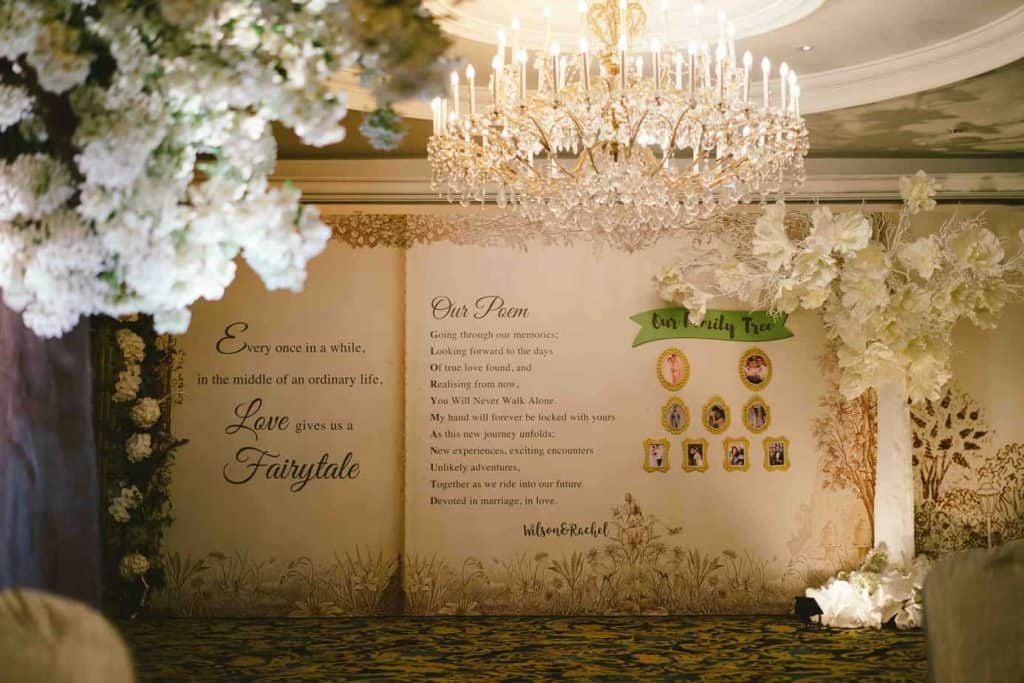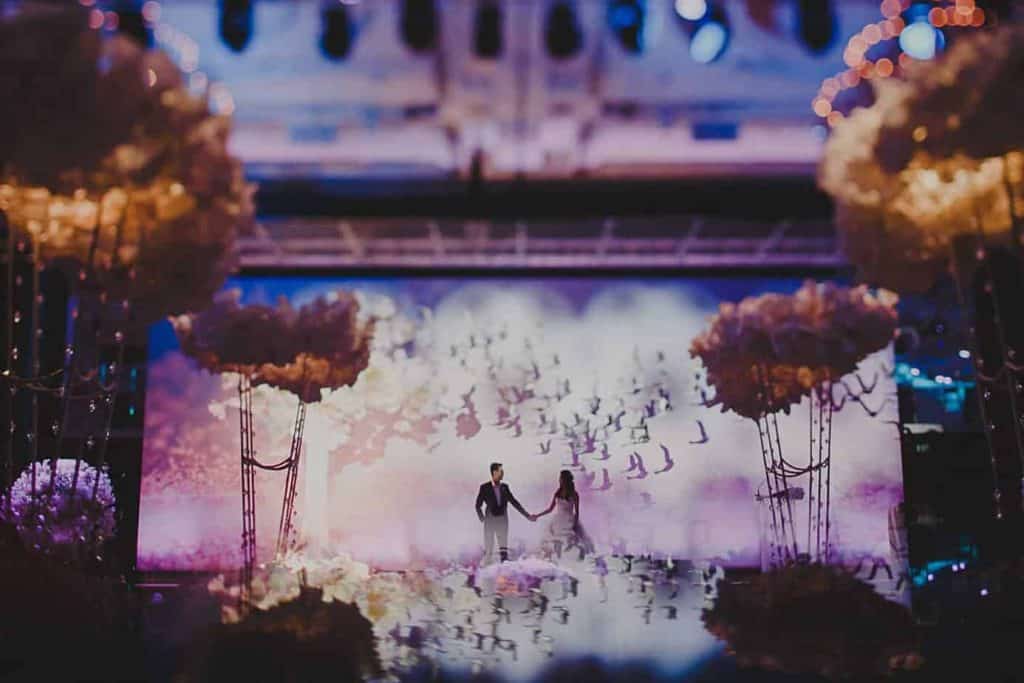 From the initial design and concept down to execution, Heaven's Gift has an in-house team of designers, planners and trusted partners that you can tap into to make your dream fairytale wedding come true.
Previous couples that have worked with them can't stop raving about their attention to detail that has gone above and beyond their expectations!
Website: https://heavens-gift.com
Address: 8 Jalan Kilang Barat, #04-09 Central Link,
Singapore 159351 [Google maps link]
Contact: Call +65 6220 0378| Email [email protected]
Rates: Upon request
[Instagram link] | [Facebook link]
2. Chère: Weddings & Events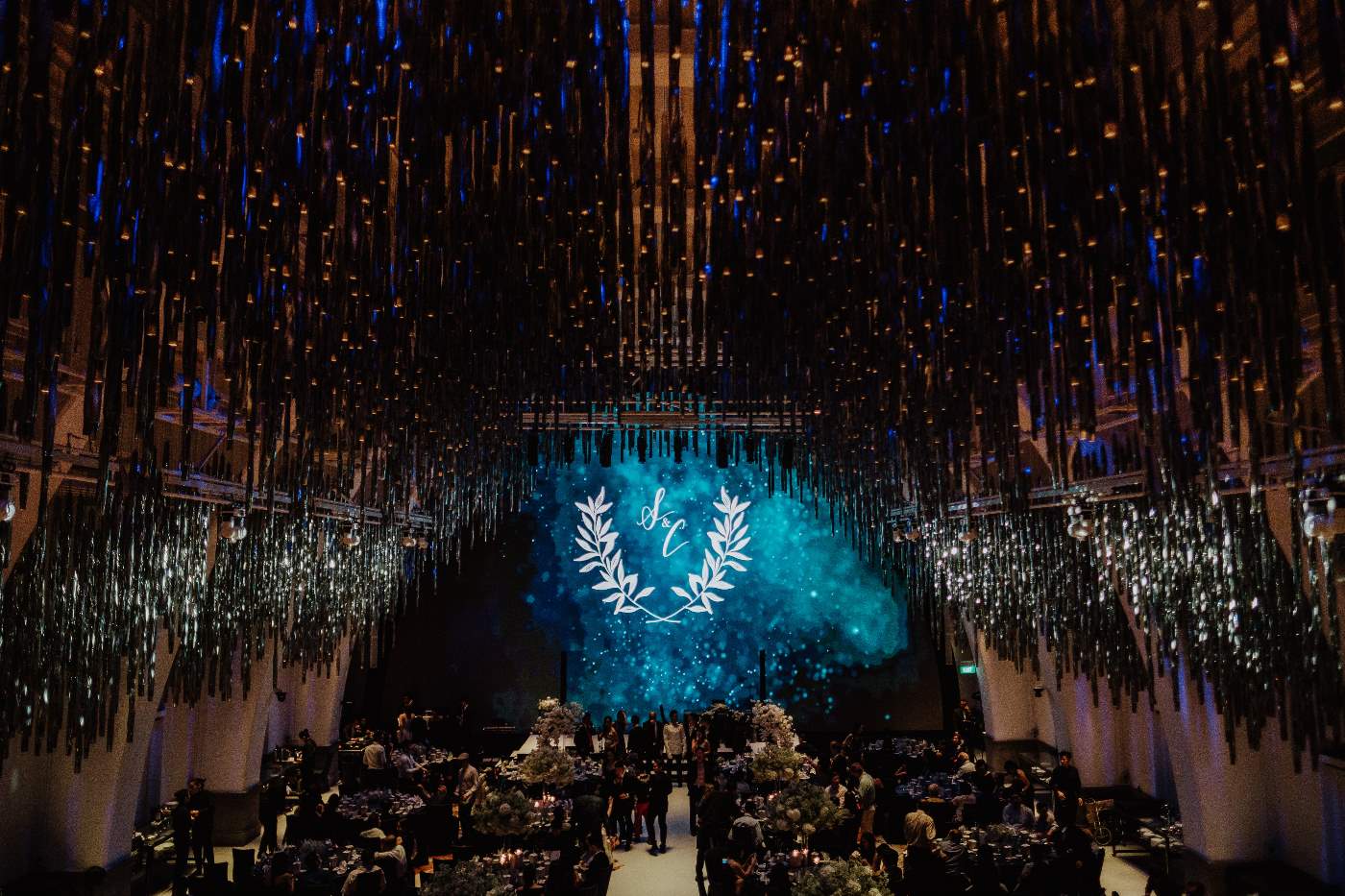 Standing for the word "Dear" in French, Chère believes in working hand-in-hand with couples to create something wonderful and unforgettable together.
From budget planning, concept design, vendor management to logistics management, you can count on the team to pick out the highlights of your relationship and conceptualize a unique theme just for you.
It's really hard not to fall head over heels with this Cherry Blossom-themed celebration that was inspired by the couple's first trip to Tokyo together!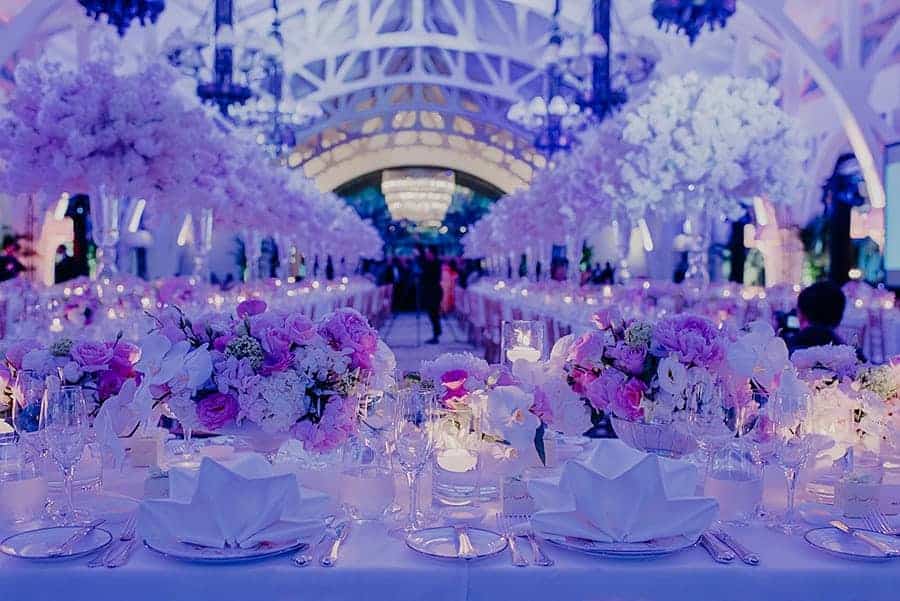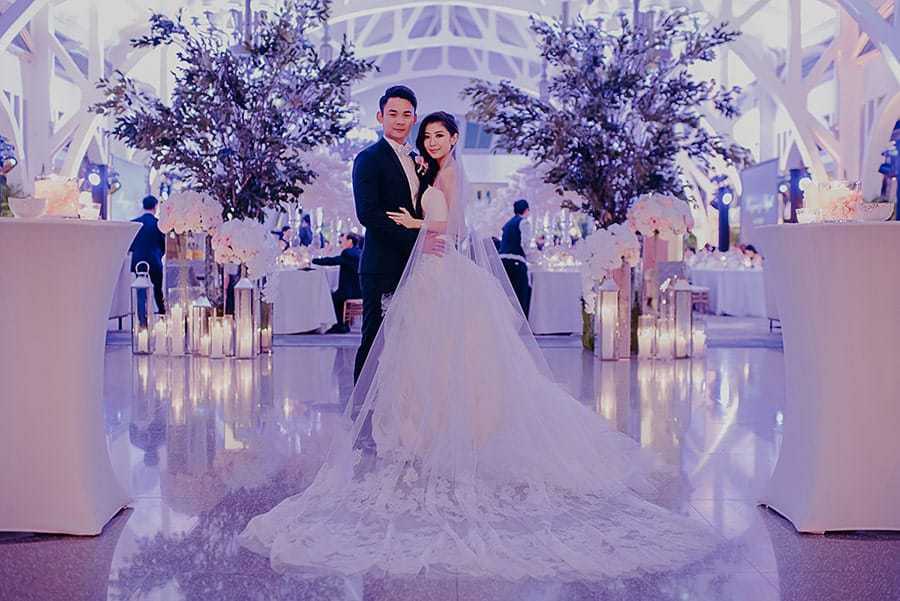 Having planned over 100 weddings and events both locally and internationally, it's no surprise that Chère has managed to rack up a dazzling portfolio and 5-star rating on Google Reviews! As one couple said on Facebook: "most definitely recommend having Chère as your planners."
They also have a long list of vendors that you can choose from including florists, photographers, hair-and-makeup artists and entertainment to ensure your big day runs without a hitch.
Website: https://www.chere.com.sg/
Address: 315A Punggol Way, #17-643, Waterway Cascadia,
Singapore 821315 [Google Maps Link]
Contact: Call +65 8780 7548 | Email [[email protected]]
Rates: Upon request
[Instagram link] | [Facebook link]
3. The Wedding Atelier
Based in Singapore and Hong Kong, The Wedding Atelier has helped to plan, design and orchestrate some of the world's most breathtaking weddings from the remote islands of the Maldives to a century-old mill in Hawaii.
The team consists of seasoned professionals and creative specialists with decades of experience to bring your ideas to reality through mood board conceptualization, floral installations, lighting programming and even spatial renderings.
Anyone can now have a heaven on earth ceremony just like this couple—surrounded by meandering flower beds that look almost unreal in their Above The Clouds wedding theme. It's no wonder the team was featured in BAZAAR's 2020 Top Wedding Planners in the World!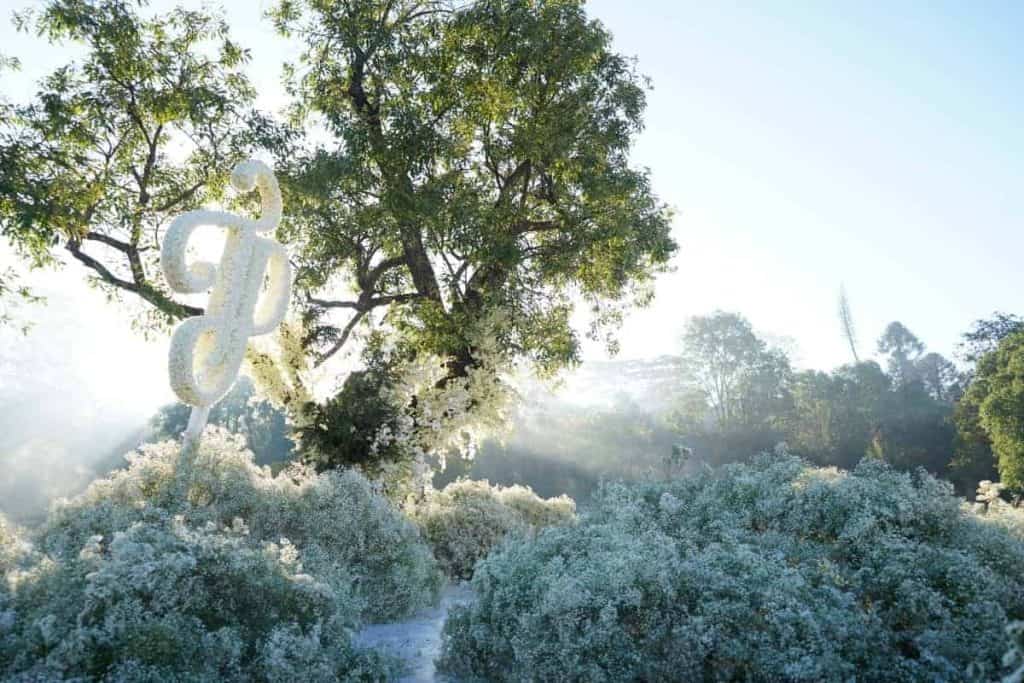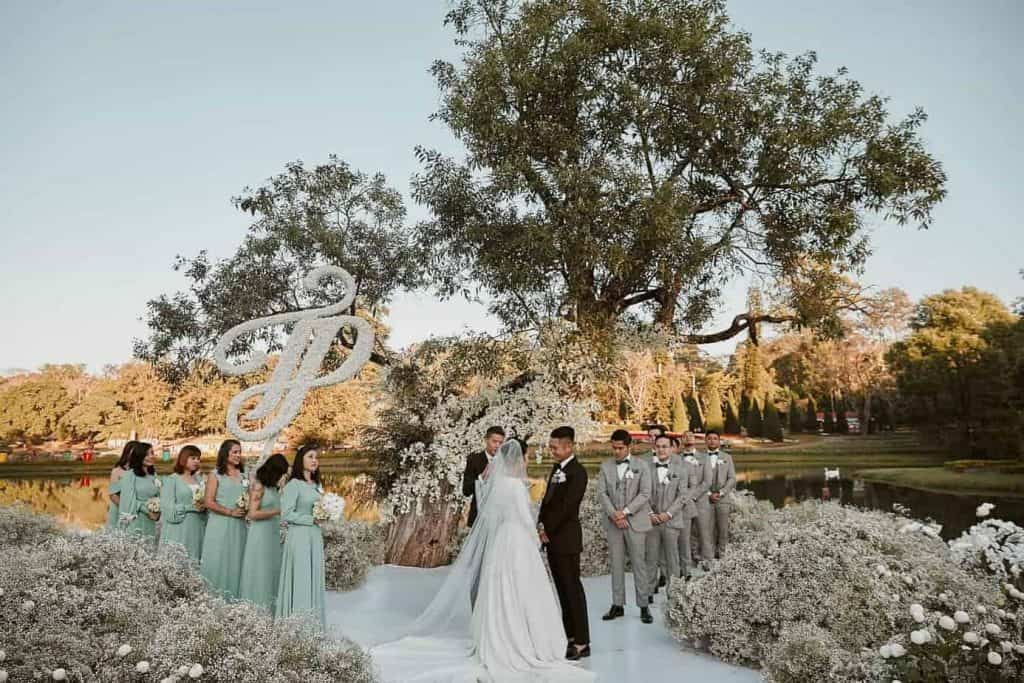 From venue scouting to curating vendors, managing budgets to negotiating contracts, bridal attire advisory to hospitality management, The Wedding Atelier has everything a couple needs to pull off an extravagant, out-of-this-world wedding.
Part of their promise is to ensure you get their utmost attention, which is why they only take up a selected number of clients every year, so make sure you book a consultation early.
Website: https://theweddingatelier.co/
Address: 2 Alexandra Road, 8/F,
Singapore 159919 [Google maps link]
Contact: Call +65 8869 2830 | Email [email protected]
Rates: Upon request
[Instagram link] | [Facebook link]
4. The Wedding Stylist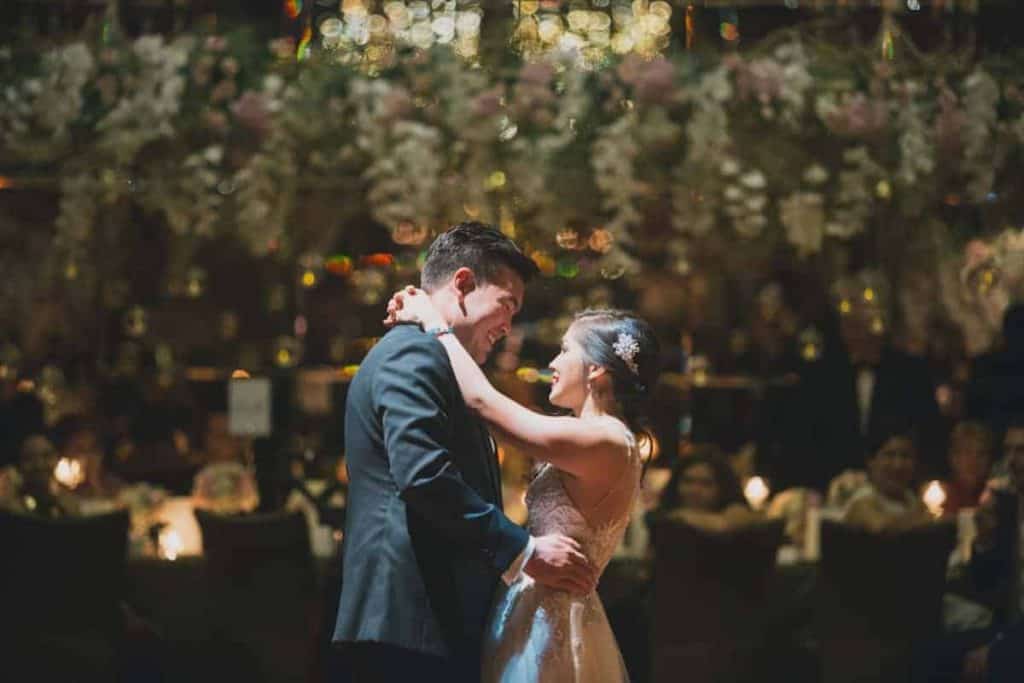 The Wedding Stylist's mission is to create timeless weddings where every detail is carefully thought out and perfected.
Co-owned by the wedding planners, Caroline Tan-Reed and Angela Tioanda, the team assists couples with full wedding planning, actual day coordination, conceptualising and styling their special day.
They currently offer 3 core services: Full Wedding Planning, Actual Day Coordination and Styling Conceptualization depending on how much support and direction you require. The team can also offer their expertise for those who wish to plan a wedding after-party or anniversary.
Gain some inspiration from this Pinterest-worthy Clifftop Theme designed by the team—adding just the right amount of personal touches to showcase the beauty of simplicity.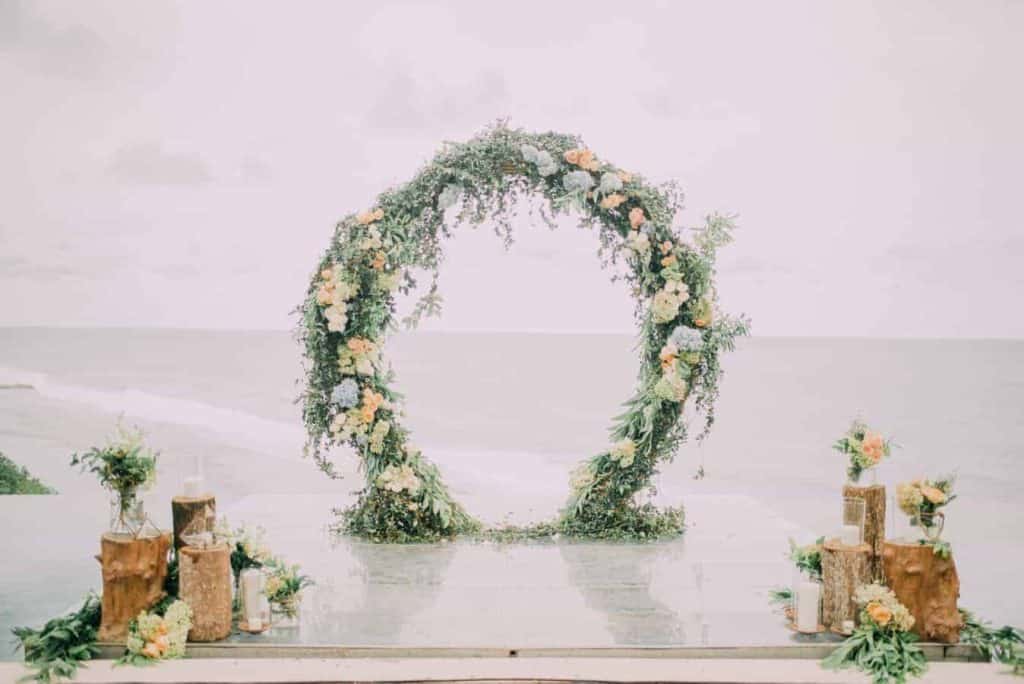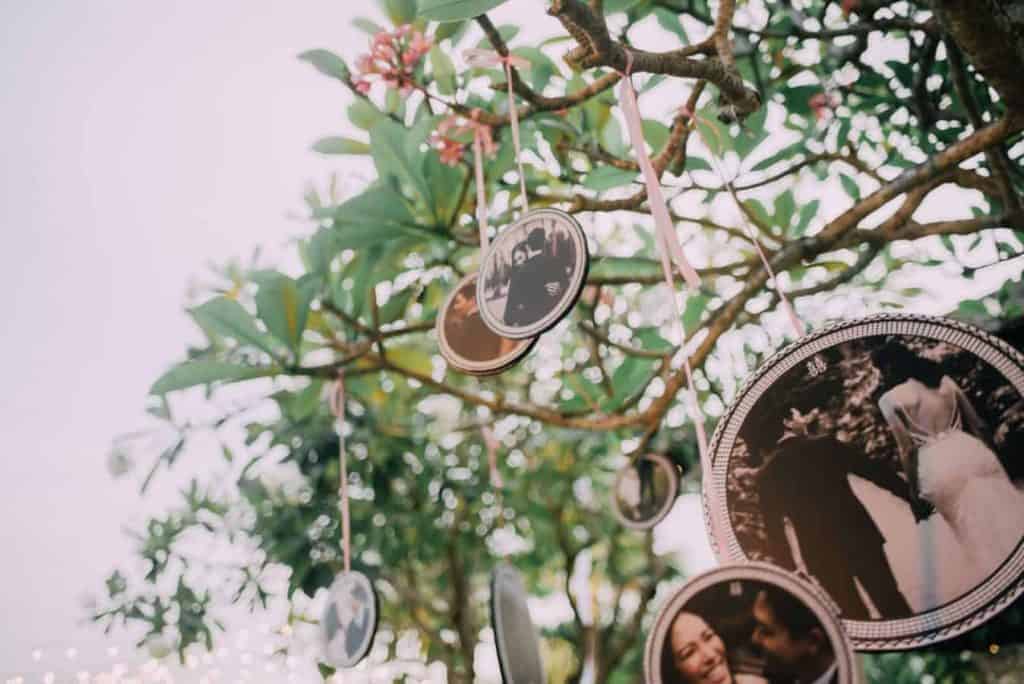 The team is known for their great attention to detail and hands-on approach in ensuring that every couple's style, needs, expectations and budget are well taken care of.
With a 4.9-star rating on Google Reviews, this team is your go-to for their experience in putting together a classy and sophisticated celebration.
Website: http://the-wedding-stylist.com/
Address: 28 Kallang Place, #07-10,
Singapore 339158 [Google maps link]
Contact: Call +65 +65 9128 9561 / +65 9125 8318 | Email [email protected]
Rates: Upon request
[Instagram link] | [Facebook link]
5. Wedding Diary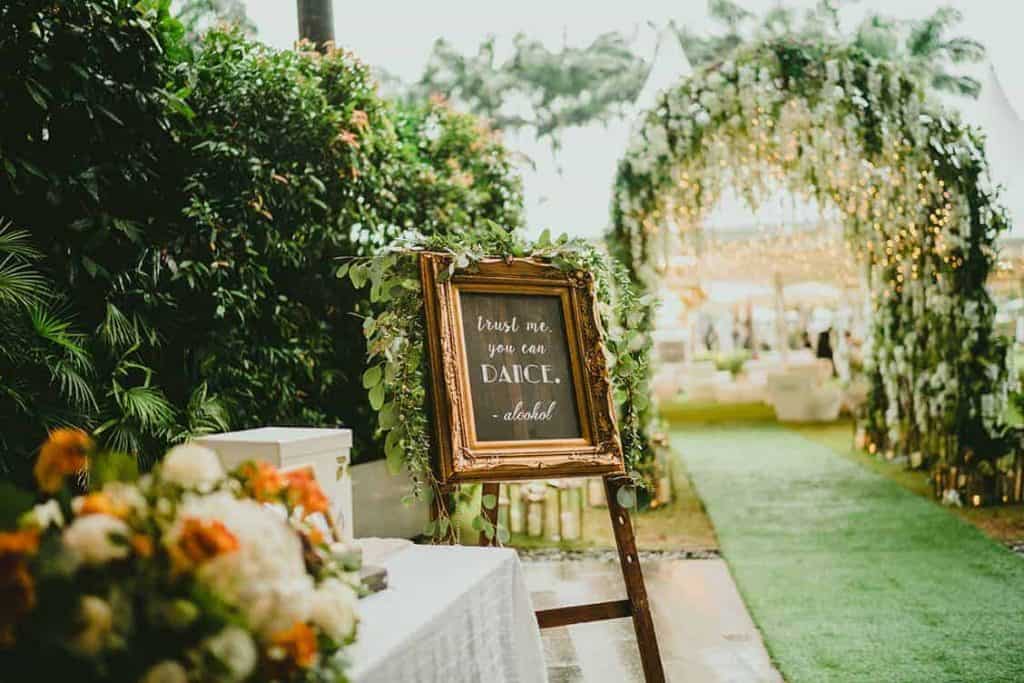 Founded in 2009 by Founder Lily Lu, Wedding Diary is an events company that focuses on customized decor, styling and planning management.
They believe that every wedding is a beautiful story to be remembered and shared, and have organized their services into "Chapters" that embodies a couple's unique personality and relationship.
Whether you just need assistance in design direction and styling or a dedicated on-site wedding management team to run your event, you will be able to find a package that caters to your needs.
Their signature style is composed of excellent design, delicate decors as well as impeccable finishing touches to get all your wedding essentials covered without having to break the bank.
This couple engaged the team to transform their venue into a Tropical Garden paradise, featuring a bold colour palette of orange, yellow, fuchsia pink and turquoise!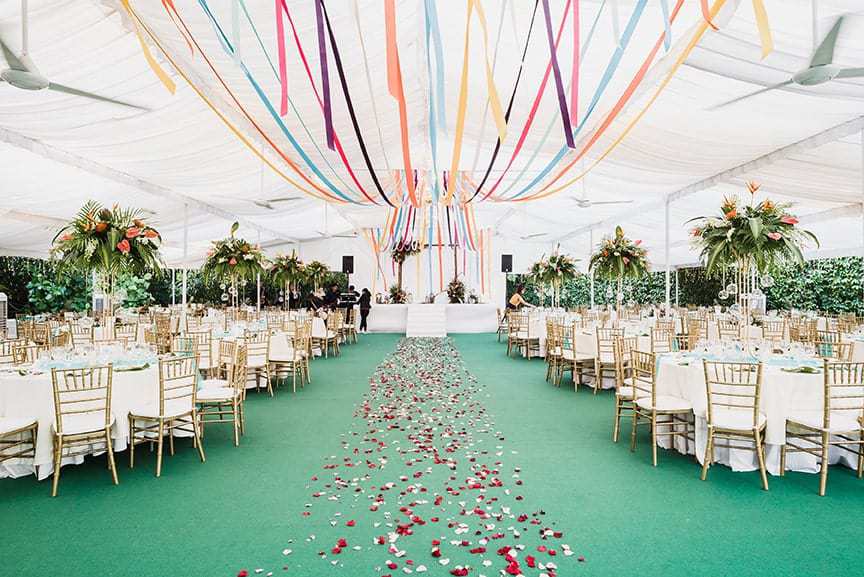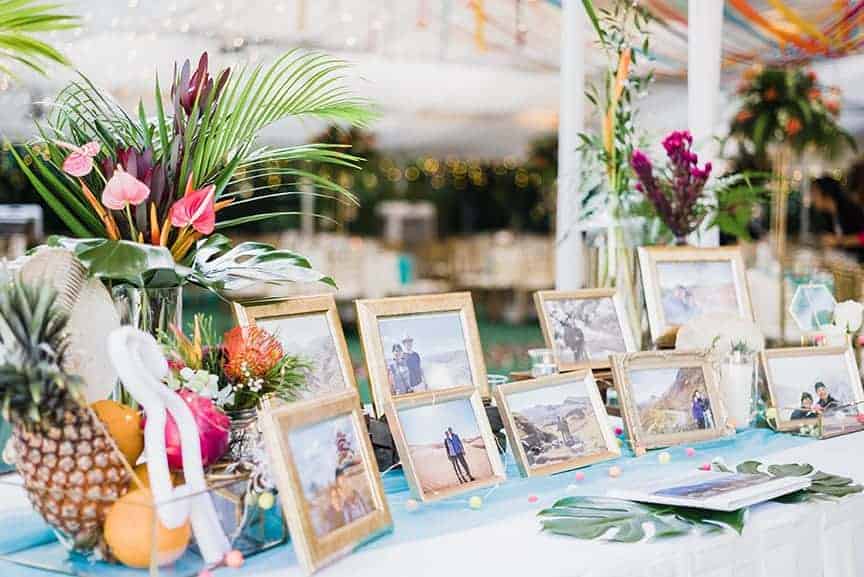 Look for Lily and her team if you want your styling to be on point—her past clients have received plenty of compliments from their guests for hosting a beautiful and memorable wedding.
Website: http://weddingdiary.com.sg/
Address: 420 North Bridge Road, North Bridge Centre,
Singapore 188727 [Google maps link]
Contact: Call +65 9720 9069 | Email [email protected]
Rates: Upon request
[Instagram link] | [Facebook link]
6. Beautiful Gatherings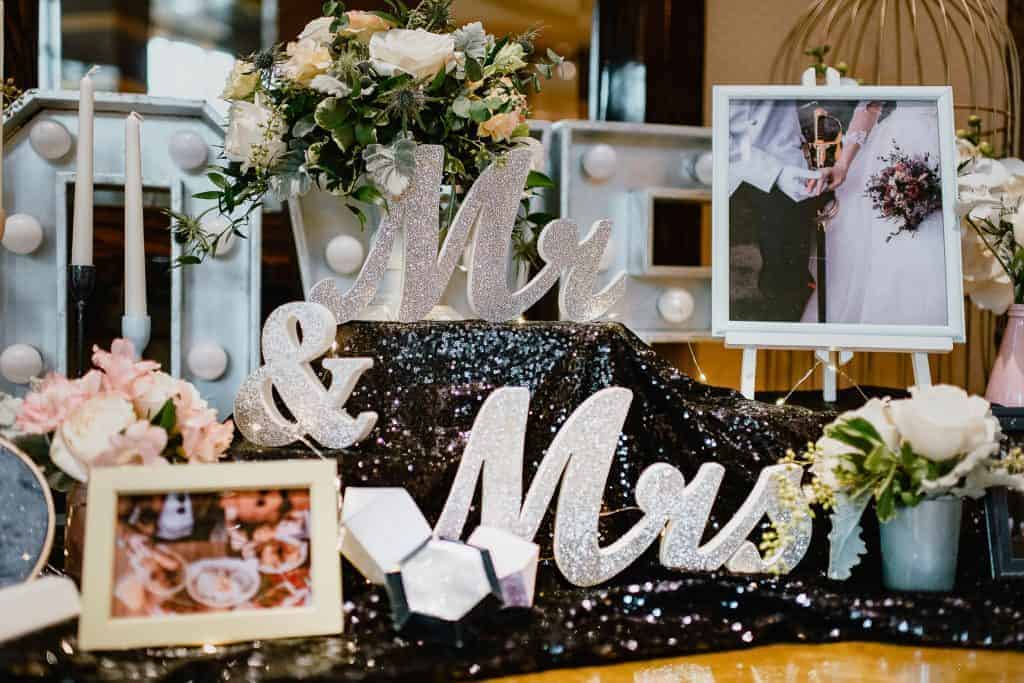 Beautiful Gatherings is a Singapore-based wedding planner that helps to plan, coordinate and design weddings that are tailored to every couple's distinctive relationship.
Seeking to help busy couples who have no time to plan their wedding, they offer an all-in-one wedding planning service that covers all the key elements including wedding conceptualization, styling, budget management and venues and vendors sourcing.
They also offer partial planning and actual-day coordination plans for those who require additional support for executing the ideas they have in mind.
It is possible to have a fairytale-like wedding while keeping things practical like this couple and their Celestial-themed event. The KFC bouquet was just a cheeky touch to represent the bride's love for fried chicken, and many date nights shared at the fast-food joint!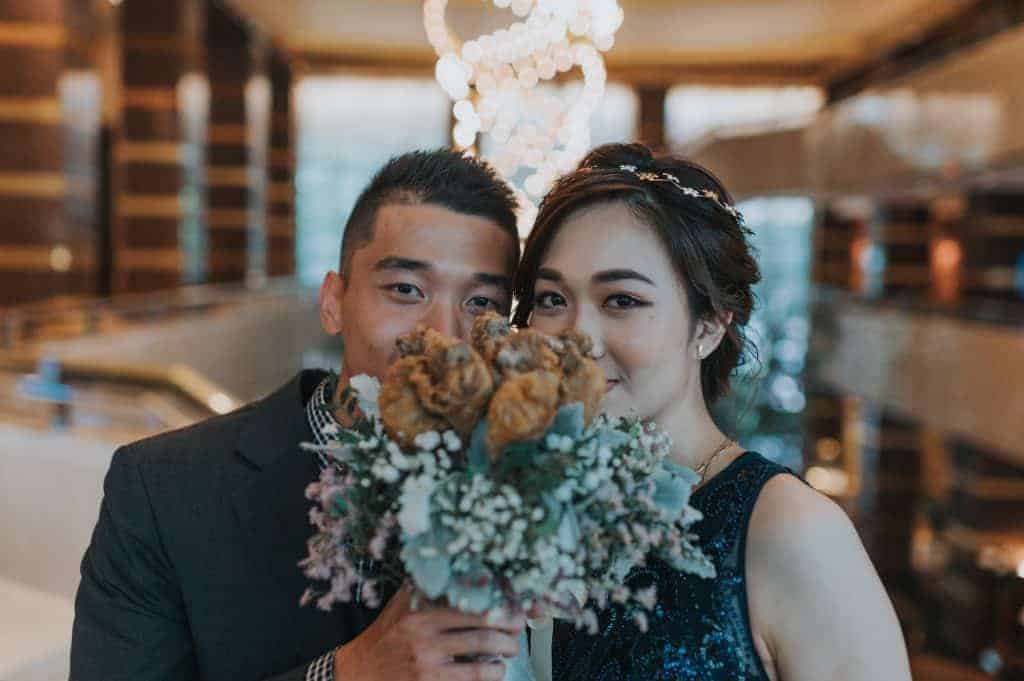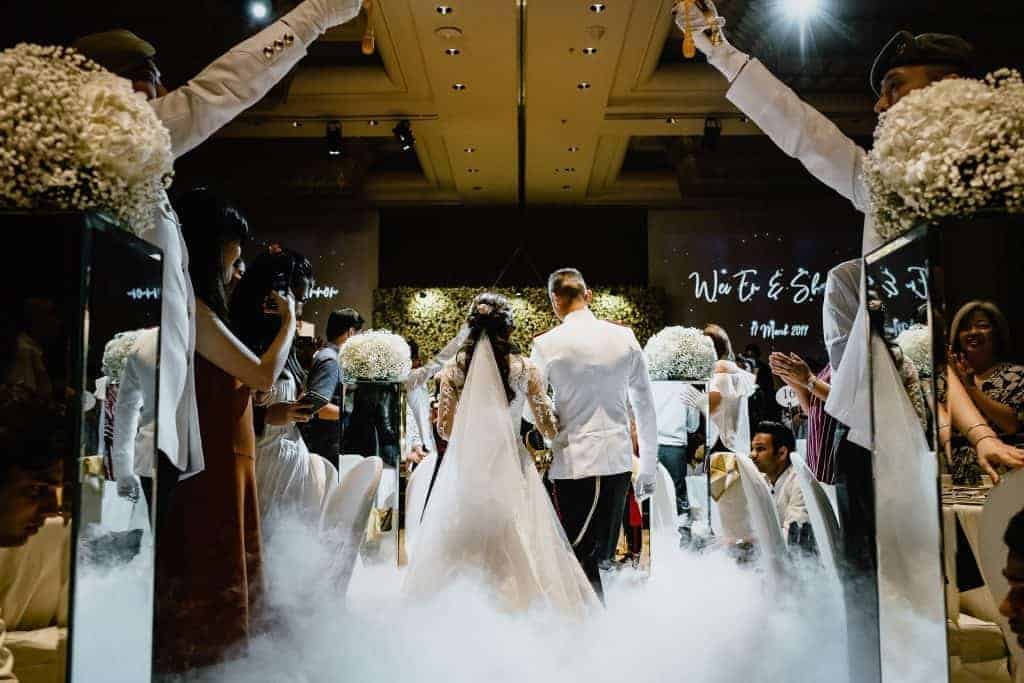 A recent addition is their Virtual Wedding Party service whereby a team of tech professionals can assist with better production quality and develop special and customizable features for your live stream.
This couple's review can attest to the team's ability to create a fuss-free wedding: "We did very little work on our wedding party, but it turned out exactly the way we envisioned it—only better."
Website: https://www.beautiful-gatherings.com/
Address: 527 Bukit Batok Street 51,
SINGAPORE 650527 [Google Maps Link]
Contact: Call +65 9687 3318 | Email [email protected]
Rates: Upon request
[Instagram link] | [Facebook link]
7. Rosette Designs & Co.
Rosette Designs & Co. focuses on creative styling and décor or full wedding planning services for couples who desire a magical and awe-inspiring celebration.
Believing that every couple deserves to have the wedding of the dreams, the team specializes in designing and executing anything from heritage, elegant, romantic to whimsical themes.
Their Full Wedding Planning package will take care of everything from logistics planning, event vendor management, wedding design and décor to actual day coordination for a one-stop service experience.
Couples who don't wish to put off their ceremony in light of the COVID-19 pandemic can also choose their Virtual Wedding Package to access their expertise in creative direction and event styling
If you don't find a package that is suitable for you, they will be more than happy to customize one that fits your exact needs! This review perfectly sums it up: "You did a fantastic job working around within our budget but it still looks so grand."
Website: https://rosettedesigns.com/
Address: 87 Tanjong Pagar Road,
Singapore 088508 [Google maps link]
Contact: Call +65 9669 4213 | Email [email protected]
Rates: Upon request
[Instagram link] | [Facebook link]
8. Everitt Weddings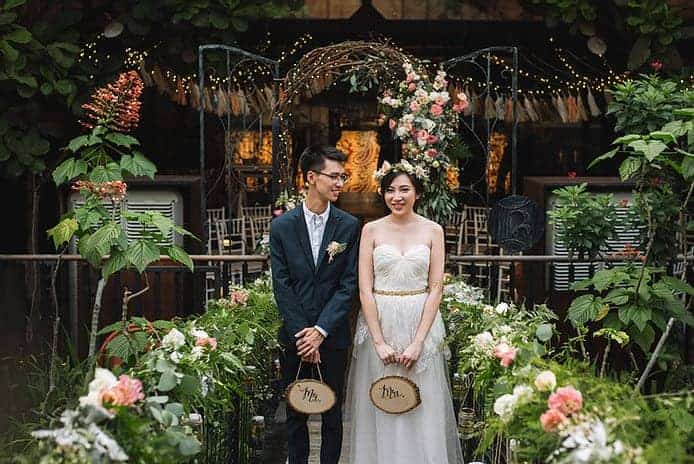 Everitt Weddings specialises in wedding planning in Singapore. It strives to make professional wedding planning accessible and affordable to many couples. With its very own collection of thoughtful and transparent service plans, selecting one that matches a bridal couple's unique requirements and budget is now easier than ever.
Couples can select from Everitt's Signature Plans which includes: Essential (Basic Plan), Embellish (Classic Plan) and Exquisite (Premium Plan).
The wedding planning company prides itself in crafting hearty, tasteful and chic wedding experiences to showcase every couple's style and identity and balancing that with reliable practical support and quality control. Couples can have peace of mind knowing that their wedding is in good hands with a well-coordinated and seasoned wedding team supporting them.
Many couples were impressed with the team's professionalism and dedication that truly left a lasting impression on their special day.
Everitt Weddings has planned and coordinated weddings at the most prestigious venues in Singapore, and can connect you with their community of curated wedding vendors. Embark on a journey with Everitt Weddings for your greatest celebration of love!
Website: https://www.everittweds.com/
Address: The Great Room, 328 North Bridge Road, #02-20, Raffles Hotel Arcade, Singapore 188719 [Google maps link]
Contact: Call +65 8113 2473 | Email [email protected]
Rates:
Essential Basic Plan: $4,200
Embellish Classic Plan: $5,200
Exquisite Premium Plan: $6,200

Note: They offer customisations, and also early bird discounts, so do check in with them!
9. Bliss Pact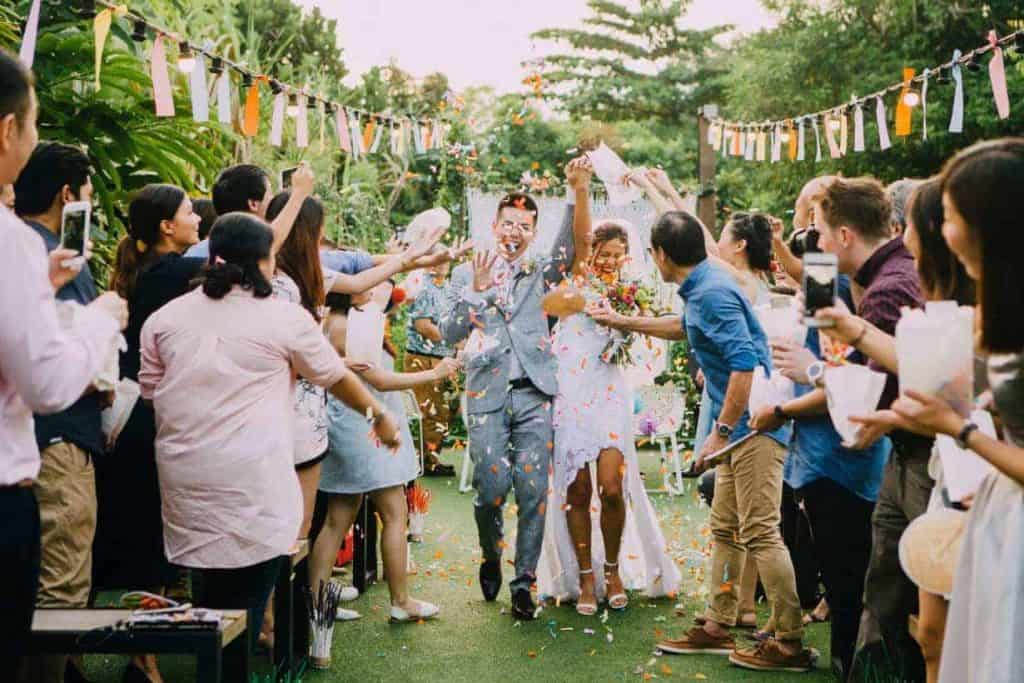 Bliss Pact promises to create a "uniquely yours" celebration with the help of a committed, passionate and skilled team behind you.
Their extensive portfolio includes planning for local influencer Melissa Celestine Koh's fairytale-like wedding, as well as former actress and entrepreneur Cheryl Wee's majestic celebration!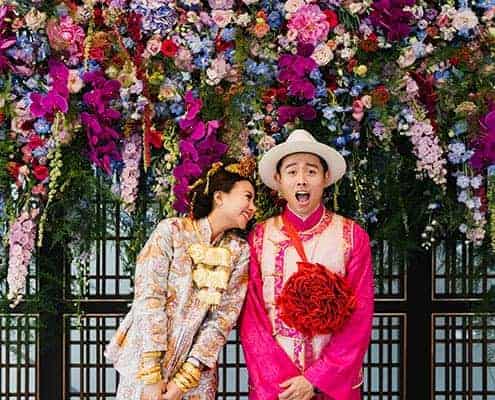 From theme conceptualization, sourcing and liaising with vendors and venues for food tasting, Bliss Pact are your trusted partners to handle everything smoothly and without complaint.
The team also offers actual-day coordination to fine-tune and finalize your plan and put it into action. All couples also get a free one-time consultation so that the team can better understand your requirements.
Address: 22 Sin Ming Lane, #06-76, Midview City,
Singapore 573969 [Google Maps Link]
Contact: Email [email protected]
Rates: Upon request
[Instagram link] | [Facebook link]
10. The Wedding Concepteur
Translating to "Designer" in French, The Wedding Concepteur believes in making every wedding a literal piece of art, with every element representing the couple's style, identity and personality.
Having planned for some high-profile personalities like DJs Jean Danker and Glenn Ong, as well as model and actress Sheila Sim, the team prides themselves as wedding planners who prioritizes the couples' needs first.
Rather than working with a defined set of vendors, they collaborate with couples to curate the right vendors based on their specific requirements.
Incorporate both the fun and romantic sides of your relationship in your event like this couple did—dressing the bridesmaids and groomsmen in Mulan-inspired outfits for the gatecrashing ceremony!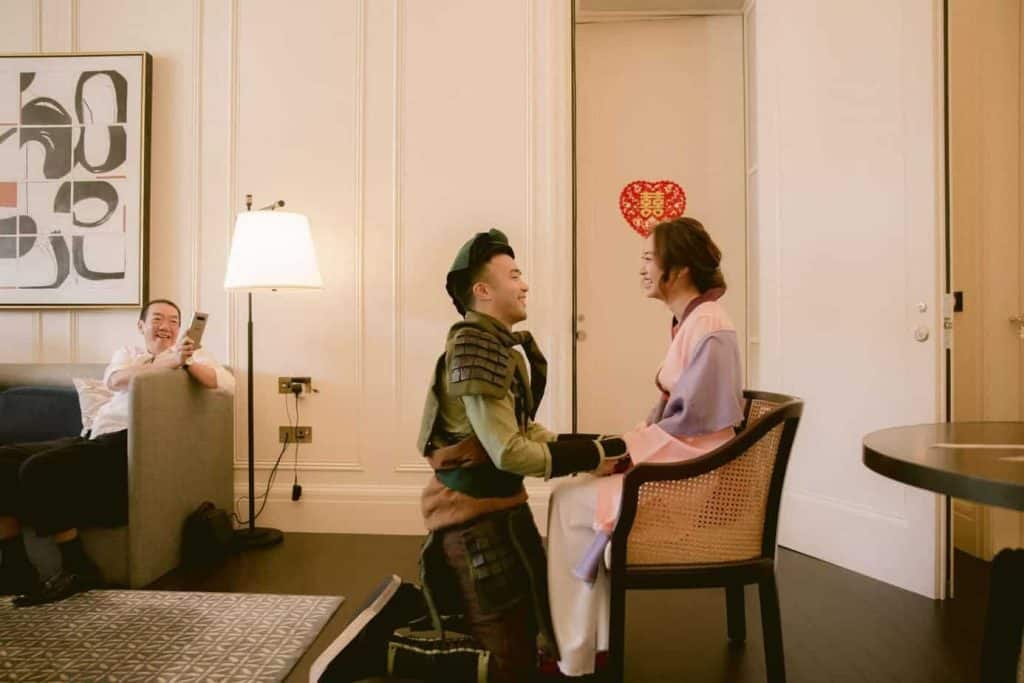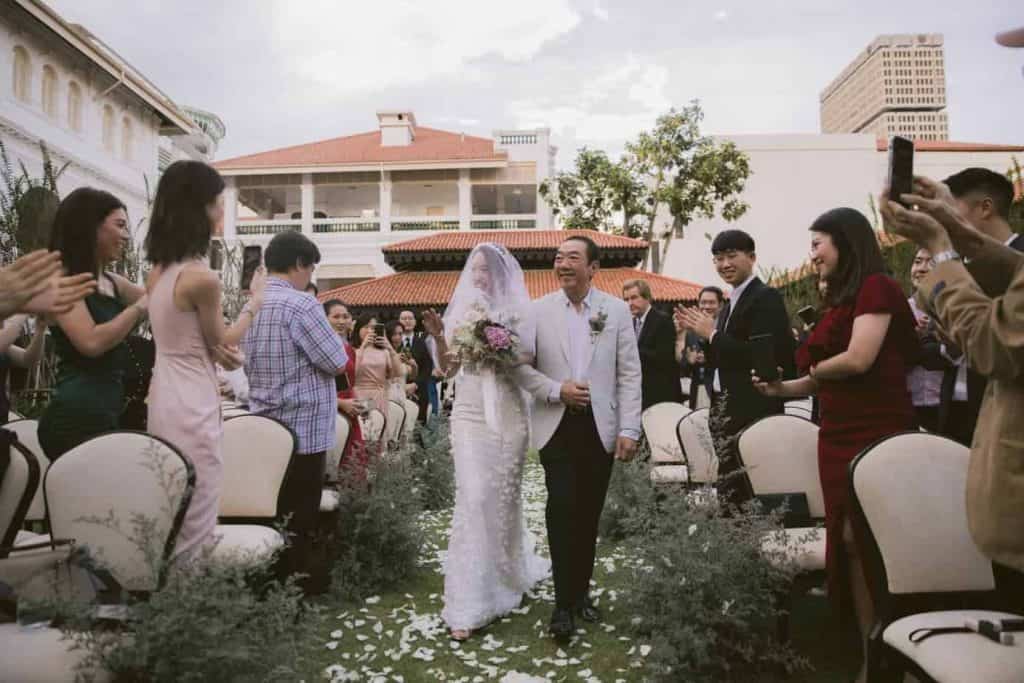 They also cater to couples who are hosting a small civil marriage ceremony in Singapore and those who only require coordination services starting three months before their big day.
Leave it up to them to make wedding planning seem like a piece of cake and craft a love-fuelled and intimate celebration from scratch!
Website: https://www.weddingconcepteur.com/
Address: 311B Clementi Avenue 4, #08-173, Trivelis,
Singapore 122311 [Google Maps Link]
Contact: Call +65 8853 0831 | Email [email protected]
Rates: Upon request
[Instagram link] | [Facebook link]
11. 1-Host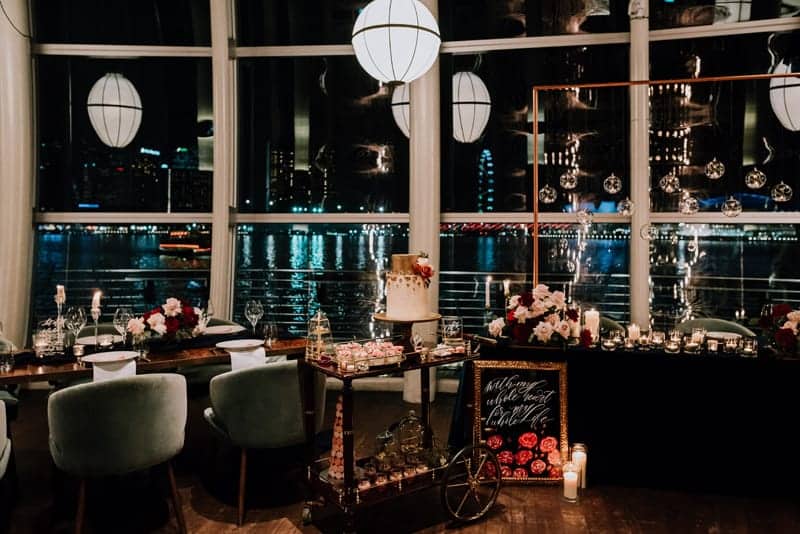 If have dreams of hosting a magical ceremony at some of the most luxurious venues in Singapore, 1-Host is the wedding planner for you!
Having successfully organized over 2,500 weddings, private parties and corporate events, 1-Host is well-known for planning events ranging from elegant garden solemnizations to stunning rooftop parties.
The team comprises of experienced event planners and have partnered up with F&B specialists, premier venues and professional partners to seamlessly weave the details of your big day together.
Managing a diverse range of iconic wedding venues such as 1 V:U at Sentosa, The Riverhouse at Clarke Quay, Monti at Fullerton Bay and The Alkaff Mansion at Telok Blangah, each location offers distinctive features that are bound to leave a lasting impression with your guests!
They also have an in-house wedding florist that can create table centrepieces, backdrops and floral arrangements to complete your picturesque ceremony.
Boasting a 4.9-star rating on Google Reviews, couples that have worked with them have vouched for their picture-perfect locations and top-notch service.
Website: https://www.1-host.sg/wedding
Address: 211 Henderson Road, #04-03,
Singapore 159552 [Google maps link]
Contact: Call +65 6773 0060 | Email [email protected]
Rates: Dependent on venue
[Instagram link] | [Facebook link]
12. Te Planner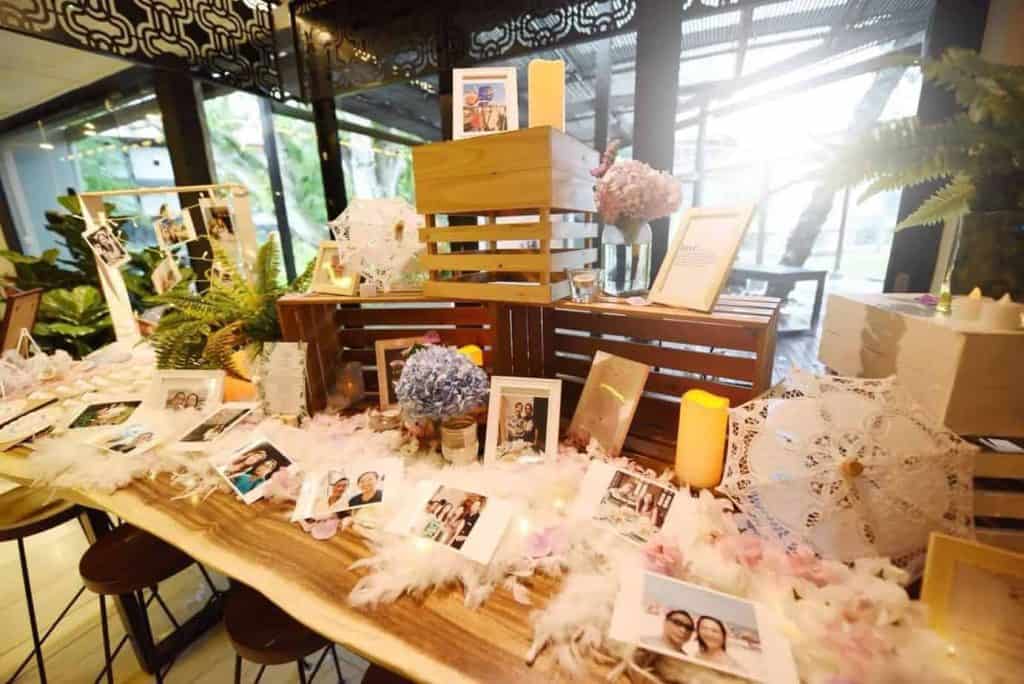 Te Planner is a wedding stylist and planner based in Singapore that believes that there are no boundaries when it comes to your wedding. Their vision is to help make your dreams come true.
Their packages include The Perfect Unison (Full Wedding Planning), The Love Planning (Actual Day Coordinator) and The Passion Styling (Wedding Styling) that is fully customizable based on your desires.
From styling, photography to floral arrangements, the team will ensure that every single detail of your wedding will be given their utmost care and attention. Their 5-star Facebook review can vouch for that, with past couples praising the team for being sincere, resourceful and accommodating.
Website: https://www.teplanner.com.sg/
Address: 61 Teban Gardens Road, #02-08, Teban Place,
Singapore 600061 [Google Maps Link]
Contact: Call +65 9069 1091 / + 65 8202 7004 | Email [email protected]
Rates: Upon request
[Instagram link] | [Facebook link]
Choose A Wedding Planner That Aligns With Your Vision
Ultimately, your wedding ceremony should be a heartfelt celebration that both you and your partner can enjoy to the fullest.
If you are feeling stressed over the details of your wedding, don't be afraid to ask for help from a wedding planner. The right wedding planner should be able to meld seamlessly with your ideas and inject their creativity to make it even better.
As you will be spending a good amount of time with them, an important factor to consider is whether you share great chemistry with your wedding planner and feel comfortable enough to entrust your big day to them.
Explore More Content