13 Best Wedding Gown Rental in Singapore For Budget-Conscious Brides [2023]
Find the best wedding gown rental in Singapore that proves not all swoon-worthy wedding dresses cost a bomb.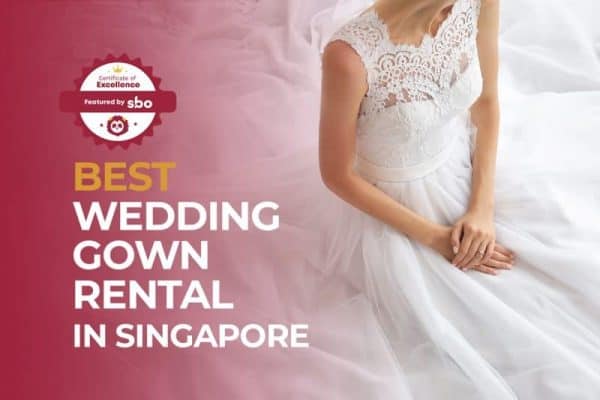 Choosing a wedding gown is undoubtedly one of the most exciting and memorable things on a bride's to-do list. However, not every bride is prepared to shell out thousands of dollars just to buy a dress that she is likely to wear only once.
Deciding to rent a wedding gown is a great way to save not just your wallet but also the environment—to help you in your search, here are 13 wedding gown rental in Singapore to get the dream dress you've always wished for sans the hefty price tag!
1. The Gown Warehouse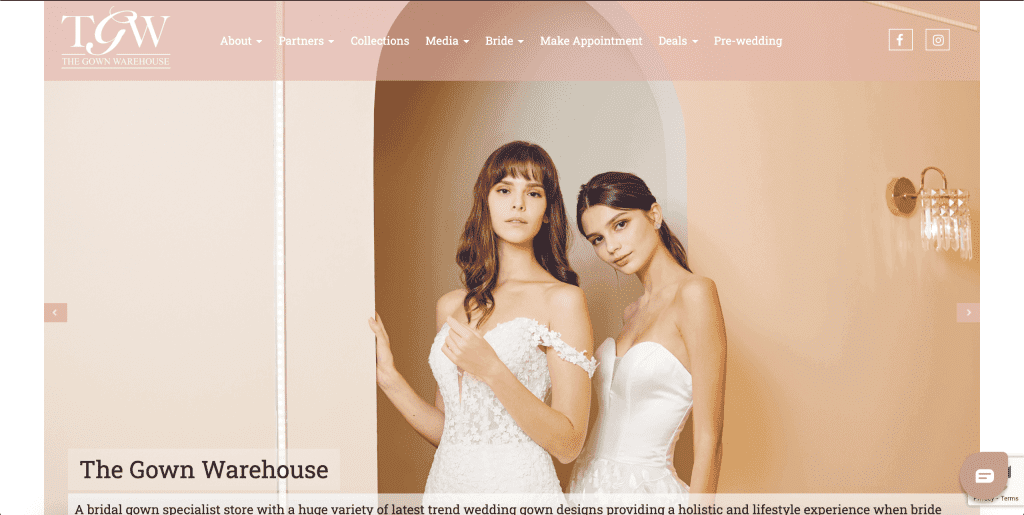 The Gown Warehouse is an established bridal studio in Singapore that offers an array of unique, trendy and quality wedding gowns for brides of all budgets.
Brides can find anything and everything from classy, romantic and traditional styles in different shades and embellishments that are available for rental or purchase.
Prices for their gown rental starts from $788 for 1 off-the-rack gown, $1388 for 2 and $1688 for 3 gowns.
Brides who had to postpone their wedding plans due to the pandemic were appreciative of the team's flexibility in accommodating to the changes and requests.
2. Digio Bridal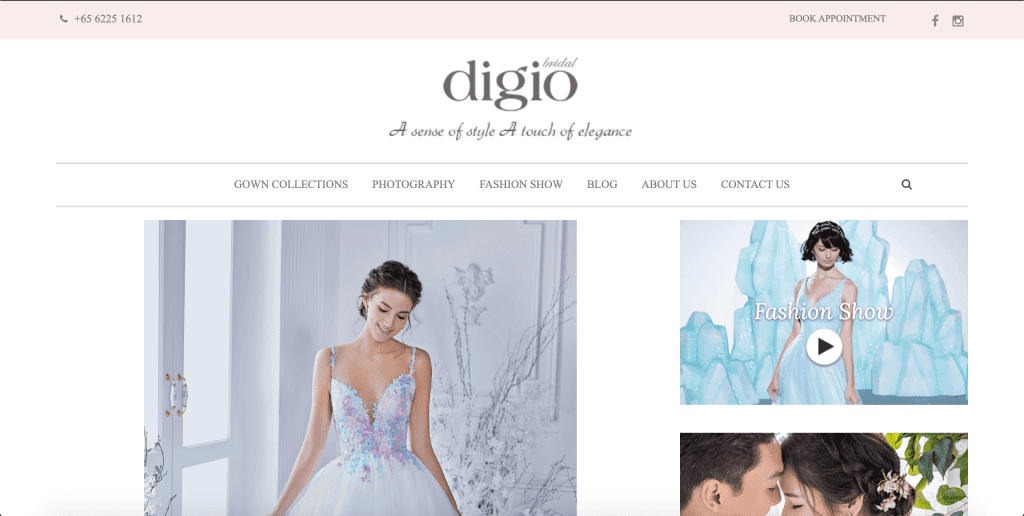 Digio Bridal has been in the business of realising couples' wedding aspirations for more than 20 years and aims to become the one-stop bridal shop.
Their wide selection of rental wedding gowns comes in both contemporary and traditional styles and is constantly updated with the latest fashion trends.
Be spoilt for choice and indulge in their unique collections such as Secret Garden, Modern Cheongsam and Pastel Rainbow to emphasize your unique personality and style.
With a team of dedicated professionals including on-site designers, stylists, bridal consultants and custom fitters, couples can count on Digio Bridal for a professional, service-oriented and detail-oriented rental experience.
3. La Belle Couture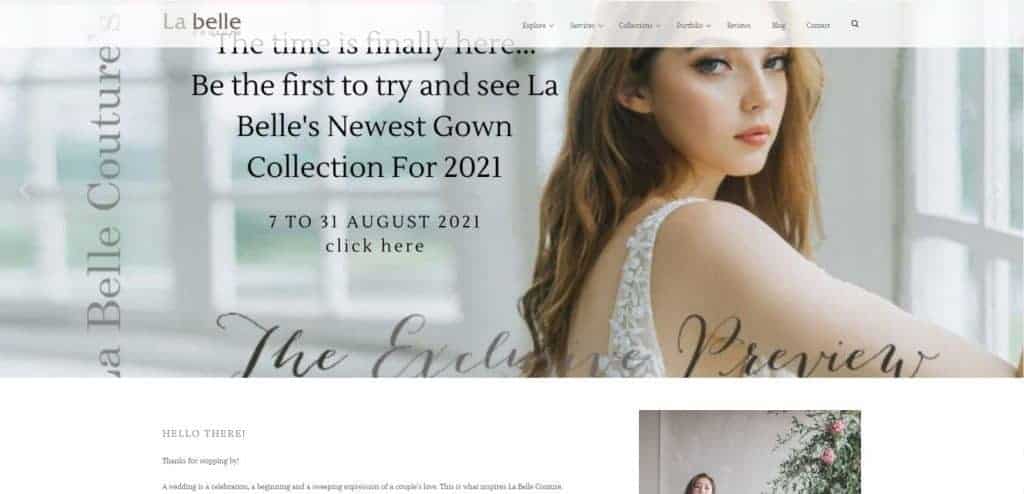 Focusing mainly on weddings, La Belle Couture is the one-stop place for a complete bridal solution. Together with their affiliate company Rosette Designs & Co, they seek to help in every aspect of their client's wedding.
La Belle Couture offers 2 choices for wedding gown and bridal dress rentals: Off-the rack bridal dress and wedding gown rental and Made-for-measure bridal dress and wedding gown rental.
They offer a stellar collection of over 500 utterly breathtaking designer couture wedding gowns that are refreshed 3 times a year such as the Modernist and Whisper of Blossom.
Reviews have praised the staff of La Belle Couture for their patience and professionalism towards their customers.
4. Z Wedding Design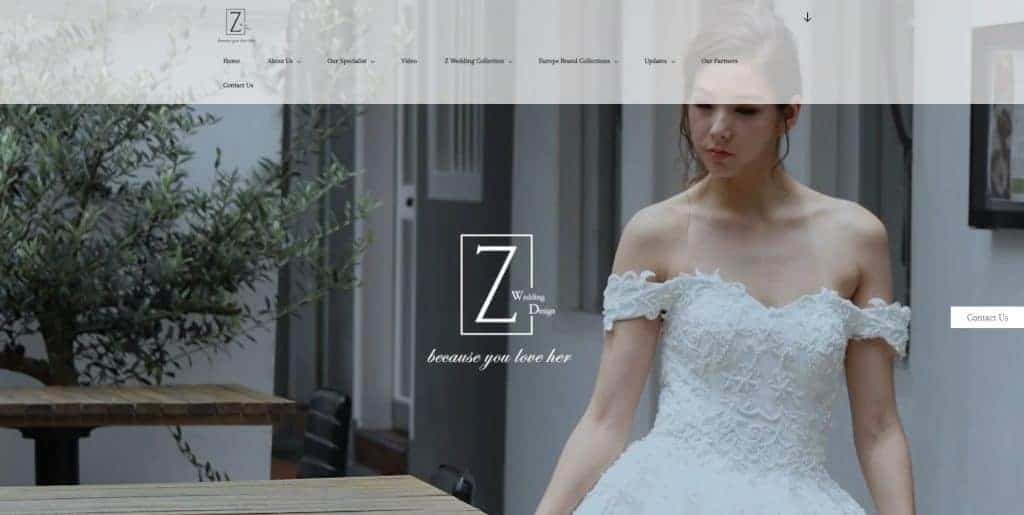 Founded in May 2007 by Joey Ling, Z Wedding is a contemporary wedding boutique that provides opulent and intricately designed gowns as well as personalised exclusive wedding experience.
They offer various collections of unique wedding gowns such as The White, The Fluer and Royal Garden.
Over the years, Z Wedding has worked with well-known celebrities and bloggers locally. It has also collaborated with Chris Ling International Photographers to provide bridal couples with a complete package of gowns, photography and videography.
They also provide self-image building lessons to enhance their appearance presentation.
Customers were impressed about the wide selection of wedding gowns and the process of the wedding shoot.
5. Luna Bianca Bridal Boutique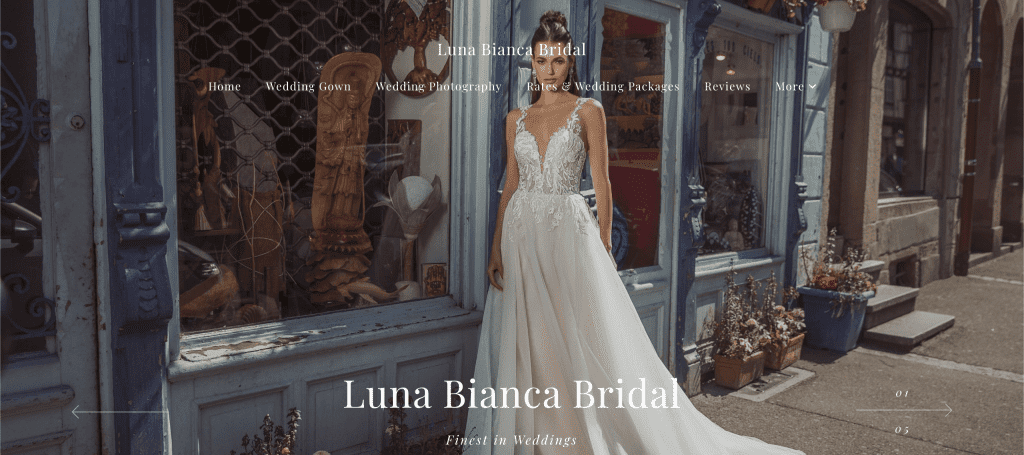 ​Luna Bianca Bridal Boutique aims to provide the best bridal experience featuring the most stunning gowns for rental.
Their wide selection of gowns covers all 6 basic silhouettes: A-line, Ball, Empire, Sheath, Trumpet and Mermaid to cater to your body shape. Brides get to choose from 4 exquisite collections: HERA, GRENADA, ELLA and FRANCIS that are all priced at $1200 per piece.
Brides with a tight budget can consider the Express Pre-Wedding Package which comes with 3 hours of local pre-wedding photography (up to 2 shooting locations) and includes the bridal gown, groom's suit, 1 session of makeup and hairstyling and 15 edited images at $1980.
What do graduated brides love about Luna Bianca: a wide range of unique gowns and great overall rental experience that is easy on the wallet.
6. Dream Wedding Boutique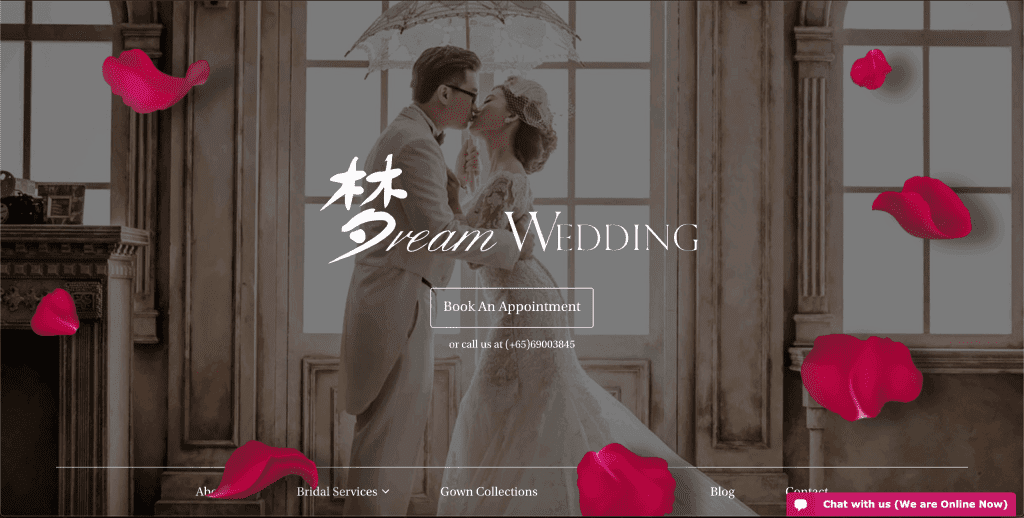 Helping you to breeze through the plethora of options and decisions to make in wedding preparation, Dream Wedding boutique boasts one of the most extensive collections featuring wedding and evening gowns in Singapore.
The founders of the boutique wanted to build a value-centric bridal boutique that offers all the essentials of a wedding: Pre-wedding and actual day photography, the wedding gown and wedding planning to ensure your big day runs smoothly.
All rental gowns are designed by Dream Wedding's in-house designer and prices range anywhere from $999 to $1500. Depending on your budget, you can choose from 3 wedding gown rental options: Dream Wedding Signature, Dream Wedding Boutique (gowns at mid-ranged prices) and Dream Wedding Budget (preloved wedding gowns at $100 nett)
Graduated brides are always giving praise on the friendly and accommodating service and value-for-money packages that have earned them tons of compliments at their event!
7. Louvre Bridal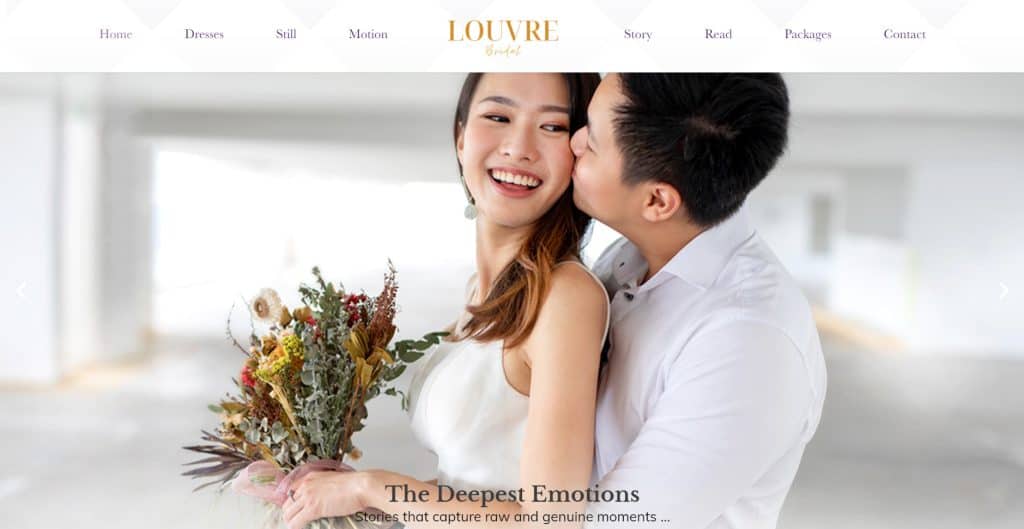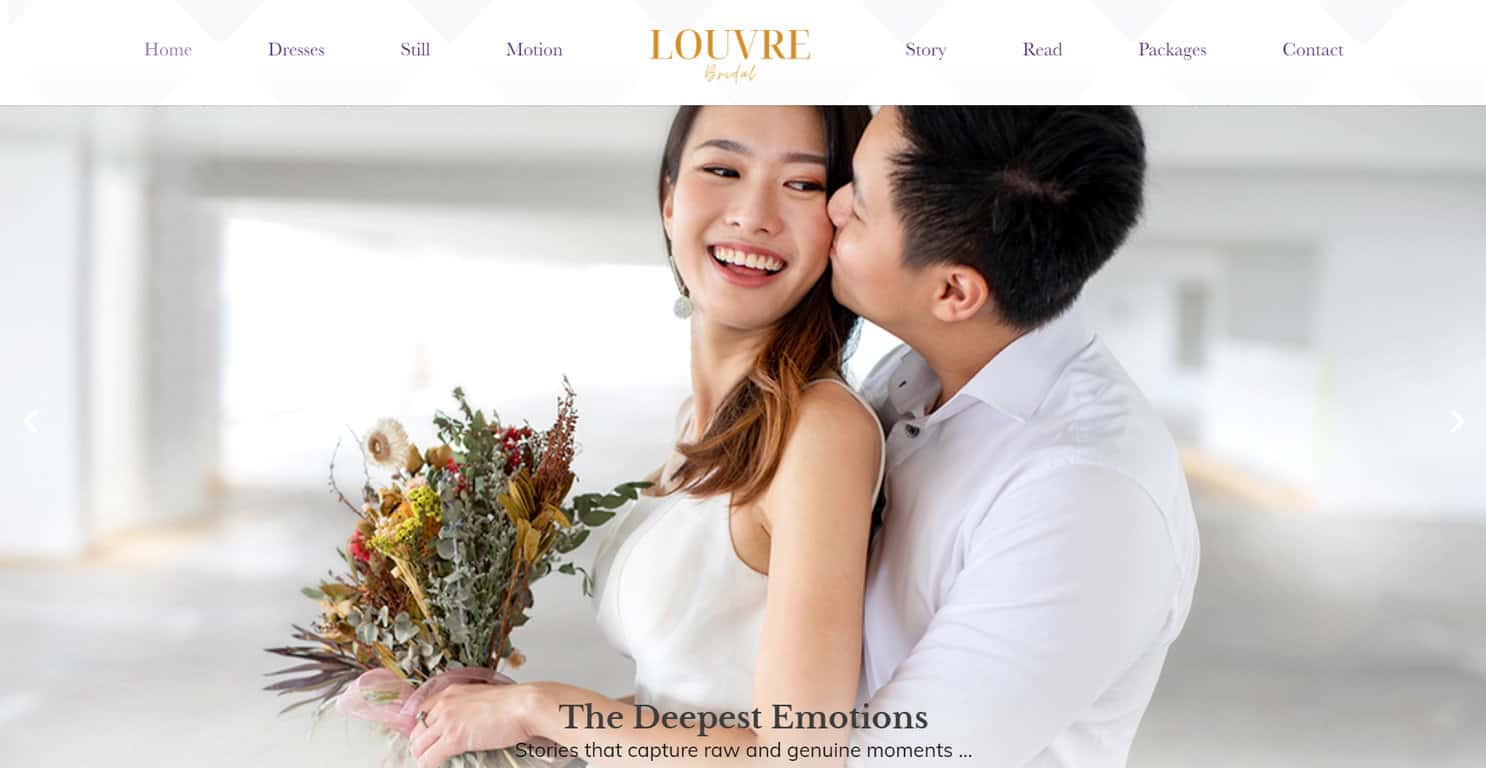 Since their founding, Louvre Bridal has been providing a complete range of wedding services, bridal packages, wedding and evening gown rental to provide couples with a memorable and seamless wedding experience.
Louvre Bridal offers a wide selection of wedding gowns such as Korean wedding gowns, designer bridal gowns, modern Japanese wedding dresses and bespoke designer bridal dresses.
Louvre Bridal was praised by customers for their patience and detailed-oriented approach in the wedding preparation.
8. The Gown Connoisseur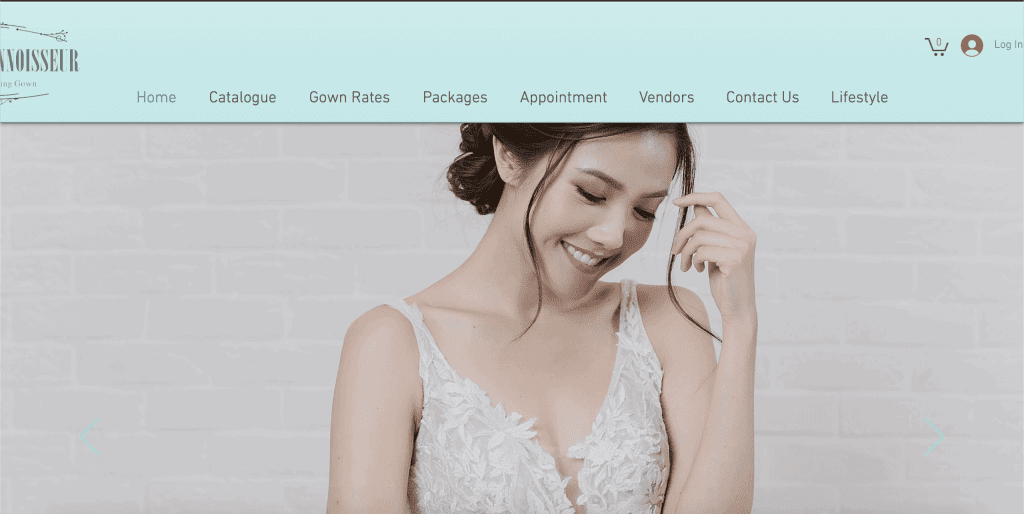 The Gown Connoisseur aims to be the leading online bridal platform that provides quality, service and affordability all in one place.
Carrying an extensive collection of wedding and evening gowns for rental, brides can browse from over 50 gowns complete with details such as the silhouette, train length and available sizes on their website.
They are very transparent with their prices, with gown rental prices starting from $698 (for 1 gown) to $3498 (for 6 gowns) to suit your budget. You can also rent a suit by adding an additional $120 or traditional Kua or Qipao at $100.
The gown rental period is 4 days inclusive of delivery and collection, and additional charges of $25 per day will be applied and capped at $250.
Taking a look at their reviews, you can be assured of a smooth and hassle-free process and top-notch service from start to finish.
9. Truly Enamoured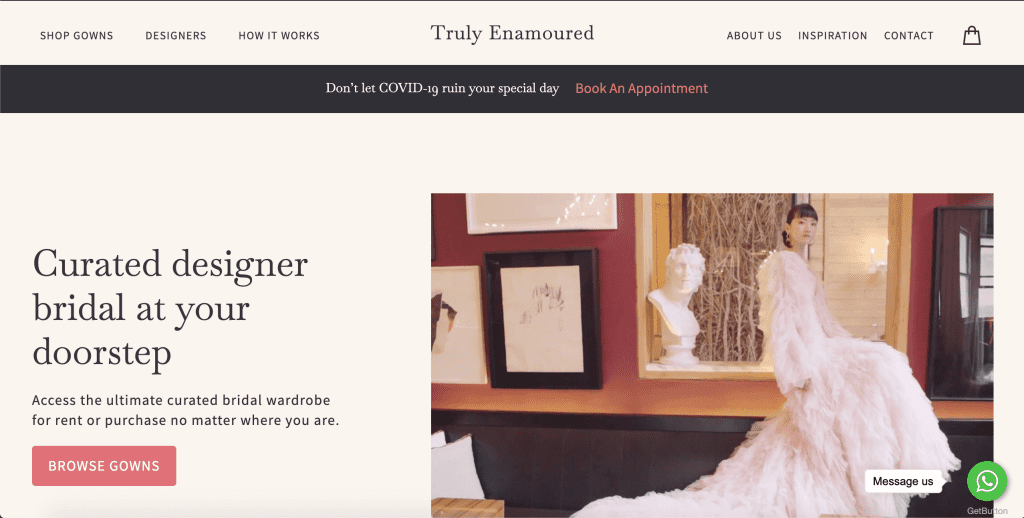 Truly Enamoured was founded by two sisters, Michelle and Linda, who wanted to share their love for Fine Art bridal aesthetics and curate high-quality designer gowns befitting of the modern bride.
The luxury couture dresses available for rent feature some of the biggest names in the industry like Lee Petra Gebrenau, Tony Maticevski and Peter Langner.
Upon seeing a gown that you like, simply make a reservation and follow up with your measurements for alterations. Once your gown has been reserved, you can swap the dress for another gown up to 16 weeks before it is delivered to your doorstep.
Do note that you will have to put down a security deposit of $1500 per gown and fork out an additional $180 or $250 for dry cleaning your gown with each usage.
Nevertheless, Truly Enamoured has received glowing reviews from graduated brides on their attentive customer service and beautifully-decorated loft (and coffee bar!) that makes any bride instantly feel like a princess.
10. Bridefully Yours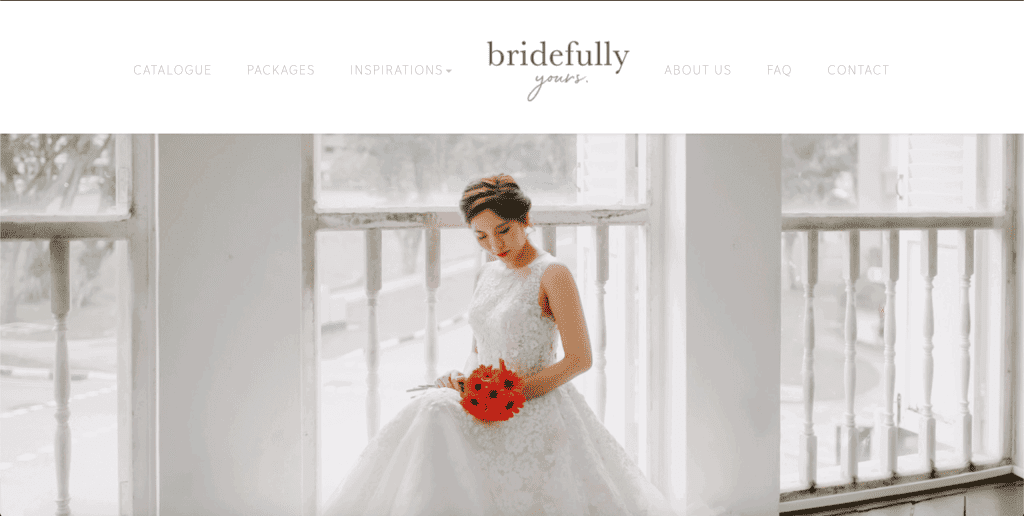 The motto at Bridefully Yours is simple: to have a dress that is uniquely you.
Offering the convenience of shopping for a gown online at affordable rates, all the gowns are specially handpicked by the team in varying sizes and silhouettes.
All gown rental packages are inclusive of dry-cleaning, return delivery, basic alteration services and bridal accessories. They highly recommend having your measurements taken by a professional tailor or seamstress for the best fit, although they also provide a size guide for reference.
Gown rentals start from $990 (1 gown), $890 per gown (2 gowns) and $790 per gown (3 gowns) that is inclusive of 3 days rental. If you wish to hold on to your dream dress for a photoshoot or afterparty, you can opt for a 7-day rental at an additional charge of $200.
This bride's review sums it all: "Truly an amazing experience with BY and I would definitely recommend this to any bride-to-be, in search of their dream wedding gown."
11. The Proposal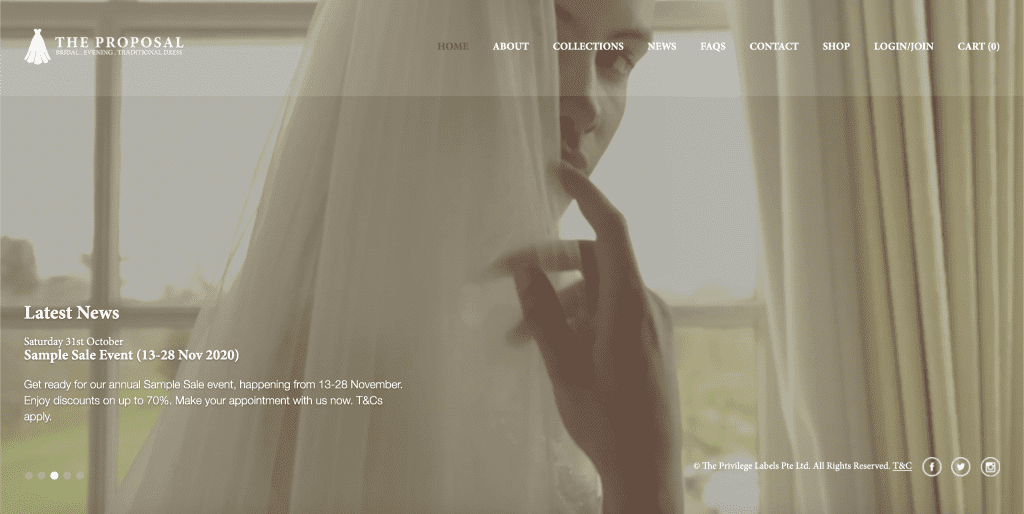 The Proposal was born from the need to provide modern-day brides with an immaculately balanced wedding gown, evening wear and traditional dress to make them the stars of their special day.
The founders work closely with the designers of each piece to understand the signature details and take this into consideration when making their recommendations.
Bringing in a plethora of designer gowns from big names like ELIE SAAB (Lebanon), Reem Acra (USA) and Jenny Packham (UK), The Proposal has recently launched their Galia Lahav Wedding Day Rental in addition to their Marchesa Notte Rental and Pronovias Rental collection.
The team's passion, professionalism and sincerity in what they do has definitely left a strong mark on previous clients and their celebration.
12. Stitch By Stitch Co.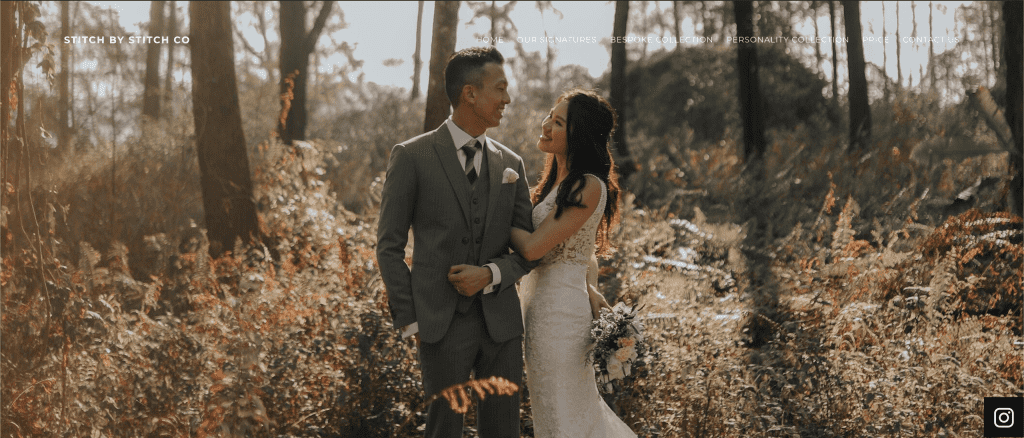 You can bid goodbye to cookie-cutter dresses that do not match your size, fitting and style with the help of Stitch by Stitch Co.'s founder, Joan!
Pick the Bespoke collection if you wish to design your own dress, or select from the off-the-rack dresses in the Personality collection that featuring fun and unique designs and styles like boho, jumpsuits and bold embroidered florals starting from $1100.
The Bespoke to Rent option allows you to design your dress and put it up for rent later (starting from $1800) while the Bespoke to Keep means you get to keep your beautiful creation forever! (20% more from Bespoke to Rent)
Stitch by Stitch Co. also lets you hold on to your bespoke piece for as long as you like at no additional cost if you wish to use it for a pre-wedding photoshoot — simply inform them when you plan to return it!
Reviews talk about how friendly, patient and accommodating Joan and the team were in going the extra mile to make their dream wedding dress come true.
13. Frieda Brides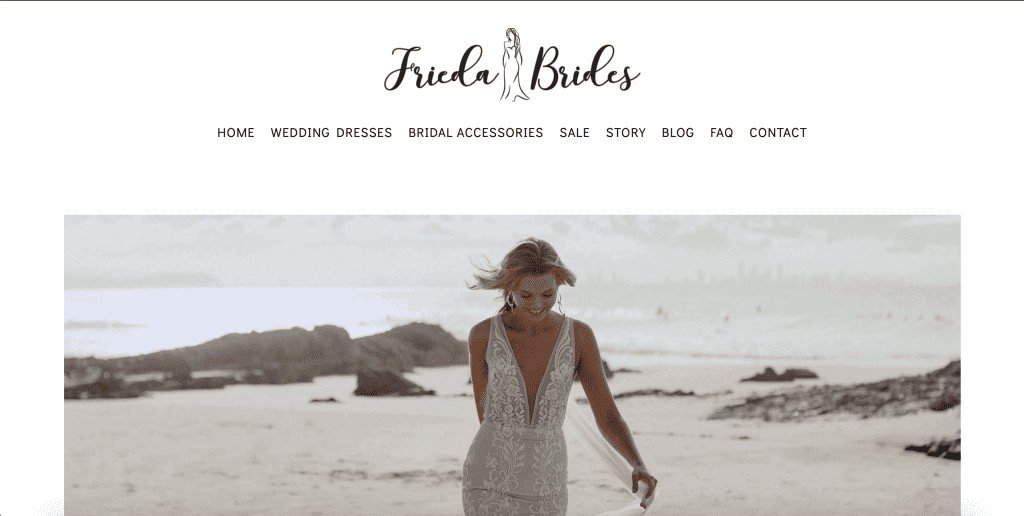 Frieda Brides believes that good design and quality should be accessible for all brides, no matter their budget.
Carrying gowns from a range of renowned designers from around the world such as Made with Love (Australia) and Rosa Clara Group (Spain), the majority of their off-the-rack gowns are available for rent starting from $1280.
It is highly recommended to reserve your dress four to 12 months in advance to make room for alterations and dry cleaning. To match your luxurious and elegant gown, Frieda Brides also offer bridal accessories made by various talented artisans such as Anna Campbell and Luisa Vass.
For brides looking for alternative gowns with a clean and sophisticated look and possess a "wow-factor", Frieda is your go-to.
Conclusion
Do you have any reviews and comments to share regarding our choices for the best wedding gown rental in Singapore?
While SBO is committed to supporting our local businesses, we welcome any feedback and anonymous sharing regarding your experience with the listed wedding gown rental in Singapore.
We hope that this guide will be useful in helping you to make an informed decision when it comes to finding the best wedding gown rental in Singapore.
Check out our recommendations for more bridal shops in Singapore!
Explore More Content