9 Best Magician in Singapore for a Magical Experience [2023]
Conjure up mystifying magical performances for any event with the 11 best magician in Singapore!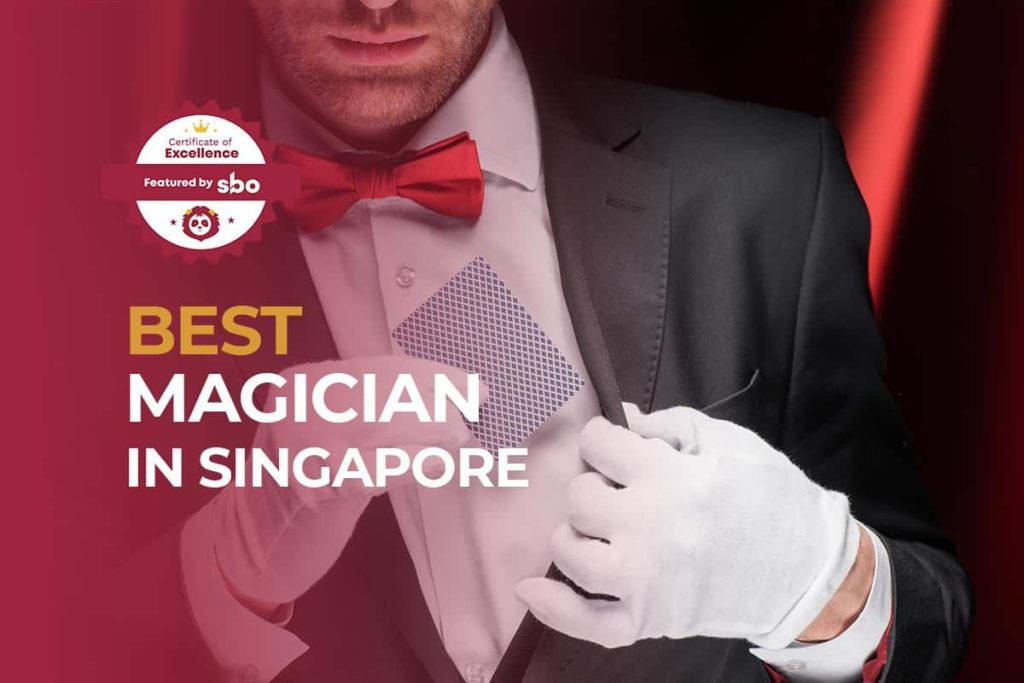 When a fair number of us were younger, we were probably mesmerised and intrigued by David Copperfield, Siegfried & Roy, Penn and Teller, and many more.
Today's magicians provide plenty of entertainment and pure unadulterated fun for families, children and corporates of all ages alike. It's not just pulling rabbits or doves out of hats, but a whole world of intrigue and mystique to delve into.
If you're looking to spice up an event, a birthday party, or to add a little magic to your mundane lives, check out these 10 best magician in Singapore!
1. Tommuillusions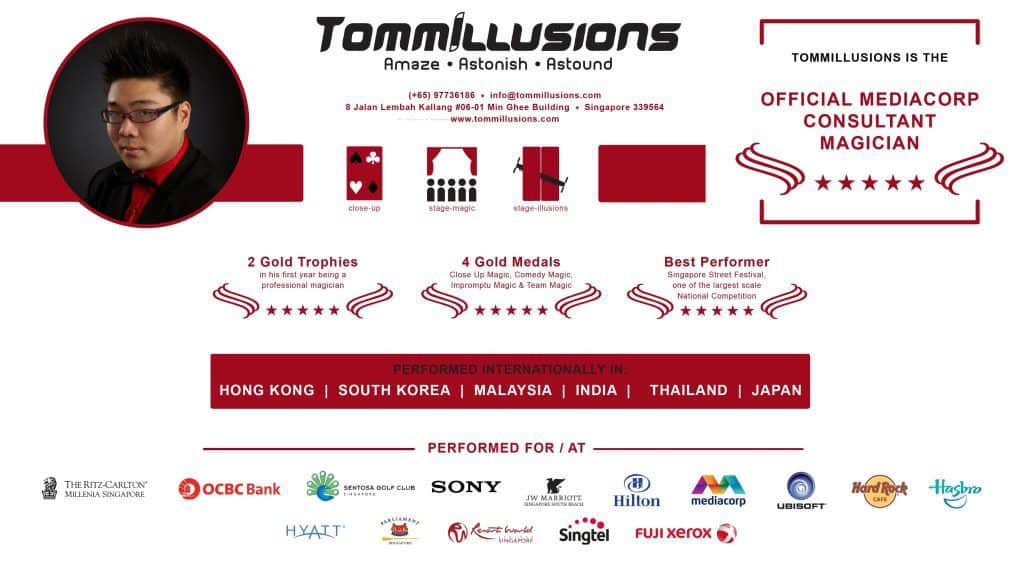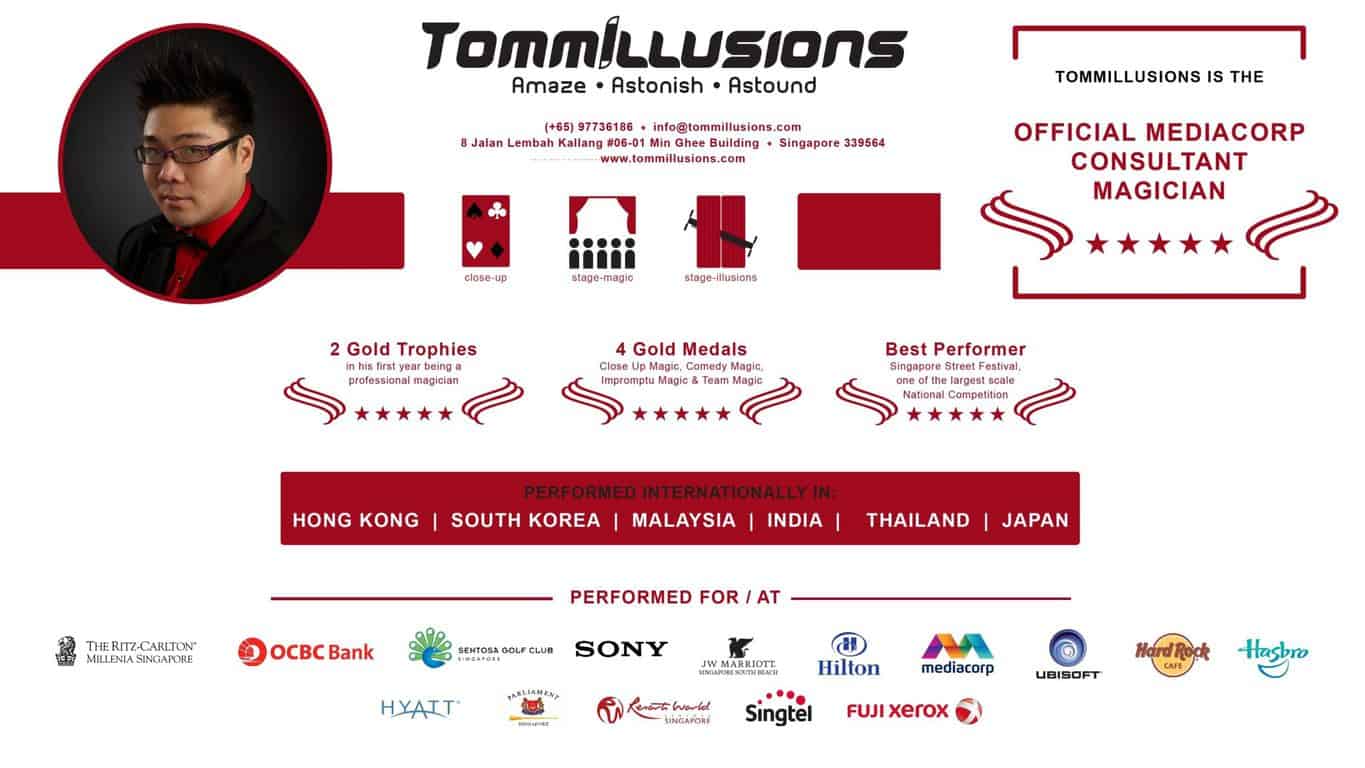 TommIllusions, Magician Extraordinaire, has been practicing the Mystical Art of Magic for more than a decade. He is a Master of Visual Wizardry, from Close-up to Stage and from Kids to Corporate. The best part is that all of Tomm's presentations can be tailored to suit your event!
Close-Up Magic
The most amazing experiences of wonder often occur close-up, under the watchful gaze of the audience, and even in the own hands of participants! A walkaround magic show is the ideal solution to entertain your guests, and lure them to the reception early.
Stage Magic
Presenting the very best of Magic and Comedy! Your guests will be amazed, astonished and astounded by Tommillusions, Champion Magician and Best Performer at the Singapore Street Festival, Fantabulous Magic Challenge 2014.
Stage Illusions
Fancy something a bit bigger, perhaps? Something world-class, mind-bending, thrilling… how about dangerous even? Well, if you can't go to Las Vegas, let Tommillusions bring Las Vegas to you with his dazzling, Grand Illusion show! The perfect presentation for Cabaret, Theatre, Corporate and Ballroom.
Zoom Shows & Workshops
Can't hold your event live? No problem! Tomm is a Master of Virtual Shows, Training and Presentations, Webcasting Worldwide from his State-of-the-Art Zoom Studio.
Over the years, Tommillusions has been awarded various accolades, including 4 Championship Gold Medals, 2 Gold Trophies, Best Performer Award and National Competition!
2. Stefan Ebinger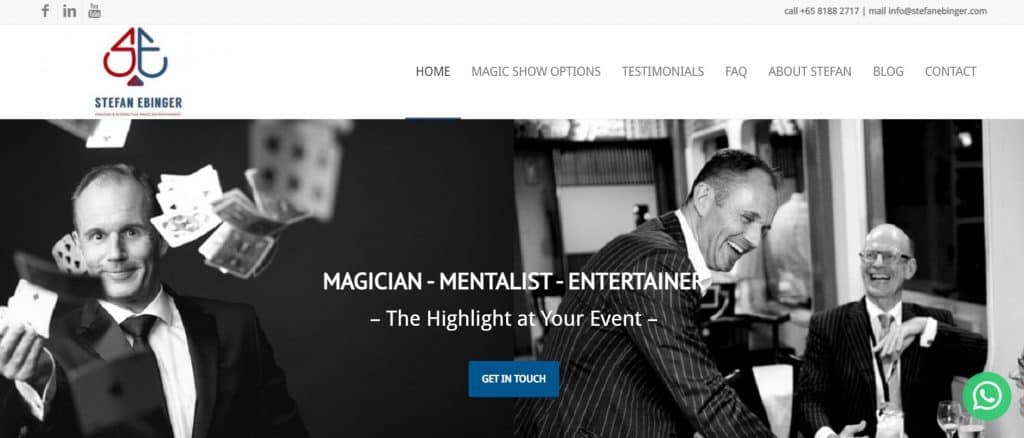 Magician Stefan Ebinger enchants and enthralls with impossible illusions. As the "Gentleman Magician in Singapore", he has been hired by various multinationals like Toyota, SAP and MasterCard to perform and entertain their guests.
Stefan Ebinger is a roving magician who engages guests with an interactive stage or virtual magic show. Choose between 3 different programme packages: Roving, Close-up Magic, Stage Show and Virtual Magic Show.
Reviews say of professionalism and brilliance, as well as a mind-boggling experience even through virtual performances.
3. Tricky Patrick Magician Magic Show & Kids Party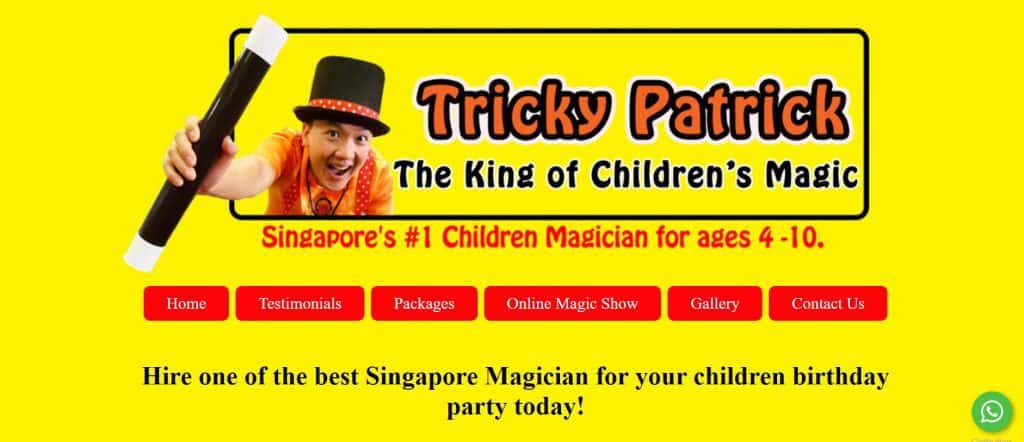 Planning a party for your little one?
Make it memorable with Tricky Patrick! Self-dubbed "The King of Children's Magic", Tricky Patrick has had many moments of fame. He's been featured on local television shows like MediaCorp Kids Central, Channel 8 and Channel U.
In fact, he's the preferred magician for huge children's events under MediaCorp for various festivals and events. Many local celebrities have also engaged him for their child's birthday party.
Customers review that his show brought plenty of fun and laughter to both kids and adults alike!
4. Derek Lee Magic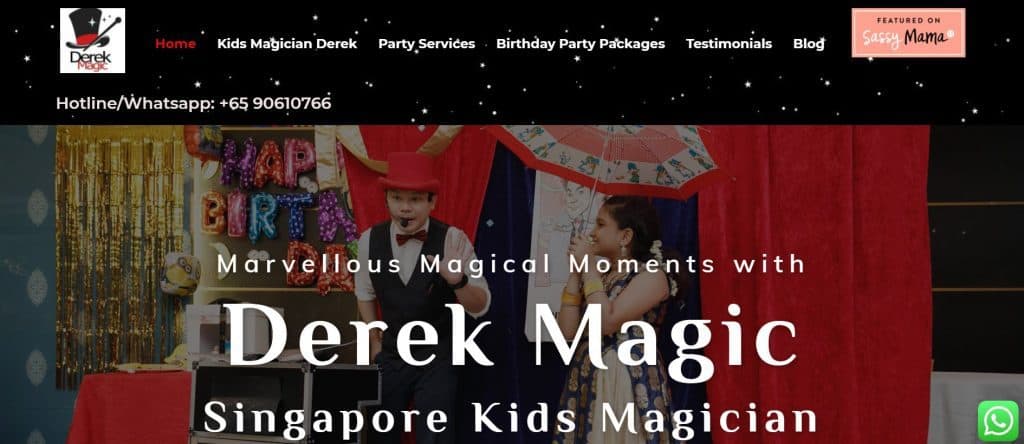 A magician specialising in kids' magic shows for birthday parties and special events, Derek Lee has charmed many children with his capabilities. His esteemed clients comprise of corporates, royalty from abroad, and government events.
He mainly performs under two types of shows: kids' magic shows and close-up magic shows. Using a balance of comedy and nifty magic tricks, Derek Lee keeps the kids thrilled and enraptured.
As an event hosting company, Derek Lee supports party and event hosts in planning special occasions. Customers give nods of approval towards his engaging style, top-notch game hosting and exciting entertainment as seen from the reviews.
5. Magic Of Markson Kids Party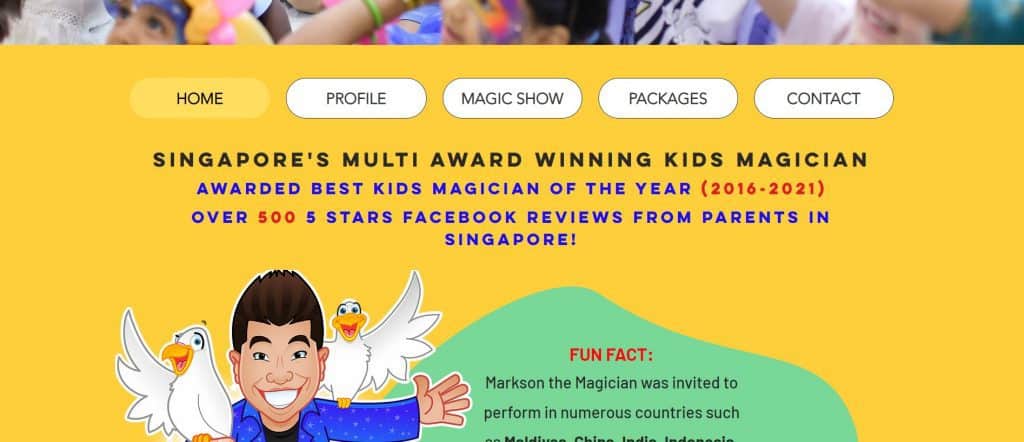 Markson the magician has had an illustrious start to his career; as the youngest dove magician in Singapore at 12 years old, he went on to cinch multiple awards from various competitions.
Since being a full-time magician at 18, he's gone on to perform at over 5,000 live shows in many private events and in countries like Singapore, Taiwan, China, the Maldives and more.
30-minute-long packages for kids is priced from $350 nett with an additional discount of $80 during this COVID-19 period. Pick from a variety of interactive and immersive packages for your child's birthday party!
A look at the reviews shows that customers had a fantastic time where both children and adults were thoroughly entertained.
6. The Magic of Joe Yu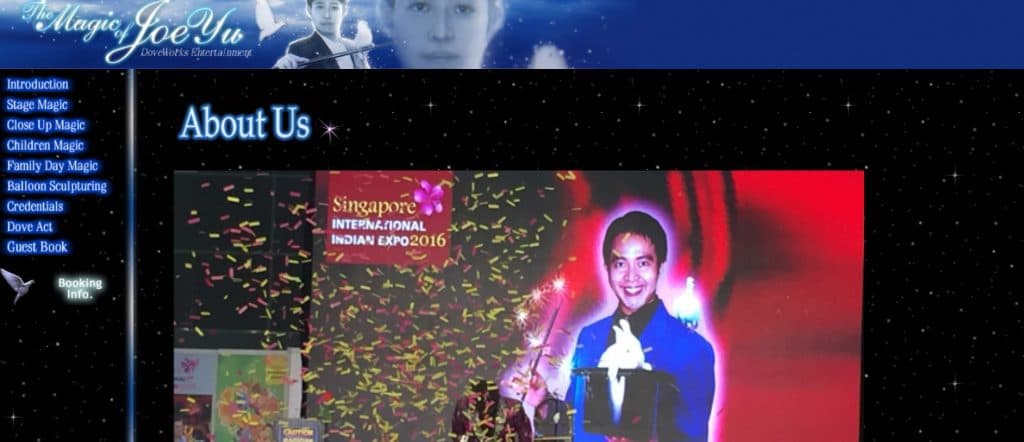 A distinguished magician and illusionist, Joe Yu holds the title as the first creator of live animal magic and illusion shows in Singapore.
His magical entertainment comprises of the full works: well-trained birds, champion and show breed rabbits, LED light illusion, effects, costumes and props.
Joe Yu uses complicated technology, majestic illusions, LED effects, and 3D backdrops to complete his tricks. Pick from different types of shows, like Stage Magic, Close-up Magic, Family Day Magic and Balloon Sculpturing!
Reviews show plenty of pleasant feedback from satisfied customers claiming that he delivered smashing magic shows and even taught kids a trick or two.
7. Meta Illusions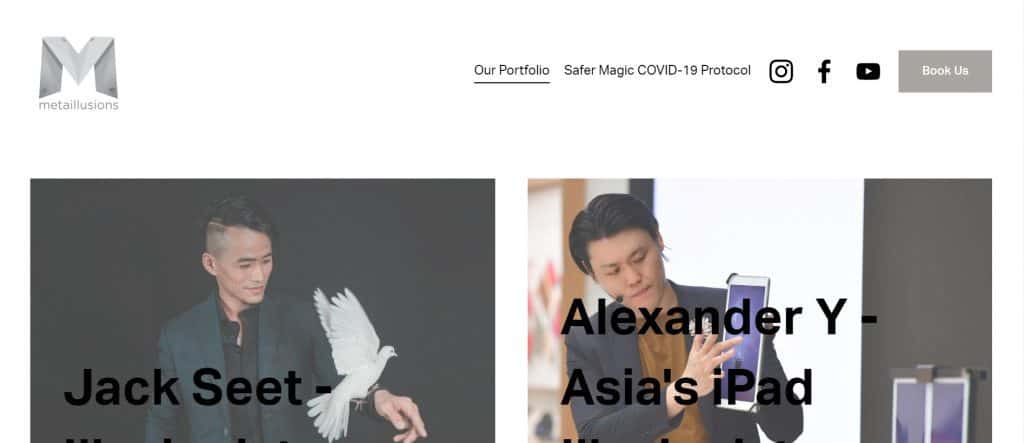 The duo behind Meta Illusions, illusionists Jack Seet and Alexander Yuen, propel the local magic industry and transform it to a grandness bigger than ever.
Having entertained prestigious customers from the likes of multinationals like Samsung, Volkswagen, Hermes, Chanel and more, Meta Illusions proves itself as the go-to for high-end luxury magic enjoyment.
Bask in world-class entertainment by a contemporary duo that uses modern functions like programming! They also conduct workshops to teach not just magic, but meaningful life values as well.
Reviews give a pleased nod to their professionalism, the smooth experience and fantastic service.
8. Creative Magic Inc
Magician HongWei of Creative Magic Inc collaborates with his team of face painters and balloon artists to bring mesmerising magic to your life.
He has performed for thousands of eager children for birthday parties, company events and roadshows, and even appeared on local television before.
Rates for his magic shows start from $250. He also offers other entertaining services like emceeing for events from $100 onwards, mascot shows from $170, balloon sculpting and decor services from $120.
As someone who goes out of his way to ensure a successful performance, reviews laud him as a patient and well-planned magician.
9. Hidden Street Magic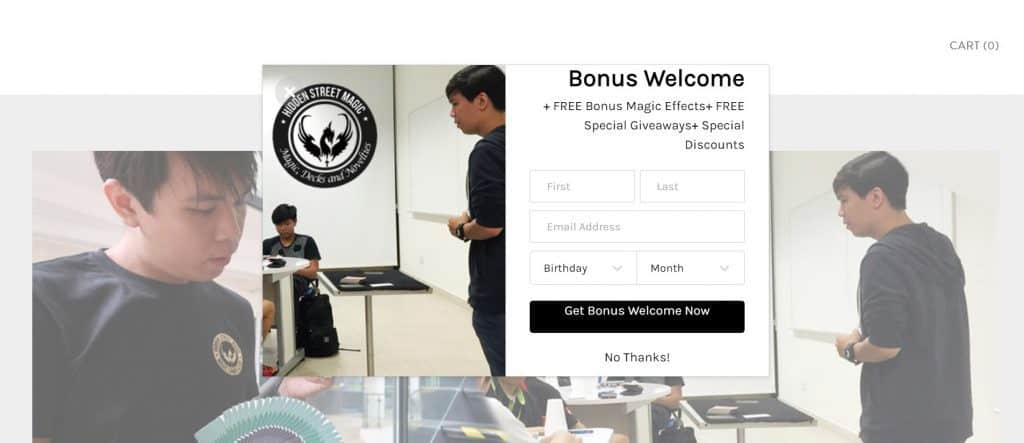 Hidden Street Magic delivers magic webinars to enthralled customers, focusing mainly on teaching magic tricks and proffering playing cards.
The founder, Avriel, sees himself as a leader in practical social magic for different occasions. Here, you can learn magic that you can perform anywhere, anytime.
Reviews praise him for his patience and professionalism and agree that the magic lessons were useful and practical.
Conclusion
Do you have any reviews and comments to share regarding our choices for the best magician in Singapore?
While SBO is committed to supporting our local businesses, we welcome any feedback and anonymous sharing regarding your experience with the listed magician in Singapore.
We hope that this guide will be useful in helping you to make an informed decision when it comes to finding the best magician in Singapore.
Explore More Content