10 Best Florists for Grand Opening Flower Stands in Singapore [2023]
Here are our top picks for best florists for grand opening flower stands in Singapore!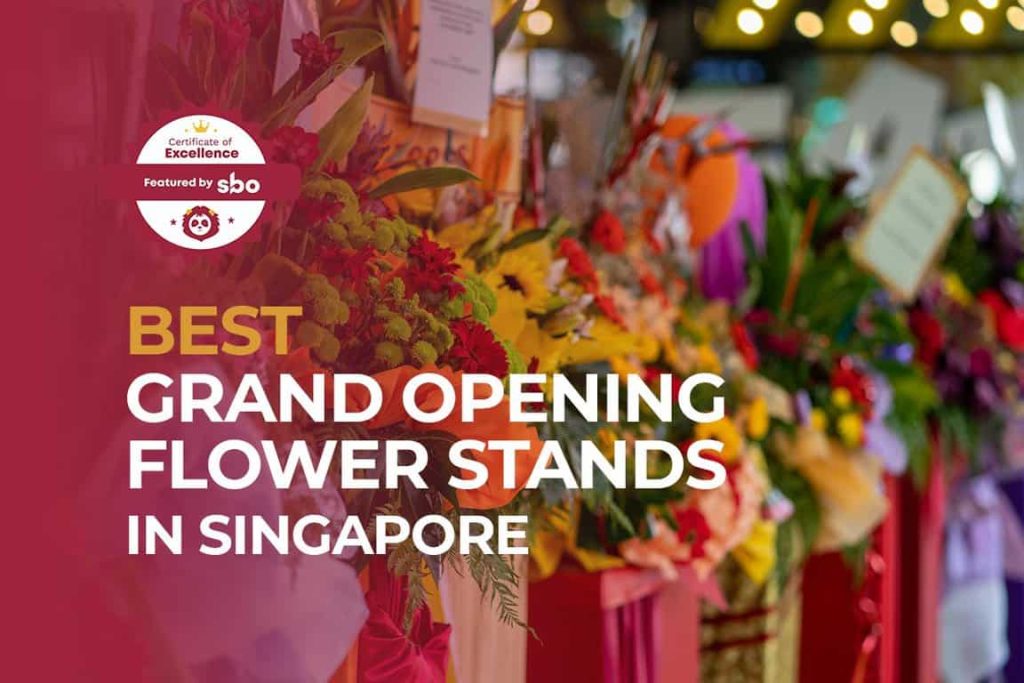 Seeing bright and vibrant stands of flowers outside a shop typically signifies that the store has just opened its doors and these grand opening flower stands are sent by family, friends and business partners to congratulate the opening.
If you are looking to send one, here are our top picks for best florists for grand opening flower stands in Singapore!
1. Singapore Florist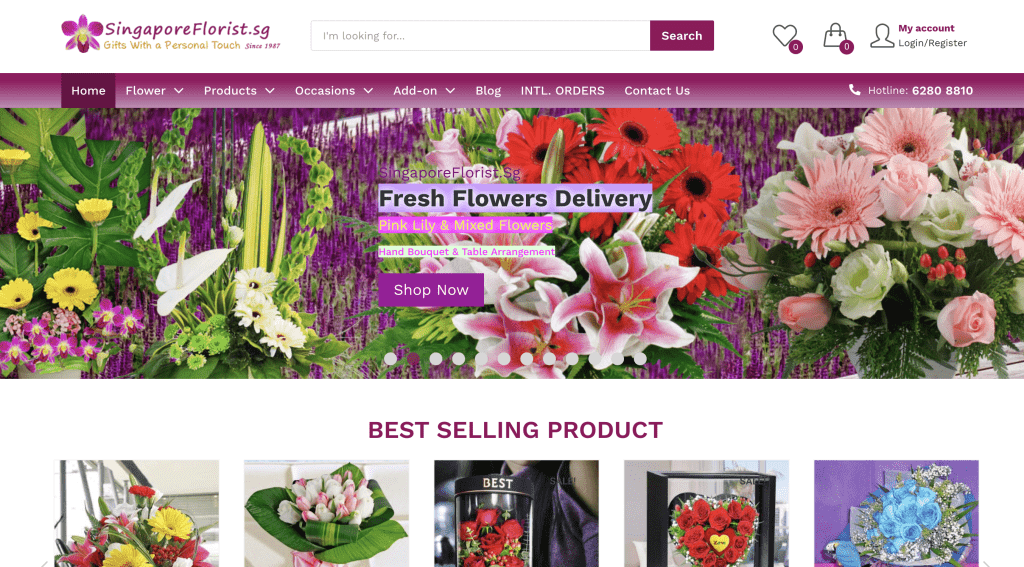 A flower shop with a longstanding history – since it was founded 45 years ago, Singapore Florist has been serving generations of Singapore families for their flower needs – be it congratulatory flower stands for grand openings, birthday or even wedding flowers.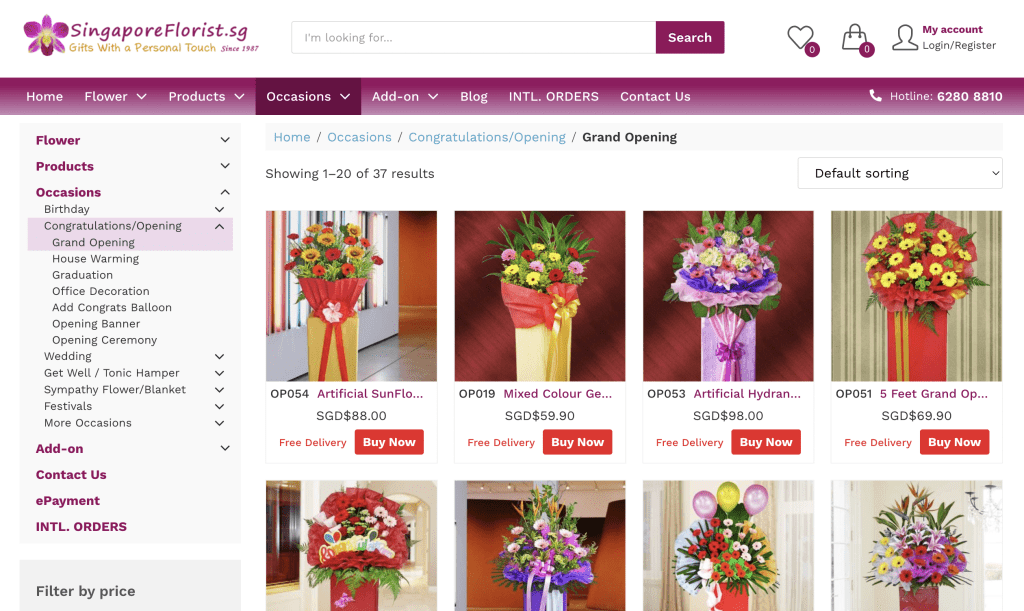 It really depends on what flower stand you're looking for but at the cheaper end they have flower stands for S$60 to S$400 for the more elaborate ones.
2. Far East Flora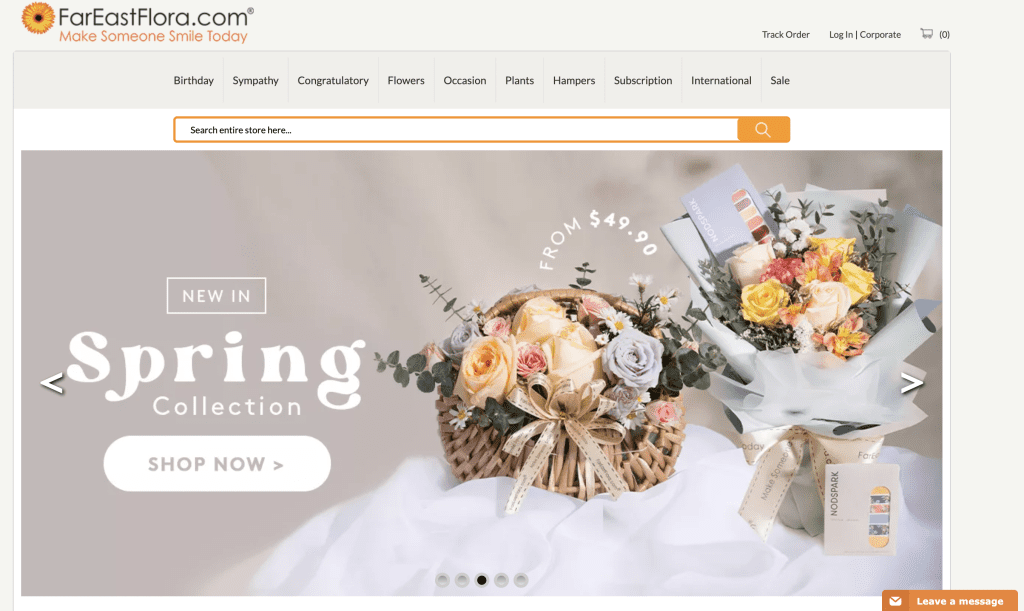 Far East Flora is your local florist that provides same-day flower delivery services not only in Singapore but has expanded their footprint in Asia as evident from their outlets in Hong Kong and Malaysia.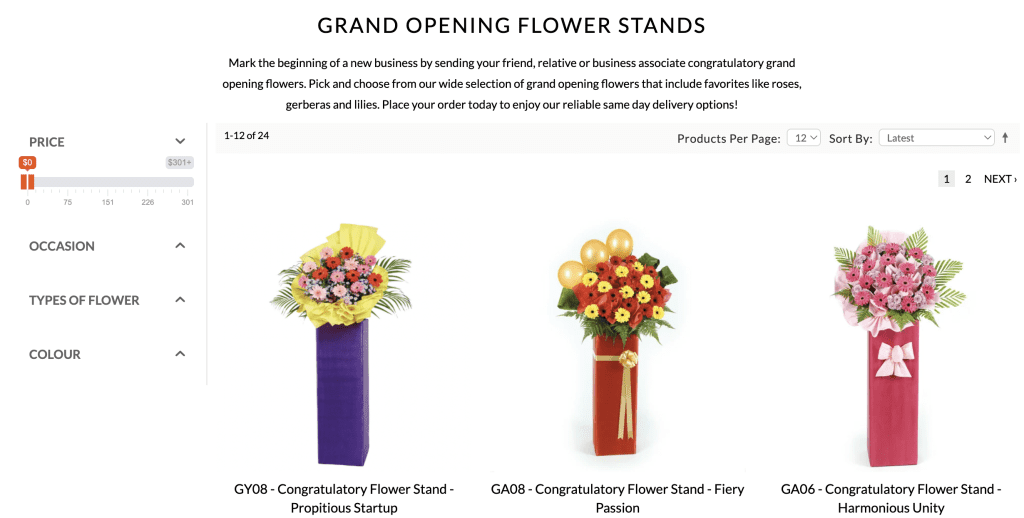 If you're looking for a congratulatory flower stand to gift for someone's grand opening, those on the cheaper end costs approximately S$65 while the post premium one costs up to S$856! They have a whole range of flower stands for your picks so one would certainly find a suitable one there!
3. Xpress Flower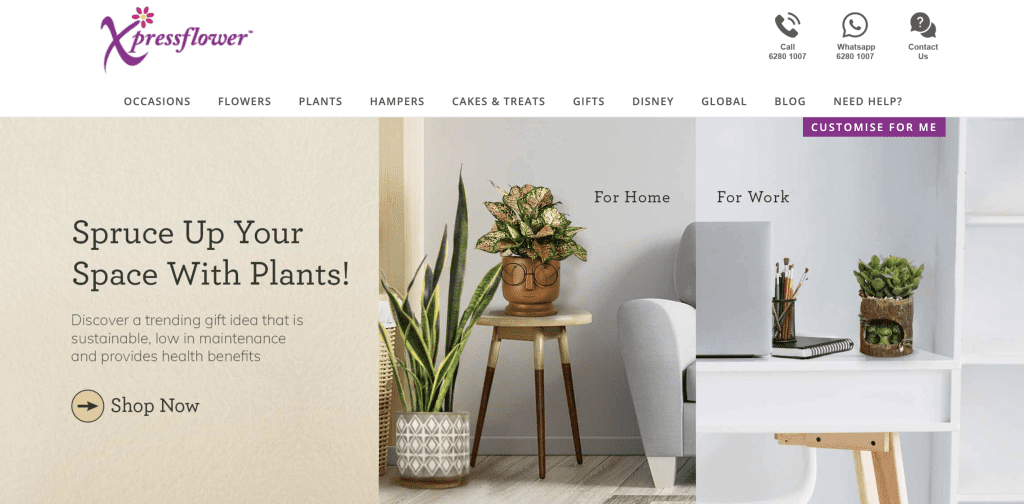 If you're looking for a last minute bouquet, Xpress Flower might actually save the day as it has multiple islands located all across Singapore with their physical stores for you to purchase flowers.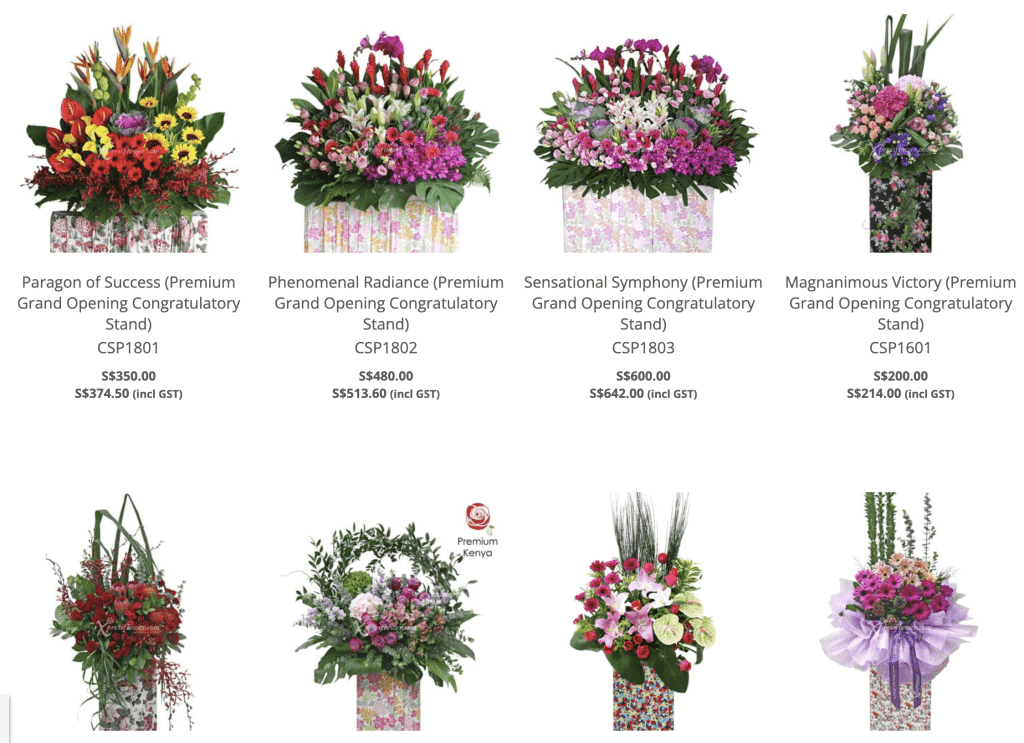 They have an array of flower stands for grand openings, with very interesting and prosperous names – Apex of Triumph and Energetic Endeavour, so do contact them to find one with your preferred design or choice of flowers to send as a congratulatory gift.
4. Floristique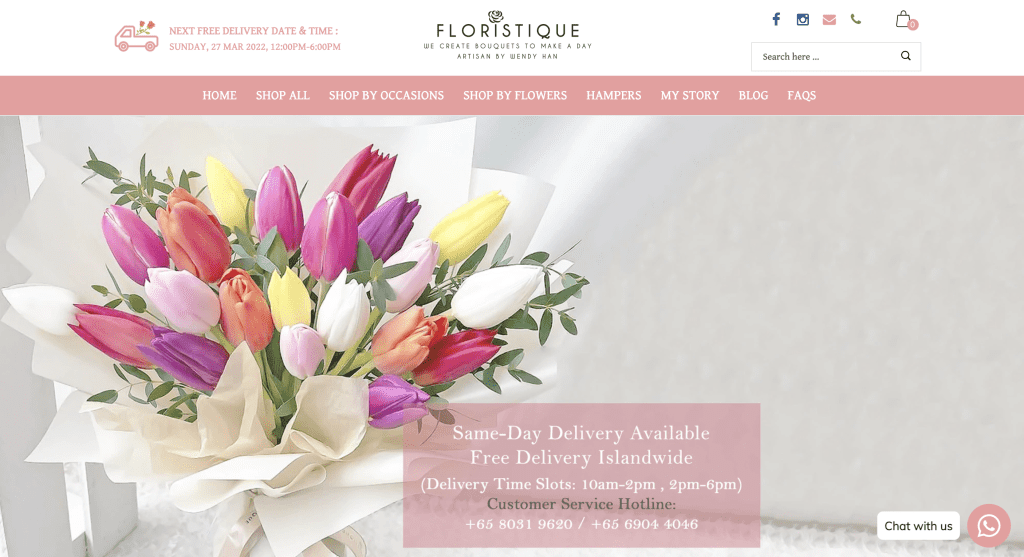 Floristique offers free flower and hampers delivery to all parts of Singapore. We particularly like them for the fact that they managed to keep the prices of their flowers very affordable, something that is rare as we all know how much fresh flowers can cost.
A simple stand costs S$70 while the more elaborate ones costs S$300, so depending on how much budget and what sort of flower arrangements you want, choose one that is best suited to your tastes!
5. Floral Garage Singapore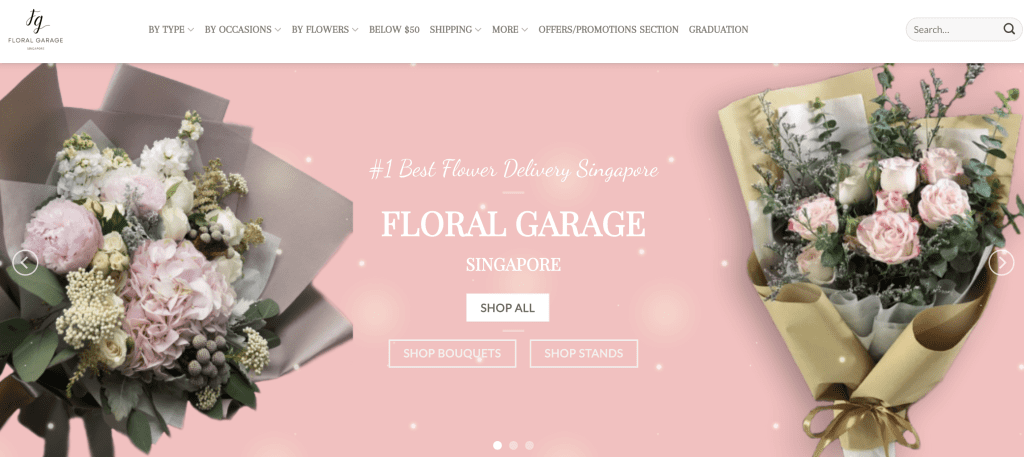 Floral Garage offers free same day delivery with a wide range of beautiful flower selections. With over 1,000 choices of flowers, hampers and gifts, it leaves one spoilt for choice.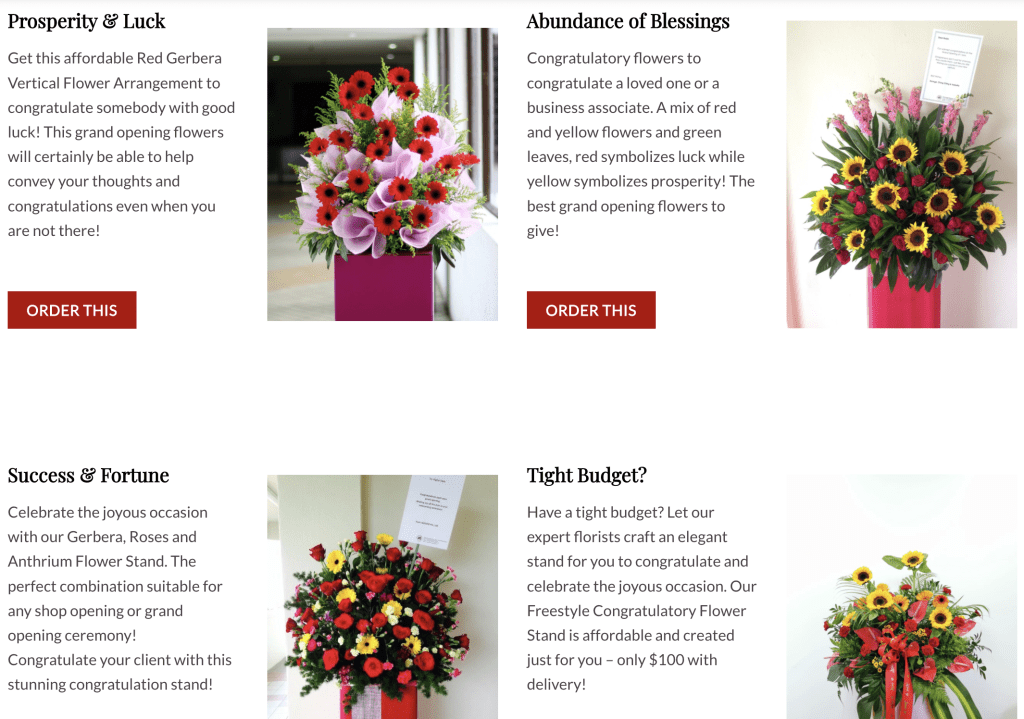 Congratulatory flower stands go at S$102 for the simpler ones while more elaborate ones can go up to S$400.
6. Flowers and Kisses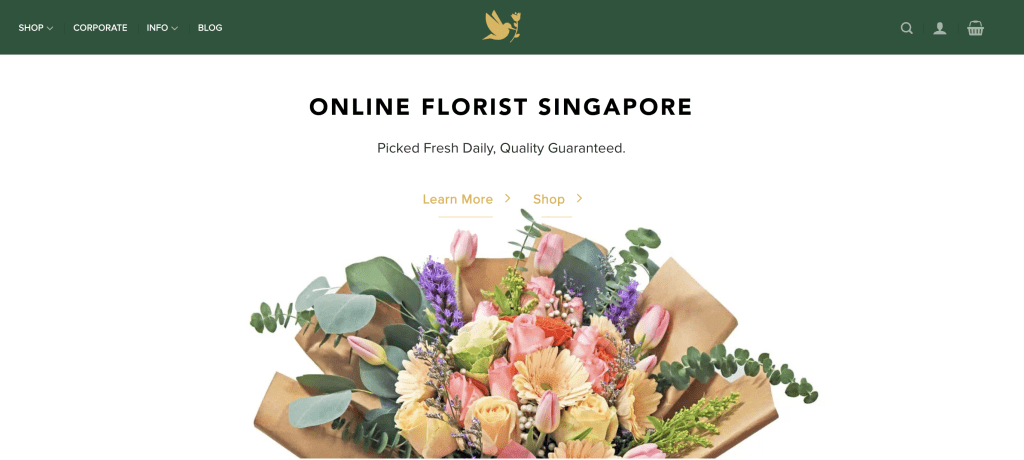 Celebrate the beginning of a new business venture by sending your friend, relative or business associate a congratulatory grand opening flower stand with Flowers and Kisses.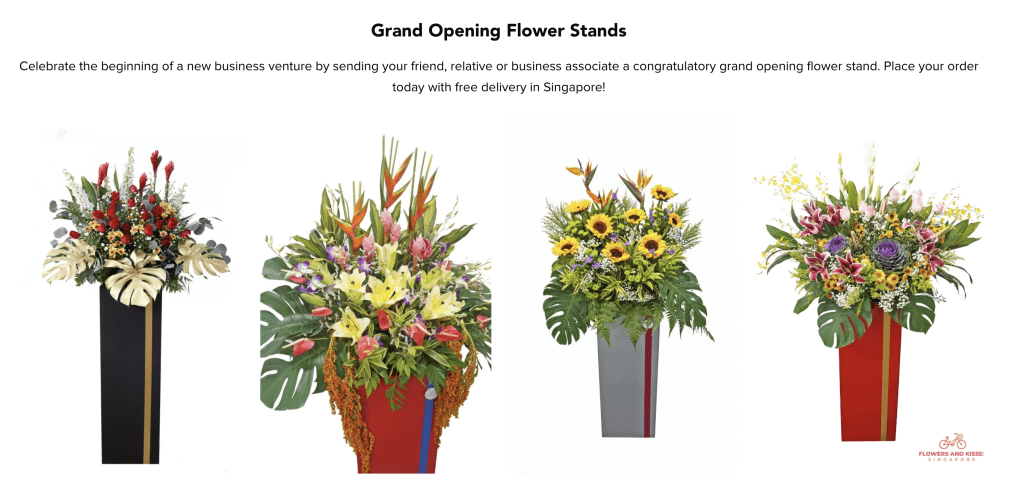 The left-most flower stand in the image above is called "Standing Ovation" and the far right one is called "Roaring Success" which contains Pink Lilies, Pink Roses, White Pom Pom, Baby's Breath etc. Smaller and simpler ones cost approximately S$100 while higher-end ones go up to S$300.
7. Well Live Florist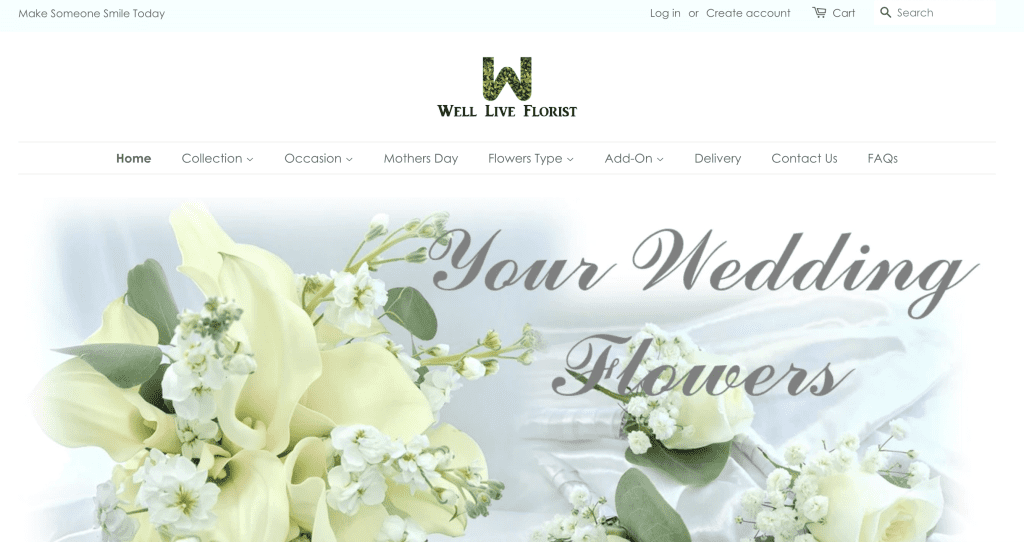 Yes you didn't hear it wrong – Well Live Florist provide complimentary same-day flower delivery on all orders with an extensive selection of flowers for different occasions – wedding, graduation ceremonies and also for congratulatory occasions, they've got you all covered.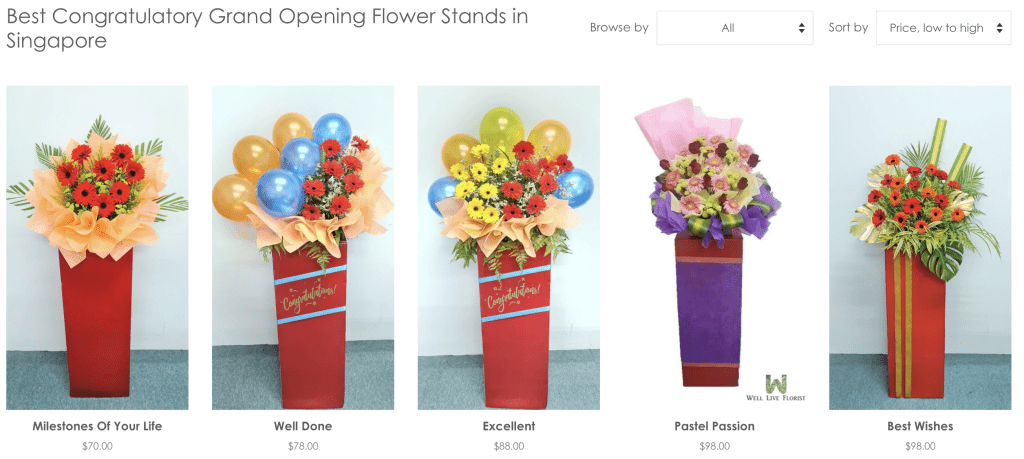 A simple flower stand could start from S$70 and more premium ones for S$200, definitely on the more affordable side.
8. The Bloom Room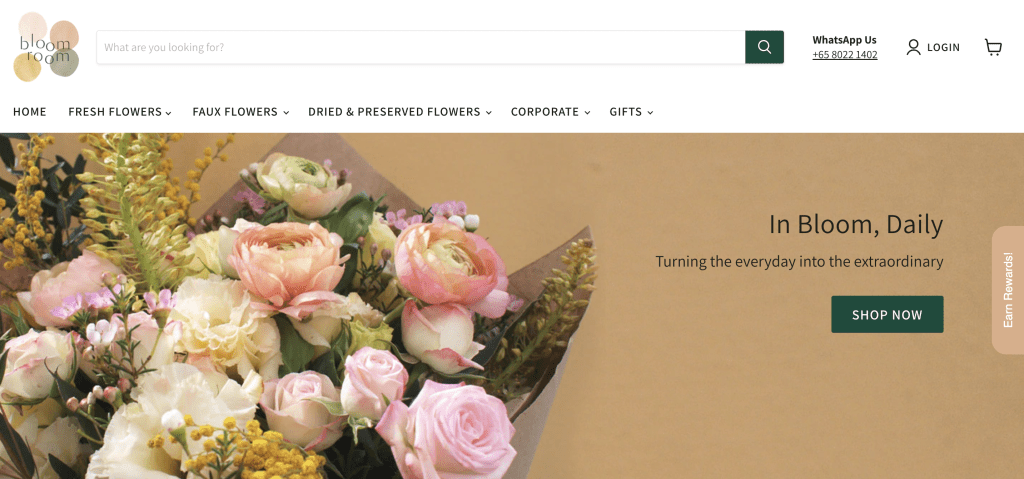 Founded in 2011, The Bloom Room is a family-run florist that specialises in creatively crafted blooms. Their signature style is an organic blend of quirky blooms in chirpy colours of floral creations.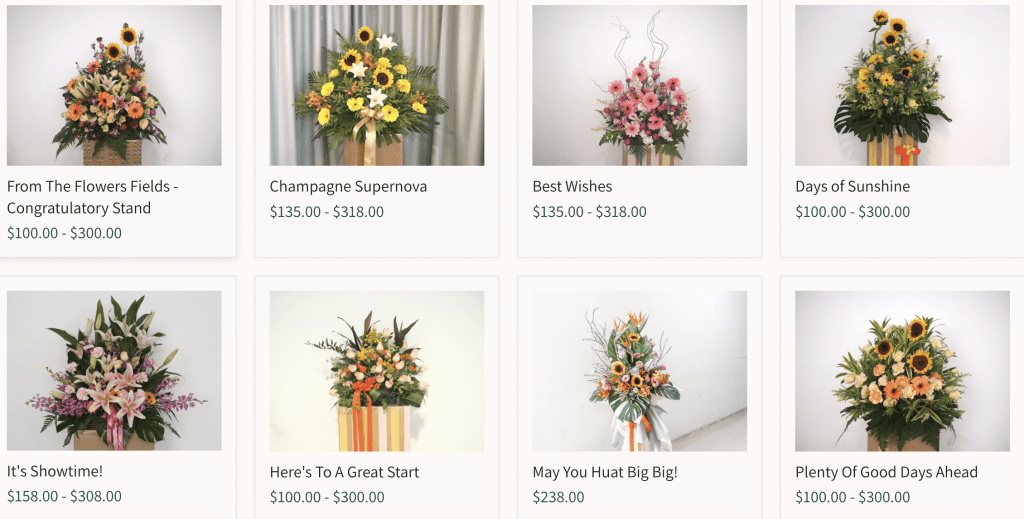 One look at the flower stands, it gives a modern and simple vibe which would definitely make the receiver glad. Get 10% off your first order by keying in "welcome10" upon checkout!
9. Little Red Dot Florist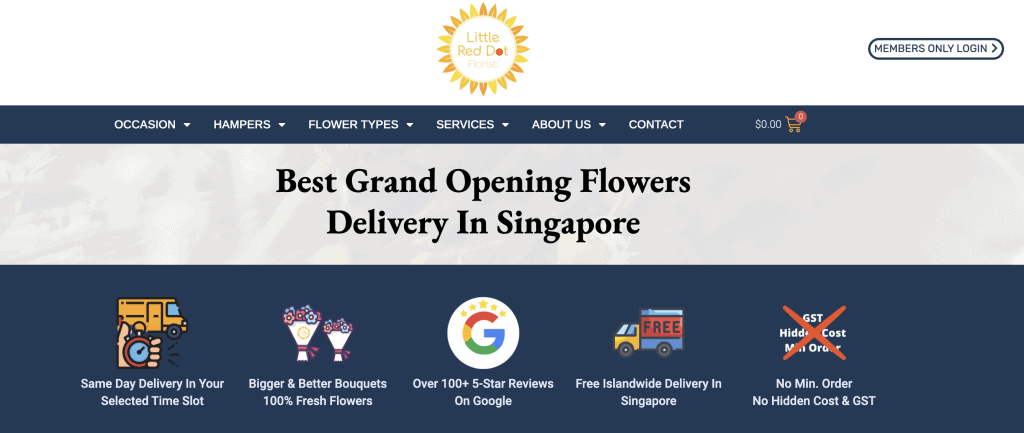 Join as a Little Red Dot member today and receive a free bouquet. Some of the membership perks are pretty solid, as members get 20% off all orders with same-day delivery in Singapore.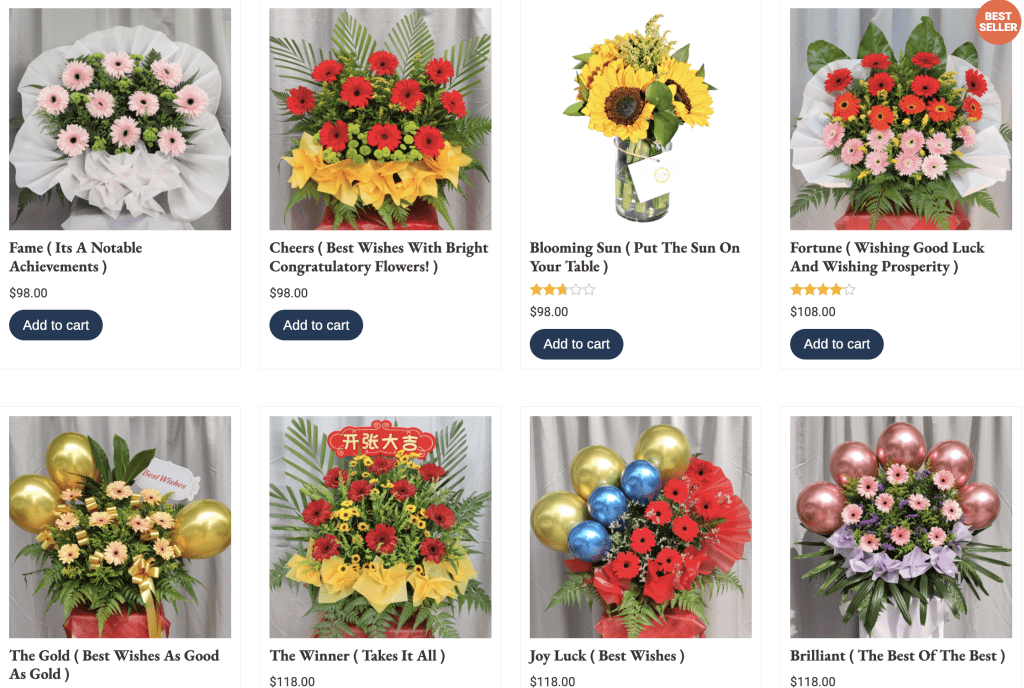 A simple flower stand could start from S$100 and more premium ones for S$400, depending on how much budget you have allocated to this.
10. Windflower Florist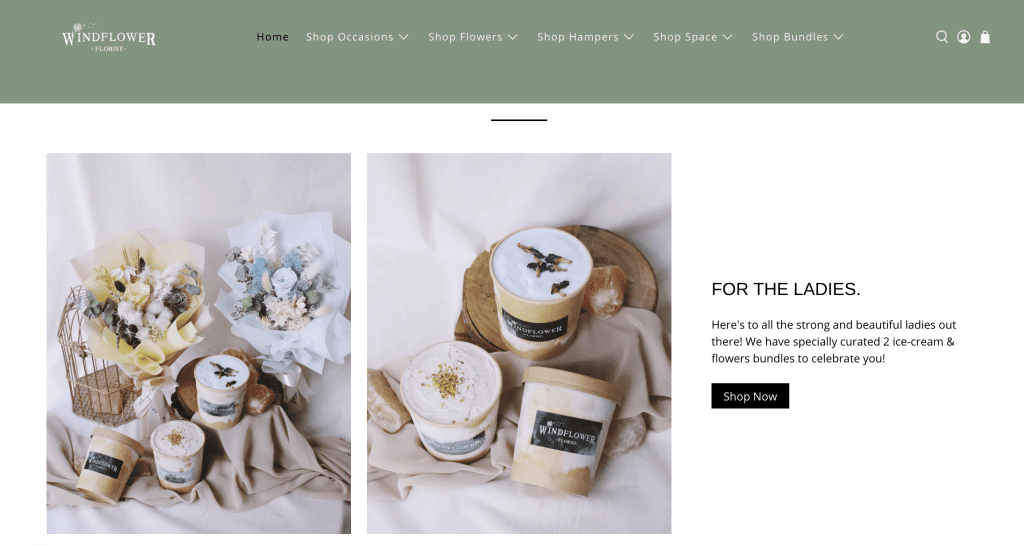 Windflower Florist presents a collection of congratulatory flowers of various themes, arrangements and colours. Take your gifts to the next level by pairing the beautiful bouquet with premium ice cream flavours such as blue pea lavender or osmanthus oolong ice cream!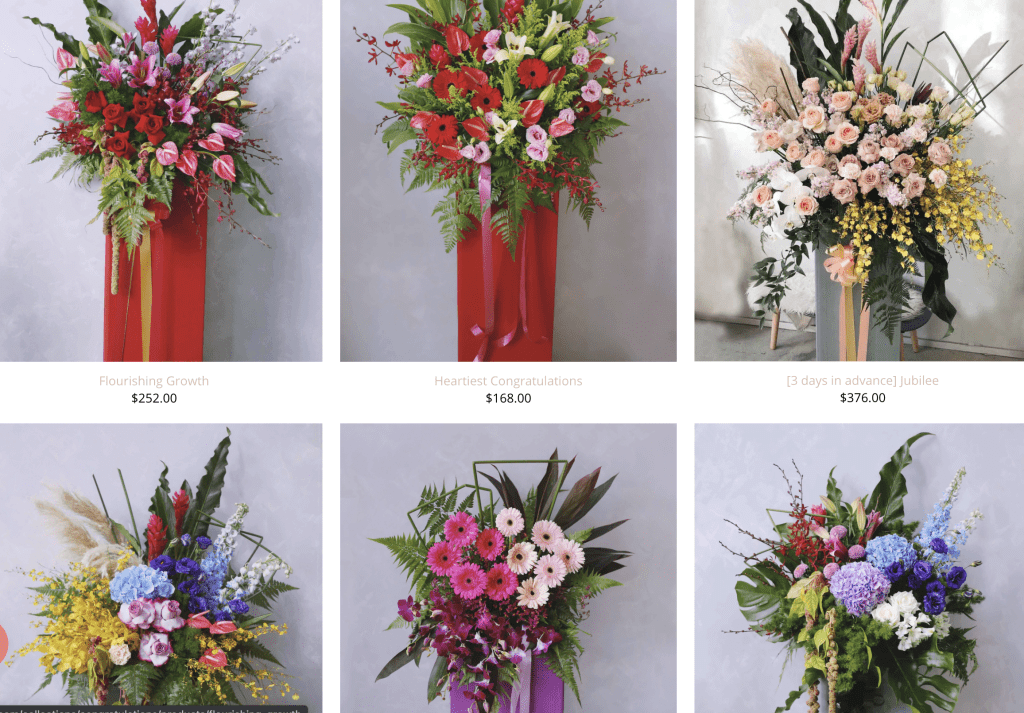 The lower end of the price spectrum for these flower stands start from S$100 while more premium ones go at S$376.
Conclusion
Do you have any reviews and comments to share regarding our choices for the best flower shops for grand opening flower stands in Singapore?
While SBO is committed to supporting our local businesses, we welcome any feedback and anonymous sharing regarding your experience with the above-listed best grand opening flower stand in Singapore.
We hope that this guide will be useful in helping you to make a better decision when it comes to finding the best places for grand opening flower stand in Singapore.
Explore More Content