11 Best Florist in Singapore for Breathtaking Flower Bouquets [2023]
Express yourself through the art of flowers with the help of these 1 florists in Singapore.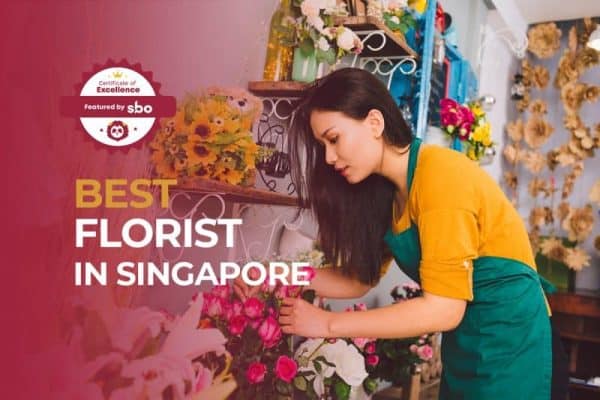 Whether it's to celebrate a special occasion, surprise our loved ones, or spruce up our living space; it's hard to deny the beauty and elegance that flowers can add to our lives.
According to research conducted by Rutgers–The State University of New Jersey, nature is a great way to improve our emotional well-being, boost our mood, and increase intimacy in our social relationships.
With Chinese New Year and Valentine's Day not too long away, here's a list of the 11 best florist in Singapore to help you craft the perfect bouquet!
1. Far East Flora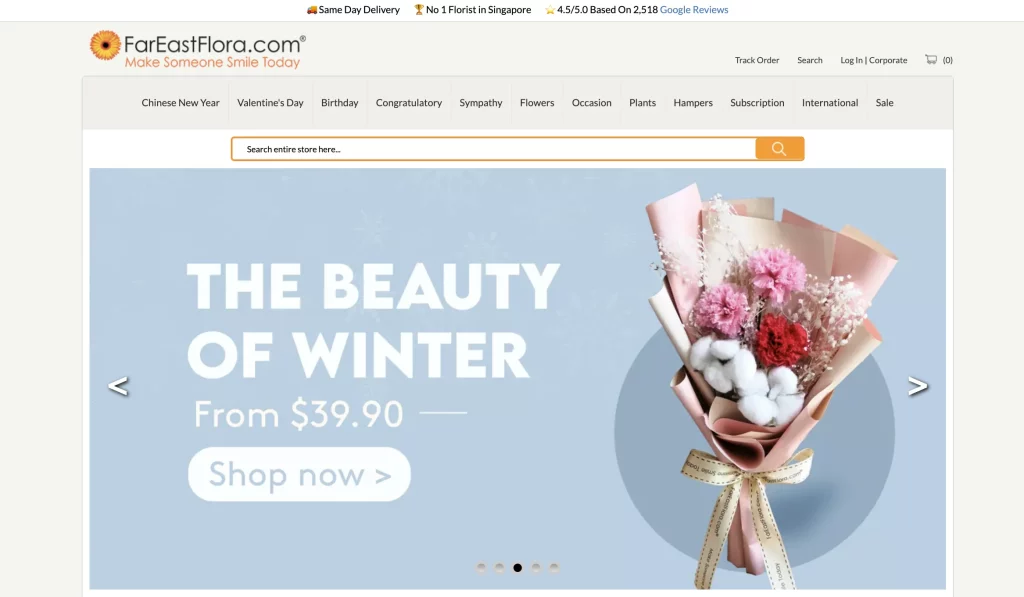 Far East Flora is your local florist that provides same-day flower delivery services not only in Singapore but has expanded its footprint in Asia as evidenced by its outlets in Hong Kong and Malaysia.
If you are looking to brighten the day for anyone and make them feel special, check out their customized flower bouquets with a variety of blossoming flowers. The flower bouquet is hand-arranged and checked for quality before leaving the florist. The same-day delivery flowers are guaranteed to bring at least 5 days of sun-shiny smiles to your recipient!
2. Floristique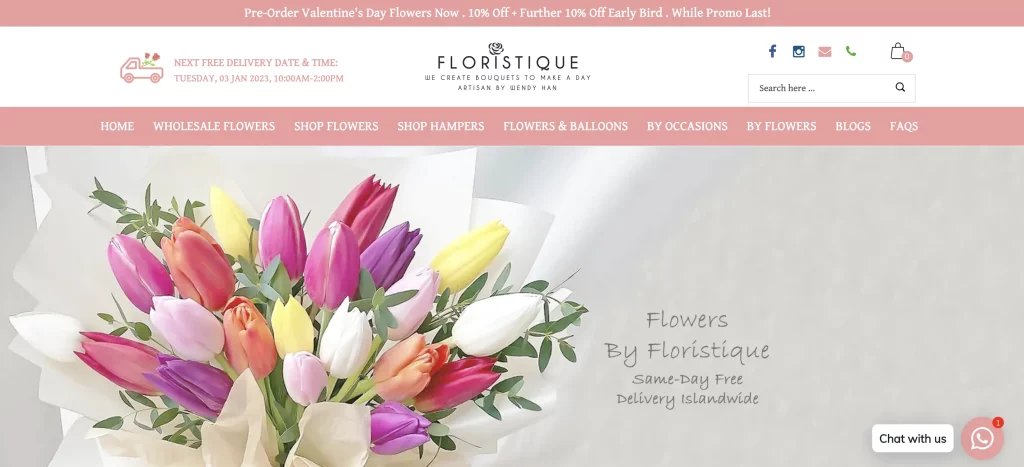 Founded by Wendy Han in 2017, Floristique is motivated by their love for flowers and to bring happiness to their customers by delivering fresh flowers to them from their loved ones.
Floristique is your go-to online florist store that offers fresh premium flowers. You can either shop for flowers based on the occasion or by the flower itself. They are available from S$20 in various forms such as bouquets and flower stands.
They provide same-day delivery so that customers can receive the gift of love without delay. For free delivery on the same day, you would be required to place your order before 2 pm. Extra charges will be incurred for re-delivery or delivery during specific timings.
3. Flower Chimp

Flower Chimp is a trusted online florist that offers same-day flower delivery in Singapore so you don't have to worry about your flower bouquet delivery. Choose the bouquet that fits your budget and let them do the rest.
One of their specialty is preserved flowers in a glass dome. Flower Chimp's range of preserved roses may be the perfect choice for gifting whether it is for a birthday or simply a special day to celebrate.
4. Farm Florist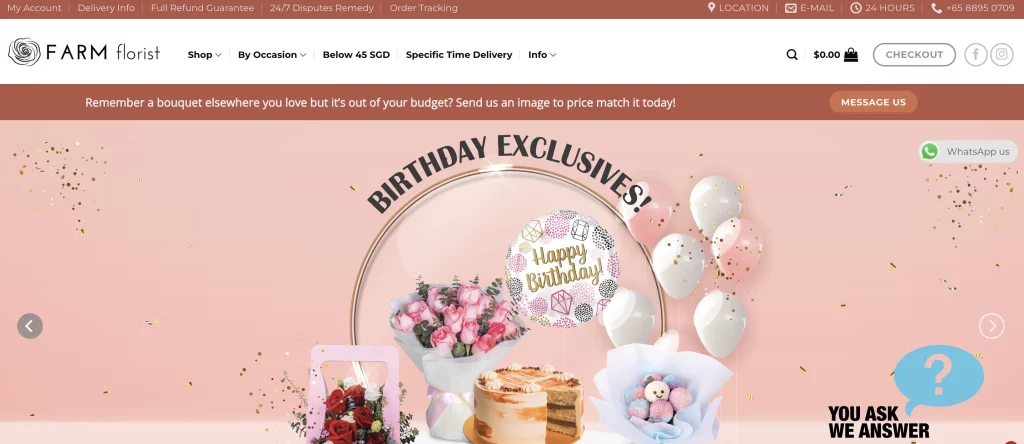 The founders of FARM Florist, (Bianca, Esther, Samantha, and Tiffany), with a combined experience of more than a century, came together to start their first floral studio in Toa Payoh. What started out as a humble beginning is arguably now one of the largest online florists and flower delivery in Singapore.
Awarded the Best Florist in Singapore, FARM Florist has operational features like the FARM Florist Money Back Guarantee, 24/7 customer service, Live Order Tracking, and Lowest Cost Guarantee.
5. Xpress Flowers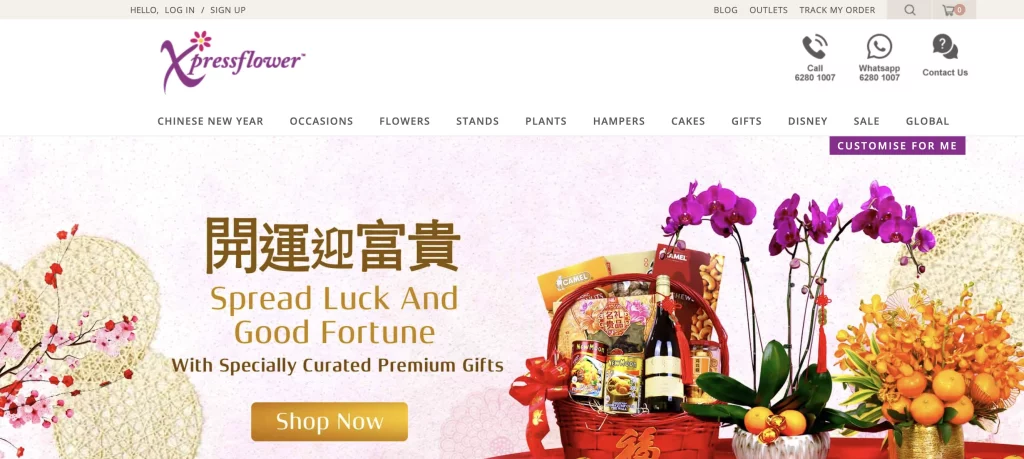 Need a last-minute gift for your loved one? Use Xpressflower to express your love with their express delivery service! It is one of the largest and most established florist franchises in Singapore and a renowned florist trusted by many Singaporeans.
Xpressflower is a one-stop shop for all your gift needs, offering a wide variety of flower arrangements and other merchandise. Customization services are available for a variety of products, from hand flower bouquets to gift baskets.
Local delivery is completely free, and you can choose from our 24-hour same-day delivery service or the 3-hour express delivery service. International shipping to China, Hong Kong, Indonesia, Japan, Malaysia, Philippines, Taiwan, the UK, the USA, and Vietnam is also available.
6. Petite Fleur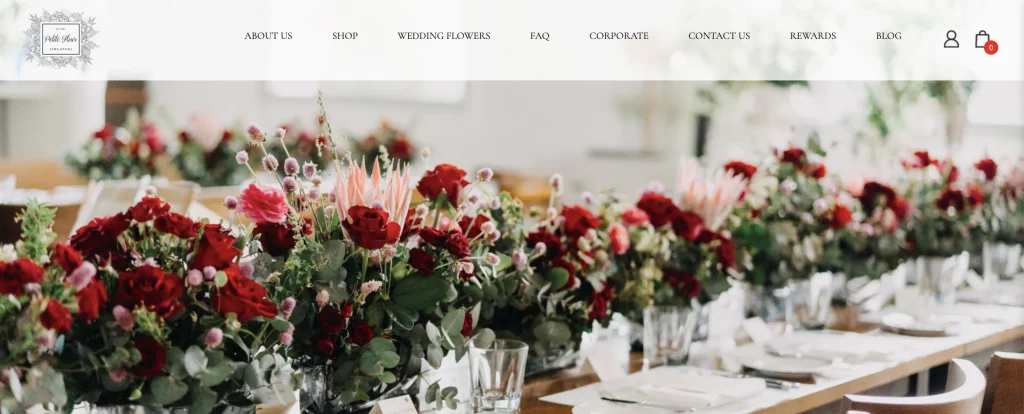 Petite Fleur is started by Patricia, who had always been passionate about creating elegant floral arrangements. Her fresh, handcrafted bouquets have a unique style of charm and romance, crafted through her keen eye for detail, color and design.
Petite Fleur's mission is to create works of art that suit your taste for every occasion. It evolved and grew to be Singapore's leading florist, known for providing the best flower delivery service in Singapore. Only premium flowers are used so that the flower bouquets last longer than average and thrive.
7. Windflower Florist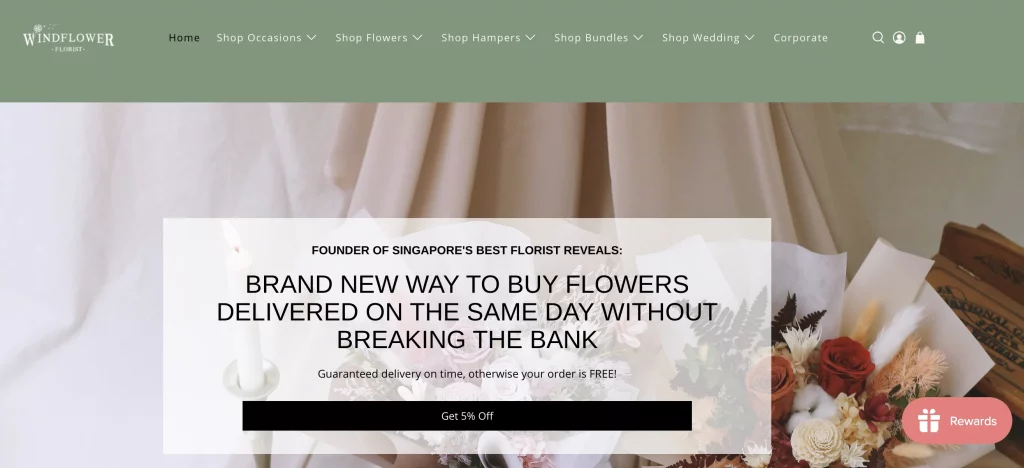 Windflower Florist mission is to bring joy to your loved ones through the simple act of gifting flowers. Starting out in 1997 as a small family florist in the heartlands, the business has since grown to bring a fresh approach to floral design while staying true to their core ideals.
Having worked with both luxury and homegrown brands such as DBS, Wildseed Cafe, and Innisfree, the team can pretty much do it all – from everyday bouquets, floral displays for events and styling as well as corporate gifting solutions.
They also have a dedicated wedding arm called O'hara Weddings that specializes in satisfying your wedding styling needs.
Instead of scouring the internet for hours in search of the perfect gift, Windflower Florist offers a one-stop gifting experience by partnering up with various brands such as Zee & Elle, Cat & The Fiddle to complement your blooms with decadent cakes, and much more.
8. Singapore Florist

Singapore Florist was founded 45 years ago by a married couple of hobbyist florists from Singapore. Over the years, this "passion" grew into one of the biggest flower shops in the local area.
If you are looking for a unique and thoughtful way to surprise your loved ones abroad, look no further! Check out Singapore Florist international flower delivery service.
With so many years of experience in taking care of, picking and arranging this many types of flowers into bouquets, Singapore Florist is a trusted "blooming" partner.
9. Flowers and Kisses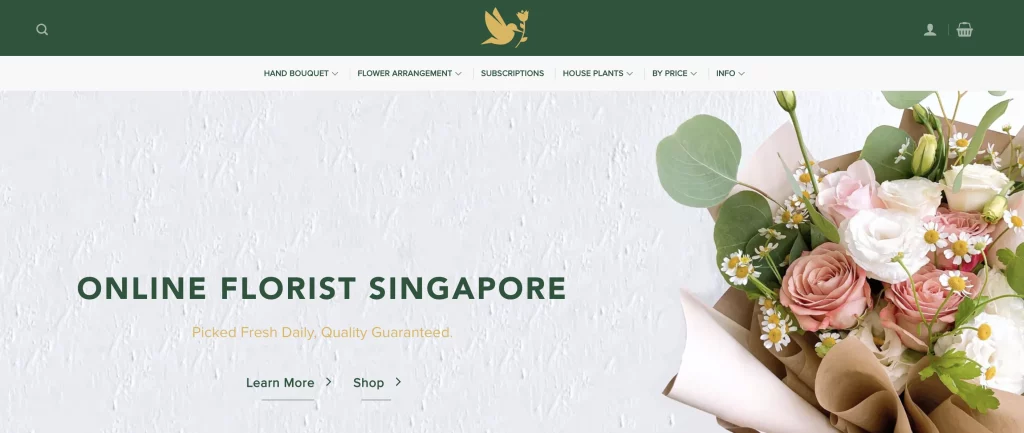 Flowers and Kisses is an online florist in Singapore with one aim in mind: "to sell quality and stylish floral bouquets at an affordable price."
Boasting a wide selection of flowers ranging from roses, sunflowers, chamomile, orchids, hydrangea, and baby's breath, all their bouquets are carefully-designed and made to order.
They offer one of the most affordable bouquets in the city for different occasions; the most popular being the Uniquely Made bouquet (starting from $48) where the team crafts something based on your preferences!
10. Beato Fiore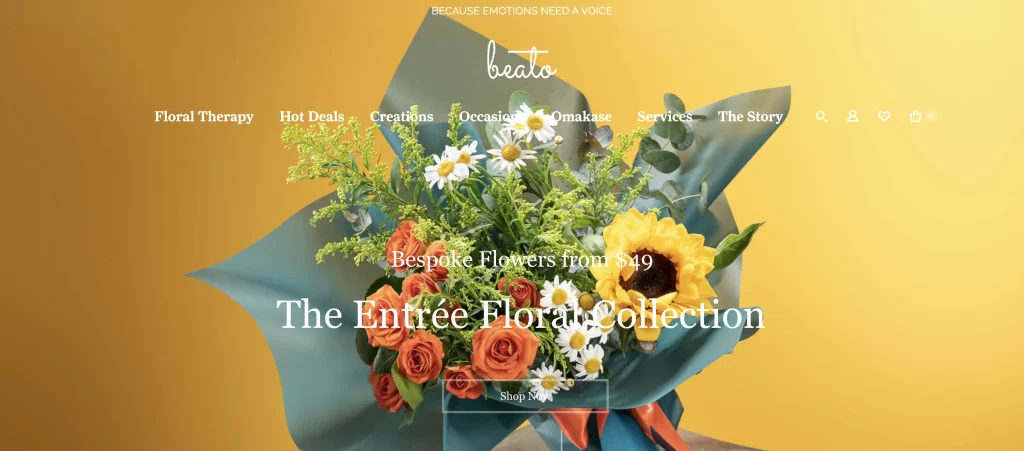 Founded in 2013, Beato Fiore believes in expressing your deepest emotions through their elegant and exquisite creations. Boasting many years of experience in the field of events and floral decor, they have worked with prestigious brands such as Chanel, Dior, Warner Music, Fendi, and many others.
Put your trust in the team by ordering their Beato Omakase Styling, starting from $150 – leave it to their floral stylists to design the perfect floral gift for your loved ones based on their unique characteristics and preferred mood.
They also offer add-ons such as Jellycat plushies, artisanal macarons, red and white wine, Royce chocolate boxes, and The Dark Gallery chocolate cakes to celebrate any occasion in a luxurious style.
11. Dawn Q Floral Design

Dawn Q Floral Design is a group of passionate florists with the dream to bring joy to the lives they touch through flowers and creative passion.
Crafting floral designs that are meaningful, timeless, and elegant, get your hands on their Deal of the Day at $60 for a unique bouquet that is designed by their florists, or complete your purchase with a fine selection of add-ons such as greeting cards from The Paper Bunny and teabags from Kindred Teas.
They offer a range of wedding flower packages and can work closely with you and your partner to ensure every detail fulfills your desires.
11 Best Florist In Singapore Summary
We hope that this guide will be useful in helping you to make an informed decision when it comes to finding the best florist in Singapore. In case you'd like more ideas for gift delivery options, here are some suggestions!
And if you want more flower power, remember to make February 14th special by giving your loved one (or best friend) a thoughtful twist on the traditional Valentine's Day gift.
Explore More Content