11 Best Florist in Singapore for Breathtaking Bouquets [2022]
Express yourself through the art of flowers with the help of these 11 florists in Singapore.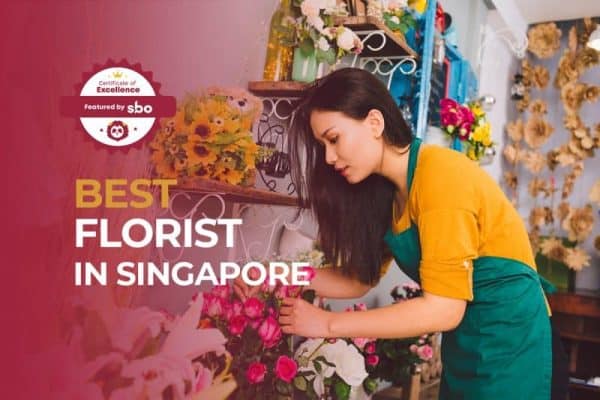 Whether it's to celebrate a special occasion, surprise our loved ones, or spruce up our living space; it's hard to deny the beauty and elegance that flowers can add to our lives.
According to research conducted by Rutgers–The State University of New Jersey, nature is a great way to improve our emotional well-being, boost our mood, and increases intimacy in our social relationships.
With Christmas, Chinese New Year, and Valentine's Day not too long away, here's a list of the 11 best florist in Singapore to help you craft the perfect bouquet!
1. Floristique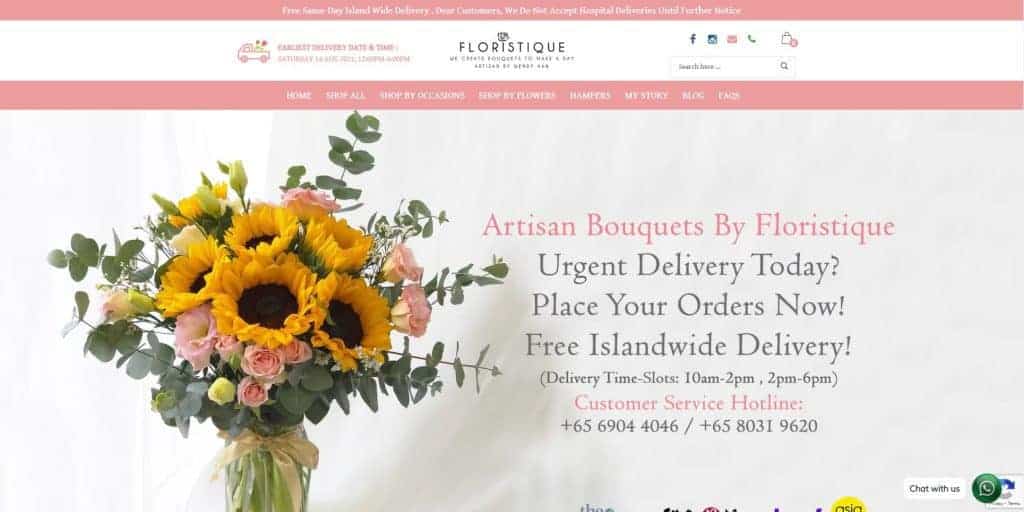 Founded by Wendy Han in 2017, Floristique is motivated by their love for flowers and to bring happiness to their customers by delivering fresh flowers to them from their loved ones.
Floristique is your go-to online florist store that offers fresh premium flowers. You can either shop for flowers based on the occasion or by the flower itself. They are available from S$20 in various forms such as bouquets and flower stands.
They provide same-day delivery so that customers can receive the gift of love without delay. For free delivery on the same day, you would be required to place your order before 2 pm. Extra charges will be incurred for re-delivery or delivery during specific timings.
2. Windflower Florist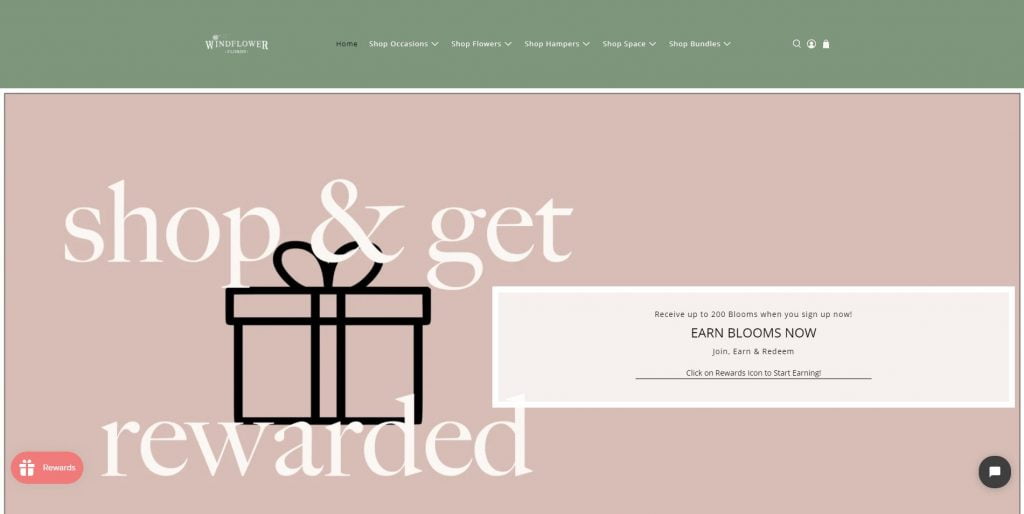 Windflower Florist mission is bringing joy to your loved ones through the simple act of gifting flowers. Starting out in 1997 as a small family florist in the heartlands, the business has since grown to bring a fresh approach to floral design while staying true to their core ideals.
Having worked with both luxury and homegrown brands such as DBS, Wildseed Cafe and Innisfree, the team can pretty much do it all – from everyday bouquets, floral displays for events and styling as well as corporate gifting solutions.
They also have a dedicated wedding arm called O'hara Weddings that specializes in satisfying your wedding styling needs.
Instead of scouring the internet for hours in search of the perfect gift, Windflower Florist offers a one-stop gifting experience by partnering up with various brands such as Zee & Elle, Cat & The Fiddle to complement your blooms with decadent cakes and much more.
Reviews of customers talk about the excellent experience shopping, timely delivery and unique selection of gorgeous flowers that have got them coming back time and time again!
3. Ferns N Petals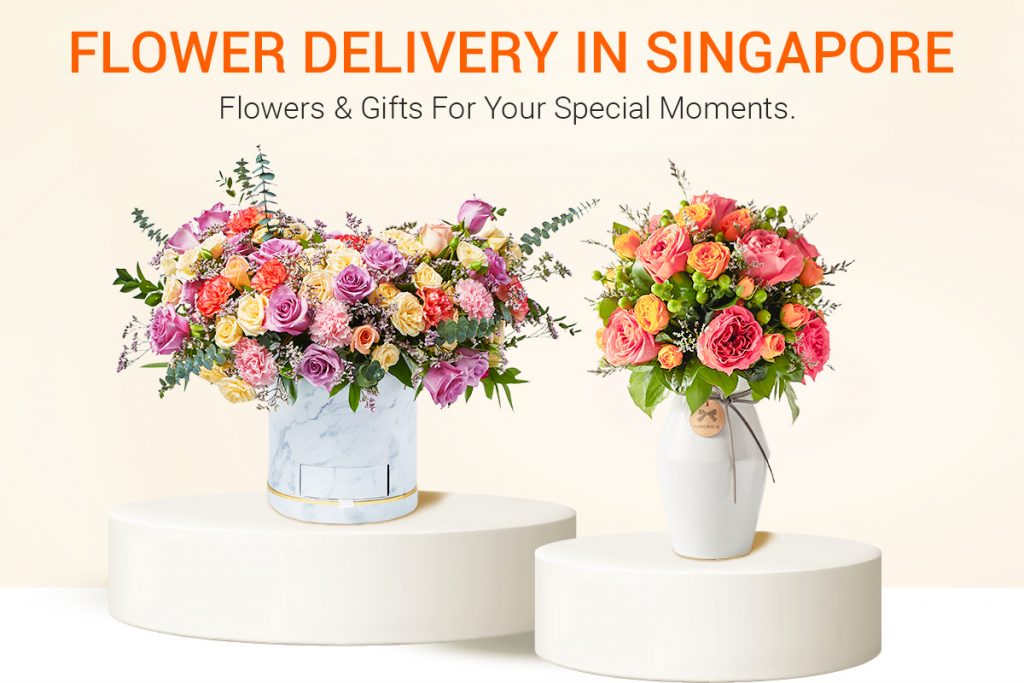 Ferns N Petals has earned a name that is synonymous with love and happiness. What started as a single shop in India has now turned into an international brand that aims to continue to wow every customer via premium products and services.
From peonies, tulips, sunflowers, lilies to roses, you will find everything in abundance to help you speak your heart out. Their range of splendid and fragrant flower arrangements live up to their motto – "flowers anywhere anytime" by providing the freshest and brightest blooms in Singapore.
Apart from flowers, they have enticing cakes with other baked goodies, quirky home decor items, ornamental plants and luxurious hampers – offering an impressive selection of great celebratory gift ideas for pretty much every occasion, so it's no surprise that FNP has made it to the top of the list of leading gifting websites since 2019.
Delivery-wise, FNP efficiently offers hassle-free, same day, midnight-, and one-hour deliveries, so say goodbye to frantic and stressful eleventh-hour shopping sprints!
Too good to be true? Well, their testimonials are proof that Ferns N Petals is indeed a one-stop online store that you have to visit. Reviews talk about the beauty of the blooms, the smooth tracking and dispatching process, and the quality and durability of the items.
4. Flowers and Kisses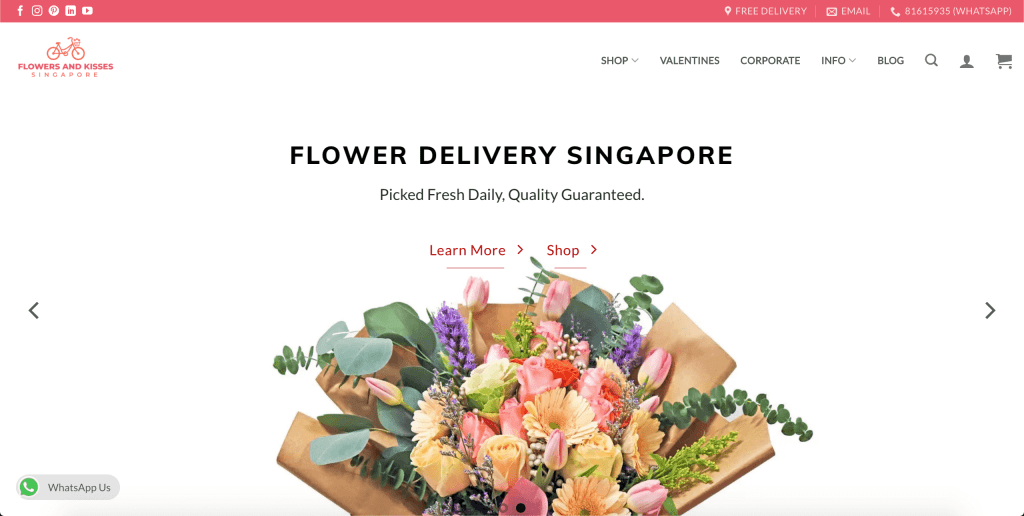 Flowers and Kisses is an online florist in Singapore with one aim in mind: "to sell quality and stylish floral bouquets at an affordable price."
Boasting a wide selection of flowers ranging from roses, sunflowers, chamomile, orchids, hydrangea and baby's breath, all their bouquets are carefully-designed and made-to-order.
They offer one of the most affordable bouquets in the city for different occasions; the most popular being the Uniquely Made bouquet (starting from $48) where the team crafts something based on your preferences!
Customers love Flowers and Kisses for their prompt and efficient service and arrangements that look just as amazing as it does on the website.
5. Beato Fiore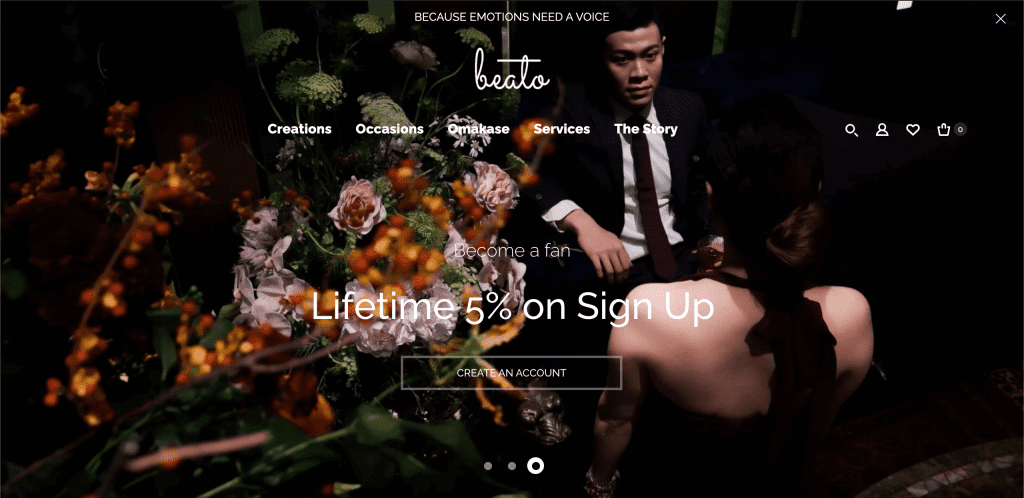 Founded in 2013, Beato Fiore believes in expressing your deepest emotions through their elegant and exquisite creations. Boasting many years of experience in the field of events and floral decor, they have worked with prestigious brands such as Chanel, Dior, Warner Music, Fendi, and many others.
Put your trust in the team by ordering their Beato Omakase Styling, starting from $150 – leave it to their floral stylists to design the perfect floral gift for your loved ones based on their unique characteristics and preferred mood.
They also offer add-ons such as Jellycat plushies, artisanal macarons, red and white wine, Royce chocolate boxes, and The Dark Gallery chocolate cakes to celebrate any occasion in luxurious style.
Reviews rave about the customized Omakase bouquets that exceeded expectations as well as the beautiful interpretations and colour palette of their arrangements!
6. Little Flower Hut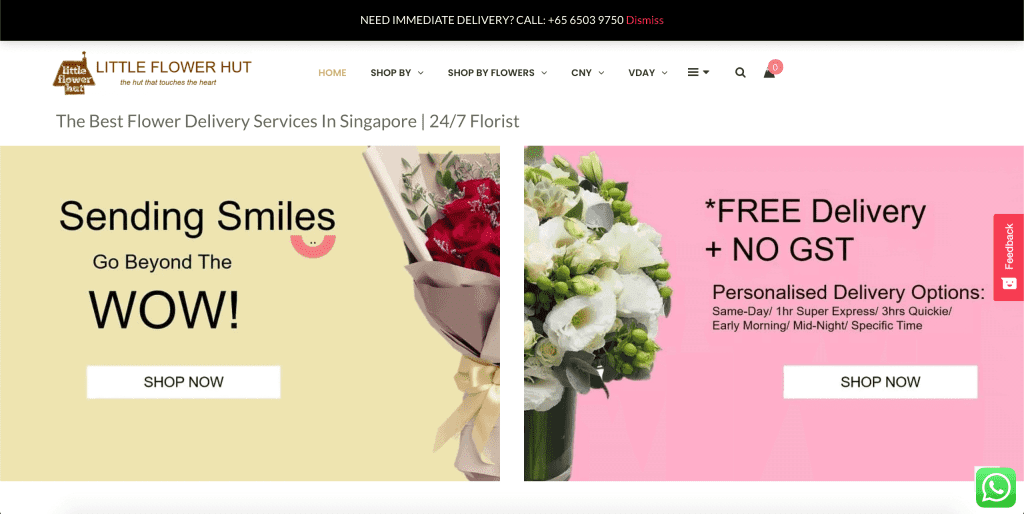 Little Flower Hut is the leading online florist in Singapore that offers over 1000 selections of hand bouquets and hampers. They are one of the most reliable florists in Singapore for island-wide 24/7 flower deliveries.
Ranging from simple to sophisticated designs, they have gifts and floral arrangements that are appropriate for all occasions and ages including bridal and wedding car decor and business gifting services.
With a combined florist experience of more than 100 years and having successfully served more than 10,000 clients, their customer reviews can attest to their timely delivery service and ability to meet urgent deliveries within hours.
7. Little Red Dot Florist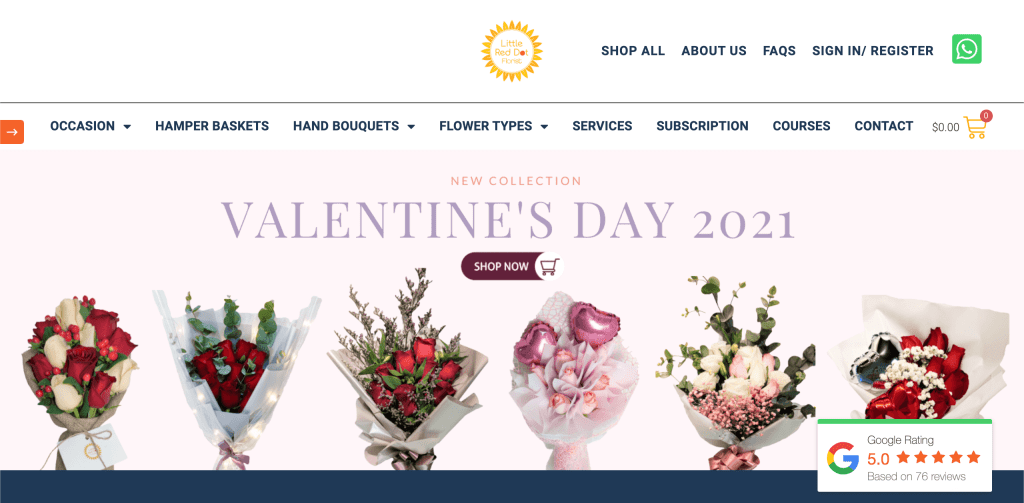 The Little Red Dot Florist is all about making gifting fast and easy with your happiness in mind! Holding themselves to high standards, the team offers flowers with exceptional quality backed by excellent customer service and prompt delivery.
Their hampers are especially popular amongst mothers – congratulate and celebrate the birth of a newborn with a gift basket containing goodies ranging from herbal supplements and tonics, fresh fruits and baby products accompanied with a fresh arrangement of flowers.
They also offer affordable bridal bouquets from $65 (inclusive of free delivery islandwide) and ROM and wedding hand bouquets that are specially handcrafted with love and creativity for your special day.
Their florists know the exact combination of flowers for every occasion and can even help style your events, parties, product launches and photoshoots. Customers who can't get enough of their flowers can opt for the floral subscription: their best-selling plan is the Classic Plan at $50 per trip.
Reviews talk about their beautiful arrangements that come at a great price point that looks way better in person!
8. Floral Mikelle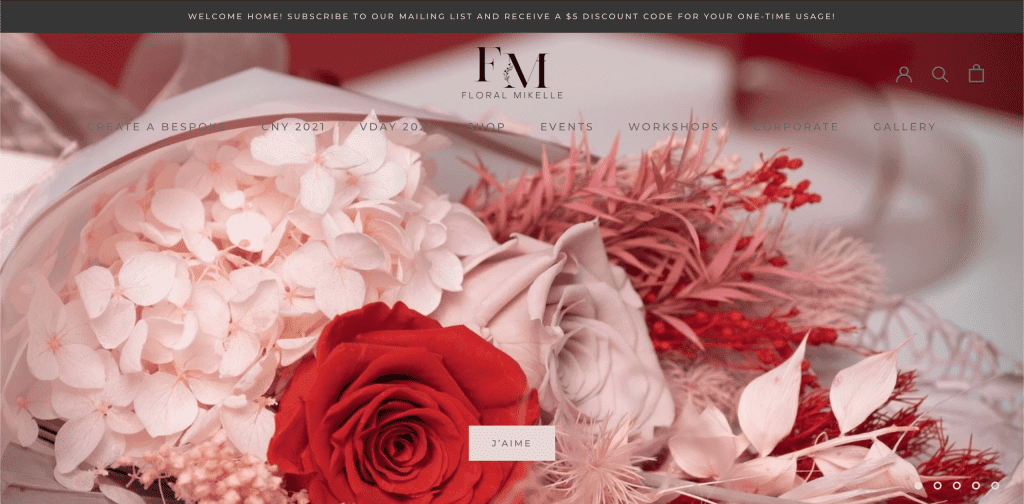 Floral Mikelle is the go-to florist for bespoke flowers. Their speciality lies in crafting unique bouquets or flower arrangements for you to translate your thoughts, messages and gestures.
Incorporating flower symbolisms and colour theories into their works, the team was awarded Floristry Business of the Year (2020) by CorporateLiveWire, Singapore.
Although not the cheapest in this list, they offer unique Sola flowers—handmade from natural materials and shavings from tapioca or balsa tree bark and Scented Miracles essential oils to complement your preserved flowers.
Their Valentine's Day 2021 and Chinese New Year 2021 collection is out with limited pieces only, so get your hands on them quickly before they run out!
Reviews talk about their one-of-a-kind creations that have definitely made an impression and phenomenal talent in floral design.
9. Flower Addict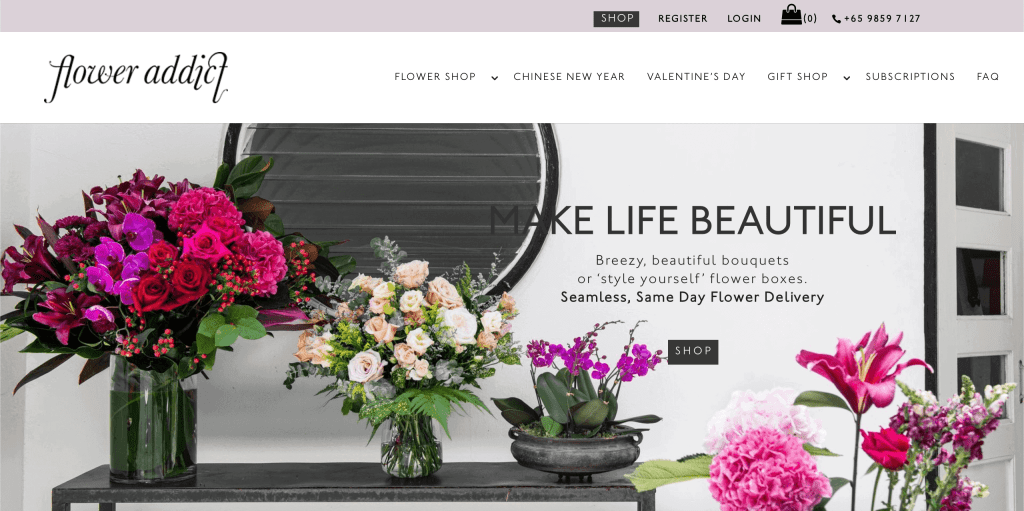 Kerry James and Sandi Sadek are the founders of Flower Addict with hopes of "making the joy of flowers an everyday part of life in Singapore."
Those who are looking for beautiful high-end floral arrangements at affordable prices can count on the team for vibrant and tastefully made hand bouquets, hampers and gift bundles to fit your budget.
If you need some inspiration, check out their gift shop that features local artisan chocolates, hand creams and face masks that are specially curated to make your gift extra special!
Reviews come from repeat customers who are never disappointed by the team and praise the lovely presentation and exquisite arrangements that last longer than expected!
10. Dawn Q Floral Design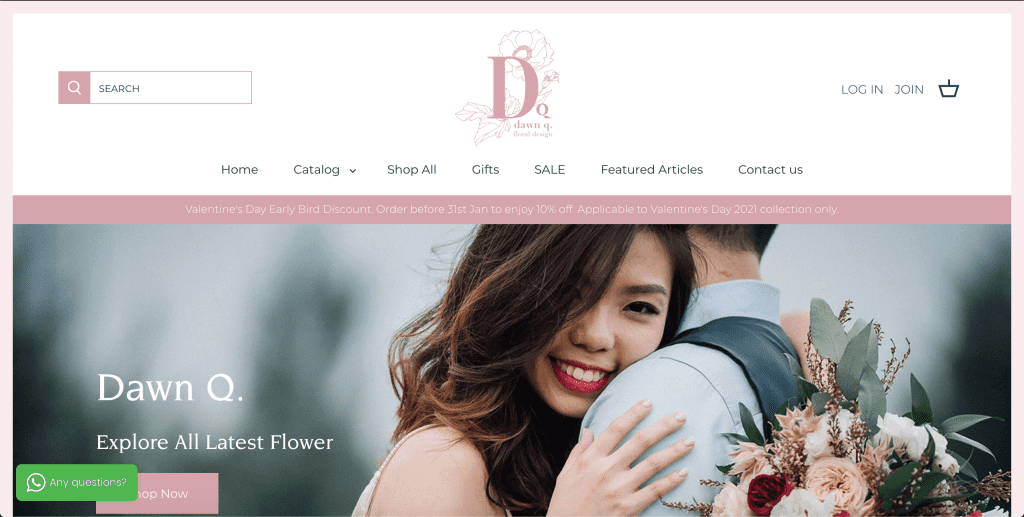 Dawn Q Floral Design are a group of passionate florists with the dream to bring joy to the lives they touch through flowers and creative passion.
Crafting floral designs that are meaningful, timeless and elegant, get your hands on their Deal of the Day at $60 for a unique bouquet that is designed by their florists or complete your purchase with a fine selection of add-ons such as greeting cards from The Paper Bunny and teabags from Kindred Teas.
They offer a range of wedding flower packages and can work closely with you and your partner to ensure every detail fulfils your desires.
Reviews talk about their amazing selection of flowers, classy presentation and fuss-free experience for their needs.
11. Flora Moments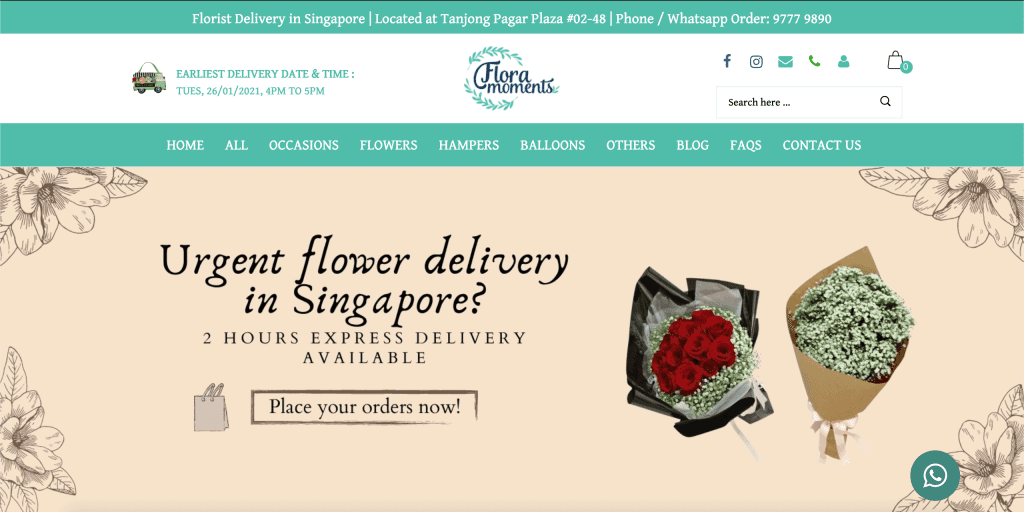 Floral Moments is a humble florist and gift atelier that offer express flower delivery service and specific time delivery perfect for midnight surprises.
Their mission is if you can picture it, they can create it. With a 100% freshness guarantee and 100% on-time delivery promise, customers have praised them on their professionalism in fulfilling last-minute orders and accommodation to their requests.
Aside from flowers, they also offer hampers and balloons perfect for festive celebrations. Their Modern Romance is their best seller bouquet that comes with a stunning arrangement of roses surrounded by baby's breath, and their Valentine's Day collection also features rare blue Kenya roses that are sure to captivate the receiver!
Conclusion
Do you have any reviews and comments to share regarding our choices for the best florist in Singapore?
While SBO is committed to supporting our local businesses, we welcome any feedback and anonymous sharing regarding your experience with the listed florist in Singapore.
We hope that this guide will be useful in helping you to make an informed decision when it comes to finding the best florist in Singapore.
In case you'd like more ideas for gift delivery options, here are some suggestions!
Explore More Content
Are you featured in this?
Display this exclusive SBO badge proudly on your website and get more sales!