9 Best Event Space in Singapore to Host an Unforgettable Celebration [2023]
Level up your hosting game at these 10 magical event space in Singapore!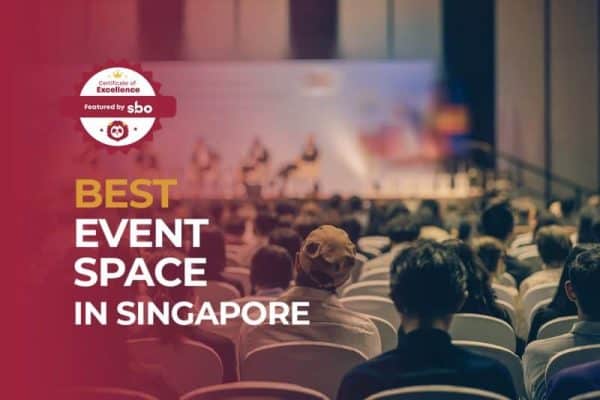 Despite being in the midst of a pandemic, it is still possible to host an unforgettable celebration.
Whether it is to plan a birthday party, corporate meeting, team bonding session or wedding solemnization—all it takes is a great event space in Singapore with the right facilities and ambience to get the job done.
Get started by going through this list of the top 10 event space in Singapore; remember to adhere to the current COVID-19 measure guidelines to ensure the safety of all your guests as well!
1. We Are Spaces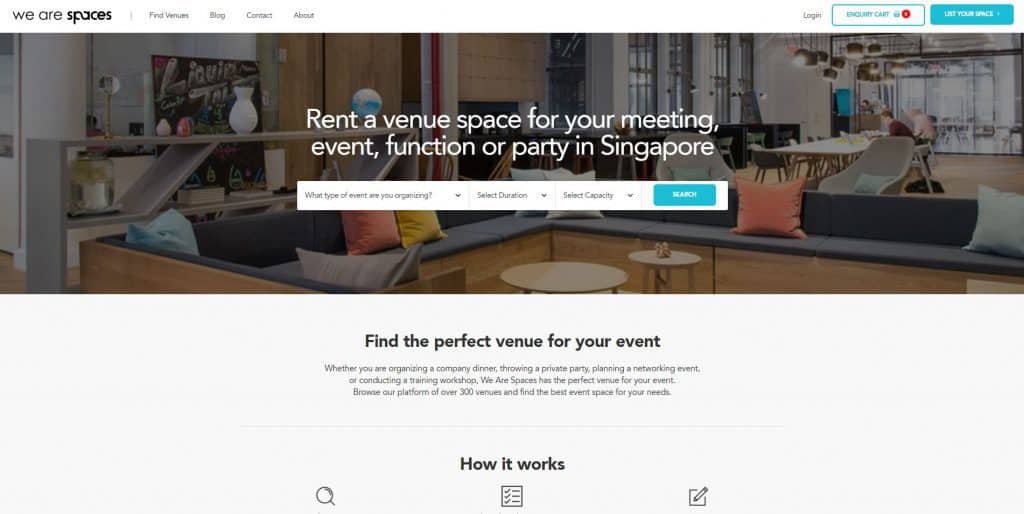 Founded in 2012 as a simple WordPress website, We Are Spaces has since grown into one of the leading platforms in Singapore for event venues and spaces.
It's a simple process to find the perfect venue for your event. You just simply need to select the type of event you are organising whether it is an official meeting or a private event, the duration and capacity. You will then have a list of options that are most appropriate to your event and liaise directly with the venue owner for a good quote.
Types of event space available are indoor, outdoor and corporate event spaces, private party spaces, function rooms, meeting rooms and seminar rooms.
Reviews praise the platform for its user-friendly experience.
2. HUONE Singapore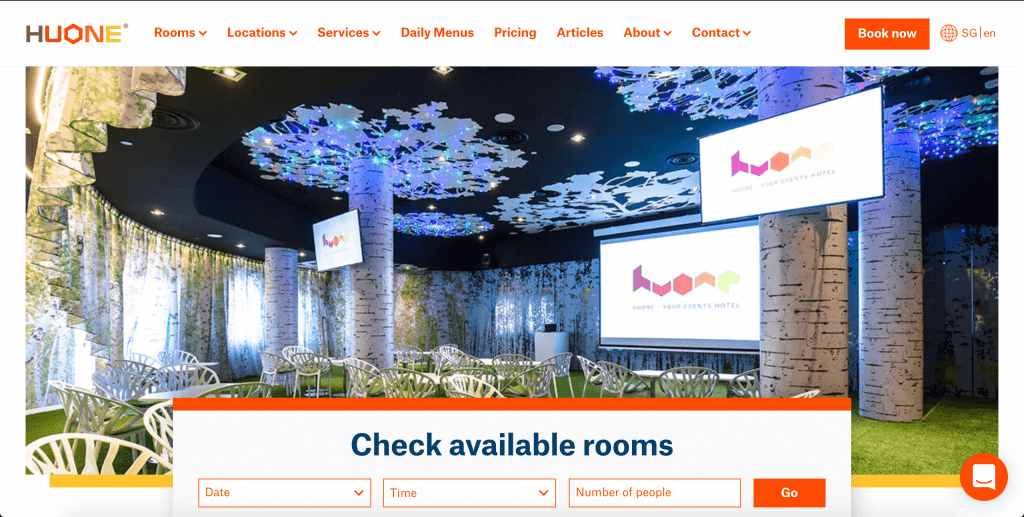 HUONE is the ultimate event space in Singapore for meetings and gatherings that are comfortable, functional and intimate. Choose from 11 rooms including the Igloo Room, Swing Room, Theatre Room and Forest Room that can be customized to cater to your needs.
All rooms come equipped with the latest audiovisual technology, high-speed WiFi and writing materials—to support your experience, HUONE also offers catering and event coordinators to make sure your event runs smoothly and achieves your goals.
HUONE has a wealth of experience hosting 9000 events over six years and offers multiple packages based on the room you select; they also offer special rates for those who want catering included (starting from $59++ per pax)
Reviews rave about the unique rooms and excellent service from the event coordinators for hosting fun and engaging corporate meetings!
3. Warehouse 16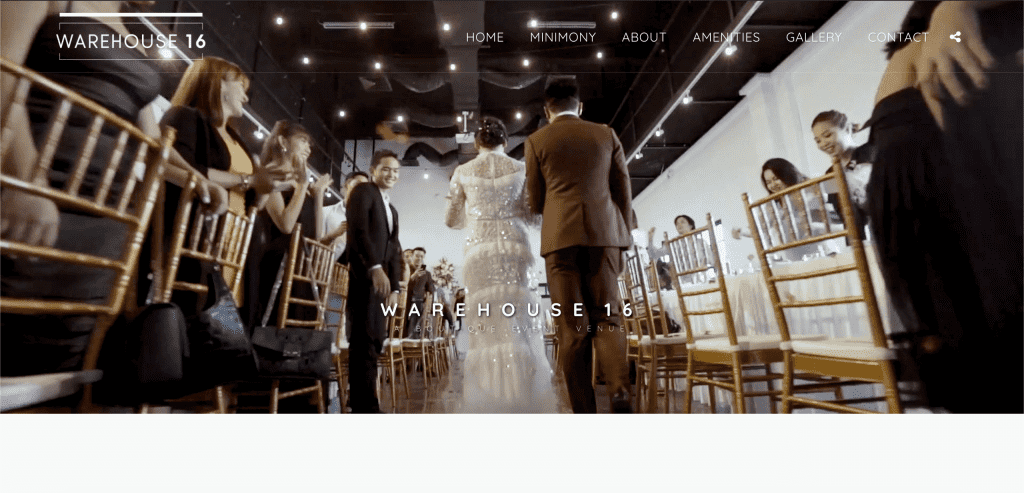 Warehouse 16 is the place to go for hosting experiential events in a spacious and multifaceted venue boasting approximately 2,500 square feet.
Perfect for hosting lavish wedding solemnizations to extravagant corporate events, amenities available include a projector, basic sound system, wireless microphones, WiFi and track lights; as well as a fully functional bar, make-up room and private changing area.
Choose from one of their wedding minimony packages starting from $1200 for 4 hours of venue rental that caters up to 20 people, or upgrade to the Intimate Package which also comes with basic styling and decor by Flora Artisan, an 8-course mini buffet by Manna Pot Catering and a 6-inch Wedding Cake by Divine Artisan priced at $2048.
Customers can't stop praising the versatile space, functional amenities and coordinators who were helpful and meticulous every step of the way.
4. The VIBE Space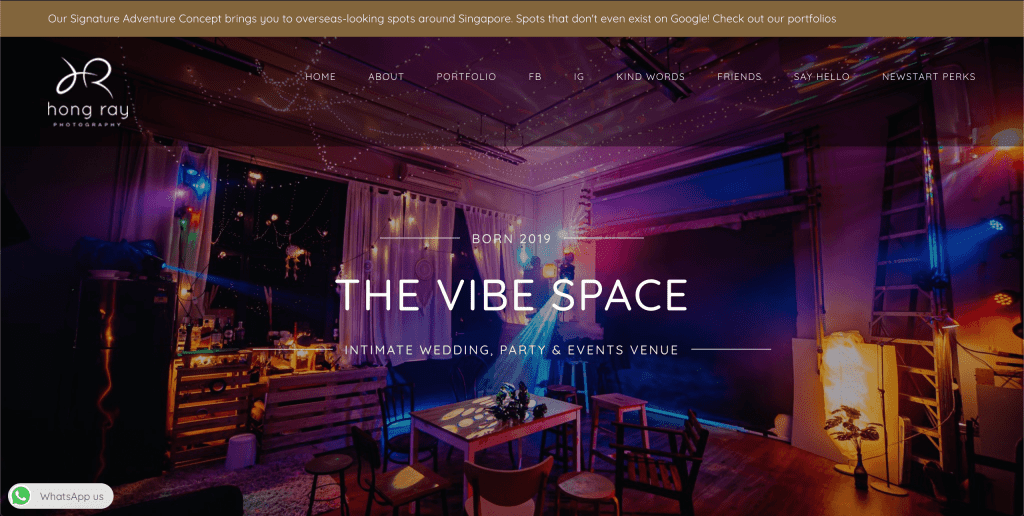 One of the most chill party vibe venues you can find in Singapore is the VIBE space—founded by talented photographer Hong Ray, it is essentially a photography studio that transforms into a magical chill and hangout space at night.
A popular choice for hosting 18th and 21st birthday parties or an intimate wedding celebration, it comes equipped with a professional-grade sound system, 3D laser, smoke machine, moving heads and strobes and movable furniture to cater to your needs.
Despite having opened its door in 2019, the VIBE space has definitely earned a spot as one of the coolest venues in Singapore for hosting a one-of-a-kind event!
Prices start from $320 (minimum of 3 hours) on weekdays. Moderate alcohol consumption is welcome as long as you adhere to the house rules and follow safety measures.
Reviews compliment Hong Ray for being an extremely friendly and hospitable host—props to him for opening this stunning space with amazing vibes!
5. HAPPEN @ Jalan Besar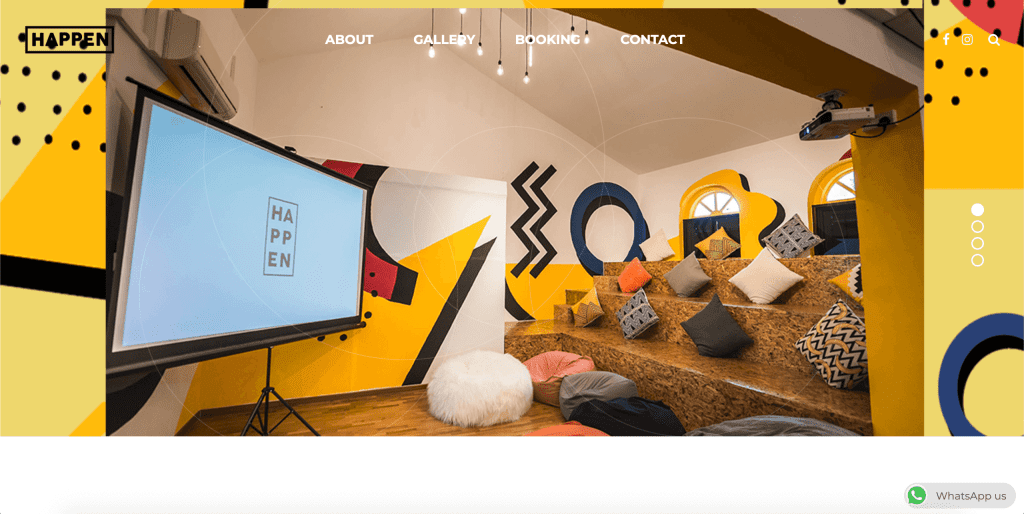 HAPPEN @ Jalan Besar is a creative space that is designed for hosting a wide spectrum of events. Located within a restored shophouse that is decorated with bright yellow accents, it comes fully furnished with a suite of equipment and facilities suitable for both work and play.
Features include a 3-tiered platform seating, a bar counter with chillers, a lounge area and recreational room with bean bags, console games and other entertainment options like a darts board and beer pong table!
The space also includes microphones, an overhead projector, 8ft pool table, microwave, tableware and cutlery with the option of adding on catering, photobooth, decoration setup, photography and even entertainment and emcee services.
Customers enjoy the vivid colours and youthful atmosphere of the space as well as the wide variety of entertainment to keep everyone occupied for hours on end.
6. Hyperspace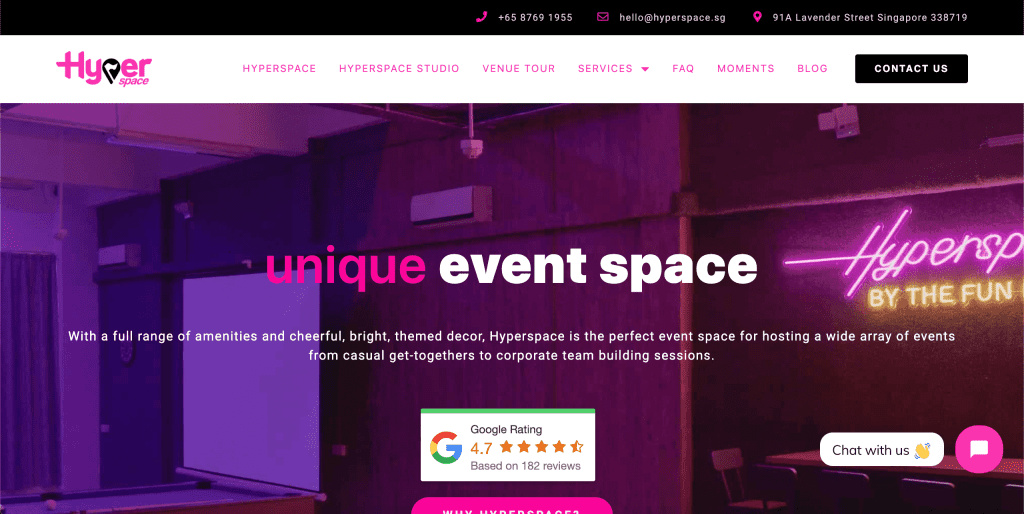 Hyperspace is one of Singapore's leading events and activities venue for hosting gatherings, parties, team building and corporate events. Spanning 3,000 square feet, choose from 2 unique event spaces: Hyperspace and Hyperspace Studio that can accommodate anywhere from 10 to 150 people.
Amenities and features include projectors, karaoke system, Nintendo switch, pool table, foosball table, board games and free WiFi. Offering a one-stop event space solution, you can also choose to add on team building events from The Fun Empire including Art Jamming and Laser Tag!
Customers love the vibrant and spacious venue and as the wide array of entertainment options that is suitable for all ages!
7. Crane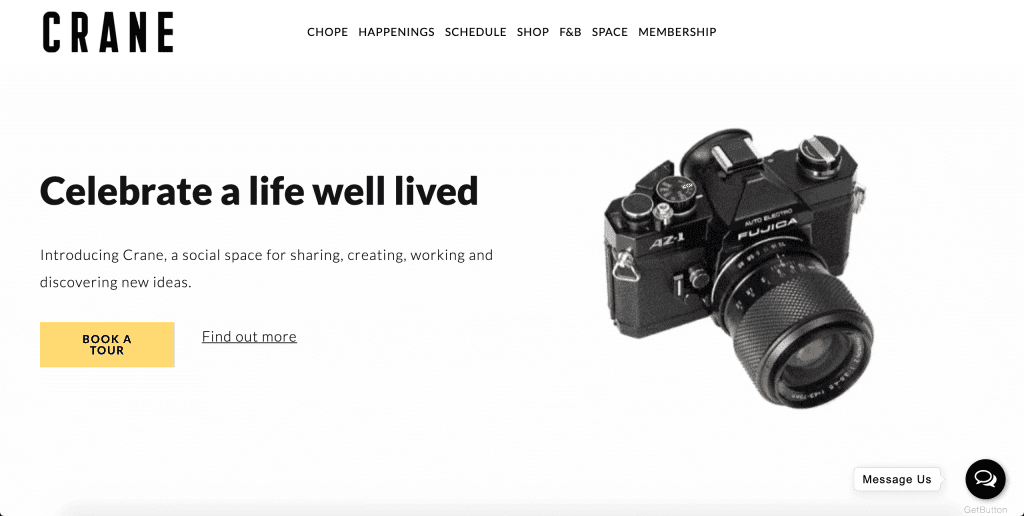 Crane aims to create a space for sharing, creating, working and discovering new ideas.
A social club that firmly believes in supporting local artisans, artists and anyone with a skill to share, they have also opened up their space for non-members to host their private parties, team-building and seminars.
Be greeted by the fresh floral display arranged by their in-house florist and a brightly-lit interior that is also home to their F&B outlets The Real Peranakan, Kura patisserie and Good Beer Company.
The standard membership is priced at $180 per month and gives you access to all their spaces for hot-desking, rent-free use of event spaces for workshops and programmes, and also 25% off rental rates for private events. Alternatively, contact them to enquire for non-member rates.
Anyone who has been to Crane can vouch for the lovely boho interior and amazing energy from the community, as well as the tasty food and coffee!
8. The Great Room @ One George Street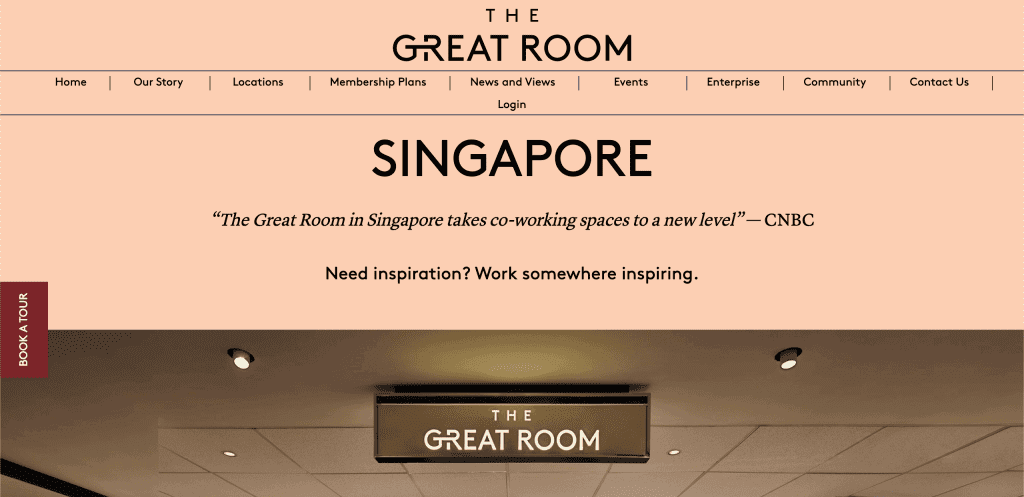 The Great Room is a co-working space that aims to enrich the way you work and socialize. Recognized as one of the best co-working spaces in Singapore, the luxurious interior is thoughtfully designed and perfectly balanced between productivity, comfort and aesthetics.
Drawing their inspiration from the best hotel lobbies around the world, the space is highly functional and conducive for hosting brainstorming sessions, presentations, workshops or small-scale summits.
Having served clients such as BBC, Deloitte, Facebook and UOB, they offer three different rooms that can fit anywhere from 15 to 200 people and come fitted with tech capabilities.
Reviews mention the impressive and opulent space and quality amenities that are bound to impress not just you but your guests!
9. HERE @ Farrer Park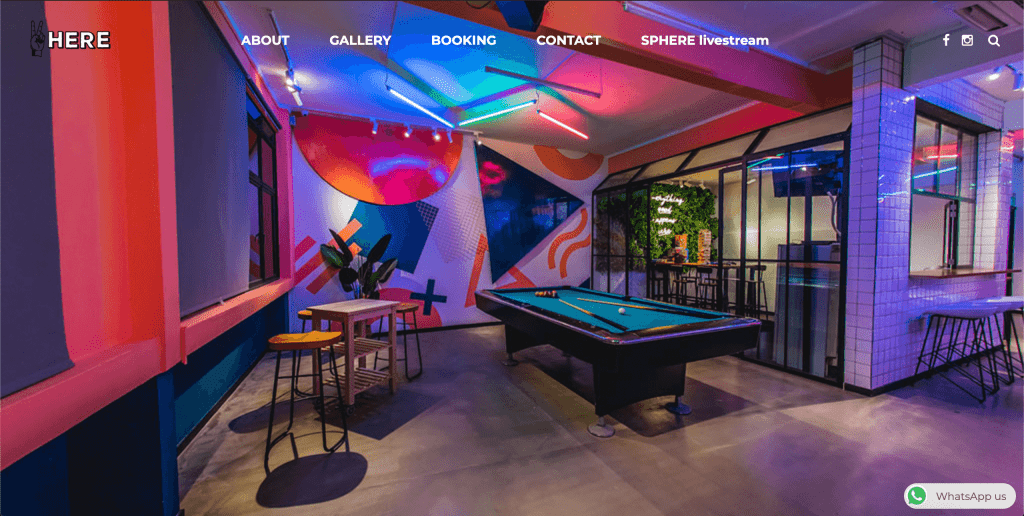 HERE @ Farrer Park is designed with the idea of creating unforgettable experiences for everyone.
A similar concept to HAPPEN, HERE boasts its own distinct features such as the indoor glasshouse cafe, 3D-art feature walls and fully customizable mood lighting for taking pictures.
Features include a bar counter, recreational room with console games, basketball machine, smart loft system, custom lights control and the all-time favourite ball pit area. In addition, the space comes with an overhead projector, microphones, WiFi, whiteboards and flipcharts, gaming consoles and pool table.
If you are planning to host a live streaming event, HERE has collaborated with SPHERE to provide you with professional audio and camera equipments, LED wall backdrops, event branding elements and a technician on-site to successfully pull off seminars, panel discussions, product launches and live performances without a hitch.
Customers can't get enough of the ball pit and basketball hoops that is the perfect set-up for tons of pictures and hours of fun!
Conclusion
Do you have any reviews and comments to share regarding our choices for the best event space in Singapore?
While SBO is committed to supporting our local businesses, we welcome any feedback and anonymous sharing regarding your experience with the listed event space in Singapore.
We hope that this guide will be useful in helping you to make an informed decision when it comes to finding the best event space in Singapore.
Explore More Content