10 Best Emcee in Singapore to Get Your Products Known [2022]
Need to get your products known? Let the results speak for themselves with these 10 best emcee in Singapore!
Wedding & Events
Our team at SBO.sg is committed to being a one-stop avenue to connect local businesses and consumers. We hope that our research efforts can help you save time and money by finding you the best deals without having to search around the vast world-wide-web.
The COVID-19 situation forced many retail businesses to venture online in hopes of reaching out to new customers in the virtual space. This move was expected, considering how the tightening of rules and restrictions and the initial circuit breaker meant lesser people going out.
With so many brands and products competing in the same space, how do you get your products to stand out from the competition? Enlisting the help of a talented and lively host can help you achieve the visibility you need, thereby bringing greater awareness to your products and services.
If this sounds like the solution you need, here are the 10 best emcee in Singapore to get your products known!
1. Myo
The team behind Myo is made up of skilled entertainers who remain actively involved in the industry. Often, they take part in events on- and off-stage. When you engage in their services, you'll be pleasantly surprised by the customised services and exemplary acts that best suit your theme.
Each of their professional emcees was carefully selected for excelling in what they do, as well as their immense experience in the field. Friendly and reliable, you can trust that your products are in good hands. The list of emcees includes the likes of Abby Lai, Stan the Man, Vee and Wayne Chan!

We've got to mention that experience emcee Vanessa Phang is also a seasoned singer and is able to arrange for groups/bands of your requirement, bringing you even more value for your celebrations!
2. Sharlyn Lim
There's rarely something Sharlyn Lee hasn't tried her hand at before – from hosting live webinars to Instagram Live and acting in local movies, she's done it all. Sharlyn uses her professional voice to connect with her target audience and incorporate corporate messages from clients.
With many years of experience in the industry, Sharlyn's impressed distinguished customers in various fields. Not only is she experienced, but she also has the smarts and features to ensure that your event runs smoothly. Some stellar achievements include hosting in the presence of the President, the Prime Minister, and real-life princesses.
Packages are available, whether you're looking at hosting a dinner and dance, wedding, corporate dinner and more!
3. Caitanya Tan
Caitanya Tan is a jack of all trades, having 14 years of experience in the entertainment industry. As a theatrically trained professional performer in singing, acting and dancing, she knows the process of establishing a staged production from start to end. This, in turn, bodes well for her when she performs her emcee duties at events.
Her experience includes her first stint fresh out of school as a lead performer at Disneyland, as well as having managed an international performing artist. She works closely with French- and European-related networking, cultural and business events, armed with many skills and an eloquent tongue.
Apart from starring in commercials and local films, she's also a reliable emcee for roadshows, corporate events, and many more roles!
4. Melvin Ho
Emcee Melvin Ho's been dazzling his customers since 2006, flexing his uncanny ability to adapt and lead at formal and vibrant events. He's had the chance to work with leading event planners in Singapore, Dubai, Hong Kong, and Malaysia. Some of his customers include multinationals like ExxonMobil, HSBC, McDonald's, Oracle and more!
Some services Melvin provides are emceeing for dinner and dances, conferences, seminars, launches, virtual events and opening ceremonies. Get your complimentary quote for his services when you key in your event details on his website!
5. Lester Leo
Highly knowledgeable and experienced as a professional freelance emcee, Lester Leo brings his zest for emceeing throughout his stints as an emcee at various functions. This includes a simple roadshow to auctions and challenging a 3,500-strong audience and more.
Lively and a ball of fun to be with, Lester has hosted many events involving politicians and famous global celebrities. He also does virtual and hybrid events, the demand of which has spiked since the pandemic. Events he's completed are live online sales, virtual career fairs, digital sales exhibitions, and online auctions!
Plus, Lester performs the novel Thai "Jipjip" show for your event performance, a quirky persona that's rare to find, and will definitely add plenty of laughter and thrill!
6. Alex Tan Sing
A multi-talented and bilingual emcee, Alex Tan Sing is an Active Enabler endorsed by Sport Singapore. Having shifted his business online, Alex conducts Zoom sessions for the children and elderly, creating educational and informative content that's shared by all.
With more than 20 years of experience as an emcee under his belt, Alex has enlivened plenty of events by engaging and impressing his audience. Fluent in English, Mandarin and Malay, as well as the occasional dialect, he's able to communicate with different communities to deliver an inclusive experience.
7. James Yang
Emcee James Yang has both local and international experience, adapting to different settings like casual corporate events, game shows, formal ceremonies and informal dinners. Quick-witted and able to connect with his audience, James Yang has the ability to make every guest feel inclusive.
It doesn't matter whether he's hosting a physical or virtual event – you'll be satisfied knowing that he can engage your audience successfully in an intense and thrilling experience that's bound to keep you on your toes. James has 12 years of experience in the field and holds certificates in communication and drama.
Get this tech-savvy emcee on board to deliver exactly what you need to market your products and services!
8. Kyle Ravin
Kyle Ravin's been participating in the arts and entertainment scene since early childhood with a keen interest in magic and emceeing. At 16, he landed his own magic show on a local television channel, which kickstarted his foray into the emcee industry. This passion has given him valuable opportunities to host events in Singapore, Asia, as well as Australia and Las Vegas.
Dubbed The People's Emcee, this title is a testament to Kyle's ability to weave unique elements of magic, class, performing flair, and attraction as he dominates the stage. Since then, he's even set multiple records in the Singapore Book of Records. Kyle has also secured various performing magic-related awards.
9. Ainsley Chong
A graduate of The Flying Dutchman's Emcee Academy, Ainsley Chong is more than adept at leaving a lasting impression on your audience. As an emcee and close-up magician, together with prior experience at event management, Ainsley understands the workings of an emcee which, in turn, provides the winning strategy to make marketing your product and services a success.
Some emcee services he provides include emceeing for dinners and family days, launches, awards and conferences, exhibitions and many more. Take your event to greater heights when you engage Ainsley for a magical experience to remember!
10. Multiverse Productions
Multiverse Productions consists of a team of event experts and aficionados who specialise in event management, experiential marketing and entertainment production. It's amassed a group of leading emcees in Singapore to champion and transform your event.
From Gurmit Singh to local emcees like Sharlyn Lim and James Yang, to Harjit Tulsi and Japanese emcees like Reiko Yokoi, it has a stunning list of captivating talents for your picking. Each emcee is uniquely different and incredibly proficient in what they do!
Conclusion
Do you have any reviews and comments to share regarding our choices as to where you can get the best emcee in Singapore to get your products known?
While SBO is committed to supporting our local businesses, please feel free to share any experience or thoughts you have. We welcome any opinion regarding the listed emcee in Singapore.
We hope that this guide will be useful in helping you when it comes to finding the best emcee in Singapore to get your products known.
Featured Image by Product School on Unsplash
In this article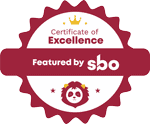 Are you featured in this?
Display this exclusive SBO badge proudly on your website!