11 Best Chinese Tuition in Singapore to Improve Your Chinese Proficiency [2022]
Learn how to speak and write Chinese with greater proficiency with the best chinese tuition in Singapore.
Education
Our team at SBO.sg is committed to being a one-stop avenue to connect local businesses and consumers. We hope that our research efforts can help you save time and money by finding you the best deals without having to search around the vast world-wide-web.
I'm sure many of the readers here have heard of the Speak Mandarin campaign which is an annual event initiated by the Singapore government to promote the use of Standard Mandarin Chinese, one of the four official languages of Singapore.
In 2011, the tagline for the campaign was "华文华语 多用就可以" (Official English tagline being "It Gets Better With Use"), to target youths and students, through boosting Mandarin lessons by making them more fun and engaging through the use of digital media.
However, even as schools continue to actively push and encourage students to speak and write Chinese more often, many students are still struggling with the subject especially since many students tend to speak more English or Singlish outside of Chinese lessons.
If you are one of those students who wish to improve your Chinese speaking and writing skills but not sure where to start, we have gathered a list of the 11 Best Chinese Tuition in Singapore in this article to help you kickstart your journey to becoming a more proficient Chinese writer and speaker.
1. Miss SY Wang Chinese Distinctions Learning Studio
Having graduated from RGS, HCJC, NUS, and NTU (NIE), as well as having taught in Independent, IP and MOE schools (RI and MGS) for 18 years, Miss Wang knows the winning formula for students to excel – regardless of their present proficiency. She actively keeps up with curriculum changes, allowing her to craft classes that impart only the most relevant content.
For students who may be intrinsically weaker in Mandarin, being effectively bilingual, Miss Wang is equally able to communicate clearly in English as well so that they can better absorb key concepts with ease.
Miss Wang seeks to improve her students holistically, by also focusing on key areas of essay writing, comprehension, and oral presentation. The numbers speak for themselves! Many of her students achieved distinctions for their major examinations.
You can read up more on what past students thought of Miss SY Wang's tutelage.
If you find that your child lacks interest in the Chinese language, or is finding it hard to catch up in school, you can rest assured that Miss Wang will know how to engage your child to clinch the distinction! Visit Miss SY Wang Chinese Distinctions Learning Studio to find out more!
2. Yanzi Mandarin – Chinese Tuition & Enrichment
A Chinese tuition and enrichment centre with more than 20 years of experience, Yanzi Mandarin strives to offer each and every one of their students a holistic, engaging and successful journey in mastering the Chinese language.
In addition, the teachers at Yanzi Mandarin also have strong connections with well-known publishing houses to craft assessment books, hence the learning materials provided by the enrichment centre are always ahead of the increasingly challenging and dynamic academic syllabus.
3. Jocelyn Chinese Tuition 如苑教育补习中心
When it comes to the teaching and learning of the Chinese Language, Jocelyn Chinese Tuition Centre takes a pragmatic and logical approach by incorporating Strategic Bilingualism using Second Language Teaching pedagogy to bridge the learning of Chinese Language, as well as designing and actively reviewing their pedagogy to stretch the learning potential of different student profiles.
In addition to the easy-to-follow formula-like Thinking Models provided to help students expand coherent content in writing and speaking, the notes provided are also organised and detailed with both English and Chinese explanations!
If you are a student who often finds it hard to read and understand questions and texts in Chinese, the materials provided at Jocelyn Chinese Tuition Centre are definitely one of the easiest to comprehend among the educational institutes in the 11 Best Chinese Tuition in Singapore!
4. EduGrove Mandarin Enrichment Centre
Have you always dread Chinese lessons because they were to dry and boring for you? If yes, then EduGrove Mandarin Enrichment Centre may be the enrichment centre you're looking for!
One that cares about nurturing the holistic development of students to help them acquire the skills they will need to succeed in all areas of life, EduGrove breaks away from the rigid way in which Mandarin is traditionally taught, by placing emphasis on FUN in their programmes.
Additionally, EduGrove's curriculum also keeps up with the MOE syllabus for Chinese Language at both primary and secondary levels, hence ensuring that students feel confidently prepared for exams given their familiarity with MOE designated keywords.
5. FUNTASTIC Chinese Education Hub
Endorsed by Professor Kenneth DEAN, NUS Head of Chinese Studies and Associate Professor Ong Yong Peng, National Institute of Education Lecturer for Asian Languages and Cultures, FUNTASTIC Chinese Education Hub is a learning centre that aims to provide a holistic learning experience for one and all, while nurturing every individual to unleash his or her fullest potential.
A team that comprises of experienced and dedicated MOE Award-winning teachers, NIE trained teachers and ex-MOE teachers, FUNTASTIC Chinese is not just any other tuition centre but one that helps you build a strong foundation in Chinese, thereby empowering and preparing you to be world-ready.
6. Beijing Language School
Established in 2005 with over more than 16 years of development, Beijing Language School is an educational hub that aims to develop and bring out the true potential in all of their students.
With over 8 school branches in Singapore and still expanding, Beijing Language School is definitely one of the most convenient schools in the 11 Best Chinese Tuition in Singapore that is located close to home!
7. Yi Mu Tian Chinese Enrichment
At Yi Mu Tian Chinese Enrichment, Ms Jiang (江老师) describes teaching her students here as the process of cultivating a field of saplings. No matter what surprises or disappointments her students bring to her, she will continue to nurture them with care and patience until they bloom.
If you're looking for a dedicated, impactful and empowering teacher who will go above and beyond, then Ms Jiang is certainly a teacher you can consider.
8. XueLin Learning Hub
At XueLin Learning Hub, the founders of the tuition centre from the 11 Best Chinese Tuition in Singapore believes in the Dandelion philosophy of instilling in their children and students the values of resilience, while staying positive on their journey to success.
In addition, they believe that every student's learning style is different, hence they've developed an authentic learning environment where classes are kept in small groups of maximum eight students, with lessons tailoring to the unique learning styles of each individual, in ways that best connect to them.
9. Chen Higher Chinese Tuition
Ms Chen is a Singaporean teacher who has 12 years teaching experience in Higher Chinese, Chinese and Chinese Literature at Pri, Sec, IB and IP levels.
Describing herself as a 'Higher Achiever Who Loves Her Fish Soup', Ms Chen, who was once a top Student in Chinese Literature at Hwa Chong Institution and had also obtained A1 in General Paper, is also effectively bilingual.
With her strong experience and expertise of commonly tested composition topics, Ms Chen and her team of bilingual MOE-trained teachers at Chen Higher Chinese are able to help students look out for relevant and common topics likely to be tested in examinations.
10. Skylace Language School HQ
Established 1989, Skylace Language School is the first MOE-registered private language school in Singapore, specialised in providing enrichment classes for children from 3 to 16 years of age.
More than just education, the school focuses on helping children lay strong language foundations with emphasis on pronunciation, grammar, word recognition, sentential usage, comprehension skills, writing techniques, and extra-curricular reading materials.
11. Chinese Bridge Language School
Led by a team of educators with high qualifications and expertise, Chinese Bridge Language School believes in learning through play as it helps develop the social and cognitive skills of a child.
Hence, the school has created a learning environment that is both enjoyable and enriching while keeping in-line with the syllabus set out by the Ministry of Education (MOE).
One that takes pride in its effective methods in teaching academic-based Chinese to students from preschool to secondary level, Chinese Bridge Language School is another language school to look out for in the 11 Best Chinese Tuition in Singapore.
Conclusion
As one of the 6 official languages listed by the United Nations, Mandarin Chinese is one of the most influential language used globally. This is especially true in recent years as there has been an increasing trend of multinational companies (MNCs) seeking to employ Mandarin speakers.
However, as said by Prime Minister Lee Hsien Loong at the Speak Mandarin Campaign's 40th anniversary celebration, Singapore may actually be losing its bilingual competitive edge, as people all over the world are now learning Mandarin more eagerly.
Therefore, it is important that we start learning the Chinese language well so as to ensure that we have a distinct advantage tomorrow.
We hope that this compilation of the Best Chinese Tuition in Singapore has been useful in helping you find the best Chinese tutor to help you speak and write Chinese with greater proficiency.
In addition, SBO also welcome any feedback and reviews regarding your experience with the listed Chinese tuition centres in Singapore.
On a side note, if you are facing troubles finding a job during this pandemic, do feel free to check out the 10 Best Recruitment Agency In Singapore that may help you find a suitable job position.
In this article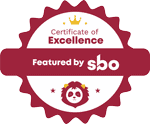 Are you featured in this?
Display this exclusive SBO badge proudly on your website!