15 Best Pigmentation Treatment in Singapore to Unveil Brighter Skin [2023]
Pigmentations, be gone! Tackle the dull at these 14 best pigmentation treatment in Singapore.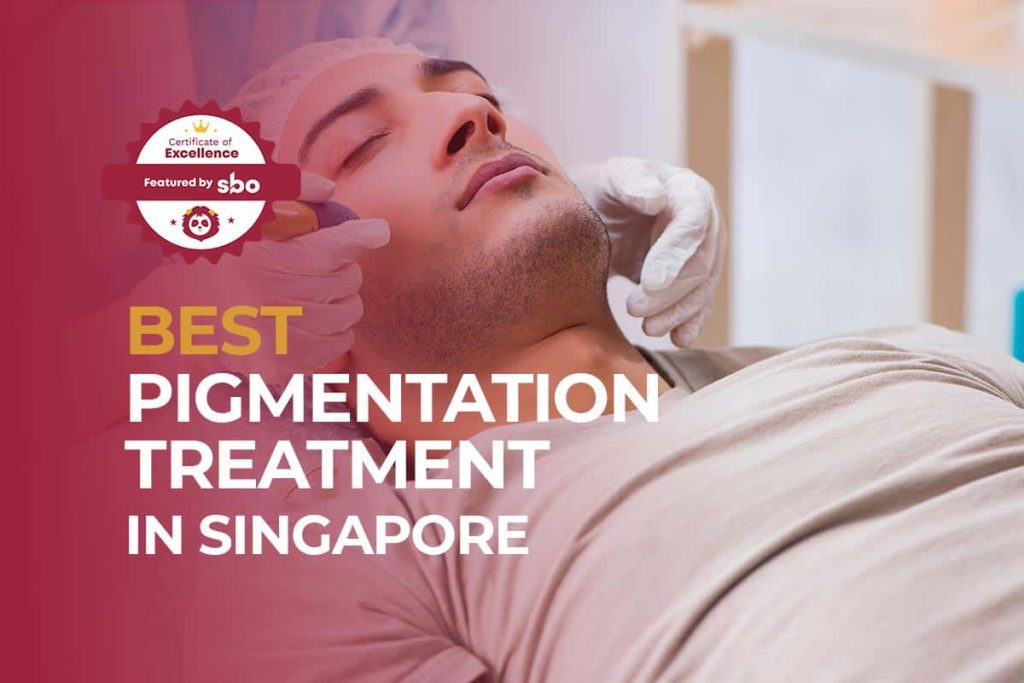 In hot and humid Singapore, it's almost impossible to completely avoid any sun exposure.
And if you know anything about pigmentation, it can be caused or worsened by a plethora of factors including sun damage, inflammation, and hormonal fluctuations.
Thankfully, there are a plethora of lifesaver treatments ranging from creams, retinoids, chemical peels and laser therapy that can help you achieve crystal clear skin once again.
If skin brightening masks, scrubs or topicals aren't doing the trick, it could indicate that a visit to an aesthetic clinic is due—which is why we have curated a list of the 15 best pigmentation treatment in Singapore to help you get that naturally flawless and radiant skin!
1. V Medical Aesthetics & Laser Clinic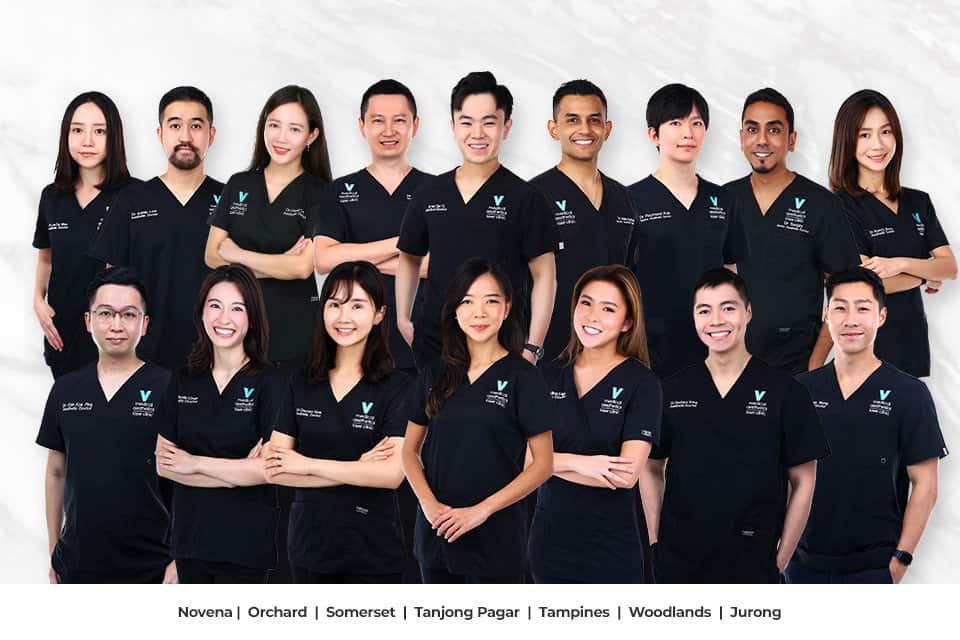 V Medical Aesthetics & Laser Clinic is a largest medical aesthetic group with 14 clinics conveniently located near MRT stations across Singapore. The chain of clinics focus on providing safe, clinically-proven and low-downtime medical aesthetic services, ranging from lasers, ultrasound, radiofrequency technologies and injectables. 
Expert in V Shape Face Slimming, Pigmentation Removal and more, they have a team of 16 accredited doctors with extensive knowledge and expertise in Medical Aesthetics, focused on bringing the best in you, tackling facial and body concerns from ageing to acne, scarring, pigmentation, uneven skin tone, hair regrowth, and even tattoo removal.
Treatments are FDA-approved and use medical-grade equipment, prices are transparent and affordable for all. V Medical Aesthetics & Laser Clinic also received more than 7000 positive reviews across platforms such as Google and Facebook. 
2. Become Aesthetics Clinic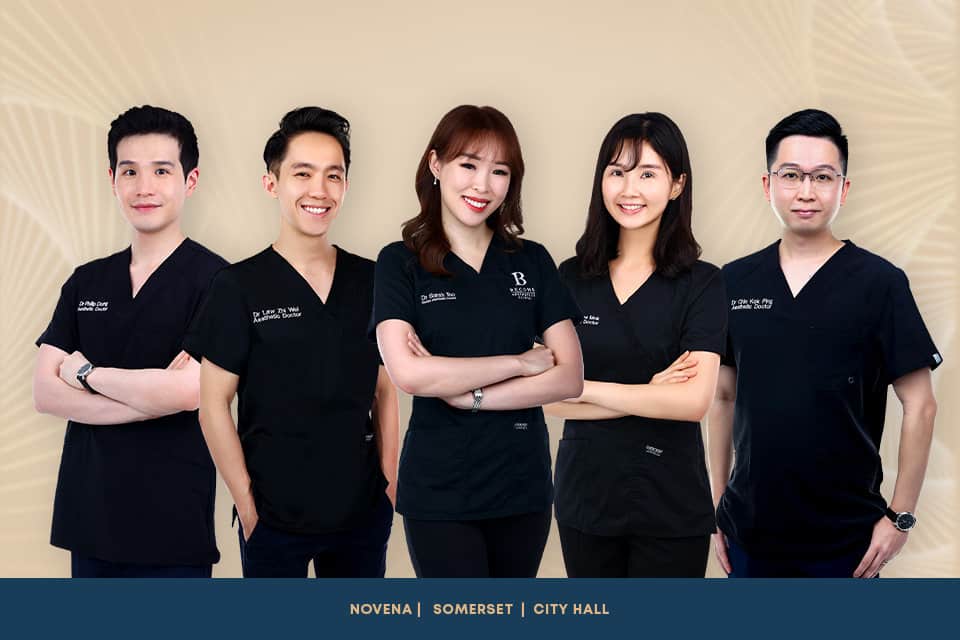 Besides Botox, Become Aesthetics Clinic offers clinically-proven aesthetic services that are known for its safety and efficacy in treating a multitude of skin conditions such as saggy skin, pigmentation, scarring, fine lines and wrinkles. They also offer hair restoration lasers and treat body conditions such as stretch marks and dark underarms.
With 3 clinic branches across central Singapore – Novena, Somerset and City Hall, and 5 medical aesthetic doctors with extensive years of experience in the field to provide patient-centric care. Become Aesthetics Clinic is highly reviewed with more than 500 positive reviews across their platforms. Check out their transparent pricing of their aesthetic services.
3. One Face Skin & Aesthetics Clinic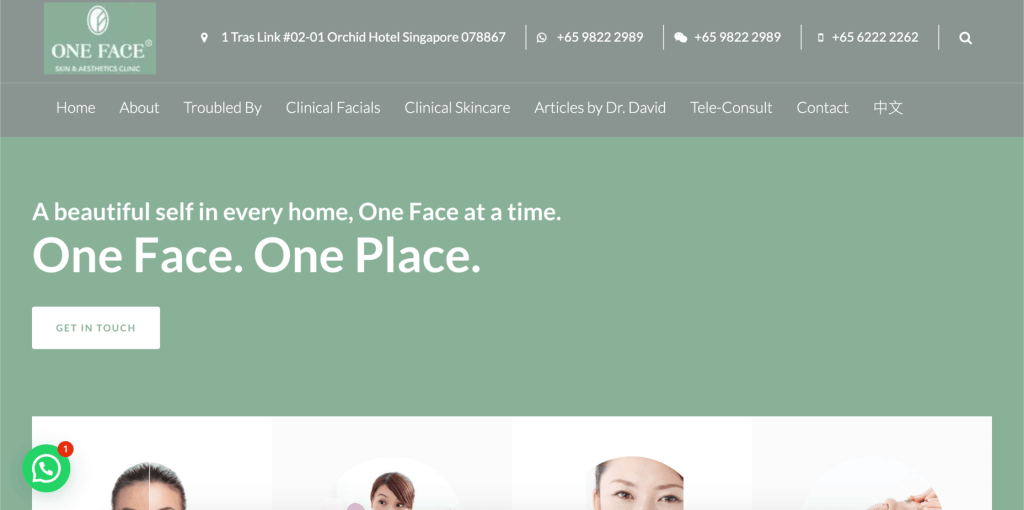 One Face Clinic aims to be the one-stop solution to all your skin problems. Heading the team is Dr David Ng who has more than 15 years of medical experience under his belt.
Focused on a patient-centric and results-oriented approach, he specializes in treating challenging conditions that commonly afflict many Asian women and men including severe pigmentations and ageing skin.
One of their signature treatments is the Cell-Glow Facial which works to simultaneously control the appearance of pigmentations while stimulating cellular renewal for brighter, smoother skin.
Reviews from customers talk about the effective skincare products and facials that have empowered them to feel more beautiful and confident in their skin.
4. Sozo Aesthetic Clinic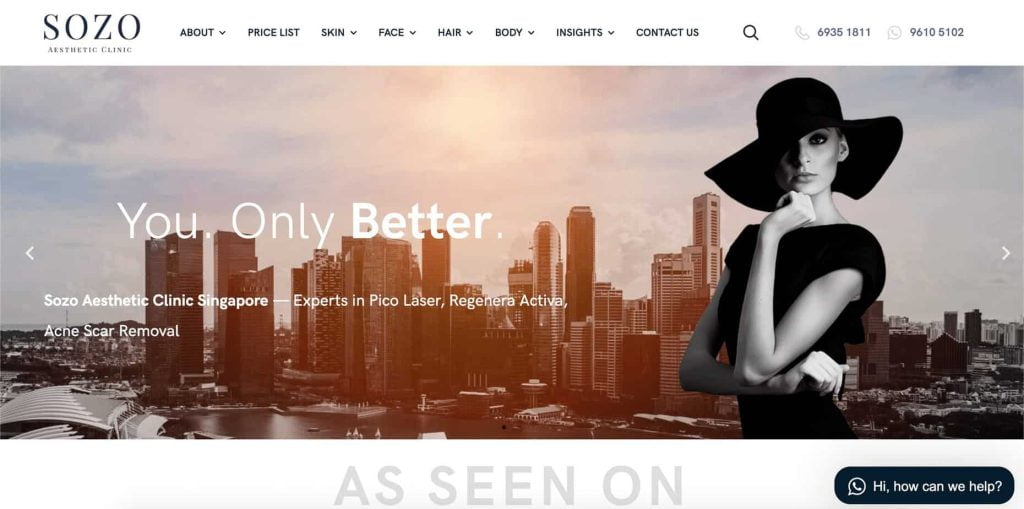 Led by Medical Director and Founder, Dr Justin Boey, Sozo Aesthetic Clinic was created for the busy modern individual who desires quick reocvery and minimal downtime treatments.
Boasting an extensive menu of services that treat everything from acne scars to hair loss, Sozo was in fact, one of the first providers to introduce the FDA-approved PicoPlus Laser designed to safely and effectively treat pigmentation issues.
Due to its ultra-short pulse duration and high peak power, the Pico laser is able to clear even the most stubborn pigmentations with fewer treatment sessions as compared to traditional lasers.
In addition to the PicoPlus Laser, Sozo also offers the Pro Yellow Laser and a range of topical creams, serums and professional chemical peels to be used alone or in combination for better results.
Reviews talk about how their complexion has drastically improved upon starting treatments with Dr Boey and many have since recommended Sozo to their friends and family.
5. Edwin Lim Medical Aesthetic Clinic (Multiple Outlets)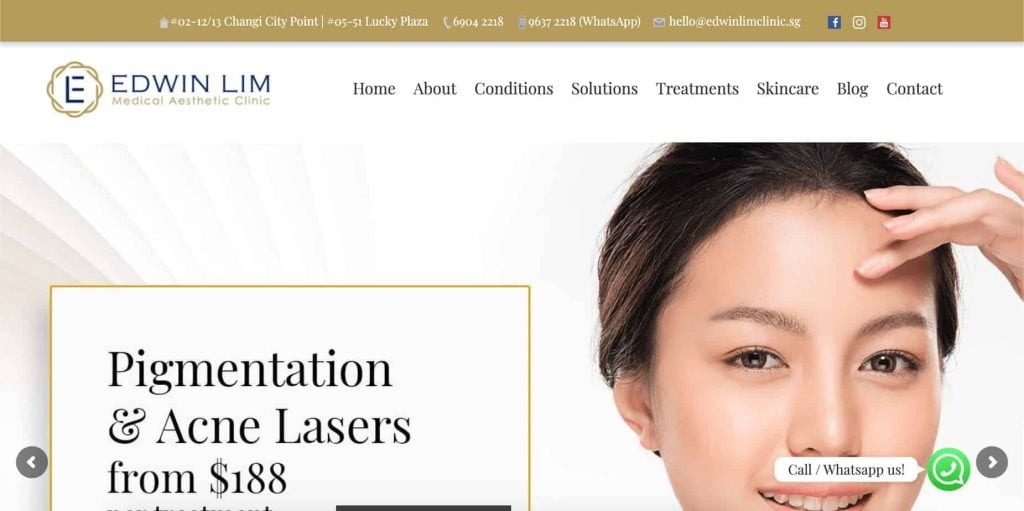 Guided by 3 core principles: Personalisation, Minimally-invasive, and Evidence-based treatments, Dr Edwin Lim possesses a wealth of experience in treating patients with pigmentation disorders.
Having established a comprehensive treatment protocol that consists of specially formulated skincare products, supplements and in-clinic procedures and treatments, Dr Lim tailors his treatments based on each individual's needs and goals.
Pigmentation treatments include the Spectra Pigmentation Laser, Carbon Spectra Laser "Hollywood" Peel and Pico laser that can help to deliver multiple benefits for visibly brighter and healthier-looking skin.
Reviews talk about the effectiveness of the Carbon Laser "Hollywood" Peel and skincare products and how assuring and caring Dr Edwin is in making them feel comfortable throughout their treatment.
6. Freia Medical (Multiple Outlets)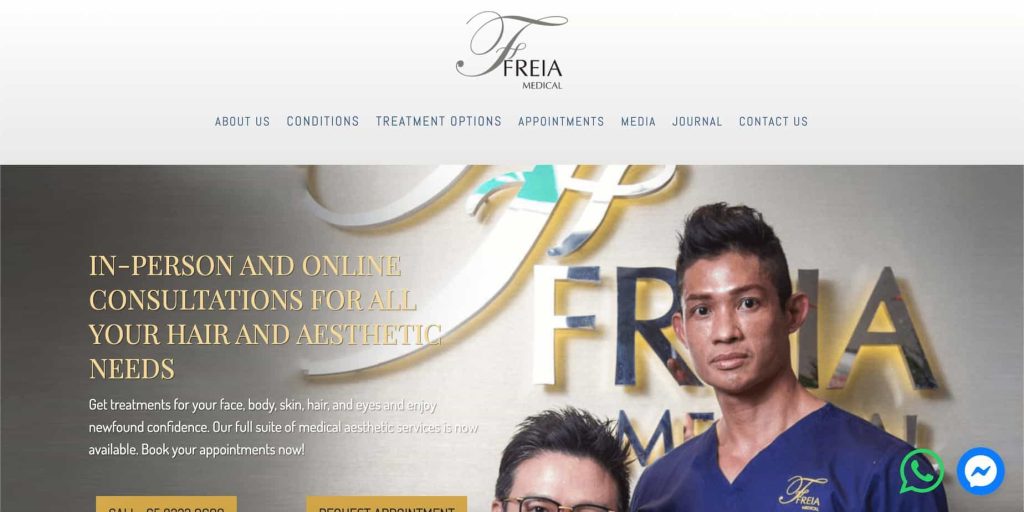 The aesthetic clinic designed for the modern men and women of Singapore, Freia Medical believes in only using scientifically proven, safe and effective treatments to help you feel and look good from head to toe.
All procedures are handled by aesthetic doctors, Dr Harold Ma and Dr Toby Hui who are both top-class practitioners that have a wealth of training and experience behind them.
Pigmentation treatments include Picosure, Dual Yellow Laser and NeoGen Plasma that all work to rejuvenate troubled skin and bring out a clearer, fresher complexion. In fact, the NeoGen Plasma is also safe enough to use on the delicate eye area without any adverse side effects.
The clinic also offers a range of clinical facials such as the Red Carpet Facial for that celebrity glow, and reviews from customers attest to the effectiveness of the treatments that have improved their pigmentation in just a few sessions.
7. Ensoul Medical Clinic
Presenting bespoke treatments to help you regain your confidence and own your natural beauty, Ensoul Medical Clinic believes in using a combination of treatments to achieve the best results for each individual.
Only using clinically-proven and FDA-approved treatments and techniques, the clinic was founded by Dr Kenneth Thean, who has performed an extensive number of procedures covering a vast range of conditions.
His approach is to combine several synergistic procedures with medical-grade products to build a strong foundation of skin health for his patients and deliver long-lasting improvements.
Pigmentation treatments include the Q-switched ND:YAG Laser and Ensoul Intensified Skin Renewal Program — a unique treatment that employs multiple lasers and therapies in a single session.
Reviews talk about Dr Kenneth Thean's knowledge and efficiency in tackling their issues and many are satisfied with their results!
8. SkinGO! (Multiple Outlets)
SkinGO! is Singapore's first Korean express facial chain that offers a revolutionary 15-minute facial that is suitable for all skin types.
Their signature facials are categorised by 3 skin types: normal and dry skin, oily and acne-prone skin, and ageing skin to help customize your treatment and help you reap the biggest benefits.
Using medical-grade serums and Korean skincare technology, the treatments are conducted by highly trained, licensed aestheticians in 3 key steps. Since there are no packages here, you can simply pop by for a quick facial whenever required.
To specifically target pigmentation, try the Bio-Radiance Photo Facial which incorporates IPL light energy to correct blemishes, lighten the appearance of dark spots and restore your skin's youthful radiance.
Reviews from customers talk about the skilled and meticulous therapists and how clean and smooth their skin feels after the facial. Customers also like that it is so affordable with no hidden costs!
9. Radium Medical Aesthetics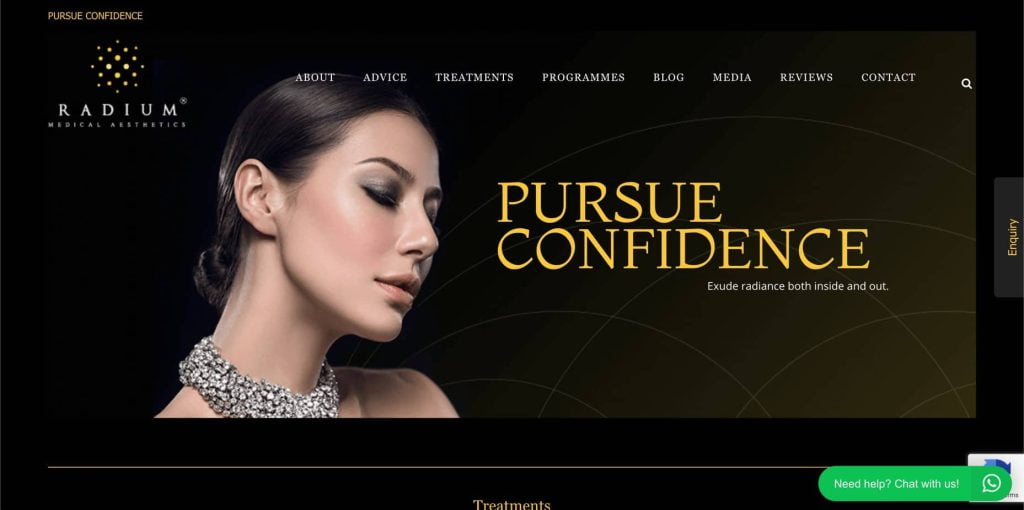 Offering a range of treatments for the face, body and hair, Radium Medical Aesthetics offers the latest, non-invasive, FDA-approved and CE-marked treatments designed to help you become the best version of yourself.
The experienced team of doctors and nurse therapists is led by Medical Director, Dr Siew Tuck Wah who is highly respected and trusted for his work in the industry.
To deal with pigmentation, the clinic uses the Dual Yellow Laser to help brighten the skin and treat fine lines and wrinkles while improving the overall skin texture.
The clinic also offers Sylfirm, which utilizes radiofrequency to treat the notoriously hard to treat melasma. The Everglow Pigmentation Facial is also designed to break down stubborn pigments effectively and can be used in combination with their laser treatments for synergistic results.
Reviews talk about the effectiveness of the Dual Yellow Laser and the kind and helpful team. Many of them have seen great improvements in their skin after starting their treatment at Radium.
10. Shakura Pigmentation Beauty (Multiple Outlets)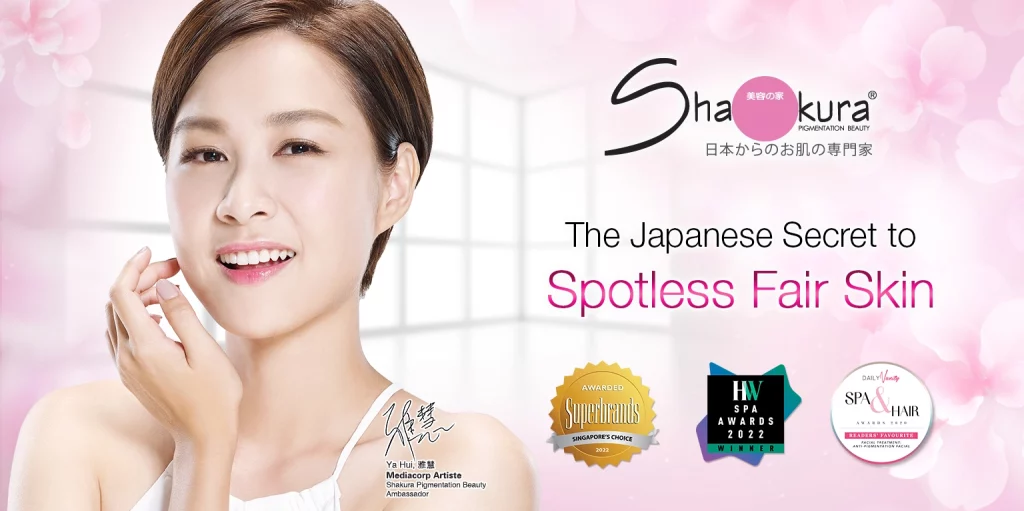 Shakura Pigmentation Beauty was founded based on the secrets behind the youthful, smooth and luminous skin among female farmers in Japan. Shakura's 5-star reviews have positioned them to be among the top beauty treatments in Singapore.
Utilising the secret ingredient: milk, the founders of Shakura Pigmentation Beauty set out to develop an in-house serum, formulated to specifically target pigmentation in Asian skin, to lighten dark spots, brighten dull skin, and prevent the formation of new pigmentation.
Having successfully helped thousands of women facing pigmentation issues, their signature Shakura Miroko™ Whitening Treatment does not involve the use of lasers and or any invasive methods to fade dark spots and inhibit excess melanin production for a glowing and radiant complexion.
Reviews on Shakura Pigmentation Beauty are stellar. Customers rave about how knowledgeable and sincere their consultants are, as well as the highly customised treatments they offer, which include products tailored to your needs. According to their reviews, many have seen improvements in their pigmentation or overall skin tone after their treatments here!
11. 8 Medi-Aesthetics Centre (Multiple Outlets)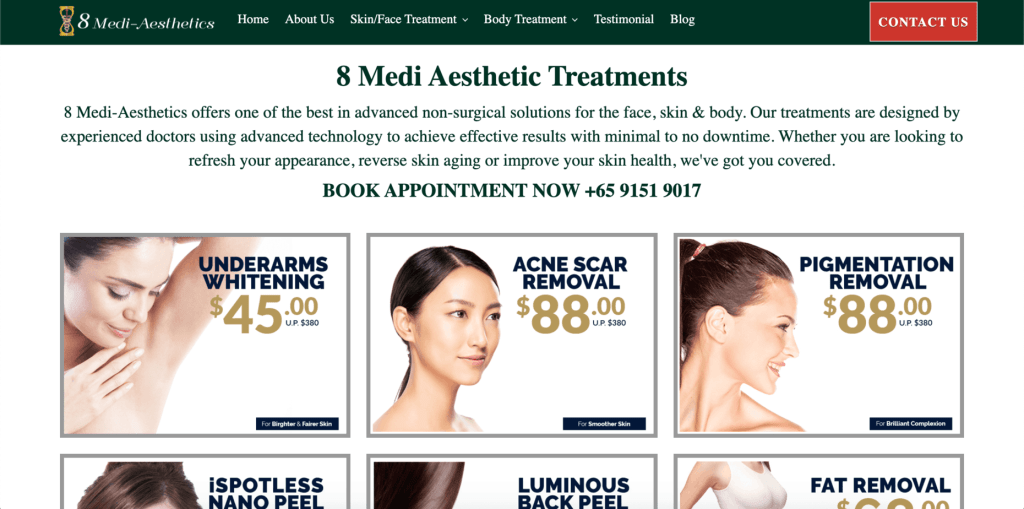 8 Medi-Aesthetics offers some of the best non-surgical treatments that are designed by experienced doctors and employed using the latest technology.
Achieving maximal results with minimal to no downtime, every treatment starts with an in-depth consultation to customise your treatment.
With over 20,000 satisfied customers to date, pigmentation treatments include the iSpotless Nano Peel that doesn't just work to target pigmentation but also clogged pores and acne-prone skin.
The Korean Crystal Facial Treatment also works to brighten dull, lacklustre skin and promote cellular renewal to reduce the appearance of marks and scars; all while infusing the skin with intense hydration.
Reviews talk about the effective facials and overall pleasant experience. Customers also like that there is no hard-selling at all and like that their prices are affordable.
12. EstheClinic Singapore (Multiple Outlets)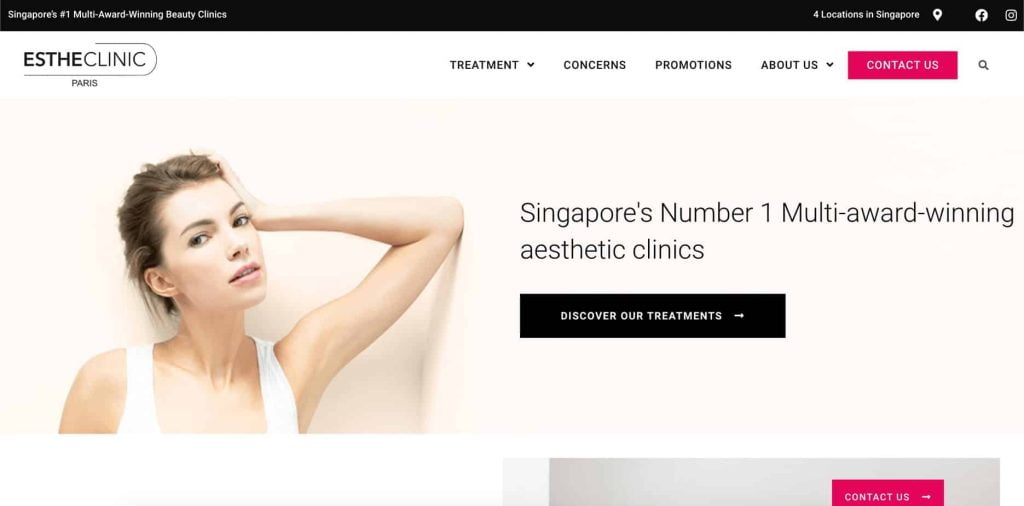 Aiming to provide aesthetic treatments that are painless, non-invasive and provide immediate long-last results to all, EstheClinic was founded by doctors, Dr Boutboul and Dr Leone with over 20 years of experience working in the aesthetic field.
Using French patented technologies, all of their treatments are exclusively developed by the founders and tailored to address your specific concerns.
Their award-winning Glow-To-Go Facial uses the most advanced IPL technology to target skin damage in a painless and safe manner and reduce dark spots and skin discolourations.
Alternatively, the Intense Glow Programme utilises two aesthetic treatments— the MacPeel IPL technology and LED light therapy to repair, smoothen and brighten the skin in just one session!
Reviews talk about the effective treatments and comfortable and relaxing environment. Many customers also enjoy their underarm hair removal services and highly recommend them!
13. CeleVenus Wellness & Aesthetic Clinic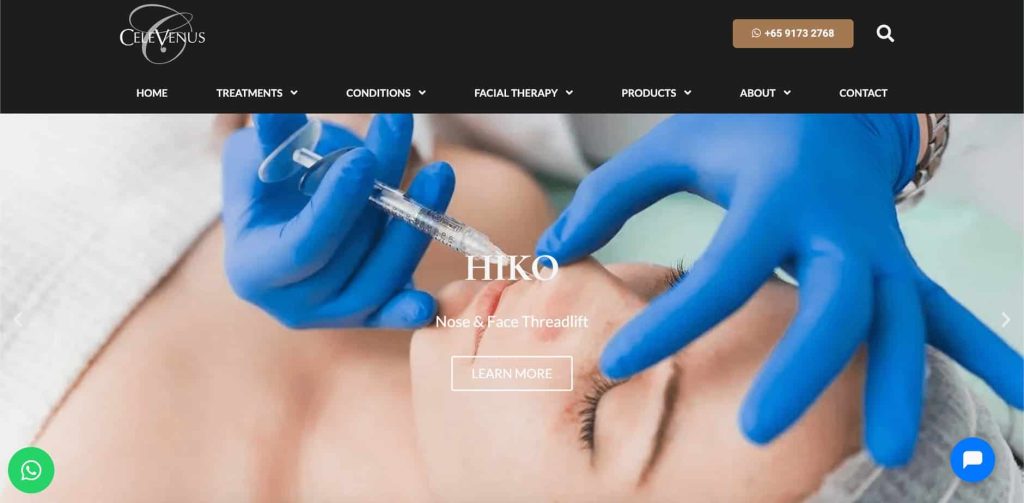 Founded in 2007, Celevenus Wellness & Aesthetic Clinic specialises in face and body contouring treatments deliver by Dr Dylan Chau, an experience doctor who has been in the field for almost 20 years.
To help tackle stubborn pigmentation, Dr Chau and his team is able to employ a variety of laser treatments, facials and chemical peels such as the Revlite Laser—a gentle and minimal downtime treatment that can clear up to 70-90% of your pigmentation!
Other signature treatments include the Sciton Broadband Laser BBL™ and Cosmelan Peel to further improve your skin and reveal a shiny, healthier glow from within.
Reviews talk about the good work ethics of the team and Dr Chau's conscientiousness and dedication to his craft that delivers results!
14. MODE Aesthetics (Multiple Outlets)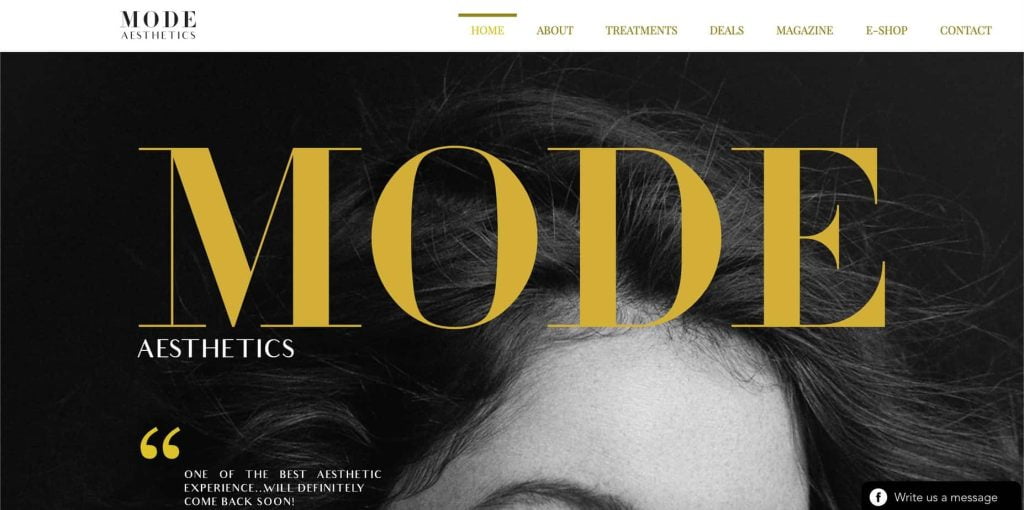 Founded in 2012, Mode Aesthetics is based on the French term "a la mode", which literally means "in the fashion," or "fashionable".
Bringing customers the latest technology in the aesthetic industry, the clinic has partnered up with industry experts and leading aesthetic manufacturers from Korea and the UK to deliver award-winning results.
Boasting over 70 aesthetics technologies, signature treatments include the Almalase Laser Facial that can effectively tackle pimples, pores and pigmentation to produce results in just 1 session.
The Vitamin C Skin Booster is also a whitening facial that can help treat and prevent photodamage while restoring the skin's natural glow and radiance by inhibiting melanin production.
Reviews talk about the clean and luxurious environment as well as the relaxing and effective facials and treatments.
15. Rexults Clinic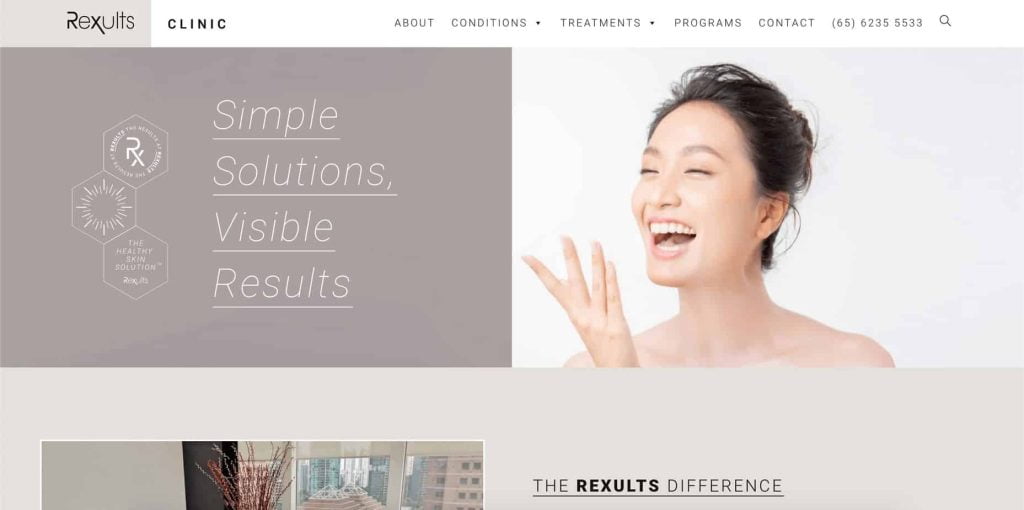 The philosophy of Rexults Clinic is to always put their patients first and foremost in everything that they do.
Offering a range of non and minimally-invasive treatments covering a range of conditions such as acne, scarring, pigmentation and ageing, Medical Director, Dr EP Wong is a long-time medical practitioner who has been in the aesthetic field for more than 20 years.
To handle and get rid of pigmentation for good, the clinic utilizes a series of lasers such as the Clarity and Copper Bromide Laser to cater to a wider variety of patients with differing needs and objectives.
For those who are willing to commit, the clinic also offers signature treatment programs such as The Rexults Healthy Skin Solution™—a multi-phase program that incorporates various modalities to achieve flawless, blemish-free skin. They also offer a Pigmentation Program and Melasma Program.
Reviews talk about Dr Wong's warmth and caring personality and the helpful and well-trained staff. The majority of customers have been with Dr Wong for years and can vouch for his knowledge, skills, and passion in his work.
Conclusion
Do you have any reviews and comments to share regarding our choices for the best pigmentation treatment in Singapore?
If you regret never slathering on sunscreen before heading out the door and are now suffering from the consequences of pigmentation—know that you aren't alone!
Remember: not all pigmentations are equal; and while some are easier to treat than others, the best step to take is to consult a professional dermatologist or doctor that you can trust to make the best recommendations!
And if you can't find what you are looking for, try this list of the best aesthetic clinics in Singapore instead!
Explore More Content