10 Best Massage Services in Singapore to Chase The Blues Away [2022]
Melt all your stress from the workweek by indulging in these 10 best massage services in Singapore!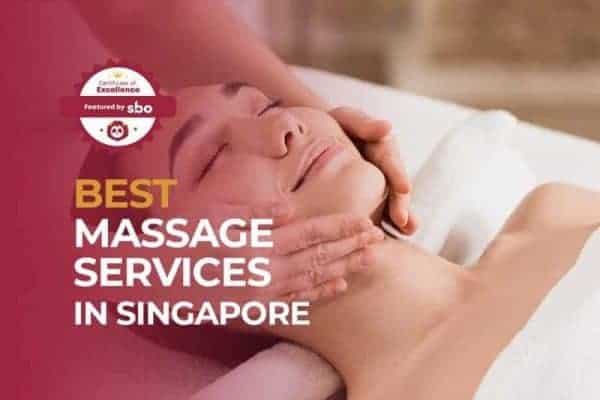 The past year has been a challenging year for most of us, to say the least, and if you find yourself experiencing more headaches, a stiff back and aching shoulders—you aren't alone.
One of the best stress management techniques backed by medical experts is massages; which have been shown to reduce stress, relieve pain and muscle tension and boost one's immunity.
If you are ready to banish your weariness and rejuvenate your mind, body and soul, here are the 10 best massage services in Singapore ranging from Aromatherapy, Hot Stone, Shiatsu, Swedish and Deep Tissue massages to suit your fancy!
1. The Outcall Spa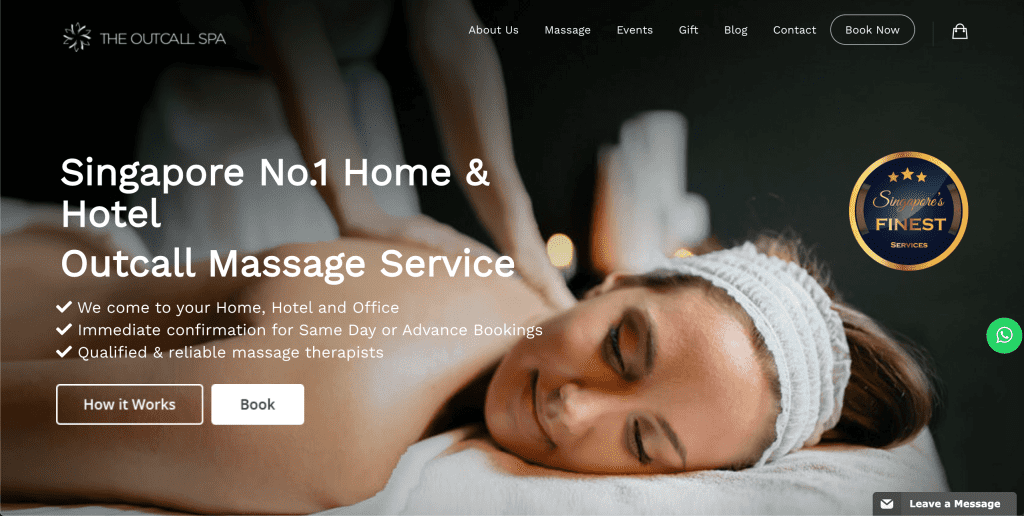 The Outcall Spa is Singapore's number one home and hotel outcall massage service that removes the hassle of travelling by bringing the whole spa experience to you.
The concept first took flight in 2016 and originated from the idea that the ideal location of a relaxing spa massage is none other than in the comfort of your own home.
The Outcall Spa's goal is to give you the atmosphere and service standard of a premium spa at the location of your choice, whether it is your home, hotel or office.
Their trademarked treatment is the TOS Signature Treatment ($198 for 90 minutes), a head-to-toe massage that features Swedish massage techniques while applying precise pressure for deep tissue relief.
They are also known for their pre and post-natal massages such as The Mommy Helper ($288 for 90 minutes) which is a postnatal massage involving traditional Javanese techniques infused with lymphatic concepts, and The Gift of Life ($218 for 90 minutes) prenatal massage to ease lower back pains.
Reviews talk about the enjoyable massages and prompt and reliable replies and service. Many customers have also used The Outcall Spa to surprise their significant other!
It might not be for everyone due to the heftier price tag, but those who tried it loved it!
2. i Spa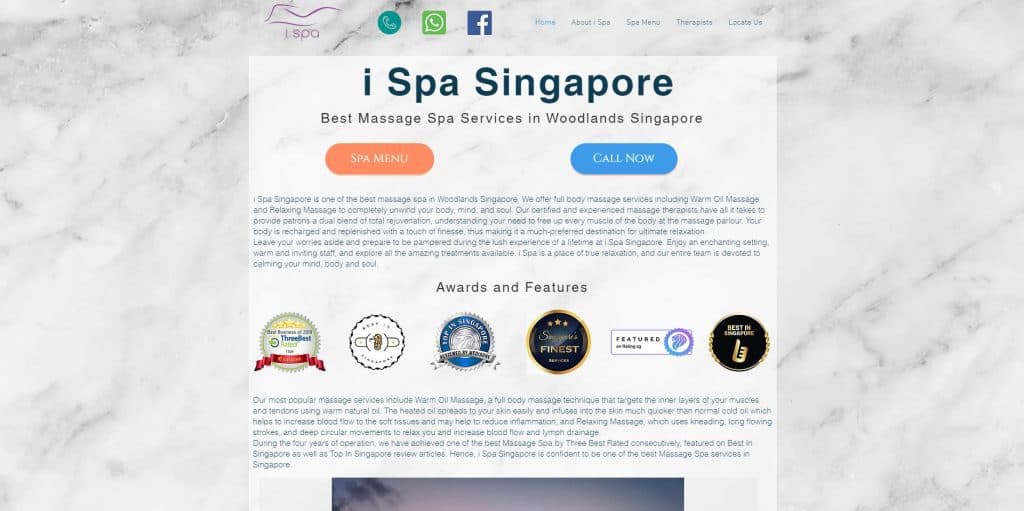 i Spa offers full body massage services such as warm oil massage and relaxing massage to help their customers to unwind their body, mind and soul.
Their certified and experienced massage therapists have the necessary expertise to provide their customers a dual blend of total rejuvenation, understanding the needs of their customers to free up every muscle of their body.
3. Blind Massage Services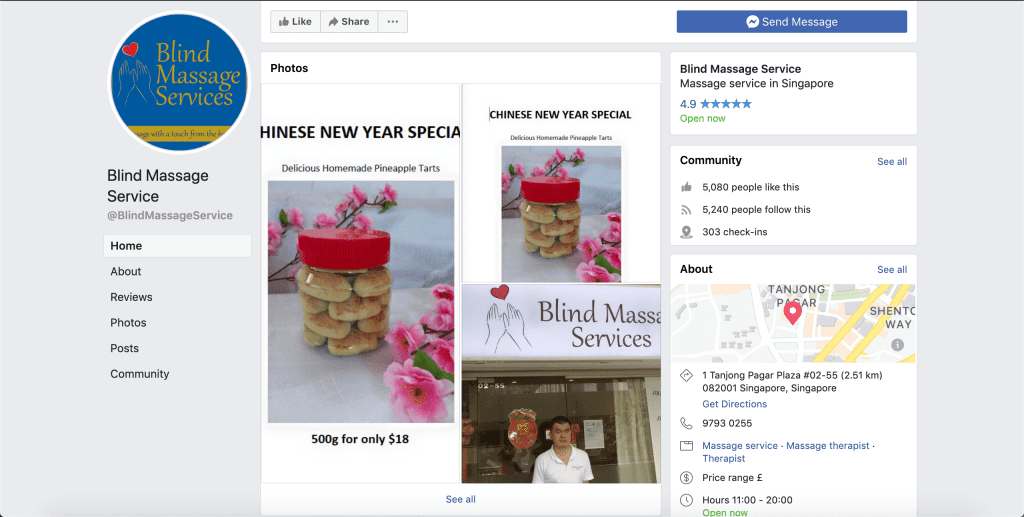 Blind Massage Services was first opened by a group of blind friends who decided to set up their own business after clocking in years of experience in massage therapy.
Their menu is relatively simple—a Relaxing Full Body Massage is $40 for 60 minutes while a Relaxing Foot Reflexology and Head, Shoulder & Neck Massage starts at $18 for 30 minutes. Alternatively, opt for the Bundled Package that gives you a 30 minutes foot and 30 minutes head, shoulder and neck massage for just $30!
Despite being visually impaired, they are extremely experienced and professional in their work, and past customers can attest to their courteous, thoughtful and friendly masseurs.
It isn't exactly the most luxurious spa in town, but this hasn't stopped them from having one of the highest ratings on Google!
4. Absolute Massage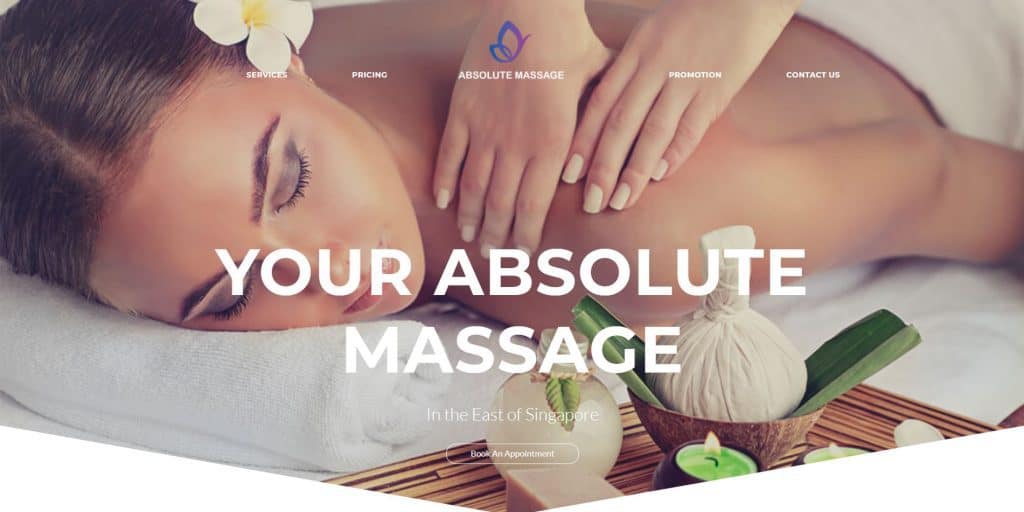 Established in 2018, Absolute Massage is a place where you can relax and loosen up fully. They aim to provide quality massage services in a cozy and relax environment at an affordable price for their customers.
Massage therapies come in various forms such as neck and shoulder massage, foot reflexology and body massage, priced at various ranges.
5. The Thai Spa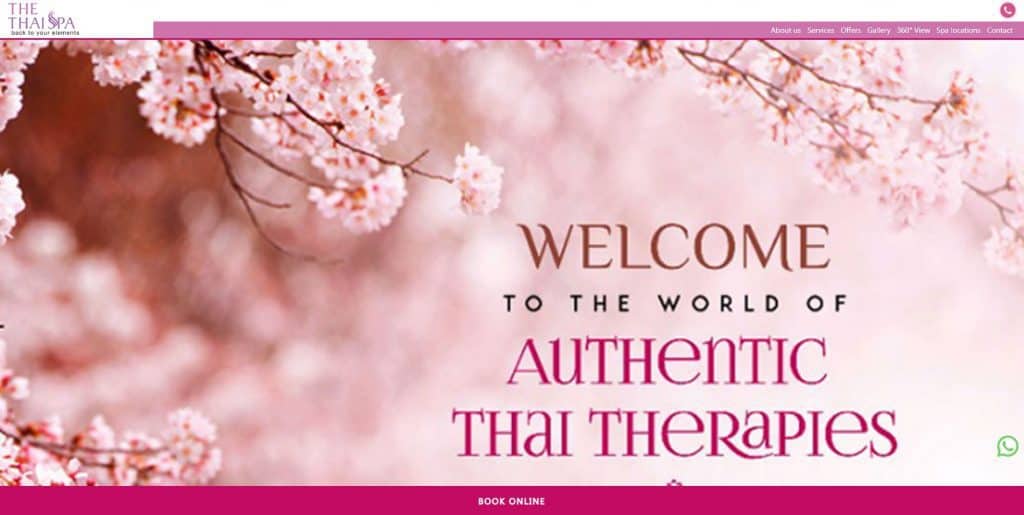 The Thai Spa gives customers a blissful blend of authentic and traditional Thai massage rituals, essential oils and aromatic herbs. They specialise in providing the most romantic couple spa and couple massage experience in Singapore.
One of the most popular massages and spa treatments among customers such as couple massage, Lymphatic Drainage Massage (Detoxifying Massage), Deep Tissue Massage, Swedish Massage, Balinese Massage, Thai Massage, Foot Massage and Foot Reflexology, offered at reasonable prices.
Enjoy the wonderful facilities in The Thai Spa namely their private shower facility, private massage rooms and their private couple jacuzzi in couple rooms.
6. Massage Master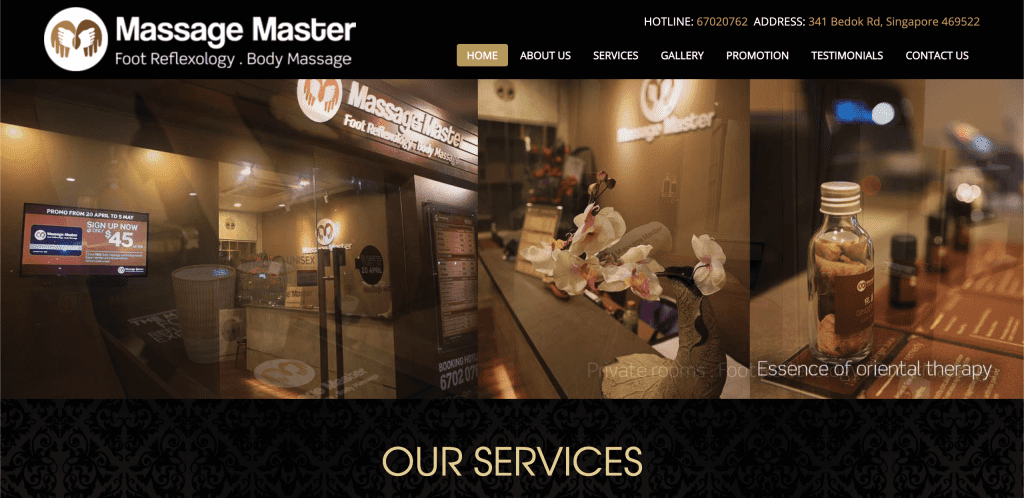 Massage Master is a no-frills massage spot that aims to offer the best massage services to relieve your mind and body; encouraging overall well-being that is often lacking in today's hectic and stressful lifestyles.
Their services range from foot reflexology to full-body massages (starting from $60 for 60 minutes) that provide a plethora of benefits such as reducing aches, improving body posture and boosting the immunity system. For those who want both, they offer a 2-in-one Bundle where you can enjoy both in one session!
Their therapists are proficient in specific techniques to cater to your needs, and customers can choose to add-on services such as therapeutic cupping, Gua Sha or ear candling to their treatment.
Reviews talk about the friendly service and professional masseurs that is matched with affordable prices.
7. Healing Touch – Dhoby Ghaut Branch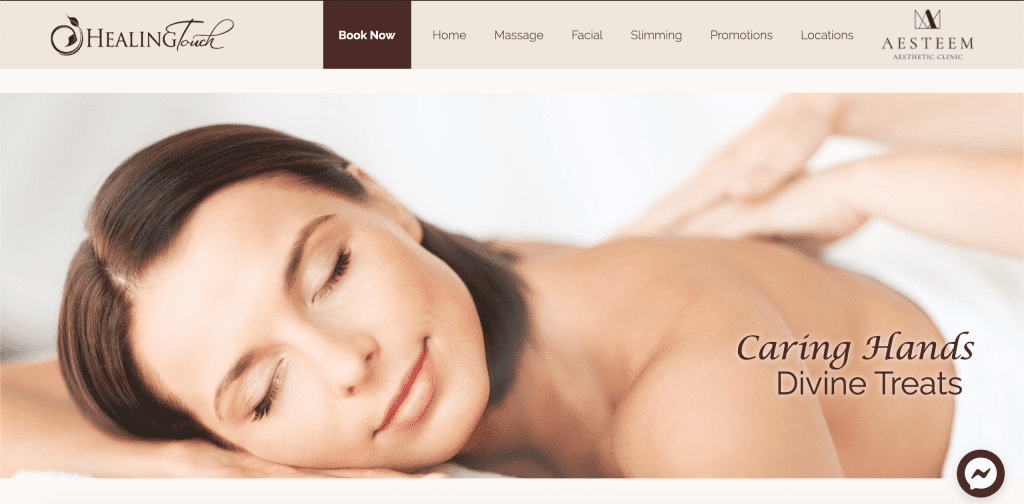 Healing Touch is a well-established massage spa in Singapore that strongly believes in cultivating a people-first culture—their customers, staff and the community at large.
Putting their customers' interests is always their top priority, and their aim is to provide a hassle-free, affordable and impeccable experience for everyone.
Over the years, they have won multiple awards including Her World Spa Awards (2018) and Travellers' Choice Tripadvisor (2020) among many others.
Their signature massage services include the Moxa Signature Massage (starting from $75 for 60 minutes) that combines the massage with heated Bian stones to help melt away any tension that is difficult to do so by hand alone.
The award-winning Deep Tissue Massage ($63 for 60 minutes) is also a popular choice for those dealing with chronic aches and repetitive strain injuries such as carpal tunnel syndrome and postural problems.
As part of their commitment to ensuring the safety of their customers amidst COVID-19, they are offering a $1000 Safety Assurance that covers you in the unlikely situation that you are infected after visiting their premises.
Reviews talk about the friendly therapists and therapeutic environment, with many customers claiming it is "the best massage they ever had."
8. G.spa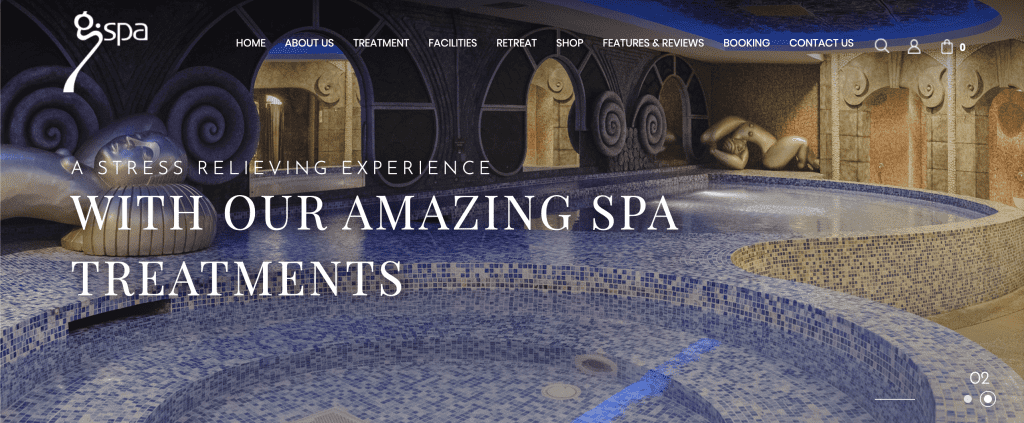 G.spa is a nature-inspired retreat that promises a one-stop spa destination where you can leave your worries behind and indulge in their wide range of treatments.
The spa covers a whopping 24,000 sq ft. and comes complete with a host of facilities designed to enhance your spa experience. This includes hot and cold pools, sauna and steam rooms, and a relaxation lounge.
The treatments are designed to integrate traditional Chinese philosophies of health and well-being into today's modern lifestyle to achieve a healthy balance between the mind and body.
Highly recommended is the Gateway To Vitality (starting from $159 for 60 minutes for non-members); an intense deep tissue body massage that targets pressure points to remove blockages in the body and flush out toxins in the lymphatic system.
All their therapists are highly trained and professionally certified to carry out the therapies provided, so you can rest assured that you are in good hands of their professionals.
Reviews talk about the wide range of facilities and packages to choose from, the relaxing ambience and luxurious experience that is great for pampering your loved ones or spending some quality me-time.
9. Aleyda Mobile Spa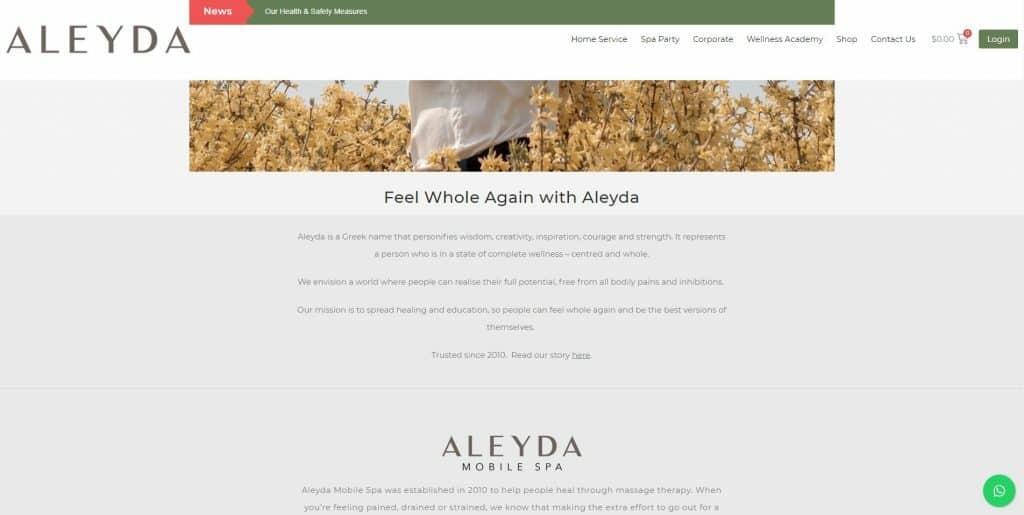 Established in 2010, Aleyda Mobile Spa seek to help their customers heal through massage therapy.
Their experienced massage therapists provide massage services from various settings, in homes, workplaces, spa party, postnatal and events.
10. Legend Spa & Massage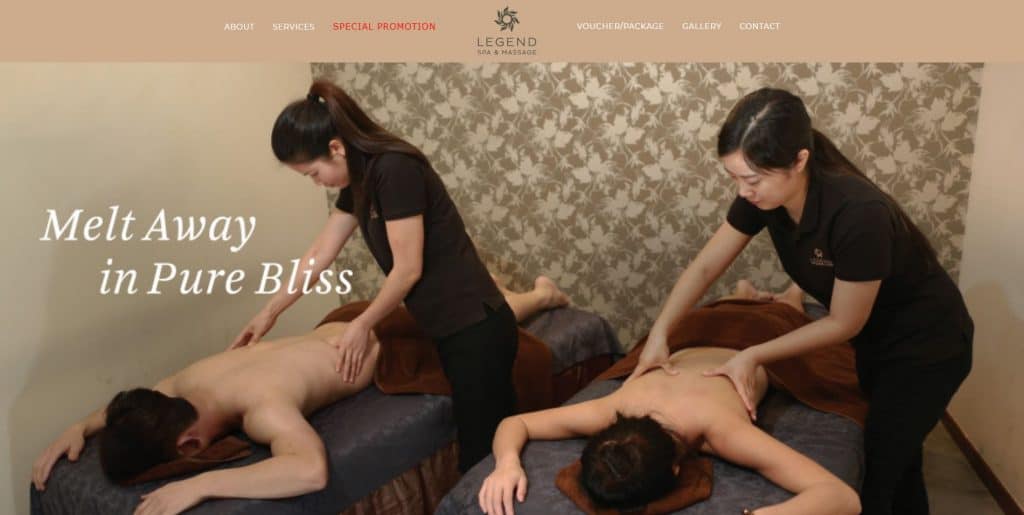 Established in 2016, Legend Spa & Massage believes that good health and wellness are one of the best investments that we can make. The spa does so by providing comfortable massage rooms for individuals and couples, a steam room, foot reflexology and a team of experienced massage therapists to offer you the best massage experience based on your needs.
Customers can benefit from the various forms of massage services such as foot reflexology, oriental body massage, moxibustion wellness treatment and lymphatic massage therapy using ancient oriental techniques at affordable prices.
You can enjoy the various promotions and packages that Legend Spa & Massage offer to make your experience more worthwhile.
Conclusion
Do you have any reviews and comments to share regarding our choices for the best massage services in Singapore?
While SBO is committed to supporting our local businesses, we welcome any feedback and anonymous sharing regarding your experience with the listed massage services in Singapore.
We hope that this guide will be useful in helping you to make an informed decision when it comes to finding the best massage services in Singapore.
Explore More Content
Are you featured in this?
Display this exclusive SBO badge proudly on your website and get more sales!