10 Best Face Thread Lift in Singapore for a New You [2023]
Wants to get rid of saggy jowls or laughing lines? Check out the 10 best face thread lift in Singapore.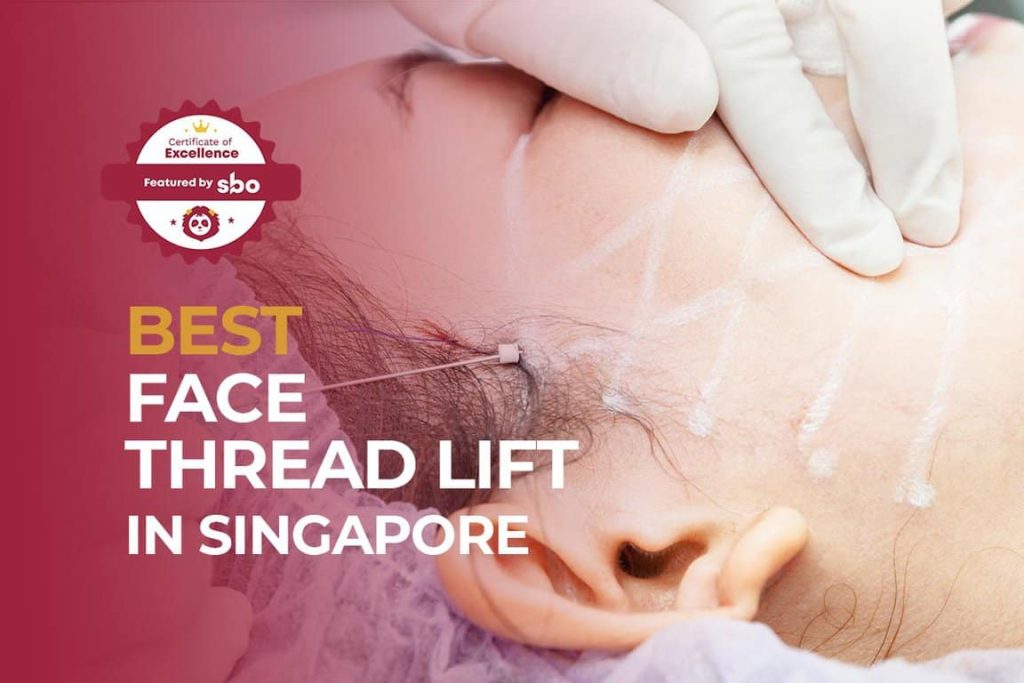 As human ages, it is inevitable that our skin starts to lose its youthful appearance, and we start to see signs of aging. To counter this and achieve the every-youthful look, many may go for a traditional surgical face lift.
However, this procedure may seem scary and daunting. In that case, many will opt to go for the less intimidating face thread lift, which will help to get rid of sagging jowls and laughing lines. If you are interested, read our article to find out more about the 10 best face thread lift in Singapore.
1. The Ogee Clinic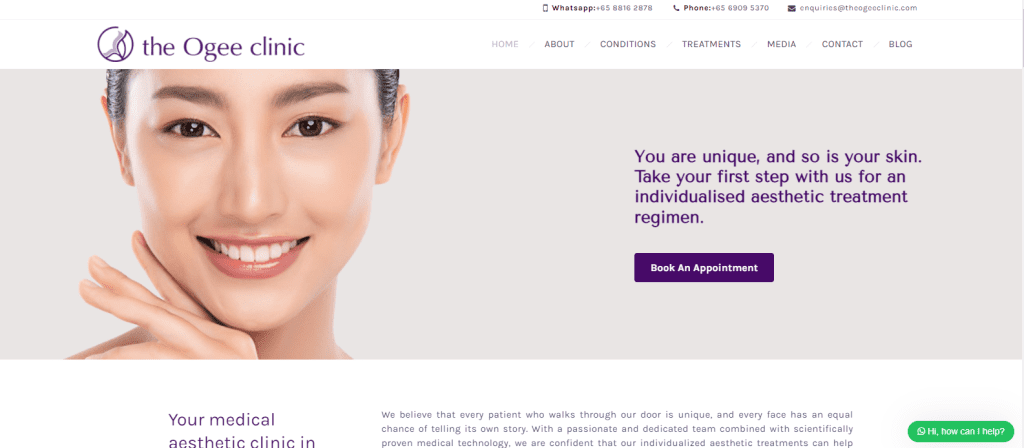 As one of the best face thread lift in Singapore, The Ogee Clinic believed that every customer is unique and has their own story to tell. This is the reason why they offer individualised aesthetic treatments for each of their customer.
Featured in numerous publications, The Ogee Clinic has a proven track record of satisfied customers who are impressed by their quality of service. Their team of highly dedicated and experienced professionals, with proven medical technology, are always committed to bringing the best quality service to their customers.
2. The Clifford Clinic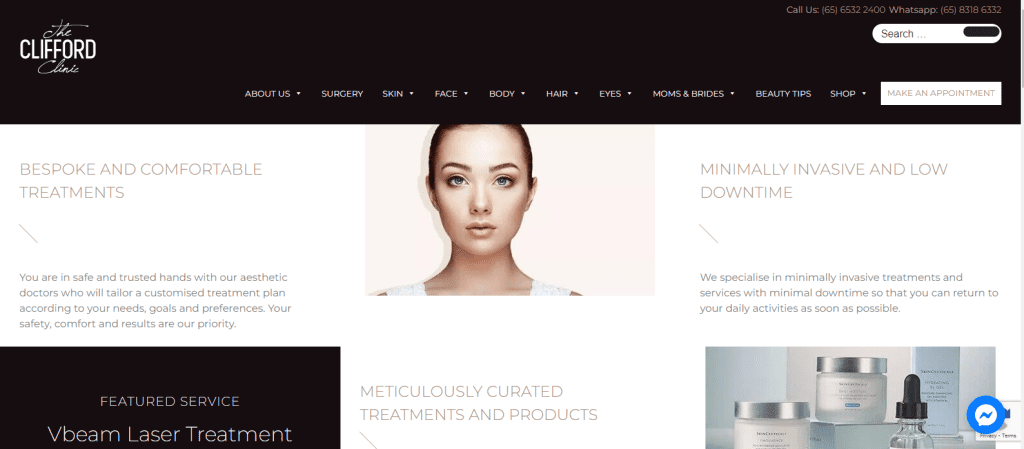 The Clifford Clinic offers one of the best face thread lift in Singapore, who will tailor a customised treatment plan according to your needs, goals and preferences. They put your safety, comfort and results as their priority.
They also partnered with SkinCeuticals, one of the top dermatologist recommended skin care range backed by science, to provide better services for their customers. They specialise in minimally invasive treatments and services with minimal downtime so that you can return to your daily activities as soon as possible.
3. Lux Medical Aesthetic Clinic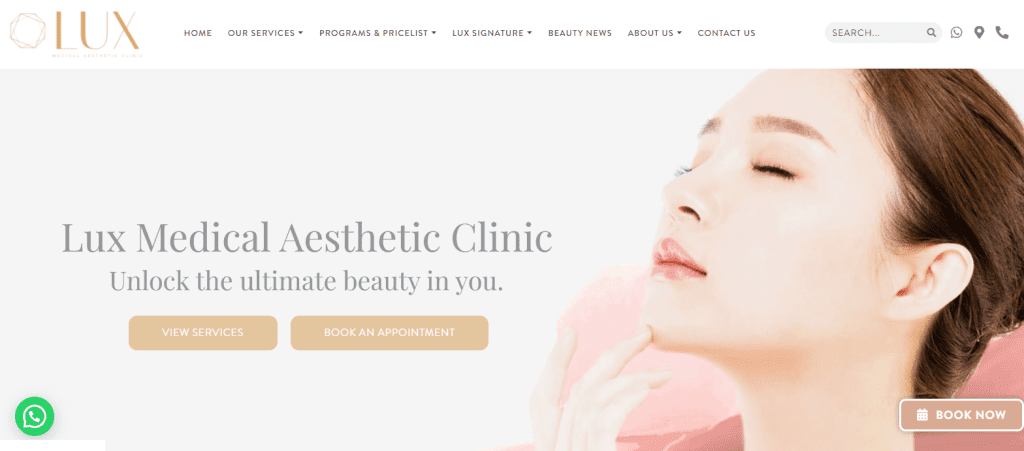 Lux Medical Aesthetic Clinic is a well-established clinic that has a portfolio of high net worth clients who frequent their clinic for skincare services. Lux Medical Aesthetic Clinic is headed up by Dr. Kellyn Shiau, who has been looking after the most discerning of clientele within Singapore and around the world.
At Lux Medical Aesthetic Clinic, quality, hygiene and your safety are their utmost priorities. They are passionate about what they do, always making sure to take care of the finest detail for you.
4. Radium Medical Aesthetics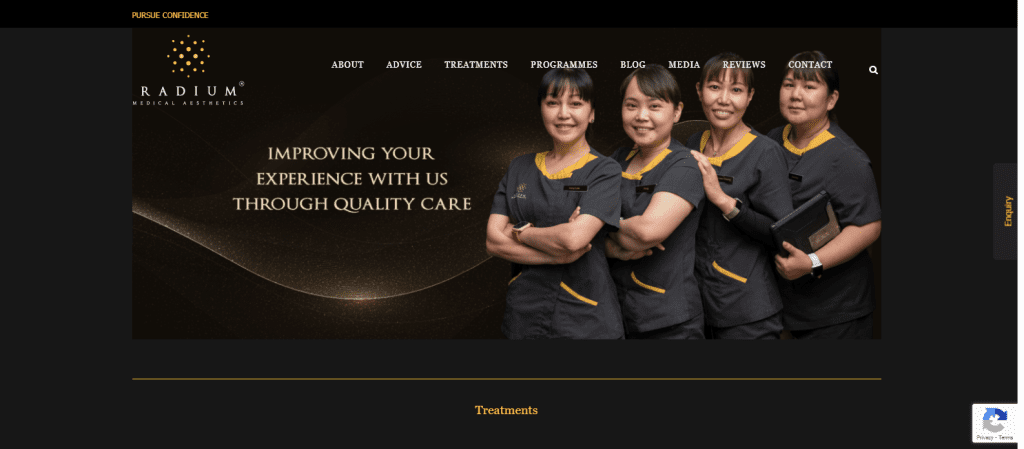 Radium Medical Aesthetics offers non-invasive, FDA-approved / CE-marked medical aesthetic treatments that is designed to not only look better, but to feel better and to become the most confident, best version of yourself.
They are a customer-centric aesthetic clinic that is committed to providing you with unparalleled levels of service and effective treatments. They do so by tailoring their treatments to your individual needs and preferences to ensure that you can get the most out of each of your visit.
5. ASIA Aesthetic Academy

ASIA Aesthetic Academy is dedicated in serving the needs of men and women seeking aesthetic rejuvenation. They always made sure to provide their customers with useful educational information, encouraging and empowering them to look and feel their very best.
They are committed to advancing the standards of Aesthetic Medicine in Singapore and frequently conduct research into evidence-based medicine in order to deliver safe and effective treatment to their patients.
6. One Face Skin & Aesthetics Clinic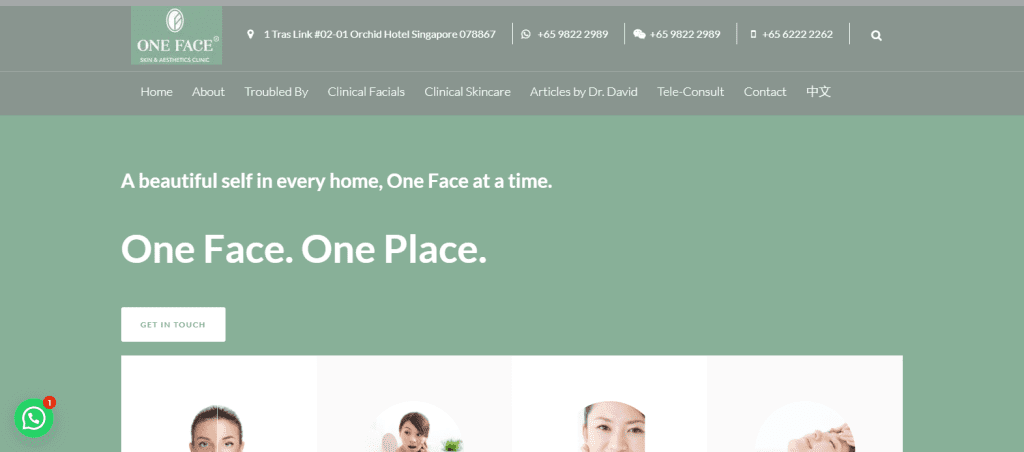 One Face Skin & Aesthetics Clinic has a team of highly talented doctor, with years of clinical experience in facial anti-ageing treatment. They adopt a personalized and friendly approach to address each patient's concerns.
To ensure that they provide high-quality service, they highly recommend their patients to come down for a full assessment by their doctors to devise a personalized treatment plan for you in order to more accurately gauge your cost of treatment.
7. Mizu Aesthetic Clinic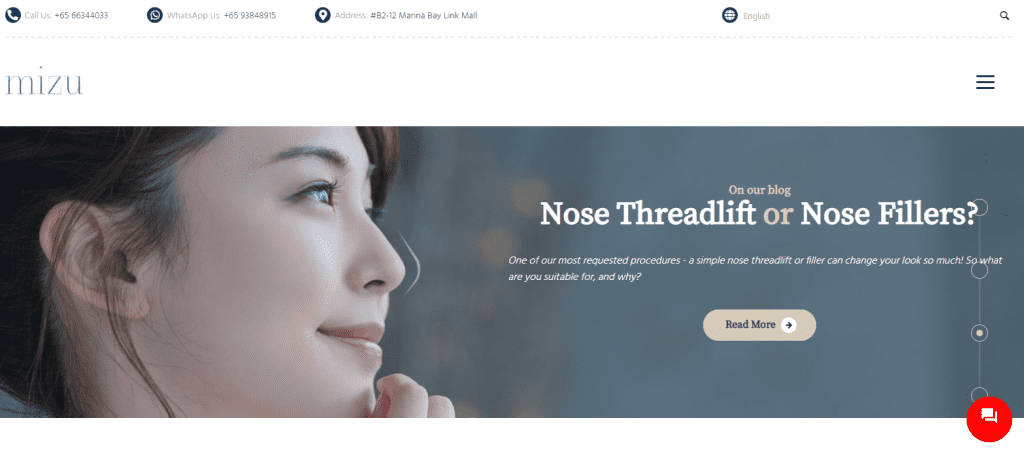 Mizu Aesthetic Clinic is located in the heart of Singapore's CBD, Marina Bay Financial Centre, making it convenient for office workers to head down for their aesthetic treatments during their lunch breaks or after work.
At Mizu, they believe that the personal pursuit of beauty should be experienced like a journey, or a friendship. With over 20 years of combined experience, many of Mizu Aesthetic Clinic's clients are long-term clients of the clinic, proving the satisfaction levels of their services.
8. Aesteem Aesthetic Clinic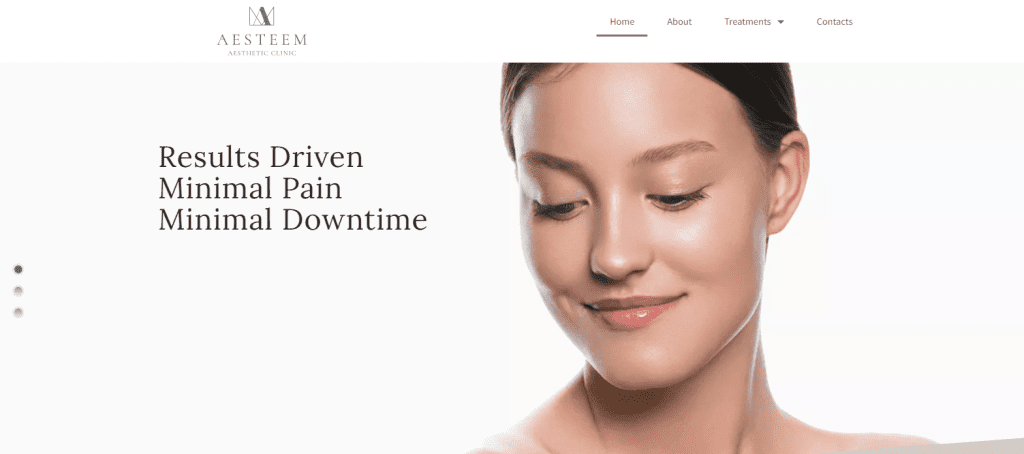 Aesteem Aesthetic Clinic is a well established clinic in Singapore, that offers one of the best face thread lift service. They continuously strive to provide you with quality care, sparing no efforts in researching and offering their customers with the most up-to-date and clinically safe treatments that are proven and effective.
They also continuously make efforts to maintain every procedure as painless and comfortable in every way possible. All their skin technologies at Aesteem allow them to offer procedures with minimal downtime.
9. Kowayo Aesthetic Clinic
Kowayo Aesthetic Clinic, as the name suggests, is heavily inspired by beautiful individuals sashaying down the streets of the Gangnam District in Seoul. With the meaning of 'to be pretty' in Korean, Kowayo Aesthetic Clinic believes in 3 important factors – Safety & Comfort, Effectiveness and Affordability.
With a team of experienced and well-trained therapists, they craft out personalised cost effective services to maximize your beauty and express your individuality.
10. SW1 Clinic (Paragon)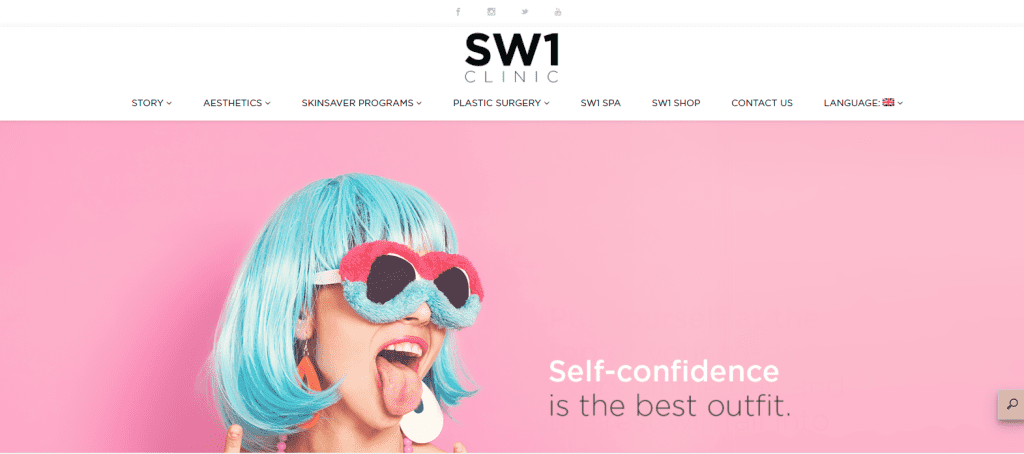 Last on the list of the best face thread lift in Singapore is SW1 Clinic, who has accumulated many years of experience in the industry. They constantly devise new ways of treatment, combining different therapies and drawing on the individual expertise of their team of doctors, who are dedicated to achieve the best patient outcomes.
Conclusion
Do you have any reviews and comments to share regarding our choices for the best face thread lift in Singapore?
While SBO is committed to supporting our local businesses, we welcome any feedback and anonymous sharing regarding your experience with the listed face thread lift in Singapore.
We hope that this guide will be useful in helping you to make an informed decision when it comes to finding the best face thread lift in Singapore.
Explore More Content