10 Best Collagen Drink in Singapore to Support Your Skin [2023]
Whether it's marine or bovine, these 10 best collagen drink in Singapore are absolutely divine!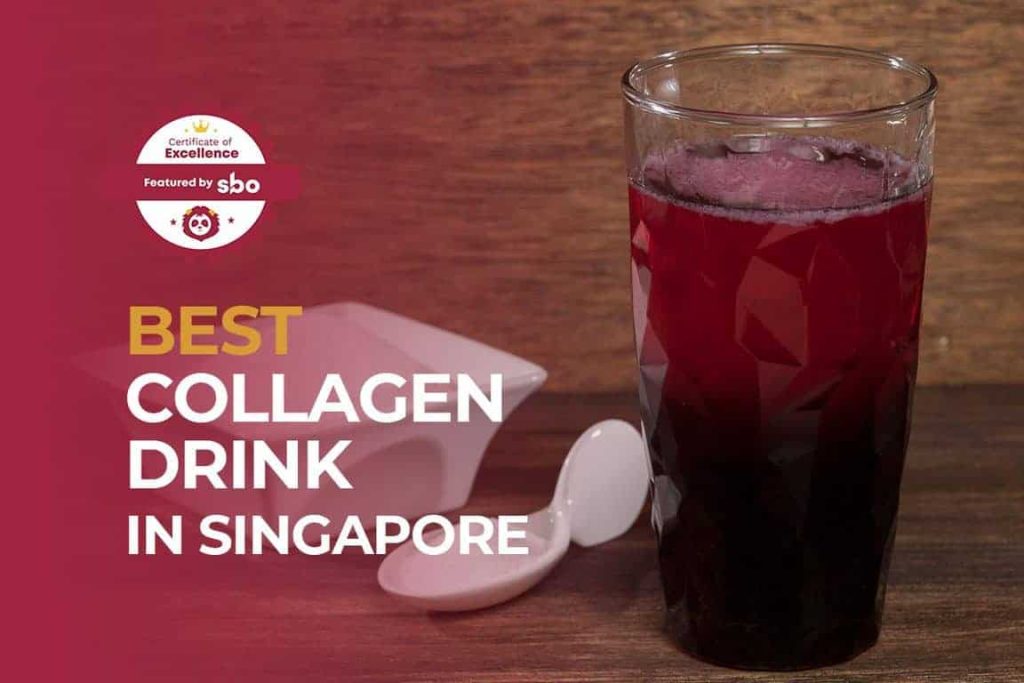 Collagen exists as the most prolific protein in our bodies.
Your tendons, skin, ligaments and muscles contain this protein that comes with many functions. As a primary skin component, it has the ability to strengthen, elasticise and hydrate your body's largest organ.
Taking collagen drinks is a quick and easy method to obtain more collagen and enhance the condition of your skin. Its benefits don't end there – it's also known to support bone, muscle, joint and heart health!
There are plenty around to be found, and we've gone a step ahead to compile the 10 best collagen drink in Singapore to call yours.
1. Kinohimitsu Collagen Diamond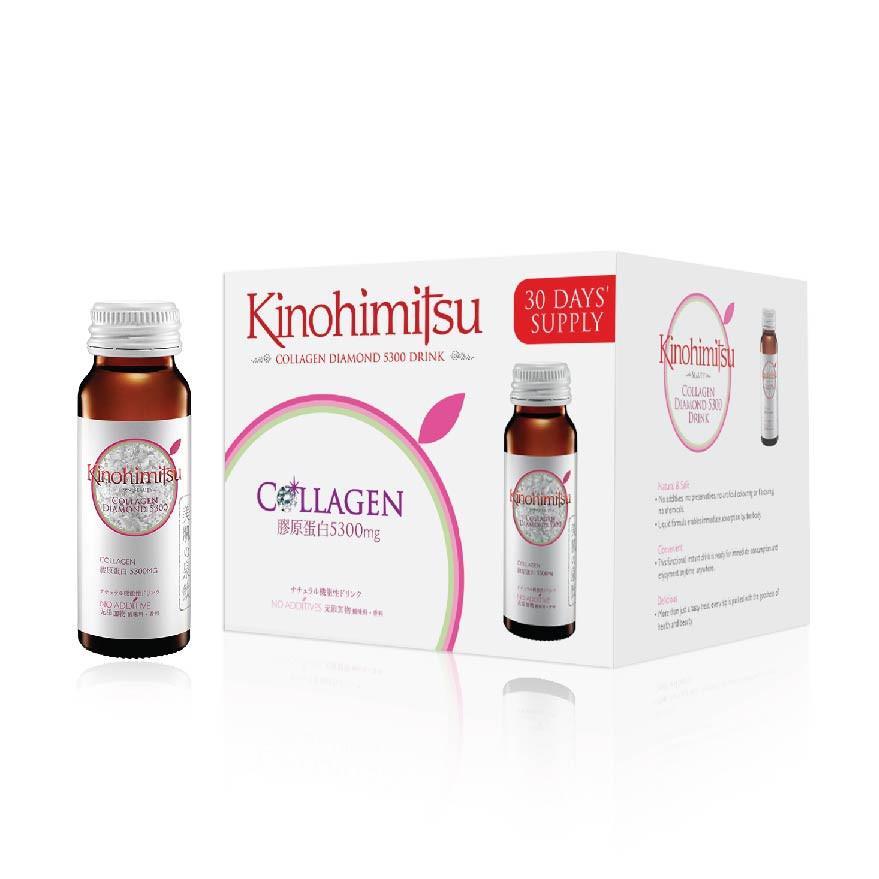 Popular Japanese brand Kinohimitsu's Collagen Diamond 5,300 Drink targets 3 main aspects.
It seeks to tighten the skin for a more enhanced appearance, boost the bust and buttocks for a more captivating figure, and lock in moisture within the skin for long-lasting moisture retention. This way, the skin is always soft, supple and hydrated.
This drink consists of an incredible 5,300mg of collagen peptide that are tiny pieces of protein from animal collagen. These peptides are typically used for ageing skin, osteoarthritis, weak muscle strength and brittle nails. Their short molecular structure allows them to be absorbed more easily into your skin as compared to our own collagen.
Through improving collagen synthesis and fixing impaired collagen fibres, this drink effectively lowers signs of ageing.
2. BRAND'S Innershine RubyCollagen Essence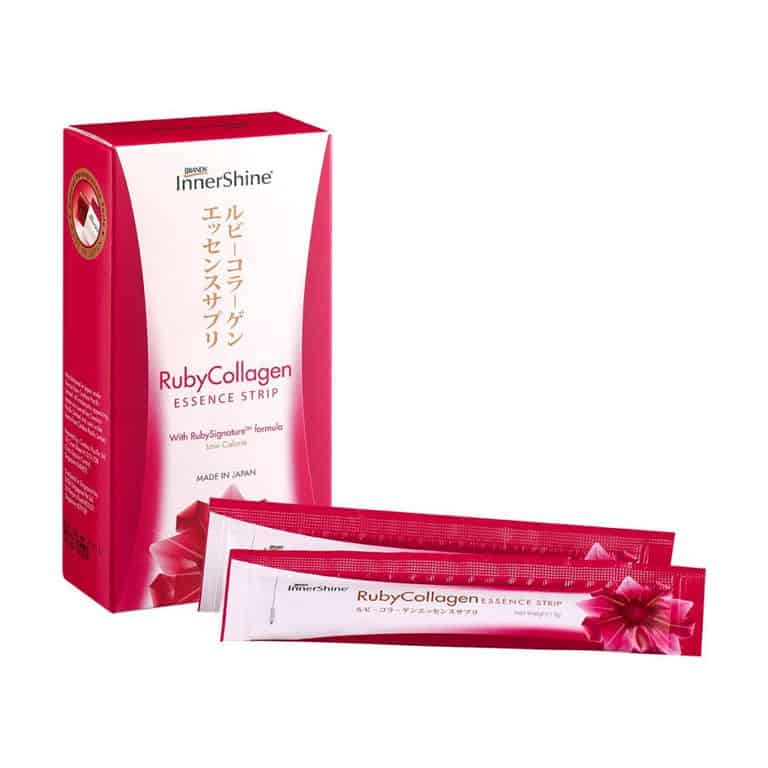 What's this unique RubySignature™ concoction that's claimed to rejuvenate and revive the skin?
BRAND'S Innershine RubyCollagen Essence is a premium line of oral beauty supplements that contains its in-house developed RubySignature™ formula. This formula primarily comprises a prized combination of micro-collagen and astaxanthin.
It helps to prevent collagen loss while boosting the absorption of collagen and other key nutrients to the skin cells. Specially created for mature Asian skin, it's an exceptional choice for women aged between 30 and 45 who want to minimise skin ageing. Simply take two bottles daily over 12 weeks for maximum effect!
3. Laneige Youth Collagen Drink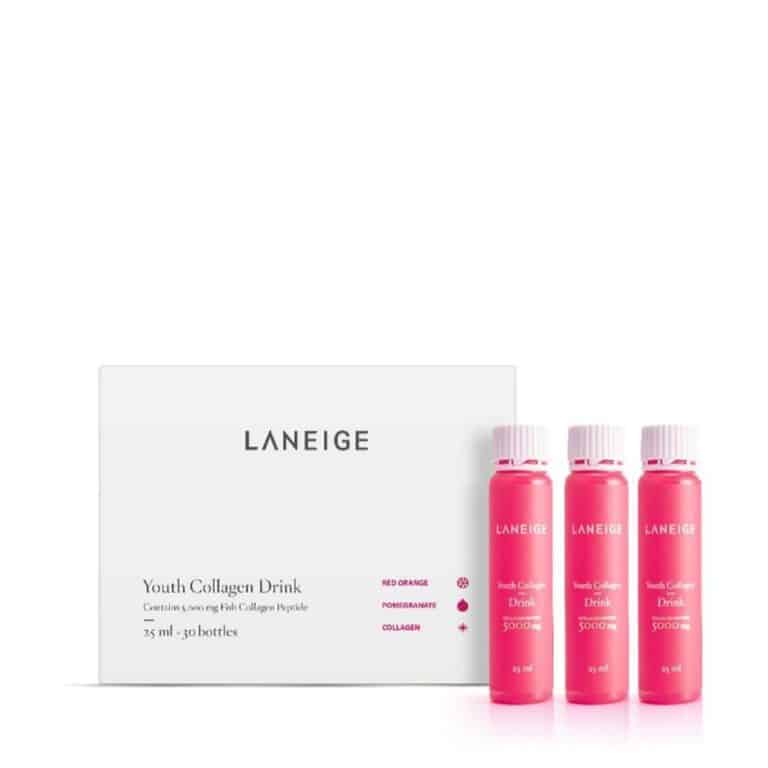 Laneige's Youth Collagen Drink is a powerful supplement that reduces stress, encourages deep sleep, and improves the skin's condition.
Packed with moisturising water from the East Sea in Korea and 5,000mg of collagen peptide, this drink aims to deliver moisture to the skin and enhance recovery. Unlike other brands, it targets sleep quality using gamma-aminobutyric acid (GABA), a kind of amino acid.
During sleep, GABA assists in collagen production that leads to heightened skin regeneration and recovery. It's free of artificial colouring, preservatives and sugar, making sure that you're getting a clean and healthy drink that you'll enjoy.
4. New Moon Inner Radiance Collagen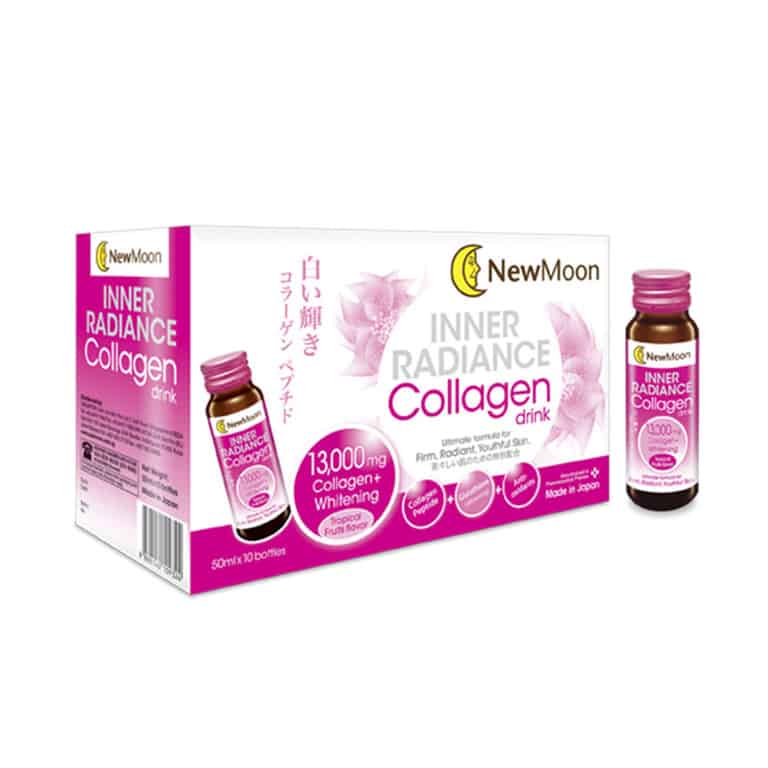 Prefer your collagen drink less sweet?
New Moon's Inner Radiance Collagen comes in a new formula that comprises less sugar for a healthier lifestyle. With 13,000mg of ultra-concentrated collagen, it takes its place at the top as the drink with the highest concentration in the market.
It uses hydrolysed collagen for speedy absorption into the body and also has other highly beneficial ingredients like glutathione, ceramide, hyaluronic acid and vitamins. Be assured of its product quality – it's made and tested in a clinical laboratory in Japan for your peace of mind.
Take it after your dinner or before you hit the sack for the best results!
5. AVALON Stemcell Beauty Drink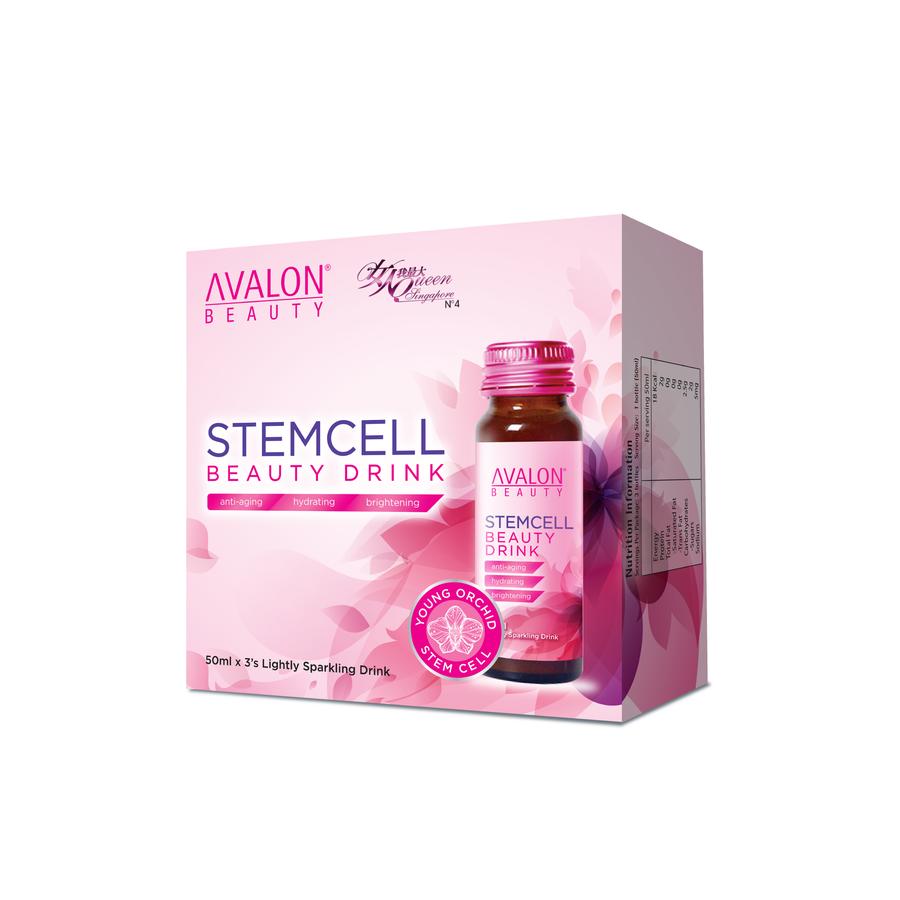 AVALON's Stemcell Beauty Drink works in a two-step method by repairing and rejuvenating the skin.
It uses its featured Japanese orchid stem cells, a formidable antioxidant that boosts the skin barrier to prevent nutrient and water loss. The premium French marine collagen peptides in the drink also contribute by helping the skin cells combat a wide range of skin-related problems.
AVALON understands that simply taking collagen doesn't resolve the root cause of typical skin issues, which are damaged skin cells. Therefore, it uses orchid stem cells to effectively treat this problem. If you're looking for a refreshing solution, this drink also contains sparkling water, an unusual addition!
6. Tsubaki Ageless Collagen Drink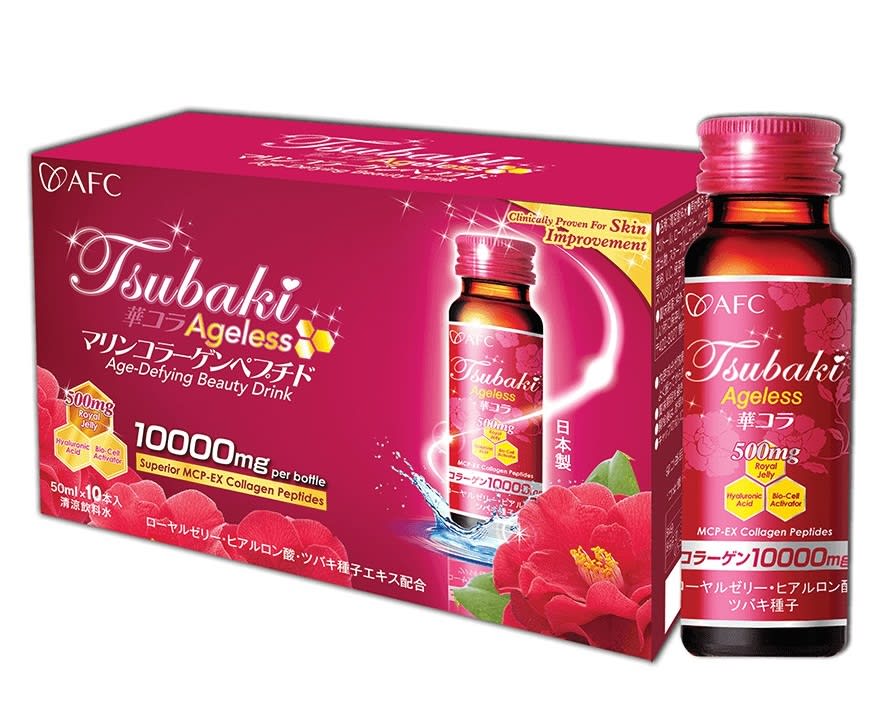 Want to know whether you're getting the most out of your money?
AFC's Tsubaki Ageless Drink gives you a whopping 10,000mg of premium marine collagen peptides to invigorate your skin. These extremely small collagen molecules allow for better skin absorption as compared to other types of collagen peptides.
That's not all: the formula also contains 500mg of beneficial royal jelly and Tsubaki extract. Look forward to a variety of benefits, like tightening skin cells to reduce the appearance of fine lines, and decreasing pigmentation. It's highly recommended for people 25 years old and above, with worries like having a rough skin complexion, brittle nails and dark spots!
For daily maintenance, one bottle every 3 days will give you the support you need.
7. KIKI Health Marine Collagen Powder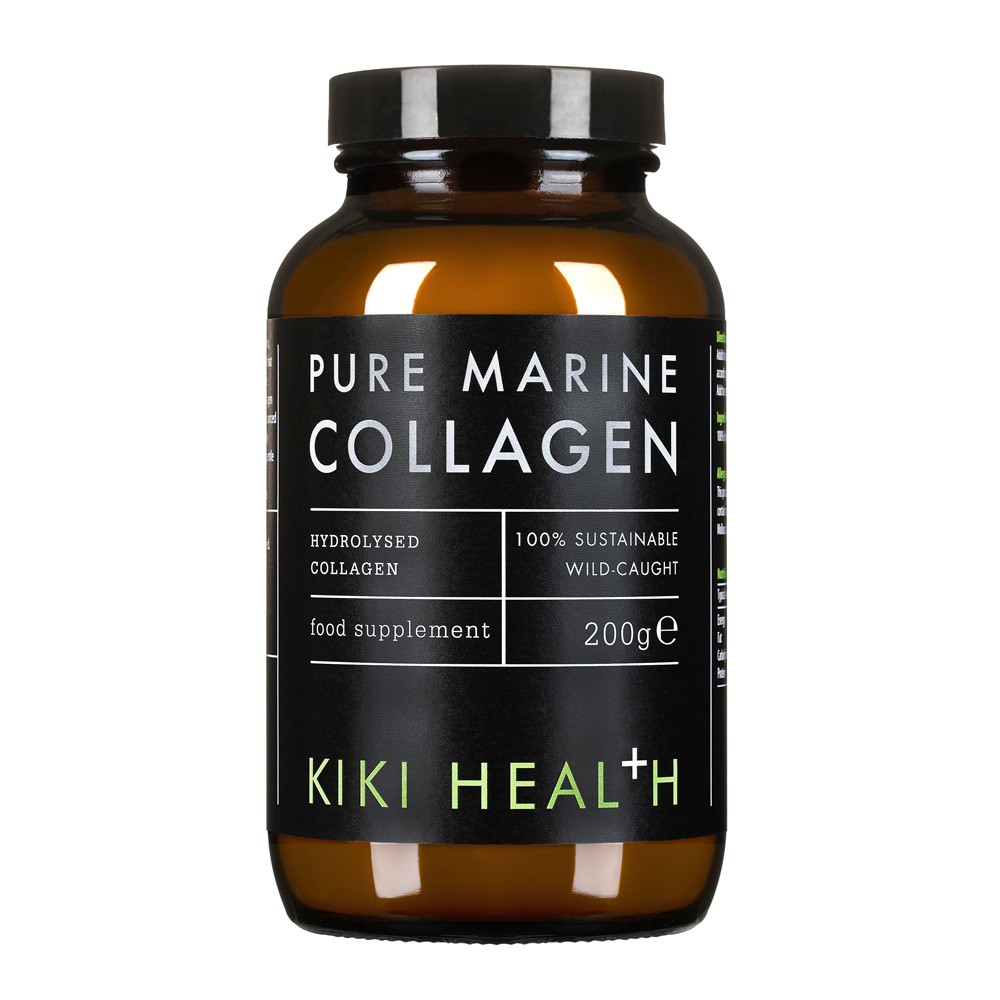 KIKI Health prides itself on using only pure and high-quality ingredients to facilitate your health and well-being.
Its Marine Blend Collagen Beauty Blend Powder has 100% purified fish hydrolysed collagen that it sources from sustainably obtained wild fish by a responsible fishery. It helps to increase the most abundant protein in your body, collagen, to help with the maintenance of healthy skin, hair, joints and bones.
You can add it to your juice, water or smoothie easily. It's free from artificial colouring, gluten, and more!
8. Vital Proteins Collagen Peptides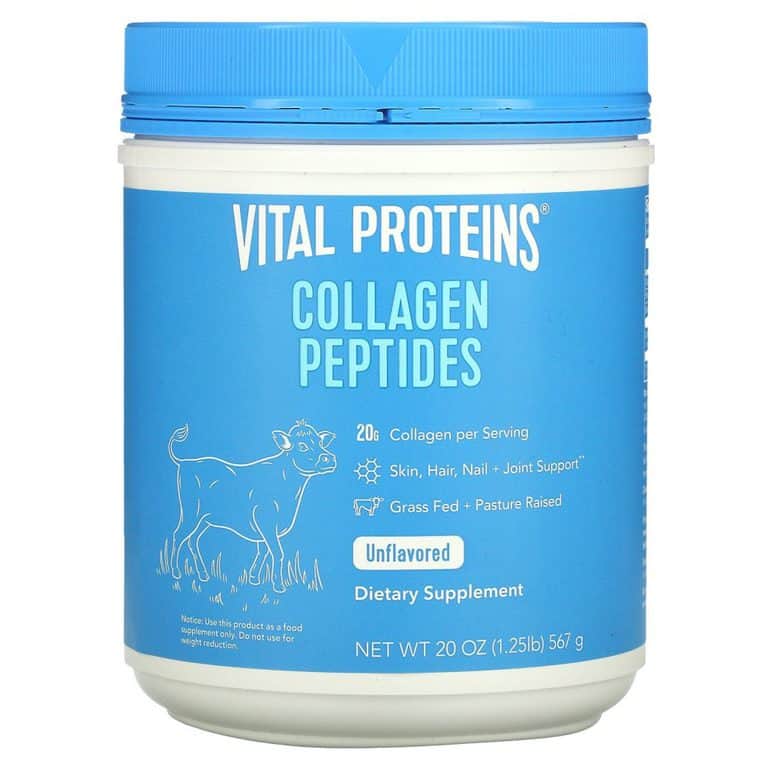 Vital Proteins' Collagen Peptides delivers a whopping 20g of collagen per serving – that's the equivalent of 20,000mg of collagen goodness!
Dairy-free, kosher, paleo-friendly and gluten-free, this collagen supplement makes a good choice for people on special diets. Its simple, wholesome goodness is made from just one essential ingredient and easily digested. Made in powder form, it also has hydrating hyaluronic acid and Vitamin C.
Plus, Jennifer Aniston uses it! Pour it inside your favourite smoothie or coffee for a great blend to kickstart your day!
9. Astalift Pure Collagen Drink
Using not one, not two, but three different types of collagen in its unique formula, Astalift's Pure Collagen Drink boasts potency and efficacy. This drink contains a total of 10,000mg of collagen from marine collagen, proline and lysine. They help to make absorption easier and collagen synthesis possible.
Astalift uses the first extraction to ramp up its effects and give you twice the concentrated collagen for taut, hydrated and firm skin. Take one bottle every night to see visible results!
10. ITOH Hanako Crystal Collagen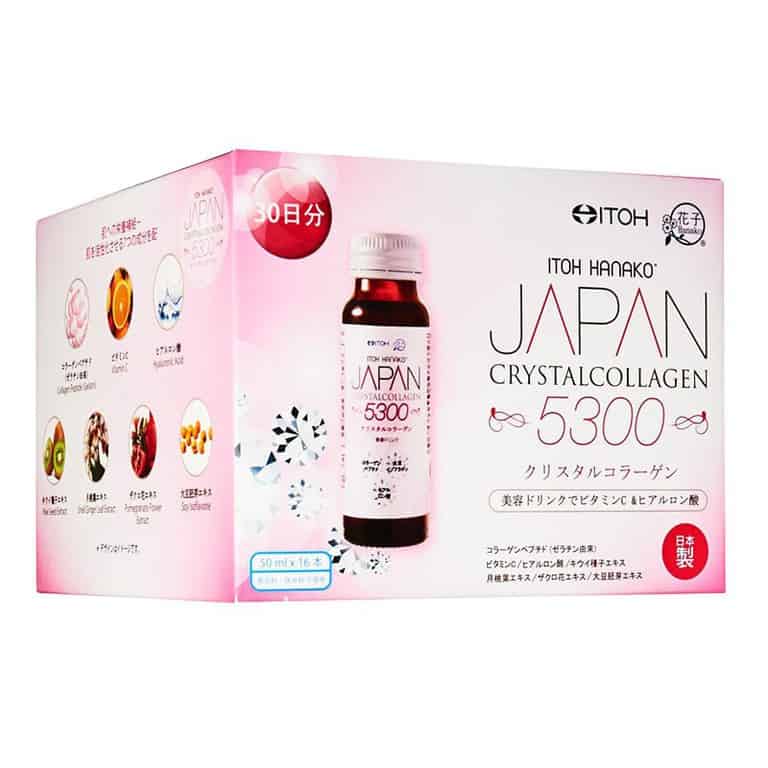 ITOH Hanako Crystal Collagen is a drink that meets all your skin's basic needs and more.
It blends kiwi seed, Vitamin C, shell ginger leaf, pomegranate flower and 5,300mg of collagen peptides together with refreshing hyaluronic acid. This ideal drink helps to replenish your skin's moisture, smoothen and rejuvenate it to achieve healthy and younger skin for a youthful appearance.
It also tastes pleasantly like white peach for your enjoyment! Take a bottle daily for 6 days in a row before reducing it to a bottle every other day. Take it before breakfast or sleep for the best absorption.
Conclusion
Do you have any reviews and comments to share regarding our choices for the best collagen drink in Singapore?
While SBO is committed to supporting our local businesses, we welcome any feedback and anonymous sharing regarding your experience with the best collagen drink in Singapore.
We hope that this guide will be useful in helping you to make an informed decision when it comes to finding the best collagen drink in Singapore.
Explore More Content
Are you featured in this?
Display this exclusive SBO badge proudly on your website and get more sales!