10 Best Aesthetic Clinic in Singapore to Make You Look Good [2022]
Find the best aesthetic clinic in Singapore to enhance your physical well being
Beauty
Our team at SBO.sg is committed to being a one-stop avenue to connect local businesses and consumers. We hope that our research efforts can help you save time and money by finding you the best deals without having to search around the vast world-wide-web.
Everyone on this earth wants to look beautiful. We find many ways to make ourselves beautiful whether it is having a healthy diet or using a wide range of skincare products.
While skincare products help to enhance one's beauty, finding an aesthetic clinic in Singapore allows you to get professional help to keep your skin in the best condition.
In this post, we've gathered all the necessary details including unravelling reviews and testimonials to derive a list of the 10 best aesthetic clinic in Singapore to make you look good.
1. Edwin Lim Medical Aesthetic Clinic
Helmed by Aesthetic Doctor Edwin Lim, Edwin Lim Medical Aesthetic Clinic provides a comprehensive range of medical aesthetical treatments using advanced technology to help you look your best with minimal discomfort and downtime.
Dr Edwin Lim's treatments are carried out with 3 core principles in mind: personalisation, evidence-based, and minimally invasive.
He has a fond interest in Aesthetic injectable procedures such as Botox, Fillers, Rejuran, Profhilo and Skinboosters. He is passionate about enhancing one's beauty by delivering natural-looking results with well-placed injections.
In addition, he is experienced in using a combination of Medical Aesthetic Lasers to treat various skin conditions such as Acne, Pigmentation, Anti-aging and Scars.
He is a firm believer in the importance of skincare products and has created his own range of specially formulated medical-grade skincare products to address specific skin concerns.
2. The Ogee Clinic
The Ogee Clinic is founded by an experienced aesthetic doctor Heng Wee Soon. He is an expert in non-invasive facial re-contouring and non-surgical procedures to treat various skin conditions. He aims to understand each patient's needs, provide accurate diagnosis and practical solutions for their problems.
The Ogee Clinic treats various skin conditions for their patients such as acne skin, dull skin tone and pigmentation. Treatments are carried out at The Ogee Clinic using a scientifically proven medical technology. These include Rejuran Healer, Lunchtime HIKO Nose Lift and Juvederm Volite Skinbooster. They are made to help patients look their best.
The Ogee Clinic also offers its own line of skincare products of various ranges. Their skincare formulations are guided by the principles of personalisation, holistic and simplicity.
The Ogee Clinic has also been featured in various media platforms such as Her World, Today and Women's Weekly.
3. The Clifford Clinic
Founded by experienced aesthetic doctors Gerald Ee and Chow Yuen Ho, The Clifford Clinic is dedicated to helping their patients to attain natural-looking results with lesser downtime. The clinic also uses the latest state-of-the-art together with skincare products of top-notch quality which have gone through a stringent selection process before being used for the treatment.
The Clifford Clinic offers various aesthetical treatments for hair, face, body, skin, eyes and breast. These include Artas Robotic Transplant, Follicular Unit Extraction, Dermalift, Nose Thread Lift, Laser Hair Removal, Keloid Scars Treatment, Acne Scar Treatment, Rejuran Healer Treatment, Laser Eye Lift, Non-Surgical Eye Bag Removal, Breast Implant and Gynecomastia.
The Clifford Clinic partners with SkinCeuticals, a dermatologist-recommended skincare range backed by science.
4. S Aesthetics Clinic
Led by leading aesthetic specialists Dr Sii Sik Liong and Dr Kwan Yuan Dong, S Aesthetics Clinic is committed to providing a holistic treatment for their patients to improve their quality of life and physical wellbeing.
S Aesthetic Clinic provide treatments for face, skin, hair, eye and body. Some of the popular treatments that they provide are PICO Laser, Rejuran Laser, and Fat Freezing (Cryolipolysis).
S Aesthetic Clinic also offers teleconsultation services to new and existing patients for free. A customised treatment plan will be prepared for patients once the consultation is done. Any medications that are required will be delivered to your doorstep and charged accordingly.
S Aesthetics Clinic also offers a range of its own skincare products for the benefit of patients.
5. The Aesthetics Centre
Helmed by an experienced aesthetic medical practitioner Dr Anita Soosay, The Aesthetics Centre provide innovative aesthetic treatments with technologies that are proven to be safe, efficient and effective.
The clinic provides aesthetic treatment for face, body and hair such as photofacial IPL treatment, dermal fillers, Exilis Elite Body Contouring in Singapore, PicoWay Pigmentation Removal, Laser Hair Removal and Clinical Hair Restoration.
6. Mizu Aesthetic
Mizu Aesthetic Clinic offers a variety of aesthetic and medispa treatments that are aimed to help you look and feel your best. The clinic specialises in neurosurgery, MRI-diagnostic and cardiology. All these emphasise the importance of providing high-quality treatments that are customised for their patients.
You can seek treatments for skin, face, eyes and body. Some of their popular treatments would be namely eye treatments, nose fillers & threads, pigmentation lasers, and v-shape face treatments.
7. Shiro Aesthetic Clinic
Established by Dr Zhang Yijun, Shiro Aesthetic Clinic aims to help patients to achieve beautiful glowing skin for the best and younger-looking you with a holistic approach combined with a philosophy of cultivating good skincare habits in their patients.
The clinic provides high-quality aesthetic treatments for their patients such as Airjet, Ellansé Dermal Filler, HIFU Shape, Shiro Cryo Fat Freeze, Venus Legacy, Profhilo, HydroPeel, Acne Peel, Regenera Activa and Theradome® Low-Level Laser Therapy.
Shiro Aesthetic Clinic sell medically researched skincare products from SkinCeuticals and Crystal Tomato®. This will help their clients achieve their best-looking self with a skincare routine.
8. Sozo Aesthetic Clinic
Founded by Dr Justin Boey, Sozo Aesthetic Clinic are designed for busy modern individuals who want the best-looking skin in the shortest possible time. Their treatments allow for quick recovery and minimal downtime. This is thanks to their forward-thinking experts who are willing to embrace new technology to improve patient outcomes.
They are the first clinic in Singapore to offer Lutronic's PicoPlus, a multi-wavelength Picosecond laser and possess expertise in Regenera Activa. They also offer one of the most comprehensive ranges of acne scar treatments in Southeast Asia.
The clinic has been featured in various publications such as Her World, Shape and Female.
9. Healthsprings
Established by Dr Soh Lea Sar in 2000, Healthsprings aim to give their patients the treatment programs they need that are tailored according to their age, condition and concerns.
They provide various aesthetic treatments Carbon Dioxide Laser, Fotona 4D Laser, LipoCryo, Ultrasound Lipolysis, Lip Augmentation and Nose Reshaping. With more than 20 years of experience, they are confident that their knowledge and skills can help their patients to achieve their desired results.
10. The Chelsea Clinic
Founded in 1999 by experienced aesthetic doctor Ewen Chee Yew Wen, The Chelsea Clinic is one of the largest aesthetic clinics in Singapore. Their focus is on providing a holistic approach to the well-being of their patients through medical aesthetics and personalised health care with an emphasis on safety, effective, and affordability.
They provide various aesthetic treatments such as BB Laser, Facial Fillers, and illumiWave 180.
They were recognised for their commitment to excellence with their achievement of the Singapore Quality Brands 2013/2014.
Conclusion
Do you have any reviews and comments to share regarding our choices for the best aesthetic clinic in Singapore?
While SBO is committed to supporting our local businesses, we welcome any feedback and anonymous sharing regarding your experience with the listed aesthetic clinics in Singapore.
We hope that this guide will be useful in helping you to make an informed decision when it comes to finding the best aesthetic clinic in Singapore.

On a related note, if you happen to have a mole you'd like removed, check out our other article on suggested mole removal in Singapore.
Featured Image by Alexander Dummer on Unsplash
In this article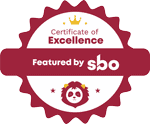 Are you featured in this?
Display this exclusive SBO badge proudly on your website!