10 Best Places for Used Cars in Singapore for Cheaper Deals [2023]
New ain't always better.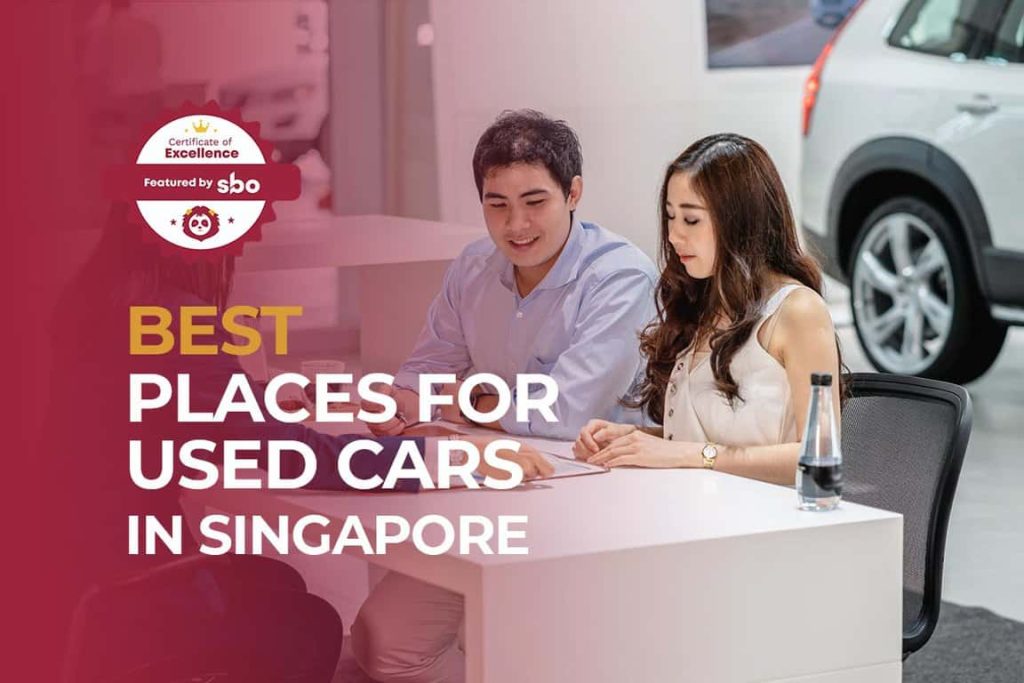 A used car, a pre-owned vehicle, or a secondhand car, is a vehicle that has previously had one or more retail owners.
Used cars in Singapore are sold through a variety of outlets.
These include franchise and independent car dealers, rental car companies, buy-here-pay-here dealerships, leasing offices, auctions, and private party sales.
Some places for used cars in Singapore offer "no-haggle prices," "certified" used cars, and extended service plans or warranties.
Benefits of Getting a Used Car in Singapore:
1. A Used Car is Much Cheaper (Duh!)
If you are facing financial woes, getting a second-hand car means that you pay less downpayment as compared to buying a brand spanking new car.
In fact, according to MoneySmart, you can potentially get a Lexus IS250 or BMW 3 Series 320i Coupe for less than $19,000 or an Audi A3 Sportback for under $20,000.
2. A Pre-Owned Car Depreciates Less
The depreciation on a vehicle is effectively how much money you lose on a car, simply by owning it.
Depreciation is commonly calculated as an annual figure.
Annual depreciation is the amount the owner loses on the value of the vehicle per year based on the assumption that the vehicle is deregistered only at the end of its 10-year Certificate of Entitlement (COE) lifespan.
Anyone who wishes to register for a new vehicle in Singapore must first obtain a COE.
A COE represents a right to vehicle ownership and use of the limited road space for 10 years.
Hence, new cars will depreciate more as compared to second-hand ones.
According to sgCarMart's depreciation calculator, it is possible for the annual depreciation of a car to run into the thousands of dollars, depending on factors like the car model and the original purchase price.
Hence, it makes more sense fiscally to buy a used car if you don't want to lose serious cash through depreciation.
3. There is Immediate Handover of the Car
In most cases, handover of the car takes place immediately when you meet up with the owner.
The COE from the previous owner will also be transferred over to you with immediate effect.
The car dealer will also usually help to settle all the paperwork, from insurance claims to bank loans.
Downsides to Getting a Used Car in Singapore:
1. You May Incur More Maintenance Costs
If the car is too old, you may incur repair and maintenance costs down the road.
These may set you back by a couple of hundreds of dollars for each part repaired or replaced.
Our advice is to pick a pre-owned car that is not too old.
An ideal range would be between 4 to 8 years.
2. You May End Up With a Shoddy or Defective Car
There is also a likelihood that your pre-owned car may contain defective parts that were not disclosed by the seller.
However, in Singapore, such cases are minimised thanks to the Lemon Law.
Simply put, the law protects consumers against defects of goods purchased within six months in Singapore.
It includes all goods purchased that are brand new or used, including cars.
This law overwrites warranty periods that are shorter than six months.
Some places for used cars in Singapore also offer inspection checks, warranty periods or return policies.
3. You May Rack Up More Interest on Your Car Loan
As second-hand cars are perceived to be riskier by banks, you may accrue more interest on your car loan.
For example, according to MoneySmart, while the interest on a new car loan is about 2.68%, that of a used car loan can go up to a whopping 3.34%.
Now that you have heard both sides of the story, it's up to you to make a decision for yourself.
Looking for a place for used cars in Singapore?
In this post, we've gathered all the relevant details to compile a list of the 10 best places for used cars in Singapore.
1. CARRO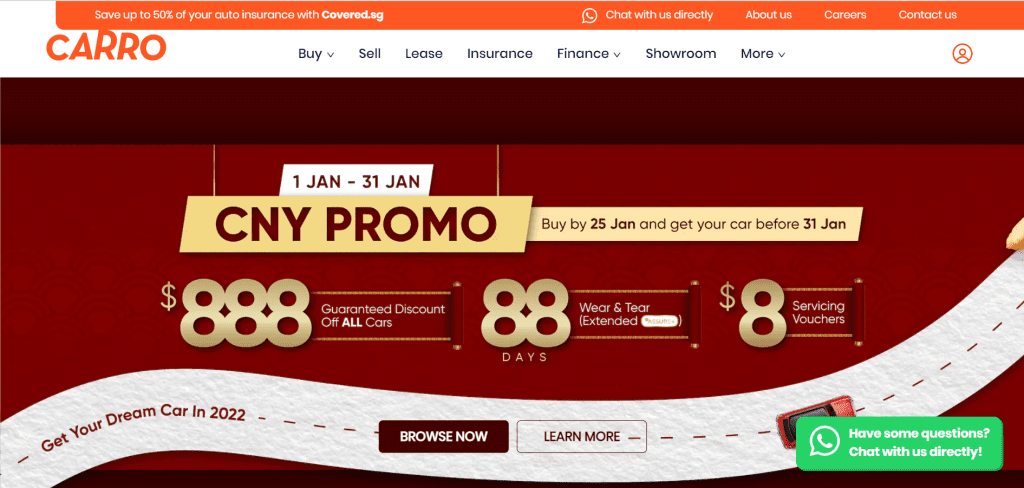 Founded in 2015, Carro provides a full-stack service for all aspects of car ownership and uses Artificial Intelligence (AI)-powered technology to transform the car buying and selling experience.
By offering a trustworthy and transparent experience, Carro challenges the traditional way of buying and selling cars through proprietary pricing algorithm and AI-enabled capabilities.
The platform for used cars in Singapore has pioneered a variety of innovative services.
These include Singapore's first contactless online car purchase service, first car subscription service and the first region-wide behaviour and usage-based car insurance solutions.
All their cars are Carro-certified and subjected to a rigorous 150-point inspection check, so you don't have to worry about buying a lemon car with defects.
They also provide a first-of-its-kind 30 Day Wear and Tear guarantee that grants you full access to their Carro Workshop for 30 days.
This provides car buyers with full assurance of their purchase and covers a slew of issues that even your factory warranties do not!
And if you feel that the car that you bought is not right for you, their 3-day return policy allows you to easily return the car and pick another, no questions asked.
Reviews praise the platform for used cars in Singapore for their excellent customer service.
Their staff took the time to explain every detail clearly, making the entire transaction a fuss-free one.
2. sgCarMart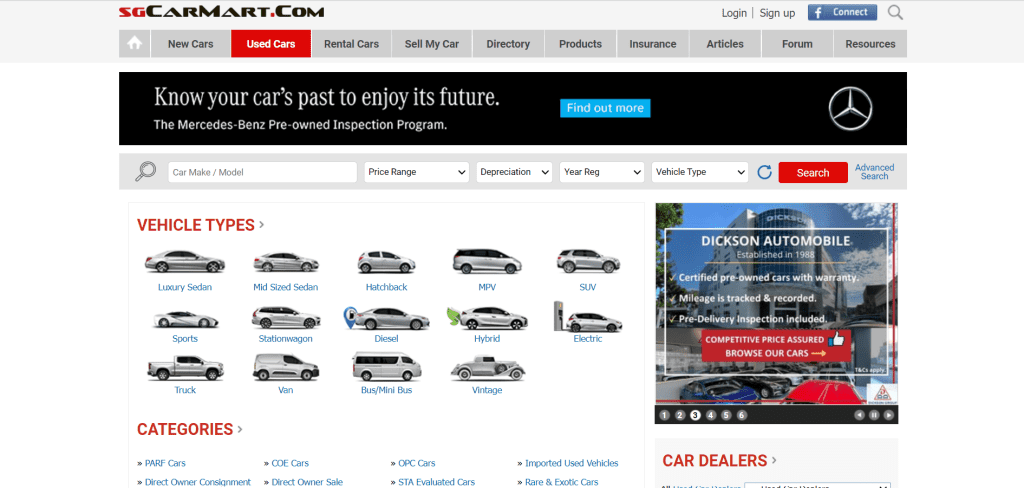 sgCarMart is the No. 1 car classifieds database for parallel import cars.
They ply used cars in Singapore from brands such as Toyota, Honda, Nissan, Mitsubishi and BMW.
They have many types of used cars in Singapore for sale.
These include COE cars, Off-Peak Cars, vans, trucks, hybrid cars, sports cars and station wagons.
You can also purchase a used car from a car auction, look up car loans, financial services, low mileage cars, car brands, carpark rates and car insurance through their platform on used cars in Singapore.
They have new car dealers comprising parallel importers, authorised car dealers, and used car dealers on their site.
Reviews praise the platform for used cars in Singapore for being the go-to site for customers to conduct market research on the prices of used cars.
3. Motorist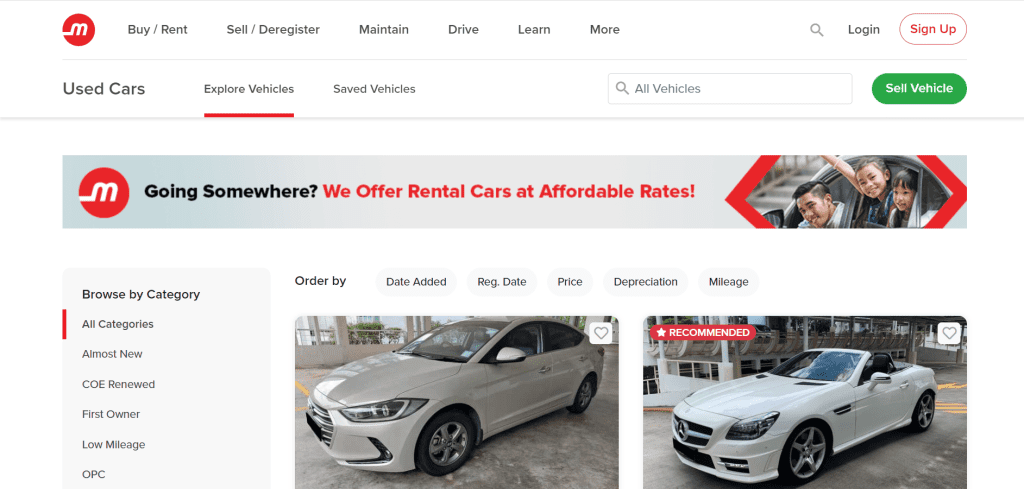 Motorist, headquartered in Singapore, was founded in 2015, after their founder Damian Sia tried selling his car on his own.
As a first-time seller, he encountered many unreasonable offers from unethical buyers who tried to take advantage of his inexperience.
He was also unsure on the sales and vehicle transfer process, as there were several documents to be handed in.
After this agonising experience, Damian decided that he wanted to help fellow drivers who were also new to vehicle transactions.
He eventually came up with the idea of a reliable third-party platform where car owners could connect with certified and genuine buyers, and find professional help for any doubts they might have.
Thus, Motorist was born.
To date, Motorist has assisted 546,000 drivers and completed $758,000,000 in vehicle transactions securely and successfully.
They have a comprehensive inventory of pre-owned vehicles from direct owners for sale.
If the owner accepts your offer, our agent will assist you to set and facilitate the entire viewing.
You will then be able to get the car assessed for a greater peace of mind.
Their evaluation partner is VICOM.
Motorist will handle your paperwork, including bank loans, motor insurance and Land Transport Authority license plate transfer.
Reviews praise the platform for used cars in Singapore for providing a fuss-free transaction process.
Their staff were very customer-centric and coordinated the entire selling process smoothly.
4. UCARS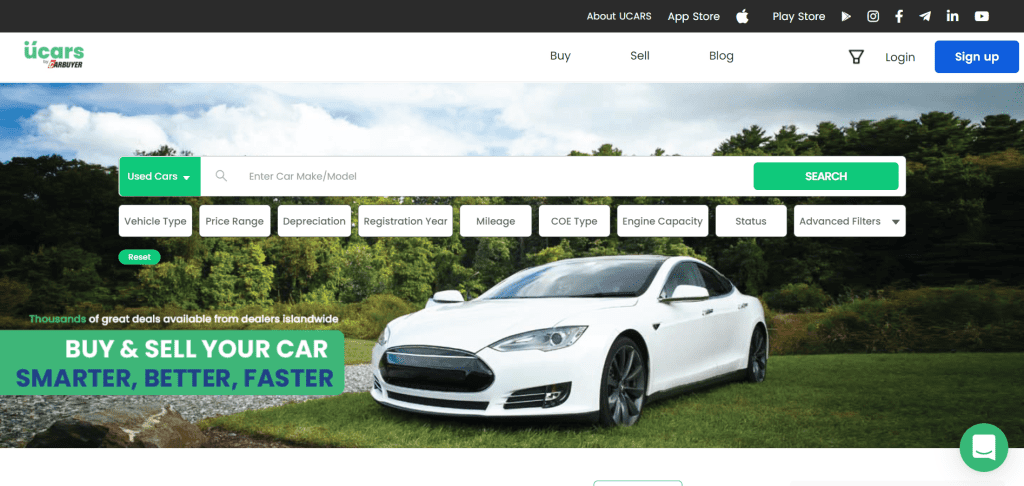 UCARS was founded by a group of people who simply want to make car ownership better and easier.
Its mission is to create a smarter, better and faster marketplace that allows consumers to search for their next ride – with just a few simple clicks.
Today, UCARS has thousands of cars available on its marketplace from dealers islandwide.
The platform for used cars in Singapore also has a valuation tool powered by AI.
The first-of its-kind in Southeast Asia, the UCARS AI Valuation tool provides you with an instant valuation for your car based on current car listings in the market.
Reviews praise the platform for used cars in Singapore for giving speedy replies.
Customers were also able to find great deals that suited their budget and needs.
5. GOwheeler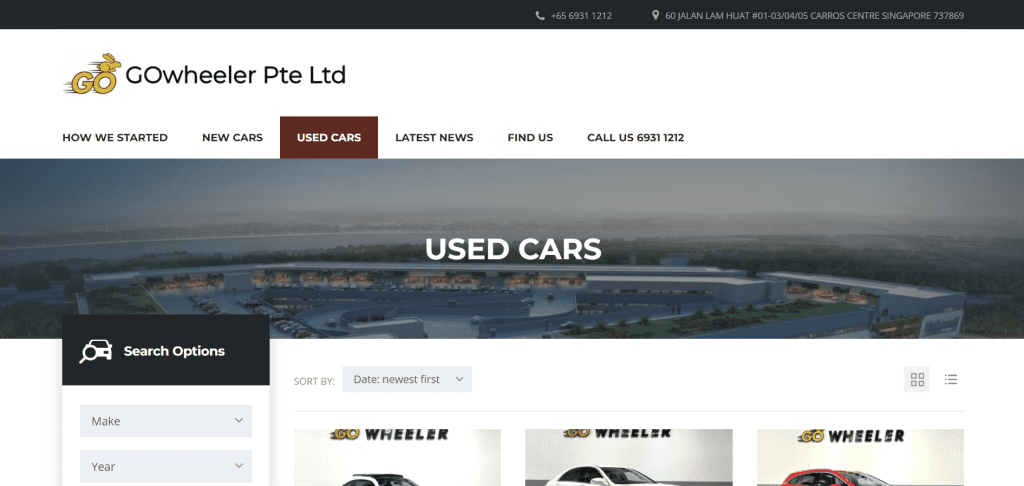 GOwheeler was founded in January 2018 by a team driven by the mission of providing a high level of customer service to all of their customers.
Their company's logo features the image of a speeding rabbit, which has special significance.
Rabbits have always been known to symbolise new life or new beginnings due to their high level of fertility.
This signifies that customers who purchase a used car from them will embark on a new chapter in their lives.
With more than 12 years in the automotive industry and training from main distributors of different brands, they strongly believe in giving customers hassle-free deals and a peace of mind without any hidden costs.
Their team of professionals provide detailed guidance from the start of your purchase till you own the vehicle and aftersales support.
All their vehicles undergo comprehensive checks to ensure the drivability and road worthiness for their customers.
Reviews praise the platform for used cars in Singapore for their helpful staff, who went out of their way to accommodate customers' busy schedules and requests.
6. Carz World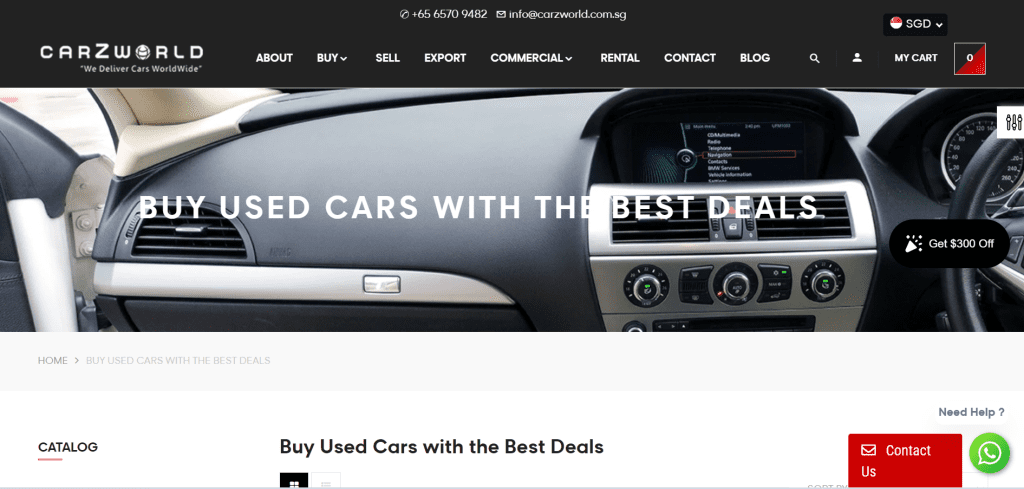 Carz World is one of the largest importers and exporters of new and used cars in Singapore.
The platform for used cars in Singapore is committed to meeting expectations and taking their customers seriously.
They leverage their expertise and strong procurement networks to add value to their customers' business activities.
If you are looking for a used cross-country car, look no further, as Carz World has the perfect second-hand car for you.
Our recommendation is to get their Volvo S60 Cross Country Car, which is priced at a modest price tag of S$69,988.00.
Manufactured in 2015, this pre-owned car has a mileage of 82,000km and a power of 187.0 kW.
Reviews praise the place for used cars in Singapore for their meticulous customer service.
Their staff spent time patiently answering all questions that customers had.
7. VINCAR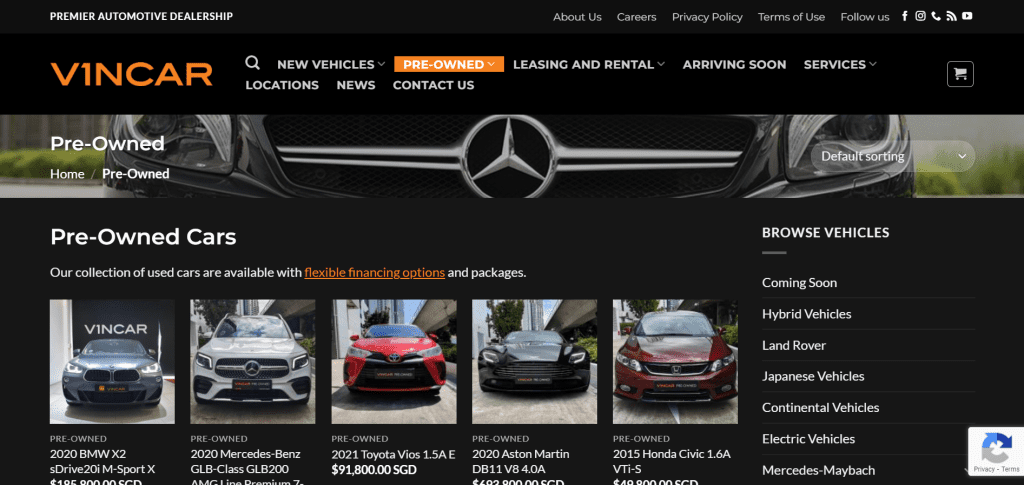 Since 1989, VINCAR has been the preferred multi-brand car dealership and importer of new and pre-owned cars in Singapore.
The platform for used cars in Singapore has an extensive range of Japanese and Continental marques available.
The platform for used cars in Singapore is known for its flexible financing packages.
As one of the largest dealerships for used cars in Singapore, they are able to offer and structure flexible financing packages (e.g. balloon financing, high loan) to suit your financial requirements and needs.
If your existing bank is unable to assist you, or is putting you on hold due to unknown reasons or factors, their financing team is able to assist you quickly and rapidly to cut short that process.
Reviews praise the place for used cars in Singapore for their professionalism and sound technical knowledge.
8. ABWIN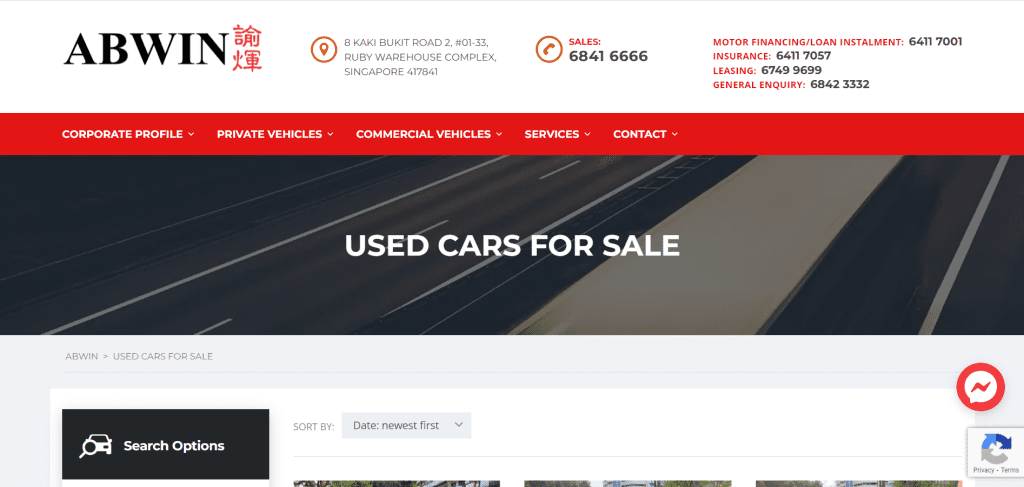 Established in 1984, ABWIN is one of the largest pre-owned car dealers in Singapore with the widest selection of commercial and passenger vehicles.
Yes, you read it right, they have used commercial vehicles for sale too!
If you are looking for a spacious second-hand commercial vehicle, our advice is to get their Toyoto Hiace 3.0M.
The used car in Singapore comes in excellent condition with new paintwork.
You can purchase the used car in Singapore at a reasonable price of S$64,800.
With more than 4,000 transactions a year, they are well-versed to understand different industry-specific automotive requirements, be it commercial or passenger vehicles.
The platform for used cars in Singapore also has a professional sales team, who possess vast knowledge and experience to advise on any motor-related issues, to lend customers a helping hand.
Reviews praise the place for used cars in Singapore for their prompt service.
Their staff were honest and transparent in their dealings.
9. Republic Auto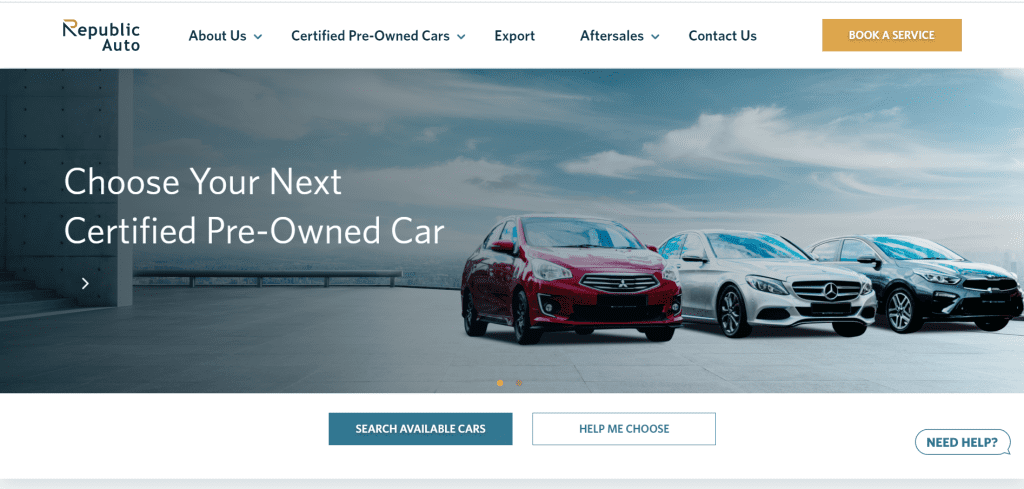 Republic Auto began operations in May 2000 and, within just a decade, became the largest certified pre-owned car dealer in Singapore.
Presently, they have a 3,000sqm mega-showroom located at Pandan Gardens which provides the widest range of pre-owned vehicles in Singapore.
Within the same complex is their own Service Centre, Body & Paint Centre and Vehicle Grooming Centre – all designed to meet the various needs of their customers.
When choosing used cars in Singapore to be put on sale, they base their selection on a stringent set of criteria to ensure that all vehicles meet Republic Auto's exacting Certified Pre-Owned Quality standards.
All pre-owned vehicles must also pass Cycle & Carriage Singapore and Republic Auto's inspection checklist.
They must also not have been involved in major accidents.
And to provide a truly comprehensive range of offerings, there are additional after-sales services available.
Reviews praise the place for used cars in Singapore for their impeccable customer service.
Customers were able to test-drive all the cars that they had shortlisted without a hitch.
10. Select by Performance Premium Selection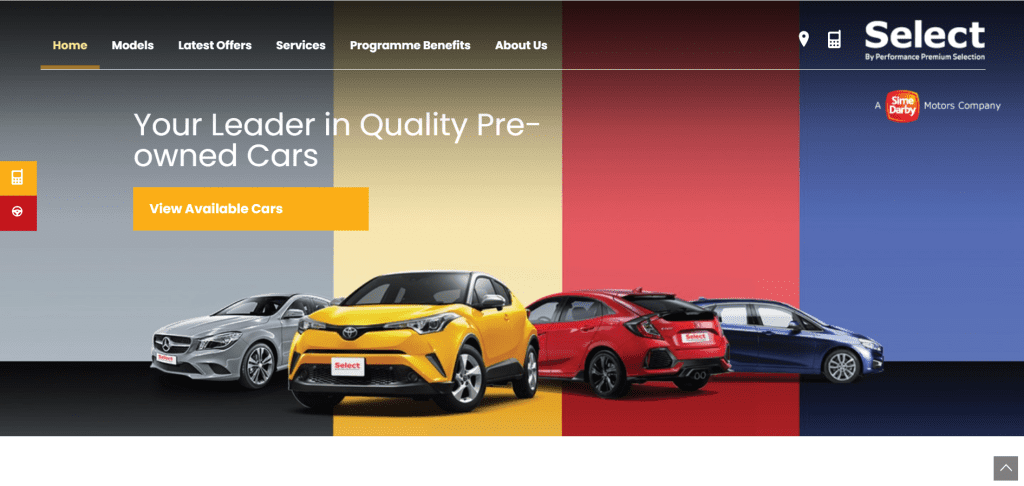 At SELECT by Performance Premium Selection (PPSL), they aim to simplify the car buying process and give their customers the peace of mind associated with a quality pre-owned car and dealing with a trusted dealership.
Born out of a desire to make pre-owned cars accessible and affordable, Select carries the widest range of quality pre-owned cars.
They recognise the importance of consistent quality, and they stand by their commitment to providing their customers with cars that have passed their pre-sale inspection, as well as their exceptional service.
As a member of the Sime Darby Group, they bring with them over 100 years of history of excellence.
Reviews praise the place for used cars in Singapore for providing customers with well-researched information on the cars that they were interested in.
Their advice gave customers the confidence they needed to make the purchase.
Conclusion
Do you have any reviews and comments to share regarding our choices for the best place for used cars in Singapore?
While SBO is committed to supporting our local businesses, we welcome any feedback and anonymous sharing regarding your experience with the best place for used cars in Singapore.
We hope that this guide will be useful in helping you to make an informed decision when it comes to finding the best place for used cars in Singapore.
Explore More Content