9 Best Specialists for Car Grooming in Singapore to Keep Your Car in Tip-Top Condition [2023]
Shine bright like a diamond.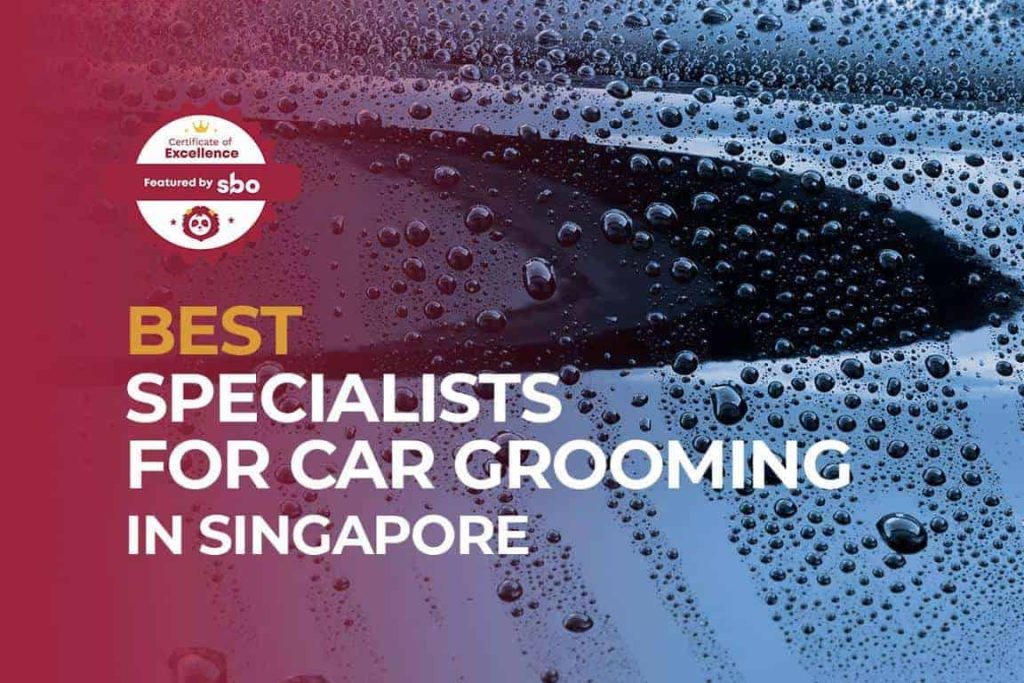 Want your car to be in showroom condition?
This is where car grooming in Singapore can come in to do just that and to help your car to maintain its lustrous sheen.
Car grooming broadly refers to the thorough cleaning, reconditioning, shining, as well as preservation of both your car's exterior and interior.
There are several procedures that your car can undergo.
These treatments include car wash, car waxing, car polishing, paint protection treatment, carpet cleaning, window and windscreen cleaning, car rims washing as well as tyre shine.
These will not only improve the conditions of your car, but also heighten its general appeal.
Your car may fetch a higher resale value and you may also end up spending lesser on repair and maintenance.
What Is The Biggest Difference Between Car Detailing and Grooming?
The main difference between car detailing and car grooming is the attention to details.
Car grooming in Singapore is mainly focused on the entire vehicle whereas car detailing in Singapore usually targets specific parts or components.
Even with regular and proper car grooming in Singapore, there are several imperfections that you might not be able to effectively erase from your car.
Car detailing is meant to rectify and iron out any blemishes on your car's body and interior.
For example, car paint rectification is one of the key car detailing procedures that you can perform to correct swirl marks and other imperfections that cannot be effectively removed through car grooming.
Looking for a car grooming in Singapore?
In this post, we've gathered all the relevant details to compile a list of the 10 best specialists for car grooming in Singapore to keep your car in tip-top condition.
1. Revol Carz Makeover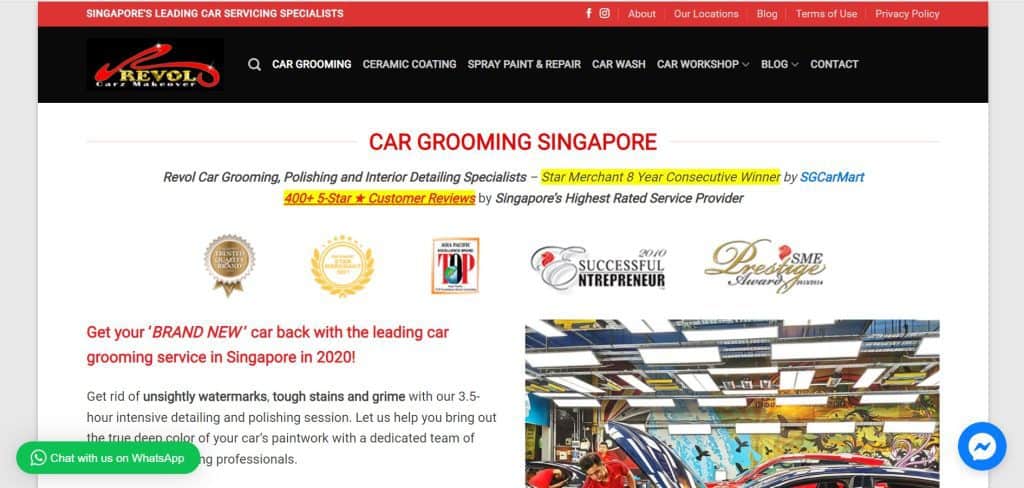 With over 17 years of experience in the industry, you will be able to get rid of unsightly watermarks, stains and grime with Revol Carz's 3.5-hour intensive car grooming session.
As a testament to them being widely regarded as the Best Automotive Grooming Company in Singapore, they were awarded the 2019 SGCarMart Star Award in recognition of their demonstration of Market Leadership and Service Excellence in the industry.
Their car grooming package entails the following steps:
Intense Shine and Polishing: Get that ultra-reflective look that feels absolutely amazing to the touch. Their surface protective compounds last for weeks and help to repel water.
Deep Interior Cleaning: They ensure that every seat, nook and cranny is cleaned, prepped and restored as close to its original condition as possible.
Engine Bay Cleaning: A clean engine bay is not only impressive to look at but also allows for problems such as leakages to be spotted quickly in future.
Leather Restoration: They can assist in removing stains, and reducing marks and damage with our leather restoration specialists. Their wide range of various leather cleaners helps to remove dirt and grime from various leather materials.
Wheel and Rim Polishing: Bring back the shine and gleam of your rims. They can remove heavy grime, oil stains and rubber marks that your rims and wheels pick up from daily use.
Exhaust Polishing: Your car should always look brand-new when it leaves its detail center. Get shiny, polished gleaming exhaust tips each and every time.
Window Glass Coating: Let them remove stubborn watermarks, streaks and dirt from prior to their window glass treatment. Expect super clarity, ultra-hydrophobic properties and a much safer drive.
Headlight Coating: They can restore and fix common foggy headlight issues due to condensation and leaky rubber seals in the headlights. No more cataract-looking lights!
Door Shuts Detailing: An under-looked area that most groomers will miss out (but they won't!) – they will clean up accumulated dirt, grime and grease and leave it looking like it just left the factory line.
Reviews praise Revol Carz for their transparent and upfront staff who would follow up with customers after their service.
2. SPARK Car Care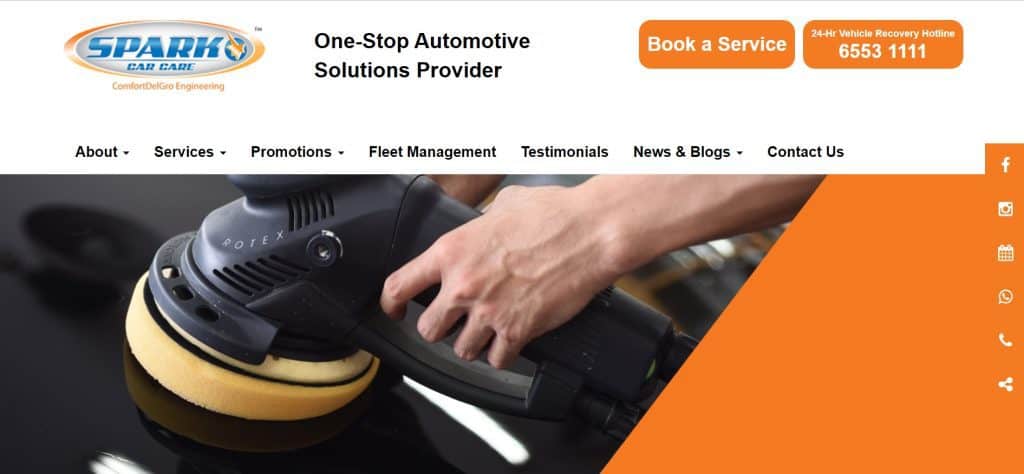 SPARK Car Care™ is the rejuvenated car care arm of ComfortDelGro Engineering.
It symbolises energy, revitalization and a fresh beginning.
With five strategically located SPARK Car Care™ centres, they service over 100,000 vehicles of diverse makes and models annually.
If your car needs a makeover to look similar to the showroom condition, head down to SPARK Car Care to spruce up your overworked car with comprehensive grooming and polishing services.
Experience luxurious grooming sessions with dedicated grooming specialists for a vehicle that sparkles!
Their grooming service includes:
Reviews praise them for their speedy grooming service.
3. Mobile Auto Car Grooming Services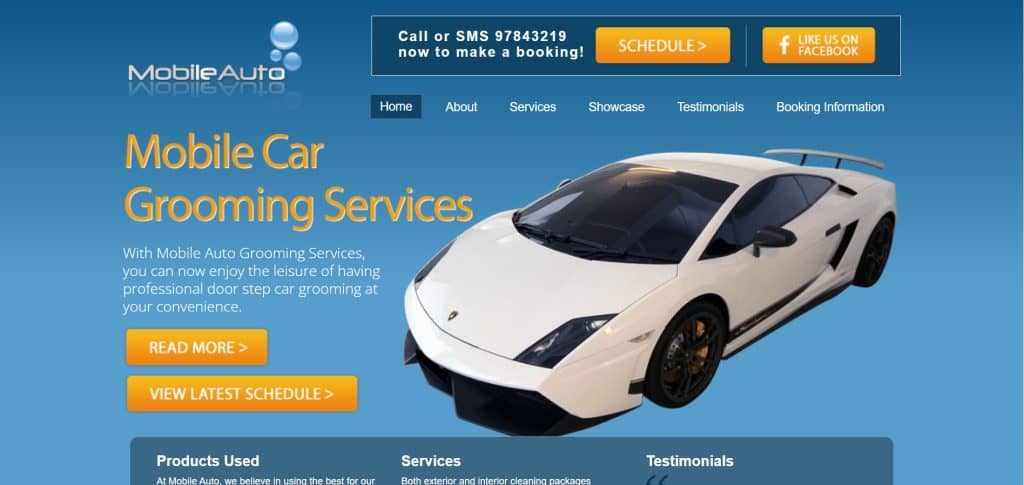 Prefer the car grooming session to be done at your doorstep?
With Mobile Auto Car Grooming Services, you can now enjoy the leisure of having professional door step car grooming at your convenience.
Mobile grooming services can be provided in any multi-storey carpark with a washing bay or in a sheltered area with water supply.
In order to ensure that only the best is provided to every single car that goes through their grooming, only a maximum of two cars will be groomed daily.
Each detailed grooming session will take around an average of 3 to 4 hours or 1 day depending on the car's condition and package chosen.
Our recommendation is to go with their Package A (Essential Protection), which comprises the following treatments:
Exterior: Car Wash, Claying, Rim Wash, Paint Compounding, Paint Refining, Panel Wipe, Application of PolishAngel Master Sealant, Tyre Dressing Application.
Interior: Interior Vacuum, Carpet Cleaning, Cleaning & Conditioning,
The above package is priced at the following prices:
Small (e.g. Fit, Jazz, Polo): S$120
Medium (e.g. Vios, Civic, Altis): S$130
Large/Luxury (e.g. Wish, Airwave, Stream): S$140-S$150
Extra Large (e.g. Estima, Freed): S$160
Downtime for Package A will be approximately 3.5 to 4 hours depending on car condition.
Reviews praise Mobile Auto for having a passion for their craft.
They will spare no effort in cleaning every nook and cranny of your car during grooming.
4. EnGloz Car & Bike Grooming Services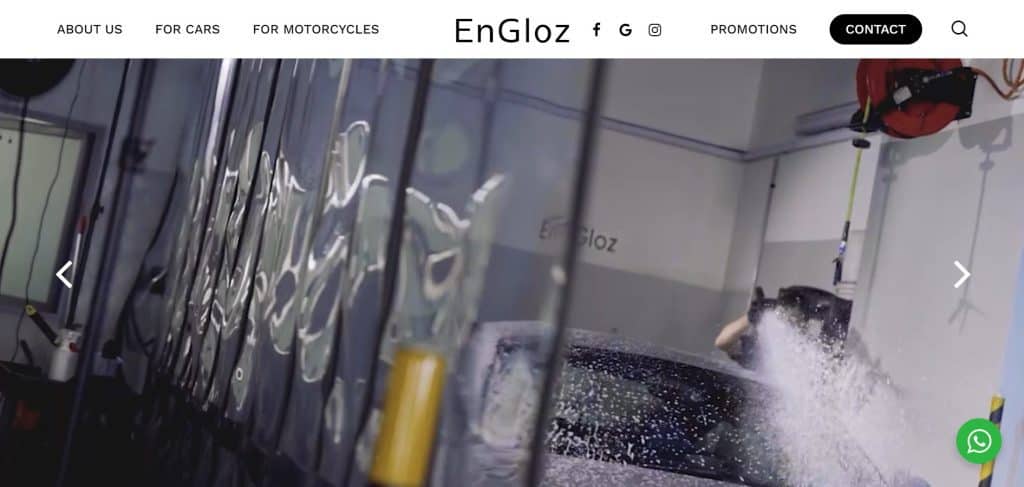 EnGloz comprises a team of trained professionals in the field of car grooming and detailing.
They use only the best products in the industry and maintaining quality is their top priority.
Their grooming process entails the following treatments:
Full vacuum, Dash, Air vents, Compartments, Mats & floor/carpet.
Disinfectant spray on carpet and floor.
Dash and side doors panel Vinyl clean & shine with Sonax Interior conditional, non-oily formula that deepens and darken/renews plastic and rubber outlook.
Leather shampoo clean & conditioning with Sonax Leather Milk or
Fabric seats coat with Sonax waterproof coating.
They charge a price of S$90 to S$130 depending on car size and type.
Reviews praise them for their staff who were ever ready to provide customers with the information they require.
5. New Age Polish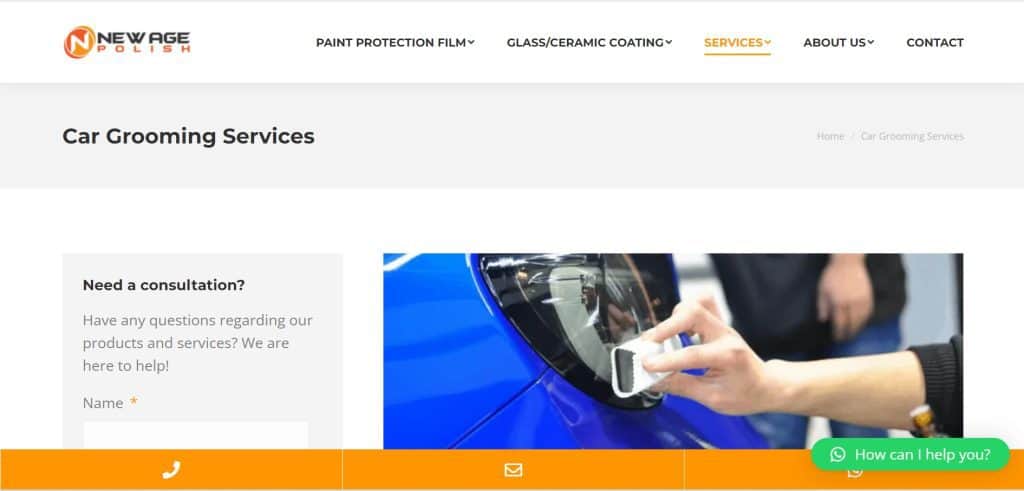 With over 8 years of experience in the industry, New Age Polish is a car grooming in Singapore that offers grooming services.
They give your vehicles all-rounded protection from the inside-out.
They offer two types of grooming services:
Interior Car Grooming: From upholstery to carpet, mat, interior glass, doorknob, trunk, shelf, and if you wish, your car's engine are cleaned of grease, dirt, allergens, and odours. With the use of kubebond interior cleaning products, thorough cleaning is administered. Vacuuming, brushing, steam cleaning are all inclusive.
Exterior Car Grooming: This is grooming done to the exterior part of your car. Surface scratches, faded painting, dirt and stain are removed. The body of the car, handles, headlights, glasses, and rims are all thoroughly cleaned with kubebond exterior products. The car gets nano ceramic car paint protected until it is sparkly and sleek.
Reviews praise New Age Polish for being professional and responsible.
6. Triple Shine Car Grooming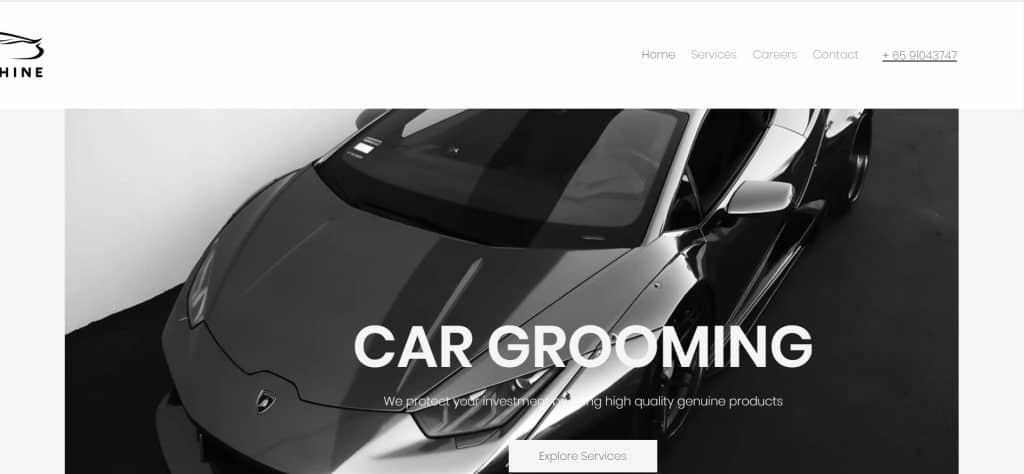 Triple Shine was founded in 2005 as a a one-stop automotive workshop for car servicing, auto repair and more.
They provide services like Car Maintenance and Servicing, Polishing as well as Cleaning.
The car grooming in Singapore offers the following packages:
Wash & Wax (S$88): Car Waxing Inclusive of Interior Cleaning
Power Polish (S$188): Car Polishing Inclusive of Interior Cleaning
Profiline Ceramic Coating (S$588): 9H Coating Inclusive of Interior Cleaning
Reviews praise them for their friendly staff and the affordable prices of their packages.
7. Max Polish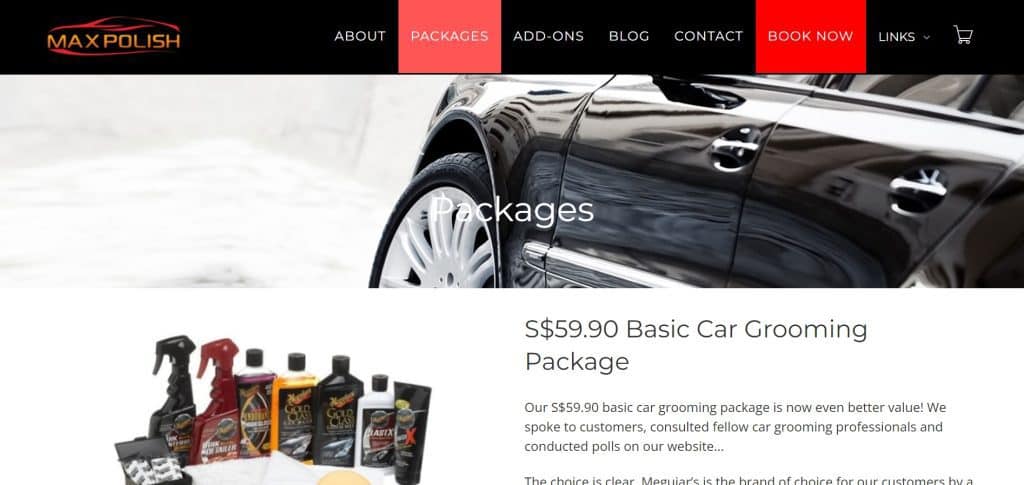 Max Polish was founded by two car enthusiasts, Max Wu and Gabriel Tan, back in 2008.
Since then, they have been offering car grooming services which have left thousands of their customers leaving with a big smile on their faces.
Their Basic Car Grooming Package, priced at S$59.90, includes the following services:
Snow Wash using Meguiar's Gold Class Car Wash Shampoo & Conditioner
Claying using Meguiar's Direct Smooth Surface® Clay Bar
Wax On and Wax Off Using Meguiar's Ultimate Quik Wax
Tyre Shine with Meguiar's G-7410 Endurance Tire Protectant Gel
Rain Repellent using Rain-X for Front and Rear Windscreens
Vacuuming of Car to Make Your Car Floor and Carpet Spotless
Reviews praise them for their meticulousness and their eye for detail during grooming.
8. Prime Auto Care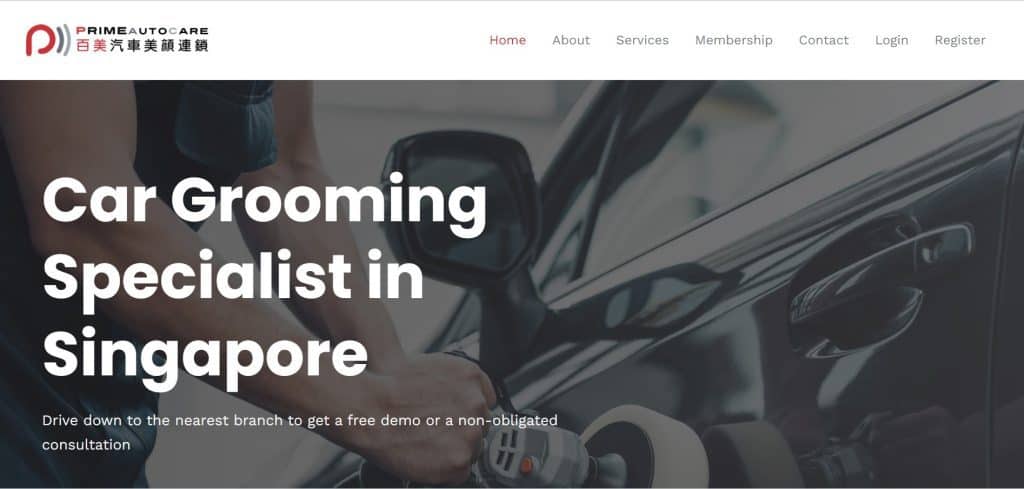 Prime Auto Care strives for service excellence by providing its clients with quality automotive services.
They offer outstanding grooming treatments for basic vehicles and even for the most luxurious pieces.
Their car grooming packages include the following:
Basic Car Grooming Packages: Give your car a brand new look with their basic car grooming packages tailored to your needs.
Comprehensive Car Grooming Packages: Remove stains and odours with comprehensive car grooming solutions provided by their dedicated team of cleaning professionals.
Nano Sealant Treatment: Achieve a long-lasting shine and protect your car's paintwork with their nano sealant treatment.
Hydrophobic Treatment on Windscreen and Windows: Keep your windshields and windows clean and protected with their best-performing hydrophobic treatment.
Leather Seats Cleaning and Protection: Restore and protect your leather car seats from cracking or fading with their fabric cleaning and protection services.
Carpet Cleaning: Prevent grit and grime from accumulating into your carpet fibres with their automotive carpet cleaning solution.
Engine Degreasing: Remove all kinds of oil, grease and grime with their intensive engine degreasing.
Nano Mist Anti Bacteria Treatment: Keep your car cleaned and sanitized with their nano mist anti-bacteria treatment that kills any germs and bacteria hiding inside your vehicle.
"PRS" Restoration Services: Experience premium automotive care from their professional mechanics with their PRS restoration services.
Headlight Restoration and Shine: Enjoy a safe and comfortable night driving by improving your vehicle's headlight performance with their headlamp restoration services.
"PRS" Hypershield Coating: Protect your car from all types of dirt and pollutants with their Hypershield coating treatment.
Reviews praise Prime Auto Care for their impeccable customer service.
9. Preferred Valeting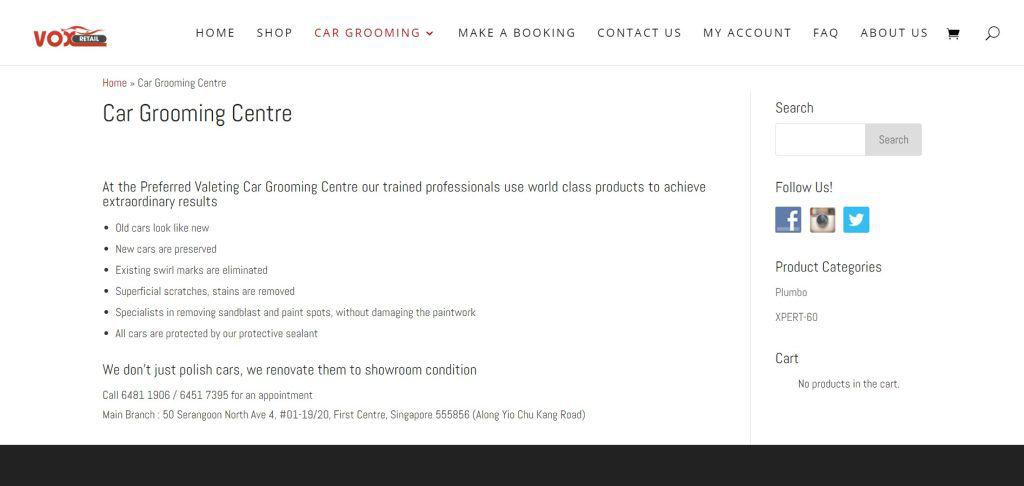 At the Preferred Valeting Car Grooming Centre, their trained professionals use world class products to achieve extraordinary results.
Their Standard Grooming package entails the following:
Pressure wash, clay bar the car using solvent free Xpert-60 Shampoo (includes wheel-arches, radiator grille and door shuts).
Paintwork restoration (removal of minor scratches, swirl marks, and minimizing water marks).
Application of Long Life Wax Sealant.
Clean the engine bay.
Vacuum the seats, carpets, air ducts, ashtrays and boot.
Shampoo the seats, clean door frames, dashboards and door panels including boot lids.
Clean and wipe windscreen, rear & window screens, side mirrors and side mirror casing.
Clean and wipe bumpers and external trimmings.
Clean the rims and tyres. Dress the tyres.
The above package is priced differently for various car sizes:
Small: S$210
Medium: S$255
Large: S$295
Luxury: S$325
Super Lux: S$360
Reviews praise them for responding to customers' requests in an effective manner.
Conclusion
Do you have any reviews and comments to share regarding our choices for the best specialists for car grooming in Singapore?
While SBO is committed to supporting our local businesses, we welcome any feedback and anonymous sharing regarding your experience with the listed car grooming in Singapore.
We hope that this guide will be useful in helping you to make an informed decision when it comes to finding the best specialists for car grooming in Singapore.
Explore More Content