10 Best Car Aircon Servicing in Singapore to Keep Your Car's Interior Cool [2023]
A busted car aircon is not cool at all.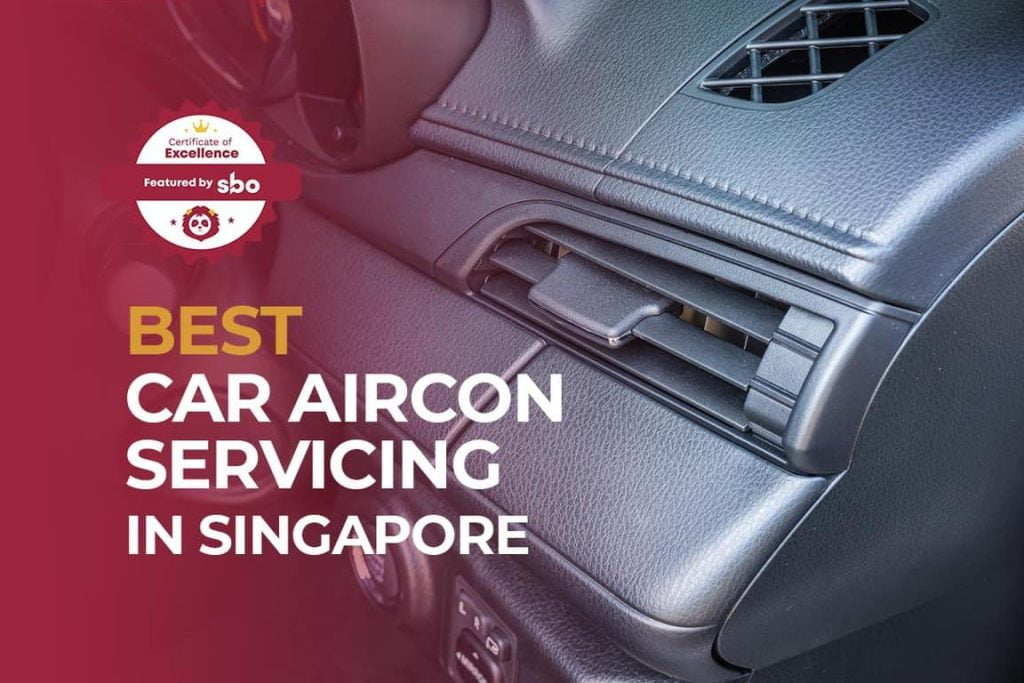 If there's one thing any driver in Singapore cannot live without, it's the car's air conditioner.
The last thing you want in this parching humid tropical heat is to drive around town with a malfunctioning aircon.
As a general rule of thumb, getting your car aircon serviced annually is a good way to ensure it is still working well.
The car mechanics will refill the refrigerant and check the aircon system to ensure that you'll stay cool in your car.
Looking for a car aircon servicing in Singapore to keep cool amid this sweltering heat?
In this post, we've gathered all the relevant details to compile a list of the 10 best aircon servicing in Singapore.
1. Quick Lane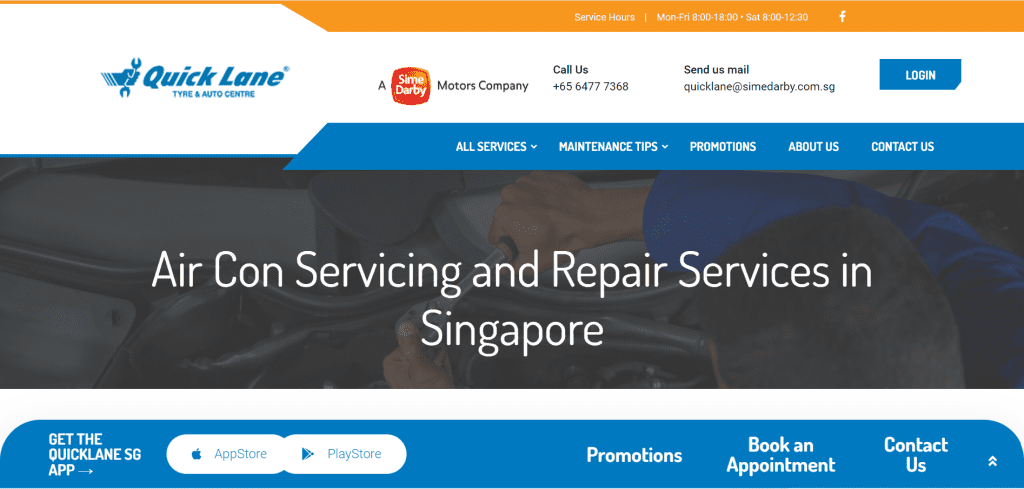 Backed by the Sime Darby Motors Group, one of the biggest automotive groups in the world, and operated by Vantage Automotive Limited, Quick Lane prides itself to be the only multi-brand service centre that provides drivers in Singapore with an affordable aftersales experience without compromising on standards.
Driven by passion, honesty and trust, their technicians have been in the automotive trade for over 40 years and are here to serve your every need.
With Quick Lane's Aircon Preventive Maintenance Package, you can enjoy a peace of mind knowing that your car aircon is functioning optimally.
Their car aircon preventive maintenance package comprises the following:
Leak Detection Test;
Air con performance check using TEXA760R;
Compressors check for damage, wear, or loose wiring connections;
Condenser check for debris, clean condenser, loose mountings, and connections;
Checking cooling fans and drive belts for damage, wear, or loose connections;
Checking refrigerant lines and piping for damage, or loose connections;
Recharging of system with new air conditioning compressor oil, refrigerant, and leak tracer dye top-up.
Reviews praise the car aircon servicing for their professional car maintenance services and polite staff.
2. Accord Auto Services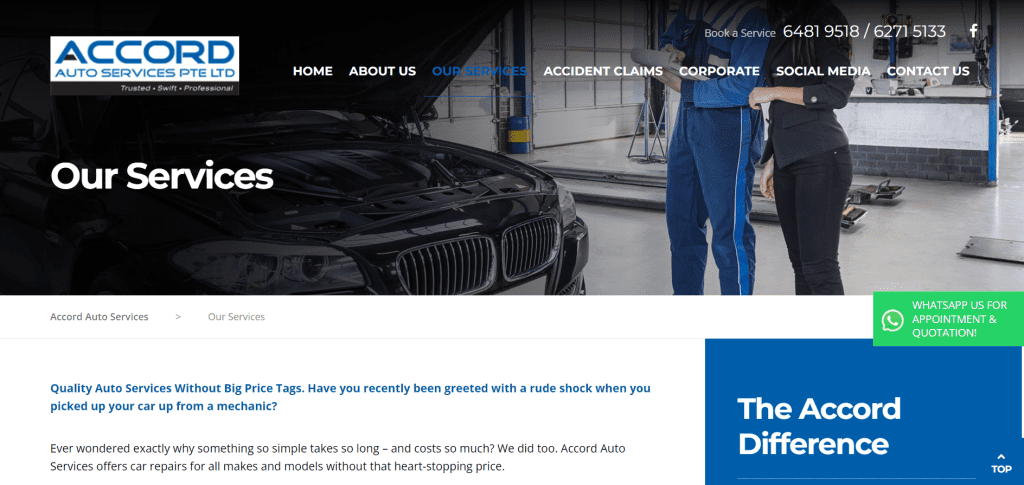 Accord Auto Service provides complete repairs for all makes and models, along with a free car wash and maintenance services.
These include checking the breaks, suspension, wheels and other major components of your vehicle.
Their car workshop specialises in works on BMW, Audi, Mercedes, Porsche, Range Rover, Volkswagen, and other mainstream brands.
Their state-of-the-art workshop allows them to offer faster turnovers to clients, ensuring that you get the best possible service in the industry.
In under two minutes, you can make an appointment with them to give your car a thorough service or repair.
You will be able to keep the interior of your car cool with their detailed air-conditioning inspection and servicing.
Reviews praise the car aircon servicing for their comprehensive packages and their reasonable prices.
3. Elite Car Ventures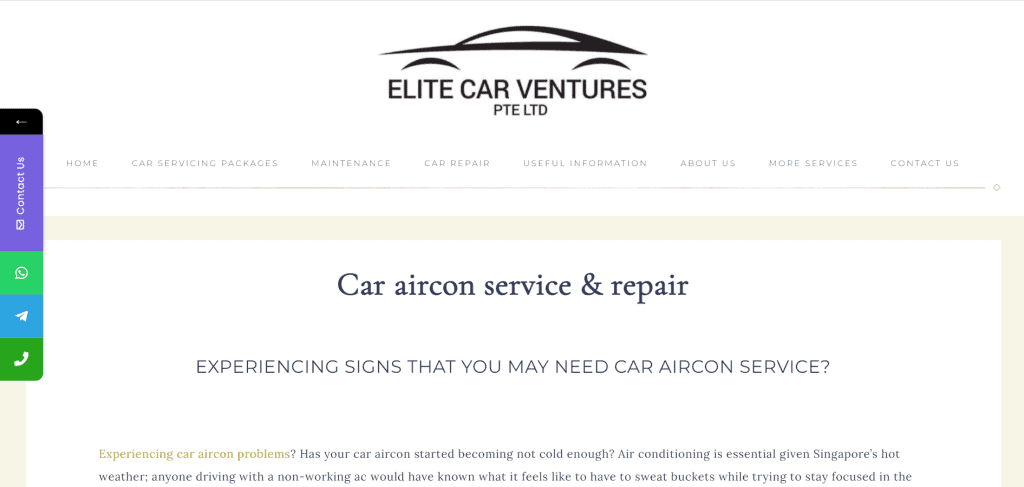 Elite Car Ventures is your friendly local car workshop.
Integrity is at the heart of everything that they do.
Their experienced car mechanics are familiar with different car makes and models.
At their car workshop, they possess a suite of comprehensive capabilities that span across various types of car servicing, maintenance and repair services.
With a keen eye for detail, they can identify the car part that is faulty or requires cleaning when you go to them for maintenance.
During their car aircon servicing, the following checks are carried out:
Functioning of the valves and thermostats;
Leak checks using a leak detector;
Drive belt tension and proper working of pulleys;
Top up of the aircon refrigerant/gas and lubricant (if required)
Optionally, you can also request for them to include an additional step to eradicate bacteria in your aircon system.
If they detect any issues with the aircon components during the servicing, they will also inform you of the issue and give you a quote on the repair cost.
Reviews praise the car aircon servicing for the prompt updates given and their impeccable customer service.
4. Precise Auto Service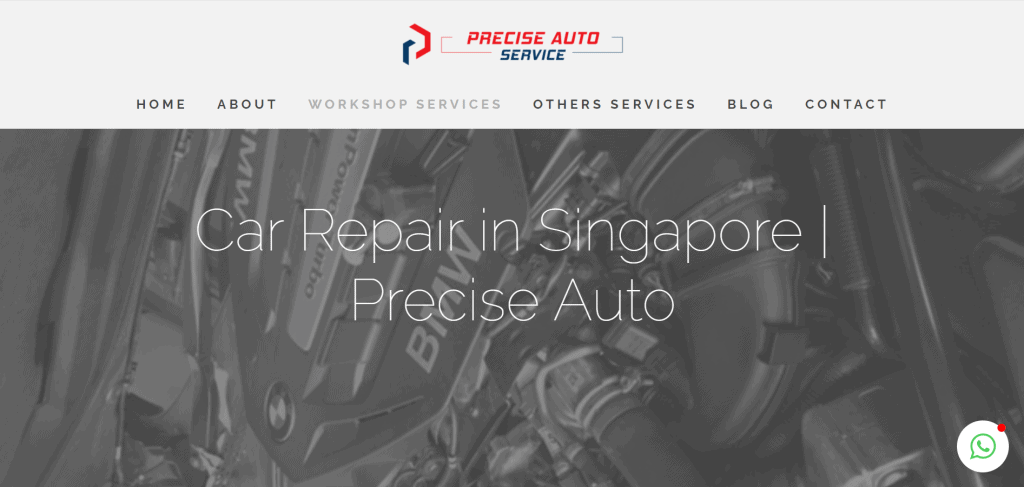 Precise Auto Service was founded back in 1986.
Their founder, Mr. Eric Ong, has more than 30 years of automotive engineering experience.
Mr Ong attends courses frequently to stay ahead of technological advances so as to better serve customers with his newfound knowledge.
His achievements in the automotive industry are a testament to his wealth of expertise as a certified engineer.
Their aircon diagnostics and parts replacement package comprises the following checks:
Compressor
Condenser & Fan
Drier
Evaporator
Blower
Expansion Valve
Top Up Air-Con Gas
Reviews praise the car aircon servicing for being accommodating and efficient.
5. NH Auto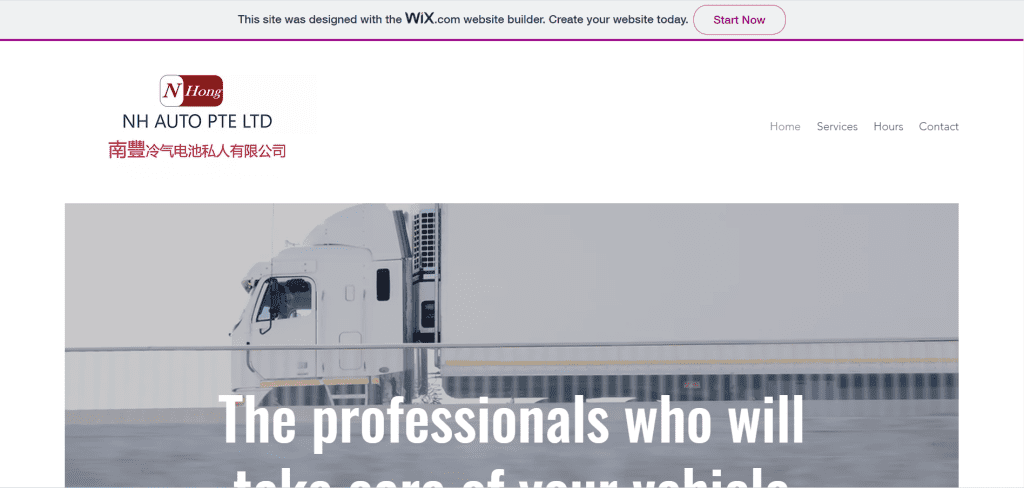 At NH Auto, it's their dedication that differentiates them from other companies.
They are always training their team of mechanics to provide the highest level of technical expertise for customers.
NH Auto believes in getting you back on the road as soon, and as safely, as possible.
Vehicle brands that the car aircon servicing can perform aircon servicing repairs on include Scania, Isuzu, Volvo, Merc, Hino, MAN Truck, Mitsubishi Fuso, Nissan Diesel and more.
Reviews praise the car aircon servicing for the in-depth technical knowledge that they possessed.
6. Class Auto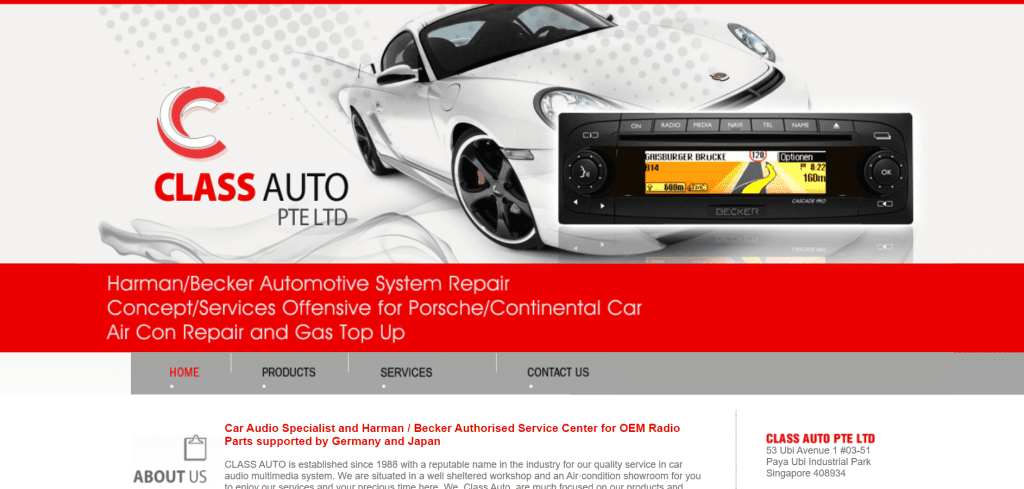 Class Auto, which was established in 1988, has established itself a reputable name in the automotive repair industry for its quality workmanship over the years.
The car aircon services they provide include:
Top-up gas
Change of aircon parts
Clean aircon cooling coil
Change of aircon filter
Reviews praise the car aircon servicing for their honest and professional staff.
Their prices were also fair.
7. E-REV Motor Sports
E-Rev Motor Sports Limited Liability Partnership is a partnership company set up in 2006.
In that same year, they were awarded with the distribution rights from Ultra Racing in Singapore.
They started off with authorised workshops to launch this product and have since achieved astonishing results.
In 2008, they set up a repair workshop in Tampines that offers various services like car aircon servicing.
In 2011, they shifted to Woodlands with a bigger space to accommodate more vehicles.
The move also allows the company to provide many more new products and value-added services over the years.
In 2016, E-Rev settled down at Woodlands Industrial Xchange with an approximate of 3444 square feet of space.
This enables more vehicles to be attended to and to be worked on simultaneously.
This in turn, drastically shortens the turn-around-time for customers.
There are also ample parking lots available so that customers need not worry about parking.
Reviews praise the car aircon servicing for providing clear and concise explanations on which car components needed to be repaired.
8. Merlin Motor Works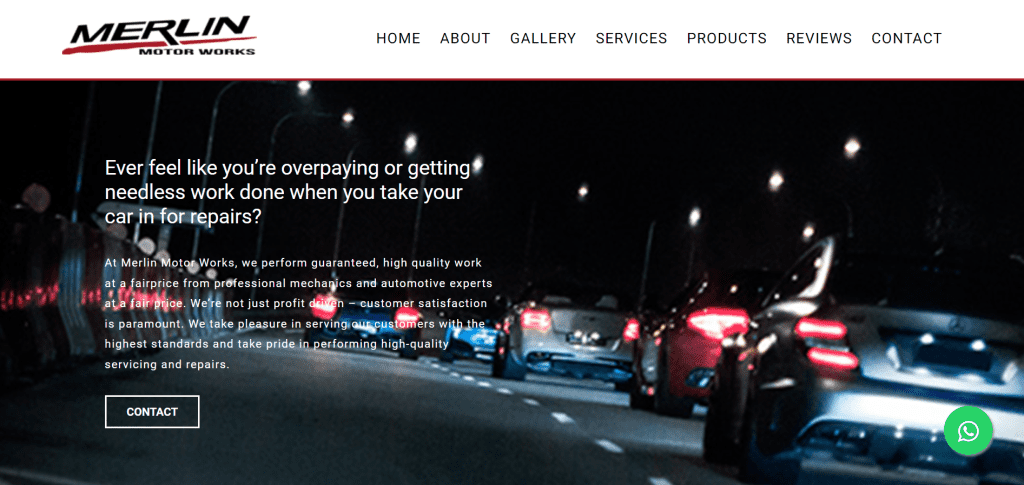 Here at Merlin Motor Works, no car problem is too challenging or too small for them!
Merlin Motor Works' founder, Wee Kuee San, aims to provide customer satisfaction in all that they do.
Through excellent customer service and unparalleled professionalism, Merlin Motor Works has become one of the country's most reliable car workshops which many Singapore car owners go to for car repairs and upgrading.
When servicing your car aircon, they can also help you to change the aircon compressor.
Reviews praise the car aircon servicing for their reasonable prices.
They always get the job done and customers have no complaints about their work.
9. SPARK Car Care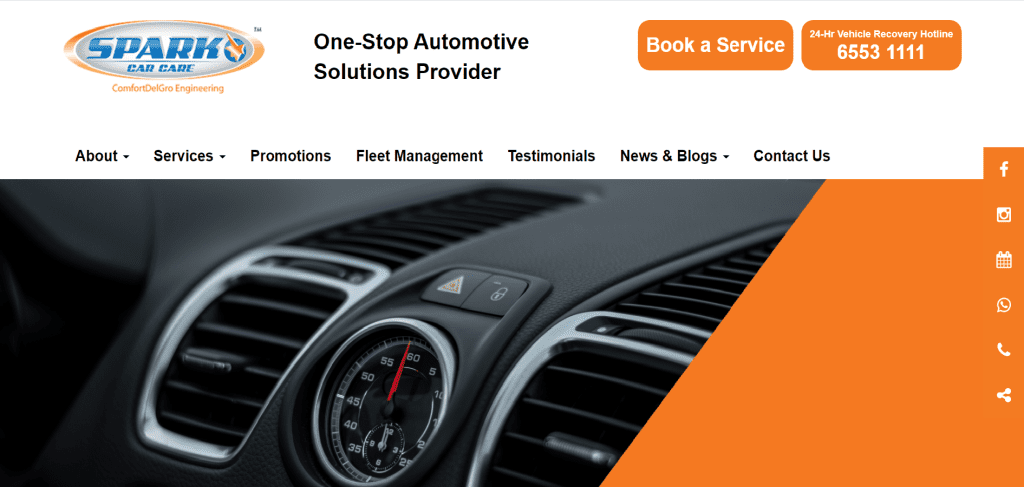 SPARK Car Care™ is the rejuvenated car care arm of ComfortDelGro Engineering.
It symbolises energy, revitalisation and a fresh beginning.
Coupled with the new brand outlook, all their frontline staff have undergone customised customer service training to be able to deliver an enhanced service experience to customers.
With five strategically located SPARK Car Care™ centres, they service over 100,000 vehicles of diverse makes and models annually.
Each Car Care™ centre has its dedicated team of engineers and technicians serving privately-owned vehicles.
Their aircon treatment comprises the following:
Aircon evaporator cleaning: a thorough cleaning process to remove mould, bacteria and odour from the evaporator.
Anti-bacteria treatment: a highly effective disinfectant is used to eradicate all viruses and bacteria in the air.
Cabin aircon filter replacement: a high filter which contains an anti-bacteria reagent that inhibits the growth of fungi, mould and bacteria on the filter media. It also traps airborne allergens effectively in the car.
The 3-in-1 aircon treatment at the car aircon servicing is priced at S$118.00.
Reviews praise the car aircon servicing for responding quickly to customers' urgent requests.
Their staff were friendly and the reception area was clean.
10. H Tyre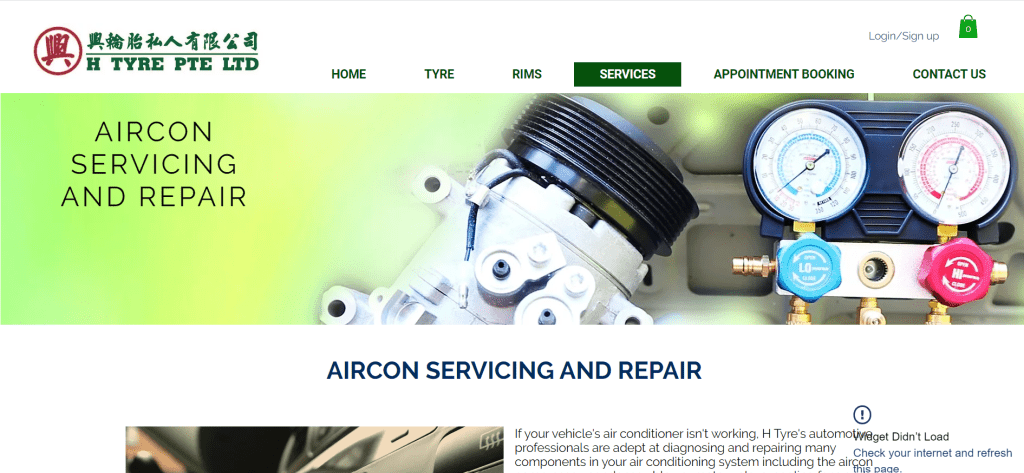 Established in 2003, H Tyre is a pioneer in aftermarket rims retailing and distribution.
Over the years, H Tyre has grown from strength to strength, becoming one of Singapore's biggest tires and aftermarket wheel retailing centres driven by a "One Stop Service Centre" philosophy.
From wheels to automotive repair and servicing, you can be sure that H Tyre will be able to cater to your needs.
If your vehicle's air conditioner isn't working, their automotive professionals are adept at diagnosing and repairing the many components in your car's air conditioning system.
These include the aircon compressor, condenser, blower motor, relays, cooling fans and more!
When you bring your car to H Tyre, their mechanics will perform an aircon performance check to diagnose the problem with your car air conditioning system and see what needs to be repaired.
Car aircon problems can stem from many issues.
These can include a leak from a cracked O-Ring seal in the aircon line, a worn-out aircon filter or condenser etc.
The mechanics at the car aircon servicing will figure out the root of your car's aircon problem in a jiffy.
Reviews praise the car aircon servicing for their stellar customer service.
Their mechanic was responsive to feedback and did a great job in resolving all problems.
Conclusion
Do you have any reviews and comments to share regarding our choices for the best car aircon servicing in Singapore?
While SBO is committed to supporting our local businesses, we welcome any feedback and anonymous sharing regarding your experience with the best car aircon servicing in Singapore.
We hope that this guide will be useful in helping you to make an informed decision when it comes to finding the best car aircon servicing in Singapore.
Explore More Content