22 Things to Do to Kill Your Pandemic Fatigue
Check out our list of 22 things you can do to chase your pandemic fatigue away.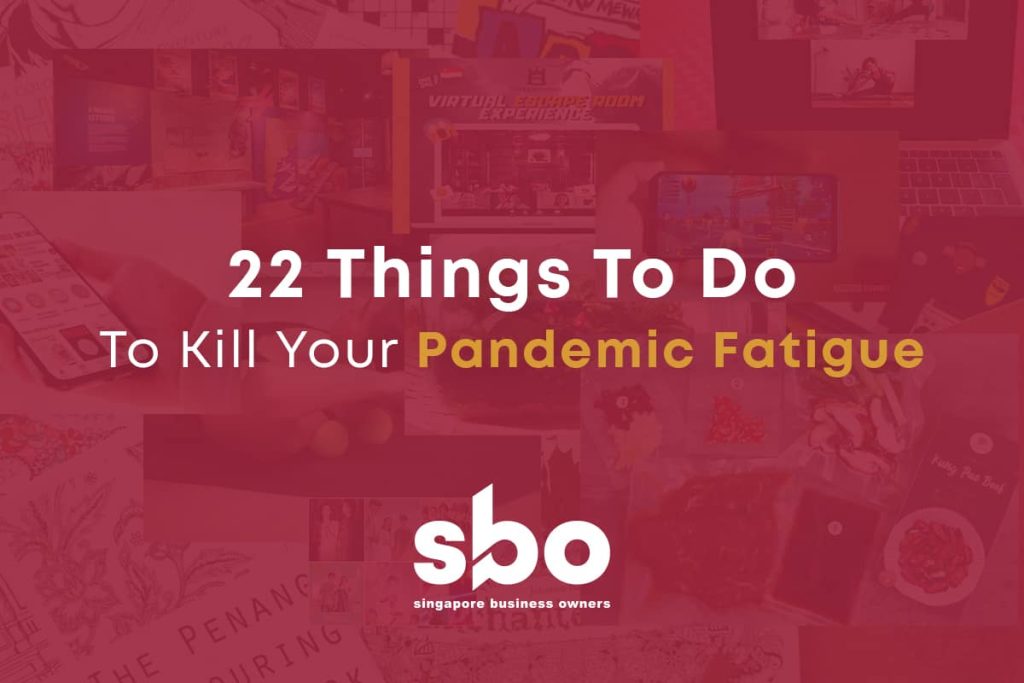 With this list of 22 activities, you can keep yourself occupied for the next 22 days and June 13 will come in no time. Just start on one thing everyday and I guarantee you that the days at home will just fly by.
If you feel that the activities mentioned below suits you well, don't forget to add them to your list of things to do during the COVID-19 Heightened Alert (HA)!
Physical Wellness
1. Devise a Fitness Plan
It's important to come up with a fitness plan to help yourself keep to your fitness goals. Some of the apps include "FitOn" and "MyFitnessPal". I absolutely love their app layout because it's aesthetic and easy to navigate.
These apps can help you to plan your diet and customise your workouts for free, so do give them a try!
2. Home Massage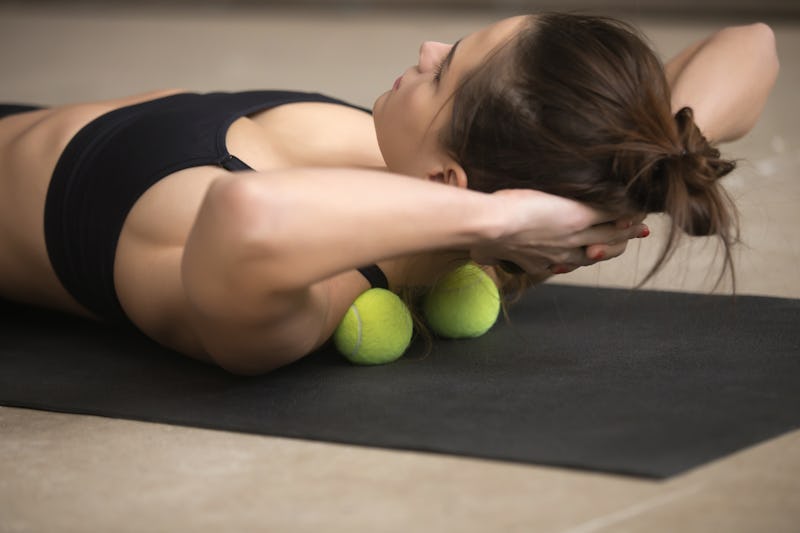 You don't necessarily need to go to a massage parlour to get a good massage, you can do it at home yourself too! You'll just need two tennis balls and a pillow.
Some simple exercises include placing the tennis ball on your sore points and gently rubbing them in a circular motion. You can place more pressure if needed. If your back hurts, you can try placing the tennis balls on the floor where your sore points are and use your body weight to move the tennis balls. Visit this link for more massage techniques you can try at home.
3. Workout With Friends on Zoom
One of the more common things to do during COVID-19 is to have a zoom session with your friends! This is especially so if you need some motivation with your fitness plans, you can zoom your friends to do morning workouts together! Working out together on zoom can help give you the extra push you need to complete the workout. Of course, you can also join virtual fitness classes by ActiveSG here!
4. Use Fitness Apps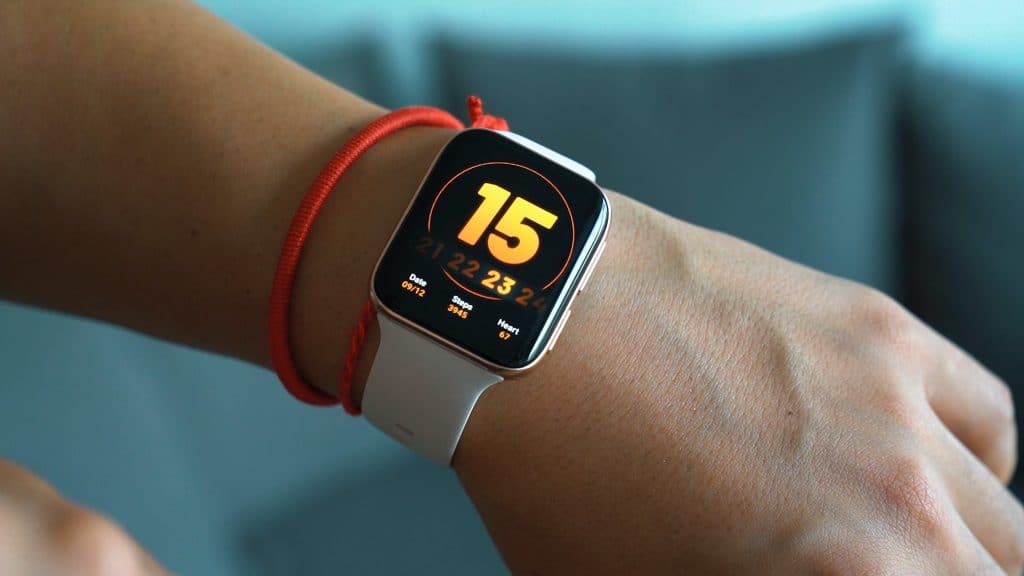 After you've come up with a fitness plan, you can use fitness apps to help you achieve your fitness goals. Instead of spending time googling what kind of exercises you should do, these apps – such as 8fit and 7 Minute Workout – provide you with a all-in-one experience.
They show you a variety of exercises you can do even without any gym equipment. You can also customise your workouts according to the number of reps and the types of exercises you want. Time to get started on your fitness plan!
5. Do Some Yoga
Yoga is a good way to clear your mind when you're feeling overwhelmed. It also helps you calm your mind and helps you increase your flexibility, strength, mobility and balance! All you need is a yoga mat to get started. Follow this video to be directed to the path of peace and relaxation.
6. Try TABATA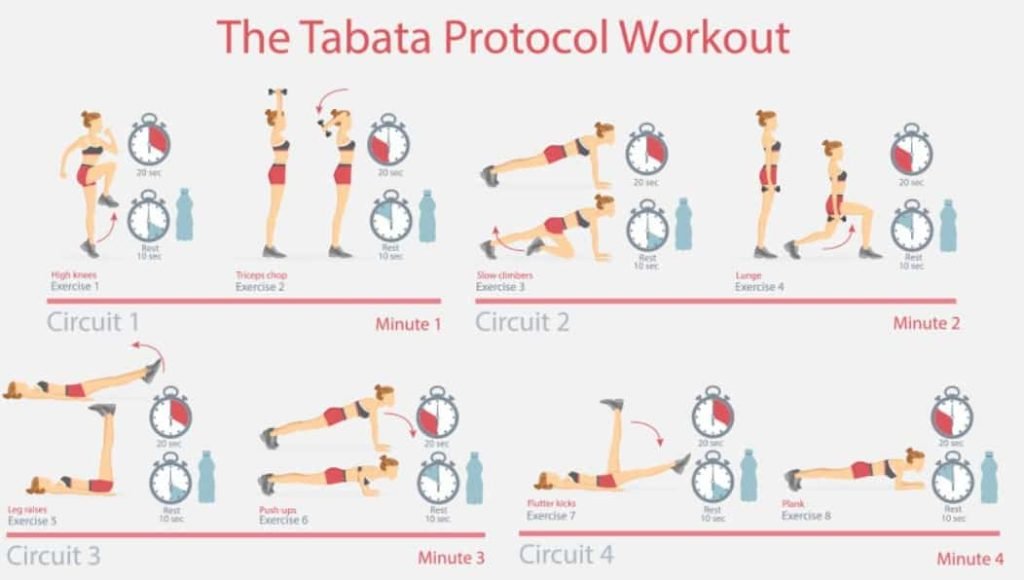 TABATA is a form of high-intensity interval training that can definitely help you strengthen your core and endurance. If you're looking to get fit quickly, you should try doing TABATA workouts. You can start with something simple and move on to something more difficult. A simple workout set includes:
[Pushups (20 seconds) + rest 10 seconds] x 8 sets
[Push-ups (20 seconds) + rest 10 seconds] x 8 sets
[Bodyweight Squats (20 seconds) + rest 10 seconds] x 8 sets
[Burpees (20 seconds) + rest 10 seconds] x 8 sets
[Mountain Climbers (20 seconds) + rest 10 seconds] x 8 sets
You can switch things up by doing different exercises each day, but the idea is to push yourself as hard as possible! You'll be sure to see results when the COVID-19 HA is over!
Mental Wellness
1. Reading
Reading helps to improve our concentration, adds to our knowledge and even helps reduce stress. If you're feeling bored at home, try finding something to read. You can use the NLB's online app to borrow e-books. They have a wide variety of books ranging from fiction to non-fiction books, self help books and even audio books.
I have been reading self- help e-books recently. The great thing about the NLB app is that it allows you the option to browse from those books already available, which is great for me, because I don't like to wait borrow books
2. Sign Up for Free Courses

You can sign up for many courses online to learn new things. Whether it's learning a language, or learning about a marketing technique. Coursera, edX, Khan academy, Linkedin, and of course, Google, provide a variety of free courses for you to pursue.
I've recently just finished the Google Analyst course, and I must say it's indeed rewarding to learn something new. After all, what better way to make use of your time than to learn a new skill for free?
3. Decluttering
Now that we are all staying at home, it is important to ensure that the house is kept clean. Decluttering reduces the number of things you need to clean and organise. Furthermore, it can reduce stress, and improve concentration at home. This link shows you some ways in which you can try to declutter your house.
4. Home Makeover
If you like to keep your home environment fresh, you can do a home makeover. Home makeovers don't need to be expensive, they can be simple and cheap. You can use Cricut to personalise the items in you house. Cricut allows you to create cuttings of almost anything, you just need to give it the image. You can then use those cuttings to give your home a new look. I definitely recommend it!
5. Start an Small Online Business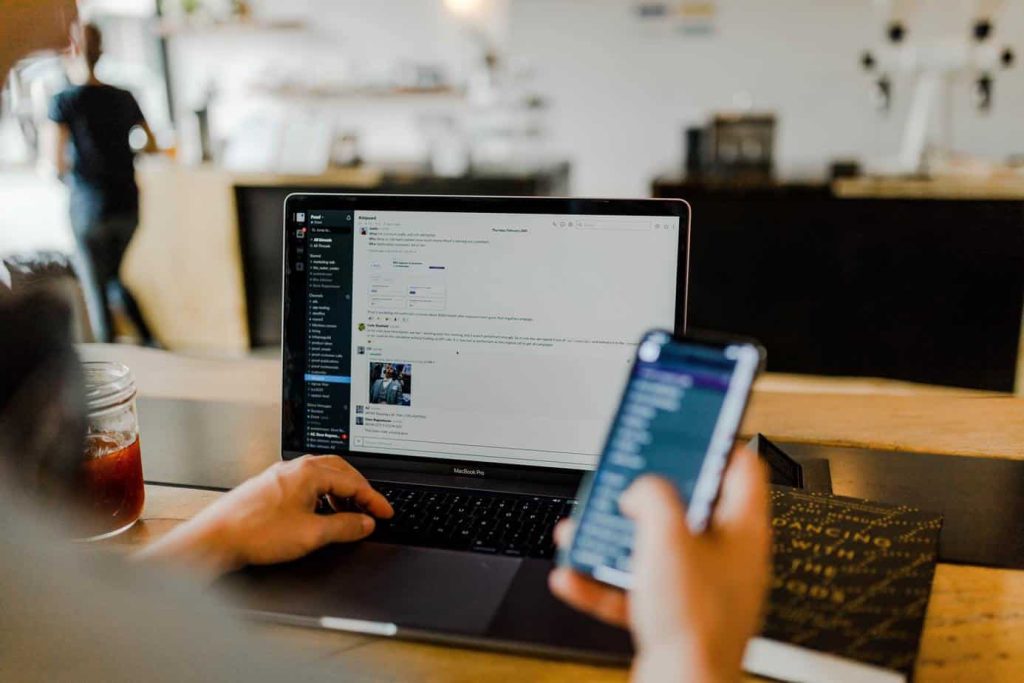 Whether your hobby is doing art and crafts, or baking and cooking, you can make use of this opportunity to make some cash with your hobby.
Simply sign up on Instagram for a business account, or you can publicize your product on your own account too. You can get some inspiration from Instagram accounts such as The Clay Crib. This way, you can do what you like and earn some extra bucks.
During these difficult times, we want extend our support to small businesses, whatever you sell. Hence, we are offering a complimentary listing for small businesses. Just reach out to us at our website and we'll be glad to help!
6. Online Volunteering
Online volunteering is a great way to spend your time. There has been an increase in online volunteering during the COVID-19 pandemic in Singapore, as people find it convenient to volunteer online. If you'd like to give back to the community, this is definitely a good way to start!
You can try volunteering online at the Lions Befrienders, Humanitarian Organization for Migration Economics and many others!
7. Go for a Online Museum Tour
If you're missing museums, you can still "visit" the museums through their online tours. The Singapore Philatelic Museum and the ArtScience Museum offer virtual tours for you! You can view the museum exhibits at your own pace and in the comfort of your home.
However, if you prefer visiting overseas museums, you can also check out The British Museum and the Louvre and enjoy as they whisk you off into another world.
8. Attend Online Talks

Attending online talks can be a good way of gaining new perspectives and occupying your time. This includes TED talks, talks by well-known people etc.
You can also watch webinars and talks by fellow Singaporeans. Depending on what you're interested in, there are talks on how to be your own boss and webinars on opinions and analysis, so you can attend webinars if you're feeling bored or down.
Relaxation and Recreation
1. Cooking
If you're bored at home, you can explore various recipes depending on what you like to cook.
Try experimenting with different foods, flavours and textures. From Hong Kong Style Wonton Noodles to steamed sponge cakes, it's easy to find recipes online that you can follow!
2. Watch Dramas
Watching dramas can be a good way to relax after a tiring day at work. Check out this list to find out which dramas you should watch. Check out these links for the best Korean, Chinese and English dramas in 2021!
The latest Korean drama, Vincenzo, has been such a hit and I found it really exciting hence I thoroughly enjoyed watching it!
3. Online Shopping
You can also try a little retail therapy if you're feeling down. Online stores are a great platform to start browsing. The Great Singapore Sale is coming too, so keep a lookout for the various discounts on a wide range of products on the different websites such as Lazada, Shopee etc.
Currently, Shopee is having a Singapore Parenting Mega Sale and you can expect to get discounts on milk powder, diapers and more. Following that, there you can probably expect a 6.6 sale too!
4. Build a Terrarium
If you're a plant lover and you like to decorate your room with some greenery, try building a terrarium. You won't need many tools and you can use recyclable materials too. What better way to decorate your room, right? Visit this link for the steps and the materials you need!
5. Download New Mobile or Computer Games
Download the latest games and play them with your family and friends if you're feeling stressed. The list of games is endless – from Genshin Impact to PUBG, you'll definitely find something you like. You can also check out this list of games to help you tide through Phase 2 (HA).
I've been playing Mobile Legends and I think it's really engaging because there are many different characters you can play. You can play the game on your own or with your friends!
6. Virtual Escape Room
If you're up for some thinking, mystery and excitement, try participating in online escape rooms with your friends! It's definitely a great way to bond and challenge yourselves.
Visit the Escape Room Singapore website if you're in for some fun. Prices start from $20 per pax. Besides escape rooms, you can also try the virtual amazing race or time travel.
7. Colouring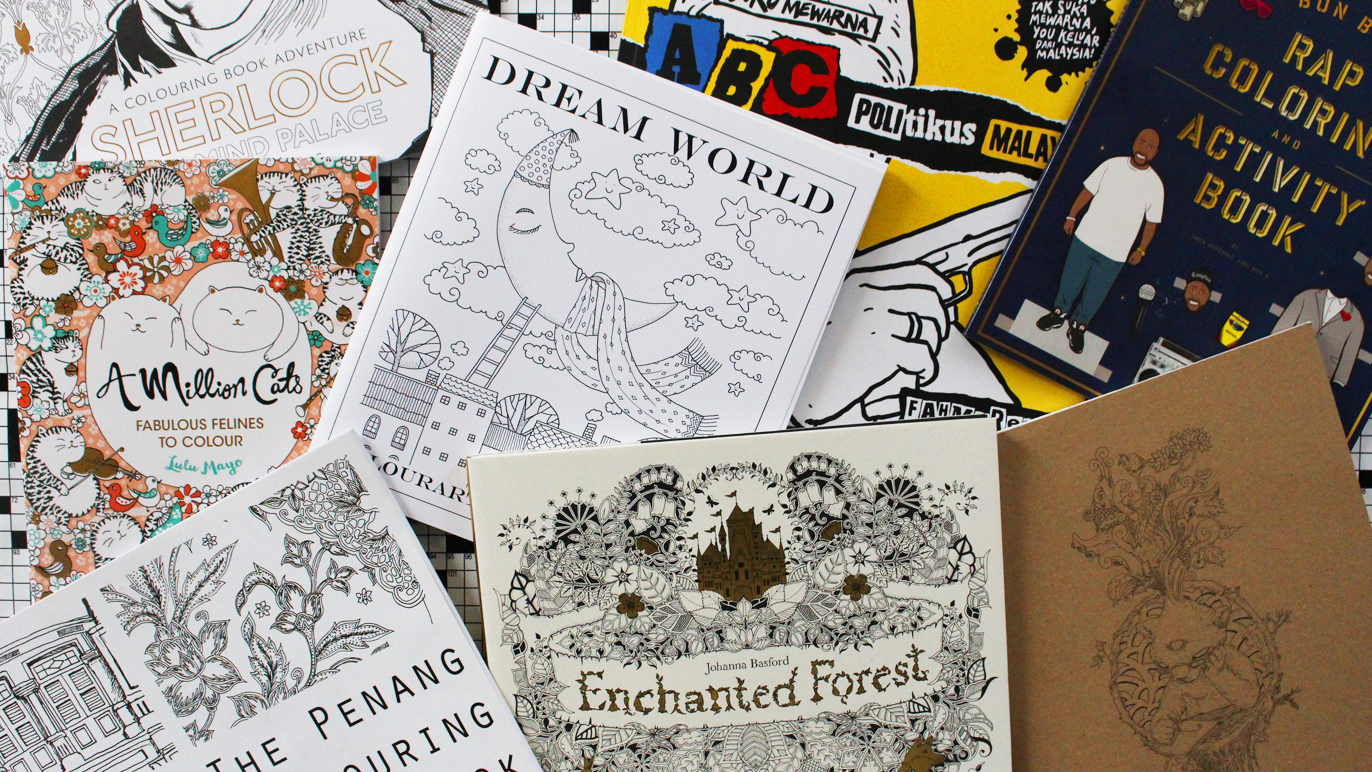 Research has shown that colouring helps to calm the mind. Here are some adult colouring books you can buy to give colouring a try. There are different types of colouring books including geometric, floral, animal, nature and pattern colouring books. Visit this link to purchase your colouring book now from $1.20 only!
8. Puzzles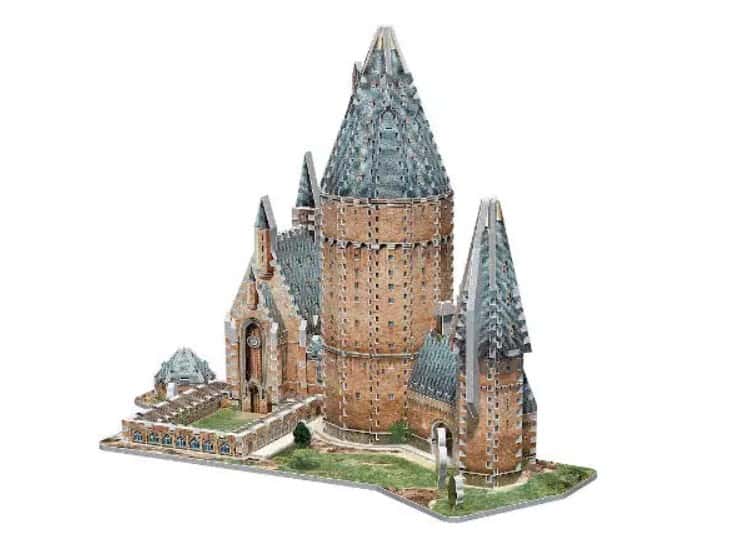 Solving puzzles can be relaxing and satisfying at the same time. It also helps to increase your memory and increases your attention to detail. Personally, I love solving puzzles because it is extremely calming. There are different types of puzzles – 2D and 3D puzzles. If you're interested, you can check out this link to look at the beautiful 1000 piece puzzles that cost $9.90!
Conclusion
It's definitely a difficult time for everyone, hence we hope that this list can give you some ideas and inspirations on the things you can do during the COVID-19 HA!
Do you have any reviews and comments to share regarding our list of things to do during the COVID-19 HA?
While SBO is committed to supporting our local businesses, we welcome any feedback and anonymous sharing regarding your experience with the suggested activities to do during the COVID-19 HA.
We hope that this guide will be useful in helping you decide what to do during the COVID-19 HA.
Explore More Content