Don't Want to Give Up Equity or Take Up Debt? Find Investors on Crowdfunding Sites
Crowdfunding is an easy way to raise funds. It grants even the most inexperienced of entrepreneurs access to investors. But should you raise funds via crowdfunding?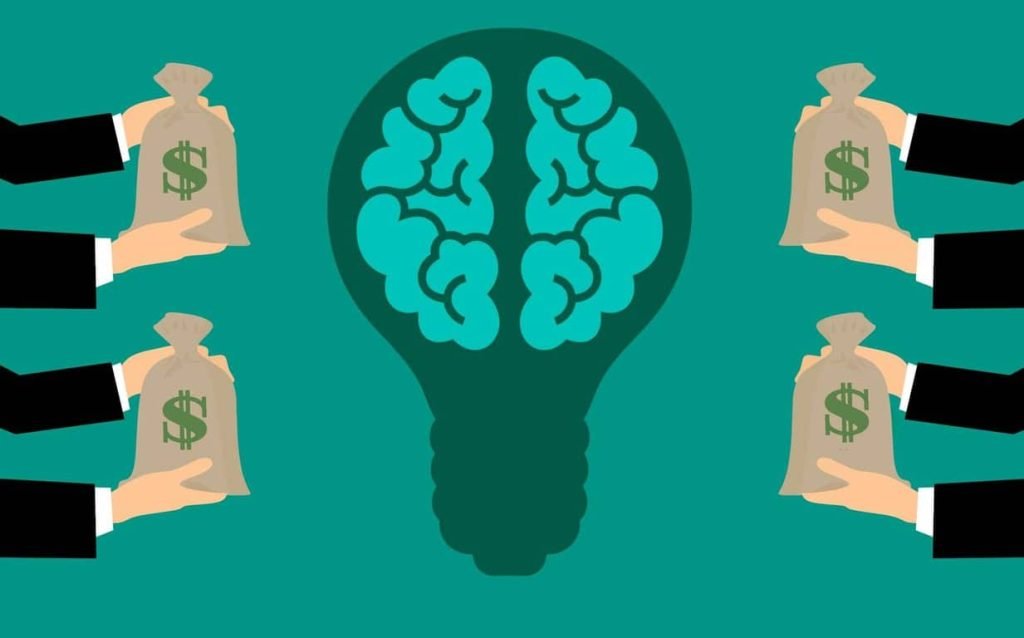 Every business requires funding at a certain stage of its lifecycle. In the beginning, you may raise some seed capital through family and friends. As business picks up, you may consider getting a business loan, bringing in equity partners or seeking out angel investors. Once you grow to a certain size, you may even attract offers from venture capital or a private equity firm that are interested in a share of your business. But now there's a hot (and relatively) new way of raising funds: crowdfunding.
Instead of trying to raise large sums of money from a few individuals, crowdfunding attracts small investments from many people. You start by listing your business on crowdfunding sites, such as Kickstarter or Indiegogo, which exposes you to millions of investors. Those who want to invest in you will put in a small sum of money, often in exchange for your product (crowdfunding is usually not suitable for services). When you reach your funding goal, you'll receive the funds raised and pay a processing fee and any other ancillary fees to the service platform.
How is crowdfunding doing globally?
Fundly reported that US$34 billion have been raised globally through crowdfunding as of 2017. Just in the US, there are about 200 crowdfunding platforms. As of April 2018, Kickstarter alone has seen 412,494 projects launched and US$3.39 billion raised. It is estimated that the industry will grow past US$300 billion by 2025.
In Asia, the crowdfunding transaction value amounted to US$7.6 billion in 2018, of which US$7.48 billion comes from China, topping the chart in terms of global transaction value.
How about the situation in Singapore?
Singapore's crowdfunding campaign growth has stalled at about 200 campaigns per year and is expected to remain so till 2022. However, the average funding per campaign grew from US$4,843 in 2016 to US$5,266 in 2018 and is expected to rise to about US$6,228 in 2022. So far in 2018, Singapore has seen US$1 million in total transaction value.
Despite the seemingly lukewarm growth in the number of campaigns, Singaporeans are still one of the most active on crowdfunding platforms. In 2014, Singapore came in 10th in terms of total Kickstarter pledges. This means that there's still room for crowdfunding to grow here, and business owners should take the chance to capture the attention of an audience that is already very familiar with crowdfunding.
Why should I crowdfund?
Minimal seed capital required
It's hard to start a business without capital. Investors often require the entrepreneur to have seed capital before they would even consider investing. It's a chicken and egg issue.
But when it comes to crowdfunding, all you need is a good idea and be able to communicate it effectively to get the funds. If you're able to convince your backers that you have a product that you can deliver, they are not going to ask too much about how you're going to get there, let alone your own investment into the business so far.
It's relatively easy
You don't need to have any experience to get started. The major platforms guide you through the setup step by step. There's no need to go through the tedious process of preparing a lengthy business plan and detailed financial projections. Your investors are unlikely to ask for them since the investment amount tend to be small. The only difficult part is to ensure that your brand story and the product is attractive.
Another good thing about reaching out to investors on crowdfunding platforms is that you just need to prepare your presentation once and thousands of investors will look at the same one. No more nerve-wrecking pitches to investors over and over again.
Don't need to give up equity nor repay debt
Unless you're looking at debt or equity crowdfunding (which, by the way, is known as crowdinvesting), you won't need to be tied down by financial commitments or contractual agreements. This is great for the entrepreneurs who are averse to giving up control or be in debt. They just have to focus on delivering a great product once the campaign is successfully funded.
Limited risk
The greatest thing about crowdfunding is that it enables you to pre-sell your products. You can be sure that the demand is there even before you start manufacturing. Furthermore, with a definite number, it's easier to negotiate with manufacturers on a lower price per unit, which increases your margin. The benefit is two-pronged: you reduce your financial risk while being able to leverage on economies of scale.
Even if it's a failure, your sunk cost will be limited to the time spent on the campaign and any prototype you worked on.
Market validation
Crowdfunding works especially well as a testing ground for a novel product. What better way to test out the market demand than the market itself? The best part is that you don't even need a ready product. The success of the campaign not only proves that there is interest, but also that people are willing to pay for it.
Real-time improvement with customer feedback
Customer feedback often only come in after time and money has been invested in making a product. Crowdfunding provides businesses with an unprecedented customer feedback mechanism in the early stages of product development. You can now communicate directly with your customers and create polls and surveys to understand what they want and don't want to see in the product. This drastically reduces the guessing game and the time spent on research and development, which means you can confidently put your product out in the market sooner.
Great marketing platform
These platforms are the town squares for investors, and there are millions of them. They gather there to see what's new and where to put their money. Being on a crowdfunding platform makes it easier for potential backers to stumble upon you.
Why shouldn't I crowdfund?
Communication isn't your forte
You should be ready to handle questions from backers, keep them updated on the project's progress and put out the flames that backers can direct at you at any stage. But if you're not good at communication and are unable to have a dedicated team member to deal with people, you have a PR disaster waiting to happen, and it'll happen fast. Even if you're a legit company, it unnecessarily puts a dent to your brand.

It can be time-consuming
The number of investors you need to deal with when taking the traditional fundraising route is about a handful at worst, since these few investors are putting in good money that would've met your company's financial needs.
But crowdfunding means that you'll have to deal with hundreds or even thousands of investors. Communicating with this large group of people takes up precious time and resources that startups are already lacking. Furthermore, unlike traditional investors, they are not industry experts and will not understand the challenges you may face during the crowdfunding campaign, such as manufacturing costs and delays. If you miss certain milestones, you will have a lot of answering to do.
The clock is ticking
All crowdfunding campaigns have a deadline, and you'll have to make sure you buffer enough time for delays. Many companies underestimate the time they need, delay the project for months and end up with a chorus of "refund!" to deal with because many backers don't see crowdfunding as a form of investment that carries risks. Given enough delay, there'll be pages sprouting that calls your company a fraud.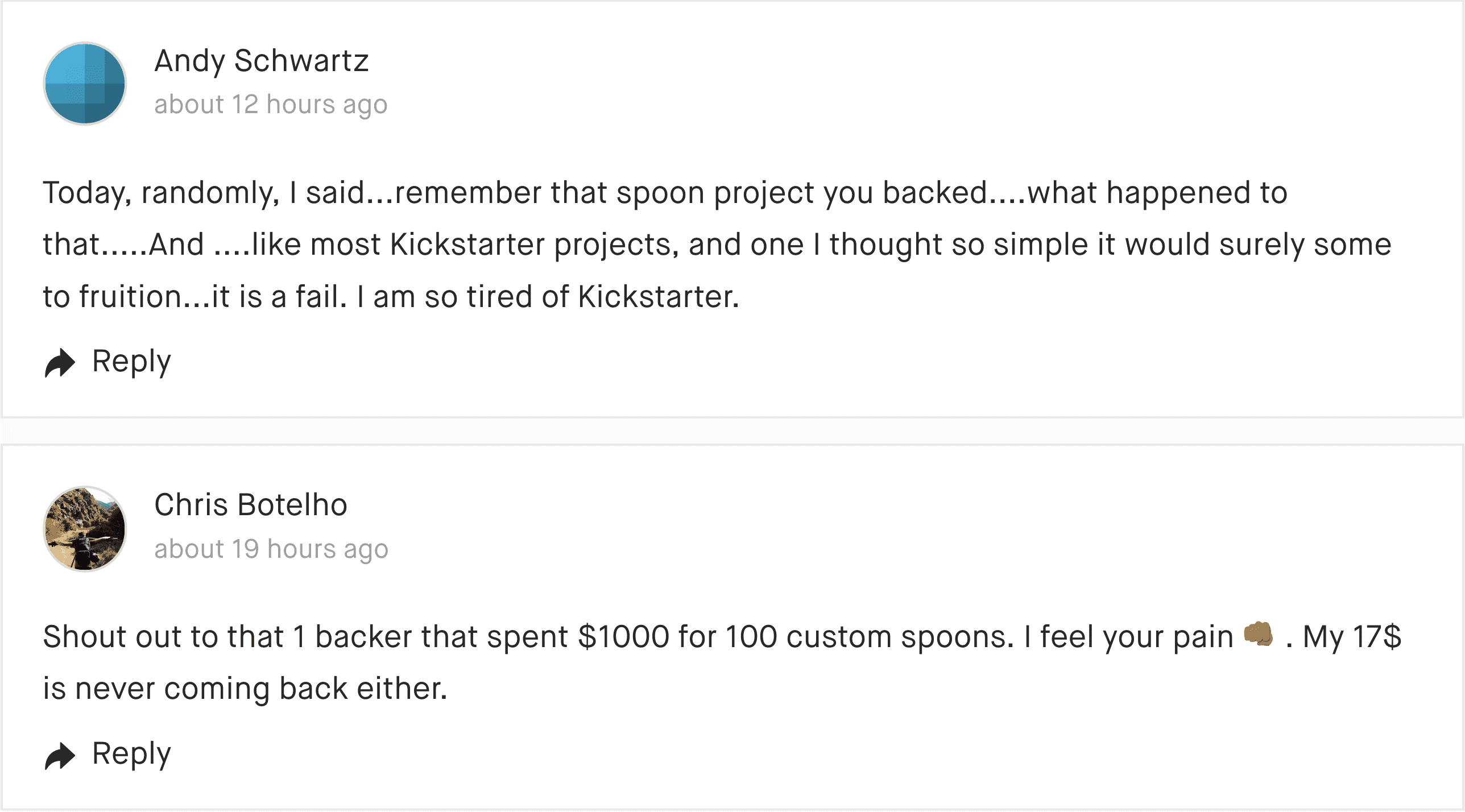 Crowded platforms
With more businesses realising the potential of crowdfunding, even established companies are diving in. These companies have deep pockets and coming up with an attractive product with compelling marketing is not a big problem for them. Smaller players would have to think of ways to stand out on platforms with hundreds of active campaigns at a time.
Risk of copycats releasing versions of your product
To get investors, you'll have to disclose a fair bit about your products. This is also true when you're crowdfunding. The problem with that is people get early access to your ideas, and nothing is stopping them from ripping you off.
There are many horror stories of manufacturers that took the product designs entrusted to them, produced the products and sold it as their own. The more hungry ones scour the platforms for good easy-to-copy goods and release the products even before the original crowdfunding campaign is over.
Before you hop on the bandwagon…
It's easy to buy into the idea of crowdfunding, given the success and profits that many companies achieved. However, it is important to note that crowdfunding is not suitable for every business, and your ability to cope with the demands that come with this method of funding will decide your company's fate.
Featured image by Mohamed Hassan
---
Have you ever raised funds on a crowdfunding platform before? Share with us your experience in the comment section below.
Explore More Content