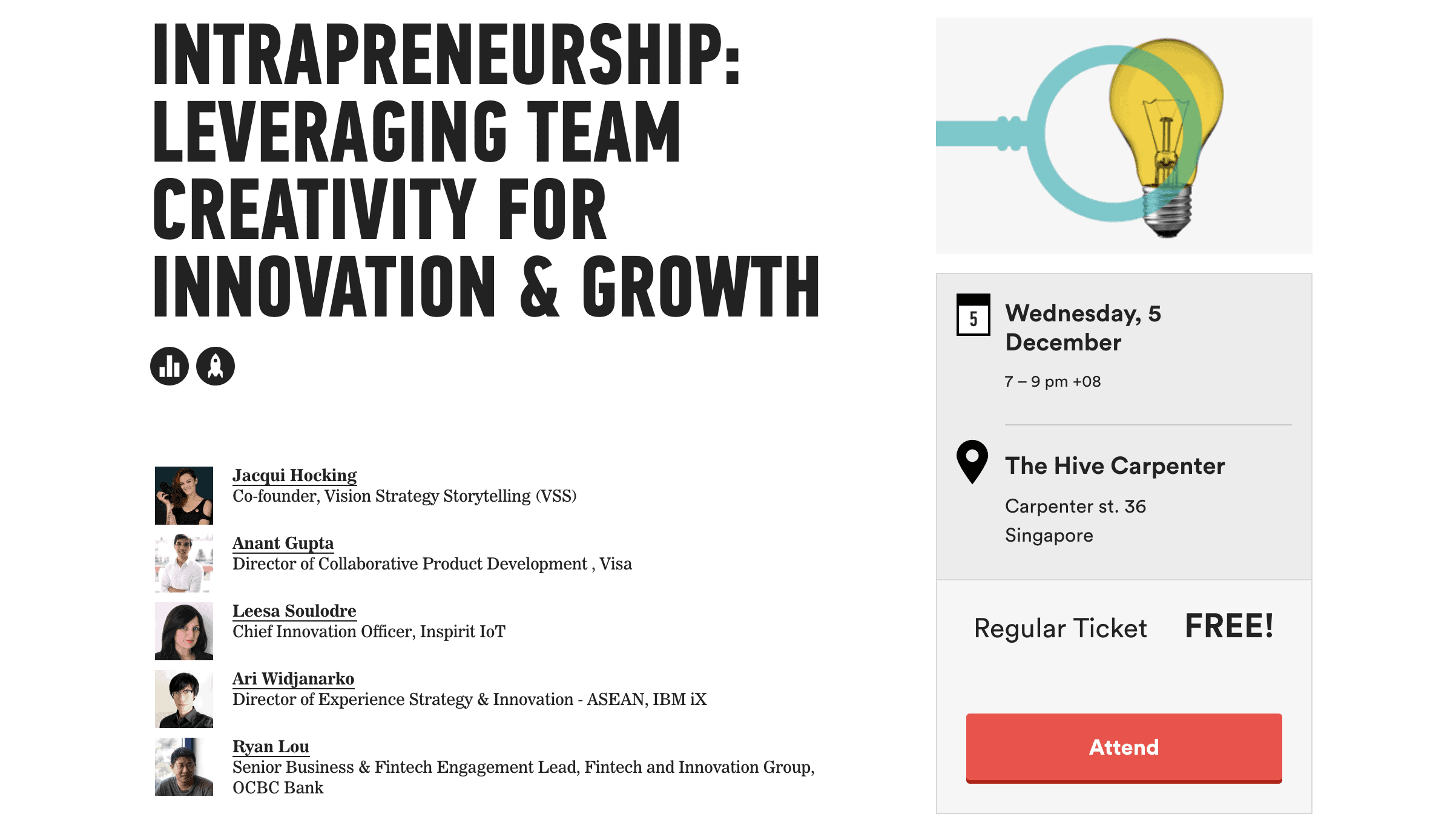 Published:
|
Updated:
|
Posted in Event
1. Intrapreneurship: Leveraging Team Creativity for Innovation & Growth
What is it about?
Sometimes the best ideas come from the team. With the business landscape constantly evolving and competition ever tightening, it's more and more important for businesses to tap on the creativity from within to come up with innovative solutions that are profitable, sustainable and may even solve world problems.
Highlights
Hear about
Multidisciplinary collaboration that leads to innovation
The integration by design of sustainability in business
Social responsibility beyond checking a corporate box
Using culture as differentiation and competitive advantage
Adapting new technologies to local realities
Creative thinking to build talent, consumer base and new market.
You should attend if you
Want to bring your business to the next level with the help of your team.
Besides making a profit, you would also want to help solve world problems.
Date and time
5th December 2018, 7 pm – 9 pm
Venue
the Hive Carpenter, 36 Carpenter Street, Singapore 059915
Price
Free
2. FuckUp Nights Singapore #23: A Night of Candid Sharing on Failure by Entrepreneurs
What is it about?
Fuckup Nights is a global movement to share business failure stories in a candid way – to destigmatize and explore the tough moments, to create a more solid foundation for innovation.
Highlights
4 entrepreneurs will be sharing their failure stories.
You get the chance to ask them anything you wish to learn from their failures.
You should attend if
You're a first-time entrepreneur.
You're thinking of starting your own business.
You want to have a gentler learning curve.
Date and time
6th December 2018, 7pm – 9pm
Venue
Found. Princep, 128 Prinsep Street, #01-01, Singapore 188655
Price
Free
3. Data Analytics Workshop
What is it about?
Collecting quality data and putting it to use can help boost a company's performance. In this workshop, learn how analytics can help bring your company to greater heights.
Highlights
Get up to date with the current trends.
Understand the role of analytics areas such as social networks, marketing and business intelligence.
You should attend if
You are a working adult/professional looking to learn a new skillset or transit career paths.
You are a student who is interested to know more about the profession of a data analyst.
You are interested in big data and future career opportunities.
Date and time
19th December 2018, 7pm-9pm
Venue
7 Jurong West Ave 5, #02-01, Singapore, 649486
Price
Free