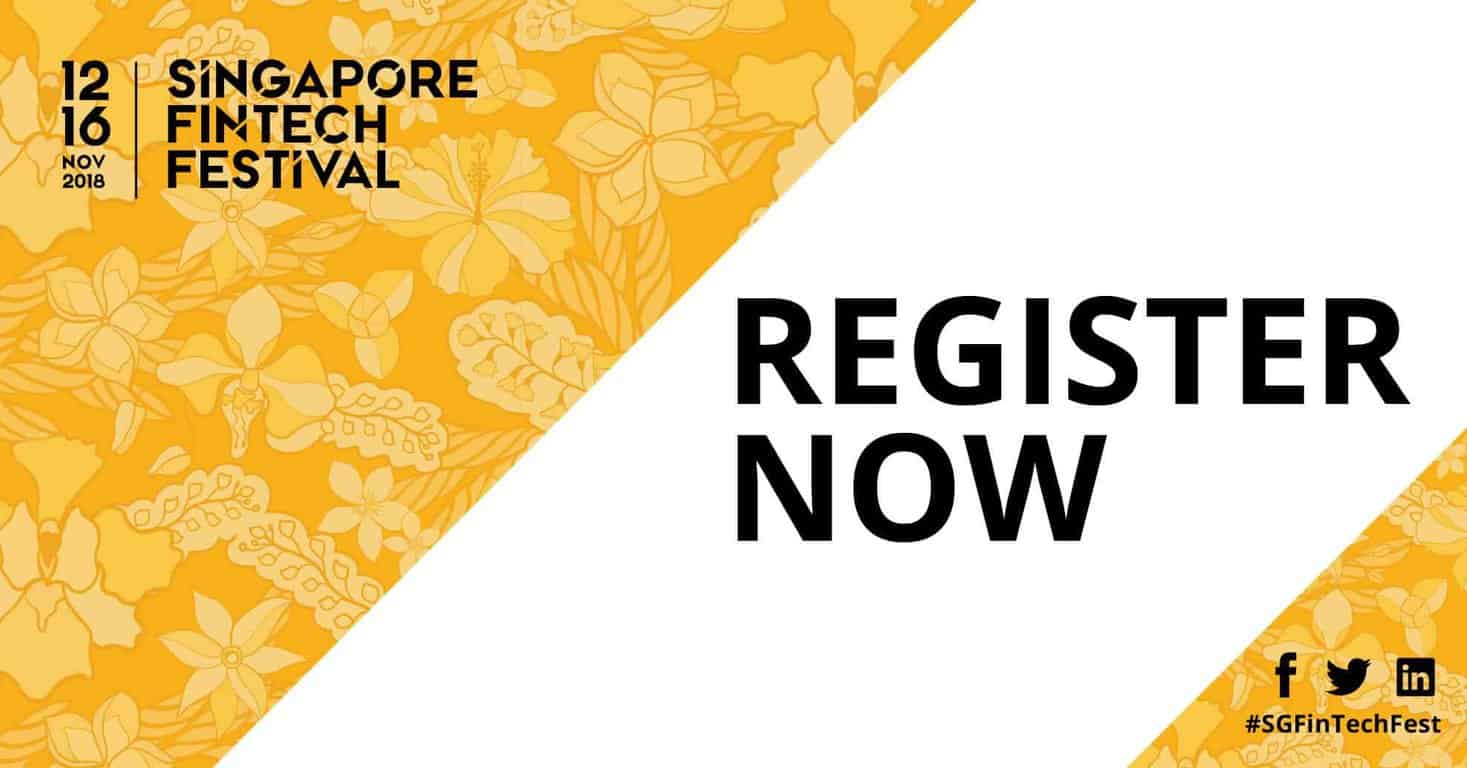 Published:
|
Updated:
|
Posted in Event
1. Singapore FinTech Festival
What is it about?
The third edition of Singapore FinTech Festival, organised by the Monetary Authority of Singapore (MAS), promises improvements to popular segments and introduces new segments. The broad focus of the event aims to engage fintech enterprises and professionals of every level from anywhere in the world.
Highlights
Popular segments from previous editions, including FinTech Conference & Exhibition, FinTech Investor Summit and Global FinTech Hackcelerator.
Two new segments, namely ASEAN FinTech Showcase and Artificial Intelligence in Finance Summit.
Why should you attend this event?
The movers and shakers of the fintech world are likely to be gathering there. According to MAS,
Last year, the Festival drew more than 30,000 participants from over 100 countries, comprising FinTech players, technopreneurs, policy makers, financial industry leaders, investors including private equity players and venture capitalists, and academics. More than 5,000 companies were represented at the Festival last year.
You'll be riding on a government-led fintech wave with the vision of making Singapore the world's fintech hub.
Who should attend?
Anyone in the fintech industry, especially startups, enterprises and investors.
Date
12th-16th November 2018
Venue
Various locations
Price
Free – $499
NOTE: Registrants from ASEAN and startups get a huge discount. Register here.
2. Women Changemakers #5
What is it about?
"Watch a panel of C-level women executives talk candidly about the biggest personal changes they went through and the impact it made on their lives."
Highlights
Build Your Chops: Learn how women can keep themselves competitive in male-dominated industries while balancing their personal and family life.
Create Your Legacy: Listen to how some female entrepreneurs make the jump from the corporate world.
Why should you attend this event?
If you're a woman, you're sure to be able to relate to the challenges that the female speakers face and learn how to overcome them.
If you're a man, you're sure to learn more about the challenges that women face and hopefully contribute to a more women-friendly workplace or business environment.
Who should attend?
"Corporate women, executives, solopreneurs, freelancers, fresh grads or even those new to town seeking transitions, inspiration, and purpose." Men are welcomed to sign up too.
Date and time
24th November 2018, 9.30am-6.00pm
Venue
Philips APAC Centre, 622 Lor 1 Toa Payoh, Singapore 319763
Price
Early bird special (ends on 3 November 2018): $60. Regular ticket: $90
3. Managing Distributed Teams: Collaboration in Tech Environments
What is it about?
With the rising gig economy and a greater desire for freedom, companies need to learn how to enable their employees to work remotely and collaborate with teams of people all over the work. This discussion shares more on best practices when it comes to remote-work arrangements.
Highlights
Gain insights into practical things you can do to collaborate with people remotely.
Why should you attend this event?
More people want more flexible work arrangements. Knowing how to implement it keeps your employees happy and your business running.
It's harder to find employees in Singapore these days. Learning how to work remotely with people overseas helps you to keep the business going and may even lower your operational costs.
Who should attend?
Business owners and decision makers who want themselves, their employees, or anyone they engage to work remotely.
Date and time
27th November 2018, 6.30pm-9pm
Venue
SGInnovate, 32 Carpenter St, 059911
Price
Free
4. Video Marketing Strategies World 2018
What is it about?
Video is the most popular content format today. In fact, Social Media Today noted that "video posts on Facebook have 135% greater organic reach than photo posts". This summit gets you ready from planning to executing video content.
Highlights
Hear about industry trends and developments.
Learn video strategies and key considerations.
Get a glimpse into video content of the future that involves AI and VR.
Why should you attend this event?
Video remains a very strong content format that gets attention.
The program lineup promises practical insights and tips.
Who should attend?
Anyone who wants to throw video into their content mix.
Date and time
19th-20th November 2018, 8am-5.45pm
Venue
One Farrer Hotel & Spa Singapore, 1 Farrer Park Station Rd, Singapore 217562
Price
Early bird special (ends on 31st October 2018): $1,380
5. Navigating IP & Competition Law Issues
What is it about?
Many business owners are too busy to think about IP and competition law, but things can get complicated when they infringe on the law or become a victim of such infringement. This seminar touches on the basics of IP and competition law and illustrates the law with recent cases.
Highlights
FRAND (fair, reasonable and non-discriminatory) licenses and commitments.
IP and consumer protection.
Why should you attend this event?
If you're in a business dealing with intellectual properties, you should know the basics.
Who should attend?
Company Directors, Managers, Corporate Strategy Executives & Business Consultants (who need to keep abreast of IP, Competition and Regulatory landscapes in Singapore and beyond)

Lawyers & In-House Counsels (esp. in fields of IP, Competition & Corporate Commercial Law)

Regulators

IP Professionals

Public Officers who have a keen interest in this topic

Professionals who have a keen interest in this topic
Date and time
13th November 2018, 2pm-5.30pm.
Venue
IP Academy, 51 Bras Basah Road, #01-01 Manulife Centre, Singapore 189554
Price
$267.50
Featured image by Singapore Fintech Association