11 Best Payroll System in Singapore to Pay Your Employees on Time With [2023]
Find the best payroll system in Singapore to pay your employees on time.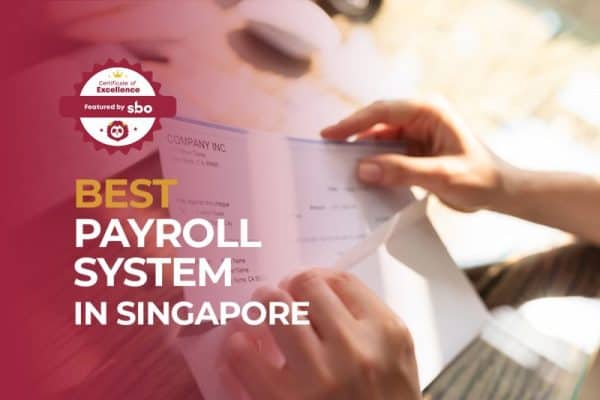 Long gone are the days when employers would transfer employees' salaries to their bank accounts manually. These days, most employers in Singapore have been implementing electronic payroll systems.
These electronic payroll systems automate the payment process and take the cumbersome weight of payroll admin off their shoulders.
For Small and Medium Enterprises (SMEs) in Singapore looking to implement an electronic payroll system to improve the productivity of your Human Resource processes, we have good news for you.
Enterprise Singapore recently launched the Productivity Solutions Grant, which encourages enterprises to continue their digitalisation and productivity upgrading efforts.
The maximum funding support level, which can be applied to implement e-payroll systems, will be raised to 80% till 30 September 2021.
In this post, we've gathered all the necessary details and testimonials to derive a list of the 11 best payroll system in Singapore to pay your employees on time.
1. Payboy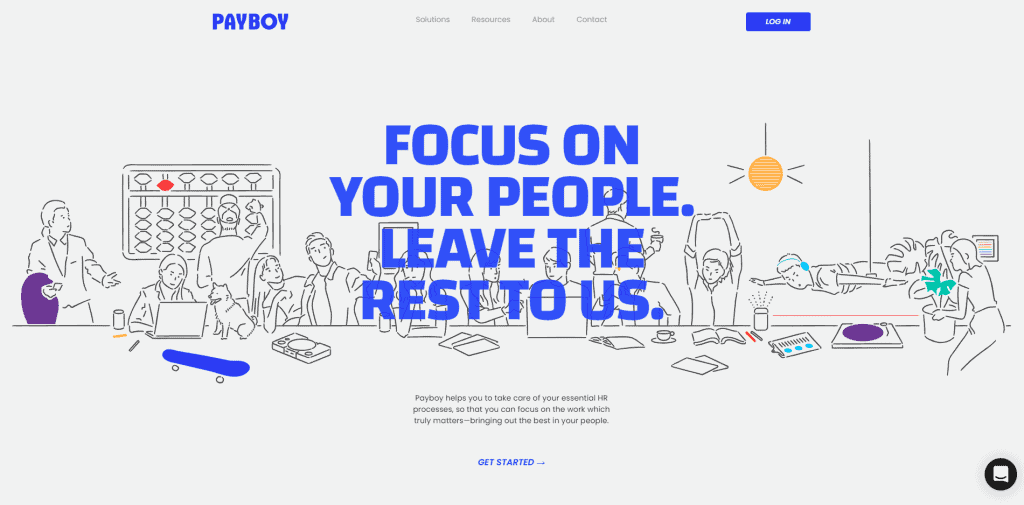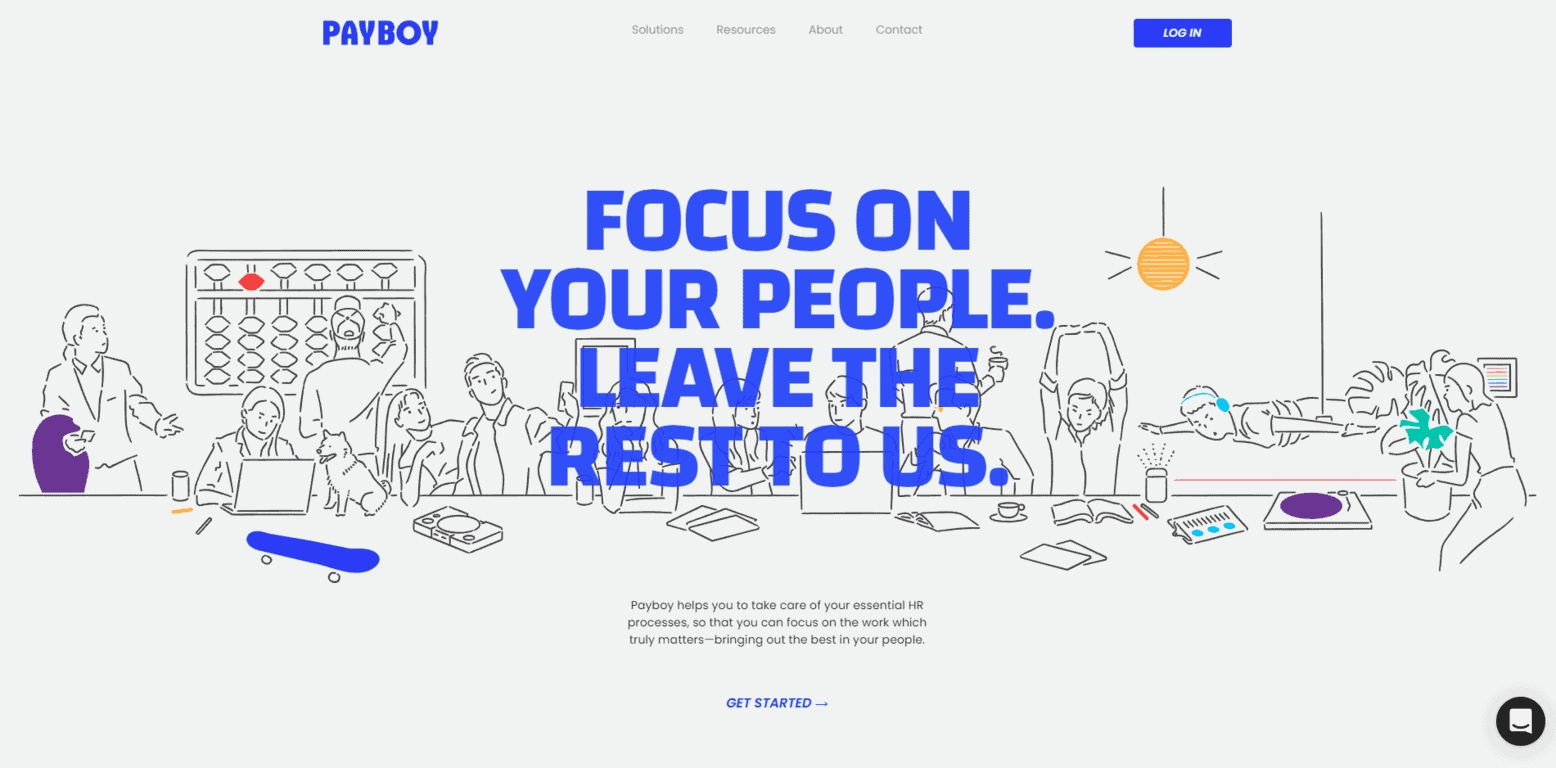 Payboy is a Payroll and HR Management Software which automates the essential HR processes through a seamless ecosystem, so that businesses can focus on the HR work that truly matters – bringing out the best in their people.
If you are a Small to Medium Enterprise and don't require all the features in a full suite human resource management system, you can do it all with Payboy's flexible selection of modules.
These modules can help you to tailor a solution that solves the unique challenges faced by your business, while you take comfort in the fact that their software architecture also has the ability to scale towards 1,000,000 employees as your business grows.
Payboy's new Antigen Rapid Test (ART) module helps to simplify the process for employees' ART tracking.
The ART results will be stored and ready for easy export to Health Promotion Board's Swab Registration System.
It also facilitates the entry of visitors safely through the use of unique weblinks and QR codes for different offices and outlets.
Additionally, businesses can customise the visitor form based on their requirements.
2. QuickHR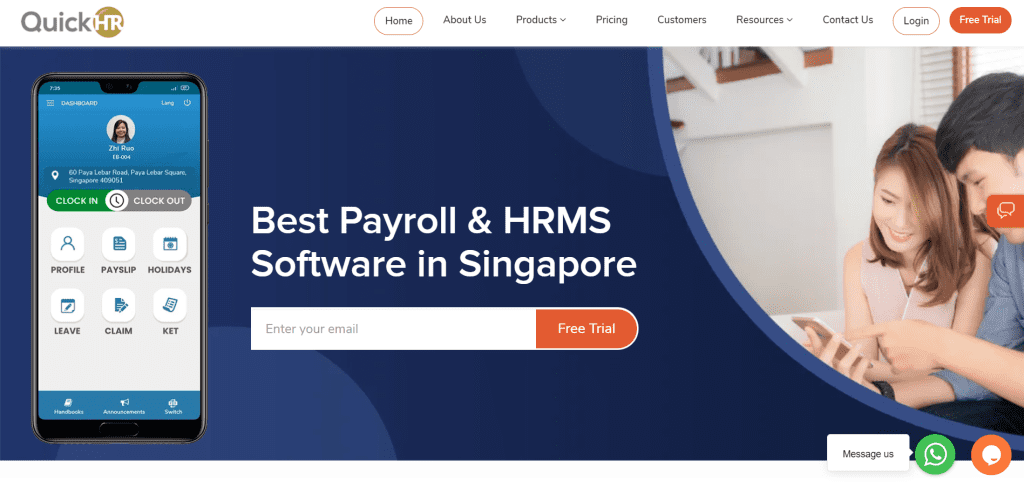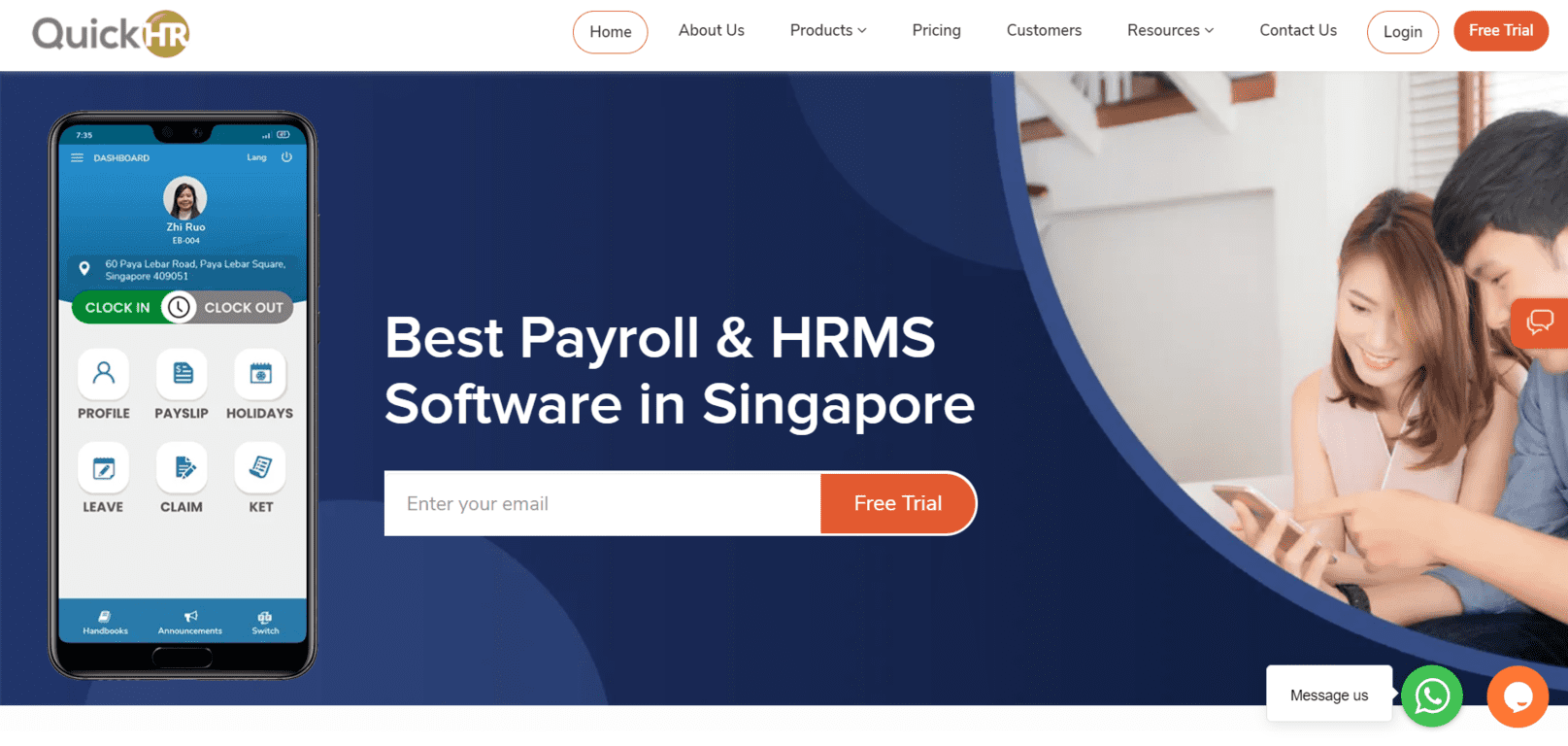 With QuickHR, you will be able to easily manage your payroll and ensure regulatory compliance in accordance with Ministry of Manpower (MOM), Central Provident Fund (CPF), and Inland Revenue Authority of Singapore (IRAS) regulations.
Their all-inclusive software automatically syncs with other employees' records such as leave, claims, timesheets, attendance, and even biometrics for staff clock-in/out.
These help you streamline time-consuming HR processes and ensure that everyone receives accurate and fair compensation.
Their payroll software can also be integrated with Xero and QuickBooks Online, allowing you to manage real-time records.
This then enables you to dedicate the time saved to tackling higher-level tasks.
More importantly, QuickHR is known for constantly upgrading their software to meet the ever-changing business needs of their clients.
Unlike other HR solutions providers that outsource their customer support service, QuickHR has a dedicated in-house support team who's always ready to help you.
Attesting to their holistic and reliable services, they won multiple awards in 2021 – the HR Vendors of the Year Awards and HRM Asia Readers' Choice Awards.
With more than 2,000 clients, 95,000 users, and over eight years of experience in the industry, QuickHR delivers customer-centric solutions to Start-ups, SMEs, and Enterprises.
So if you're looking for HR software that caters to business growth, QuickHR is one of the best platforms to tap on.
For small businesses with tighter budgets, their rates for high-quality, cost-efficient services start from just $2 (with up to 70% PSG subsidy)!
Larger corporations like NEC, Unilever, AXA, Millennium Hotels & Resorts also benefit from Singapore's most secure cloud-based HRMS (MTCS SS584:2015 certified) with an unrivalled breadth and depth of features.
*NEW* QuickHR is one of Singapore's first full-suite HR software providers to provide Singpass login. Click here for more information.
Book a free trial today to watch QuickHR in action!
3. JustLogin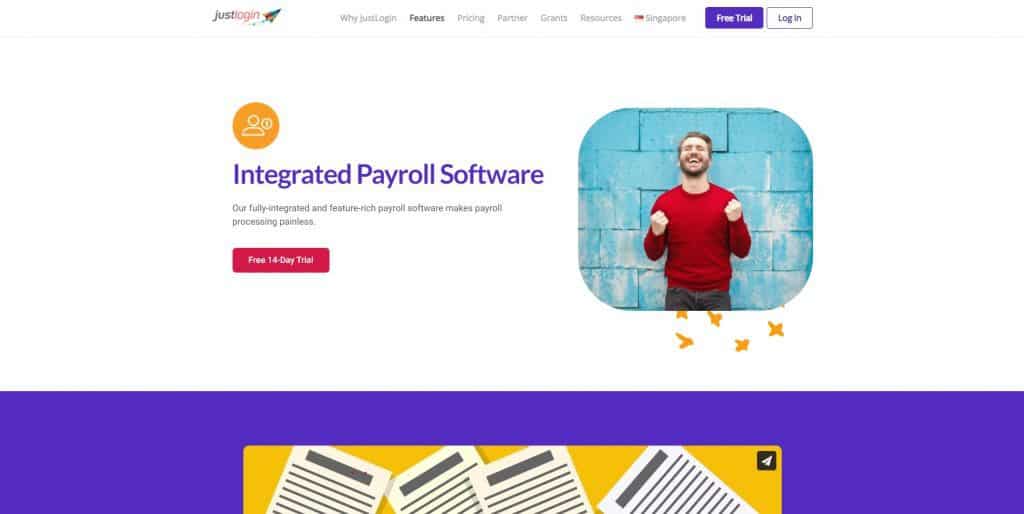 JustLogin is an integrated payroll software that will make the employee salary payment process less of a hassle.
With inbuilt compliance features designed in accordance with the regulations of MOM, CPF and IRAS as well as the constant update of the contributions and other policy changes, you can be assured of a faster payroll process.
It also allows you to generate ready-to-import bank files for fuss-free payroll payments.
The software seamlessly syncs across their entire application which will save you the hassle of manual data entry.
You can also automatically sync your payroll data to your favourite accounting software (either Xero or QuickBooks Online).
The best part of it all: the payroll system in Singapore even offers a free 14-day trial!
4. Kayaroll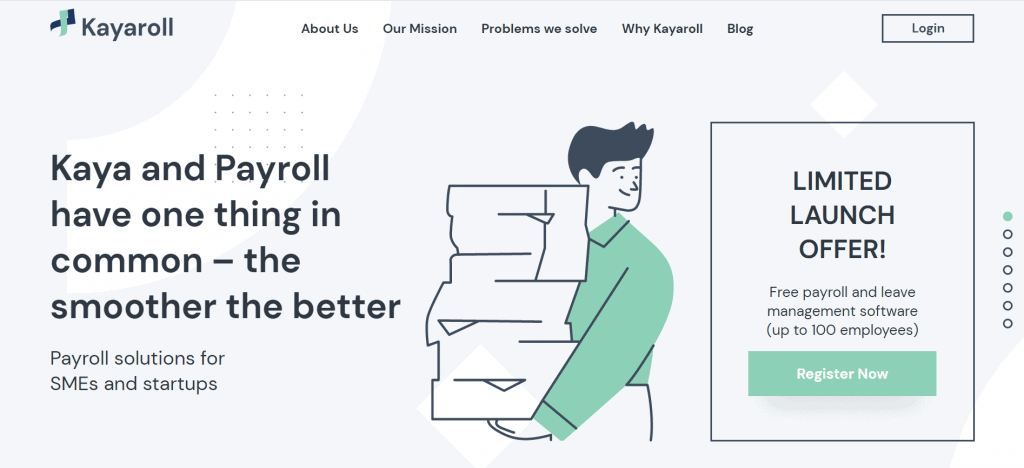 Kayaroll is probably the newest and coolest kid on the block in the payroll arena.
They are an up-and-coming SME software provider in Singapore that is offering their payroll software and leave management module completely FREE, for up to 100 employees.
This makes it perfect for SMEs and startups who want to improve their business processes without incurring additional costs.
Their payroll solution is fully attuned to Singapore's CPF and tax reporting requirements, and its integration with CPF as well as IRAS as an Auto-Inclusion Scheme (AIS) vendor will allow you to settle all payroll-related matters on a single platform.
Kayaroll also boasts an impressive suite of complementary features, including leave, overtime and casual labour management.
It even has an employee portal for payslip access or leave applications.
With its simple and intuitive user interface, anyone can use Kayaroll.
They promise excellent customer support, with payroll experts ready to assist you through your entire user journey with Kayaroll.
5. ADP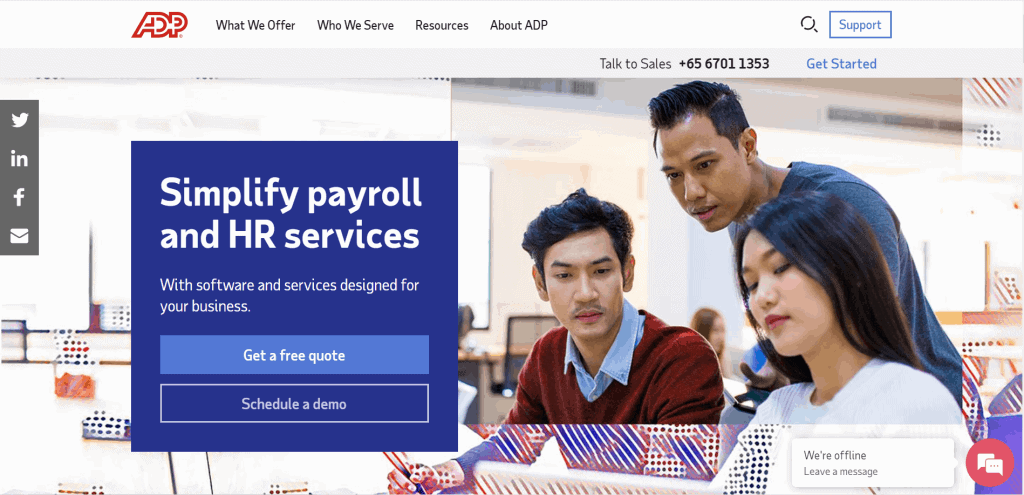 ADP is a comprehensive global provider of cloud-based human capital management (HCM) solutions that unite HR, payroll, talent, time, tax and benefits, and a leader in business outsourcing services and analytics.
With 860,000+ clients around the globe, ADP has worked with employers of every size.
You can choose from three of their standard payroll system packages: 1-199 employees, 200-999 employees, and 1000+ employees.
Their payroll system in Singapore comes with the following features:
Automated online payroll processing
Access to global workforce data for analysis and reporting
Simple integration with other systems and applications
Expert payroll software for your business
Flexible and scalable payroll outsourcing services for Singapore and other markets
The payroll system in Singapore has clinched numerous accolades which include the following:
LinkedIn Top Companies
Fortune World's Most Admired Companies
Standard & Poor's and Moody's Exceptionally Strong AA/Aa credit ratings
6. KeyPay
KeyPay is an all-in-one payroll system in Singapore specially designed up for accountants and payroll outsource providers.
You will be able to automate the entire payroll journey and free up time to grow your client base.
KeyPay boasts the following features:
Automation of payroll tasks: With a one-off setup, pay runs, CPF calculations, timesheet imports, and report distribution can be scheduled to run automatically.
Integration with Xero: You can automate journal entries after each pay run and map accounts with the ability to split by location, eliminating the need for Excel uploads.
Employee self-service: You can easily review and manage your client's employee data like leave and expense claims within the same system as payroll, reducing business costs.
As a partner, you will also gain access to the following resources to ramp up your payroll capabilities:
Partner dashboard
Partner resources
Partner support
Their payroll system for partners begins from $4 per employee per month.
7. eVantage HR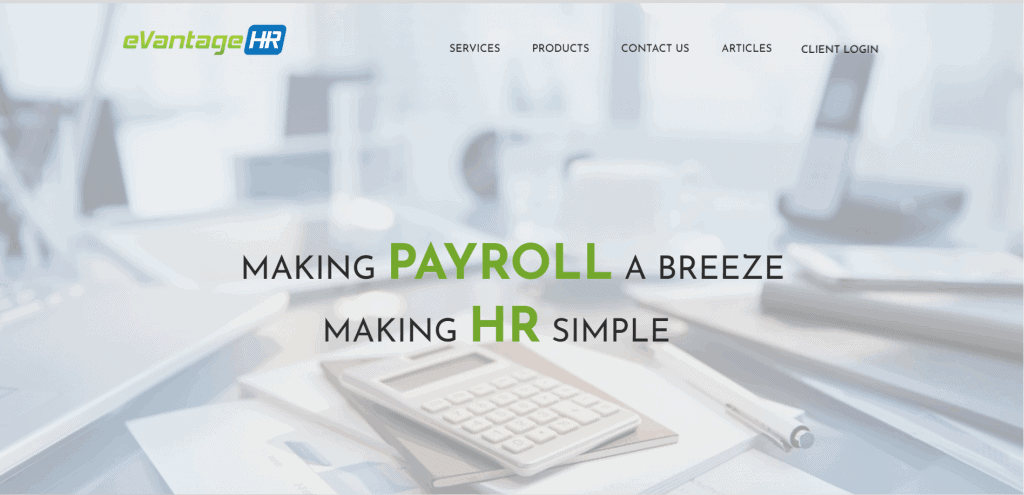 eVantage HR's payroll system provides an accurate and fast processing of payroll and taxes.
You can look forward to an automated monthly CPF submission by the 10th of the following month and have 24/7 access to payslips and tax forms.
The payroll system in Singapore also alerts you to all changes from relevant governmental bodies (e.g MOM, IRAS, CPF) and implements the changes within the stipulated time frame to help you avoid fines and penalties.
The payroll system in Singapore also has a statutory agency lodgement service.
The service will assist you to manage claims from the various statutory agencies.
These include NSmen reservist claims and maternity/paternity/childcare leave.
In addition, they will help you to lodge IR21A with IRAS for any staff resigning that holds foreigner status.
8. Frontier e-HR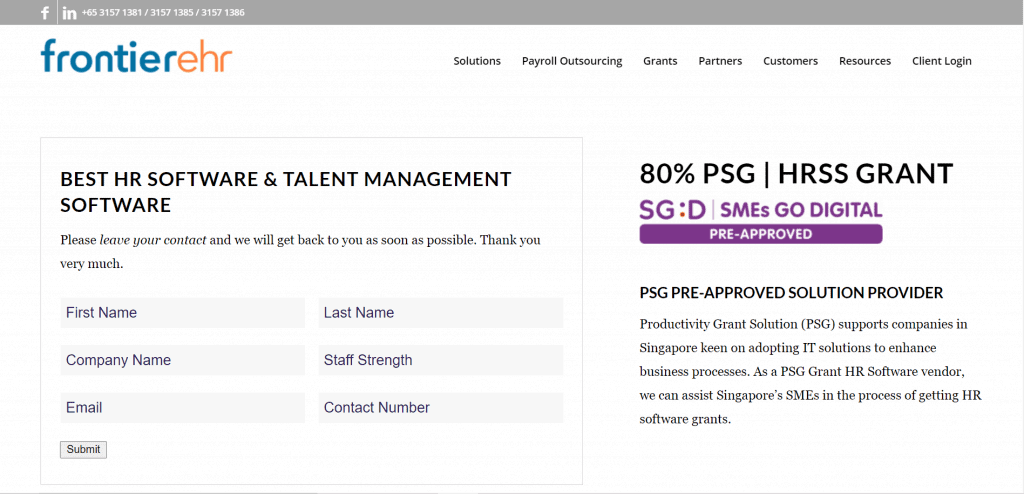 Frontier e-HR's cloud-based Payroll Management System is designed to automate the handling of complex payroll requirements with differing multi-country payroll needs.
These countries include Singapore, Malaysia and Thailand.
Furthermore, you can perform an interface that allows data to flow into your business finance system.
The payroll system in Singapore calculates the monthly payment of the employee, which is thereafter presented in the form of an itemised payslip.
The pay-slips may be auto-generated for all employees in the company concurrently using a single click and sent via email or may be printed.
For employees using the mobile app, once the payslip is generated, a notification is sent and the employees can view the payslip on their mobile phone using the app.
Moreover, the payroll system in Singapore is flexible in allowing to configure and manage employee-specific payroll components such as basic salary, allowances, and deductions.
9. Infopay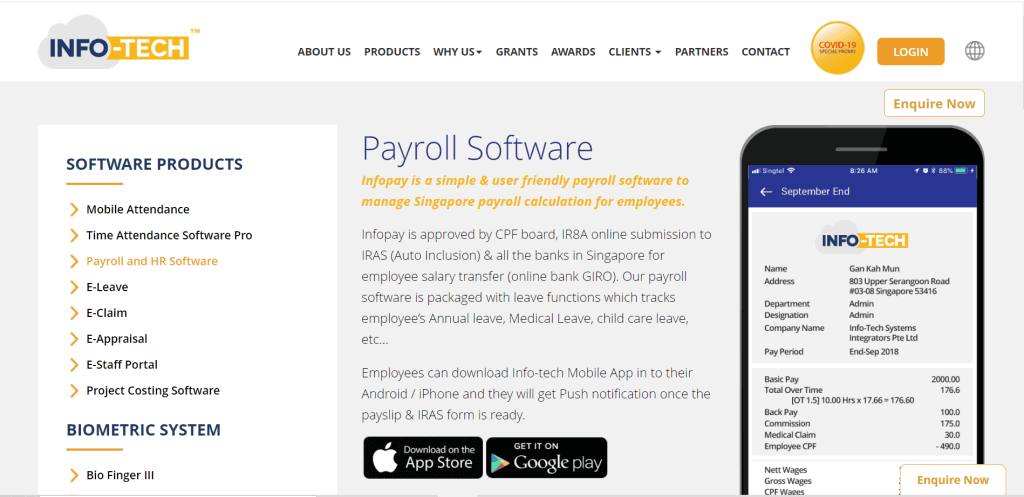 Infopay (by Info-tech) is a simple & user-friendly payroll software to manage payroll calculation for employees.
Infopay is a cloud-based payroll software hosted by Microsoft Azure Server.
Infopay is approved by CPF board, IR8A online submission to IRAS (Auto Inclusion) and all major banks in Singapore for employee salary transfer (via online bank GIRO).
Their payroll software also comes with leave functionalities.
These track employee's Annual leave, Medical Leave, child care leave etc.
Employees can download the Info-tech mobile app onto their Android phone/iPhone and they will receive push notifications once their payslip & IRAS form is ready.
10. Appzgate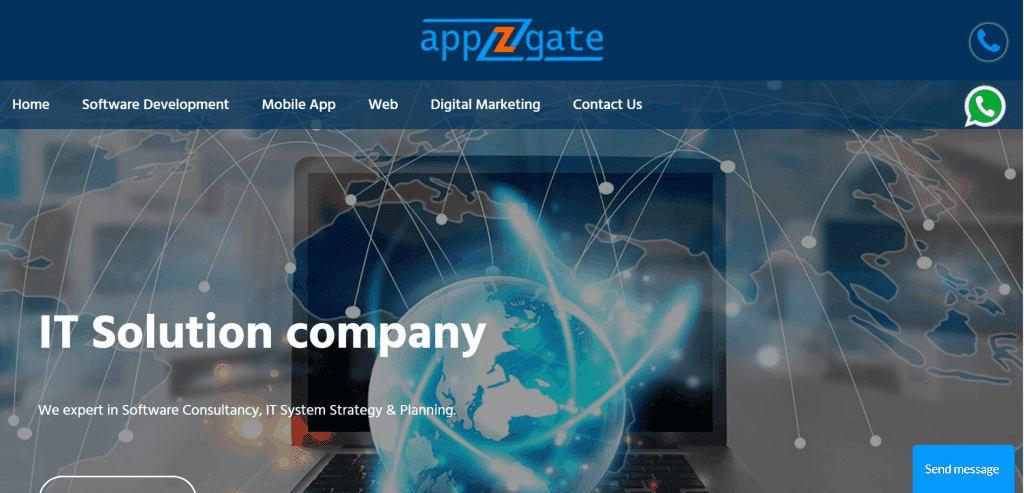 Appzgate's ePayroll system is an application software for all platforms – Web, IOS App and Android App.
Their system complies with requirements of leave system, CPF calculation and export, GIRO export, IRAS export.
Their system can be integrated with finance modules like NAV or any other Enterprise Resource Planning (ERP) system.
Their payroll system in Singapore contains a timesheet module which helps in monitoring the work handled by each staff.
The payroll system in Singapore is also an effective tool to monitor leave, Overtime, project resource requirement, hourly and monthly staff type calculations and many more.
Each module can be access controlled to give permission for the users which makes the system powerful in terms of data security.
As payroll system data is confidential, it should have adequate security features to protect the data.
Multilevel approvers can be created for leave and attendance modules.
11. SMEPayroll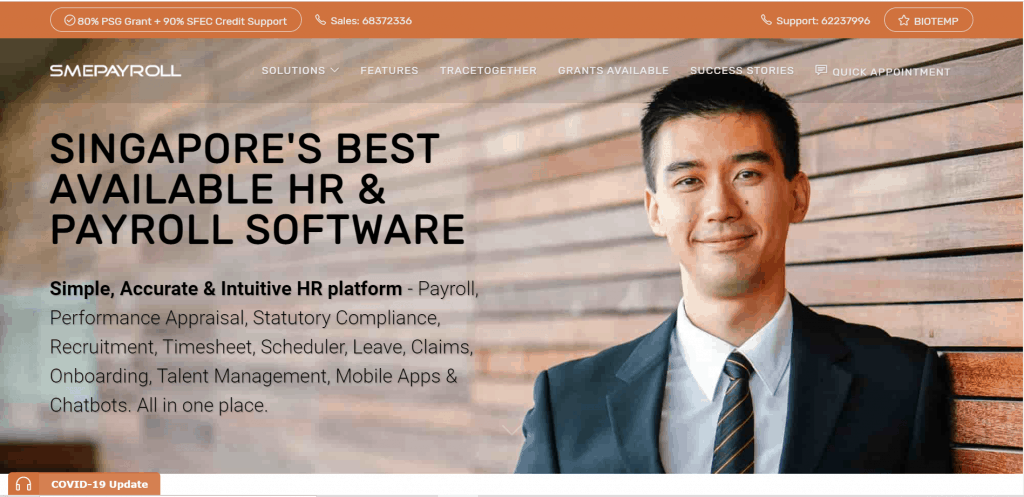 SMEPayroll (Standard Edition) is the most complete payroll system in Singapore for small & medium size companies and is designed with usability in mind.
Their Payroll Module covers Payroll Additions, Payroll Deduction, Payroll Overtime Computation, Payroll computation and submission for approval, Payroll approval, Payroll Generation, Payroll printing or emailing pay slip, etc.
Their payroll system in Singapore also serves as a central repository of your employees' comprehensive information.
Unlimited employee details, department, section & category settings can be created, with personal particulars like address, emergency contact details, foreign address, and bank account details.
They also have an SMEPayroll mobile app which empowers employees to easily manage leave application while viewing their payslips on-the-go.
Conclusion
Do you have any reviews and comments to share regarding our choices for the best payroll system in Singapore? While SBO is committed to supporting our local businesses, we welcome any feedback and anonymous sharing regarding your experience with the listed payroll systems.
We hope that this guide will be useful in helping you to make an informed decision. Do also check out our suggestions for corporate secretarial services if that's what you're also looking out for.
Explore More Content