10 Best Biometric System in Singapore for Secure Authentication [2023]
It's just like living in a sci-fi movie.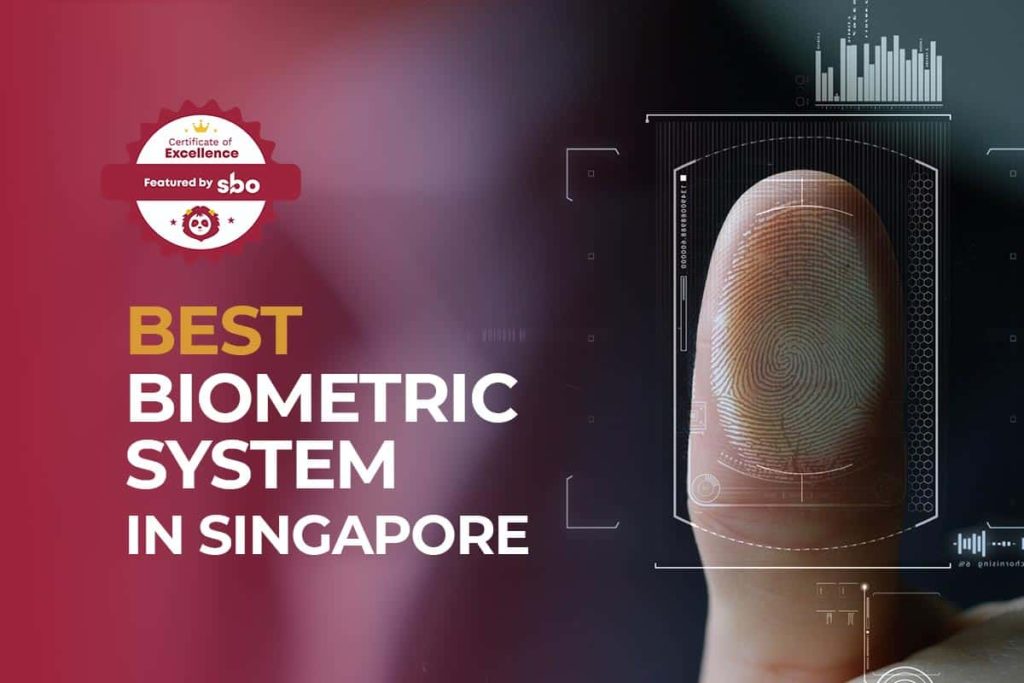 Using passwords to protect online systems could soon be passé as security measures like biometrics authentication gain traction among technology players.
Speaking to The Sunday Times in 2019, Microsoft's cyber-security field chief technology officer Diana Kelley said the industry has become more worried over the difficulty that people face in designing and remembering complex passwords.
In fact, according to a report in 2017, from password manager software company Lastpass, the average business employee must keep track of 191 passwords.
On the other hand, there is no need to remember passwords with the help of a biometric system.
A biometric system allows for the recognition of a certain characteristic of an individual using mathematical algorithms and biometric data.
Uses of a biometric system in Singapore include employee attendance and cybersecurity.
Looking for a biometric system in Singapore? In this post, we've gathered all the necessary details to compile a list of the 10 best biometric system in Singapore.
1. Circle Enterprise Pte Ltd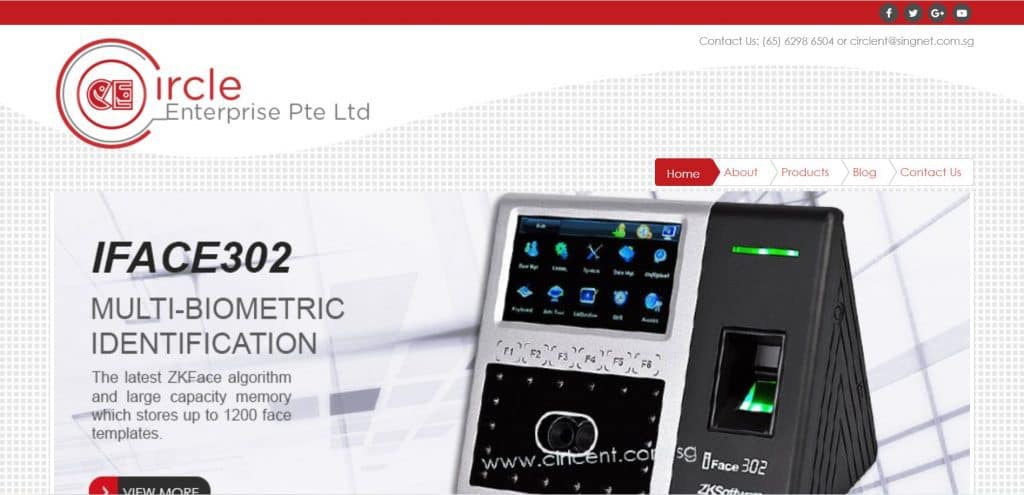 Established in 2001, Circle Enterprise specialises in biometric systems to capture over-time hours, lateness, allowances, incentives, attendance bonuses, absences, etc.
The biometric system in Singapore ranges from low cost clocking machines and smart card systems to biometric hand scanners with fingerprint access.
Cirtrix 2000, their in-house time management software, offers your HR executives the flexibility to address your organisation's time and attendance requirements in a cost-effective manner.
You will never need to spend time calculating your employees' overtime, shift allowances, deductions, or attendance incentives.
2. Intercorp Solutions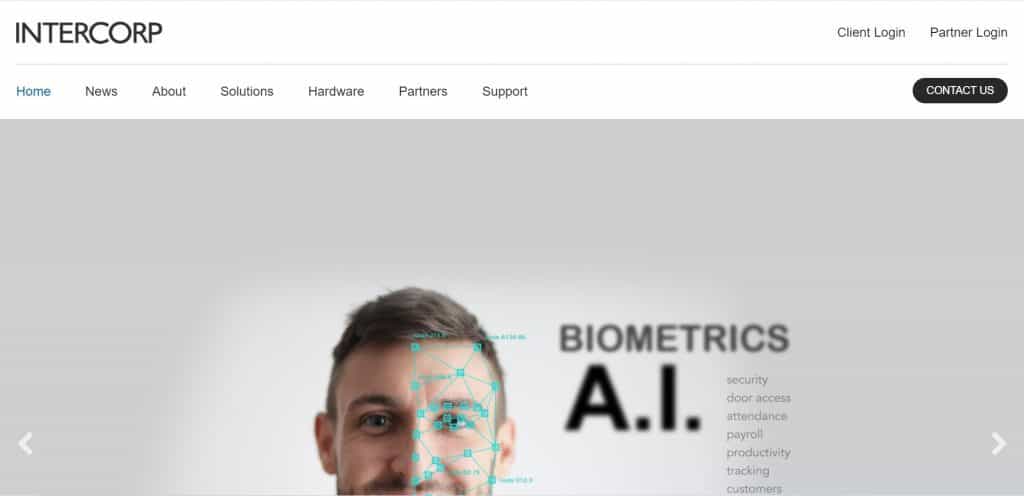 Intercorp Solutions Pte Ltd ("Intercorp") was incorporated since 1996 with an innovative enterprise solution offering, combining cutting-edge biometric fingerprint recognition technologies with its specialised in-house developed Attendance Management Software ("AMS").
Incorporated in 1996, Intercorp's first solution was their in-house Attendance Management Software (AMS).
An early user of their AMS was NTUC Fairprice.
In the early 2000s, Intercorp's solutions rapidly gained traction in Singapore's construction and built industry.
Their technologies have been highlighted in major publications, and have been acknowledged by Singapore government agencies like the Building Construction Authority (BCA) and Ministry of Manpower (MOM).
In 2015, Intercorp upgraded its software to a cloud-based platform in the form of the Software as a Service ("SaaS") model, for boosted efficacy, management and distribution.
With a SaaS infrastructure, Intercorp's suite of solutions can better pool fragmented data together for big data management, analysis and reports.
3. Datamine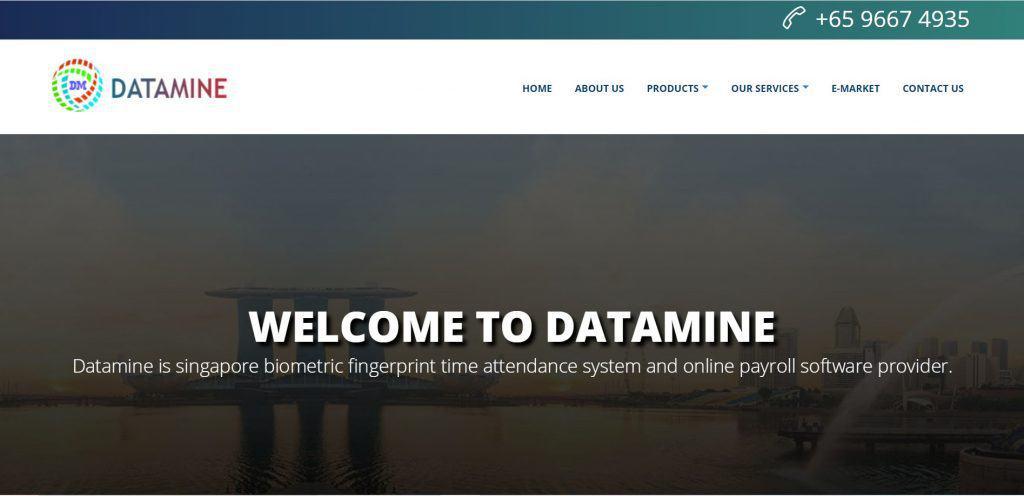 Founded in 2007, Datamine is a one-stop IT company that provides a wide variety of IT services in software areas as well as hardware.
They also offer networking service in design network infrastructure, installation, and configuration.
Their line of biometric time clocks, RFID, Attendance Tracking Solution, Access Control and Job Costing solutions are designed to heighten efficiency and minimise errors for your employees' time tracking needs.
These time and attendance solutions have an easy installation process and are scalable as your company expands.
Our recommendation is to go with their G3 Advanced Face Recognition Reader.
The biometric system in Singapore is equipped with 3D Neuron Fingerprint Algorithm that allows it to authenticate dry, wet, or rough fingerprints effectively and accurately. 
This high accuracy rate is also made possible with infrared technology.
With the newest facial recognition algorithm, it also enables facial authentication.
4. Teambuild Solutions Pte Ltd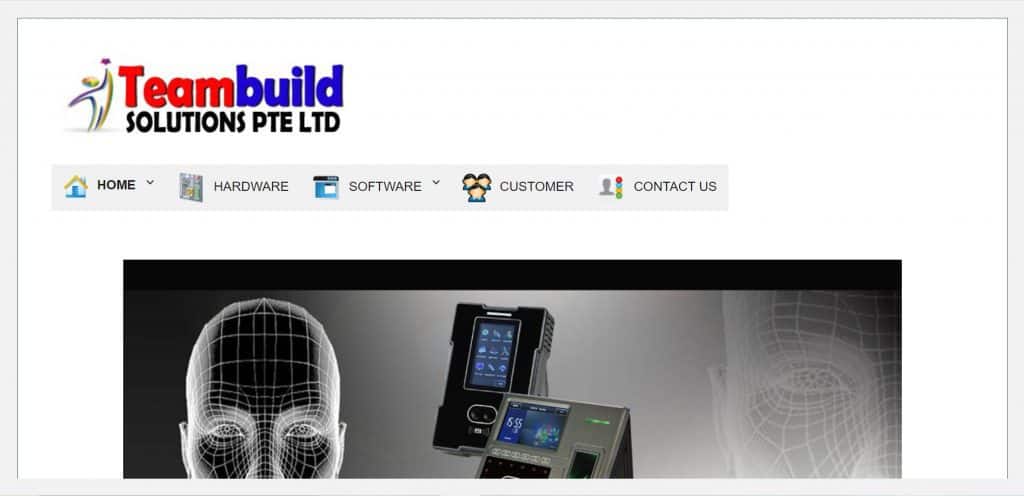 Teambuild Solutions Pte. Ltd. (Teambuild), is a Human Resource software and hardware solutions provider based in Singapore. 
Over the last 10 years, Teambuild Solutions has sold reliable, effective and user-friendly HR solutions to local companies.
These companies hail from various industries, including the Manufacturing, Retail, F&B, Constructions, Engineering, Marine and the Biomedical industries.
Their eHR fingerprint readers are of high quality and come with built-in optical sensors.
Their robust optical sensors can detect wet, dry, cut & swelled fingers.
Their biometric system in Singapore has been installed at over 300 customer sites and offices, including construction sites, schools, and restaurants and F&B outlets.
5. Advansoft Singapore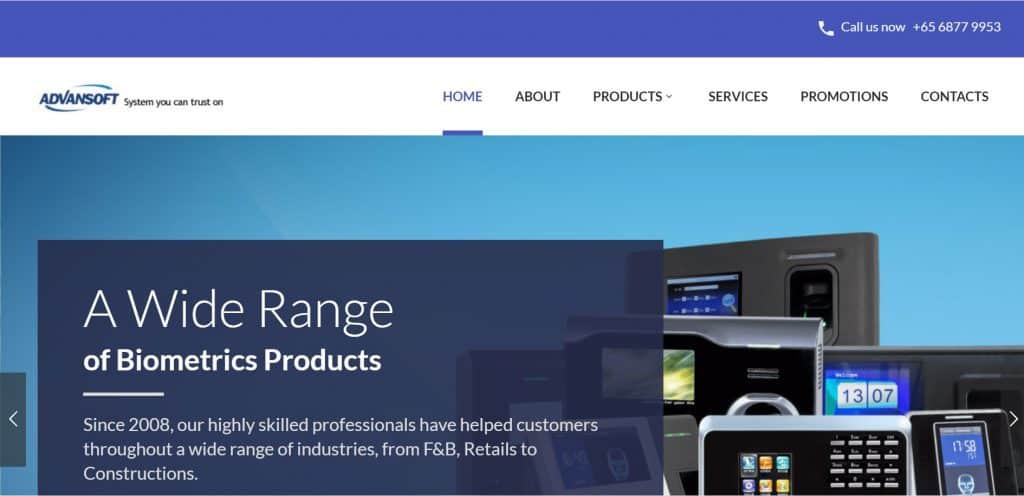 Advansoft Singapore is one of the chief IT Solutions Provider for small to medium-sized enterprises (SMEs) in offering Time & Attendance System, Biometric Fingerprint Timeclock, Door Access and custom applications.
They ply their biometric system in Singapore to companies at the most affordable prices.
Our suggestion is to go with their JQ6 fingerprint timeclock, a clock-like device for recording employees' times of arrival and departure.
The biometric system in Singapore has 3,000 fingerprint templates and 50,000 transaction records.
The heavy duty and accurate CMOS exposure optical fingerprint sensor also has a verification time of less than one second per person and accuracy rate of 99.9%.
The biometric system in Singapore can support WIFI, TCP/IP, and USB Thumb drive.
6. HRMS Singapore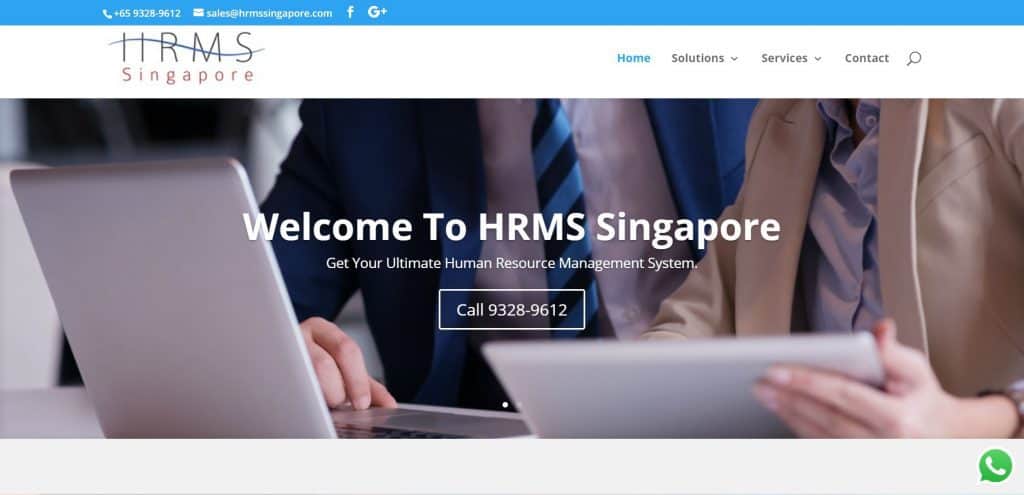 HRMS Singapore is a leading IT Solution, Consultation and Service firm providing Total & Integrated HRMS (Human Resource Management System) Solution and IT/Consulting Services to local companies based here in Singapore.
The company offers a biometric fingerprint system, which can be used together with the following applications of theirs: Door Access System, Time Attendance System, Visitor Management System, and Dormitory Management System.
Their Biometric Fingerprint System is a subset of their larger Human Resource Management System framework.
Their software is modular, so the Biometric Fingerprint System can also run as a standalone to meet specific organisational needs if you don't wish to use it with their other applications.
7. Info-Tech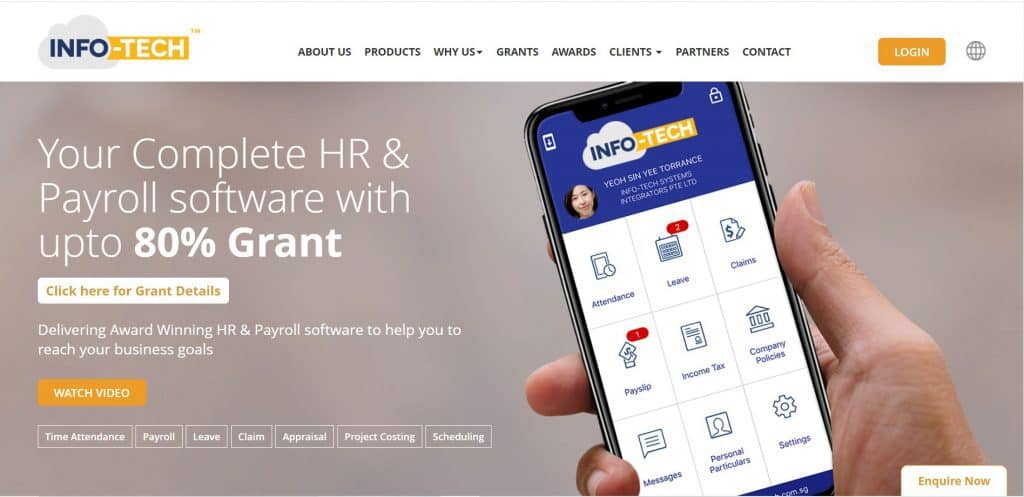 Established in 1996, Info-Tech is a next-generation global technology company that helps businesses of all sizes and in all industries to digitise their HR operations.
Their Human Resource Management System (HRMS) provides an integrated, flexible and innovative solution for real time facial recognition authentication.
They also have an Artificial Intelligence-enabled Cloud Mobile Attendance App, Time Attendance, Payroll, Leave, Claims, Job Costing and Appraisal Software.
Info-Tech is the only HRMS provider that has received the Data Protection Trustmark certification from the Infocomm Media & Development Authority of Singapore.
Your employees' personal biometric data will be well-protected.
8. iSecure Solution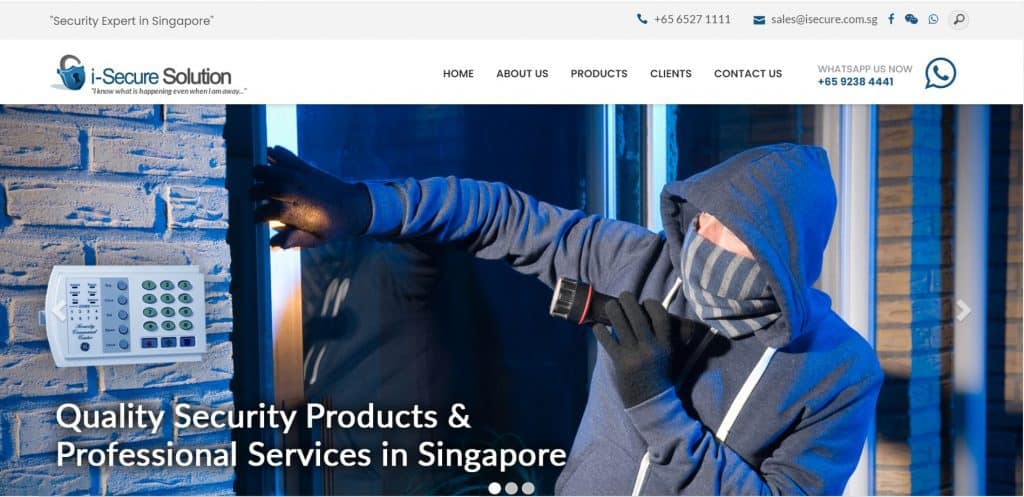 i-Secure Solution Private Limited is Singapore's number one provider of CCTV, Security System, Door Access, Card Access, and Biometric System solutions.
Our recommendation is to buy their Hikvision Card Pin Biometric3 in 1 Door Access Reader for your home or office.
The biometric system has a 2.4-inch LCD screen display and provides Integrated management of access control and attendance.
The biometric system in Singapore can store the fingerprints of maximum 3000 users.
9. SMEPayroll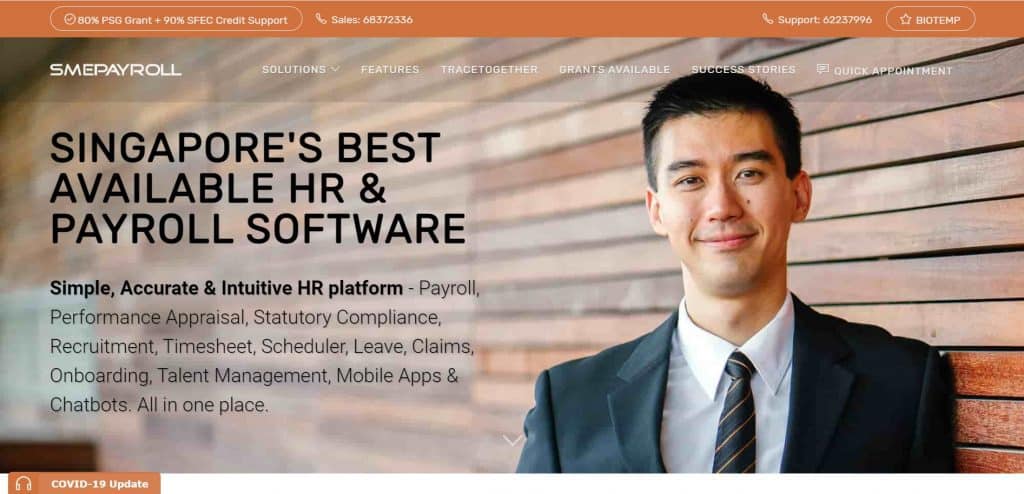 With 15 years of experience, SMEPayroll offers accurate and intuitive Human Resource & Payroll solutions for companies of all sizes and from all industries.
In view of the COVID-19 situation, the biometric system in Singapore has launched BIOTEMP, a contactless platform that screens visitors' temperature and takes attendance for your employees. It is also compatible with TraceTogether.
SMEPayroll has been certified as a service provider by IMDA Singapore for the Productivity Solutions Grant.
When you purchase a biometric system in Singapore from them, you will receive funding support of up to 80% of qualifying costs, including a one-time setup and subscription cost that is capped at 12 months.
10. Smart Touch
Smart Touch is one of the industry's leading biometrics time attendance systems and security access control solutions.
They provide facial recognition biometric time clocks and HR software to streamline your work processes.
Our recommendation is to go with their Smart Touch Construction Productivity Solution, a turnstile that helps you to track the attendance of your employees.
Developed 10 years ago, it provides extensive modular support.
The biometric system in Singapore is compliant with Singapore's BCA ePSS requirements.
They also have a biometric facial recognition system.
The Smart Face ST- 671 series facial recognition technology terminal is an access control device with a large screen ratio.
The biometric system supports 1:N face authentication, fingerprint authentication, card authentication etc.
It can be installed for use at several sites, such as dwellings, government buildings, banks, enterprises and many more.
Conclusion
Do you have any reviews and comments to share regarding our choices for the best biometric system in Singapore?
While SBO is committed to supporting our local businesses, we welcome any feedback and anonymous sharing regarding your experience with the listed biometric system in Singapore.
We hope that this guide will be useful in helping you to make an informed decision when it comes to finding the best biometric system in Singapore.
Explore More Content