10 Best Antivirus Software in Singapore to Protect Your Device From Malware [2023]
Prevention is always better than cure.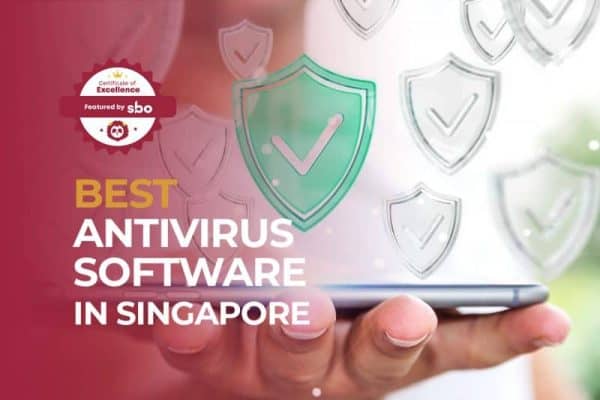 In line with global trends, Singapore has been witnessing an increase in cyber threats, which include common malicious cyber activities like malware infections, according to the Cyber Security Agency (CSA) of Singapore. For example, the CSA received 35 reports of ransomware cases in 2019, compared to 21 cases in 2018.
This is where an antivirus software in Singapore comes in. An antivirus software is a computer program used to prevent, detect and remove malware.
In this post, we've gathered all the necessary details to compile a list of the 10 best antivirus software in Singapore to protect your device from malware.
1. McAfee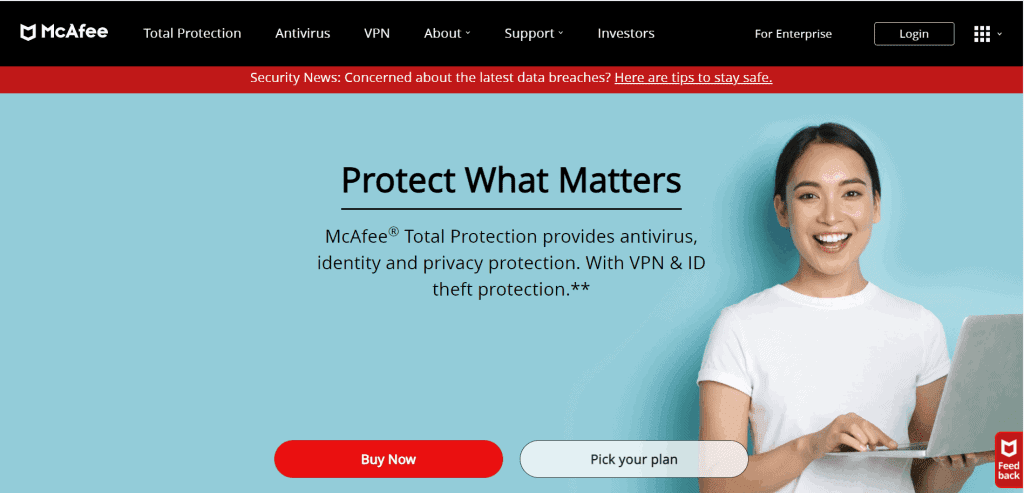 McAfee® Total Protection's antivirus software in Singapore is purpose-built to detect and destroy threats like viruses, malware, ransomware, spyware and others. They are known for their Family Deal, which costs $29.99 per year for a 2 year-subscription. The plan covers 10 devices and comes with 24/7 agent support.
Usually free antivirus software offers baseline malware protection that may not be sufficient to combat the ever-evolving threat landscape.
Rest assured that with their free 30-day trial you'll get all the features of the company's flagship McAfee Total Protection suite, including antivirus, web protection, password manager, file encryption and more.
When you purchase a qualifying McAfee antivirus suite and opt-in for automatic renewal, you will gain access to their Virus Protection Pledge.
With this, you have their 100% Guarantee that if a supported device gets a virus, a McAfee expert will remove it, and if they can't, they will offer a refund on your purchase price.
Sophie Anderson says in her SafetyDetectives review: "Against zero-day malware attacks, McAfee was 99% successful at detecting and preventing attacks. This is on par with other top-notch brands like Avast and Bitdefender. When I tested McAfee against a sample set of other kinds of malware, it scored 100%.
"If you're looking for a well-rounded antivirus at an affordable price — cheaper than premium antiviruses like BullGuard and AVG — McAfee is a solid choice."
2. Norton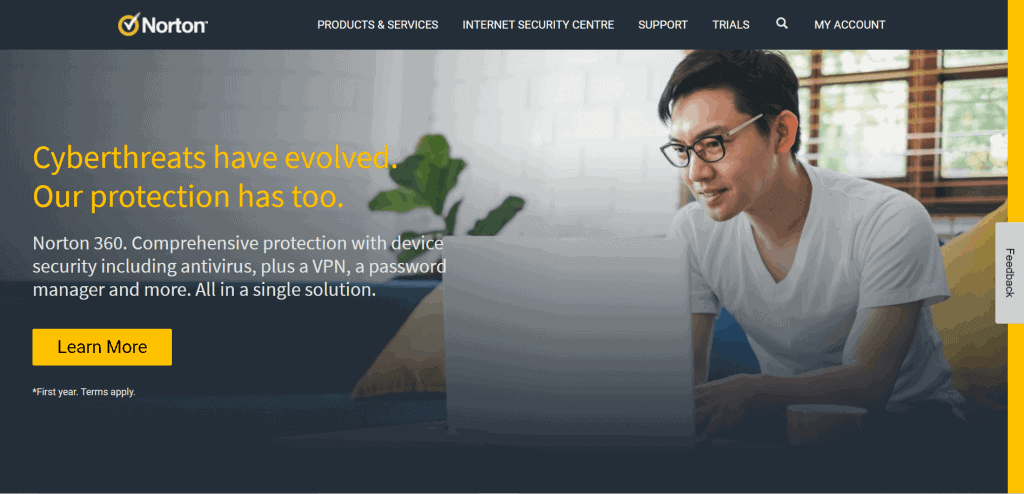 Norton provides various types of antivirus software in Singapore that cater to different needs. Our recommendation is to go with Norton 360 Deluxe, which is priced at S$69.00 for a one-year subscription.
Norton 360 Deluxe provides comprehensive malware protection for up to 5 PCs, Mac, Android or iOS devices, plus Parental Control to help protect your kids online, Password Manager to store and manage your passwords and PC Cloud Backup.
Norton 360 Deluxe also includes a Virtual Private Network (VPN) for 5 devices and SafeCam for PC. Secure VPN enables you to browse the web more securely and anonymously, even on public Wi-Fi, and SafeCam alerts and helps you block unauthorized access to your PC's webcam.
In fact, Norton is so confident in their antivirus and malware protection that if you're a current Norton service subscriber and you get an infection on your device that their experts can't remove, you get a full refund.
Neil J. Rubenking says in his review for PCMag Asia: "In addition to cross-platform security, hosted online backup, and a ton of security features, Norton 360 Deluxe gives you a no-limits VPN and full-featured parental control system that would cost plenty by themselves. It's a high-security bargain."
3. Trend Micro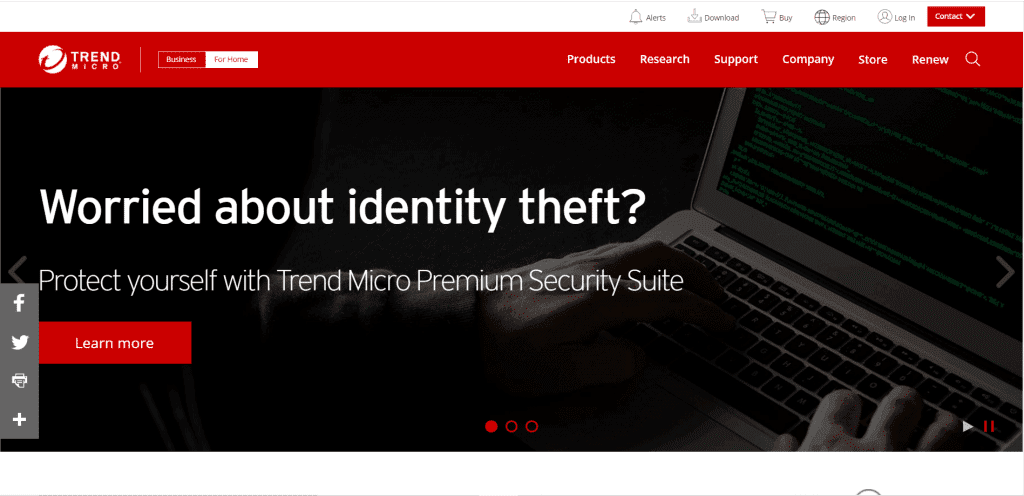 Trend Micro's Premium Security Suite offers complete device and identity protection across PC, Mac, mobile phones, and tablets.
Their most comprehensive security solution, Premium Security Suite, includes the following: maximum security, mobile security, WiFi protection, ID security and password manager.
Enjoy complete multi-device protection against ransomware, viruses, dangerous websites, and identity thieves. Trend Micro's cloud-based AI technology delivers highly effective and proactive protection against ever-evolving malware infections.
Protects against malware, viruses, ransomware, and other threats
Secure online banking and shopping
Guards against identity theft
Protection for PC, Mac, iOS and Android devices
The Trend Micro Premium Security Suite 2020 is priced at $99.95 for a one-year subscription to the antivirus software in Singapore that covers 2 devices.
Brian Nadel says in his review for Tom's Guide: "Overall, the Premium Security plan is full-featured but, a rung below Kaspersky in terms of protection and accuracy. Still, it provides a lot of online peace of mind for the money."
4. ESET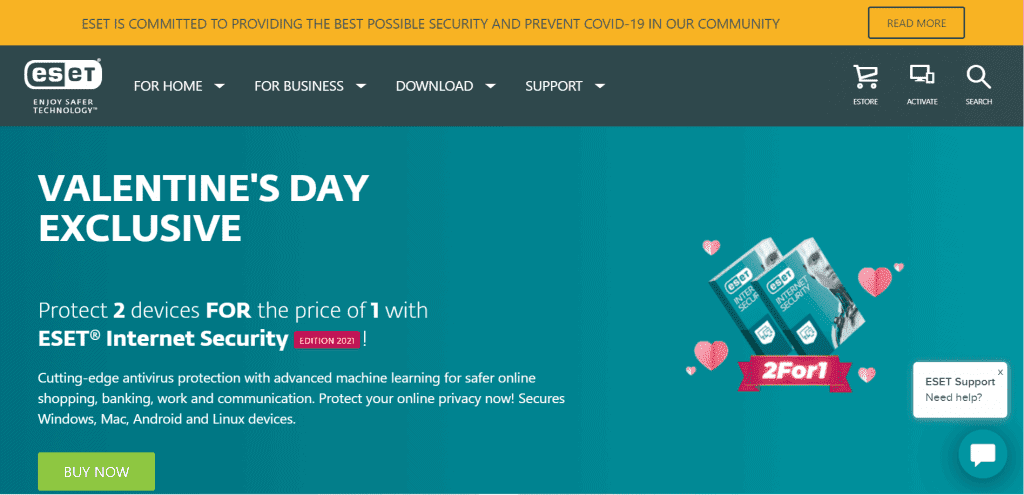 ESET's most popular antivirus software is its Advanced Protection (ESET Internet Security). It is ideal for modern users concerned about their privacy, who actively use internet for shopping, banking, work and communication.
The software secures all your Windows, Mac, Android and Linux devices with a single license.
You will be able to protect yourself from ransomware and other types of malware with ESET's multilayered protection, trusted by over 110 million users worldwide.
You will be able to prevent unauthorized access to your computer and misuse of your data. Stay safe while making online payments and accessing e-wallets.
ESET's aforementioned antivirus software in Singapore costs S$60.90 for a one year subscription. The plan covers two devices, making it bang for your buck.
Neil J. Rubenking says in his review for PCMag Asia: "ESET Internet Security offers award-winning antivirus protection, a full array of suite components, and some uncommon tools, but the quality of its components isn't consistent."
5. AVG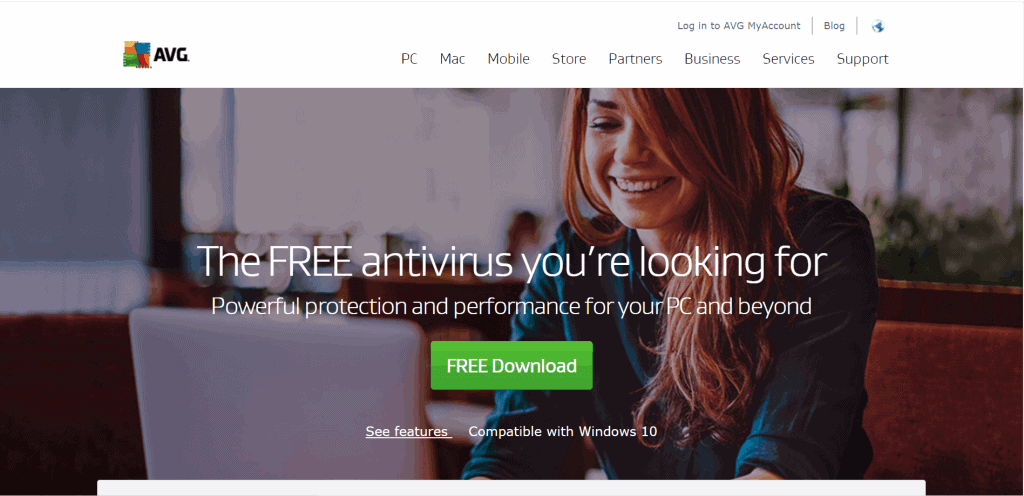 AVG Ultimate, which begins from $6.49/month and covers 10 devices, is AVG's best-in-class antivirus, tuneup, and VPN in one ultimate package.
With real-time threat detection, ransomware and webcam protection, remote access shield, and an enhanced firewall, you'll get everything you need to stay protected with AVG's antivirus software in Singapore.
AVG's tuneup tool also optimises performance so you can keep your devices running as good as new.
AVG's powerful VPN keeps you safe and private online. Secure any Wi-Fi network, hide your IP address to keep your online activity private, and get access to your favorite online content no matter where you are in the world.
With just one click, you'll be secured with 256-bit encryption and gain access to 50+ server locations.
Nicky Hoseck points out in his Secure Thoughts review: "AVG Ultimate is a perfect option for those with many devices to secure, and for these users, it represents excellent value for money. The exception, of course, is those hoping to secure a large number of iOS devices, which the platform does not currently support."
6. Avast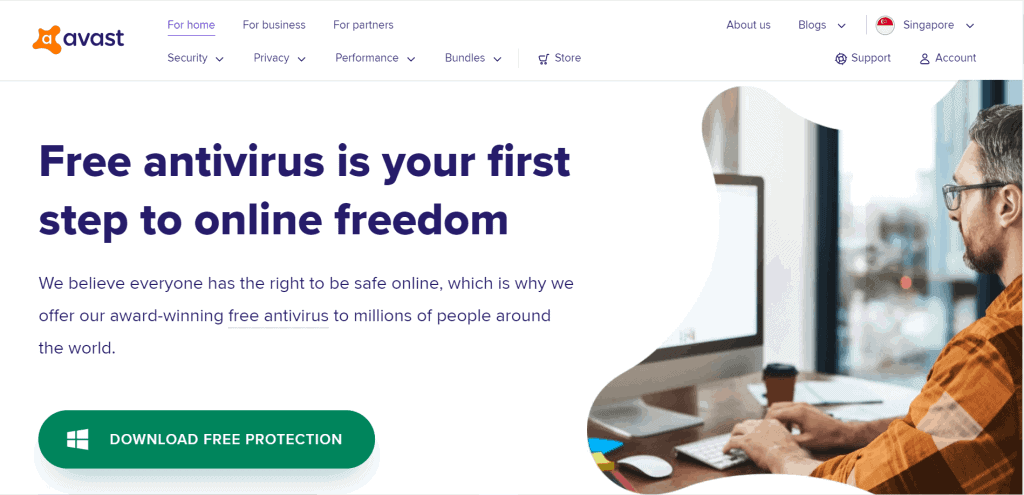 Avast provides two types of antivirus software in Singapore: Avast Free Antivirus and Avast Premium Security. Our suggestion is to go with what you can afford.
Easy to install and effortless to use, Avast Free Antivirus scans for security and performance issues and tells you how to fix things.
They have also renamed Game Mode and taught it some new tricks. Now called Do Not Disturb Mode, it blocks distracting popups whether you're gaming or presenting in fullscreen.
More than just antivirus, Avast Premium Security is complete online protection for all of your computers, phones, and tablets.
Get it for S$70 a year for 10 devices. The premium antivirus software in Singapore has a 30-day money-back guarantee.
The plan has custom features for PC, Mac, Android, and iPhone/iPad for you to secure your devices where it's needed most. Single-and Multi-Device options also allow you to choose the protection that works best for you.
Mike Williams says in his TechRadar review: "Avast Premium Security and Ultimate suites include a lot of features and offer decent performance in most areas, but don't quite stand out enough to justify recommending them ahead of the top competition. If you're on a budget, though, Avast FREE keeps you safer than some commercial suites."
7. Kaspersky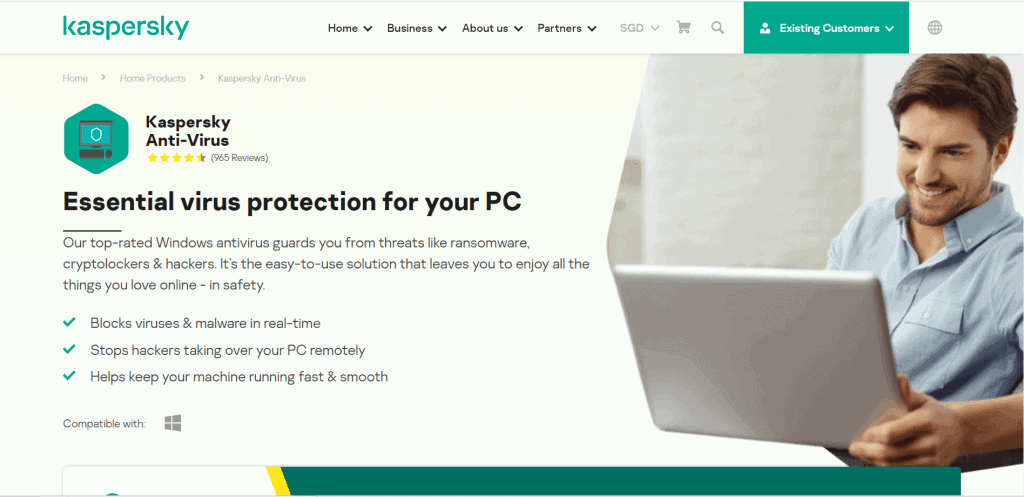 Kaspersky's antivirus software's triple-layer security works 24/7 to guard your PC and data. It blocks common and complex threats like viruses, malware, spy apps, ransomware and the full range of hacking techniques. Their features include the following:
Proactive Detection
Searches out Windows vulnerabilities & threats
Real-time Protection
Blocks cyber threats before they take hold
Instant Neutralization
Isolates & removes immediate dangers
Their sophisticated anti-malware is able to remove threats including spyware, adware, keyloggers, XSS attacks & hard-to-detect fileless trojans.
Kaspersky's Anti-Virus Essential Suite is priced at S$41.00 for 1 PC for 1 year.
Neil J. Rubenking sings high praises of Kaspersky in his PCMag Asia review: "Kaspersky Anti-Virus takes perfect or near-perfect scores from all the independent testing labs, and it aced our hands-on ransomware protection test. It remains an antivirus Editors' Choice."
8. BullGuard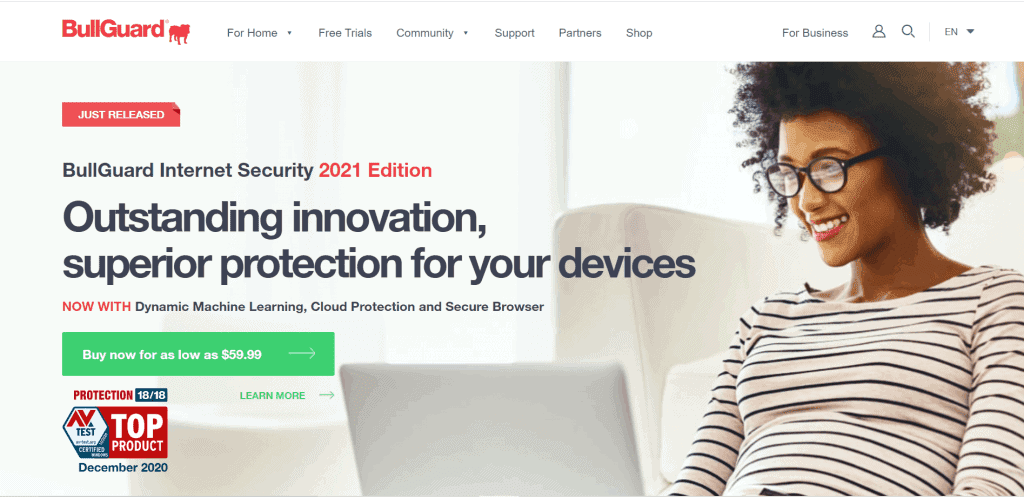 BullGuard Internet Security delivers complete protection for your devices, and their 2021 release is their fastest and best yet. Their BullGuard Internet Security 2021 Edition costs $59.99 for a one-year subscription, and covers three devices.
BullGuard's award-winning security is now enhanced with more extensive machine learning capabilities across multiple layers of protection.
Their unique Dynamic Machine Learning continually monitors everything that happens on your device, enabling real-time detection and blocking of potentially malicious behaviour before it can do damage, even when your device is not connected to the Internet.
When malware attempts to attack your computer, their light and fast signature based detection protects against the most common threats while the Sentry behavioural engine protects against zero day and other complex threats.
Their On Access engine protects you even if you never run a manual scan. When you're connected to the Internet, BullGuard's new cloud detection technology detects threats as they emerge in real-time, without the need to update signatures.
Mike Williams says in his TechRadar review of the antivirus software in Singapore: "BullGuard Antivirus is impressively lightweight and the Game Booster feature is a novel and potentially useful extra. It provides suitably robust protection, which is good to see, if not quite up there with the top antivirus engines."
9. Bitdefender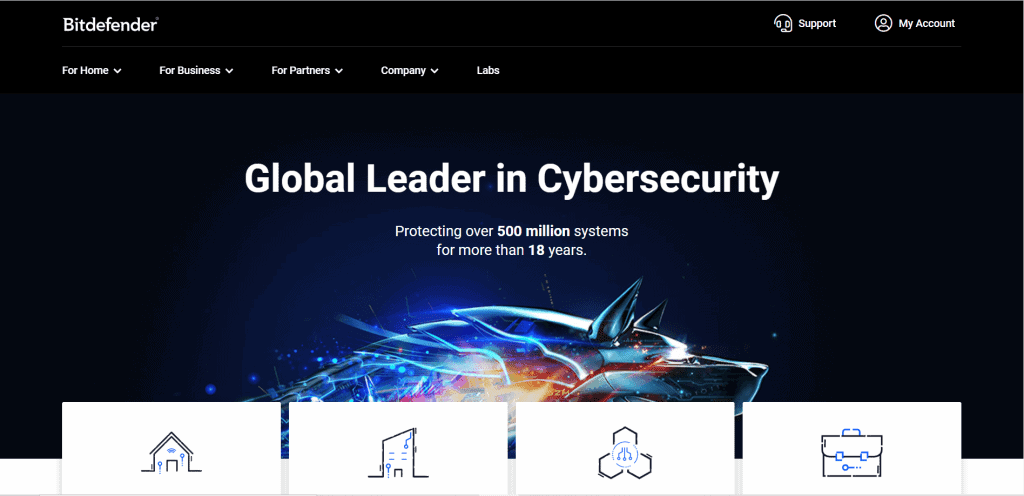 Bitdefender's Total Security plan beats all other security software in both Best Protection and Lowest Impact on Performance. Protect your devices against malware without compromising speed. Features include the following:
Unbeatable threat detection to stop sophisticated malware
Innovative technologies to protect against zero-day attacks
Multi-layer ransomware protection to keep your files safe
Secure VPN for complete online privacy, 200 MB/day/device
Advanced parental controls to keep your kids safe online
Minimal impact on your system performance
The antivirus software in Singapore costs $39.98 for a one-year subscription that covers 5 devices. You can also enjoy a free 30-day trial for the software.
Neil J. Rubenking says in his PCMag Asia review: "Bitdefender Total Security stands on the shoulders of giants. With its massive collection of security features, all of them top notch, Total Security is the Editors' Choice for security mega-suites."
10. Webroot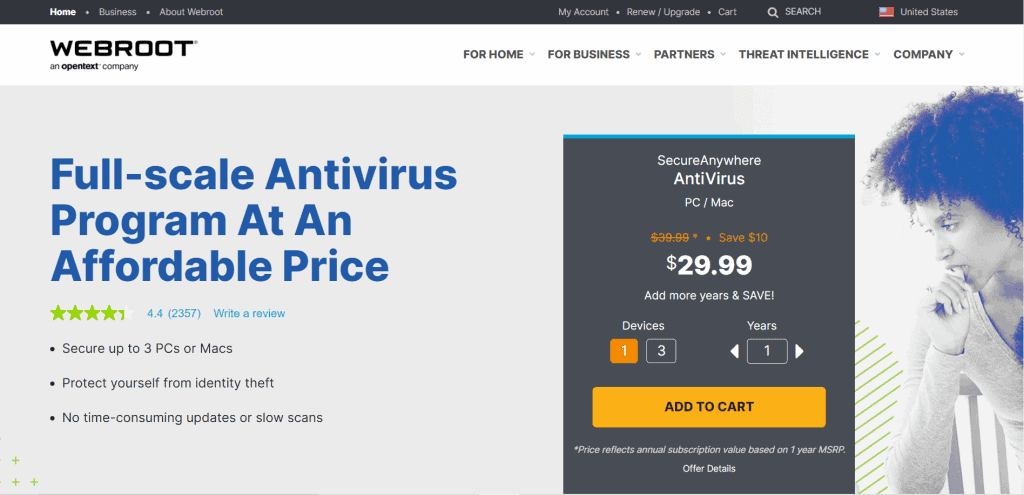 Webroot SecureAnywhere AntiVirus protects you from online threats with the world's most powerful cloud security solution.
Where many of their competitors rely on downloading malware definitions straight to your device, Webroot stores them in the cloud.
This allows Webroot to maintain a small endpoint agent that installs fast, scans fast, and benefits from a more robust threat library than their competitors.
For example, Webroot takes 20 seconds to check your computer for malicious malware – 60x faster than the average scan time of competitor antivirus products.
Webroot's award-winning customer service is 100% in-house, offering industry-leading support and product assistance.
Support is Colorado-based and adheres to a "follow-the-sun" approach with offices spanning the globe, so there's someone there to assist you at any time, day or night.
The antivirus software in Singapore costs $29.99 for a one-year subscription that covers one device. They offer a 70-day, no-questions-asked money-back guarantee.
Neil J. Rubenking says in his PCMag Asia review: "Tiny, speedy Webroot SecureAnywhere AntiVirus keeps a light touch on your system's resources. It aces our hands-on malware protection test, and can even roll back ransomware activity."
Conclusion
Do you have any reviews and comments to share regarding our choices for the best antivirus software in Singapore?
While SBO is committed to supporting our local businesses, we welcome any feedback and anonymous sharing regarding your experience with the listed antivirus software in Singapore.
We hope that this guide will be useful in helping you to make an informed decision when it comes to finding the best antivirus software in Singapore.
Explore More Content