8 Best Computer Desk in Singapore for Better Productivity [2021]
Find the best computer desk in Singapore to have a better productivity
Office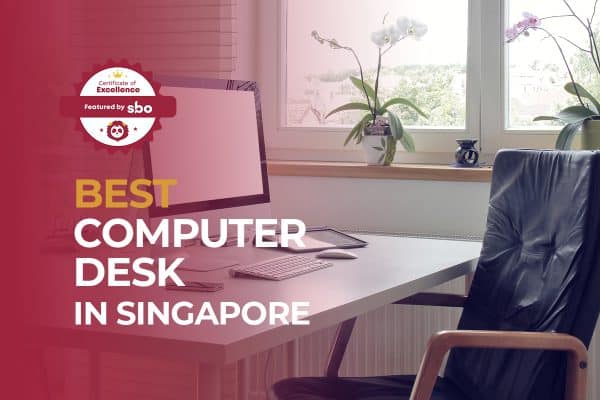 Our team at SBO.sg is committed to being a one-stop avenue to connect local businesses and consumers. We hope that our research efforts can help you save time and money by finding you the best deals without having to search around the vast world-wide-web.
A computer desk is not just a random table. We spend almost a third of our day working away at our desks. Here's why having the best computer desk in Singapore can be a great investment for you!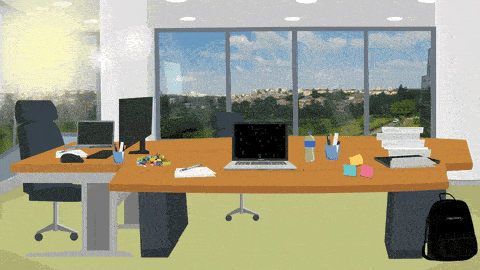 Source: Giphy
According to a study by AIA, a working adult in Singapore spends at least 6 hours on the computer each day. That's just computer work.
In essence, most of the work you do in a day can be traced back to your underappreciated computer desk.
I need you employees out there to consider this: Why not invest in better computer desks to increase the productivity and wellbeing of your employees?
And if you are just an employee, why not forward this to your boss? This might just be the final push you need to get that upgrade!
Working from home? Great! Not only can you use it for work, but you will also be using it to surf the internet or for gaming. A new and improved desk would definitely be worth the investment.
Whoever you are, we hope to help you find the best computer desk in Singapore that is well-tailored to your needs.
1. Omnidesk
Source: Omnidesk
Simply put, the Omnidesk Pro 2020 is awesome. It literally has every function and aesthetic quality that you can think of. It might just be the best computer desk in Singapore that you can own.
Annoyed by shaky and unstable desks? Fret not! The desk feet of the Omidesk Pro 2020 are made from reinforced steel and finished with rubberised feet.
Did you know that the Omnidesk Pro 2020 can be adjusted? Built-in motors allow users to tune the height of the desk according to their needs.
Feeling sleepy? Tune the desk upwards to transform it into a standing computer desk.
Is your back aching? Tune the desk downwards and it can transition into a low work table to change up your posture.
Is cable management a problem for you? The Omnidesk Pro 2020 tackles this by including a one-size-fit-all cable management tray. Never again will you have wires and cables jutting out awkwardly.
What truly satisfied many Omnidesk's customers was the adjustability of the desk.
2. ErgoEdge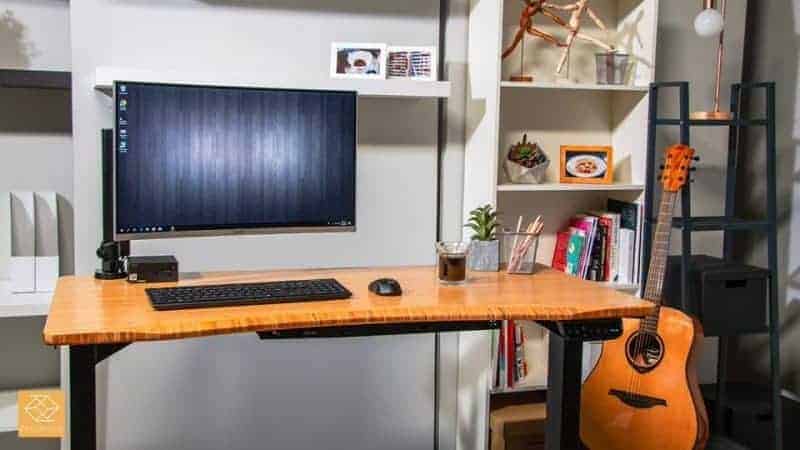 Source: theweddingvowsg
ErgoEdge proudly brands the AmpDesk Lite as "The last table you will ever need". Rightfully so! The supposed life span of this product is amazingly long, poising the Ampdesk Lite to be a popular product amongst users.
Thick table boards are highly compressed during production, so as to increase strength and durability. A special German laminate is also applied for preservation purposes.
As one of the companies pursuing the vision of a "Smart Desk", the Ampdesk Lite is also capable of being adjusted.
Notably, the Ampdesk Lite comes in 3 sizes. This is extremely applicable to those of you who work at home and may not be able to accommodate too huge of a computer desk. On the other hand, large offices can adopt a larger size as required.
ErgoEdge's Customers were particularly impressed with the versatility of AmpDesk Lite.
3. TESSA Commercial L-Shape Table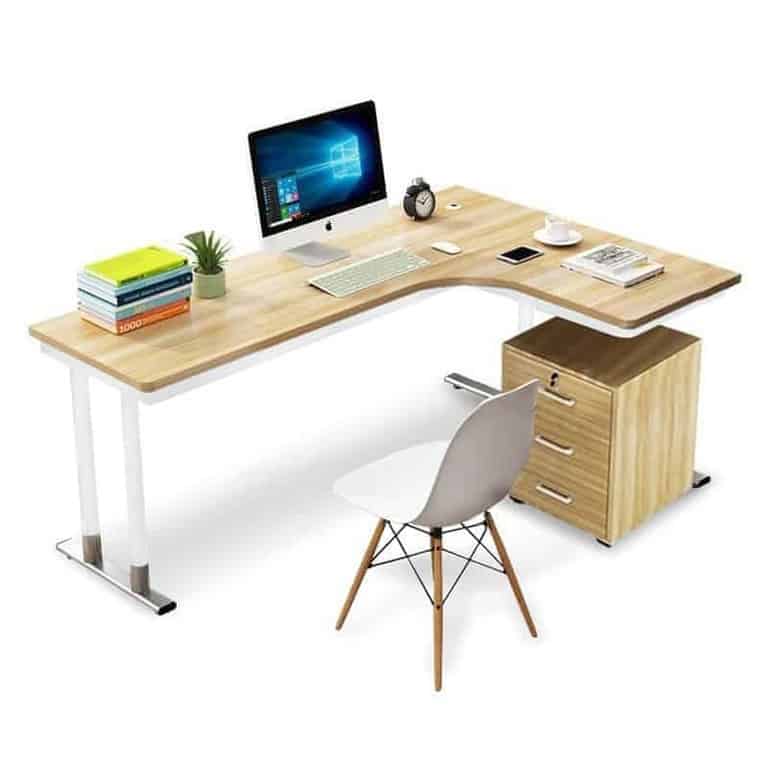 Source: Shopee Mall
The strength of TESSA comes from how it emulates the strengths of other brands, whilst keeping costs down. TESSA also adds its unique touch to what they think a good computer desk should possess.
TESSA has opted for an L-shaped design. This not only segregates the working space, but it also adds an element of flexibility.
Being able to maneuverer from one end of the table to the other can also help prevent boredom. The small action of twisting one's chair can be useful in combating prolonged inactivity or bad posture.
The natural wood accent TESSA has adopted also helps inject life into the surroundings. Those of you who are looking to counter the plainness or monotony of your workplace or home should definitely give this some thought.
Lucky for you, TESSA sells this product on a variety of e-commerce platforms. Don't miss out on the 36% discount Shopee Mall is currently having!
Find out how customers feel about durability and ease of set-up of the TESSA's Commercial L-Shape Table's
4. Spaceman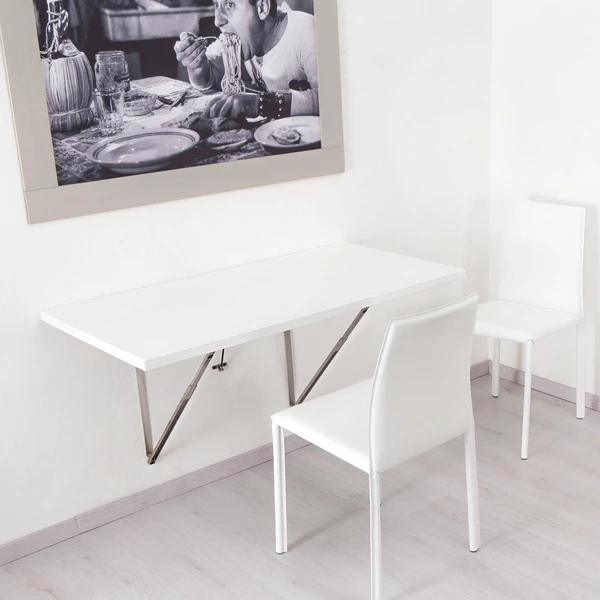 Source: Spaceman
"The Joy of Space". As Spaceman's motto suggests, less clutter and more openness may be the thing you are looking for. In that case, you should look into Spaceman's space-saving desk concepts.
This one goes out to those you who value flexibility and space. Spaceman has created the Wall Mounted Folding Table to cater to a minimalistic style of living and working.
It may not be able to support a permanent desktop, but it is wholly capable of catering to laptops. The allure of the product stems from how it inculcates a good work practice at home.
This 'Clean desk policy' means that users can only fold up the table after clearing their items away. This can really introduce a neat and tidy culture to your home.
Do read up on what Spaceman's customers think about this space-saving desk concept.
5. IKEA BEKANT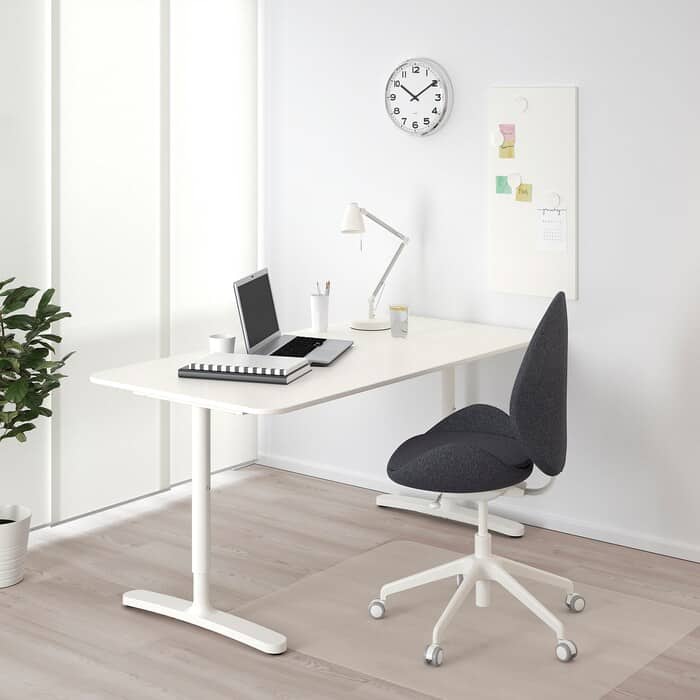 Source: IKEA
How can a furniture article be complete without IKEA? IKEA has been finding success owing to low costs, and a do-it-yourself model.
For those of you who are not quite good with your hands, don't worry. IKEA's dedicated team of delivery workers is also trained to put the product together.
The Bekant truly represents what IKEA envisions for furniture: Well-priced and of good quality.
Different renditions of the Bekant include L-shaped styles to the right or left. A range of sizes also caters to its versatility. Bekant models with motors can also allow for tuning of heights according to the user.
The Bekant itself is also extremely durable and comes with a 10-year guarantee by IKEA.
In addition, the Bekant also features an underframe net to hold wires and cables.
It is also worth noting that the desk legs are adjustable upon installation.
As the Bekant has many versions, do lookout for the correct product reviews to make the most informed decision.
6. Omnidesk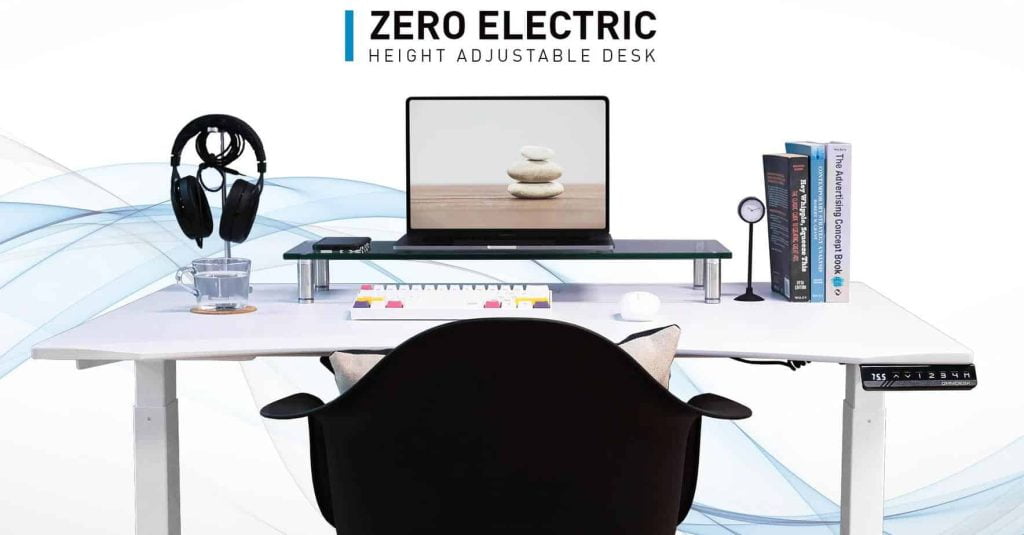 Source: Omnidesk
Do you want to own an Omnidesk but are unsure of whether it will suit you? If so, the Omnidesk Zero Electric is the one for you.
The Omnidesk Zero electric may not boast all the functionality that the Omnidesk Pro 2020 has, but it definitely retains the core few.
For instance, the Omnidesk Zero Electric possesses the same height adjustability. Apart from multiple memory settings and customisable options, it also comes in a range of colours and surface textures.
For those of you who want a taste of the premium range, why not start with this entry-level Omnidesk product. Perhaps these functionalities are already adequate for you.
Customers were particularly impressed by the quality and workmanship of this product.
7. M6+XS Kid2Youth Kids Study Table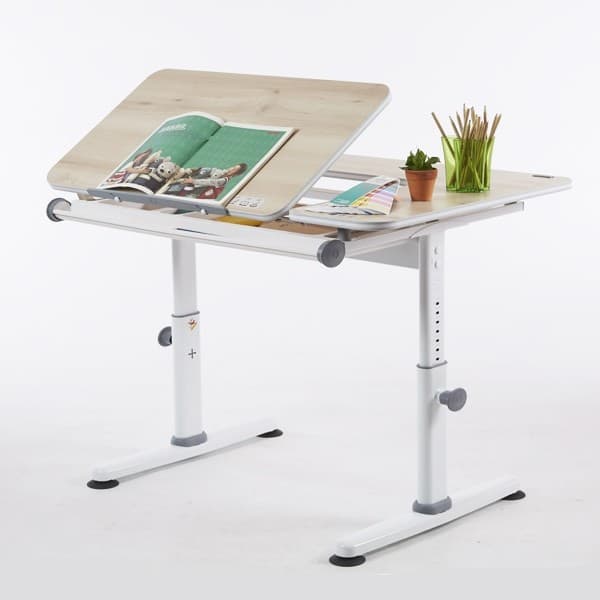 Source: FortyTwo
Computer desks aren't just used by working adults or students. Children of all ages also need a place to do their homework, reading, and other activities.
Especially for children, there is no one-size fit all table. As they grow bigger and taller, you need to constantly buy new desks and chairs to accommodate their growth.
All you really need is to get a product that grows alongside your child.
Height adjustability means that it will be at a comfortable height regardless of how fast your child grows up.
The desk also inculcates good posture and working habits through its adjustable desk surface. It can be adjusted to certain angles to facilitate activities such as prolonged laptop use. This certainly prevents hunching and neck problems from occurring.
8. IKEA MICKE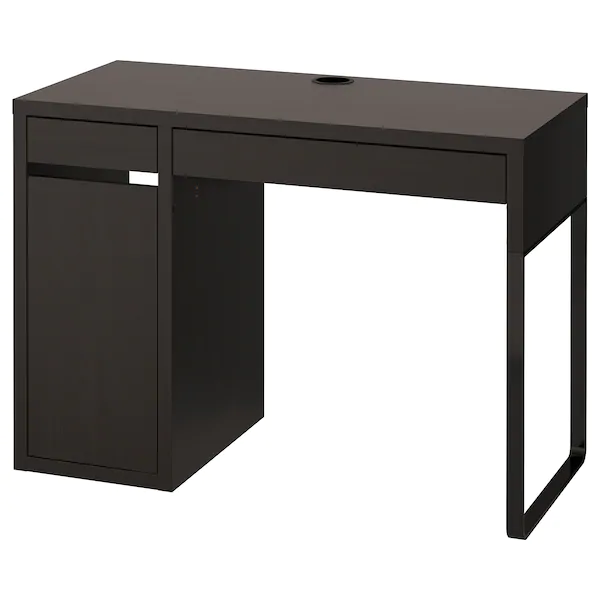 Source: IKEA
Yet again, IKEA shows up on the list. IKEA truly has an endless election to choose from. Out of the sea of products, MICKE stands out in its own right.
If you are someone who is looking for something basic and functional, you should definitely consider the MICKE.
It comes at a fixed height and has 3 storage drawers. The desk is not large but has plenty of space to house a simple computer set-up.
Due to the simplicity of its design, it is extremely space-efficient. Notably, this product is extremely suitable for home offices who have to work within the constraints of space.
Above all, it comes at an extremely affordable price tag of $149.
Customers particularly liked the simplicity and cost-efficiency of this product.
Conclusion
You may be spending just as much time on your computer desk as you spend sleeping on your bed. Perhaps it is a good idea to invest in a computer desk that can truly bring out the best in you.
So which is the best computer desk in Singapore? That my friend is a question for you to answer. Do let us know what you think!
What is a good desk without a good chair? Do check out our article on office chairs to complete your collection!
>