20 Best Firms for Commercial Interior Design in Singapore to Elevate Your Space [2023]
Here is a guide to the 20 Best Firms for commercial interior design to transform the space into a stylish aesthetic with a welcoming ambience.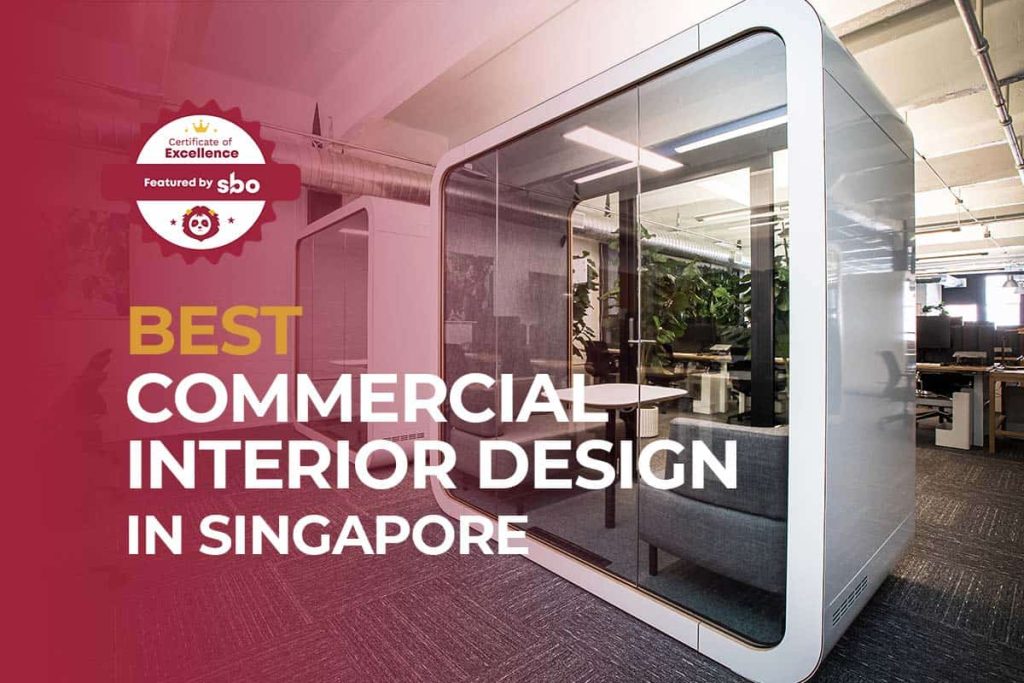 Getting a professionally designed commercial space requires excellent interior design firms who don't just understand your vision, but who can effectively translate it into a functionally productive space with suitable details.
Naturally, you'd want a commercial interior designer who could possibly express your brand's objectives and personality creatively with the given space. It is increasingly common for more brands now to offer digital visual mock-ups especially in 3D as such visuals help immensely, though it does take some work and effort so it's definitely worthwhile to pay for this service where available.
As with all things or services you are thinking to go for, especially when expected expenditure is easily in the tens of thousands (or even reach 6-figures!), you should do your own research: check out portfolios of work online and on social media, perhaps identify past works that are exactly what you're looking to achieve, or at least would make to be a good starting point.
Before we jump into our recommendations for best firms in Singapore that provide Commercial Interior Design, here are some considerations:
A) Know Thyself
In the 1999 movie Matrix, there's a small wooden sign above the doorway Neo walks through, "Temet Nosce", which is Know Thyself. In all aspects of life, one will do well to know and understand oneself – and in this case, your brand.
So before going to any design firm, you should already clearly know what products/services you'll be offering, your own brand identity and corporate image, as well as have reference visuals of the style or feel you're looking to achieve in your new space – design firms would definitely be able to assist you better and quicker, if you've got something prepared.
B) Follow-Up Policy and Warranty Period
Although most commercial design projects are completed in a few months or less, industry standards provide a 1-year warranty period. Some commercial design firms voluntarily extend this warranty well beyond the mandated period to ensure that their clients remain satisfied with their work 2, 5 or even 10 years after the project is completed.
Hence, when looking for a commercial design firm, ask about their follow-up policy for a peace of mind. For convenience, you might even want to ask about post-completion rates for small add-ons like installation of additional power sockets, broadband points, paint work, etc.
C) Recommendations and Reviews
Other than looking at their expertise, you should also consider what previous customers say about these commercial interior designers in helping create a bespoke interior environment for your office.
Additionally, get suggestions from friends or partners who've recently had their spaces done up well. Recommendations through word-of-mouth are great places to consider too.
Honest opinions on the quality of work, clarity of communication and speed of replies, learning about what happens in possible scenarios like service/material delays, and unforeseen costs due to a change in your requirements/requests, etc.
Suggestions for Commercial Interior Design
In today's article, let's take a look at the 20 Best Firms for Commercial Interior Design in Singapore so you can have a roster of the best to choose from at a glance.
1. ID Integrated Pte Ltd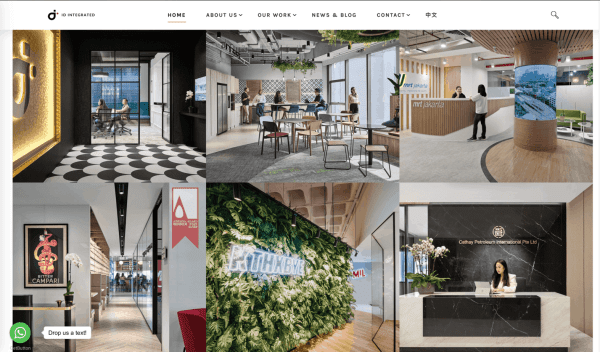 ID Integrated (IDI) gives your blank space a metamorphosis, transforming it into an exceptional and modern state-of-the-art commercial space. They've completed over 200 projects with more than 180 clients in creating inspirational office space designs. Looking through testimonials, clients appreciate the team's consideration of corporate requirements in spatial planning and design.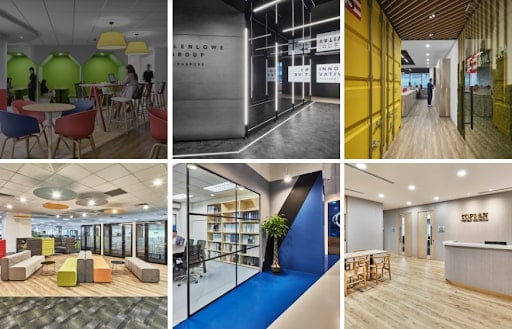 What's interesting to note, is that ID Integrated had recently secured the silver design award from a design award & competition in the 2020 – 2021 Interior Space and Exhibition Design Award Category. What a remarkable feat that accredits the firm!
2. Edgeline Planners

Established in 1998, Edgeline Planners Pte Ltd is a multi-disciplinary design firm that offers bespoken design consultancy and conceptualization. They offer the right balance between design aesthetics and functionality.
With a core team of qualified designers and experts in space planning, project management, renovation works and soft furnishings, they offer the right balance between design aesthetics and functionality, creating offices or commercial spaces of your liking. Their thoughtful design caters to the different clientele, building your company's reputation into a household name.
3. Renozone Interior Design House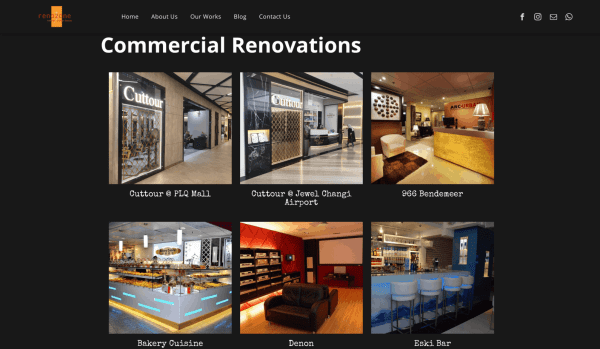 Over the past 2 decades, Renozone has earned its name as a reputable interior design firm in Singapore, by making more than 10,000 projects come to fruition.
Their professional capabilities, client-oriented service, and attention to detail ensures that client needs are met, beyond their expectations. Some of the projects in the commercial sector they have worked on include brands from retail and F&B industries.
If your company is any of those industries mentioned, check out their portfolios to find out if they are the right fit for you!
4. Unimax Creative Pte Ltd
Unimax Creative will give your business the impact and image you desire. Being one of the best renovation contractors and interior design companies in Singapore, they pride themselves on their renovation and provide the very best designs.
Designing a commercial space in a professional yet innovative way is a difficult task which should always be done by well renowned experts. Only then is it possible to create and bring to life a beautiful and truly functional commercial space.
Understanding that commercial spaces should be designed in such a way that it immediately grabs the attention of the visitors or clients, making your space look all the more stunning and desirable, Unimax can assist you in generating the most creative design ideas and hence adding a great value to your client interaction.
5. U-Home Interior Design Pte Ltd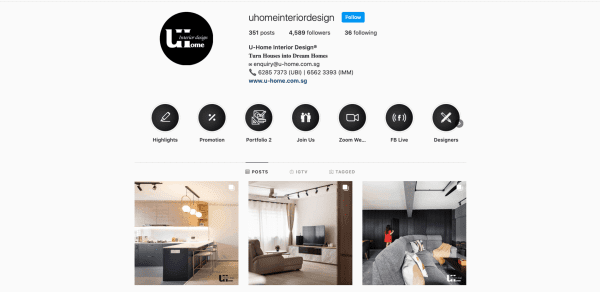 Known as one of the leading interior design firms in Singapore, U-Home is experienced in every craft of interior designing.
With some of its services specified in the table, U-Home actually offers a full range of services before, during, and after renovation works to ensure total customer satisfaction as you can see on its website.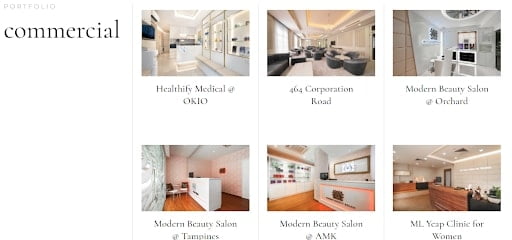 Their collaboration with 50 leading brands allows them to provide more cost-effective interior designing services, giving customers more added value.
6. Carpenters 匠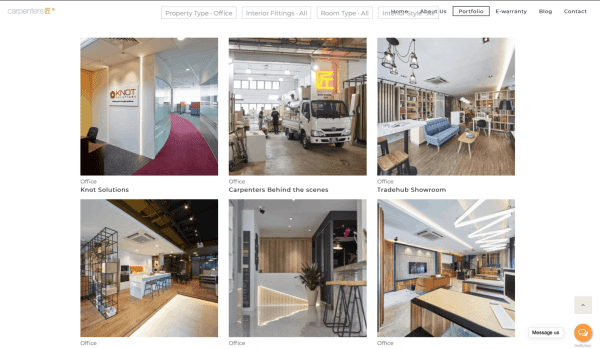 As one of the top few interior design firms in Singapore, Carpenters 匠 is all about giving empty spaces a makeover, with their attention to detail reflected in these transformed spaces in both form and function.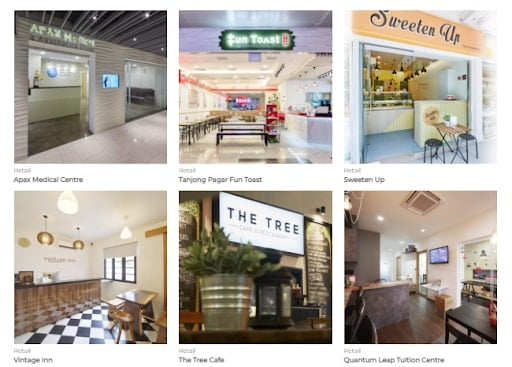 Their YouTube channel, with over 3000 subscribers, is updated frequently with featured clients complimenting their professionalism and pragmatic design.
7. Fineline Design Pte Ltd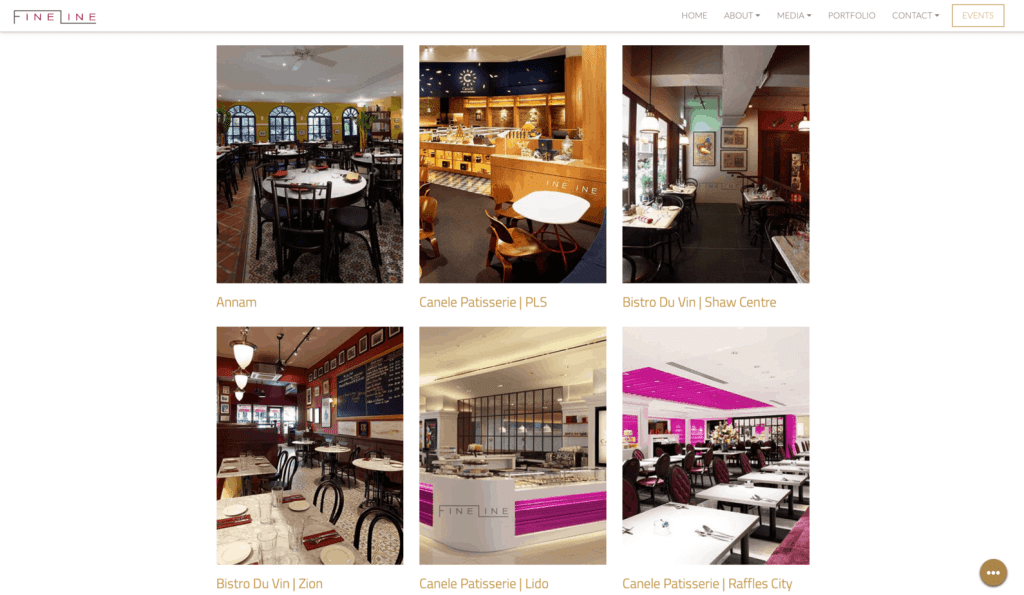 As a reliable interior designer company here in Singapore with a decade-long experience, Fineline Design assures its customers through close rapport.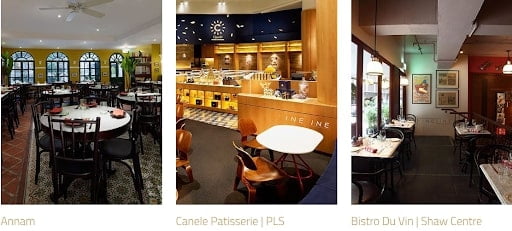 Ranging from restaurants to offices, Fineline Design crafts tasteful commercial spaces with effective and compelling aesthetics. From start to finish, Fineline Design delivers a seamless workflow for their customers.
They also have in-house carpentry and metal workshops as well as experienced skilled carpenters which will assure customers that they have all the necessary tools to get the job done with the highest standard.
8. TBG Interior Design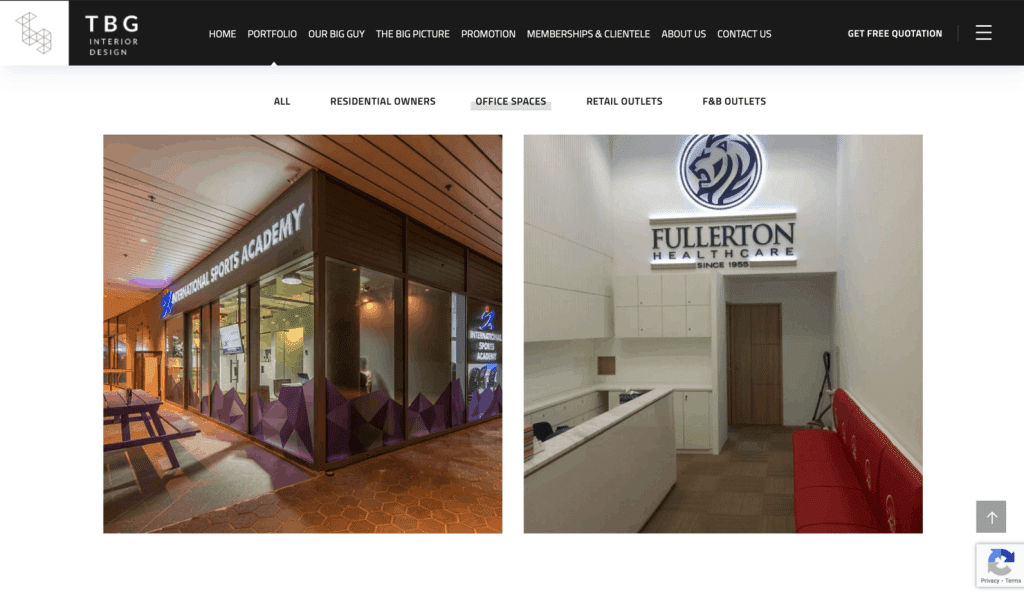 Over the years, The Two Big Guys (TBG) have designed over 2000 bespoke interiors for their clients, garnering an impressive design portfolio that features different styles and caters to various lifestyle needs of those who use that space.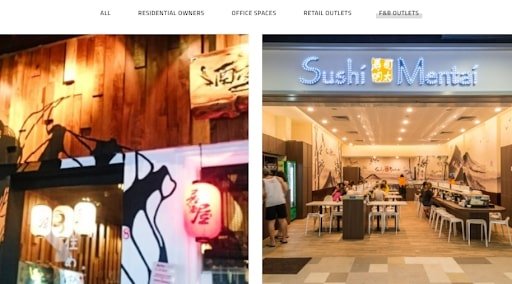 You can expect to have a nicely designed space that complements your company's vision and style, while creating an environment that enhances productivity.
Their team has collectively earned more than 35 awards, which speaks volumes of their professionalism and excellence. Get a free quotation and check out their promotions here.
9. United Team Lifestyle Pte Ltd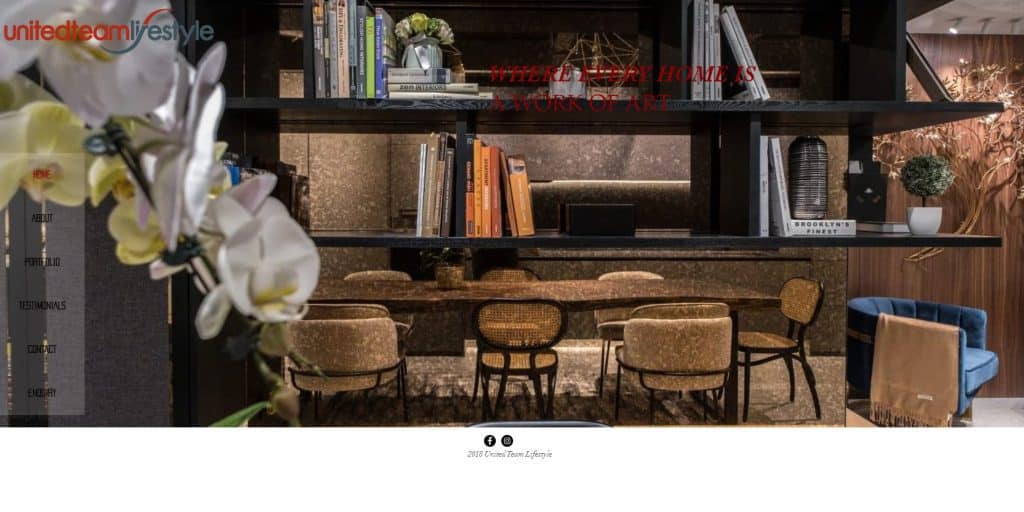 Founded in 2004, United Team Lifestyle provides customers with personalised, unique and comprehensive solutions to all their commercial design and renovation needs.
The team promises an excellent ability to keep up with deadlines and provide quality after-sales support. Their Instagram bio posits that they specialize in the retail of the commercial space.
10. White Corporate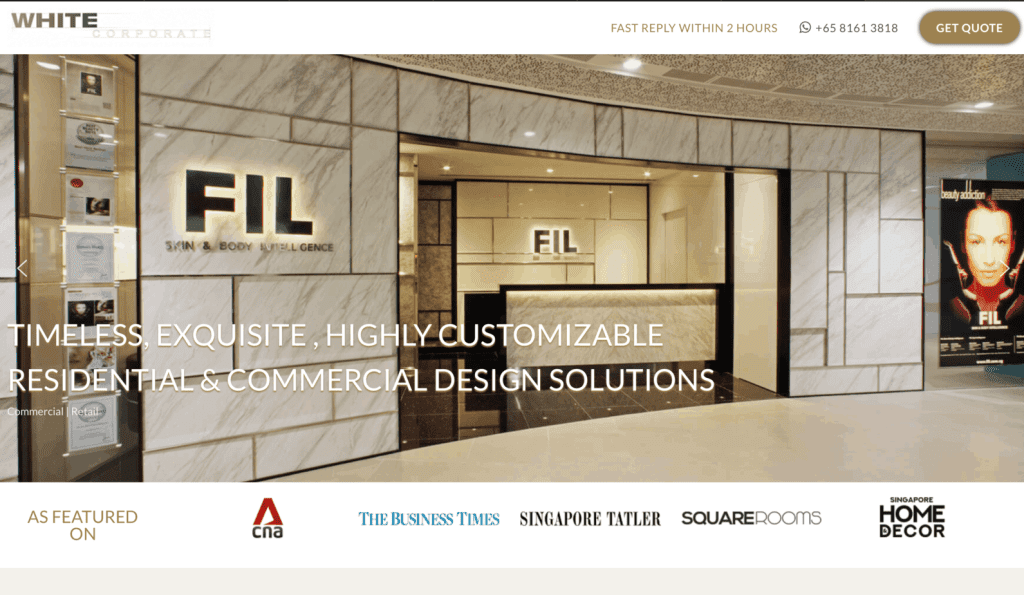 What's fascinating about White Corporate is the fact that it is an award-winning interior design company in Singapore that has been working on commercial projects since 2001.
Their team of committed designers will begin an in-depth researched study and explore new concept themes customised for each client.
Clients rave about how creatively the team is able to make the best out of each space, providing excellent outcomes in terms of aesthetics and function.
11. Eight Design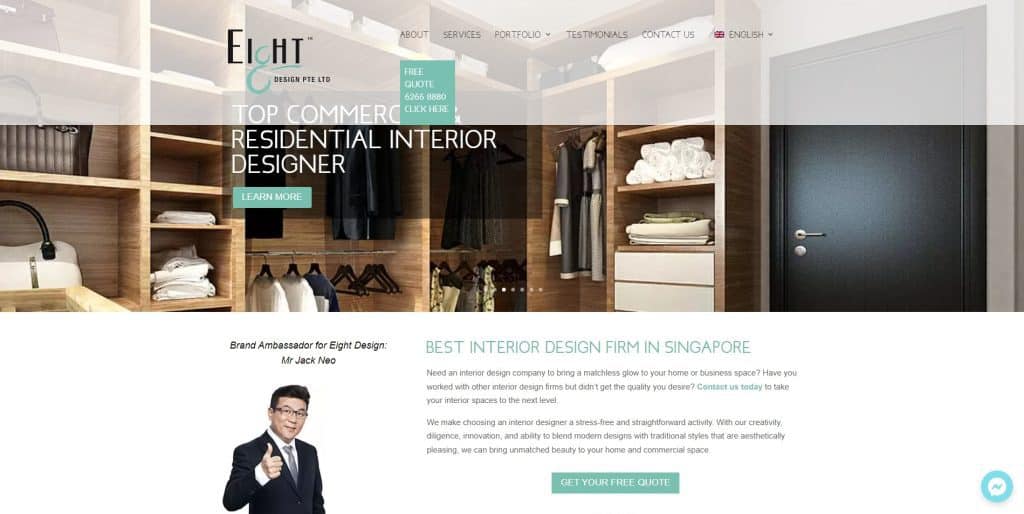 From design and decoration to carpentry and home renovation services, Eight Design is here as a dynamic full-service renovation contractor that can deliver the best possible result for your commercial or domestic project.
Eight Design has been offering exceptional services like interior design services and renovation contractors in Singapore for more than 15 years, and have a wealth of knowledge at their disposal to provide comprehensive solutions in a variety of contexts.

Their passionate team of creative designers and interior designers will always put your company's needs first and will utilise their professionalism to give you the best recommendations for your company's interior.
​12. My Reno Diary Pte Ltd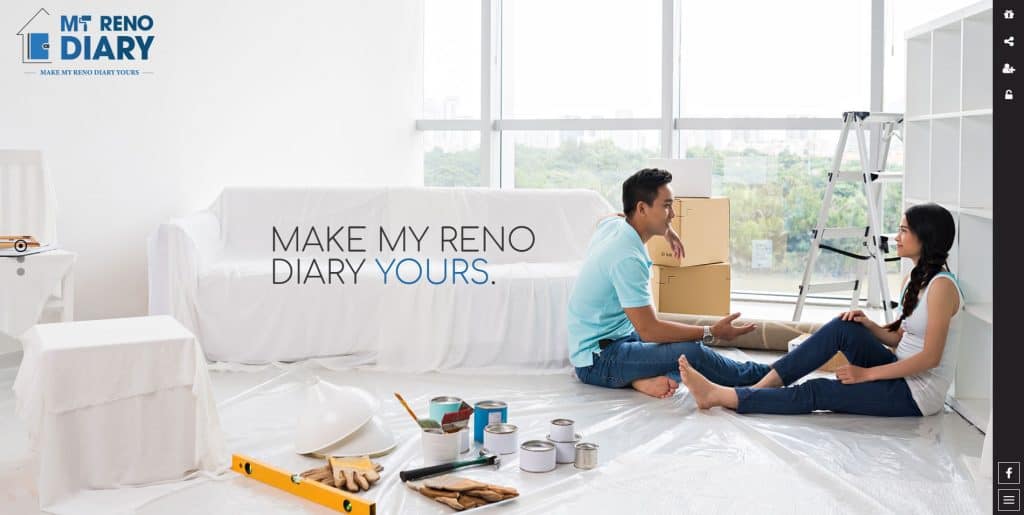 With over 10 years experience as seasoned interior designers and ex-contractors, My Reno Diary Pte Ltd decided to form a team themselves and started an Interior Design company. Founded in 2016, this small team started with a showroom and office at Gambas, Sembawang.
After being in the industry for so long, they found out that there's a great need to provide quality workmanship with budget friendly deals to Singaporeans. You can expect to have a great working environment with the aesthetics that your company prefers if you were to work with them on commercial interior design.
With the support from their trusted suppliers and volume of renovation work, it enabled them to give best deals of renovation material costs near to wholesale price in Singapore. So if you're looking for an affordable choice of commercial interior design, you're at the right spot!
13. M2 Decor Pte Ltd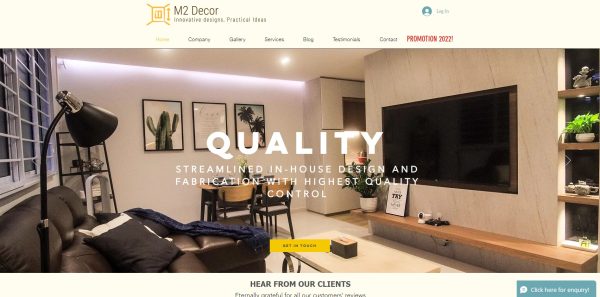 M2 Decor Pte Ltd is established as a one-stop streamlined interior design and renovation company in Singapore offering both commercial and residential renovation. The company is led by highly experienced Project Managers, Contractors, and Interiors Designers who are committed to providing their decades of renovation expertise to all business owners.
If you are looking for dedicated professionals with years of experience in the local interior design firms, then check them out! They possess the know-how from consultation to finalisation, making sure that the project is executed to match all of your expected standards.
Instead of taking risks, they follow strict protocols to ensure that each job is done in a professional manner. This means that no stone is left unturned as they go about the process of conceptualising your dream interior, be it an office space or retail outlet.
14. Monoloft: Interior Design/Renovation Singapore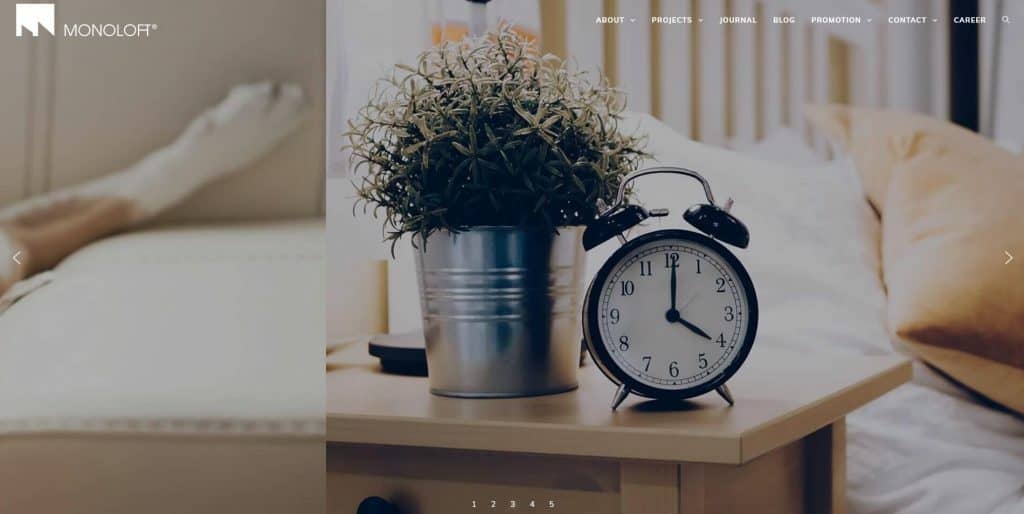 Monoloft is a multidisciplinary practice combining sustainable architecture, interior furnishing and experience design. Since the firm's inception in 2007, Monoloft has produced over 300 projects nation-wide.
Because they understand how difficult the construction process can be, their team does their best to provide efficient project management which helps clients minimise the build-out period and reduce costs.
Monoloft believes in personalising services, no matter the scale of each project, their main goal is to create comfortable, beautiful and practical spaces within every owner's means. List down your commercial interior requests and they will strive to make you satisfied!
15. ProjectGuru Pte. Ltd.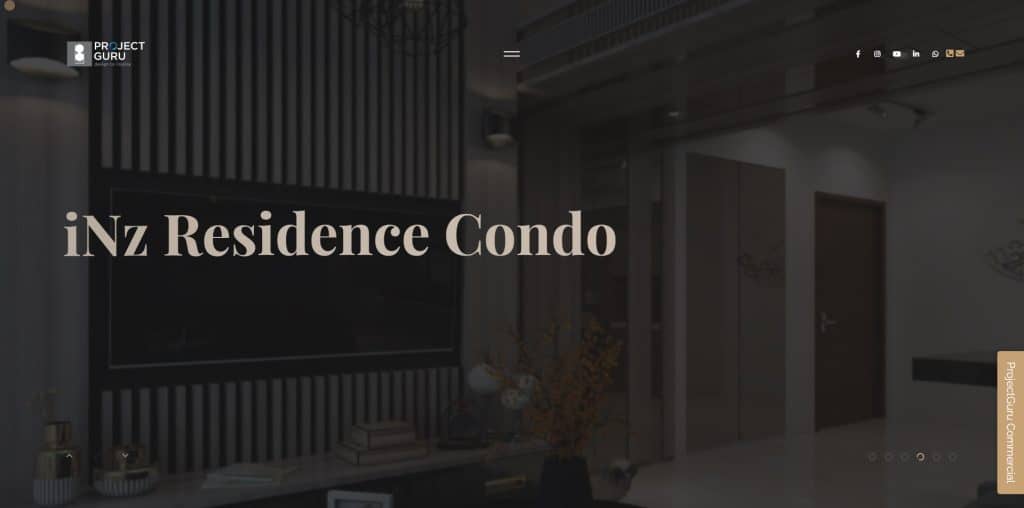 Established in 2014, ProjectGuru Pte. Ltd. ensures that every project is delivered to the maximum satisfaction of their clients: no cutting of corners, no slipshod materials – only the best! They understand how invaluable a well-designed space can be for all occupants.
ProjectGuru deeply respect their clients' aspirations and strives to build the perfect assemblage for them. Through iterative designs and dialogue, a simple idea can evolve into a complex but sensible palette of materials, colours and moods. Your company's branding, culture and ambitions are taken into consideration to build the most comfortable and unique office space of yours.
16. Albedo Design Pte Ltd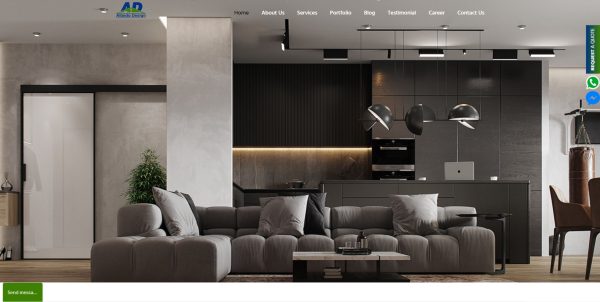 ALBEDO DESIGN was founded in March 2015 – servicing residential, commercial, retail designs and renovations. It all originally began as Hong Dat Engineering Pte Ltd. 2001 (which specialised in electrical works), then HD Contractor Pte Ltd in 2010 (providing RC structural works, rebar, concrete, wet works and tiling). As the company expanded, they ventured into design and construction – thus ALBEDO DESIGN was established.
They aim to provide the best quality and efficient service to clients by deploying the fastest and compact design to meet your commercial interior requirements. They're well-equipped to provide Modelling, Sequencing, Design and other Design solutions regardless of any scale of projects.
17. Vitas Design SG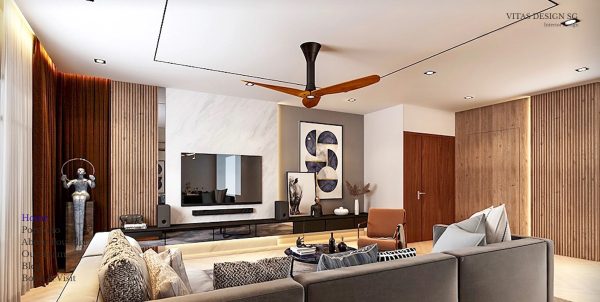 Driven by a philosophy to produce unique, authentic and timeless designs that adapt holistically to their clients' lifestyle needs, one firm stood out from the crowd in the competitive business. Founded in 2013, Vitas Design is a multidisciplinary interior and exterior design practice that specialises in residential, commercial and institutional projects.
Built on the idea that high-level interior design should be accessible to everyone regardless of budget, Vitas set out on a mission to create highly personalised commercial spaces that reflect the harmonious blend between style, function and balance.
As the pioneer of innovative interior design in the region, the Vitas team consists of a talented group of individuals who are passionate about their craft and dedicated to the company's mantra of creating unique spaces that redefine the boundaries of design through hyper-personalisation. At Vitas Design, every journey is one of the new beginnings – and the team is committed to delivering customised solutions that are tailored specifically to their clients' needs and preferences.
18. Flo Design Pte. Ltd.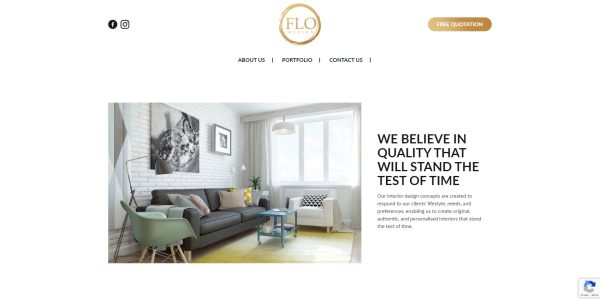 Flo Design is an experienced and highly regarded studio of interior designers who offer a comprehensive, personalised and bespoke design service, involving clients in the creative process.
They offer a full interior design service, from conceptualisation to completion, delivering professional and well-thought-out solutions that exceed expectations and add value to projects. Their attention to detail is evident through the entire design and decorative process.
With their passion and years of experience with commercial interior design, they are able to give you the best suggestions and perfect your company's branding. Check out their commercial portfolio here for more!
19. Starry Homestead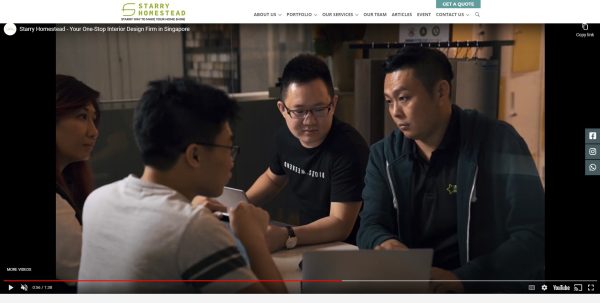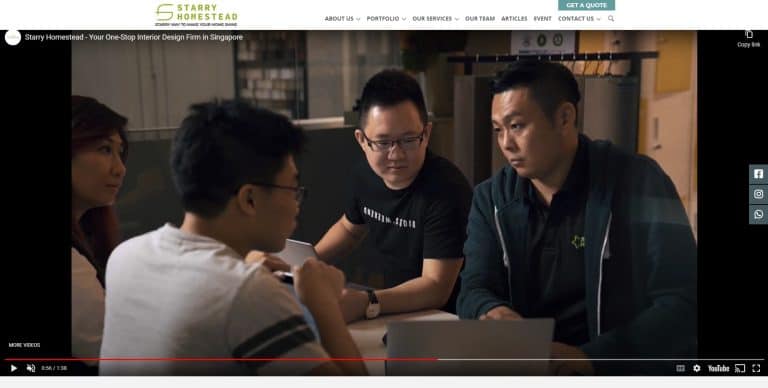 Commercial interior design encompasses many types of commercial spaces. When we talk about commercial interior design, it can be an interior design for an office, a shop, a food & beverage place, a showroom, a theatre, and many other properties. What binds commercial properties together is that they are used to generate income. With that being said, commercial renovation is a very important aspect in business to ensure that your commercial property is safe, functional and conducive for work.
Here at Starry Homestead, they craft solutions to provide the best interior design for commercial spaces in the country. Their team understands that more than beauty, facilitating a good working environment is vital to a good interior design.
If you engage their services, they will ensure that you will be thoroughly informed and guided during the whole commercial renovation process. Their team will work closely with you to give you the necessary insights, updates, and options to make a sound decision.
20. Zenith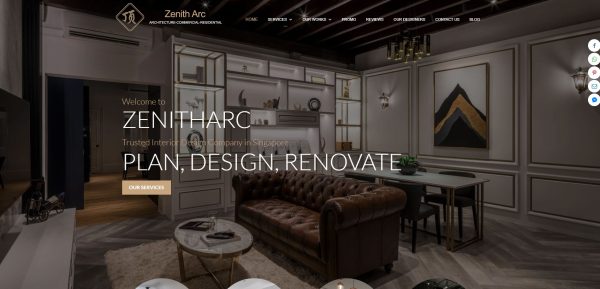 At Zenith Arc, their team has all it takes to handle any type and size of commercial interior design projects, across all industries. Their interior design consultants will provide their expertise on space management and maximisation, which seeks to optimise the potential of your commercial properties while injecting life, functionality, convenience and comfort.
They believe in manifesting a company's values and brand image through each individual commercial interior design project. Regardless of what industry you operate in, their design will be exclusively tailored to your business and facilitates productivity in all business conduct and operations. They will reimagine your workspace and enhance your brand message by tapping into the power of current trends, enabling you to stand out in a crowd of competitors.
Conclusion
At the end of the day, you want an interior design firm that can leave an impression and impact by having the expertise and ability to bring to life its clients' personality, brand and vision.
That is why it is important to look at the depth of experience, client testimonials, awards and markets they work in to gauge which interior design firm works best for you.
We hope that this guide to the 20 Best firms for Commercial Interior Design in Singapore can help you get outstanding service and design for your commercial space.
While SBO is committed to supporting our local businesses, we welcome any feedback and anonymous sharing regarding your experience with our suggestions.
Liked this article? Explore other ways to spice up your home decor with 10 Best Luxury Interior Design In Singapore That Will Make Your Home Fit For A King.
Featured Image by Uneebo Office Design on Unsplash
Explore More Content