20 Best Office Chairs in Singapore for Ultimate Style & Comfort [2023]
Productivity has never looked and feel so good – check out these 20 office chairs in Singapore to see what we mean!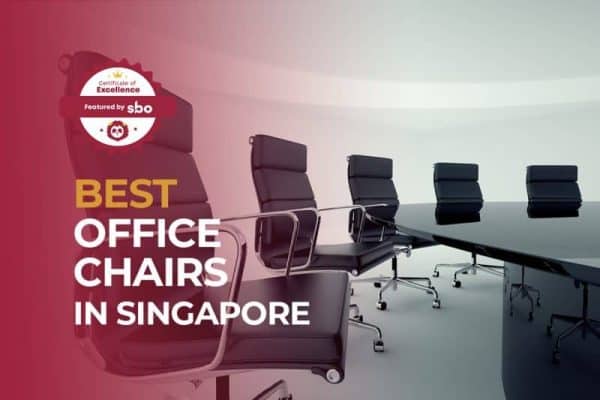 With more of us working from home, this means spending more time stuck at our desks drafting emails and sitting through hours of Zoom meetings.
Given that 8 in 10 Singaporeans now prefer to work from home and have flexible work arrangements, this also comes at a cost—lower back pains, neck aches and poor posture can easily override the benefits of typing away in your pyjamas.
The good news is, investing in a good office chair has been shown to prevent chronic body pains and also boost productivity by giving you the extra support (no pun intended) you need to power through your day.
If you are struggling to cut down on your choices, here are the 20 best office chairs in Singapore that might just be the perfect fit for you!
Are Mesh Chairs or Leather Chairs Better?
Why are mesh chairs often regarded as better than leather chairs? Apart from a matter of preference, mesh chairs are typically more breathable because they allow for greater air circulation.
This can be especially useful for those who work from home or tend to feel hot easily, since the cooling mesh material helps to improve comfort for long hours of sitting at the desk.
1. Ergohuman Pro Mesh Chair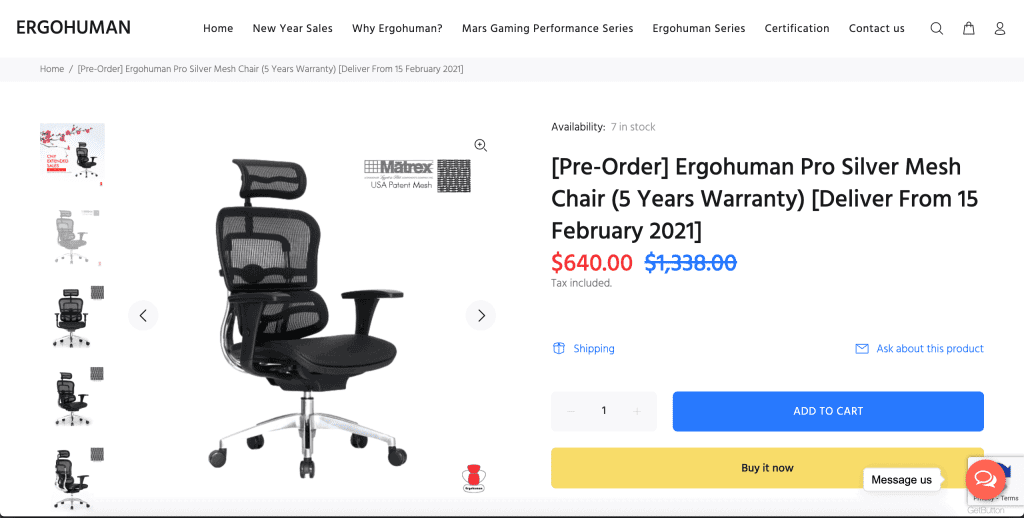 The Ergohuman Pro Mesh Chair is the perfect mix of design and technology: featuring ergonomic features including flex zones for proper back support and adjustable height and arm rests, it is ideal for sitting for long periods of time.
The chairs are ISO 9001 certified and BIFMA tested to back its strength, stability and durability, and eco-conscious buyers will be glad to know that they are an environmentally friendly with an impressive 98% recyclability.
Choose your favourite mesh, fabric or leather colours to match the polished aluminium frame and base, or consider upgrading to the Ergohuman Elite or Ergohuman Luxury if you want the option of more adjustments for a snug fit.
On top of the great customer service, customers love the quality of the chair that comes with a friendly price tag!
2. Ergotune Supreme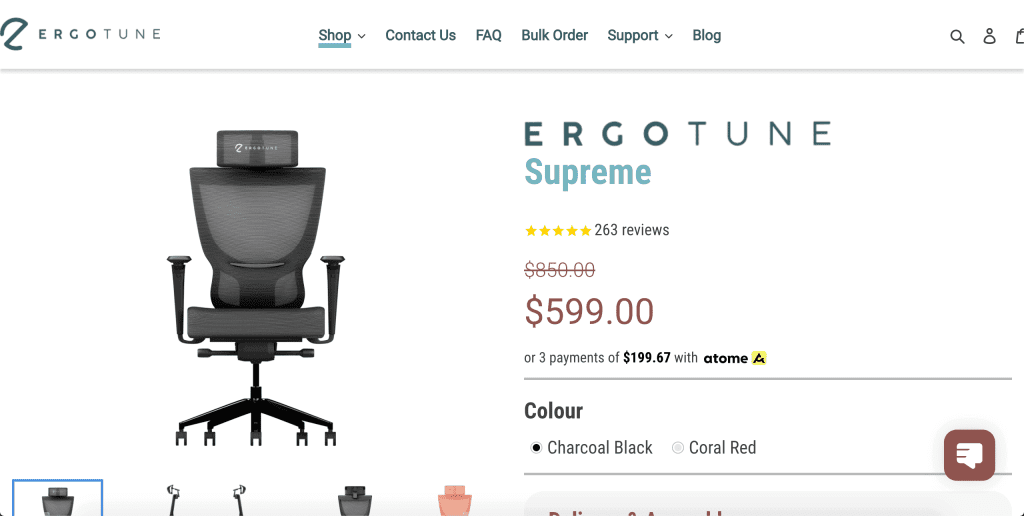 ErgoTune is under main company ErgoEdge—a local furniture maker that firmly believes in making quality ergonomic products accessible so that anyone can create an empowering workspace.
Focusing on three key elements: ergonomics, quality and affordability, the ErgoTune Supreme is upgraded to have 11 adjustable points to fit your unique body shape and size.
Each part is sourced from a different nation before finally being assembled, such as the made-in South Korea hydraulics system and unique mesh upholstery weaved in Germany for trusted durability that supports up to 250kg.
If cost is a major factor for you, you can also consider the ErgoTune Classic ($399) which comes with less features.
Customers mostly love how it offers plenty of adjustable points to cater to their exact requirements and fuss-free it was to assemble the chair. Due to its emphasis on lumbar support, those with back pains have found this chair extremely comfortable and have ended up buying another for their loved ones!
3. NeueChairTM by Secretlab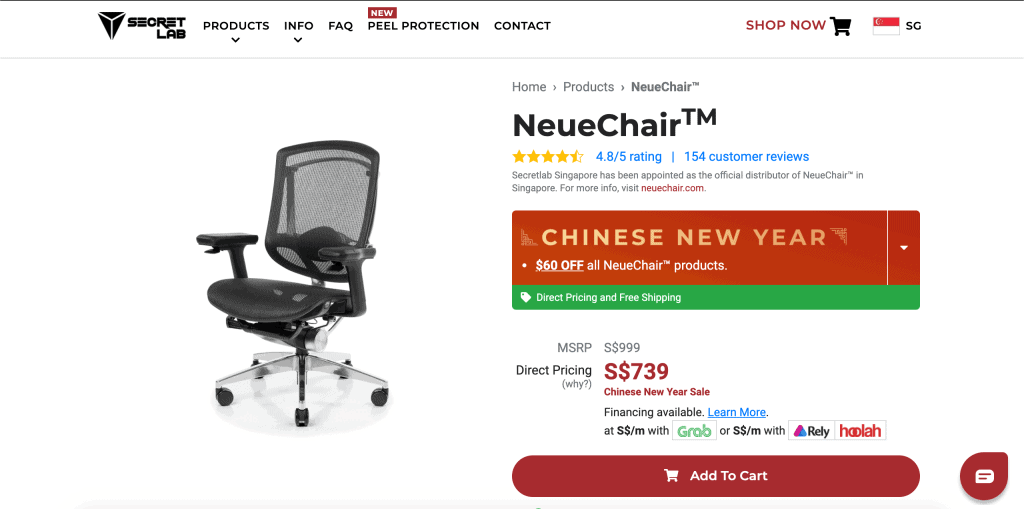 Neue translates to 'new movement' in German, and stands for the brand's belief in the new movement of computer chairs. If you are familiar with Secretlab, you will be glad to know that NeueChair is under the award-winning gaming chair company.
The Neue team is focused on developing ergonomic office chairs and is engineering to be comfortable, fully ergonomic and intuitive to use; all combined into a modern and stylish design.
The NeueChair is manufactured using a semi-automated assembly line with the support of German automotive engineers to maintain consistency. Choose from two options: the Silver comes with polished ADC12 Aluminium while the Obsidian ($839) offers further industrial plating of the aluminium frame to make it ultra-resistant to corrosion.
If all else fails, you can always count on Secretlab Omega, the highly-raved gaming chair in Singapore that can also work as an office chair.
Customers have complimented the overall buying experience and particularly enjoy the cooling mesh that makes it comfortable for working at a desk all day. Many have also chosen it for its sleek and attractive design that adds a nice touch to their home office setup.
4. Sihoo Ergonomic Chair M57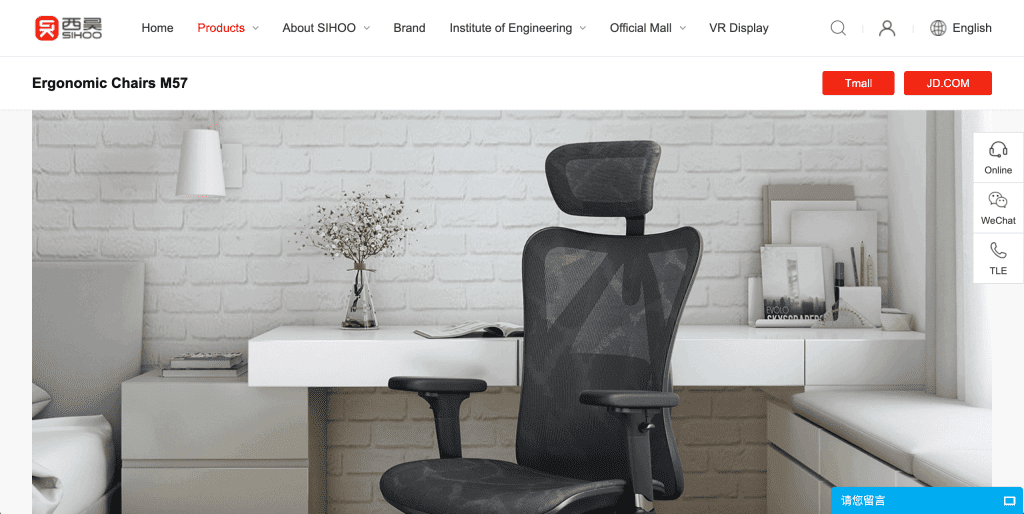 With the aim of becoming the world's most professional engineering furniture provider, Sihoo has already designed and developed a range of advanced engineering chairs and intelligent desks that caters to children, adults and the elderly.
Taking medical research as design reference, they believe that sitting posture is closely related to health, and have conducted their own intensive research to determine what makes a good ergonomic chair.
With a motto like "Sit well, think better", Sihoo has managed to build a chair that strikes a good balance between the elements of a well-engineered chair and the people (office workers) that it is designed for.
It's hard to compare this chair to high-end ergonomic chairs like Herman Miller, but most customers find it comfortable and impressive enough for the price.
5. TakeAseat.sg Sail Basic Ergonomic Chair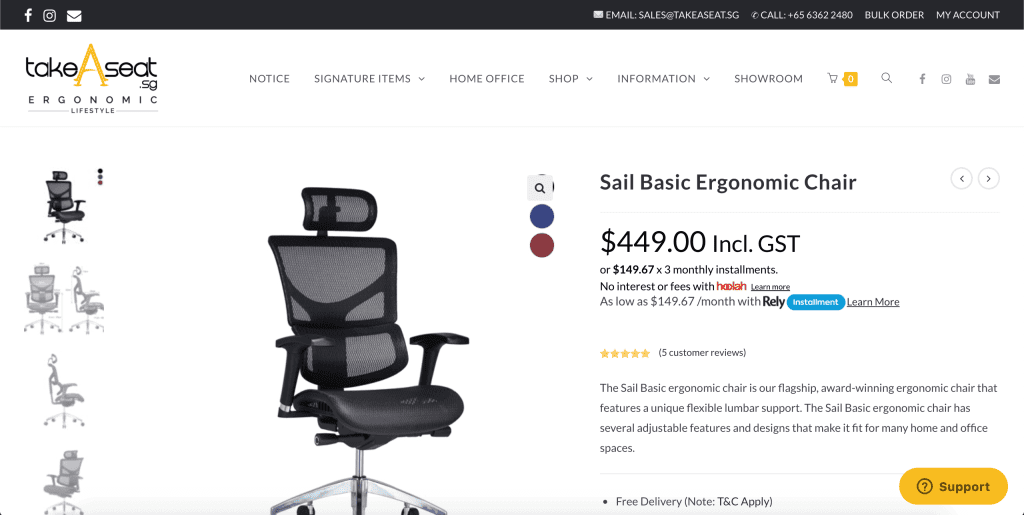 The Sail Basic Ergonomic Chair is takeAseat.sg's flagship, award-winning ergonomic chair that offers several adjustable features and designs that make it fit for many home and office spaces.
Featuring an aluminium frame and Class 3 hydraulic gas lift that provides stability and durability, the chair carries a maximum weight load up to 120kg.
Designed to be an everyday chair, it can be easily adjusted to fit different body shapes and sizes, such as the unique flexible lumbar support with a wide seat and wide backrest that ensures maximum comfort while removing pressure.
As Singapore's leading ergonomic-friendly furniture provider with more than 10 years of experience in the industry, their trusted clientele includes big names like ASUS, SMRT, Singapore Post and NUH.
Customers love the versatility of the chair that is great for both gaming or working from home for hours on end. Many have even returned to purchase an ergonomic desk from them!
6. TakeAseat.sg J30 Office Chair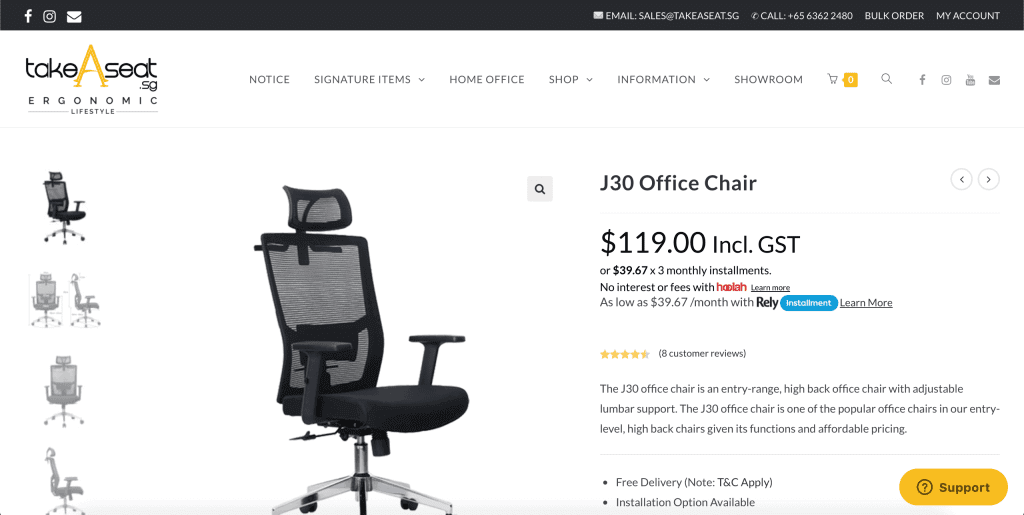 Also by TakeAseat.sg is the J30 office chair, an even more budget-friendly option for those who are looking for an entry-range, high back office chair with ergonomic features.
Possessing many similar features as the Sail Basic Ergonomic Chair, the J30 is an amazing and affordable version for those who aren't ready to whip out $500 on an office chair just yet.
Despite not having the most "premium" ergonomic features in this list, the majority of customers are happy with the quality of the chair that feels stable, sturdy and comfortable for everyday use.
7. APOL Kraken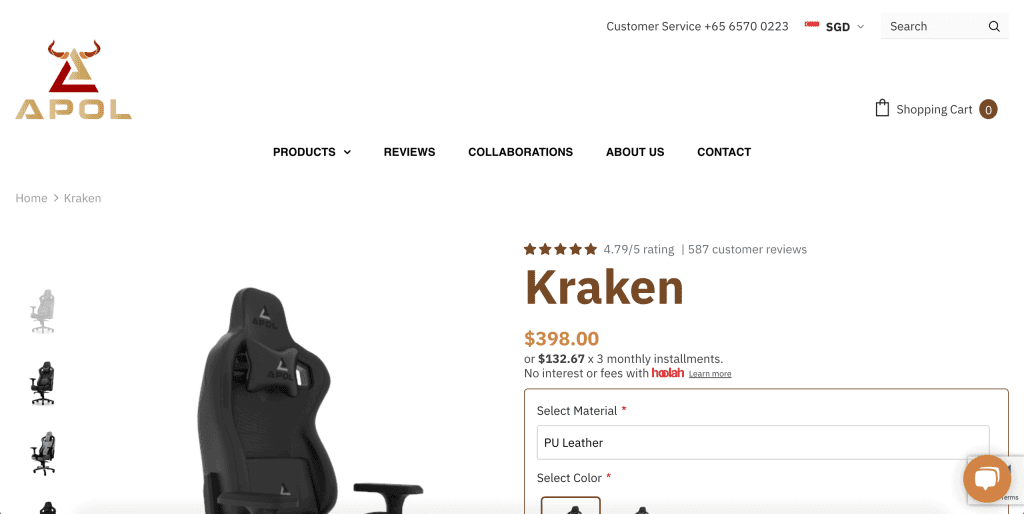 Designed by a team of local product designers with years of experience in providing comfort to customers, the Kraken is a result of intensive research and continuous development by the R&D team at APOL.
Having tested 20 different prototypes to ensure their chairs are of the highest quality possible, each chair caters to different sitting postures—the Kraken is for individuals who are particular about sitting posture and quality.
Interestingly, a 2020 survey of APOL chair product owners showed that 77% of APOL users experienced an increase in work productivity after sitting on their chairs!
Customers love how comfy and robust the build feels and are impressed by both the aesthetics and functionality of the chair, with some of them using it for afternoon naps too!
8. Herman Miller Aeron Remastered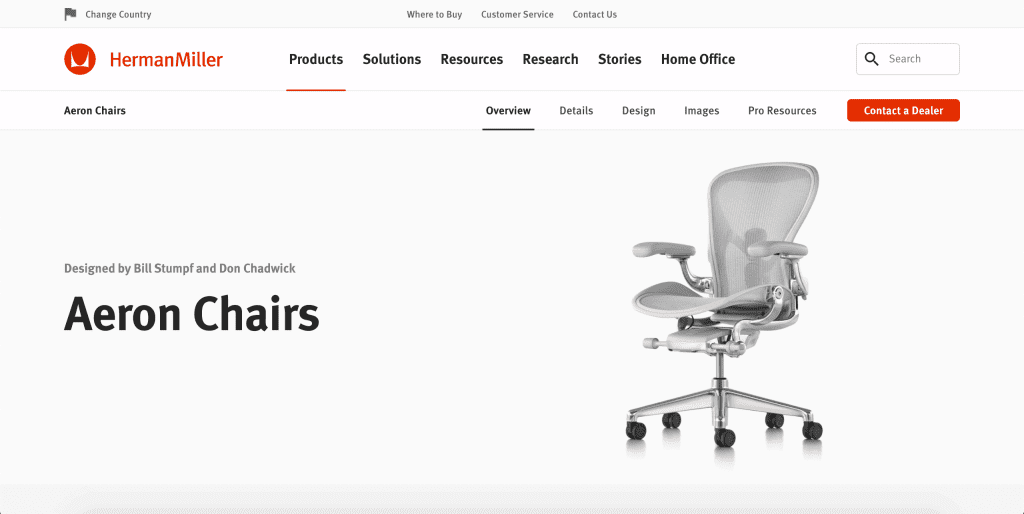 Herman Miller is a name that has become synonymous with "modern" furniture and is the epitome of luxurious, innovative and quality ergonomic chairs in the 20th century
First designed by Bill Stumpf and Don Chadwick in 1994, the Aeron chair has since been remastered in 2016 to meet today's modern work requirements.
Based on the latest research around the science of sitting and advancements in materials, manufacturing and technology—the Aeron Remastered features a more refined tilt mechanism, adjustable PostureFit SL and 8Z Pellicle suspension for better all-around performance and sitting experience.
Customers rave about the workmanship, quality materials and premium finishings, and how it offers various sizes and adjustments to cater to their body type. To maximize your experience, many have also recommended pairing your purchase with the headrest.
9. V.HIVE Libra Office Chair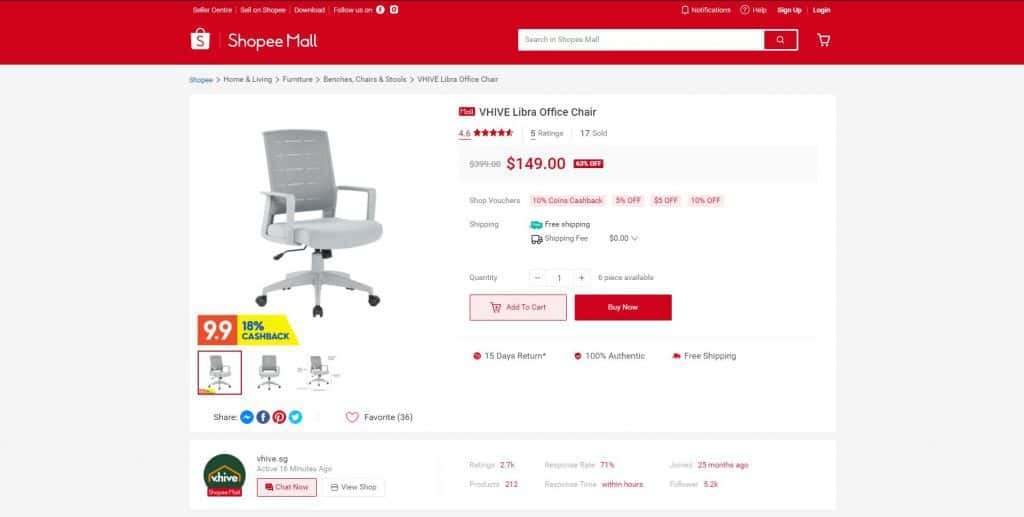 V.HIVE's Libra Office Chair comes in a stylish grey design made with a combination of fabric and mesh that will complement anywhere it is placed perfectly.
10. Wihardja Cybel Office Chair
Wihardja specialises in the production of suar and teak wood furniture. It has more than 17 years of experience in design and carpentry works.
Wihardja's most affordable office chair is priced at just S$159. This budget-friendly option comes with fixed armrests and the choice of 3 different colours.
You can adjust its seat and height to suit your individual preference and it can accommodate a weight of up to 90kg.
11. Benel Aeria Highback Series
The Benel Aeria Highback Series sports a full-mesh ergonomic chair that features a comfortable mesh back and seat.
The mesh material provides cooling airflow and extra comfort with enhanced air circulation for the hottest days. It has an adjustable headrest, seat depth, lumbar support, and one-directional adjustable armrest.
You can also use its tilt tension control and multiple-angle backrest lock to customise to your favourite position.
12. Secretlab TITAN Evo 2022 Series
Singapore's most popular gaming chair manufacturer also has products suitable for home office use. Its best-selling 2020 Series went through many prototypes before its debut, and its 2022 Series has become its most technologically advanced product.
The TITAN Evo 2022 is made of Secretlab Cold Cure Foam with a sturdy steel frame. You can also customise your chair with the wide range of upholstery options.
It also features multiple adjustability options like the multi-tilt mechanism.
13. Comfort Design Astrid Highback Office Chair
Experience frequent lower-back pain?
Comfort Design's Astrid Highback Chair is ideal for those with such pains from extended hours of sitting. Its protruding lumbar support is something you rarely see with other office chairs.
This chair also comes with a seat slider and intelligent weight detector to suit multiple types of user physiques. The premium moulded foam seat ensures hours of comfortable sitting for high-frequency users.
14. Herman Miller Sayl Chair
This contemporary chair from distinguished brand Herman Miller is inspired by the iconic San Francisco Golden Gate Bridge. Its linear back support, in particular, is designed after the suspension bridge.
You get better tension in places where you need it, like the lumbar, with the unframed back and elastomer strands. Its 3D Intelligent back offers flexibility and gives you the right balance between freedom and support.
Choose from 3 different colours as well!
15. IUIGA Olga Leather Swivel Office Chair
This modern office chair from local brand IUIGA is everything the design conscious lusts for. With its lavish half-leather material and sleek, streamlined look, it oozes luxury and minimalism.
IUIGA is known for its fully transparent pricing and products that are typically priced more affordably than other similar brands and products in the market. You can pick from 3 different colours to suit the overall look of your office.
16. UMD Ergonomic Chair
This is another affordable office chair if you're looking for a wallet-friendly option. Despite its low price, it is extremely comfortable and value-for-money with its contoured mesh back and foldable armrests for better posture.
Its padded seat also makes sitting for long hours cushy and bearable. You can opt from a wide variety of colours as well. Most reviews also talk about the superb back support.
17. OFFICEHUB Ergonomic Office Chair
This office chair delivers all the value you can imagine at a highly affordable price. It has an ergonomic design with adjustable armrests, thick foam seats, and a dynamic mesh lumbar support.
You can also pick from a multitude of fresh colours to brighten up your office space. They've offered different warranty options as well so that you can decide on your budget.
18. Jiji Executive-II Office Chair
Jiji's Executive-II Office Chair is easy on your wallet but not on the features. This premium office chair is designed to be ergonomic with great lumbar support.
It can hold up to 120kg of weight and helps you get a good posture with comfortable sitting even for long hours of use.
19. Hinomi H1 Classic Ergonomic Office Chair
Hinomi is a local Singaporean brand that produces premium ergonomic chairs and tables at affordable prices. It has spent 2 years on research to create a perfect lumbar support design.
In addition, Hinomi has created the 'Flippable 5D' armrest and 'Flashfold' folding mechanism to make it more practical and comfortable to work from home or at the office.
This office chair is a must-have for its many useful features designed to make work a breeze. From the built-in lumbar support to the Oeko-Tex fabric, you can look forward to work every day with the H1 Classic Ergonomic Office Chair!
20. Steelcase Series 1
The award-winning Steelcase Series 1 goes big on comfort with its ergonomic design. It features a unique flexor system that customises itself to your body and moves together to support your spine.
It has optional adjustable lumbar support and fully adjustable arms for the ultimate comfort. Its seat cushion design also uses built-in air pockets to lower pressure caused by long-term sitting.
You can also improve your posture with the comfort dial to adjust the back recline tension as well.
Conclusion
Do you have any reviews and comments to share regarding our choices for the best office chairs in Singapore?
While SBO is committed to supporting our local businesses, we welcome any feedback and anonymous sharing regarding your experience with the listed office chairs in Singapore.
We hope that this guide will be useful in helping you to make an informed decision when it comes to finding the best office chairs in Singapore.
Explore More Content